Five Ten Freerider Pro Primeblue
Test Location: Washington
Test Duration: 6 months
Reviewer: 6', 165 lb (183 cm, 74.8 kg)
Size Tested: US Men's 10
Blister's Measured Weight per Shoe (size US Men's 10): 363 and 379 g
Upper: Textile w/ Primeblue yarn
Closure: Lace
Stated Features:
Textile upper, with 75% Primeblue yarn
No virgin polyester used
OrthoLine sockliner
Molded EVA midsole
Stealth Dotty rubber outsole
Pedals used: Chromag Dagga, North Shore Billet Daemon, Specialized Boomslang
MSRP: $150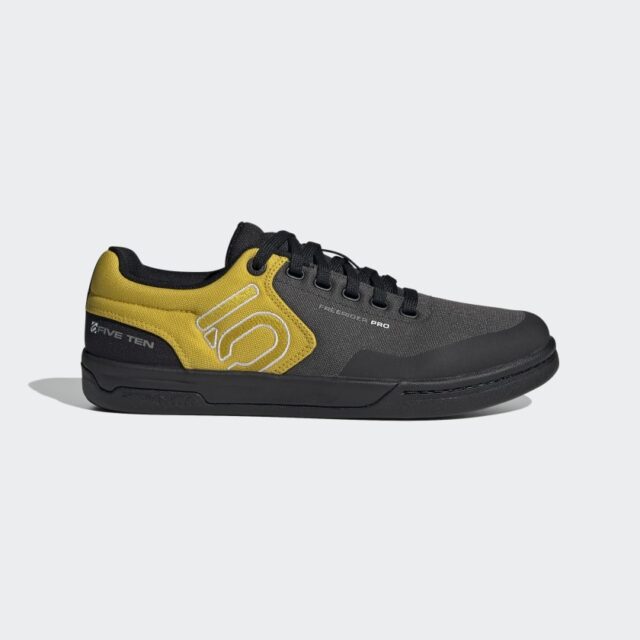 Intro
The Five Ten Freerider Pro has been a super popular option for a versatile all-rounder of a flat pedal shoe for a long time, but Five Ten has just given it an update. And the headline change is that much of the upper is now made, in part, with recycled ocean plastic — stuff that has literally washed up on beaches, in this case. It's one piece of Five Ten's stated goal of eliminating virgin (i.e., not recycled) polyester from all of their products by 2024. And that sounds great — but will the redesigned shoes live up to the expectations of Freerider Pro fans of old?
Design
The overall design of the Freerider Pro hasn't changed much, apart from the material change to incorporate the new Primeblue textile upper. According to Five Ten, half the upper is textile, and 75% of that uses the Primeblue yarn that's made from recycled ocean plastic. The upper uses no virgin polyester and is essentially a canvas-like material made from a mix of recycled polyester and sustainably sourced cotton.
As with the prior, non-Primeblue version, the new Freerider Pro strikes a middle ground between minimalism and protection. It's a low-top shoe with moderate padding around the lower ankle and a lightly reinforced toe box for impact protection. Riders looking for a very burly, protective shoe would be better off with something like the Five Ten Impact Pro or Ride Concepts Powerline, but those shoes are hotter, bulkier, and heavier than the Freerider Pro.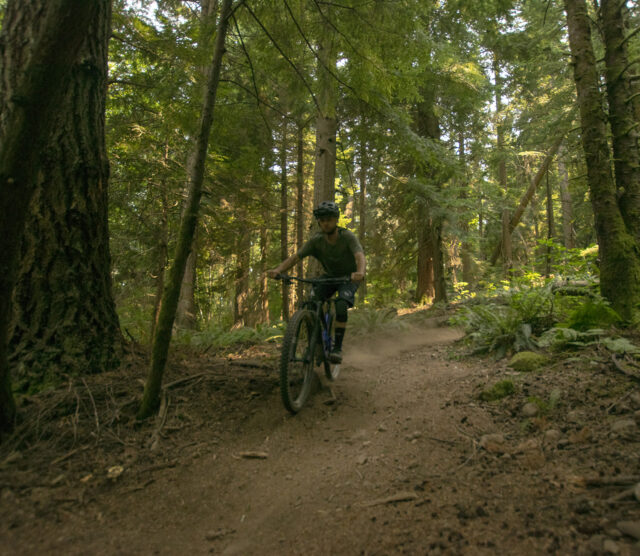 The Freerider Pro Primeblue has a substantially stiffer sole than the more casual / skate shoe-influenced options in Five Ten's range, such as the Sleuth and standard Freerider. That makes it substantially more supportive for more aggressive, technical riding than those softer options, but the Freerider Pro isn't as stiff as the burliest DH-oriented shoes out there (again, such as the Five Ten Impact Pro and Ride Concepts Powerline). For a shoe that's supposed to be versatile and work well in a wide range of situations — Five Ten even mentions casual, around town wear — I think that's a great call. There's enough support for fairly aggressive Trail/Enduro bike use, they're stiff enough to pedal in, but lighter and much more pleasant to walk in than super-stiff-soled shoes.
Fit
Five Ten calls the Freerider Pro a "regular" fit, and I'd say that's about right. If anything, the forefoot is slightly on the narrower side of average, but not by a big margin. Unfortunately, I don't have an older pair of Freerider Pros on hand to directly compare against, but the fit of the new Primeblue version is at least very close to that of the older model. They're not quite as narrow as the Ride Concepts Hellion Elite, but a little more so than the Ride Concepts Powerline, Five Ten Freerider Contact, or Giro Latch (review coming soon) and significantly narrower than the Five Ten Impact Pro and Trailcross GTX (review also coming soon).
Personally, I could use a little more width in the forefoot, but that part of my foot is fairly wide; the overall volume, length, and fit through the heel are quite good on my feet, in my normal street shoe size of a US 10. The standard lace closure makes it easy to adjust how tightly the shoes are cinched and there's an elastic loop on the tongue to help keep the stray ends of the laces where they belong.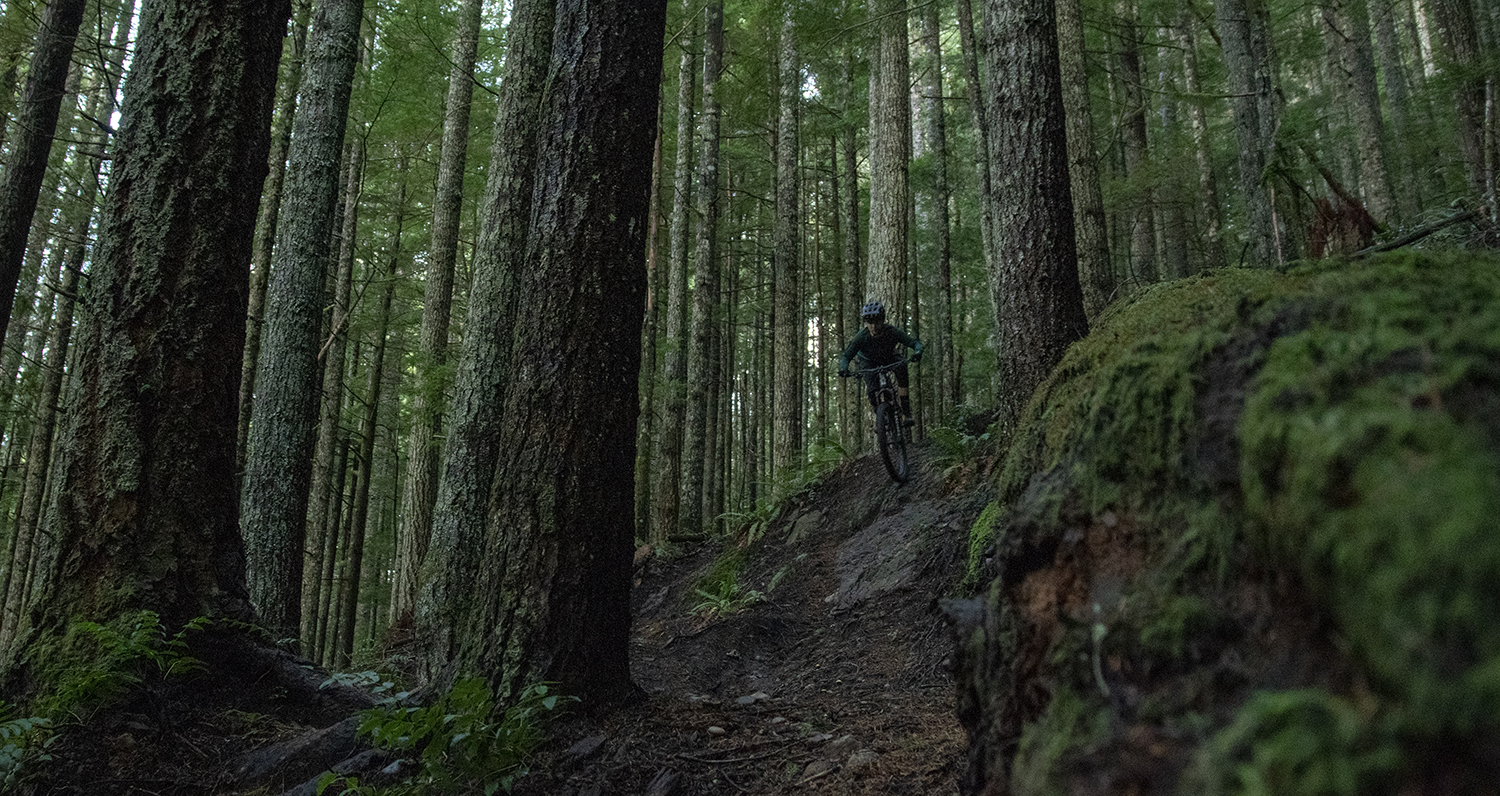 On The Trail
The Freerider Pro Primeblue isn't the absolute grippiest shoe Five Ten has in their arsenal, but it's still well above average when it comes to grip. And compared to exceptionally sticky shoes like the Five Ten Freerider Contact, it's significantly easier to reposition your foot on the pedals in the Freerider Pro Primeblue. I think that for most people, the Freerider Pro Primeblue strikes a very good balance — just know that it's a notch short of the absolute grippiest shoes out there.
And for fans of the Freerider Pros of old, the Primeblue version feels very similar. As I mentioned before, I don't have a pair of the old model on hand to directly compare, but I have spent quite a bit of time in them, and the Primeblue shoes aren't substantially different. And that makes sense — the upper has changed a bit to make use of the new Primeblue material, but the rubber sole carries over unchanged.
If anything, the new Primeblue upper might be a little less water-resistant and a little more breathable than the standard Freerider Pro, but we're not talking about major differences here. For most people, most of the time, that's probably a good thing — and if you want a really serious wet-weather shoe, the Freerider Pro (in either version) would definitely not be my first recommendation anyway. But while the Freerider Pro Primeblue isn't super water resistant, it does a decent job of not absorbing a massive amount of water and isn't too slow to dry out. Most bike shoes take a while to recover from getting fully saturated, and the same goes here, too. But the Freerider Pro Primeblue is probably a bit better than average — especially compared to bulkier, more heavily padded options — and I think that'll be plenty good enough for most people.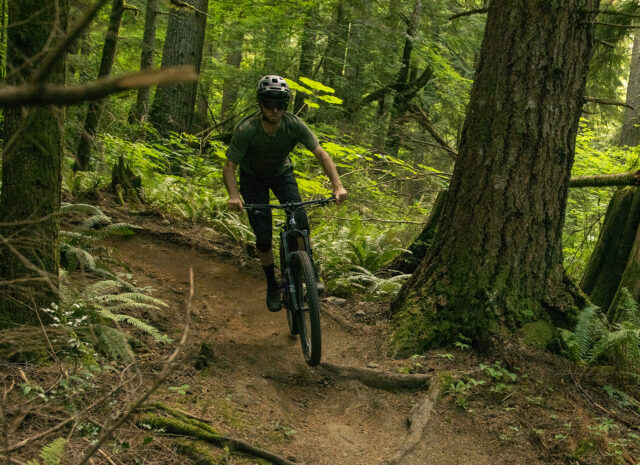 The Freerider Pro Primeblue is reasonably pleasant to walk in, too. As with most bike shoes, the sole is substantially stiffer than typical street shoes, and that does slightly impede walkability. But that's a tradeoff that I'm more than happy to make for on-bike performance, and the Freerider Pro is still quite comfortable to walk in. The shallow tread isn't terribly grippy on soft, wet dirt, but once again, that's a tradeoff that I'm fine with. I'm actually a huge fan of how the totally flat sole on the Freerider Contact feels on the pedals, but it's absolutely a liability when walking around on anything wet or loose.
Overall, the durability of the Freerider Pro Primeblue has been good — the upper feels tough and abrasion-resistant, and I've had no issues with sole adhesion or anything along those lines. The only minor problem that has arisen so far is that one of the plastic eyelets for the lace on one shoe came unmoored after just a couple of rides. It's the sort of minor defect that Five Ten would be happy to warranty, but it hasn't caused any functional problems and I haven't worried about it.
Bottom Line
Five Ten has done a very good job of updating the Freerider Pro to incorporate the new Primeblue upper, without significantly changing the fit, durability, or performance of the shoe. It's still a great all-around flat pedal shoe, with a medium to narrow fit, medium-stiff sole, very solid grip, and good all-day comfort. And now its environmental footprint is just a bit smaller, with no significant downsides. The Freerider Pro Primeblue is a nice update to an old favorite, and we're very curious to see what else Five Ten has in store as they continue to move towards more recycled materials in their shoes.