Ride Concepts Hellion Elite
Test Location: Washington
Test Duration: 2 months
Reviewer: 6'1″, 160 lbs
Size Tested US Mens 10
Blister's Measured Weight per Shoe (size 10): 430 grams
Upper: Perforated microfiber with antimicrobial mesh lining
Closure: Lace
Stated Features:
Rubber Kinetics DST 4.0 Max Grip Rubber Outsole
EVA midsole and anti-abrasion protection on toe and heel
Abrasion and water-resistant microfiber synthetic upper
Anti-bacterial mesh lining
Tongue gusset
Elastic lace tuck
Removable insole with D3O impact material under the ball of the foot and heel
Sizes Offered:
US Men's 7 through 15; half sizes up to 12.5
US Women's 5 through 10, with half sizes
Pedals used: Deity TMac
MSRP: $140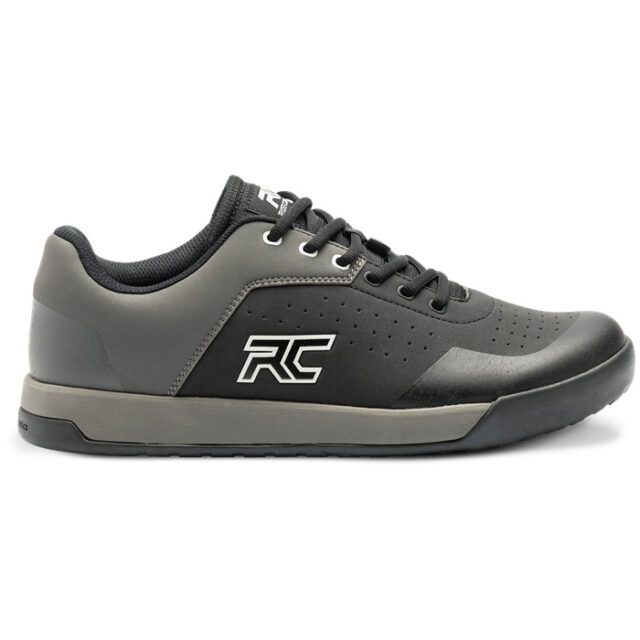 Intro
Ride Concepts' new Hellion Elite shoe builds on their earlier Hellion model, adding stickier rubber to a similar, low-profile upper. The Hellion Elite is quite clearly a direct challenge to Five Ten's wildly popular Freerider Pro shoe as a versatile flat-pedal shoe for everything from long days in the saddle to bike park laps.
I've spent a lot of time in Five Ten's various shoe offerings over the years, most recently the Freerider Pro. The silhouette of both shoes is remarkably similar, as are the claims both brands make about them, so I was eager to see how Ride Concepts' approach to shoe design might measure up.
I've been riding the Hellion Elite in all sorts of weather, and on trails ranging from pump tracks to brutally steep and technical lines often reserved for downhill bikes. The Hellion Elite and I have gotten along quite well, though they aren't quite perfect. So what sorts of riders does the Hellion Elite make the most sense for? Let's dig in.
Features and Construction
As reflected in the silhouette and weight, the Hellion Elite is designed as an all-rounder Enduro and Trail shoe. It's not as burly as some of Ride Concepts' other offerings — notably the Powerline — which are more geared for Downhill riding, but it is clear that Ride Concepts was aiming to build a lightweight, low-profile shoe with adequate protection for most types of riding, and they've achieved that goal.
The closure of the Hellion Elite is a standard laced affair, with an elastic loop on the tongue to secure the ends of the laces. While more creative lace closures have been seen on clipless shoes like the Five Ten Kestrel Pro Boa, Ride Concepts stuck with a tried-and-true approach, as most other companies use on their flat pedal shoes.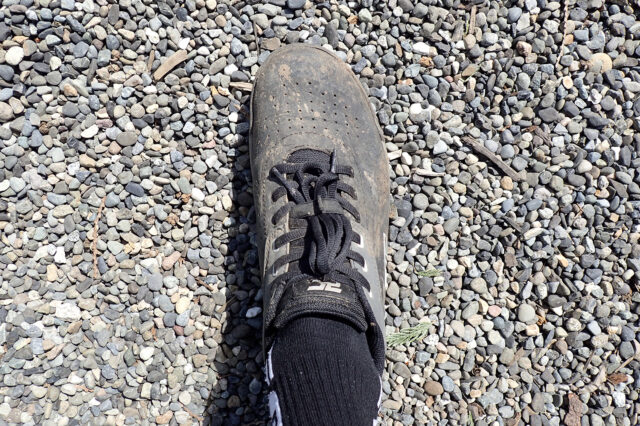 The upper is a microfiber material that has proven quite hard-wearing, despite contact with pedal pins and other trail debris. There are also rubberized overlays on the toe and heel which add some structure to prevent smashed toes. There are some perforations in the upper to allow breathability, though they aren't particularly abundant. This helps the shoe shed water fairly well and presumably helps with the aforementioned durability, though it does lead to the shoe running a little bit hot when temperatures climb.
Like many other flat pedal shoes, the Hellion Elite foregoes any sort of nylon or carbon shank for stiffness and instead relies on a relatively dense EVA foam midsole. I've found the Hellion Elite to be relatively in-line with the market-leading Five Ten Freerider Pro in this regard, with the Hellion Elite feeling slightly stiffer when new before breaking in and softening slightly. Its midsole isn't as stiff as something like the Five Ten Impact Pro, and consequently, the Hellion Elite has more flex and pedal feel than those more protective and stiffer gravity-oriented options.
The most interesting and different features of the shoe are seen in the insole and outsole. Starting with the insole, Ride Concepts uses a common insole across their shoe range, which has D3O protective padding incorporated into the sole underneath the heel and ball of the foot. Dubbed "D3O High Impact Zone Insole Technology by Ride Concepts," the idea is that this non-Newtonian D3O material hardens under harsh impacts, protecting these primary contact points on the foot. This padding also lends a more muted feel underfoot, which I will describe more below.
The Hellion Elite's outsole uses Ride Concepts' Rubber Kinetics rubber in their grippiest compound, which they call DST 4.0 Max Grip. The rubber compound is the hardest thing to get right when building a flat-pedal shoe, and it is clear that Ride Concepts have invested a lot of time into their compound formulation. Notably, Ride Concept highlights that in addition to top-notch grip, the compound prioritized durability, which they claim outlasts the rubber used by their competitors.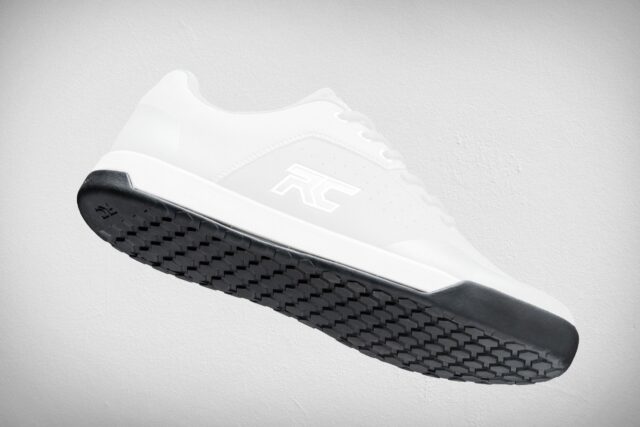 Fit
Shoe fit is a tricky thing to discuss in reviews, and my hope is always that a buyer has an opportunity to try on a shoe before buying. That said, for my relatively narrow and high-arched feet, the Hellion Elite feels quite comfortable right out of the gate. Like the Five Ten Freerider Pro, the fit is definitely on the narrower side in the toe box, which is great news for me but may be a no-go for some folks with wider feet. Length-wise, the Hellion Elite fits quite a bit larger than other US Men's size 10 shoes I've used — I actually was given these shoes to test by another reviewer who typically rides a size 10 and found them too big. I'm typically between size 10.5-11 myself, and these size 10 Hellion Elites were bang-on for my foot, so I'd recommend sizing down by a half or even full size. As always, it's a good idea to try shoes on before buying.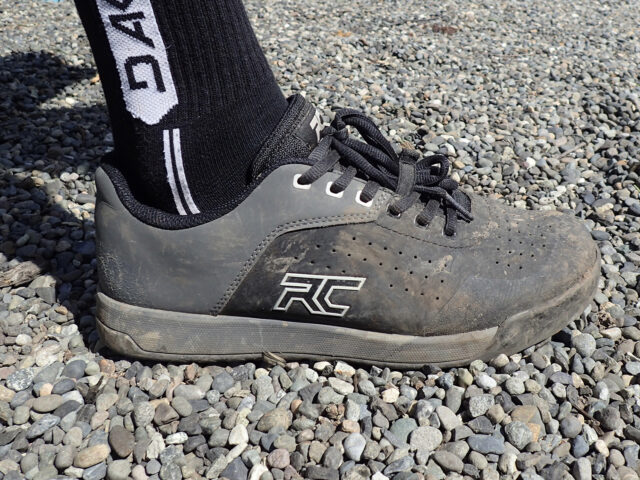 [Note from David Golay: I was originally going to review these, but as Zack said, the size 10 (my typical shoe size) ended up being pretty long on my feet, and, conveniently, they fit him much better. Width-wise, they were about right for me, but I've got a somewhat wide forefoot. I'm in agreement with Zack's assessment that these run long — but suspect that folks with wider feet will have a hard time sizing down, too.]
I do have a couple of small gripes with the fit of these shoes, the first being the heel cup. While others may feel differently, it feels like the heel cup on this shoe is ever so slightly too shallow for my foot. While I didn't run into any significant heel lift issues, it felt like my heel was often on the brink of wanting to lift out of the shoe, primarily while in hike-a-bike scenarios. On the bike, this proved a non-issue.
The second minor complaint is with the lacing system. It honestly feels like Ride Concepts included one too many eyelets on the shoe, and it makes them a bit of a pain to quickly adjust for entry and exit from the shoe. Given my narrow foot, I imagine that other riders may find this even more annoying than I do, but it's really only a matter of a couple of extra seconds of effort when putting on or removing the shoes.
On the Bike
Ride Concepts has clearly spent some time thinking about flat-pedal shoe design, and their take on a premium all-arounder shoe is a very impressive effort. Right out of the gate, the Hellion Elite felt comfortable, striking a nice middle ground between compliance and stiffness for pedaling. I never experienced any foot pain or soreness after long days in the saddle. Riding in warm weather they do get a little bit toasty, given the lack of ventilation, but that same lack of ventilation kept them comfy for longer in the deep, dark, wet days of early spring in the Pacific Northwest, helping them shrug off puddle splashes and rain more effectively than expected.
The combination of the midsole and the D3O-equipped insole lends a fairly "damped" feel to the shoes that I imagine some riders will love and others will hate. Those who swear by the original Five Ten Freerider or other very thin-soled shoes for maximum pedal feel will perhaps feel like the Hellion Elite offers a somewhat vague feel. I, on the other hand, found this more damped feel to offer added comfort on ultra-chunky trails, and it was particularly appreciated on long days with lots of pedaling where it felt like my feet were less fatigued than with my typical Five Ten Freerider Pros. The flipside of this is that it was sometimes harder to feel where my foot was on the pedal, but I'll take less foot fatigue and the smoother-feeling ride any day.
Last, but certainly not least, is the inevitable discussion of rubber compound and grip. Every flat-pedal shoe review inevitably includes some commentary about how Five Ten's Stealth S1 rubber is the one to beat for all-out grip, and while I agree, I think that Ride Concepts comes very, very close to winning that battle. That said, there is some nuance in how I feel the shoe generates grip relative to the Five Ten Stealth S1 rubber on my Freerider Pros, and within that nuance, some very compelling reasons why the Ride Concepts Hellion Elite may be superior for some riders.
From an all-out grip perspective, Five Ten's Stealth S1 rubber still wins the day, but only very narrowly. The Stealth S1 rubber that they use just creates more friction against the pedal pins and body, and it feels more "gummy" to the touch than the DST 4.0 compound used on the Hellion Elite, though the DST 4.0 compound is much closer in this respect than any other brand's rubber that I've tried. That said, the sole of the Hellion Elite feels like it allows the pedal pins to sink into the shoe a bit more, generating grip that way, versus just being as tacky as possible. For me, this provides a huge upside in allowing you to reposition your foot a bit more easily — while the Five Ten rubber can sometimes feel like you can't adjust your foot even if you want to, the Hellion Elite's sole provides nearly equivalent grip but allows you to unweight the foot and shift it a bit more easily if your foot gets knocked out of its sweet spot on the pedal.
As someone who rides flat pedals most of the time, but not all, this can be one of the biggest frustrations with riding flats on rough trails, and the Hellion Elites make a big difference in recovering a comfortable foot position when things get a bit wild. This is something that reviewer Luke Koppa has said about the Ride Concepts Powerline, which features the same rubber compound as the Hellion Elite, and is why the Powerline has become his go-to shoe. Of course, some folks feel differently, and if the absolute stickiest rubber and / or maximum pedal feel are what you're after, the Five Ten Freerider Pro might be a better call.
Off the Bike
Unsurprisingly, the Hellion Elite walks quite comfortably and offers good grip during hike-a-bikes. The soles aren't so stiff as to make walking a chore, or lead to undue heel movement or any such issues. The Hellion Elite also features a fairly subdued, casual look, so you can belly up to the bar after a ride without catching too many odd stares.
Durability
Despite riding these shoes in some nasty conditions and taking a couple of good spills, they look no worse for wear after a couple of months of use. The upper hasn't shown any signs of cracking or anything concerning, the laces appear relatively durable, and perhaps most importantly, the rubber hardly shows any signs of wear. It appears that Ride Concepts has made good on their promise of good rubber longevity, as the Hellion Elite's outsole certainly looks like it's in better shape than an equivalent pair of shoes using Five Ten's Stealth S1 rubber might after equivalent miles, at least based on my experience.
Bottom Line
I think the Ride Concepts Hellion Elite would be a good option for many everyday riders. The shoe is well-constructed, has some differentiating technologies that make a positive difference in its on-trail performance, and it isn't overly expensive.
For flat-pedal riders, grip is often the top priority, and the DST 4.0 rubber on the Hellion Elite makes it a strong contender against the longtime champ, Five Ten. While the Hellion Elite's outright grip / tackiness may not quite match Five Ten's Stealth S1 rubber, the nuance of how the Hellion Elite retains nearly equivalent grip but with greater ease of foot adjustment is incredibly impressive, and has been enough to keep me reaching for the Hellion Elite for nearly every ride.
While it isn't the most well-ventilated shoe, the Hellion Elite has shown itself to be a remarkably versatile option for everyday flat-pedal riders. For riders who want a low-profile shoe that provides a somewhat damped feel underfoot but with very high levels of both grip and easy on-pedal adjustments, the Hellion Elite should be at the top of the list.