Shimano ME5 Clipless Shoe
Size Tested: 44
Blister's Measured Weight (per shoe): 388 grams
Pedals: Time Speciale 8
MSRP: $170
Reviewer: 5'9", 155 lbs / 175 cm, 70.3 kg
Test Duration: About 2 months
Test Locations: Whitefish, Montana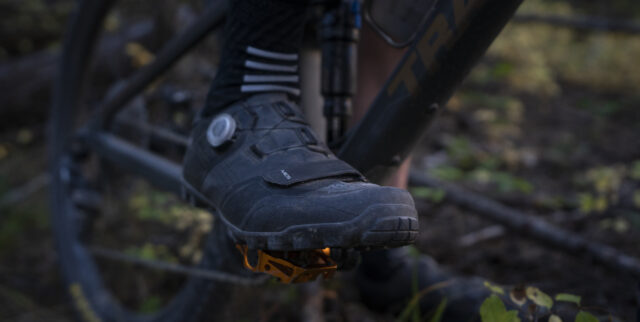 Intro
Shimano places the ME5 in their "Trail / Enduro" category, a step below the ME7 that I reviewed earlier this summer. The ME5 is a little less expensive and it goes about things a bit differently — it uses a BOA closure, and it misses out on some of the fancier features of the ME7. The end result is a bit different than I expected — the ME5 isn't just a less expensive ME7, it's a fairly different shoe altogether.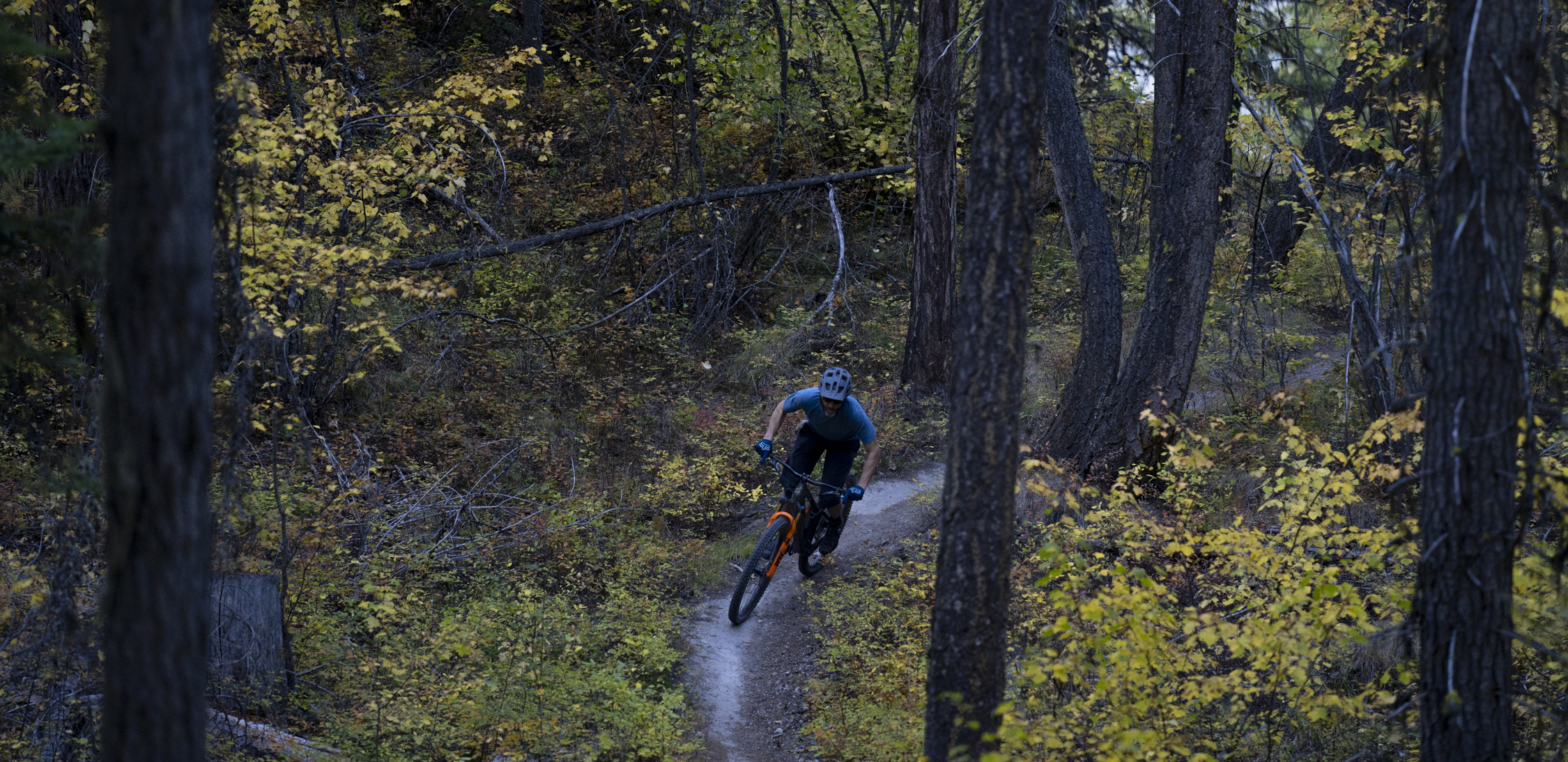 Features
The ME5 is a fairly low-profile shoe, built with synthetic leather uppers that are perforated for venting. The closure system is primarily a BOA L6, which uses a low-profile knob on the outside of the shoe; push the knob in and turn to tighten, pull the knob out to release. There's also a velcro strap at the fore-foot to further cinch things down, but with my relatively low-volume foot, I didn't find that it did all that much.
The sole of the ME5 uses a "proprietary Shimano grippy rubber compound," which I didn't find to be all that grippy. That said, on a number of rocky hike-a-bikes that I did in these shoes, I never found myself thinking that life would be better with a grippier rubber compound. The cleat slots in the sole measured 30.5 mm on my shoes, which is a bit longer than normal XC shoes.
The ME5 has Shimano's "Torbal" mid-sole, which essentially means the shank of the shoe has some flex built into it that allows the shoe to twist a bit while riding.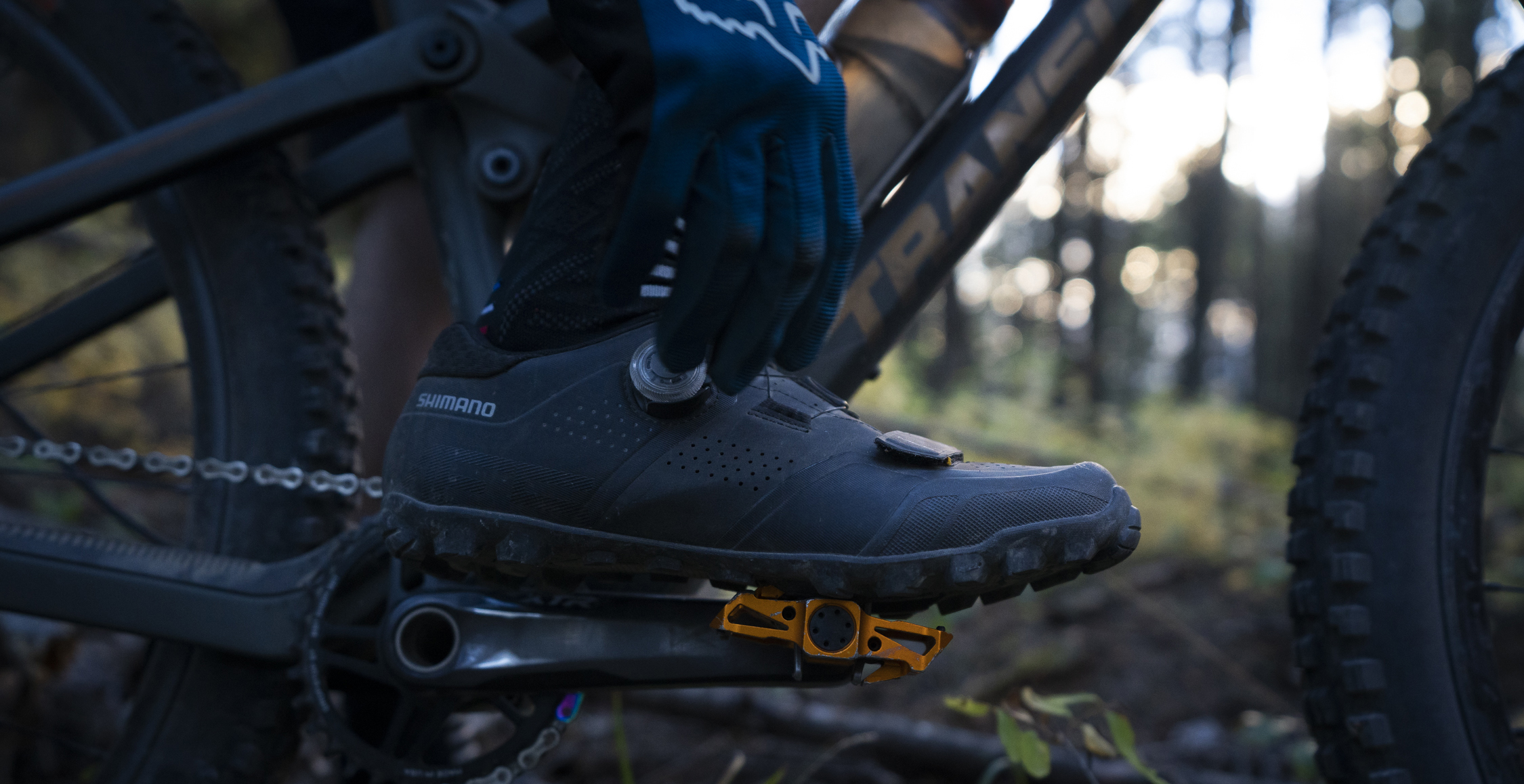 The Fit
The ME5's that I rode were a size 44, which translates roughly to a US Men's size 10. That's my normal street shoe size, and that size worked well for me in the ME5. It actually felt a smidge longer than the size 44 ME7's that I rode in (which were a little snug), so I'd say the ME5's run true to size, but if you're in between sizes, size up.
The ME5 is only available in one width / volume, which Shimano calls "Volume+." I'd say the ME5 is slightly on the narrow side of a mid-width shoe. I have a pretty low-volume, narrow-ish foot, and the ME5 worked well for me. But the BOA closure also allows for a fairly large range of fitment, so I think people with moderately wide feet would likely be alright.
I struggled a bit with the fit on the ME7 — I ran out of ratchets on the buckle, so I had to put some spacers under the footbed to reduce volume in the shoe. And because of that, I never got the ME7 to fit quite like I wanted. The ME5, on the other hand, fits me quite nicely without any modifications. As I mentioned earlier, I don't find that the velcro strap in the ME5's forefoot does much for me, but I also don't feel like I'm lacking snugness in that area. To be clear, I wouldn't call the ME5 narrower or lower volume than the ME7, it's just that the closure system on the ME5 is more capable of accommodating a wider range of foot widths / volumes.
On the Trail
I will admit to being a bit skeptical of the ME5 from the get-go. I've never had much luck with BOA closures in the past, and the ME5 just kinda looked like a soft shoe that wasn't going to perform like I wanted it to.
As it turns out, I was wrong — I actually really like the ME5. It's high on the list of the most comfortable shoes I've owned.
To start, the BOA closure on the ME5 works great. Every BOA system I've used in the past was a bit wonky and never quite produced the all-encompassing death grip on my foot that it seemed like it should. But the ME5's BOA system is well executed and does a really nice job of producing snug, even pressure across my whole foot. And when things inevitably settle in while riding, it's super easy to reach down and give the knob a couple extra clicks of tightness.
In terms of power transfer, it's true, the ME5 is not a super stiff shoe. It's noticeably softer than the ME7 (Shimano calls the ME7 an 8 on their stiffness scale, while the ME5 is a 6). If I was looking to race XC and get maximum power transfer, the ME5 is not the shoe I'd pick. But for long rides that probably involve some hike-a-bike and where all-day comfort is a priority, I actually really like that the ME5 isn't super stiff. It's stiff enough that it pedals just fine — I don't feel like I'm wasting precious watts on shoe flex. And it's entirely comfortable to walk in — it holds my heel in place better than most bike shoes I've used. Which ultimately means, at the end of an 8-hour ride in the ME5's, my feet are one of the few areas of my body that are actually feeling pretty good.
Now, the ME5 is not a perfect shoe for every situation. Despite being in Shimano's "trail / enduro" category, I would most definitely not call this an "enduro" shoe. It's a low-profile shoe, and while the toe box has a bit of stiffness to it, I would rate the ME5 pretty low in terms of protection. And as I mentioned above, this isn't really an XC race shoe — it's not stiff enough.
In terms of breathability, I'd say the ME5 is somewhere on the good side of average. I can't say I notice a huge difference in breathability between most shoes, but the ME5 didn't stand out as being noticeably bad (or good). In terms of water resistance and wet weather riding, the ME5 isn't spectacular. It doesn't do much to keep water out, but it does dry reasonably quickly.
Bottom Line
Despite having fewer fancy features, despite being less stiff, and despite being a bit lower quality all around than the Shimano ME7, I still prefer the ME5. And admittedly, most of that is just because the ME5 fits my foot really nicely. And since everyone's foot is a bit different, my subjective enthusiasm for this shoe might not necessarily translate for everyone else. But I also find that the ME5 works really well as a casual trail shoe — it's not XC-race oriented, and it's not a burly DH shoe, but if I'm going to spend all day on the bike, the ME5 delivers the thing that I'm most concerned about, which is comfort. It's comfortable while pedalling, it's comfortable while walking, and it's comfortable at the end of the day when I'm drinking a beer back at the truck.