Canyon Strive:ON CFR
Wheel Size: 29'' front / 27.5'' rear
Travel: 160 mm rear / 170 mm front
Stated Weight:
52.9 lb / 24 kg (Strive:ON CFR LTD w/ 750 Wh battery)
7.2 lb / 3,268g (size M frame without motor or battery)
Geometry highlights:
Sizes offered: S, M, L, XL
Headtube angle: 63.5°
Seat tube angle: 78º
Reach: 475 mm (size Medium)
Chainstay length: 445 mm
Drive System Highlights:
Torque: 85 Nm
Power: 600 watts peak (CX Race)
Battery: 630 Wh or 750 Wh
Motor: Bosch Performance CX / CX Race
Frame material: Carbon Fiber
Price: Complete bikes: €5,799 to €9,699 (US pricing TBD)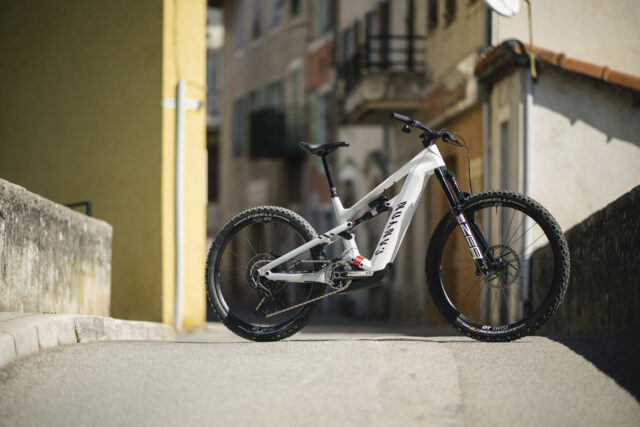 Intro
Up until now, something seemed to be missing from Canyon's e-MTB lineup. On one side there was the 150mm-travel Trail-ish Spectral:ON, and on the other was the 175mm-travel Freeride-oriented Torque:ON (which just got a new, pretty different carbon fiber version, but had been around in alloy guise for a while). The new 160mm-travel Strive:ON CFR slots nicely into that middle ground in terms of suspension travel — but actually has nearly identical geometry to the new Torque:ON CF. But Canyon is drawing clear lines between the two, with the Strive:ON marketed as an e-Enduro race bike and the Torque:ON as the more playful, freeride-focused option, so what separates the two and what sorts of riders are going to be drawn to which bike?
The Frame
CFR stands for "Canyon Factory Racing" and denotes Canyon's highest-end carbon frames. Canyon says these layups use the finest quality carbon fiber and claim to offer the best weight and durability while also striking the right balance between stiffness and compliance. The Strive:ON, like its e-MTB siblings in Canyon's lineup, has a dedicated mixed wheel size frame, with the party end having 160 mm of travel, and the business end coming in at 170 — but can handle up to 180 mm travel forks.
The Strive:ON does share quite a few of its design details with the non-motorized Strive, also a focused enduro race bike, but it's noticeably different at first glance as the shock layout has changed from vertical to horizontal. This, according to Canyon, affords the Strive:ON more room for packaging the drive system while keeping the weight distribution low in the frame. And gone is Canyon's Shapeshifter system of on the fly geometry adjustment — more on this in the Fit and Geometry Section.
Canyon's Triple Phase suspension design handles rear suspension duties, in this iteration providing 160 mm of travel. The four-bar Horst link type system has a progressive leverage ratio that has slightly lower leverage at the beginning of the stroke than the non-motorized Strive — this makes sense given the additional weight of the drive system. That ratio starts at about 3.1:1, which still should offer plenty of sensitivity, it then flattens out at around 2.2 to 1; Canyon states this ramp-up should offer good bottom-out resistance with air or coil shocks. Now, because Enduro World Series e-MTB races typically have a climbing stage, the Strive:ON kinematics have been optimized for power-assisted technical climbing. To achieve this, Canyon upped the anti-squat at sag (in relation to the Torque:ON), as they claim that will improve pedaling efficiency, especially on technical uphills.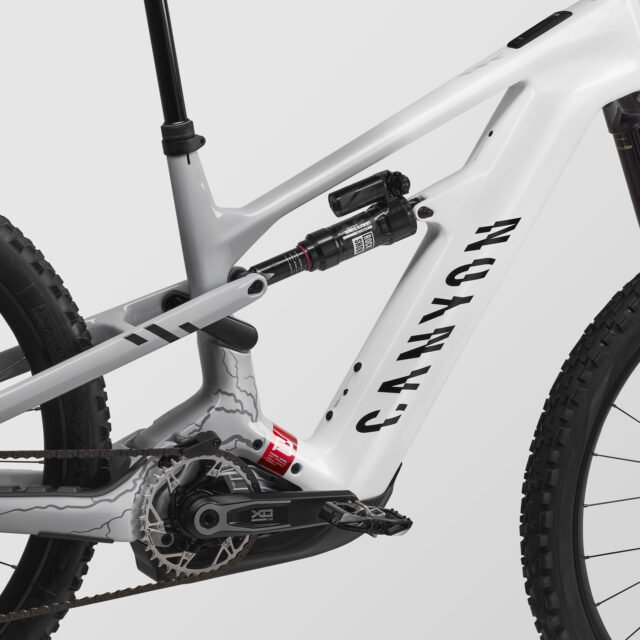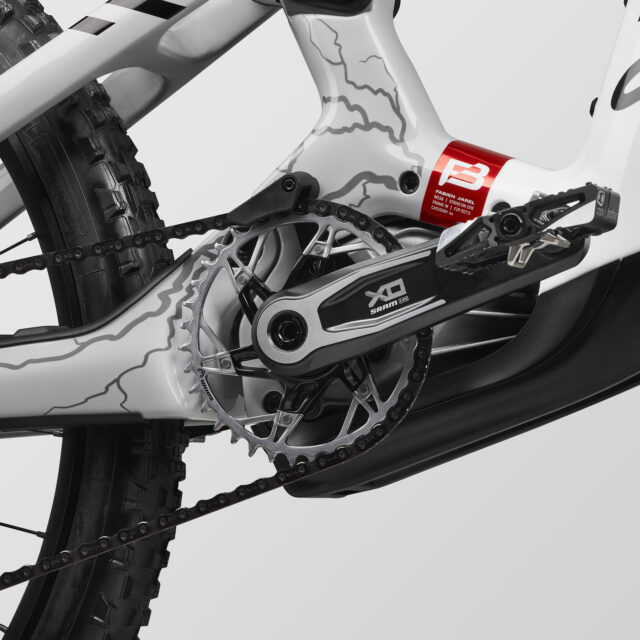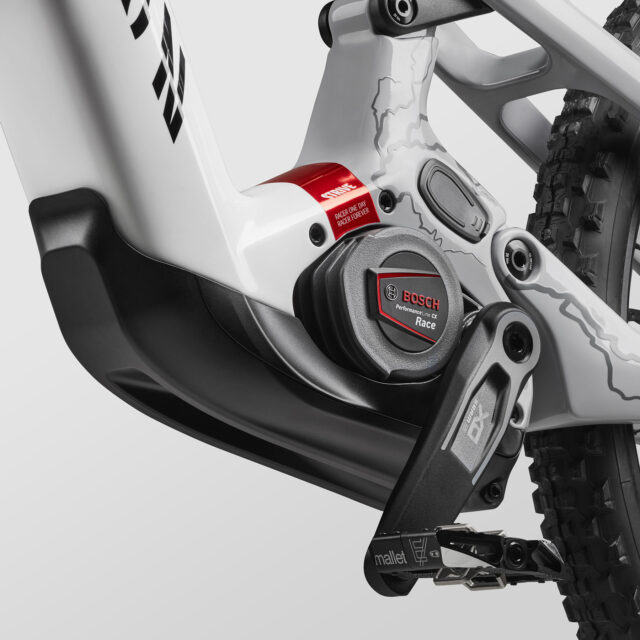 The Strive:ON frame comes equipped with a standard water bottle mount inside the front triangle, and also has tool / bag mounts on the underside of the top tube back at the seat tube junction. Other features include a UDH (nice), threaded frame inserts (great if you have a habit of cross-threading fasteners), double-sealed bearings, a moto-inspired skid plate under the motor, and downtube and chainstay protection.
Drive System
Unlike many other brands that partner with one company for e-bike drive systems, Canyon doesn't seem to be in bed with any one brand — and based on feedback from their pro riders, who believe the Bosch motors have the edge when it comes to racing, they chose to equip the Strive:ON with Bosch Performance Line CX and Race Edition motors. This is an obvious departure from the Shimano EP8 motor on their other two e-MTBs. According to Canyon, the Bosch systems deliver power faster than other motors and will continue to produce power up to 120 rpm. But it sounds like it's the overrun feature that sealed the deal, which allows the motor to continue to provide assist after pedaling stops. Canyon claims the overrun on the Bosch motor lasts longer and with more power than the competition. It would seem likely that to be truly competitive, opting for the CFR LTD build makes sense as it gets the CX Race motor. The Race motor is a claimed 150 g lighter and can match the 400% assist (non race version tops out at 340%) of the Shimano EP8 motor, it also reportedly makes power faster and the overrun lasts longer.
Both 625 Wh and 750 Wh batteries are available in all models and will fit all sizes, with the smaller battery getting a spacer to bring it up to the same dimensions as the 750 Wh one. The spacer is available as an accessory should you order a bike with the 750 Wh battery, and decide you would like the smaller battery as a spare. Or perhaps, as Canyon suggests, you decide based on the length of the enduro stage, or if the race allows battery swapping, as to which of the two batteries will make you faster.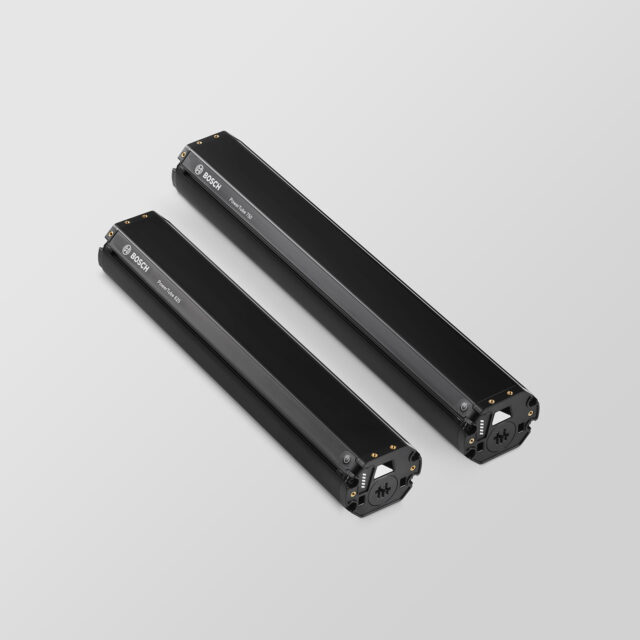 All three models in the Strive:ON line feature Bosch's integrated Smart System Top Tube Control Center. This removes any clunky displays on the handlebar and puts all the information neatly into the top tube. If we're being honest here, it looks eerily similar to Specialized's top tube display on their e-MTBs. The Bosch display forgoes inundating the rider with information in lieu of keeping it simple with essentials like power, mode selection, and, of course, battery charge — the color of LEDs indicate different ride modes and battery charge level. Canyon has also spec'd all three models with Bosch's new Mini Remote, which looks like a lovely little handlebar remote — it's tiny, but best of all it connects to the Top Tube controller via Bluetooth, so there are no dangly wires between the two. For those that crave all the data, there is an optional handlebar-mounted display, or — and this is pretty cool — a smartphone can also be used as a display and controlled from the Mini Remote. Bosch's eBike Flow app handles more in-depth system customization and over-the-air software updates, all connected via Bluetooth.
Fit & Geometry
Canyon is billing the Strive:ON as an electric enduro race bike, and as a result the geometry numbers have been manipulated by Canyon to achieve, well to put it bluntly — victories. Noticeably absent however is Canyon's Shapeshifter system, which is on the non-motorized Strive, and allows for on-the-fly geo adjusting. Instead, the geometry is fixed and is kind of a hybrid of the two available Shapeshifter settings. Interestingly those numbers ended up being almost identical to the Torque:ON with the exception being the seat tube angle steepening to 78º from 77.5º – Canyon states this was done to improve its technical climbing and is in alignment with the suspension kinematic tweaks done to do the same.
The rest of the geometry (as with the Torque:ON); wheelbase, chainstays, reach, and head angle point towards the Strive:ON being more on the stable side. The bottom bracket offset of 25mm (in relation to the front axle) is a 7 mm increase over the Torque:ON, which Canyon did to improve clearance while pedaling, and is stated to also improve slow speed agility.
In the fit department, the Strive:ON will be offered in four sizes from Small up to Extra Large. When thinking about sizing, we recommend paying attention to the reach numbers as they are definitely on the long side — the large comes in at a rang-ey 500 mm, which may sway riders in between sizes to size down. The stack heights (646 mm on a Large) are also nice and high, which we think is a good thing for e-MTBs, and are happy to see Canyon go in this direction.
Canyon has made a stand on mixed-wheel size bikes being their choice for e-MTBs. We, on the other hand, don't have as much of a preference when it comes to rear wheel size on e-MTBs — both 29" and 27.5" have their respective pluses and minuses. It is interesting however, given the Strive:ON's racing intentions, because we think it's safe to say that the general consensus out there is that 29" front and rear is typically faster when it comes to non-motorized Enduro race bikes, so we look forward to seeing how these electric mullets do between the tape.
The Builds
Canyon is currently offering the Strive:ON CFR in three builds, with pricing ranging from €5,699 for the CFR Underdog up to €9,699 for the CFR LTD model. US pricing hasn't been announced yet. The CFR Underdog and the CFR will both come equipped with the Bosch Performance Line CX motors, while the CFR LTD gets the Bosch Performance Line CX Race edition. All three builds can be had with either the 625 Wh battery or the 750 Wh battery. The bigger batteries are a €200 upgrade throughout the range and will add about a pound and a half of weight.
The Strive:ON CFR Underdog and CFR feature Shimano drivetrains and brakes with Fox 38 / Float X and X2 suspension. They also get DT Swiss system wheels wrapped in a solid Maxxis tire spec with EXO + casings in the front and Double Downs in the back. We have no issues with either of the builds unless we were racing… and in that case, it would be hard not to plunk down the extra cash for the LTD build just to get the hot motor.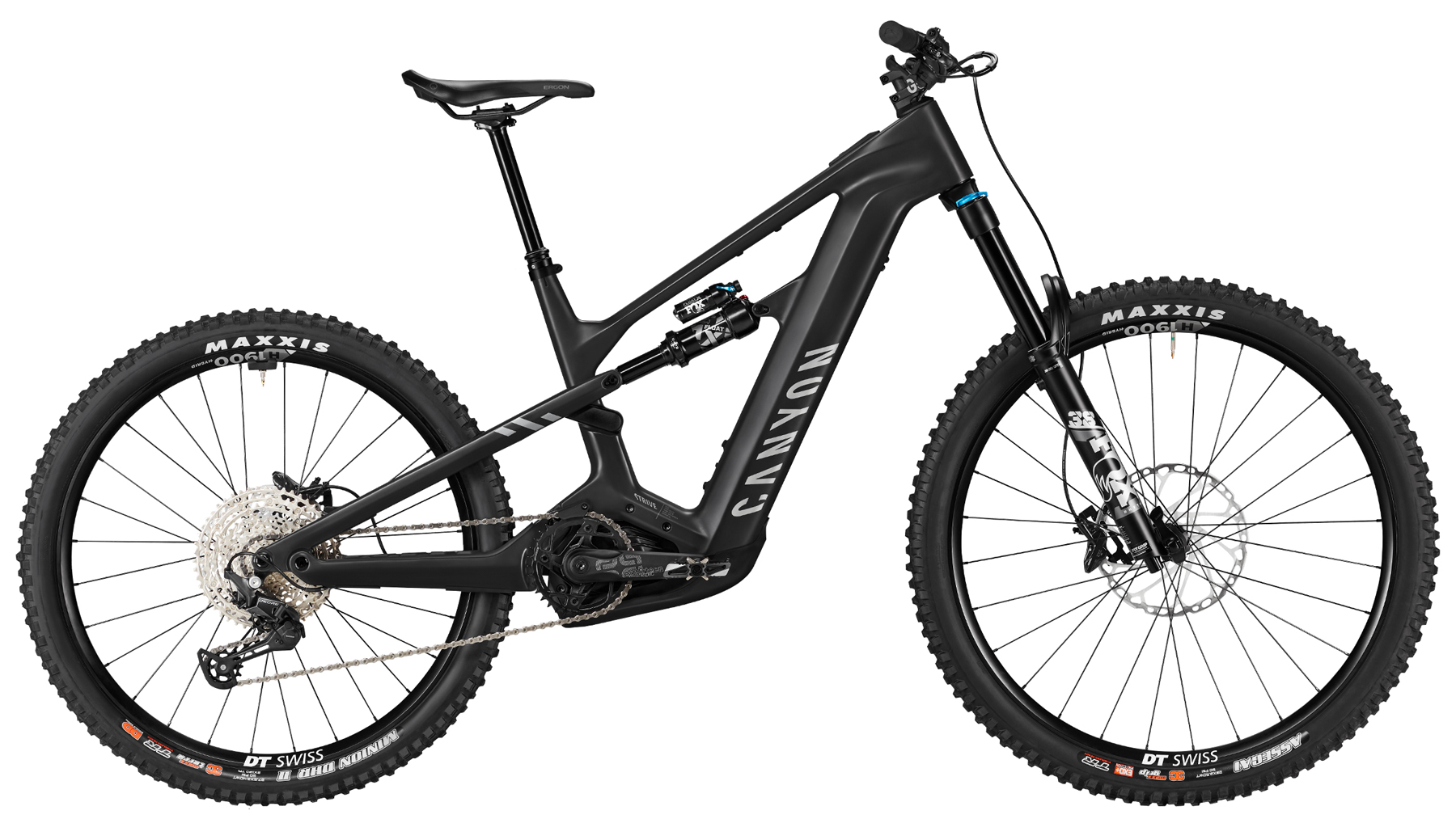 Drivetrain: Shimano Deore 12 speed
Motor: Bosch Performance Line CX
Battery: 625 Wh or 750 Wh
Brakes: Shimano Deore w/ 220 mm front / 203 mm rear rotors
Fork: Fox 38 Rhythm
Shock: Fox Float X Performance
Wheels: DT Swiss H1900
Dropper Post: Canyon Iridium
Drivetrain: Shimano XT w/ SLX Cassette
Motor: Bosch Performance Line CX
Battery: 625 Wh or 750 Wh
Brakes: Shimano XT 4-piston w/ 220 mm front / 203 mm rear rotors
Fork: Fox 38 Performance Elite
Shock: Fox Float X2 Performance
Wheels: DT Swiss HX1700
Dropper Post: Canyon G5
Drivetrain: SRAM X0 Transmission
Motor: Bosch Performance Line CX Race Edition
Battery: 625 Wh or 750 Wh
Brakes: SRAM Code RSC w/ 220 mm front / 200 mm rear rotors
Fork: RockShox ZEB Ultimate
Shock: Rockshox Super Deluxe Ultimate
Wheels: DT Swiss HX1501
Dropper Post: RockShox Reverb AXS
The Strive:ON CFR LTD gets the full SRAM treatment including the new X0 AXS T-Type transmission, RockShox Zeb Ultimate and Super Deluxe Ultimate, SRAM Code RSC brakes, and the RockShox Reverb AXS wireless seatpost — all top-tier parts, and at a price you would commonly see many other brands non-motorized bikes prices at — so in other words, a really good value. And if all that is not enough, it also gets the Bosch Race Edition motor. The parts spec and race motor are hard to beat, and we think this would be our pick, but only if we were going racing, if not, we would be tempted by the Strive:ON CFR with the big battery and save over two grand. US pricing on the Strive:ON hasn't been announced yet, and its availability is a ways out at this point, but it'll be landing over here later this year.
Some Questions / Things We're Curious About
(1) The weight difference between the two batteries is substantial, at about 1.5 lb. How noticeable is that difference on the trail?
(2) How will the Strive:ON fare in the EDR-E race series?
(3) Is the 7 mm of additional BB clearance (over the Torque:ON) enough to improve the Strive:ON's climbing manners?
Bottom Line (For Now)
With the Strive:ON, it appears every design decision made by Canyon has been done with winning e-MTB enduro races in mind. We are curious, though, about how many riders in the market for this type of e-MTB will actually race their bikes. Sure, racing trickle-down technology can improve bikes across all categories, but, has the Strive:ON's commitment to all-out speed compromised its ability to be an aggressive e-MTB for the masses? We can't wait to find out, and will have one in for testing once they are available here in the U.S.