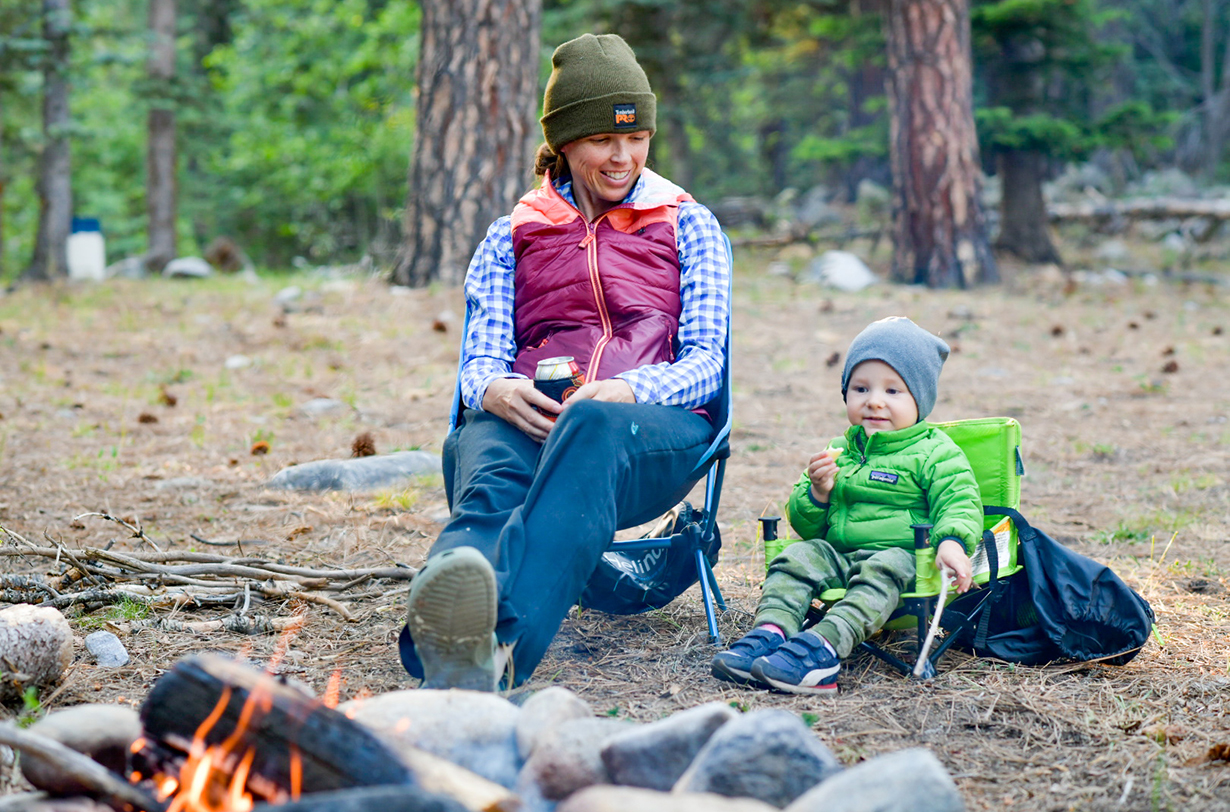 While many of us enjoy long, backcountry backpacking trips, being able to simply pull up to a camping spot in your car and spend a night or two in the outdoors can be pretty awesome, too.
And car camping can also be more comfortable and affordable — you don't need to make compromises in order to keep the weight and size of your gear to a minimum, and you can bring a lot of the comforts of home with you (if you want).
Even better, if you sometimes get to your camping spots via car and other times via your own two feet with everything on your back, there are now a lot of options for gear that balance car-camping comfort with backpacking-friendly weight and packability.
So in this roundup, we've gathered a wide assortment of gear that's made our camping trips better. To be clear: none of these things are necessities for spending nights outdoors, but all of them definitely make the experience more enjoyable. This roundup is not meant to serve as a "things you need to get in order to go camping" article, but rather, it's a place to highlight some of the items we've personally found useful over the years. So we'll do our best to explain why, and whether or not these pieces of gear would make sense for you.
Another somewhat obvious point that's still worth reiterating: if you don't find yourself camping very often or are just getting into it, it's definitely worth simply seeing if you can borrow gear from your friends (shoutout to all my generous friends who allowed me to get away with not owning a stove or tent for a while). And if you typically camp with a group, it's worth discussing with those people what gear they already have. Cause if you're in a group, not every single person needs to have their own individual stove, cooler, table, tent, etc.
Finally, as a great complement to this roundup, check out our Blister Podcast on the current types of camping and the state of the camping industry.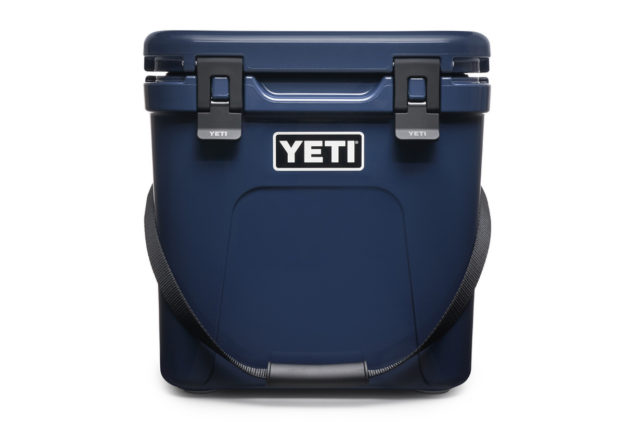 Jonathan Ellsworth: The Roadie 24 takes YETI's proven hard-cooler insulation and packages it into a much more compact design (compared to their bigger Tundra coolers) making it a more sensible and more manageable option for quicker outings.
Personally, I've been using the Roadie a lot when I hit the grocery store down in Gunnison, then drive or bus back to my place in Mt. Crested Butte (about 40 minutes one way). An "embarrassing portion" (to quote Luke Koppa) of my overall diet consists of frozen veggie burgers, so being able to keep them from turning to mush on those trips is great, and the Roadie 24 is perfect for that. And of course, it's perfect for throwing in the back of my rig on a hot day and then heading to the trailhead for a long ride. I come back to a hot car and cold cans.
There is a very significant difference between YETI's coolers and far less expensive, big-box-store coolers in terms of how long they keep food / beverages cold, but if that's not a big priority for you (e.g., you're only using it for a day or two at a time), then those less expensive coolers do make more sense.
If you're looking for a cooler that will be holding food for a multi-day trip, YETI's bigger and more expensive Tundra coolers would make more sense, since the Roadie's 24-liter internal volume can get filled up quickly if you're packing food and beverages for several meals. But the Roadie's more compact size makes it pretty ideal for day trips, especially when you just want to be absolutely sure that your post-ride, post-run, or post-whatever beverages are still going to be ice cold when you get back to the car. It easily fits 18 soda or beer cans with tons of ice, and since its internal compartment is 15.5" tall (39.5 cm), it'll even fit most wine bottles.
And for degenerates like Luke, the Roadie is great cause you can leave a bunch of beers and ice inside, keep it in your car, and you'll have cold beers whenever you want them for at least a few days.
Long and short: the Roadie 24 is a very convenient and functional piece of gear.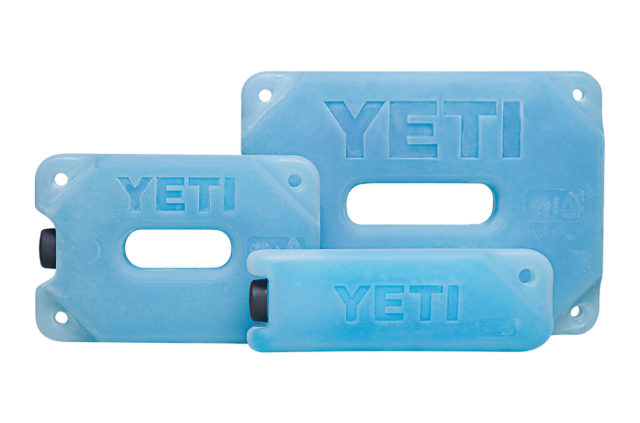 Jonathan Ellsworth: I personally am a huge fan of the combination of the Roadie 24 + 1 of the 4 lb Yeti Ice pack. Yes, you certainly can just dump a bunch of ice in the Roadie every time you use it, but the perfect compatibility of the 4 lb YETI ICE pack with the Roadie 24 + the quickness and easiness of it all + the fact that I expect to get many, many years of use out of this cooler and ice pack combo easily makes it worth the extra $29.99. If you've got more time on your hands than I do, or will use the cooler very infrequently, you might feel differently. But if I somehow lost my YETI ICE pack, I would definitely go buy a replacement.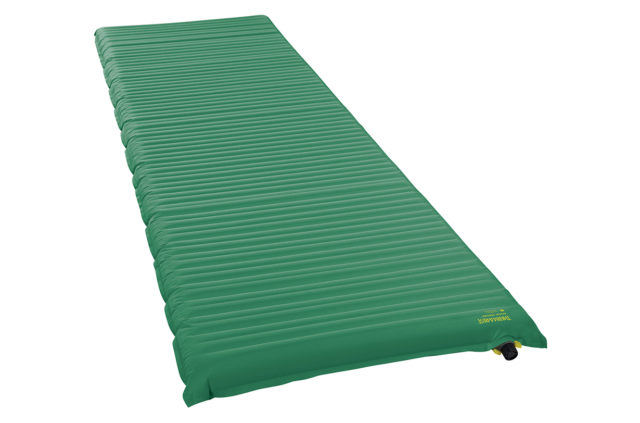 Luke Koppa: Before I go into my personal picks, I want to provide a bit of context. To be very frank, I very rarely sleep outside simply for sleeping-outside's sake. I absolutely love being outside, but spending a night outdoors usually means not sleeping a whole lot for me.
I also pretty much split my time between backpacking and car-camping trips, so my favorite gear tends to balance comfort with moderately low weight. I'd much rather deal with a slightly heavier backpack in exchange for a better night's sleep, but if I can't sleep cause my back's sore from hauling around an extremely heavy pack, that's kind of defeating the purpose.
So, with all that said, the NeoAir Venture series of pads has become a favorite of mine for the camping I do. Thermarest makes a huge variety of pads and has several that will fit specific needs better than the NeoAir Venture. But the "Venture" version of their fully inflatable (rather than air / foam hybrid) NeoAir pad design is really compact, quite light, and in my opinion, much more comfortable than any full-foam or "self-inflating" air / foam hybrid pad of a similar weight (at least from what I've used over the past several years).
I've used some of Thermarest's lighter and more packable NeoAir pads and they're definitely great if you're only backpacking since they're notably lighter, but they're also much more expensive than the Venture (and likely less durable). And Thermarest's "Camp & Comfort" series pads are better if you're never going to be putting this pad on your back, as they do offer a more plush, comfy platform. But as an in-between option, the NeoAir Venture is excellent in my experience, and I've been amazed that I haven't managed to puncture it after 6 years of use.
Thermarest also recently updated the valves on their inflatable pads, and while I don't have a ton of time with the new valves, they do appear to solve any complaints I had with the old valves — they're now one-way so they don't deflate as soon as you take your mouth off, they're easier to grab / manipulate, and they're still repairable and replaceable.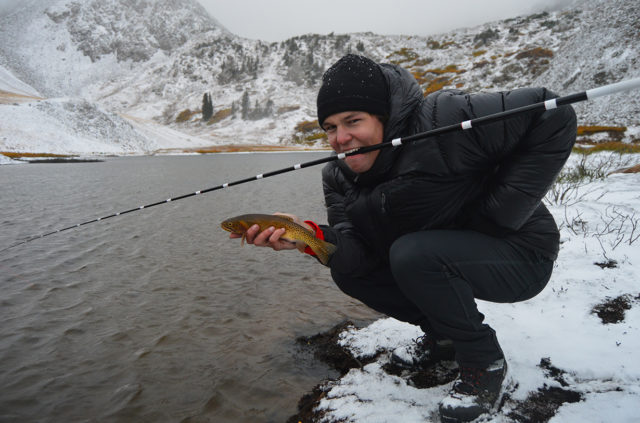 Luke Koppa: Arguably the best part about car camping is that you really don't have to skimp on comfort. From packing chairs and tables to insulated jackets, you can load the car up with as much stuff as it will carry.
I used to do more backpacking than car-camping, and for some reason, it took me way too long to realize this, which led to much less comfortable nights than were necessary. So this is just some general advice that I tend to follow any time I'm car camping: overpack when it comes to layers. If you don't end up using them, that's usually not a problem whatsoever. But when you're just sitting stationary, even around a fire, hanging out before bed, it still surprises me how cold I can get in even "moderate" summer temperatures. Particularly if you're not very experienced with the drastic temperature changes of higher elevations and are heading out for your next car camping trip to the mountains, I'd highly recommend bringing a bunch of the layers you already have.
A few random suggestions: the puffier the better in terms of warmth. And for car camping, it doesn't need to be some ultralight, 800-fill-power down jacket. A fairly cheap, bulkier, heavier jacket would work great. And while the often lightweight puffy jackets are great in terms of overall warmth, I'll usually bring a big cotton flannel or canvas jacket to throw over my puffies when I'm sitting around the fire, since even a small ember from the fire can instantly melt through a thin polyester or nylon fabric on a puffy jacket (speaking from experience).
MSRP: $100 ($60 for 330 lumen model)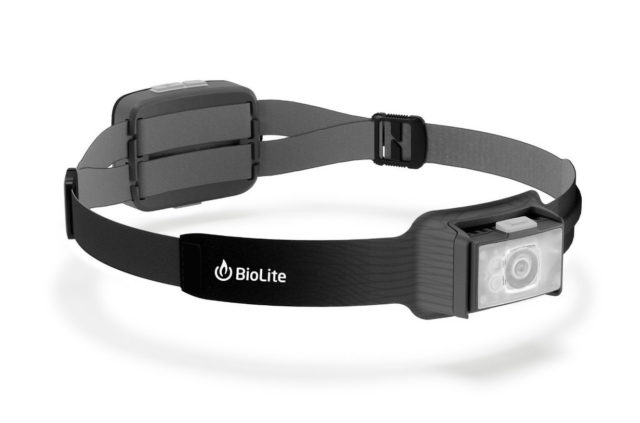 Luke Koppa: Ok, not everyone needs a 750-lumen headlamp. It is incredibly bright.
But … an extremely bright headlamp can be nice. Sometimes it's just useful for doing things around a pitch-black campsite, though I think the Biolite 750 is particularly appealing for people who need a really bright light for things like bike commuting, trail running, early-morning ski touring, or, in my case, night fishing. Night fishing is a pretty dang niche activity and not what the new Biolite 750 was designed for, but this headlamp is just about perfect for that. Even compared to my already powerful 350-lumen headlamp, the Biolite 750 is so much better in terms of seeing fish in fast-moving water at 1am.
Anyway, the main reason I like the Biolite 750 is that, while its max-output mode is indeed super bright, it's also easy to flip through different light settings so you're not blinding the people around you, or draining the headlamp's battery right away. All of its different modes (plain white, red, strobe, & burst) are dimmable, and the red, rear visibility light is, too. Now, those settings aren't unique to the Biolite 750, and if you just need a reliable, good headlamp for camping-related activities, their 330-lumen headlamp is a better choice (and extremely comfortable).
But given that the Biolite 750 is designed to be a super-powerful headlamp, one feature I really love is that you can set it to "constant" mode, where the headlamp will not dim down as its battery life drops. That's something I've been super frustrated with when using some other high-power headlamps in the past (e.g., the old Black Diamond Icon), since if I'm buying a high-power headlamp, I actually want it to put out a bright light when I want it to.
Another feature that I think complements the Biolite 750's constant mode is the ability to charge its rechargeable (via its 3-foot, micro-USB cable) battery while the headlamp is still on. This won't be a usable feature in all scenarios, since you need to have a portable charger on you, but it's again really nice for the niche activity of sight-fishing at night, since I can just run a long USB cord from my portable charger to the Biolite 750 and keep spotting fish with 750 lumens for hours. It'd also be totally usable when wearing a pack, I probably just wouldn't want to have a big portable charger bouncing around while using the Biolite 750 for something like trail running.
On that note, I have been quite happy with how little the Biolite 750 moves around on my head, given its fairly large battery pack on the back, and I also appreciate that the front light can still be tilted down, while still sitting really comfortably on my forehead (the way Biolite integrates their lights into the strap makes for one of the more comfortable designs I've used).
Overall, I really like Biolite's headlamps because of their especially comfortable construction and easily rechargeable batteries, and the new 750 seems like a very competitive option in the high-power headlamp category.
MSRP: $399 (Featherlite) and $99 (Nanoloft Travel)
Kristin Sinnott: I'm a big fan of blankets and every time we put out our Holiday Gift Guides, I include my current favorite. So when given the opportunity to test a Rumpl blanket or two, I was excited — but I had no idea just how much use it would get. Especially since it arrived in the middle of a hot summer and I don't have A/C. But from car camping to backpacking to road trips and more, both of these blankets have seen a lot of use.
We packed the Featherlite Down and NanoLoft Travel blankets every time we packed a tent. We used them as blankets under my son (he has a tendency to roll off the sleeping pad) and for extra warmth in case temperatures plummeted in the middle of the night. They are lightweight so you barely notice them when draped over you, but they are surprisingly warm given how light they are. The NanoLoft Travel Blanket is the perfect size to fully cover my 2-year-old son, but we also like using it as a lap blanket when he isn't hogging it.
The FeatherLite Down Blanket uses sustainably-sourced, hydrophobic, 800-fill-power goose down, whereas the NanoLoft Travel Blanket is made from 100% post-consumer-recycled polyester. Both are machine washable and also treated with a DWR finish, making them stain and water resistant. Both blankets also have built-in clips to transform the blankets into hands-free capes. And they pack down small, meaning there's pretty much always space for them in the backpack or car so there's really no reason to leave them at home.
They are definitely not cheap and a blanket you already have at home makes for a much less expensive alternative. But if you prioritize packability and water resistance, Rumpl's blankets offer a lot to like.
Plus, from now until September 17th, you can enter our Gear Giveaway this week for a chance to win your own Featherlite Down Blanket.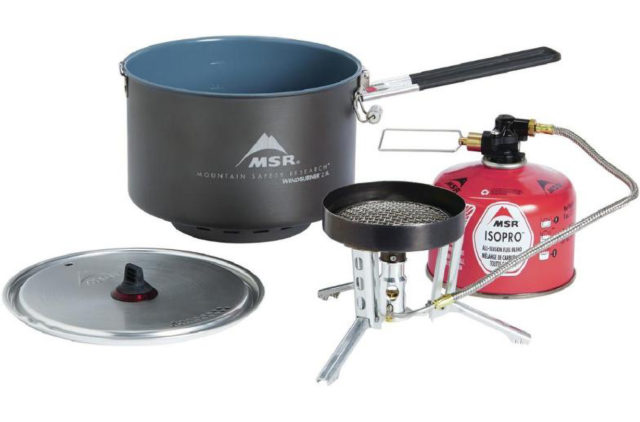 Luke Koppa: Once again, I like this product because of its versatility for both backpacking and car camping.
Just like MSR's much more compact, light, simple, and backpacking-oriented Windburner Personal Stove System, the Group version still runs on canisters and does an excellent job of keeping a flame going in high winds. But the Group version comes with a non-stick, 2.5L pot and a sturdier, standalone platform for the stove itself, making it better suited to larger meals.
But what I really like about this system is its modular design — it will still work really well with smaller Windburner pots for when simplicity and low weight are the priorities. And MSR even makes a non-stick skillet that's compatible, too.
The Group stove system nests neatly inside the pot, and the stove itself will still fit inside most of the smaller Windburner pots. I'm a big fan of canister stoves due to their simplicity and reliability in pretty much all but extremely frigid winter temps, and I'm consistently impressed by how good the heat modulation is on the current Windburners. With old JetBoil stoves or the old MSR Pocket Rocket, I'd often end up charring the bottom of whatever I was trying to cook. I have yet to manage to do this with the Windburner system.
For purely car camping, a cheaper, bulkier, two-burner propane stove like a classic Coleman or the excellent Primus Tupike are better choices since they still offer slightly better heat control (particularly at low simmers) and allow for use with a wider assortment of pots and pans. But the Windburner Group Stove System is way more reliable in gusty winds, it boils water much faster and more efficiently (in terms of fuel), and it's totally suitable for backpacking when paired with a smaller pot.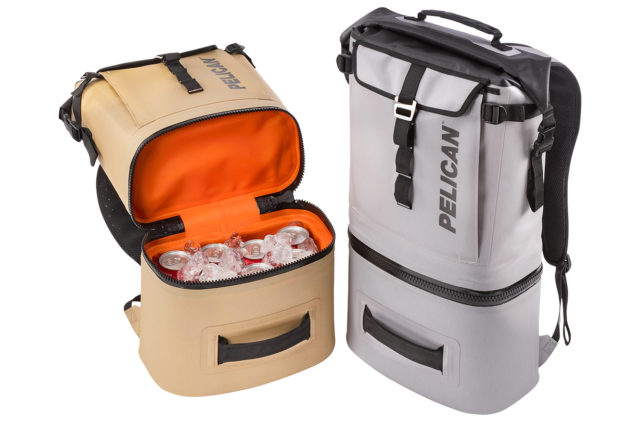 Luke Koppa: Admittedly, I'm rarely one to complain about beverages that aren't ice-cold. If I am fortunate to be enjoying a beer outside, I'll be pretty content regardless of the temperature of that beer — at least enough to not feel the need to haul a bulky cooler more than a few feet from my car.
With that said, since I got Pelican's soft-cooler backpack, I haven't gone out to fish without bringing it — and that's included everything from days when I knew I'd be fishing only a couple dozen feet from my car, and others when I had to walk in a few miles to reach the water. I pretty much always carry a backpack and / or hip pack with me anyway, so having one that carries my gear and keeps some beer cold is pretty ideal.
Pelican makes plenty of hard coolers that are far better for keeping stuff cold for an extended period of time, but if you need a mobile cooler, the Dayventure Backpack Cooler is great, in my experience. The separate cooler compartment very easily fits 6–7 cans + ice, and you can actually just barely cram 8 regular-size, 12-oz cans (i.e., not tall & skinny ones) in there and still toss a relatively thin cooler pack over the top of them. Or, if you're more concerned with quantity than everything staying super cold, you can even fit 12 cans inside + a tiny bit of ice.
That cooler compartment is secured with a very burly, waterproof, and watertight zipper, and I've found that with 6 cans + ice, my beer stays cold for throughout a whole day in the Dayventure. That's just what I'd want out of a soft cooler.
Beverage-cooling capabilities aside, the Dayventure is just a very burly backpack. The exterior material is similar to a dry bag, and combined with the rolltop closure, I've never had the interior contents get wet in a rainstorm (or have interior water leak out). There's also an interior, drop-in pocket in the main compartment, and an exterior pocket for smaller items.
I only have a few complaints about the Dayventure pack. First, I wish it had a hip belt. While its padded shoulder straps make it fine for me on hikes that are 1-6 miles roundtrip, for longer outings (where I'm packing more beer + more gear), I wouldn't mind a bit more support. Second, I wish it had a second side-compression strap so I could more easily attach more stuff on the outside (namely, a fishing rod), though the upper compression straps, strap on the outside pocket, and rolltop straps do provide several lashing options, so that's a very minor complaint. Finally, I wish it wasn't as expensive as it is, though the Dayventure's $250 price tag is pretty consistent with similarly high-quality options out there, and I do expect it to hold up very well in the long run (unlike several cheap soft-coolers I've owned in the past).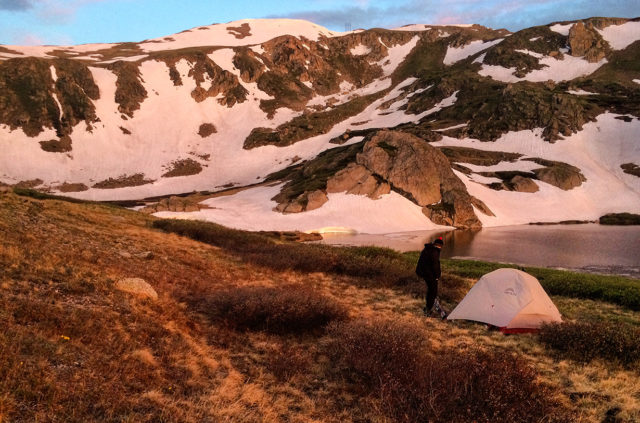 Luke Koppa: Similar to the Thermarest NeoAir Venture pad, the MSR Hubba Hubba NX is a piece of gear I bought several years ago because it seemed like it'd strike a good balance between being light enough for self-supported backpacking, but still comfortable and not super fragile for the average car camping trip.
After 6 years of use, I've come away really impressed by this tent. As with the Venture pad, if you specifically want a very light backpacking tent or a super spacious, durable, and affordable car-camping tent, you've got many better options. But I've now used the Hubba Hubba NX for everything from backpacking at 12,000 feet in 60-mph winds to dozens and dozens of nights pitching it a few feet from my car. While I wouldn't recommend getting it if you are often deliberately camping in 60 mph winds (that did manage to tear a small patch where we'd put a rock over the fly since the stakes wouldn't hold), that tiny tear is literally the only thing that's been damaged on this tent. And after repairing it with some Tenacious Tape and Aqua Seal, it's still going strong.
At around 3 lbs 14 oz / 1.76 kg, the Hubba Hubba NX isn't the lightest option, but it's plenty light for the 1-3 day trips I tend to do, and after how well it handled that blustery night at 12,000 feet, I no longer worry about needing to be careful about handling it or setting it up (I've almost never used a footprint with it, either). And unlike some ultralight tents, the Hubba Hubba NX actually feels like a legit "2-person" tent, and not one that's really only comfortable for a single individual. It definitely won't let you stand up in it, but it's never felt claustrophobic to me, either.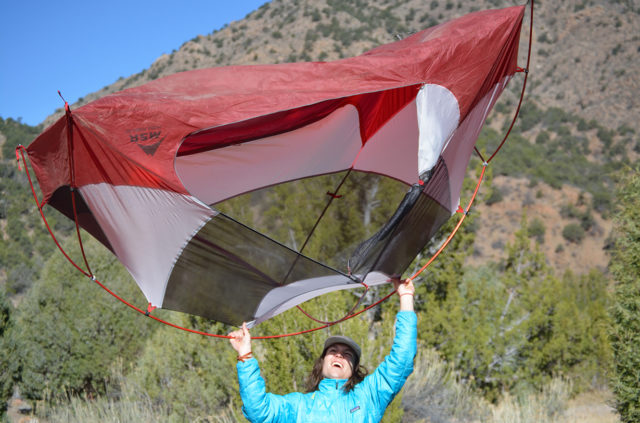 Other highlights — it's incredibly easy to set up (even after I've personally emptied the contents of that Pelican Cooler Pack…), it has a big door on both sides, a pretty big vestibule on each side, and it seems to strike a nice balance of weather protection and breathability. From hot summer nights at a music festival to frigid ones in the alpine, the Hubba Hubba NX has been making me a (relatively) happy camper for many years now.
MSRP: $84.95 – $179.95 (depending on size and fill)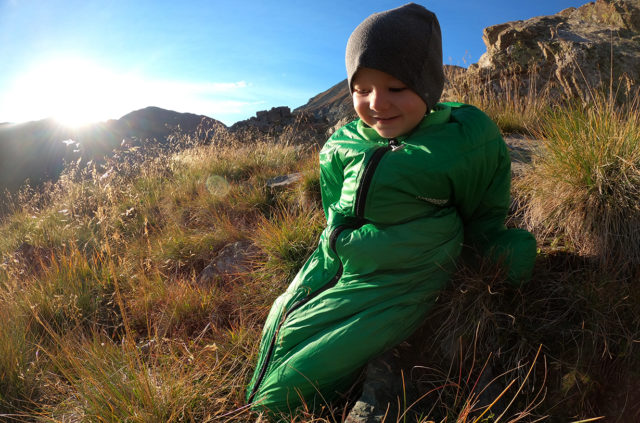 Kristin Sinnott: Morrison Outdoors is a fairly new company with an amazing product: a sleeping bag for babies and toddlers. It's basically a sleep sack or sleeping bag with arms that my entire family loves. Anytime it comes up in conversation, my husband remarks that he wants one in his size and my 2-year-old son is more than happy to show-off his sleeping bag to anyone that asks.
With two different sizes (6-24 months and 2-4 yrs old) and two different fills (synthetic and down) that correspond to different temperature ratings, there are options that should cover most little ones. We tested both sizes over the summer and while my son is petite for his age (1% on the height / weight chart), at 23 months old, the smaller, 6-24 month old size ('Little Mo') barely fit him. For reference, he was 22 lbs and 32" / 81 cm tall. The last few times he wore it he actually had me unzip it because it was a little tight around his neck when he was fully stretched out. Despite this, he still loved the bag and was more than happy (he was actually downright excited) to crawl into the 2-4 yo size (the 'Big Mo'). For reference, the smaller size is 31" / 79 cm long (measured from back cuff to bottom) and the larger size is 41" / 104 cm long.
Initially my biggest hesitation with the bags was that the arms have fully enclosed hands — no option to unfold them to expose their hands. Since he's a fairly independent toddler (or just a typical toddler), I did not think my son would stand for this lack of finger dexterity. I was wrong. He was actually pretty excited to have something covering his arms and hands. The bags we tested were both down, and therefore rated for 20°F / -7°C. Both the Big Mo 20 and Little Mo 20 have arms that are sealed closed on the ends for maximum warmth in freezing temperatures. The warmer-weather, synthetic sleeping bags (Little Mo 40 and Big Mo 40) do have fold-over cuffs.
The Little Mo has a single zipper that opens and closes at the top whereas the Big Mo has a double zipper. The single zipper design is to prevent babies from pulling the zipper down and wiggling their heads into the bag. The design also allows for warm diaper changes as you just unzip from the bottom and the upper body stays nice and toasty. The Big Mo has a double zipper and we found it extremely useful on a recent backpacking trip when temps were warmer at night than we anticipated. My son runs warm to begin with so when I woke up from the warm night temps, I noticed he was warm too and unzipped the bag enough to keep him at a perfect temp.
If you haven't taken your baby / toddler camping yet because you're worried about keeping them warm at night, the Morrison Outdoors kids sleeping bags will help you and your little one rest easy. At just over a pound and the ability to be compressed into its own stuff sack (smaller than a Nalgene bottle), the bags also don't take up much room. From car camping to backpacking, the Big and Little Mo Sleeping Bags are an awesome sleep solution for your little one.
MSRP:
Light Quilt 25°: $259
Light Sheet 25°: $100
Light Mattress: $169
Light Pillow: $39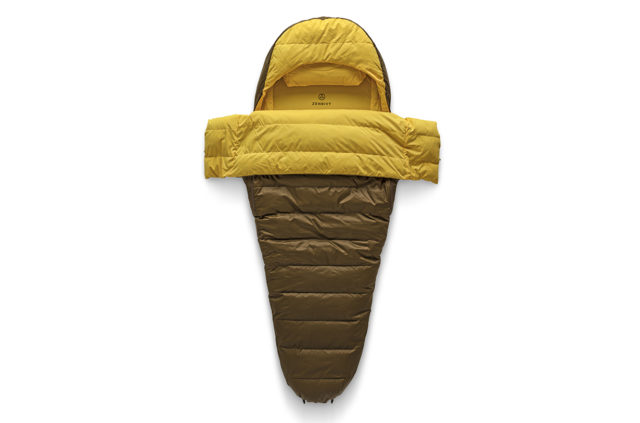 Kristin Sinnott: At some point in the past two years, my husband and I misplaced our car-camping tent. It was a large, inexpensive Coleman, but it was gloriously spacious and reasonable waterproof. Now that we've added a plus one, we really miss our old tent since we are now exclusively using our 2-person backpacking tent for camping trips for all three of us. Fortunately, the upside of co-sleeping our child for the past two years is that our tent situation isn't much different than our bed at home.
The first time we slept in a tent we were both using standard-width sleeping pads and there was little room for my son. He ended up in between the pads for half of the night, laying on top of the Rumpl blankets. He may have slept well, but I did not and I vowed to never repeat a night like that.
Fortunately, the Zenbivy arrived and with it the Zenbivy Light Mattress. I opted for the wide and long version (25 x 77 in / 63.5 x 195.5 cm) to more easily accommodate my son. The mattress comes with an "inflation dry sack" that I was initially skeptical about, but the nozzle on the dry sack perfectly pairs with the mattress air valve and in less than a minute the 3" thick mattress was inflated and I was not light headed from the effort. A definite and much appreciated first for me. And if you don't need an extra-large pad, Zenbivy's makes several "regular" sized ones.
The Zenbivy system I used also included their "Light Sheet 25°" and "Light Quilt 25°." The Sheet is like a fitted sheet for your air mattress — it loops over the corners, has two straps that attach underneath the mattress, and includes an insulated down hood and hooks/loops to connect to the Light Quilt. The adjustable straps also make it easy to pair the Sheet (and Quilt) with other air mattresses. Perfect if you're not ready to completely update your camping setup.
The Light Quilt is zipper-less and can be used in a variety of ways, which is one of the main reasons I love it. On warm nights, I found myself just draping it over me like, well, a quilt. I did tend to connect it to the Light Sheet in a few spots just to keep it from drifting too far in the middle of the night. For a cold night, I sealed the bottom of the Quilt to trap warm air and connected one side to the Light Sheet. I always kept the side my son was on open so I could easily throw the Quilt over him if I thought he was cold. But really the reason I love this system so much is that he still nurses in the middle of the night. And with a traditionally designed sleeping bag, my upper body would get cold quickly when I had to unzip the top of my bag. With the open design of the Light Quilt, I can nurse and still have the Quilt draped over me.
Of all the pad / bag combos I've used, Zenbivy has created a sleep system that feels most like my bed at home. The Light Sheet is like sleeping on a soft (albeit, nylon) sheet. The insulated hood acts like a headboard to keep your pillow from wandering away. The amount of air in the mattress can be adjusted to your preference. And the Light Quilt is comfortable and can be draped, tucked, or cinched down. No sliding off the mattress or having to sleep in one position. I have no interest in going back to my old system.
And it's also worth noting that Zenbivy offers a wide variety of different pad / sheet / quilt combos, so you can pick and choose which ones offer the right combination of price, warmth, and weight for you. While there are still plenty of cheaper options if you don't think you really need this sort of integrated sleep system, Zenbivy's $209 29° Synthetic system seems like a particularly good option for those who don't need the lower weight and / or better packability of the down versions.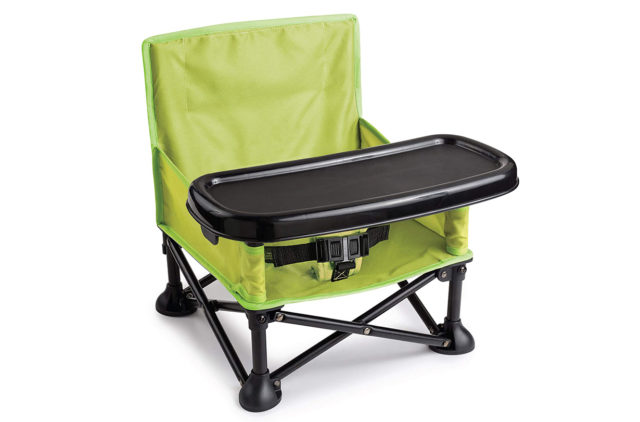 Kristin Sinnott: From car camping to tailgating to babies' first food, my son's Summer Pop 'N Sit ® Portable Booster has seen plenty of use. This was an item that many of my parenting friends highly recommended when we were seeking advice for our little one. Fortunately for us, one of those friends gifted us one and from my son's first foods eaten picnic-style on our floor, he used the booster.
The Portable Booster collapses and the carrying case easily fits the chair and tray. We keep ours in our roof box with our Helinox table and chairs. Any time we want an impromptu picnic, we are ready. My petite 2-year-old still fits in the seat and loves having an appropriately sized chair of his own.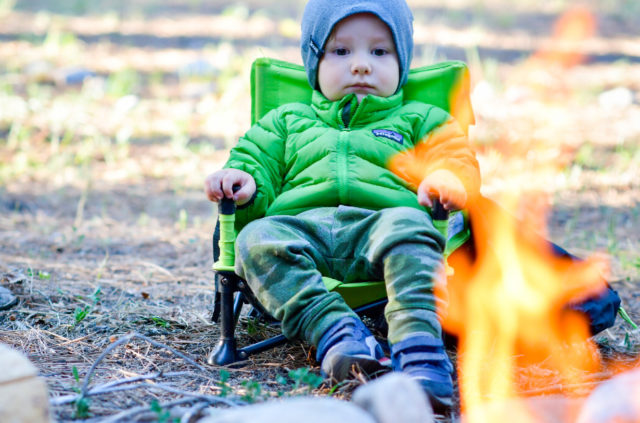 The downside to the Portable Booster is the lack of durability. Ours started ripping near the top when my son was around 9-months old (he'd only used it for 2 months at that point) and when I reached out to the company, the customer service department informed me that, without a receipt, they could not help. So if you get one, make sure to keep the receipt handy. We still use ours despite the tear, and fortunately, it hasn't gotten any worse.
MSRP:
Chairs: $70–$200
Tables: $120–$170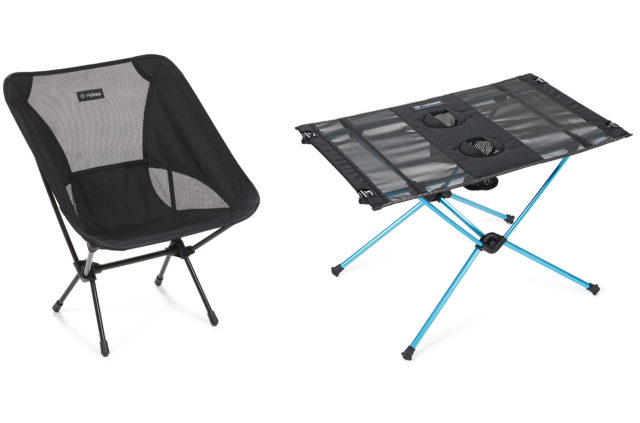 Kristin Sinnott & Luke Koppa: Helinox chairs basically take the fairly classic "camp chair" design and refine it, primarily in terms of making them extremely compact and lightweight, while still being very comfortable and surprisingly durable.
I (Luke) have gone through a lot of inexpensive camp chairs (usually the fabric tears near the poles), and while those are still very good options if you're not sure if you'll be using the chairs super often, I still haven't managed to break a Helinox chair after using a few for several years. So in the long run, Helinox's higher prices have turned out to be worth it for me. They're particularly nice if you don't have a big car and storage space is somewhat limited, since they pack down far smaller than most less expensive chairs, and they're still really easy to set up. And between the least-expensive and most minimal Chair One Mini to the higher-backed Sunset and Savanna chairs, they offer a pretty wide range depending on what you're looking for.
Personally, I'm a fan of the Chair One for most trips, since it's light and packable enough to take on quick hikes, less expensive ($100) than some of their high-back versions, but still way more comfortable at camp than my other go-to, a classic Crazy Creek chair.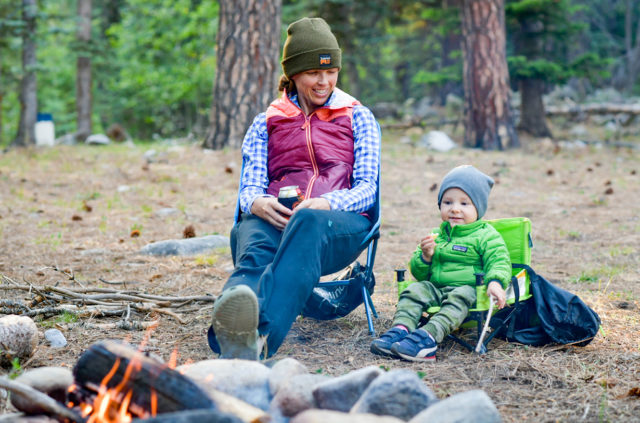 Helinox's "Table One" uses a similar design to their chairs, with tightly woven, lightweight fabric and lightweight, DAC aluminum poles, but, well, it's a table. Like their chairs, the Table One series makes the most sense for people who want something that's light and very packable, though there are definitely plenty of cheaper options if those aren't big priorities. But once we started using one, we found ourselves using these simple tables just about every single time we went camping.