Intro
It's that time of year when you really never know what the weather is going to throw at you. A foot of snow? Maybe. 70°F / 21°C and sunny? Also totally possible.
Having a nice jacket that can cover the varying temps of fall and early-winter is great, and we've been using several women's and men's options that range from very warm pieces that could replace your bigger winter jacket, to more minimal jackets that don't look much different than your favorite casual shirt. Check them out below:
Face Fabric: 6.5 oz 100% cotton flannel yarn dye twill
Insulation: 3 oz 100% polyester fill
Lining: 100% polyester taffeta – diamond quilted
Reviewer: 5'8", 125 lbs / ~173 cm, ~57 kg
Size Reviewed: Medium
MSRP: $110
Best For: everyday casual use
Kristin Sinnott: A modern and stylish cross between a barn coat and an insulated flannel, the Deer Haven is an easy choice to grab when things start to cool off. The flannel face fabric is soft and the plaid print just screams fall. Grab this jacket, a pumpkin spice latte, and head out to pick your own apples. I kid (I don't drink coffee), but in reality, this jacket kept me warm on many fall mornings when out for a stroll with my son.
The sleeves on the size Medium hit just above my first knuckles and the torso hit just above my knee. The shorter zipper design (it stops 6.5" above the bottom of the jacket) means the jacket will keep your legs and rear warm, but it won't restrict your movement. The diamond quilted lining, large drop-in style hand pockets, and large hood make for an ideal fall jacket no matter where your day takes you.
Face Fabric: 100% nylon (main fabric) & 94% polyester / 6% spandex (stretch panels)
Insulation: 90/10 down/feathers, RDS Certified Down insulation, 600 fill power
Reviewer: 5'8", 125 lbs / ~173 cm, ~57 kg
Size Reviewed: Small
MSRP: $249
Best For: any and all activities on cool fall days
Kristin: SKHOOP is an Alaskan company that got its start making insulated skirts 20 years ago. They have since expanded their line to include many other products, including the Cora Down Anorak — a warm anorak that's perfect for those cool fall days. The Anorak has a 10" side zipper that makes getting in and out of it easy, but I find that once I'm in, I don't want out since it's so warm and comfortable. The down insulation, which can look bulky on many jackets and anoraks, is offset with a stretchy polyester / spandex blend fabric sewn into the inside of the sleeves, side panels, collar, and raglan sleeves seam. The stretchy fabric gives the Anorak great mobility while also making it look streamlined and flattering. The fabric is also used on the cuffs, which helps to keep any air from moving up the sleeves.
The kangaroo pouch is one of my favorite features of any anorak, since the lack of a central zipper dividing the pocket makes for warmer hands. The Cora's collar is tall (it comes up above my chin) but it's wide enough to allow unrestricted movement in the neck and the fabric is thick enough that it stands up on its own. This jacket is not overly long (it sits a few inches below my hips), but the bottom hem can be cinched to keep out drafts. The warmest of the women's fall coats on this roundup, the Cora Down Anorak is great for when the temperatures really start to drop but you don't want to hibernate.
Face Fabric: 100% recycled polyester
Insulation: 105-g Polartec® Alpha (59% recycled polyester, 40% polyester)
Lining: 100% recycled polyester
Reviewer: 5'8", 125 lbs / ~173 cm, ~57 kg
Size Reviewed: Small
MSRP: $180
Best For: Everything
Kristin: Since this jacket arrived, I've found a reason to wear it every day. Every. Single. Day. From evening runs to Hot Air Balloon Fiestas to nights on the town — this jacket has been my first choice. The size Small fits me like the most perfect sweatshirt, moves with me instead of restricting me, and is just as comfortable when worn over a t-shirt or a bulky sweater. Living in the high desert, we get fairly extreme temperature changes and the highs can easily drop 30 degrees in a day. The best part about the Monte Hybrid is that it has been ideal for every temperature this fall. From the mid-60s to mid-30s Fahrenheit (~0-18°C), I still found myself gravitating towards it.
The jacket reminds me of the original Patagonia Nano-Air Jacket since the fabric looks and feels similar. But as similar as they first seem, I have to give props to Cotopaxi because they nailed the design with the Monte's slim-yet-athletic fit. The polyester stretch fleece on the arms and side panels, combined with the custom quilted front and back panels give the jacket a sleek, non "techy" look, especially in the black color since the two fabrics blend together perfectly. While not quite as warm as the Nano-Air, the Monte drapes nicely and I seem to get compliments on it everywhere I go. As ideal as this jacket is for the fall, I am eager to use it as a midlayer this winter.
Fabric: 5.5 oz 90% polyester / 10% spandex sweater knit
Reviewer: 5'8", 125 lbs / ~173 cm, ~57 kg
Size Reviewed: O/S
MSRP: $70
Best For: warm fall days & nursing moms
Kristin: A poncho isn't technically a jacket, but it does serve the same purpose, especially in the fall when an insulated layer isn't always needed to keep out the chill. The KAVU Pretty Poncho's fabric is more reminiscent of wool than it is of polyester, with a woven construction and nice drape. At 34 inches long, the front and back hit about halfway down my thigh / hamstring while the sides are just short of my hip bone. A great size to snuggle into, yet it still looks refined enough to throw on over a dress for a nice night out. The cowl neck drapes nicely, and like the poncho, will keep you warm but is not at all restrictive.
This is my first experience with a poncho and I'm kicking myself for not taking the plunge sooner. Especially since I've been nursing the last 14 months and a poncho is pretty much the ideal cover to keep both mom and baby happy. If you're looking for a lightweight outer layer or a nursing cover, the Pretty Poncho should be on your radar.
Face Fabric: nylon taffeta.
Insulation: 700-fill-power down
Fleece: Polartec® Power Stretch® Pro
Reviewer: 5'8", 125 lbs / ~173 cm, ~57 kg
Size Reviewed: Medium
MSRP: $350
Best For: active use
Kristin: While Holden classifies the Down Hybrid as a midlayer, I think it works just as well (if not better) as a jacket. The Down Hybrid gets its name from its blend of fabrics and insulations; the down insulation is on the entire length of the front panel, but is only on the upper half of the back panel. The rest of the back panel, the side panels, hood, and the sleeves are made of a stretchy Polartec Power Stretch Pro fleece — similar to the Monte Hybrid's fabric, but thicker. The Down Hybrid jacket has a unique design that seemed strange when I first tried it on, but it really is attractive looking, especially for a jacket with that amount of down.
The Down Hybrid's sleeves are fairly narrow and are quite long — the extra length works well thanks to the thumbholes in the cuffs. Due to the narrow sleeves, I found the jacket to be most comfortable when just wearing a short-sleeve shirt or a thin long-sleeve shirt underneath (anything thicker made the jacket feel a little tight). I found the thick fleece, combined with the down insulation, made the Down Hybrid Full Zip to be an ideal jacket for cool fall days when you're body is still getting used to cold weather (not as warm as the Cora Down Anorak, but more breathable). The Down Hybrid's hood is large, cozy, can be worn comfortably over a hat, and can be cinched down if needed. The handwarmer pockets are deep enough to stuff your entire hand in and are tucked behind the down insulation panel for added warmth. From the first snowfall to the first signs of spring, this jacket will keep you warm and comfortable, and is one of the better options here for use as a midlayer when the temps really drop.
Patagonia Insulated Fjord Flannel Jacket
Face Fabric: 6.6 oz 100% organic cotton flannel
Insulation: 60-g Thermogreen (90% recycled)
Lining: 2.4 oz 100% polyester
Reviewer Specs: 5'10", 175 lbs / ~178 cm, 79 kg
Size Reviewed: Large
MSRP: $169
Best For: flannel look w/ insulated jacket warmth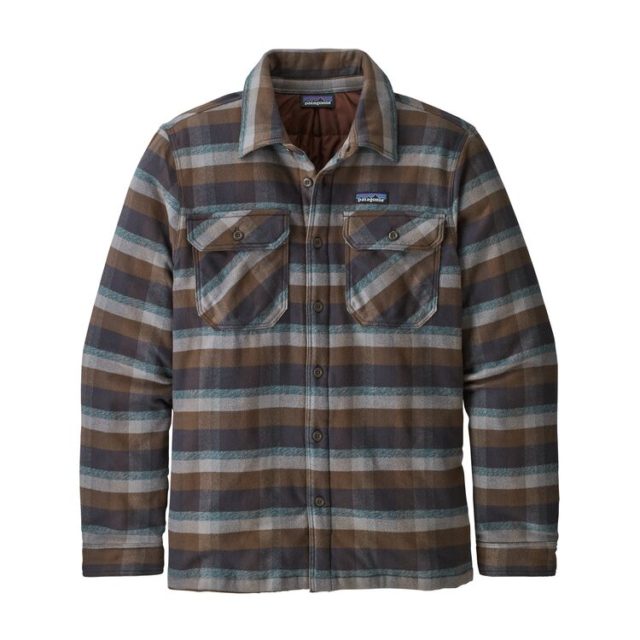 Buy It Now
Jonathan Ellsworth: The insulated Fjord Flannel Jacket, like the standard Fjord Flannel, is super comfortable, and warm enough to wear inside in temps around 65°F (~18°C) or lower. While it has the same super soft flannel exterior of the standard Fjord Flannel, the insulated version adds 60-g Thermogreen insulation (that's 90% recycled) to provide similar warmth vs. the Patagonia Tough Puff Shirt.
The Insulated Fjord Flannel doesn't have a super burly face fabric, so this jacket is best if you need a fairly warm jacket that looks great and you don't need it to hold up to a ton of abuse. Its soft-hand feel is really nice, but the Toad & Co Jet Cord Jacket and Oros Voyager are better options when it comes to dealing with a lot of abrasion.
As for sizing, I went with a size Large to allow more room to layer. And that Large works well if I'm wearing thick sweaters or hoodies beneath it. But at my height / weight, I could easily get away with a Medium if I wanted more of a "shirt" fit or slimmer fit. And since this jacket is nice enough and is comfortable enough to leave on whether indoors or out, going with a Medium and using it as more of a really warm shirt is pretty tempting.
Finally, the Insulated Fjord Flannel Jacket uses buttons rather than snap closures, and unlike the standard Fjord Flannel, the insulated version adds insulated handwarmer pockets.
Face Fabric: 4-oz. 100% cotton "Bushwax"
Insulation: PrimaLoft Silver Echo™ polyester
Lining: 52g nylon plainweave
Reviewer: 5'10", 145 lbs / ~178 cm, 66 kg
Size Reviewed: Small
MSRP: $250
Best For: Rugged style
Sam Shaheen: The Hyder Quilted Jac-Shirt is my new favorite casual jacket — for many reasons. First, it is quite light. The face fabric, insulation, and lining are all quite lightweight, which makes the Hyder feel much lighter than it looks. Its scant weight makes the Hyder a very comfortable jacket that is easy to throw on over a t-shirt, button-up, or a sweatshirt.
The insulation on the Hyder is just about perfect for shoulder season on the Front Range here in Colorado. If the temps are in the mid 30's to low 50's Fahrenheit (~0-10°C), I can easily work the Hyder Quilted Jac-Shirt into an appropriate layering scheme.
My favorite part of the Hyder is the aesthetic. Quilted jackets are certainly en vogue right now, but the Hyder doesn't kowtow exactly to the current trends — it retains much of the "heritage style" that is a cornerstone of Filson's apparel. For me, the Hyder strikes a great balance of modern style and classic functionality.
Like everything I've used from Filson, the Hyder runs big. Usually, I'm a Medium in just about all outdoor clothing and a Small in some brands' more casual offerings. The size Small Hyder is borderline too big for me — I definitely recommend sizing down.
Fabric: 69% Organic Cotton (face fabric, body lining), 28% Polyester (sleeve lining), 3% Elastane (face fabric)
Reviewer: 5'10", 145 lbs / ~178 cm, 66 kg
Size Reviewed: Medium
MSRP: $145
Best For: That cozy corduroy feel
Sam: The Toad & Co Jet Cord Jacket uses a trucker-style silhouette with a lined 14-wale corduroy fabric that makes for a very comfortable jacket with an old-school feel. It is lined with an organic cotton flannel in the body and polyester fabric in the sleeves, which gives a bit more warmth than a standard unlined trucker — but it isn't quite as warm as the Hyder jacket above. I've been comfortable wearing the Jet in temps down to the low 40's with a few layers on underneath.
The Jet Cord Jacket is cut pretty traditionally. Similar to the Filson Hyder, It is wider in the torso and has plenty of length (and width) in the arms. I can easily layer a flannel (or two) underneath for colder days. I sometimes find myself right between sizes in jackets like this and the Jet is no exception. For my frame, the Medium is a bit too big and I suspect that the Small would be borderline too small, though it doesn't fit quite as big as the Filson Hyder.
Face Fabric: 5oz 100% Nylon Outer Shell w/ Wind-Shark Membrane & Coating
Insulation: Quilted 2oz Synthetic Down Core
Battery: 7.4 Volts, rechargeable
Reviewer: 5'10", 145 lbs / ~178 cm, 66 kg
Size Reviewed: Medium
MSRP: $199
Best For: Futuristic tech
Sam: Batteries are getting smaller, which has lead to a recent bloom of heated apparel on the market. The idea is that you can wear a thinner, lighter jacket, and when the temps dip, turn on the heat to stay warm. It has been a bit of a trip testing the Mobile Warming Company Jacket — it's unlike anything I've worn before.
To turn the heat on in the jacket, you can either press a button on the hem, or use the Mobile Warming app on your phone to turn on and adjust the heat via Bluetooth. Both methods work, but I've had issues here and there with both interfaces. They are slightly clunky, but they seem to get the job done. A 7.4 V, 2200 mAh battery plugs into a small pocket within the right-hand pocket to power the jacket. The battery is about 3" x 2" x .75" and is definitely a bit obtrusive in the hand pocket.
Once the jacket is on, there are four heat settings. I haven't really found a time where I wanted anything except the hottest setting (135°F / 57°C, the lowest is 90°F / 32°C). The heating feels a bit odd. The elements are only in the front torso area (which is probably good because if there were more places, it would probably negatively affect comfort). When I am cold with the heat on, it is pretty obvious and easy to feel the heat coming from the jacket, but I never really felt like it was warming my core, rather it felt like it was offering some surface-level heat / comfort on my skin without really affecting my overall temperature (basically like a heated car seat). I think this concept works the best when I'm doing more sedentary activities (like watching a football game, for example) rather than biking or walking around town as I think the warm air from heaters gets trapped better when I'm still.
The Company Jacket itself uses a classic quilted bomber silhouette and the Medium fits me just about perfectly. It has a slimmer, more modern cut with shorter and more fitted sleeves than the previous two pieces. Without the heat on, this jacket is a good "medium weight" and I can wear it down to the upper 30's, low 40's Farhenheit (~3-6°C). With the heat on, I can probably squeeze another 5-10 degrees out of it (10°F if I'm stationary, 5°F if I'm moving around; roughly 2-5°C).
I've had a ton of fun wearing the Company Jacket. It has been a great conversation piece and quite an interesting experiment into the (potential) future of apparel. I'm excited to see where this technology goes in the next few years.
Face Fabric: 68% recycled nylon / 28% nylon / 4% elastane w/ C6 DWR
Insulation:
Body and sleeves: 2 mm Solarcore (Aerogel) foam
Underarm: uninsulated
Lining: 93% Polyester / 7% Elastane
Reviewer: 5'8", 155 lbs / ~173 cm, 70 kg
Size Reviewed: Medium
MSRP: $225
Best For: warmth with less bulk
Luke Koppa: Like the Mobile Warming jacket above, the Oros Voyager uses a new warming technology. Oros's "Solarcore" insulation is made with Aerogel, which is reportedly the most efficient insulation on earth. Originally developed for NASA, Aerogel is a synthetic insulation that traps a lot of dead air space for its weight.
But originally, Aerogel was a very brittle substance best suited to end-uses that didn't involve much of any movement or abrasion. To make it work for apparel, companies have to tweak the insulation so that it can deal with the constant movement any piece of apparel experiences when worn. In the case of the 2 mm Solarcore insulation in the Voyager, that translates to a "foam" sheet used throughout the jacket, apart from the underarm. The insulation makes the jacket feel fairly stiff (I'd liken it to a canvas jacket with a thick flannel lining). While it's not as light and supple as jackets with traditional insulation like the Patagonia Tough Puff Shirt, the Voyager feels a lot more substantial and in my experience so far, is substantially warmer.
I've been surprised by just how warm the Voyager is, especially given how thin its insulation is. I've been comfortable in it + a t-shirt in temps down to around 30°F / -1°C. It's not particularly breathable, but in terms of how much warmth you get for how not-bulky the Voyager is, this jacket is really impressive.
In terms of fit, the Voyager is fairly short for a jacket (the size Medium hits right around my hips), and the torso and sleeves are a bit roomier than what I'd call a "regular" fit. The Voyager has two zippered chest pockets that are concealed by flaps and therefore pretty subtle, two insulated hand pockets, an interior zippered chest pocket, and a snap closure on the front.
While the fit and feel of the Voyager won't be for everyone, it certainly warrants consideration from those who want a very warm jacket without resorting to Michelin Man down pieces.
Face Fabric: nylon ripstop
Insulation: 80-g wool / polyester
Lining: merino wool (body); polyester (sleeves)
Reviewer: 5'8", 155 lbs / ~173 cm, 70 kg
Size Reviewed: Medium
MSRP: $210
Best For: traveling
Luke: The Keeper stands out here due to its use of merino wool — both in its lining and its insulation. As a result, I've been able to wear this piece for days on end without it garnering any sort of funky smell.
One thing I really like about The Keeper is where Mons Royale decided to place the merino lining. It's used throughout the body of the shirt, but the inside of the sleeves and collar feature a slippery, comfortable polyester ripstop. While the merino fabric is very soft, I find the polyester to be a bit more comfortable on skin and easier to slide over other layers, so The Keeper's patterning works well when I want to wear a short-sleeved shirt underneath or a grabby, knit long-sleeve.
The Keeper has two flap chest pockets, two zippered and insulated handwarmer pockets, and one interior zippered chest pocket with a media port. I'm a big fan of the interior pocket, especially when I'm traveling or using The Keeper as a midlayer and want to keep my phone out of harm's way (whether that be an eager pick-pocket or an impending crash on the ski hill).
The Keeper is one of the slimmer pieces here — notably more so than the Patagonia Silent Down Shirt and Tough Puff Shirt. The Keeper is also a bit longer than those pieces, which results in a fit that I find to be pretty flattering.
So if you want a sharp-looking insulated shirt that you can wear for weeks without washing (gross, I know, but it matters), the Mons Royale Keeper is worth a very good look.
Face Fabric: 2.2 oz 70% recycled polyester stretch tafetta
Insulation: 700-fill-power 100% recycled down
Lining: 2.2 oz 70% recycled polyester stretch tafetta
Reviewer: 5'8", 155 lbs / ~173 cm, 70 kg
Size Reviewed: Medium
MSRP: $229
Best For: comfortable warmth
Luke: Over the past year, the Patagonia Silent Down Shirt has become one of my go-to's for those days when it's a bit too cold for just a hoodie or fleece, but when a heavy down parka would be overkill. Unlike many down shirts, the Silent Down Shirt's fabric has a bit of stretch to it, and it's much softer and less crinkly than typical lightweight down pieces. For how warm it is, the Silent Down Shirt is extremely comfortable.
The Silent Down Shirt can fit most of your essentials, with two flap chest pockets and two insulated handwarmer pockets. Its front snap closure is also surprisingly secure, and we've never had an issue with any of the snaps popping open unexpectedly. That said, it will let a bit more of a draft in through the front than jackets with full-zip closures.
In terms of fit, the Silent Down Shirt is pretty standard, though it is pretty puffy which makes it look a bit bulkier than it feels. If you want something that's a bit less warm but that has a slimmer fit, check out the Mons Royale Keeper. But for very chilly days when you don't want to look like you're headed out on an arctic expedition, the Patagonia Silent Down Shirt is a comfortable, warm piece that maintains a classic collared-shirt silhouette.
Lastly, the Silent Down Shirt is made with a 70% recycled fabric and 100% recycled down, which is a big plus.
Face Fabric: 2.5 oz 75-denier stretch polyester
Insulation: 60-g FullRange
Lining: 2.3 oz 100% recycled polyester double knit
Reviewer: 5'8", 155 lbs / ~173 cm, 70 kg
Size Reviewed: Small
MSRP: $199
Best For: breathability
Luke: I've now been using the Tough Puff Shirt for well over a year, and it's still the most comfortable "jacket" I own. The Tough Puff Shirt is essentially a burlier, collared-shirt version of the Patagonia Nano-Air. And the Tough Puff Shirt is ridiculously comfortable. Like, so comfortable that I've been choosing it over my favorite hoodies for lounging around at home.
The Tough Puff Shirt's fabric is super soft and stretchy, and its breathable FullRange insulation means this piece works in a wide range of temperatures. It's about as warm as light midlayer like the Patagonia Nano-Air Hoody, and the Tough Puff Shirt breathes much better than the Silent Down Shirt and Mons Royale Keeper Shirt.
The Tough Puff Shirt has plenty of pockets: one zippered chest pocket, two interior drop-in pockets, and two insulated handwarmer pockets. While some might not like the look of the zippered chest pocket, I personally appreciate the extra piece of mind it provides when my phone or wallet is safely zipped inside.
When it comes to fit, the Tough Puff Shirt definitely sits on the more relaxed / generous side of the spectrum. I'm 5'8", 155 lbs and typically wear a size Medium in all Patagonia products, but I ended up wearing the Tough Puff Shirt in a size Small and was very happy I sized down. Even in the Small, I still have plenty of room to layer underneath it. For reference, the size Small Tough Puff Shirt feels similar to the size Medium Mons Royale Keeper and size Medium Patagonia Silent Down Shirt.