Intro
While we love to talk about the latest, flashiest, and most technical footwear, the fact of the matter is that we spend most of our time in much more casual shoes and boots. The good news is that with advancements in more technical footwear, we're continuing to see casual-looking shoes that are more comfortable, more versatile, and / or more sustainable than the casual shoes and boots of the past. So here we've rounded up several of our favorite casual shoes and boots for men and women, and outline what sets each one apart from the others. And stay tuned for our upcoming winter boot roundup, where we'll be discussing some of our favorite insulated footwear for the colder and snowier winter days.
SHOES
DZR Shift
Upper: 12-oz cotton canvas
Midsole: EVA foam w/ partial shank
Outsole: full-gum-rubber w/ chain-link tread pattern
Waterproof: No
Size Tested: US Men's 10
MSRP: $69
Best For: biking (particularly commuting)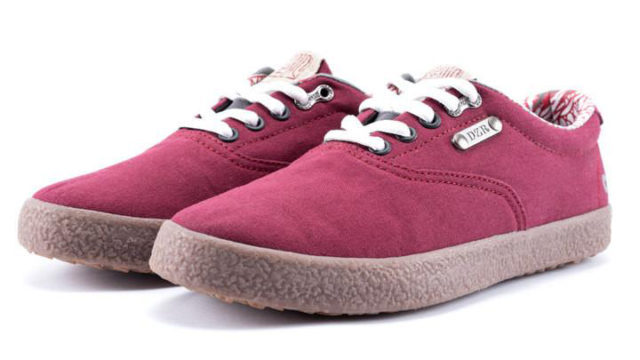 Luke Koppa: The Shift is designed for function as a casual shoe that also provides good grip on flat bike pedals, and I'd say that's definitely where it excels.
Just looking at the Shift, well, it doesn't look like a bike shoe. It looks a lot like a particularly popular skate shoe from a different brand, but adds tweaks to the midsole and outsole to make it perform better on a bike. Namely, a stiffened midsole that's thinned-out around the midfoot for better sensitivity and a full-rubber outsole.
The Shift's midsole is noticeably thinner around the midfoot, and that definitely makes it easier to grip and feel the pedals. The downside to this is that the Shift isn't super supportive or "plush" if you're on your feet all day — for that, I prefer the Five Ten Sleuth DLX. But the Shift definitely beats the Sleuth DLX in terms of sensitivity. Purely in terms of grip, I'd say the Shift is a bit better than the standard Sleuth but not as grippy as the Sleuth DLX. I prefer the Sleuth DLX's grippier outsole and more secure fit for something like lapping the bike park, but the Shift is totally fine (better than an average skate or sneaker) for trail riding or bike commuting. And thanks to its fairly minimal cotton canvas upper, the Shift is one of the most breathable "bike shoes" that I've used.
If you want a casual-looking shoe that works better than most shoes when you hop on a bike, the DZR Shift is a great choice.
Five Ten Sleuth DLX TLD
Upper: suede
Midsole: EVA foam
Outsole: Stealth Phantom (non-marking)
Waterproof: No
Size Tested: US Men's 10
MSRP: $130 ($120 for non-TLD versions)
Best For: mountain biking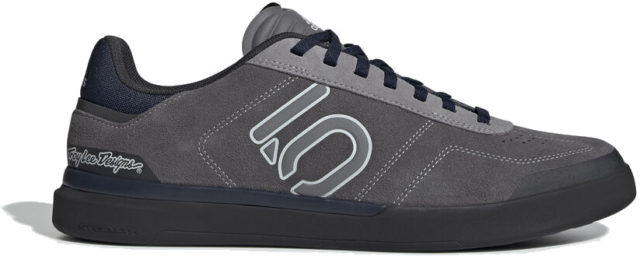 Luke: My first pair of flat-pedal MTB shoes were the regular Five Ten Sleuth, and while I liked that shoe as a casual / MTB crossover shoe, its outsole didn't provide excellent grip on the pedals. That's where the "DLX" version comes in — it takes the casual-looking silhouette of the Sleuth and adds Five Ten's excellent Stealth Phantom rubber. The result is a shoe that looks "normal" enough to wear around town, but that grips nearly as well as Five Ten's dedicated MTB shoes (i.e., really, really well).
The Sleuth DLX isn't quite as grippy as something like the Five Ten Freerider, but it's really close — close enough that I'm happy using the Sleuth DLX as my dedicated flat-pedal shoe. And the Sleuth DLX doesn't look all that much like a bike shoe, though its suede upper is still pretty protective (much more so than the DZR Shift). The Sleuth DLX's midsole is also stiff enough for me that I don't notice a big loss in efficiency when putting the power down on the pedals, but it's flexible enough that it doesn't feel clunky while walking around off the bike.
In terms of fit, the Sleuth DLX seems to run long. I've been using the US Men's size 10, a size that typically works for me in many shoes. The size 10 Sleuth DLX leaves a notable amount of room around my toes (more than most size 10 shoes). If I were to get them again, I'd definitely size down to a 9.5, but since the shoes' laces extend far toward the toes, I've still been able to get a secure fit in the size 10.
Rothy's The Sneaker
Upper: knit recycled polyester (from recycled plastic bottles)
Insole: recycled foam
Outsole: carbon-free rubber
Waterproof: No
Size Reviewed: US Women's 8
MSRP: $125
Best For: everyday wear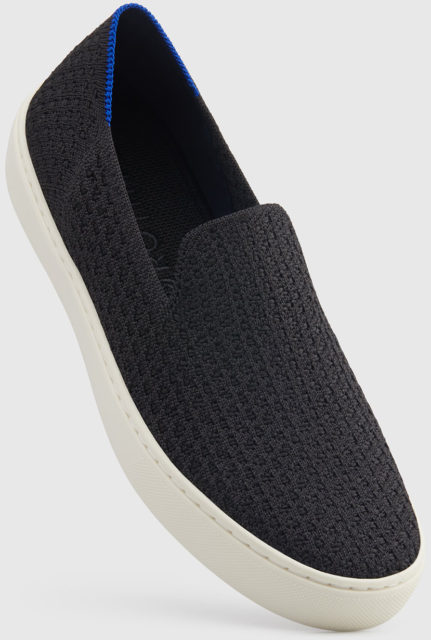 Kristin Sinnott: Rothy's is a direct-to-consumer shoe company known for making comfortable and stylish flats. With 3D-knit uppers (knit to shape, not cut from a larger swath of fabric) made from recycled plastic water bottles, adhesives that are vegan and non-toxic, outsoles made from carbon-free rubber, and to top it all off, the shoes ship in the shoebox (not a box in a box) with zero plastic used, Rothys is committed to sustainability. While I applaud all these choices, I was most curious about how the shoe performed as an everyday shoe.
While known for their ballet flats, I opted to test one of their newer styles, the Sneaker. With color combinations changing seasonally, if not more frequently, there are plenty of choices and it can be hard to pick just one. I ordered my standard size, a US Women's 8, and was happy with the snug, but not too tight fit — perfect for everyday wear. The shoes don't have a lot of stretch to them so keep that in mind when deciding on size. I wore the Sneakers just about every day for the past three months with zero issues. No blisters and no problems with wear or tear. They are not a heavily padded shoe but I found I could wear them for hours at a time without my feet aching or feeling fatigued. I even wore them to an event in a dusty dirt field. While I don't recommend you do the same, since the dust will penetrate the knit uppers and leave you with exceptionally dirty feet, the shoes (and insoles) are machine washable so everything cleaned up nicely.
Rothy's is a great example of how a company can be sustainable without compromising fit or fashion. If you're looking for a comfortable pair of casual shoes and prioritize recycled materials, I highly recommend giving the Rothy's Sneaker a try.
Chaco Women's Z/Ronin
Upper: Knitted polyester upper with synthetic overlays
Midsole: Women's-specific LUVSEAT™ PU
Outsole: Non-marking ChacoGrip™ rubber compound (2.5 mm lug depth)
Waterproof: No
Size Reviewed: US Women's 7.5
MSRP: $130
Best For: getting Chaco's classic sandal feel in a shoe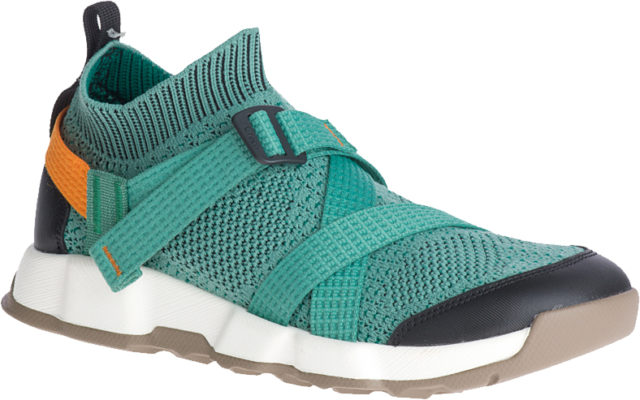 Kristin: Essentially, the Z/Ronin is like your favorite Chaco sandals with built-in socks and toe protection. While the aesthetic may be polarizing, I think Chaco managed to take this concept and make some stylish shoes. With six color combinations to choose from you can go the subtle or vibrant route, but either way, you'll get a very supportive and comfortable shoe that's better suited to cooler weather than Chaco's original sandals.
Like the Z sandals, the Z/Ronin uses one strap to cinch the shoe down for a customizable fit. I wore mine on a recent travel day and found the cinch made getting them on / off easy — a bit of a lifesaver when going through TSA solo with a toddler. The Z/Ronin fits slightly larger than my Chaco sandals so I downsized 1/2 a size and found them to fit perfectly. The sock part is fairly lightweight yet thick enough that I was comfortable wearing them outside in coolish (~44° F / ~7°C) temps. Grippy soles, good arch support, and a comfortable fit every time make these shoes a pleasure to wear any day of the week.
Suavs The Zilker Gum
Upper: Knit synthetic
Outsole: Gum rubber
Waterproof: no
Size Tested: US Men's 9
MSRP: $95
Best for: minimalists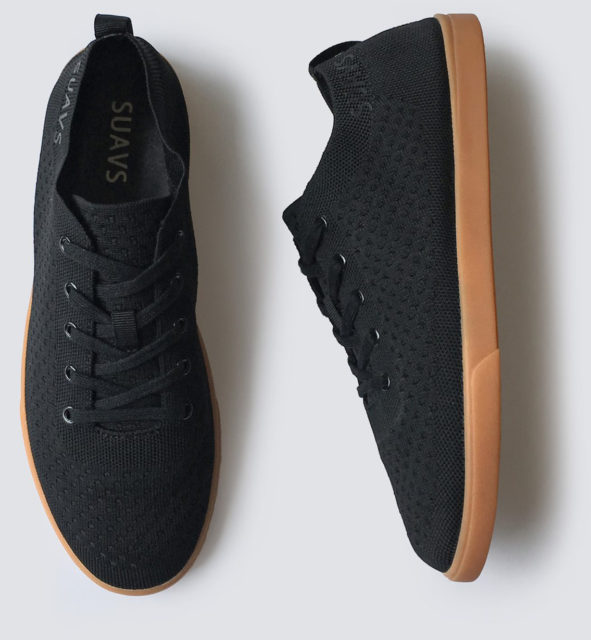 Sam Shaheen: The Zilker Gum from Suavs is a very minimal shoe. It has a thin gum sole and a stretchy 3D-knit upper (which decreases fabric waste) in a simple and classic lace-up silhouette. This shoe has an almost barefoot feel with zero heel-to-toe drop and very little cushioning. I've grown to really like the Zilker as it is super easy to slip on, very comfortable (it almost feels like you're wearing just a substantial sock), super flexible & easy to pack for travel, and has a sleek, understated look that is casual but looks a bit more formal than an average sneaker. As someone with generally sweaty feet, I've never really found a pair of shoes that I can comfortably wear without socks, but the Zilker is the closest I've come. The upper is incredibly breathable and the tops of my feet stay dry, though the bottom of my feet still sweat, despite the moisture-absorbing insole.
The US Men's size 9 fits me perfectly. I'm usually an 8.5 or a 9 and I think sizing up on this shoe is the right call. This definitely isn't a very protective or particularly grippy shoe so if it is wet or icy outside, I'd opt for something more substantial. But if you appreciate a barefoot-style shoe, a simple aesthetic, and like to go sockless, the Zilker is definitely worth a look. I wear my pair all the time.
BOOTS
Danner Jag
Upper: suede & abrasion-resistant nylon
Midsole: EVA foam
Outsole: full-rubber "Retro Danner Waffle"
Waterproof: Yes
Size Tested: US Men's 9.5
MSRP: $160-170
Best For: shoulder season casual & outdoor use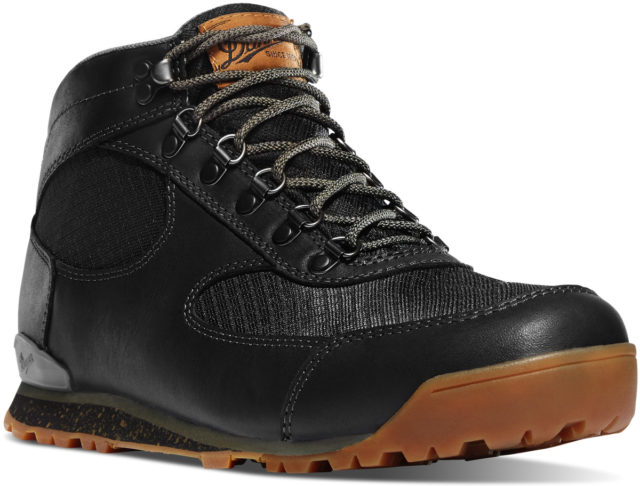 Luke: I've been using Danner boots for many years now, and have always been a fan of their burly build quality and classic aesthetics. The current Jag is the revamped version of the original Jag boot from the 1980s, reimagined with lighter materials.
Compared to Danner's classic boots like the Mountain Light and Mountain Pass, the Jag is notably lighter and requires less break-in time due to its suede & nylon upper. Its EVA midsole has been comfortable from the start, and combined with its fairly widely spaced outsole lugs, that makes it one of the best casual boots I've used for pulling double-duty as a day-hiking boot.
The Jag features a waterproof insert, which makes me less inclined to break it out in hot weather (it's not particularly breathable), but it's become my go-to boot for shoulder season and winter use when I want a bit of extra warmth and protection from snow, rain, and puddles.
In terms of fit, I'd say the Jag runs pretty true to size, if not slightly large. I tend to be between a US Men's size 9.5 or 10, and the size 9.5 in the Jag fits me just about perfectly. Between its clean looks, supportive yet comfortable midsole, waterproof upper, and aggressive outsole, I've found myself reaching for the Jag on any day when it's not super warm.
Native Fitzsimmons Citylite
Upper: EVA foam
Liner: Neoprene
Midsole: EVA foam
Outsole: TPR (synthetic rubber)
Waterproof: No*
Size Tested: US Men's 11
MSRP: $90
Best For: vintage silhouette in a modern, unique construction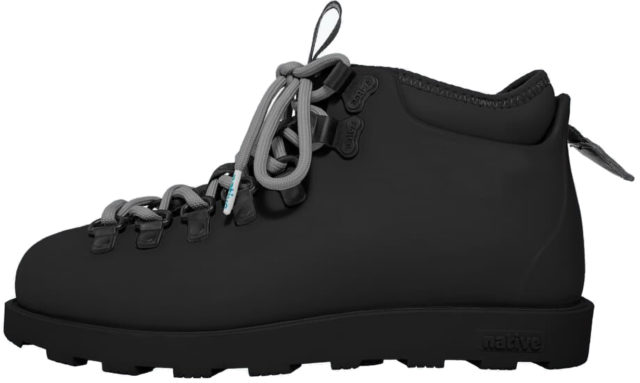 Luke: Native makes shoes that are unlike those from most other brands. Some of their low-cut shoes use knit uppers, while many of their boots like the Fitzsimmons Citylite use an EVA-foam upper. You know, the spongy material that you usually see in the midsoles of other shoes. To complement that unique upper, their Fitzsimmons Citylite boot features a separate, internal neoprene bootie that's lined with microfleece.
What does that translate to? A shoe that's pretty light and surprisingly comfortable. The EVA upper is fairly thin and very pliable, and the neoprene booty adds to the comfort since it uniformly wraps around my feet. The Fitzsimmons Citylite kind of feels like wearing a pair of waders + wading boots. The downside to this construction is that this boot is not very breathable — I'd definitely opt for something more minimal for hot weather. But for romping around in wet weather or snow, the Fitzsimmons Citylite is awesome. I don't think you could call it fully waterproof since there are gaps between the upper and inner bootie, but after wearing it in the 9+ inches of snow we recently got in Crested Butte, I haven't noticed my feet getting wet at all. And I think this boot is the warmest option here, which makes it a solid option for quick walks through the snow where a fully insulated boot might be overkill.
The Fitzsimmons Citylite's outsole is made of a synthetic rubber that's surprisingly grippy. Its lugs are not super deep, but they've gripped on wet, snowy, and icy conditions way better than the rubberized-foam outsole on my old Danner Tramlines. The Citylite outsole and midsole are also pretty light, though the combo is fairly stiff.
We had a miscommunication with the sizing on this shoe, so I ended up testing it in a US Men's size 11. But comparing it to other size-11 shoes and boots, the Fitzsimmons Citylite seems to run pretty true to size. And despite being big on me, the boots extended lacing has let me still get a pretty secure fit, which was surprising.
Finally, I love the look of the Fitzsimmons Citylite. I have a soft spot for vintage hiking-boot silhouettes, and the Fitzsimmons gives me that in a much lighter package that requires no break-in time.
Chaco Ramble
Upper: Ripstop nylon w/ custom quilted wave design
Lining: fleece
Midsole / Outsole: EVR w/ molded LUVSEAT arch support & 3 mm lugs
Waterproof: No
Size Reviewed: US Women's 8
MSRP: $75
Best For: when you want to feel cozy but still look presentable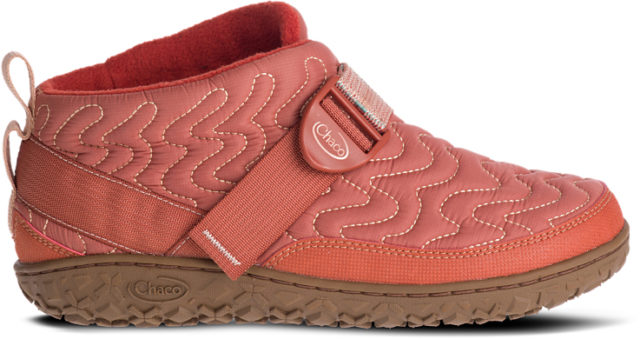 Kristin: I love winter for so many reasons, one of which is getting bundled up in my favorite cold-weather gear. After slipping into the Ramble for the first time, I was even more excited for months of cool weather. The shoes' quilted upper (with a fleece lining) feels like wrapping my favorite down jacket around my feet. Not too puffy and not too heavy, but the ideal amount of insulation for outdoor and indoor use. On top of that, the Ramble has Chaco's signature arch support so they're not just cozy and warm — they're also comfortable for extended periods of time on your feet.
Chaco recommends sizing up, and while I neglected to do so, I too would recommend it. I can comfortably wear the US Women's size 8 with really light socks or no socks, but sizing up a half size would have allowed me to wear thicker socks. No weird seams to cause chafing means that I can slip out of my ski socks and right into the Ronan after a long day. The mid cut combined with the fact that they are not waterproof (they have proven to be water resistant) means they are not a replacement for a good snow boot. But if you're looking for a pair of shoes that will keep your feet warm and comfy indoors and outdoors, offers good traction, and are comfortable enough to wear all day, check out the Ramble.
Saola Niseko
Upper: 40% recycled PET, 60% PET
Midsole / Outsole: algae foam & rubber
Waterproof: No
Size Tested: US Men's 9.5
MSRP: $119.95
Best for: lightweight & sustainable style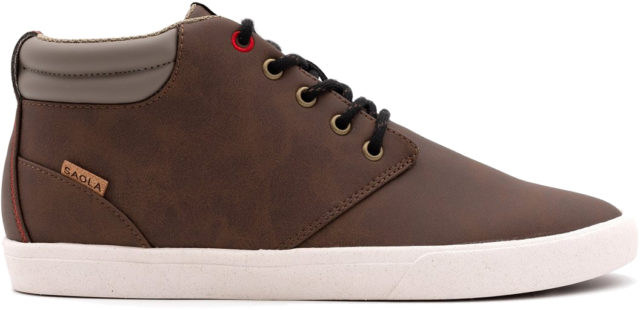 Sam: With an impressive sustainability story, Saola shoes are part of a growing segment of eco-friendly footwear. The uppers on the Niseko are made from 40% recycled PET, the insoles are made from natural cork and algae foam, and the outsoles are made from algae foam with rubber patches in high-wear areas on the sole.
The Niseko has an interesting look. I'd call it a sneaker / boot hybrid that is incredibly lightweight but can still occasionally handle wet and adverse conditions (though I wouldn't expect my feet to stay dry in extended wet conditions due to its lack of a waterproof membrane). Like the Suavs Zilker, the Niseko is more minimal than most of the options in this roundup. It is lightweight and simple, though it doesn't offer much in the way of ankle or arch support. But if you're looking for a mid-height boot, prioritize sustainability, and prefer a lighter, more minimal feel, the Niseko should be on your list.