Devinci Chainsaw
Wheel Size: 29'' (29'' front / 27.5'' rear compatible)
Travel:
170 mm rear / 170 mm front (Enduro configuration)
170 mm rear / 190 mm front (DH configuration)
Geometry highlights:
Sizes offered: Small, Medium, Large, XL
Headtube angle: 62.9° (Enduro mode) / 62.1° (DH mode)
Seat tube angle: 78.9° (Enduro mode)
Reach: 494 mm (Enduro mode, size Large)
Chainstay length: 435 mm (Enduro mode, size Large)
Frame material: Aluminum
Price:
Frame w/ RockShox Super Deluxe Select shock: $2,599
Complete bikes start at $3,899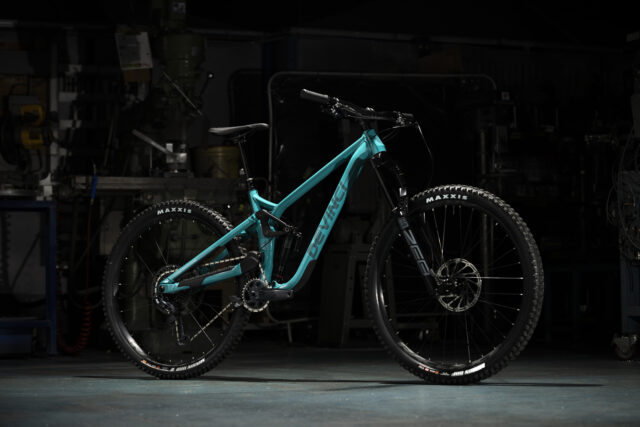 Intro
Until Finn Iles' spectacular win at Mont Sainte Anne last year, Stevie "Chainsaw" Smith had been the only Canadian to ever win an Elite Men's World Cup DH race, and his success on the World Cup DH circuit served as a major inspiration for a whole generation of Canadian riders — including Finn and Jackson Goldstone, who we'd bet on joining Finn and Stevie on that list sooner rather than later.
Stevie won the 2013 World Cup Overall with a win at the season finale in Leogang, beating out Gee Atherton for the title, but his next couple of seasons were hampered by a series of injuries, and he tragically died in a motorcycle accident in 2016. Long Live Chainsaw does an outstanding job of showing both how impressive Stevie's accomplishments on the bike were in his short career, and just how much he meant to Canadian downhill.
Now Stevie's longtime frame sponsor, Devinci, has released the Chainsaw, and it looks to be an extremely fitting tribute to Stevie — an affordable, adaptable, Canadian-made gravity bike that it's easy to imagine another generation of riders coming up on, for everything from racing both Enduro and DH, to everyday park laps.
The Frame
The Chainsaw frame is a high-pivot frame using Devinci's typical Split Pivot layout, getting 170 mm of rear-wheel travel from a 225 x 70 mm Trunnion mount shock (or 180 mm if you bump the shock stroke up to 75 mm). It's offered in aluminum only, and — rather impressively, given its price point — the frame is made in Canada.
The Chainsaw frame can be run with either dual 29'' wheels or with a 27.5'' rear for a mixed-wheel configuration and features a flip chip at the lower shock mount to toggle between the two, which mostly preserves the geometry between the two settings, as we'll describe in more detail below.
The Chainsaw is designed to be run with either a 170mm-travel single-crown fork or a 190mm-travel dual-crown (which wind up with similar axle-to-crown heights — the 190mm-travel RockShox Boxxer that Devinci specs on the DH build is only 6 mm taller than a 170mm-travel ZEB). The Chainsaw features a steep seat tube and provisions for a dropper post (34.9 mm diameter), and there's also room for a water bottle inside the front triangle. Devinci calls their two different sets of specs for the Chainsaw "Enduro" and "DH" in keeping with modern terminology, but it seems fair to think of the Chainsaw as something like a modern take on a Freeride bike — decidedly gravity-oriented, but less concerned with being a true race bike as it is being a durable, less-expensive bike for a fairly wide spectrum of aggressive riding.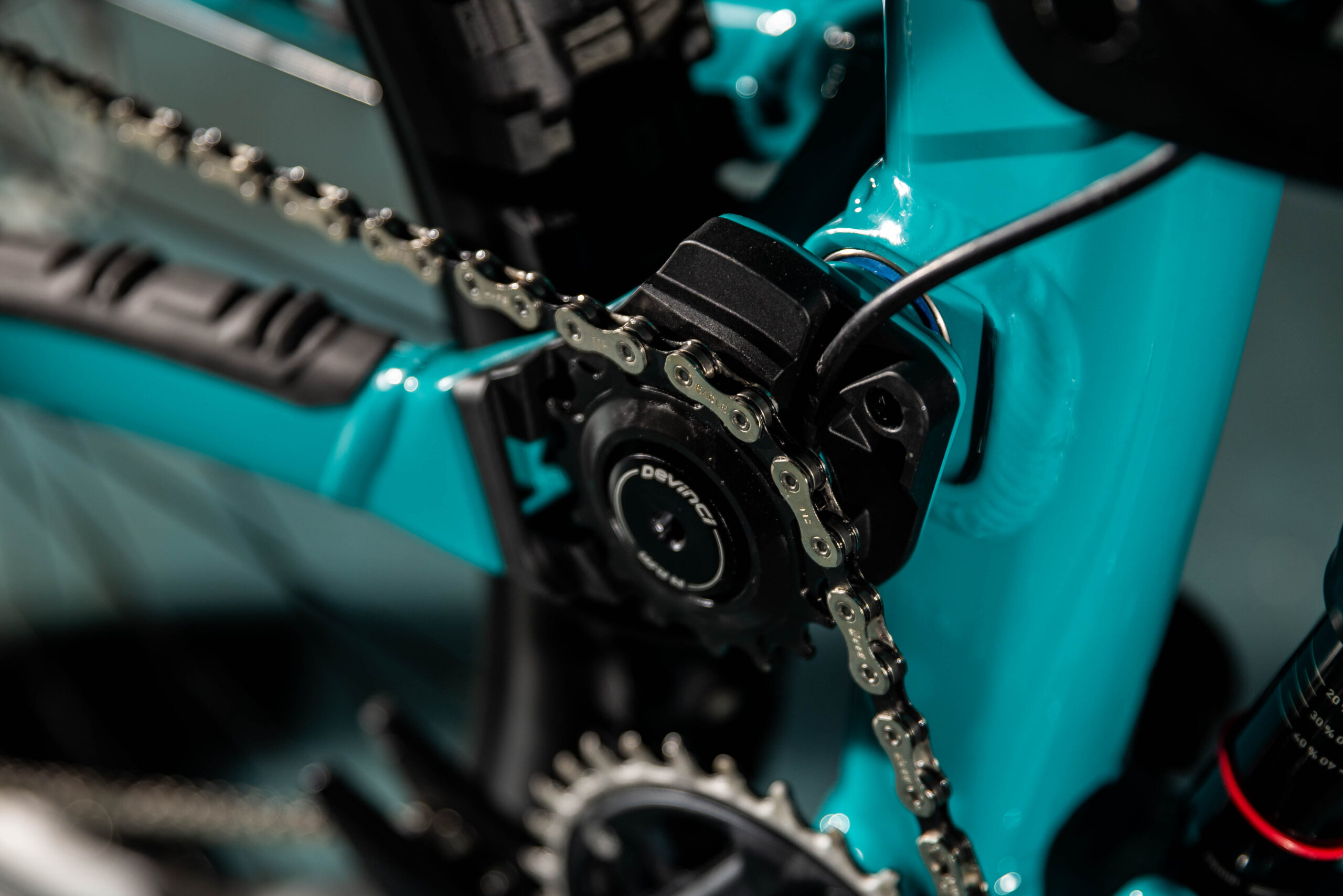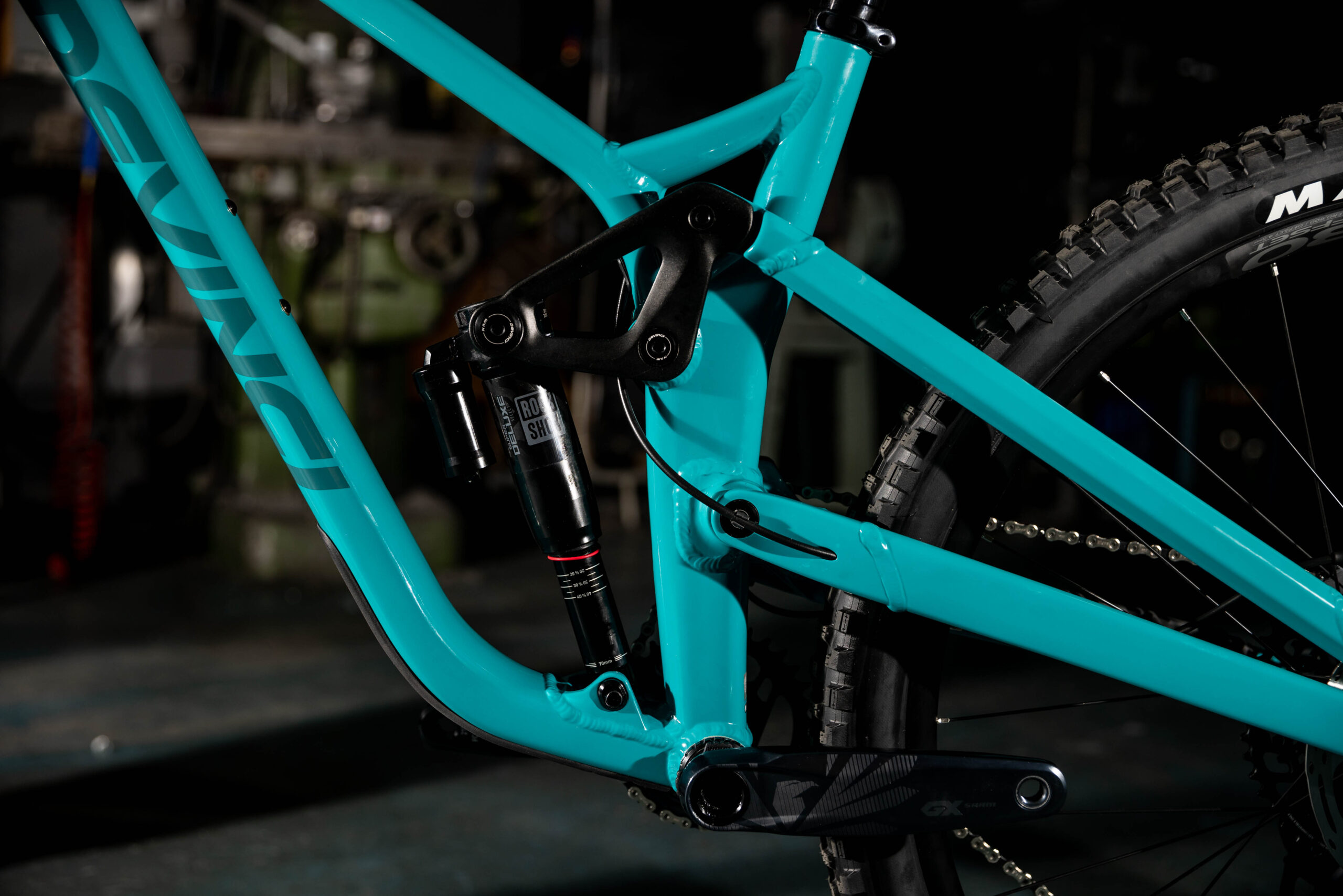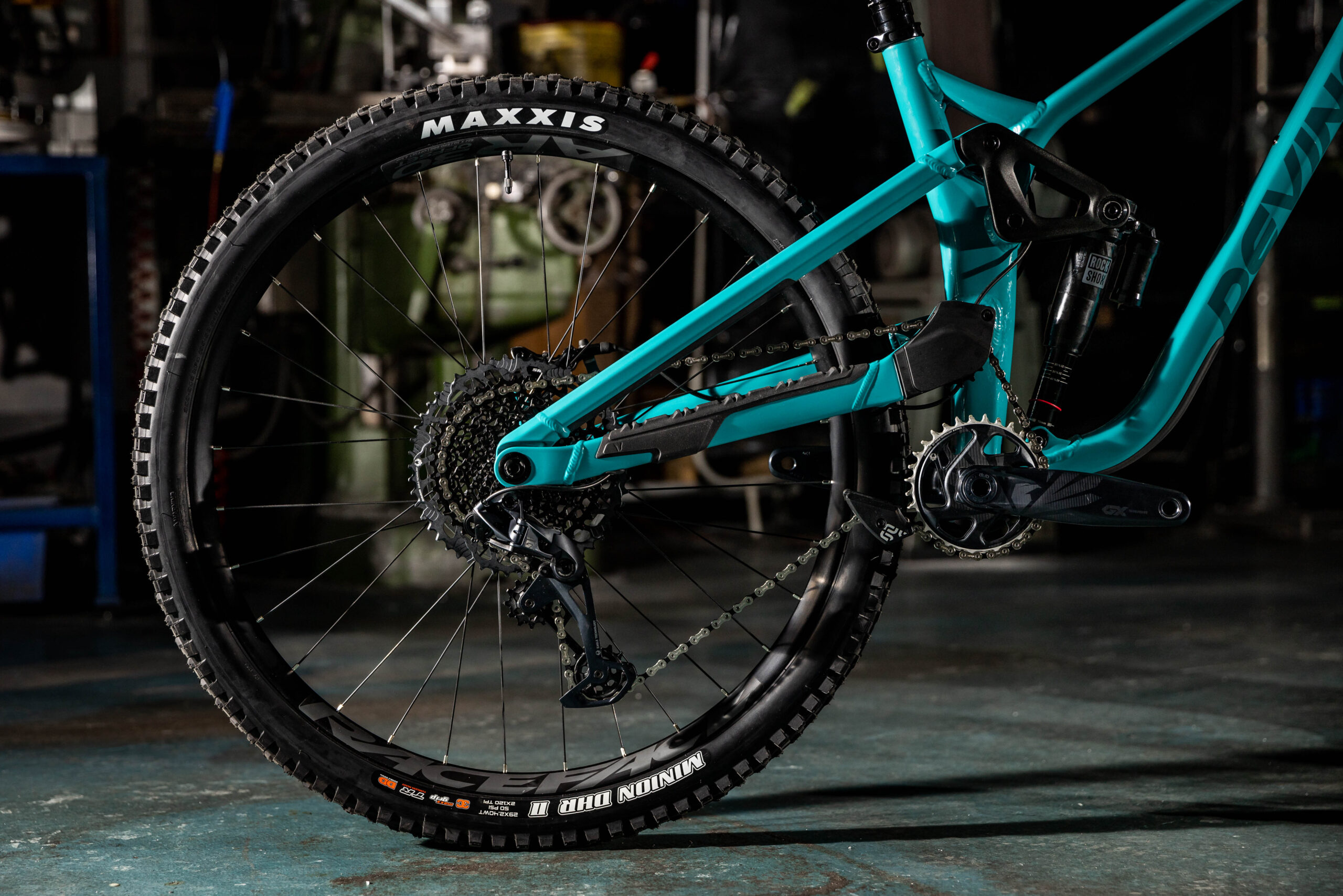 Devinci doesn't publish suspension kinematics for the Chainsaw, but says that it's suitable for use with air and coil shocks, and the main pivot appears to be moderately high but not wildly so — we'd bet on the Chainsaw's axle path being substantially rearward through the early part of the travel, but coming back forward a little bit by bottom out.
As per usual for Devinci, the Chainsaw uses 157 mm Super Boost rear hub spacing. Cable routing is internal, the bottom bracket is threaded, and the lower two tabs from a set of ISCG-05 mounts are included (the idler pulley precludes running a conventional upper chainguide), and molded guards are included on the chainstay and downtube. The Chainsaw uses a UDH derailleur hanger as well.
Devinci offers a lifetime warranty to the original owner on the Chainsaw frame.
Fit & Geometry
The Chainsaw is offered in four sizes, Small through XL, with reach ranging from 449 mm to 519 mm, with the Medium and Large coming in at 469 and 494 mm, respectively. A steep ~79° seat tube angle (varies slightly by size) makes for comparatively compact effective top tube lengths relative to the reach numbers (619 mm on the Large) and the headtube angle is 62.9° across the board. That's paired with size-specific chainstay lengths, which start at a very-short 425 mm on the small and gain 5 mm per size thereafter. If anything, those are a touch on the shorter side of average these days, though the rearward axle path from the high-pivot layout presumably counterbalances things a bit.
All of those numbers are for the Enduro configuration, with dual 29'' wheels and a 170mm-travel single crown fork; the DH build slackens things out slightly by way of a taller fork and 27.5'' rear wheel (partially counteracted by the flip chip at the lower shock mount). The result is a 62.1° headtube angle, a corresponding slackening of the seat tube by a fraction of a degree, and a slightly shorter reach in a given size; the chainstays also shrink by 4 mm.
Devinci doesn't publish geometry charts for the Chainsaw with a 190mm-travel dual crown fork and dual 29'' wheels or a 170mm-travel single-crown and mixed wheels, though both are also possible by way of the flip chip. Based on the relative numbers, it appears that the mixed-wheel configuration results in the geometry being a touch lower and slacker (with a given fork) than the full 29'' one; the differences between the Enduro and DH geometries listed above are a combination of that change and the slightly taller fork on the DH spec (more on that below).
The Builds
The Chainsaw is offered in two Enduro builds and a lone DH one, with the former coming with dual 29'' wheels and the latter getting a mixed-wheel size configuration.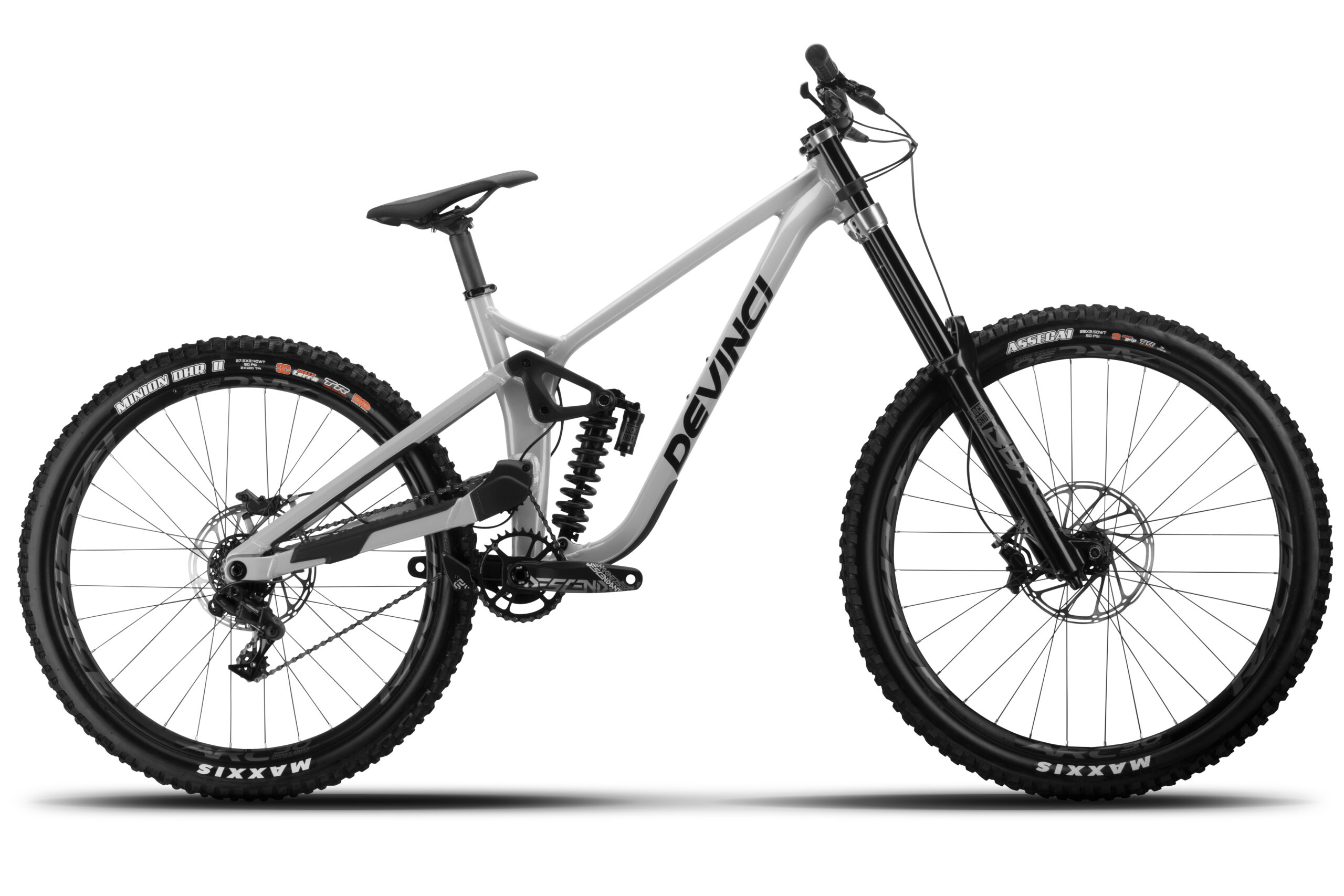 Drivetrain: SRAM SX Eagle
Brakes: SRAM Guide T (w/ 200 mm rotors)
Fork: RockShox Domain R
Shock: RockShox Super Deluxe Select R
Wheels: V2 Comp rims w/ Novatech hubs
Dropper Post: TransX (S: 125 mm; M: 150 mm; L: 170 mm; XL: 200 mm)
Drivetrain: SRAM GX Eagle
Brakes: SRAM G2 RE (w/ 200 mm rotors)
Fork: RockShox ZEB Rush RC
Shock: RockShox Super Deluxe Select R
Wheels: RaceFace AR30 rims w/ Factor hubs
Dropper Post: TransX (S: 125 mm; M: 150 mm; L: 170 mm; XL: 200 mm)
Drivetrain: SRAM GX DH
Brakes: SRAM Code R (w/ 200 mm rotors)
Fork: RockShox Boxxer Select Charge RC
Shock: RockShox Super Deluxe Coil Select+
Wheels: RaceFace ARC30 rims w/ Novatec hubs
Dropper Post: n/a
The Chainsaw is also available as a frameset for $2,599 USD / $3,399 CAD, including a RockShox Super Deluxe Select R shock, FSA headset, TransX dropper post, SDG Fly RL seat, and e*13 lower chainguide.
Some Questions / Things We're Curious About
(1) The Chainsaw occupies a pretty interesting niche in the modern bike market, as a relatively affordable, high-pivot, gravity-oriented bike that doesn't fit neatly into a typical category of bike. So what does it feel like on the trail, and how does it stack up against the modern crop of Enduro and DH bikes?
(2) And how does the Chainsaw compare to what is probably its most obvious competitor, the Norco Shore?
(3) What about the Devinci Spartan, the other high-pivot bike with similar travel numbers in their lineup? In theory, the Spartan looks to be more like a straightforward Enduro race bike, but does that hold up on trail?
Bottom Line (For Now)
The Chainsaw is a very interesting new offering from Devinci and looks to be a fitting tribute to its namesake. We're quite curious to see how it all adds up on the trail, and are working to get a Chainsaw in for review. Stay tuned for more to come.