Intro
When considering a new running shoe, there are so many similar-looking shoes on the market being made by so many different companies, it is virtually impossible to (1) know where to begin; (2) quickly figure out which one or two products from a given brand might work well for you; and (3) determine what products from other brands might be the most similar and also worth considering.
So in our new "Blister Brand Guide" series, we provide an overview of the entire product lineup of a brand; highlight how each product stands out from the rest of that brand's lineup; and help you figure out quickly and easily which shoe might work best for you.
In our individual product reviews, we go very deep into the details of particular products. With these Brand Guides, the goal is not Depth, but Breadth. Our Brand Guides and full reviews are designed to complement each other — provide a broad overview of entire company lineups, and then also very detailed reviews of individual products.
Brand Background: Craft
Like several of the brands we've profiled in our Running Shoe Brand Guide Series, Craft is a relatively new player in the footwear space. The Swedish company is probably best known for its performance sports apparel, which it's been making since 1977. At the hands of founder Anders Bengtsson, Craft's first line of products focused on moisture-wicking technical base layers made from material that transports sweat away from the skin to the garment's surface, where it can easily evaporate. From there, the brand expanded to producing active mid layers and (eventually) outerwear for a wide range of sports, including Nordic skiing, running, soccer, gymnastics, and cycling.
Craft only began making inroads into footwear over the last few years, and the quality of their nascent product line for roads, trails, and everything in between is impressive considering its short history; a few of their models are already into their second iterations. To sum up Craft's style, most of their shoes feature maximal stack heights well over 30 mm and corresponding high heel-to-toe drops, though we've found that their midsoles tend to still be pretty firm and energetic despite their thickness. They are also typically built on fairly narrow lasts, especially Craft's higher-end models, which use the brand's snug "Race Fit." These shoes include the acronym CTM in their title, which stands for "Craft Tailored Motion," and is used to indicate the presence of Craft's most advanced materials, such as minimal one-piece uppers, premium midsole compounds, and carbon plates.
For more on the origin of Craft Footwear, check out episode 124 of our Off The Couch podcast, with Craft Footwear pro-runner and full-time employee, David Laney.
The combination between tall stack heights, rigid plates, and narrow lasts can lead to instability on technical trails, so we'd recommend staying off really rugged stuff in most of Craft's higher-cushioned trail and hybrid shoes. In our experience, they thrive on milder terrain and roads, the longer the distance the better. As Craft continues to release models throughout 2023, we'll regularly update this guide to reflect new additions to their lineup available in the US.
This breakdown will give a quick overview of each model's features and intended purpose. It's organized from most cushioned to least cushioned.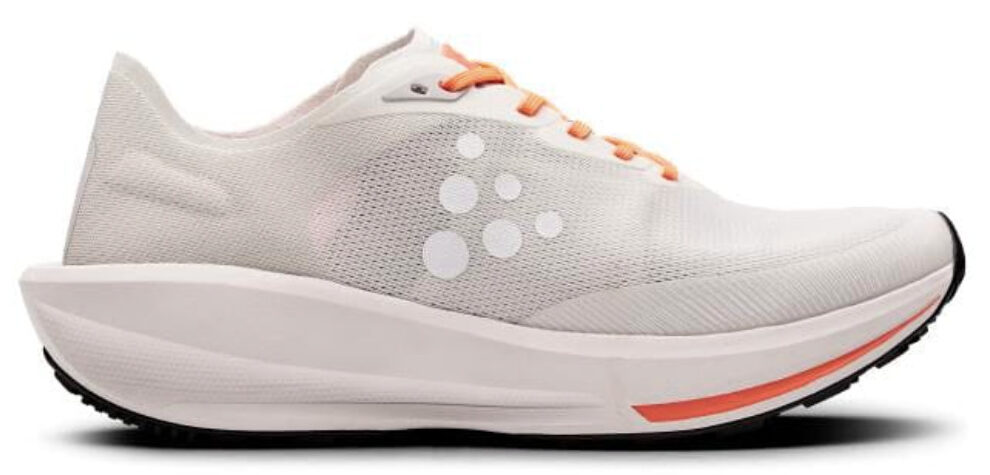 The third iteration in Craft's CTM Ultra line maintains the same identity set forth by the original model — a fast, lightweight, workhorse for distances short and long. The CTM Ultra 3 is built around a "Ud Foam" midsole with the same maximal geometry as the shoe's previous version. Updates include a one-piece engineered mesh upper with an asymmetrical lacing system and a new internal structure that allegedly provides better foot security and stability. Like the CTM Ultra 2, the CTM Ultra 3 makes for a great training companion next to the race-specific CTM Ultra Carbon 2, so if you're a fan of the latter but don't want to waste non-competitive miles on it, consider pairing it with either of the CTM Ultras currently on offer from Craft.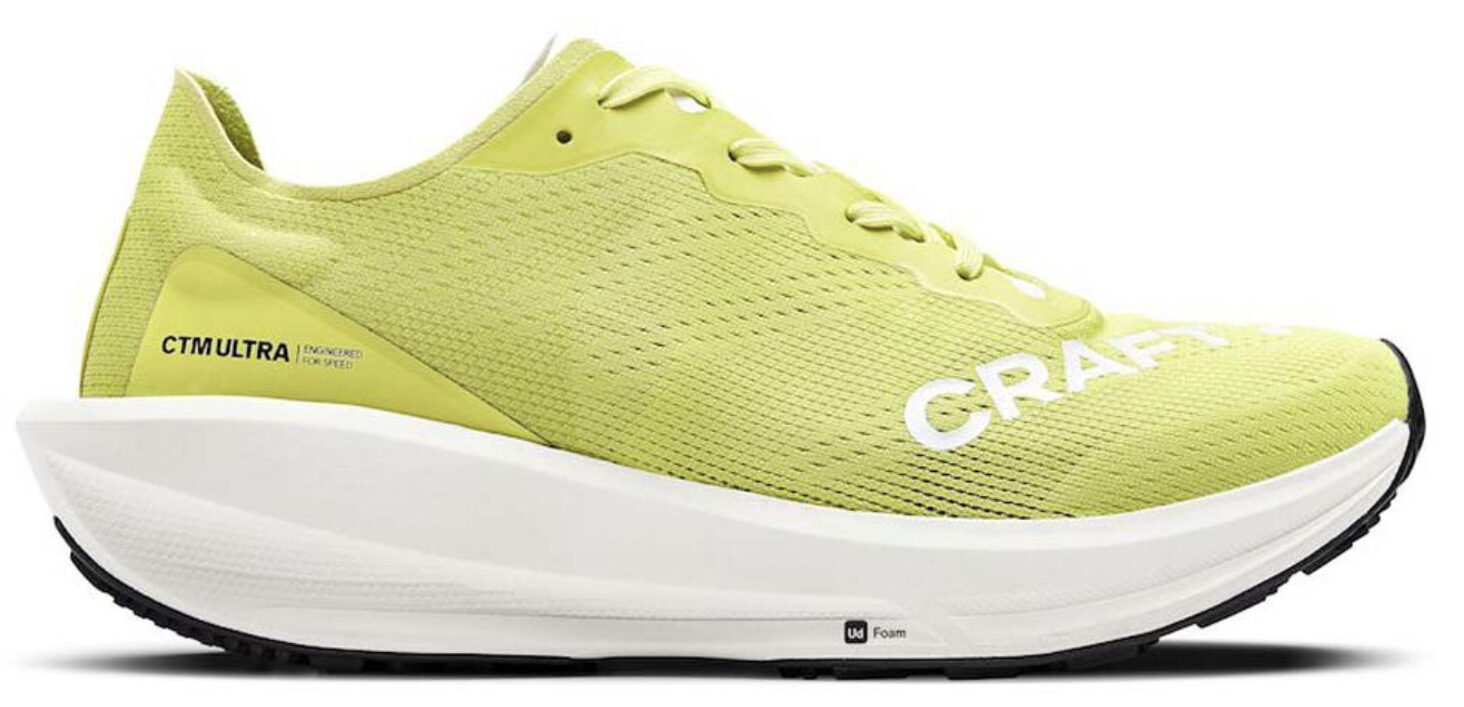 As a companion to the CTM Ultra Carbon 2, the CTM Ultra 2 acts as a non-plated version of Craft's premium model for runners who want a less rigid option. Similar to the CTM Ultra Carbon 2, the second iteration of the CTM Ultra 2 also received minor changes to its midsole composition and heel structure, while also getting a bit wider in the toe box. Despite the two shoes sharing stack heights, heel-to-toe drops, outsoles, and uppers, the CTM Ultra 2 differs from the CTM Ultra Carbon 2 in weight and stability; it's nearly 15 g lighter in a US Men's Size 9 and should feel slightly more grounded sans performance plate. The CTM Ultra 2 is also quite a bit less expensive, making it a great general training option for high-mileage runners. Again, Craft technically categorizes both the CTM Ultra Carbon 2 and the CTM Ultra 2 as fit for roads and trails, but given their geometry and lack of protection, they're probably both more at home on paved or at least smooth surfaces.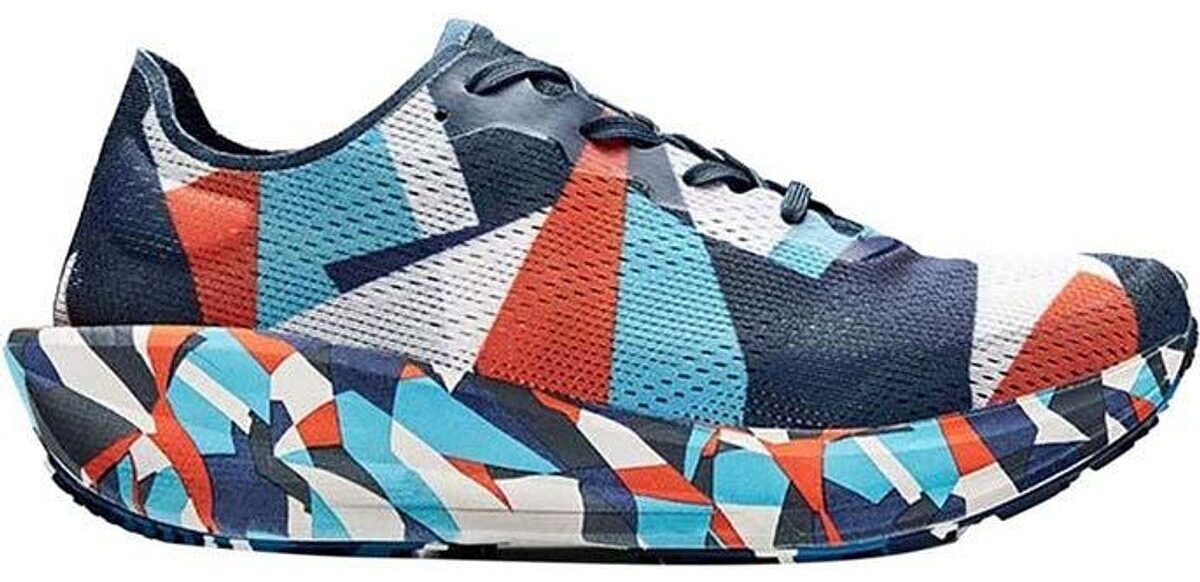 The second iteration of Craft's carbon-plated road and trail shoe, the CTM Ultra Carbon 2, received just a few minor updates to its original version, namely a re-tuned midsole foam and a restructured heel collar. The acronym CTM stands for "Craft Tailored Motion," which Craft places in front of the names of their shoes that incorporate their most advanced materials. As a higher-end model, the CTM Ultra Carbon 2 benefits from Craft's energetic "UD Foam," a lightweight EVA-based midsole foam that the brand claims is fast, light, and long lasting. Additionally, the shoe also receives a tuned carbon plate for improved energy return, a one-piece engineered mesh upper, and a 3-piece lugged "Ultra Trac Outsole" that Craft says should be able to hold its own on smooth trails. However, with one of the highest stack heights and drops on the market (40 mm and 10 mm, respectively) a fairly rigid, plated midsole, and a last on the narrow side, the CTM Ultra Carbon 2 is probably best suited for faster / longer efforts on the roads.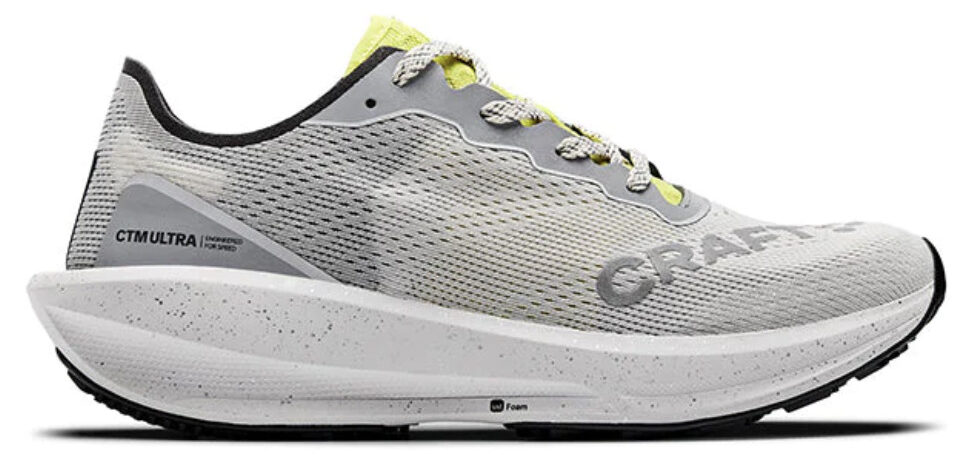 As you might have picked up from the name, CTM Ultra Lumen is the high-viz version of the CTM Ultra 2. It has the same one-piece engineered mesh upper, "Ud Foam" midsole, 3-piece lugged traction rubber outsole, and "Race Fit" as the standard CTM Ultra 2, but includes "luminous touches" to enhance visibility in low light conditions. Craft's Race Fit (featured here) is slightly more snug than their regular running fit, meaning that there's a bit less volume in the toe box and the shoe runs short. If you're in between sizes, definitely size up.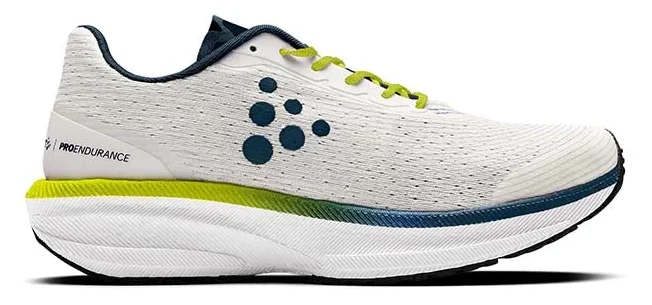 The Pro Endur Distance is Craft's cushioned trainer for everything from routine weekday runs to long-distance workouts to racing. It's the only shoe within the brand's lineup to feature "Px Foam," which has a lower density and is lighter weight than most traditional types of EVA. There's also quite a bit of it: the Pro Endur Distance's 36 mm stack height and softer midsole should lend the shoe a gentler ride than models like the CTM Ultra Carbon 2 and the CTM Ultra 2, but in a lighter package. However, unlike both of those models, the Pro Endur Distance lacks an outsole outfitted for trails, so it probably won't be as versatile, at least in terms of the surface types it's comfortable on. That said, the shoe should still offer quite a bit of range on roads, considering its combination of cushion, reported energy return, and weight. So, if you're looking for a do-it-all option for logging in a ton of miles on pavement, the Pro Endur Distance could be worth checking out.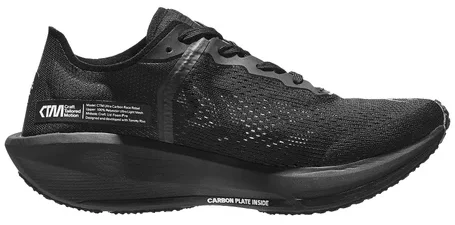 Developed in collaboration with some of Craft's elite athletes, the CTM Carbon Rebel is the brand's most technologically advanced carbon-plated performance shoe. It's the only model in Craft's lineup to use "Ud Foam Pro," a lighter-weight version of standard "Ud foam" that's supposedly just as responsive. While stylistically similar to both the CTM Ultra Carbon 2 and the CTM Ultra 2, the CTM Carbon Rebel has a slightly lower stack height and a thinner, road-specific outsole Craft calls their "Nano Weight Race Trac." These features — along with a more precise "UltraAnatomic" fit and a minimal one-piece upper — make the shoe ideal for race day and/or important workouts on roads. The CTM Carbon Rebel likely won't feel as cushioned as models like the CTM Ultra Carbon 2, the Pro Endur Distance, and the CTM Ultra 2, but if you're looking for a featherlight "super shoe" with a high heel-to-toe drop for competition, check out the CTM Carbon Rebel.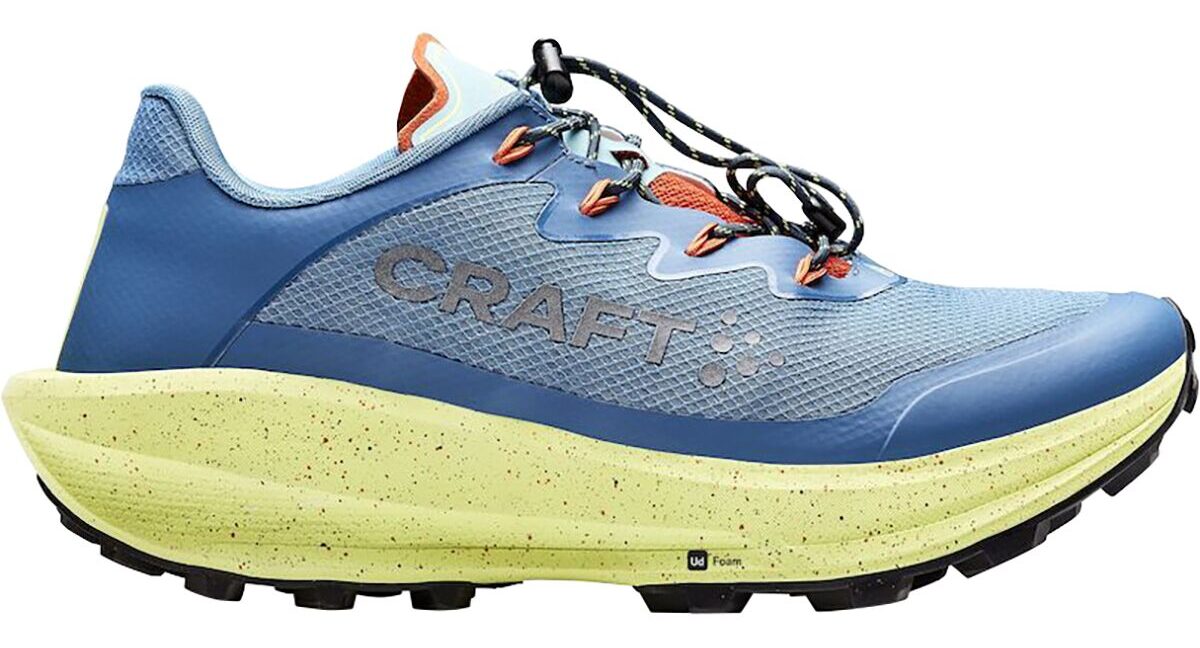 Influenced heavily by the CTM Ultra Carbon 2, the CTM Ultra Carbon Trail is Craft's take on a performance-oriented carbon-plated trail racer. It features the same Ud Foam midsole / tuned plate combination as the CTM Ultra Carbon 2, but the rest of the shoe is overhauled for rough terrain. Instead of a minimal one-piece upper, the CTM Ultra Carbon Trail wears one made from nylon mesh layered with protective TPU overlays. Additionally, the shoe benefits from a full-length Vibram MegaGrip outsole and the same speed lace system Craft uses on Nordic Fuseknit Hydro Mid. The CTM Ultra Carbon Trail is built to excel at faster paces and its tighter race fit reflects those demands, so folks with wider feet who enjoy more room in the toe box might find models like ADV Nordic Speed 2 more accommodating. Stability issues on technical terrain are also a concern given the shoe's rigid carbon plate and 40 mm of stack height, so the CTM Ultra Carbon Trail is probably best reserved for runs (of any length / intensity) on smoother off-road terrain. That said, if you want a maximal racing-style shoe with a performance plate to take you deep into runnable ultramarathons, the CTM Ultra Carbon Trail could be a great choice.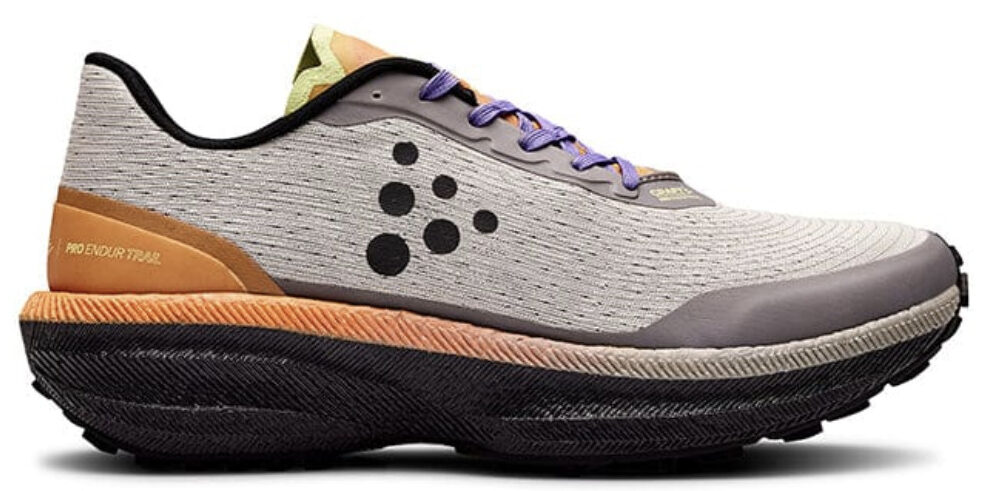 The PRO Endurance Trail is a new addition to Craft's expanding trail quiver. It's conceived as a rugged training shoe meant to complement the race-specific CTM Ultra Carbon Trail. With longer efforts at potentially slower paces in mind, Craft outfitted the PRO Endurance Trail with their "Regular Fit," (i.e., snug in the midfoot and heel with additional room in the forefoot for toe splay), so it should welcome a broad range of foot types and adapt well to swelling over the course of long runs. Like its road analog in the Pro Endur Distance, the PRO Endurance Trail's midsole is also constructed from premium "Px Foam," which is reportedly 20% lighter than traditional EVA. Below that, Craft installed a lugged outsole broken into two sections — one under the heel, the other under the forefoot — that they say is best suited for moderately technical trails, roads, and gravel paths. A fully engineered one-piece upper rounds out the PRO Endurance Trail. If you're a fan of maximal trail shoes with heel-to-toe drops on the higher end of the accepted range, aren't a stickler about weight, and do most of your running on mild-to-moderately challenging terrain, it's worth giving the PRO Endurance Trail a look.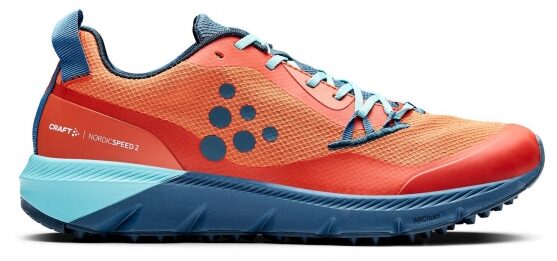 As an all-terrain shoe, the Craft ADV Nordic Speed 2 is built to transition between surface types. To handle both roads and trails, it takes on attributes from both sides of Craft's footwear line, including a moderately-lugged rubber outsole that shouldn't slow you down on pavement and enough protection in the form of a nylon mesh upper and TPU toe guard to shield your feet from debris when on dirt. The ADV Nordic Speed 2's midsole is made from Craft's proprietary "Ar Foam," a blend of EVA they claim helps deceleration without sacrificing energy return. It's also one of the softest foam compounds they use, which should lend the ADV Nordic Speed 2 a gentler ride, despite the shoe not having a tremendously high stack height relative to other models in Crafts lineup. If you're looking for a flexible road-to-trail shoe with reportedly good ground feel for medium to medium-long runs on mixed surfaces, the ADV Nordic Speed 2 should be on your list.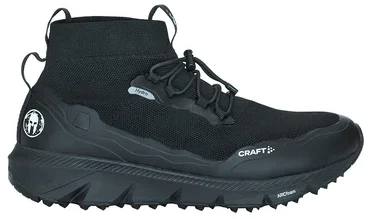 Similar to the ADV Nordic Speed 2, the Nordic Fuseknit Hydro Mid is what Craft considers an all-terrain shoe. It shares the same moderately lugged outsole with a triangular tread pattern for consistent grip on mixed surfaces, as well as identical midsole measurements. However, the Nordic Fuseknit Hydro Mid benefits from several features that will likely make it far more protective than the ADV Nordic Speed 2, including a water-resistant fully engineered knit upper; an internal waterproof membrane; multiple layers of TPU overlays; and a high-top knit ankle collar to keep debris out. The shoe also swaps out a traditional lacing system with a cinching speed lace system, which should allow for quicker accessibility but may limit fit precision. All of these protective measures weigh the Nordic Fuseknit Hydro Mid down a bit and also reduce its breathability. That said, if you frequently run / hike in wet conditions and/or constantly deal with dirt making its way into your shoes, the Nordic Fuseknit Hydro Mid should be an option to consider.