Diamondback Release C
Wheel Size: 27.5''
Travel: 150 mm front / 130 mm rear
Material: Carbon Fiber
Blister's Measured Weight: 31.0 lbs / 14.0 kg (no pedals)
Price: $4,350-5,200 (see below)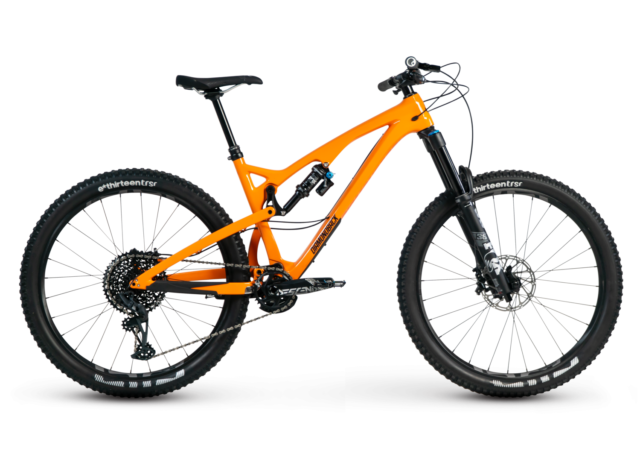 Intro
Diamondback's Release C is positioned as their mid-travel carbon 27.5'' trail bike, with 130 mm of rear suspension paired with a 150 mm fork. The Release C series includes the Release 5C and the Release 4C, which share the same frame but different builds — both of which are relatively affordable for the parts spec that they offer. Diamondback also offers a 29er version of the Release, which features distinctly different geometry, slightly less travel, and three different builds for its aluminum frame. Our review here is going to stay focused on the carbon-framed, 27.5'' wheeled Release C.
Overall, Diamondback's claims about the Release 5C tend to focus on its versatility, and since it is offered at a relatively affordable price point (by today's standards), we were curious to see how the Release 5C performs across a variety of types of trails. I've been spending time on it and Blister Members can check out our Flash Review for my initial on-trail impressions. In the meantime, let's take a closer look at the bike's design:
The Frame
The Release C is, unsurprisingly, offered only with a carbon fiber frame (hence "C"), and is built around Diamondback's Level Link Suspension Platform, which was first introduced in 2016. Level Link consists of two short counter-rotating links, with a similar overall layout to Santa Cruz's older upper-link-driven VPP bikes, and is intended to separate drivetrain forces from suspension.
The Release C Frame also features a threaded bottom bracket, Boost 148×12 mm rear axle, and post mount disc tabs. Cable routing is fully internal and the Release frame, unfortunately, has no mount for a water bottle cage.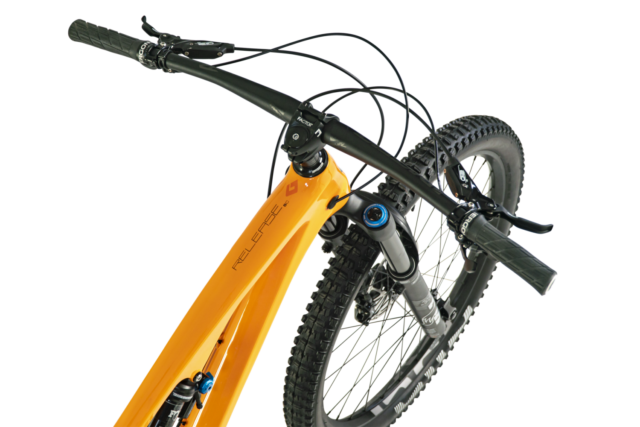 Fit & Geometry
Diamondback offers the Release C in four sizes, from Small through XL, which they say cover riders from 5'4'' to 6'6'' (163 to 198 cm). All sizes get a 66° headtube angle, 73° effective seat tube angle, and 425 mm chainstays. Reach ranges from 406 to 473 mm in roughly 20 mm increments (with our size Large test bike coming in at 451 mm), which is definitely on the shorter side of average by modern standards. It's worth noting, though, that the effective top tube isn't nearly as short, given the fairly slack seat tube angle.
Overall, those numbers are a bit more conservative than a lot of the very long/low/slack bikes that we've become accustomed to in recent years, but should make for a more nimble, quicker-handling bike than a lot of mid-travel Trail bikes we're seeing these days.
The Builds
Diamondback offers their 27.5" Release C with two different build kits. Neither is ultra-high-end, but Diamondback has done a nice job of putting together better-than-average build specs for the money. The top-end Release 5C's Fox Performance Elite suspension and SRAM GX drivetrain are very good options for its $5,200 price tag, though it is worth noting that the Release C frames use a legacy 7.875×2.25'' shock, which limits newer upgrade options a bit.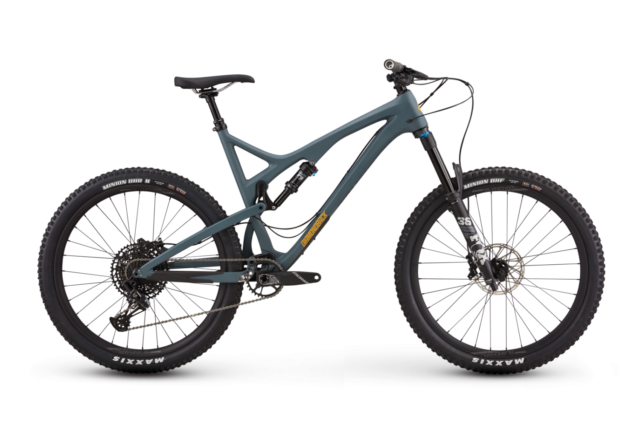 Fork: Fox 36 Performance
Shock: Fox Float DPS
Drivetrain: SRAM NX Eagle
Brakes: SRAM G2 R, 180 mm Centerline rotors
Wheels: Diamondback Blanchard 28R, 32h Aluminum Boost hubs
Dropper Post: KS Rage-I, Internal Dropper
Fork: Fox 36 Performance Elite Grip2
Shock: Fox DPX2 Performance Elite
Drivetrain: SRAM GX Eagle
Brakes: SRAM G2 RS, 180 mm Centerline rotors
Wheels: e*thirteen LG1 EN Plus 30 mm rims, Novatec Boost hubs
Dropper Post: KS LEV Integra Internal Dropper
Some Questions / Things We're Curious About
(1) The Release C has notably more moderate geometry than a lot of contemporary Trail bikes, but how does that add up on trail? Could it fill a hole in the market left by most other brands going super aggressive with their geometry?
(2) And who is going to be best served by that sort of more mellow, possibly quicker-handling take on a mid-travel Trail bike?
Flash Review
Blister Members can read our Flash Review of the Diamondback Release 5C for our early on-trail impressions. Become a Blister Member now to check out this and all of our Flash Reviews, plus get exclusive deals and discounts on gear, and personalized gear recommendations from us.
Bottom Line (For Now)
The Diamondback Release C looks like a versatile bike that can do quite a bit at a reasonable price point. We've got a Release 5C in for testing, so stay tuned for a full review to come.