Intro
There's a huge range of flat pedals out there, with substantial variations in price, materials, platform size / shape, pin placement / size, and a whole lot more. We've been testing nine different options across the whole spectrum, and are ready to weigh in on how they all stack up. So which ones will be best suited for which sorts of riders, who should be springing for a fancy model, and who can safely spend that money elsewhere? Let's dig in.
[A quick note on our measured platform dimensions: Platform widths are measured from the face of the mating surface on the spindle to the outside of the platform; lengths are measured for the useable part of the platform, i.e. pedals with an offset between the top and bottom faces only get the top face counted, not the total physical length.]
Chromag Dagga
Platform Dimensions: 119.7 mm [W] x 110.2 mm [L]
Platform Thickness:14.8 mm (center); 15.7 mm (front and back edges)
Pin Count: 12 per side
Pin Height: 6.0 / 7.4 mm (adjustable via spacer)
Pin Style: Threaded from back side; tapered to allow removal of bent pins
Color options: Black, blue, purple, red, and silver
Blister's Measured Weight (per pair): 489 g
Shoes Used: Five Ten Freerider Contact, Five Ten Freerider Pro, Ride Concepts Powerline, Ride Concepts Hellion Elite
MSRP: $197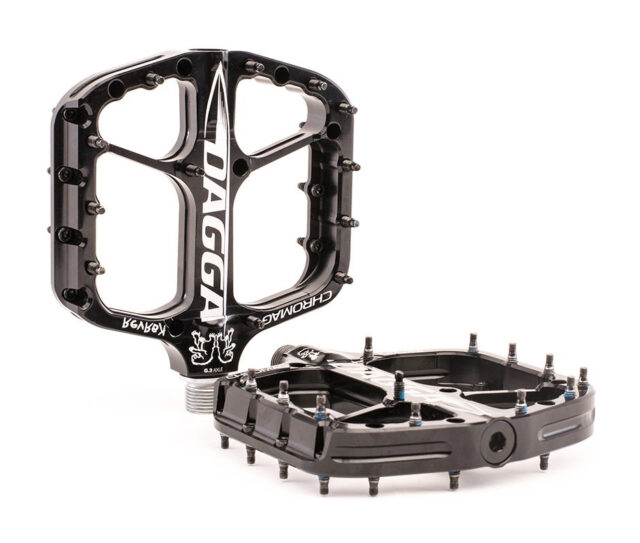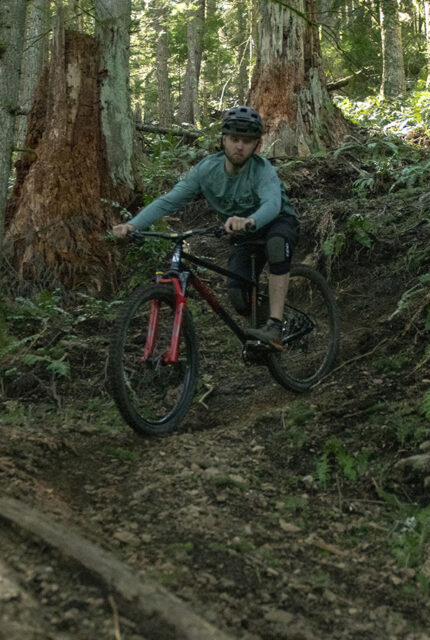 David Golay: The Chromag Dagga is, to put it mildly, an aggressive pedal. Designed in collaboration with Chris Kovarik, the Dagga is Chromag's largest, most DH-oriented pedal, intended for maximum grip and support. At almost 120 mm wide and 110 mm long, the Dagga's platform is quite large, but the pins are really the star of the show. Out of the box, they come set at an already-long 6.0 mm high, but with the removal of a spacer can be bumped up to a wild 7.4 mm. They're massive. If you're interested in the Dagga but unsure about the pin length (or just fear for your shins), Chromag's smaller "standard" pins are also compatible, and can be purchased for 50% off if you order them with a pair of Daggas.
As you'd expect, given the large platform and monster pins, grip from the Dagga is off the charts. This is a bit of a double-edged sword; while the benefits of extra grip are fairly self-explanatory, the downside is that it can be pretty hard to reposition your foot on the Dagga if you don't get it placed right the first time around. Whether or not that's a worthwhile tradeoff is going to be a matter of personal preference. As someone who spends as much, if not more time clipped in than on flats, I generally tend to seek out very grippy pedal / shoe combinations, and from that standpoint the Dagga is outstanding.
Speaking of shoe combinations, Chromag says that the Dagga is "meant to be ridden with thick soled shoes" and that's worth underlining — though I might rephrase it to "thick and/or soft." The pins on the Dagga are so long that they feel a lot better when ridden with a shoe that really lets them sink in enough that the shoe sole actually contacts the pedal body a bit. With slightly firmer soles (notably the Ride Concepts Powerline, in cold weather) the connection to the pedal can actually feel a little bit float-y and vague. The Five Ten Freerider Contact is my favorite pairing with the Dagga for that reason, though the Freerider Pro and Ride Concepts Hellion Elite work just fine, too.
The platform of the Dagga is very subtly concave, but I also found myself preferring to accentuate that by putting the pins at the front and rear edges of the pedal in the higher position, and leaving the ones nearer the middle in the low one. Doing so increased both grip and difficulty in repositioning your foot, as compared to the stock setting of low pins all around, though I chose to do it more for feel reasons than outright grip.
I've also been on the same pair of Daggas for going on two years now, and while the pedal bodies are showing plenty of signs of wear and abuse, I've somehow yet to bend a pin on them, and the bearings are still going strong. They don't come cheap, but the Dagga is a super well made, ultra-grippy pedal for riders looking for maximum grip and support.
Specialized Boomslang
Platform Dimensions: 109.7 mm [W] x 100.7 mm [L]
Platform Thickness: 10.6 mm (center); 12.9 mm (front and back edges)
Pin Count: 11 per side
Pin Height: 4.8 mm
Pin Style: Threaded from back side; tapered to allow removal of bent pins
Color Options: Black
Blister's Measured Weight (per pair): 438 g
Shoes Used: Five Ten Freerider Contact, Five Ten Freerider Pro
MSRP: $180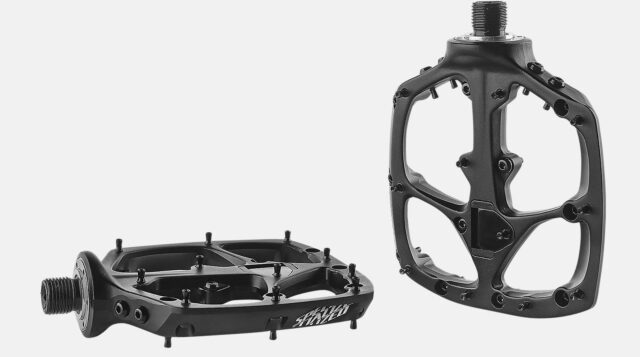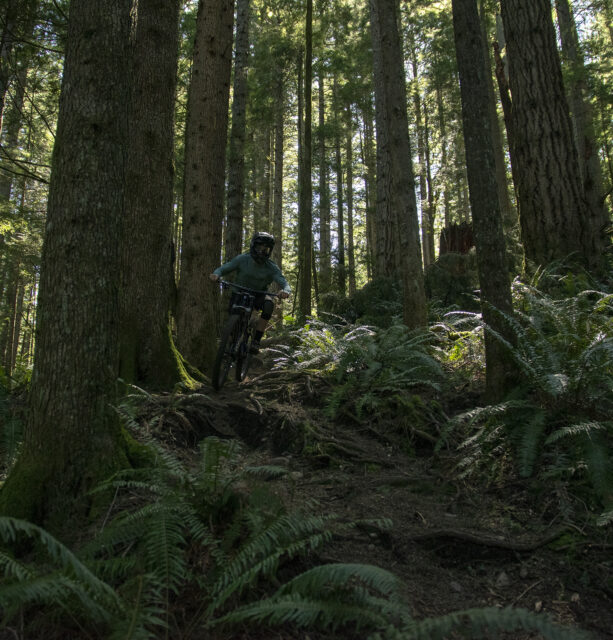 David: The Specialized Boomslang has been on the market for quite some time now — and in fact started as a project for Sam Hill himself, back when he was on Specialized — but they still stand out for being exceptionally thin, while also having a deep concave shape. I can't think of any other pedal that comes particularly close to matching their shape, and as I'll get into more below, that profile really pays dividends when it comes to the feel of the pedals.
An unusual and clever bearing arrangement allows that super-thin profile — just 10.6 mm at the center of the pedal, with essentially no spindle bulge, apart from the bearing housing that sits inboard of the foot. Rather than requiring a nut threaded onto the end of the spindle to secure it, the spindle is held in place with a retaining ring at the inboard side and the outboard bearing is accessed via an ingenious "trap door" that opens when two of the traction pins are removed, and the spindle slid out of the pedal body. The result is a pedal that feels unlike anything else I've ridden — in a good way.
Concave pedals form a more natural cradle for the ball of your foot, improving both comfort and grip; thin pedals put your foot closer to the spindle, and feel less "tippy". It's a hard sensation to explain until you try pedals with substantially different thickness back-to-back, but with a thicker pedal, there's more of a tendency for your foot to roll off the top of the pedal, and there's more variation in how you balance on the pedal, depending on what angle your foot is at. The combination of a super thin pedal with a deep concave shape is pretty rare, and feels really outstanding.
So are there downsides? Not many, apart from price — the Boomslang isn't quite the most expensive pedal here, but at $180 they're definitely not cheap. The unusual bearing arrangement does mean that it takes a special tool to service the bearings of the Boomslang. I got around this by drilling a couple of the holes in the retaining ring to a larger diameter and using a more standard Park pin spanner, but it's a bit of a hassle. The other, minor issue is that the huge bearing housing at the inboard side of the pedal doesn't play particularly well with crank boots, or deep pedal thread recesses on some carbon cranks. With some combinations, I've needed to use as many as three pedal washers to make everything clear properly. The bulge sits close enough to the crank arm that it doesn't interfere with my feet at all, and I've never felt it while riding.
Grip on the Boomslang isn't as outrageous as the Chromag Dagga, but it's up there. Riders with large feet also might find the platform on the Boomslang to be a bit smaller than they'd prefer — at about 110 x 100 mm, it's not exactly small, but isn't as huge as some of the really big options out there. The width is great for my size 10 US feet, but I wouldn't mind a little more length for extra support.
The pins on the Boomslang are threaded from the back side and tapered to allow the removal of mangled ones, and there's also space for four spares per pedal (included) on the inside edge of the platform. And while I have needed to re-grease the spindle of the Boomslang a few times over several years of use, they've held up great.
The Boomslang is a uniquely good pedal for riders looking for a very thin platform with a deep concave shape, and delivers very good grip and durability. The medium-sized platform might be a bit smaller than riders with very large feet would prefer, but for the rest of us, they're excellent.
North Shore Billet Daemon
Platform Dimensions: 115.0 mm [W] x 112.0 mm [L]
Platform Thickness: 14.5 mm (center); 17.4 mm (front and back edges)
Pin Count: 10 per side
Pin Height: 5.0 mm
Pin Style: Threaded from front side; hex drive on back side of pins
Color Options: Black, pewter, silver, blue, red, and gold
Blister's Measured Weight (per pair): 439 g
Shoes Used: Five Ten Freerider Pro
MSRP: $210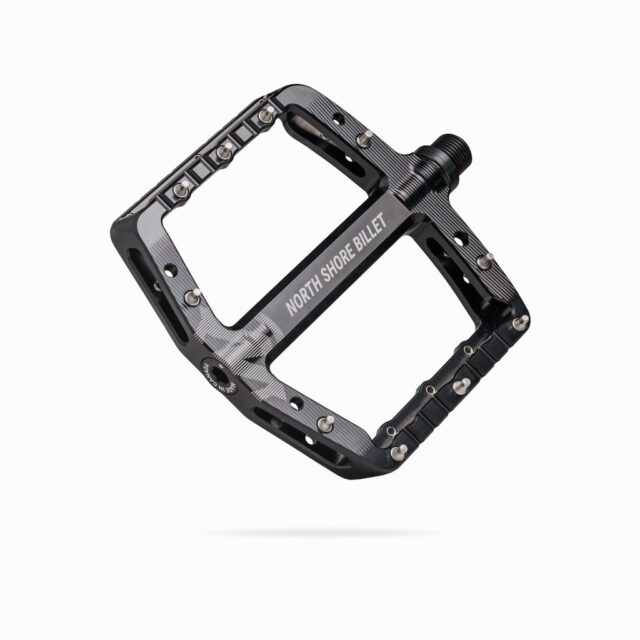 David: North Shore Billet just entered the flat pedal arena with the Daemon, and after a couple of months on them, I'm impressed. While they're not as thin as the Specialized Boomslang, the Daemon pedals have a fairly concave shape that is accentuated by the fact that they don't feature any pins in the center portion of the pedal. This probably comes at the expense of a little bit of outright grip, but also makes it a lot easier to reposition your foot on the pedal, as compared to options like the Chromag Dagga and Specialized Boomslang.
The platform on the Daemon is large and supportive, and there's still quite a bit of grip on offer — a little less than the Dagga is still a lot. Plenty of riders will find the Dagga to be too aggressive, and the Daemon is a great option for that crowd. My size 10 feet don't quite cover all the pins reliably — notably, the one on the inner edge of the pedal just behind the spindle is usually exposed — but this hasn't caused any issues of note. Like the Dagga, the Daemon probably makes the most sense for people with medium-to-large feet who are looking for a very supportive platform. The desired level of grip is the biggest point of differentiation between the two; you've got the choice of what I'd call above-average grip with the Daemon, or totally over the top with the Dagga.
NSB also emphasizes that most of the parts on the Daemon are made by NSB in Canada, from material sourced in the US. It's a nice point of differentiation in a world where most bike parts are made overseas, though it's likely what contributes to their high-end price tag.
So far I've spent less time on the Daemon than the Dagga and Boomslang, but have no durability issues to report and the quality of their construction appears to be excellent. I have high hopes for how they'll continue to hold up, and look forward to spending more time on them in the months and years to come.
OneUp Aluminum
Platform Dimensions: 112 mm [W] x 105 mm [L]
Platform Thickness: 12 mm (center); 8.5 mm (front and back edges)
Pin Count: 10 per side
Pin Height: ~6 mm
Pin Style: Threaded from back side
Color Options: Black, green, grey, orange, red, blue, purple, and oil slick
Stated Weight (per pair): 365 g
Shoes Used: Ride Concepts Powerline
MSRP: $129
Luke Koppa: Long story short, OneUp's aluminum pedal is my current go-to.
Now, it's a close call between a few of the others I've been testing (namely, OneUp's Composite pedal and the Deity Deftrap). But for a few reasons, the OneUp Aluminum pedals have become the ones I now throw on any bike when given the choice.
This mostly comes down to these pedals' (1) excellent grip and (2) very low profile. The OneUp Aluminum pedal beats all the pedals below when it comes to outright grip, yet it also has one of the thinnest profiles and I end up having very few pedal strikes.
The Kona Wah Wah 2 Alloy is a touch lower profile at the edges and I think I may have missed a few rocks with that pedal that I may have nicked with the OneUp. But the OneUp beats the Wah Wah 2 by a significant margin when it comes to grip, to the point that I have a strong preference for the OneUp when it comes time to head downhill.
For reference, the Ride Concepts Powerline (in a US Men's size 10) has been my shoe of choice for the past two seasons. While it's very grippy overall, its sole is not as ultra-tacky as Five Ten's Stealth rubber compound. Because of this, I tend to prefer a grippier pedal; with that combo, I feel that I get confidence-inspiring grip while also being able to readily move my feet around on the pedals when needed (more than I can with a grippier shoe).
With that in mind, OneUp's alloy pedal has been just about perfect. It offers all the grip I want, but it's not so ridiculous that I feel like I'm totally screwed if my foot gets knocked off a bit and I need to reposition it. I think folks who are running Five Ten's grippiest shoes could get away with something that's a bit on the less aggressive side in terms of pin height, pin amount, and platform size. But for a lot of people, I think OneUp's Aluminum pedal offers an extremely appealing combination of grip, thin leading edges, weight, and a relatively modest price.
At about 115×105 mm, the OneUp Aluminum pedals feel just about perfect for my size 10 shoes. I tend to keep my feet more on the outside edge of any pedal and consequently rarely use the most inboard pins. But for my preferred foot positioning, the pin layout on the OneUp pedals works really well. There are bigger and smaller options out there, but I think the size of OneUp's pedals strikes a nice middle ground.
It's also interesting that both OneUp pedals feature a subtly convex body shape (rather than concave), with a center that's thicker than the leading edges. OneUp says this allows the pedal to better conform to the arch of your foot, though especially with the fairly stiff Ride Concepts Powerline, I'm not sure if that's really happening. Regardless, I just find these pedals really comfortable and grippy.
I've only been riding these pedals for a few months, and as I'd hope in that timeline, I have not had any hints of durability issues. The pins are all straight and there's barely any visible scuffing, which I think is just a testament to the low-profile shape.
All in all, I think OneUp's aluminum pedals are a great choice for those who want a metal pedal that offers very good grip, isn't super likely to catch on rocks and roots, and that doesn't cost an exorbitant amount.
Kona Wah Wah 2 Alloy
Platform Dimensions: 117.9 mm [W] x 110.2 mm [L]
Platform Thickness: 16.2 mm (center); 12.6 mm (front and back edges)
Pin Count: 8 per side
Pin Height: ~4.5 mm
Pin Style: Threaded from back side
Color Options: Black, green, red, orange, and blue
Blister's Measured Weight (per pair): 427 g
Shoes Used: Ride Concepts Powerline
MSRP: $130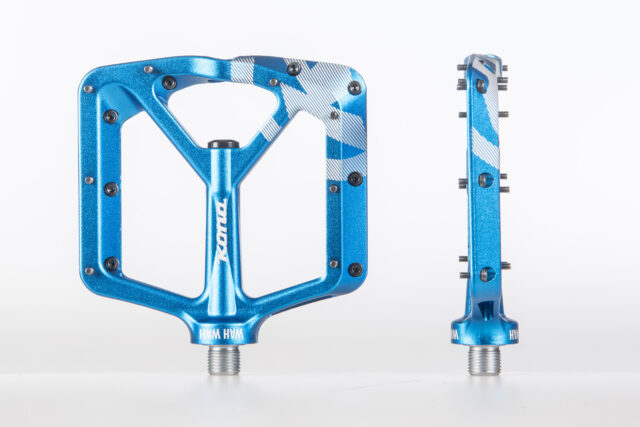 Luke: Kona's Wah Wah 2 Alloy immediately stands out due to its thin, tapered shape. It's also a pretty sizable platform.
That said, this pedal would not be my top pick if you're someone who wants the grippiest pedal available. I think those running pretty grippy shoes (namely, Five Ten Stealth rubber) could get along very well with the Wah Wah 2 Alloy, as well as those who just prefer easy foot repositioning over all-out grip. But with the Ride Concepts Powerline, my feet definitely tend to get bounced off the Wah Wah 2 more than with the two OneUp pedals and the Deity Deftrap (though not as much as on the Crankbros Stamp 1 or RaceFace Chester).
The good thing with the Wah Wah 2 is that, when my feet do get knocked around, it's notably easier to get them back into the proper place than on the OneUp Aluminum and Deity Deftrap pedals.
Another surprising element of the Wah Wah 2 has been its durability. Its ultra-thin edges had me a bit worried about how they'd hold up in the event of a hard crash. Fortunately, I haven't tested that, but I did lend the Wah Wah 2 to a friend of mine who's notorious for breaking things. He hit a rock with them at a pretty high speed, and while that impact did bend his cranks, the Wah Wah 2 left unscathed, apart from surface scratches and one sheared pin. The pin was easy to remove and replace, and I've continued to use them afterward with no issue. For the sake of further durability testing, I think I'll give them back to my buddy and will report back if he is capable of demolishing them in the future.
All in all, the Wah Wah 2 is a very solid pedal for the price. Those who prioritize grip the most have better options here, but if you run sticky rubber and want a fairly light, very thin pedal that's less likely to catch on trailside obstacles, the Wah Wah 2 is a good choice. There's also the composite version of the Wah Wah 2, which shares the same dimensions and design but comes in at $65.
Deity Deftrap
Platform Dimensions: 103 mm [W] x 113 mm [L]
Platform Thickness: 18 mm (center); 19.5 mm (front and back edges)
Pin Count: 10 per side (8 steel, 2 composite)
Pin Height: 5 mm
Pin Style: Threaded from back side
Color Options: Black, orange, blue, red, green, turquoise, pink, mint, purple, and yellow
Blister's Measured Weight (per pair): 395 g
Shoes Used: Ride Concepts Powerline, Five Ten Sleuth DLX
MSRP: $54.99
Luke: I really like the idea of composite pedals — they're a whole lot less expensive than their metal counterparts, and they seem like they should be able to offer similar performance. Now, the latter part of that statement didn't quite prove true with the first composite pedals I tried (RaceFace Chester and Crankbros Stamp 1), but the Deity Deftrap proved that a composite pedal could offer all the grip of many pedals that are more than double the price.
The main thing that sets the Deftrap apart from the three composite alternatives below is grip. The Deftrap has a slightly concave body shape and eight steel pins layed out in a way that doesn't leave any empty spots for my feet. There are also two composite pins next to the spindle, but as I mentioned above, I rarely use that spot on a pedal due to where I put my feet. But the main point is that the Deftrap offers more reliable grip than any other composite pedal I've used.
The downside to that — as with many truly concave pedals — is that it can be trickier to quickly reposition your feet on the Deftrap. In this regard it's pretty similar to the OneUp Aluminum pedals, but more challenging than the other pedals I reviewed. Because of this and how much grip it has on tap, the Deftrap was actually a big part of why I ended up preferring the Ride Concepts Powerline to grippier Five Ten shoes. With the Deftrap + Powerline, I felt like I got a very reliable platform in terms of grip, but I also found it easier to make on-pedal adjustments than with Five Ten shoes and just about any other pedal.
As far as durability goes, I've been really impressed by the Deftrap. I ran it for about a season and a half, lent it to a friend for a few months, and now the Butte & Co bike shop is currently still using my pair on one of their demo bikes. After all that, it's still spinning nicely, and apart from some superficial scrapes, it's looking great.
Now, on that note, the main downside with the Deftrap is its thick leading edges (which are also a big part of why it's so grippy, due to the concave shape). Of the pedals I've used, the Deftrap is probably the most likely to hit rocks and roots while pedalling. The Deftrap might not get quite as hung up on rocks as a similarly shaped metal pedal, but in my experience, the common refrain that composite pedals bounce / slide off rocks much better than metal is a bit overstated. Anyway, I adjusted pretty quickly, but if you want similar grip in a lower-profile package, check out the OneUp Aluminum pedals — or their composite ones if you don't mind giving up a bit of grip to save $70.
Overall, though, the Deity Deftrap is a fantastic composite pedal for those who don't want to spend a bunch of dough but who still want excellent grip. It's a really impressive product for the price.
OneUp Composite
Platform Dimensions: 111.8 mm [W] x 104.6 mm [L]
Platform Thickness: 18.6 mm (center); 13.3 mm (front and back edges)
Pin Count: 10 per side
Pin Height: 5 mm
Pin Style: Threaded from back side
Color Options: Black, red, blue, orange, green, and purple
Blister's Measured Weight (per pair): 363 g
Shoes Used: Ride Concepts Powerline
MSRP: $59
Luke: OneUp's Composite pedals are another great set of pedals that are not primarily made from metal.
Compared to the Deity Deftrap, the OneUp Composite pedals don't offer quite the same level of traction, but they do get hung up on rocks a bit less frequently and make it slightly easier to move your feet around on the pedals.
Both of OneUp's pedals share identical stated dimensions and pin layout, so I was a bit surprised by their differences in on-trail feel. Namely, the aluminum version is notably grippier. I think this mostly comes down to (1) pins and (2) spindle design. The composite version has the seemingly "standard" 5 mm pins with threads extending to the end, while the aluminum version has hexagonal pins that seem to do a slightly better job of penetrating into a shoe's rubber. The aluminum version also features a bigger bulge near the crank, but it has a notably thinner spindle through the body of the pedal. The result of all that is better grip with the alloy version, and slightly easier repositioning on the composite one.
That said, the OneUp Composite pedal is still impressively grippy — a bit better than the Crankbros Stamp 1 and RaceFace Chester. The OneUp is also pretty low profile for a composite pedal, and is overall a very good all-round pedal at a modest price. Like the metal version, the OneUp Composite's medium platform size should work for most foot sizes, and I think it strikes a very nice middle ground of being quite grippy, not super prone to getting hung up on stuff, and doing that at a very reasonable price.
Crankbrother Stamp 1
Platform Dimensions (size Large): 111.4 mm [W] x 109.8 mm [L]
Platform Thickness: 18.2 mm (center); 12.8 mm (front and back edges)
Pin Count: 9 per side
Pin Height: ~5 mm
Pin Style: Threaded from back side
Color Options: Black, red, blue, turquoise, purple, orange, and citron
Blister's Measured Weight (per pair): 328 g
Shoes Used: Ride Concepts Powerline, Five Ten Sleuth DLX
MSRP: $49.99
Luke: The Stamp 1 was the first pedal I tried after the RaceFace Chester (below). And compared to that pedal, the Stamp 1 does offer a few upsides, along with some downsides.
First and foremost, the Stamp 1 is offered in two sizes. Personally, I feel like my size 10 shoes can work equally well on either the size Small or Large Stamp 1. But especially for folks with very small or very large feet, that's a good reason to check out the Stamp 1.
However, the main drawback with the Stamp 1 — at least for my preferences — is its spindle. It creates a notable bulge in the middle of the pedal, to the point that it significantly hampers grip. Because of this, I definitely prefer using the Stamp 1 (and RaceFace Chester) with grippier, softer Five Ten shoes. Running either with the Ride Concepts Powerline results in too many slipped pedals when riding in chunky terrain.
Some may prefer the more "floaty" feel of the Stamp 1 and Chester, but if you want maximum grip out of a composite pedal, the Deity Deftrap is a better call. If you don't and instead prioritize low weight and a low-profile design, the Stamp 1 still warrants a look.
Race Face Chester
Platform Dimensions: 100.5 mm [W] x 110.8 mm [L]
Platform Thickness: 18.5 mm (center); 14.9 mm (front and back edges)
Pin Count: 8 per side
Pin Height: ~5 mm
Pin Style: Threaded from back side
Color Options: Black, blue, green, orange, purple, red, turquoise, yellow, forest, mustard, magenta, mint, burnt orange, "battleship" (light grey), and electric blue
Blister's Measured Weight (per pair): 357 g
Shoes Used: Ride Concepts Powerline, Five Ten Sleuth DLX
MSRP: $49.99–$54.99
Luke: The Race Face Chester seems to be the go-to composite pedal for many riders and bike shops, and there are definitely several good reasons behind that. It's cheap, it's proven to be pretty reliable, and it offers fairly good grip.
That said, for my preferences, there are definitely better choices if you want a very grippy pedal that's not going to break the bank. Namely, the Deity Deftrap and OneUp Composite. In my experience, both those pedals offer a more secure platform (particularly the Deftrap). Compared to the Crankbrothers Stamp 1, I'd say the choice between that and the Chester will mostly come down to personal preference. Both have pretty thick spindles that I find to decrease overall grip, but the Chester ditches the pins along the spindle, which does give it a slightly concave feel. Particularly with soft shoes, I think that makes the Chester a bit grippier. Though, if you have big feet, the size Large Stamp 1 could be a better call than the Chester and its relatively modest 110×101 mm platform size.
The Chester does have pretty thin, tapered leading edges and it's also pretty light, while also being very durable in my experience. Particularly for folks with average to smaller feet, I think it still warrants consideration from those who aren't after maximum grip.
Hustle REMpedal
Luke: We're still spending time on this unique pedal from Hustle, so for now, this is just a placeholder spot. But I wanted to mention the REMpedal because, for people like me in particular, it seems really appealing. The REMpedal is an outlier and doesn't neatly fit into the class of flats or clips; you use it with clipless shoes, but the "connection" between your shoes and your pedals consists of two strong magnets on the pedal and a metal plate on your shoe, not springs and clips. And that magnetic plate is surrounded by a sizeable platform (95x120mm) with lots of replaceable pins.
As someone who is still hesitant about clips but who also hates having their feet blow off flats, the REMpedal is very exciting to me. Several of our reviewers have been spending time on these pedals, and their initial impressions have been quite positive. Stay tuned.