Hope Evo Crankset
Reviewer: 6', 165 lbs / 183 cm, 74.8 kg
Test Locations: Washington, Oregon
Test Duration: 4 months
Intended Use: XC to DH
Configuration Tested: 170 mm length; BSA bottom bracket; 32t direct mount ring
Blister's Measured Weight:
Cranks only: 575 g
Bottom Bracket (BSA threaded): 102 g
32 tooth direct mount ring: 61 g
Total:


Crank arms and chainring: 636 g
Crank arms, chainring, and bottom bracket: 738 g
MSRP: $320 (crank arms and spindle only)
Mounted to: Nicolai G16 and Nicolai G1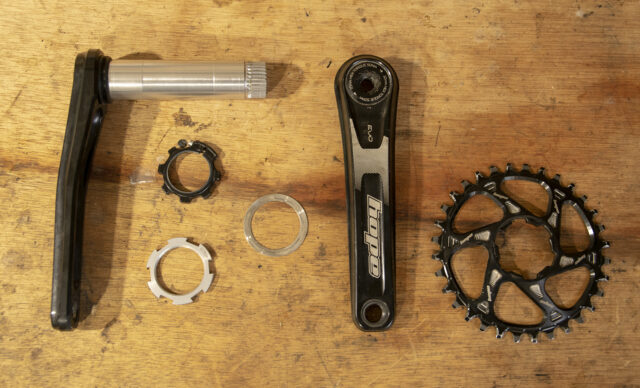 Intro
Hope has a long track record of making beautifully machined bike parts in-house in the UK, and while they're best known for their hubs and brakes, it wasn't a surprise to anybody when they came out with a crankset about six years ago. And while those first-generation cranks worked well, Hope saw room for improvement, and massively overhauled the design of their newer Evo crank. We've been spending a lot of time riding with them, and think they make a compelling case for the right rider.
Design
The Hope Evo crank arms are made from forged and machined 7150 aluminum, all of which is done in Hope's own facility in Barnoldswick, UK. Hope says the Evo cranks are meant for a broad range of mountain bike use, and they back that up by offering spindles for most mountain bike configurations out there, from XC through DH, including SuperBoost and fat bike widths.
The first-generation Hope cranks used an elaborate collet-locking arrangement for the spindle interface. It worked great but took a bunch of proprietary tools to work on, and was far more complex than most other designs out there. The newer Evo cranks streamline things considerably. The overall layout is actually very similar to Race Face's Cinch cranks — both use a 30 mm spindle that in normal operation remains fixed to the non-drive-side crank arm. A splined interface with a self-extracting bolt fastens and removes the drive-side arm and a threaded ring on the non-drive-side of the spindle handles bearing preload.
The spindle can be removed from the non-drive-side crank arm to swap between different lengths (despite the fixing bolt being labeled "Do Not Remove" — doing so requires a proprietary splined tool, which Hope sells separately). The Evo cranks can be run with either a direct-mount chainring (which uses a Hope-specific interface), or Hope also offers a spider for a standard 104mm-BCD single chainring, and even a double chainring spider if you prefer. Hope's direct mount chainrings come in 30- to 36-tooth round versions or an oval model in 30- to 34-tooth sizes and a variety of colors. Hope includes the tool to attach the chainring / spider with the crank arms, but the rings themselves are sold separately.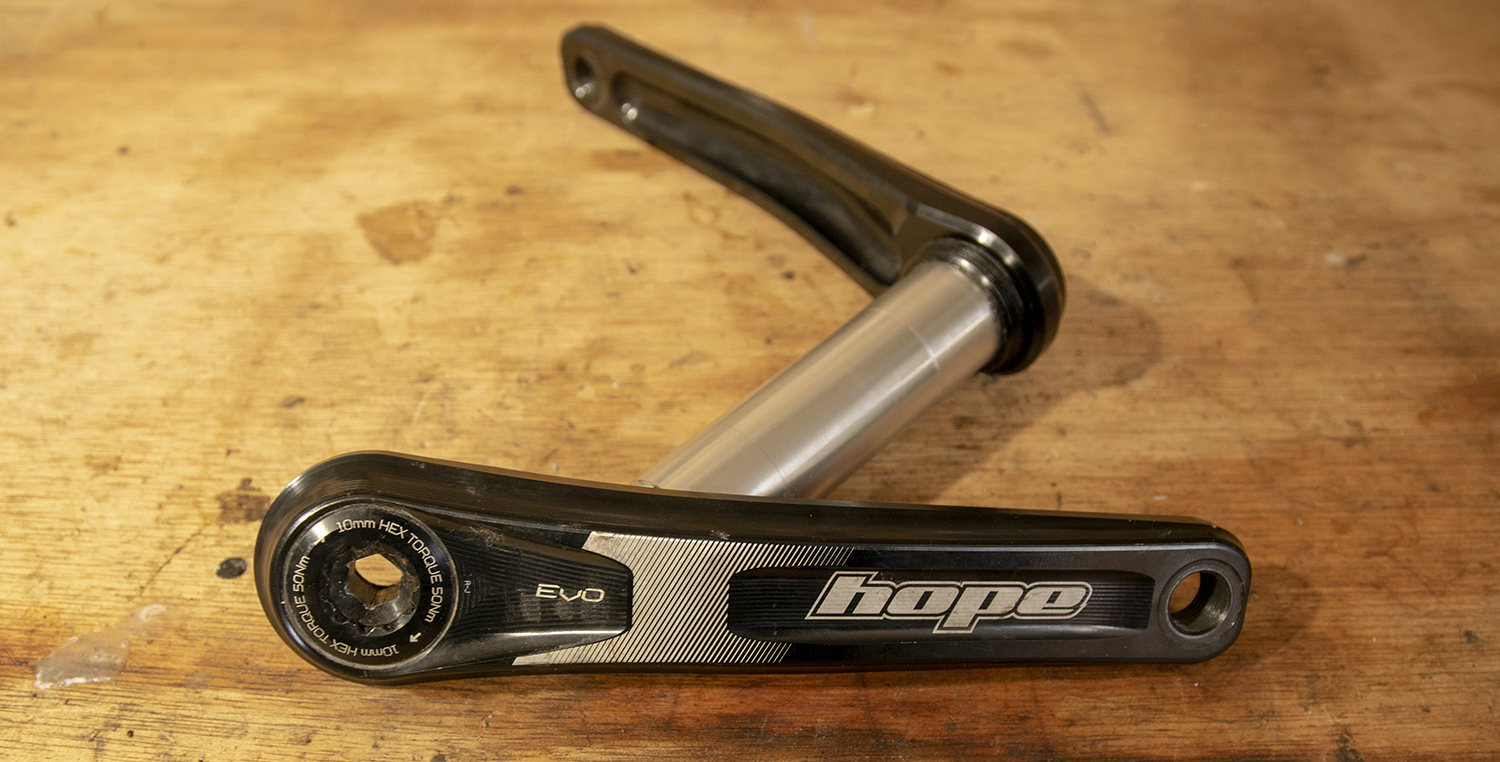 While the concept is relatively conventional, a number of the finer details on the Hope Evo cranks set them apart. For one, the Evo cranks are notably light for a DH-rated aluminum crank. A Shimano XTR crank is significantly lighter (551 g for 170 mm arms and a 32 tooth ring) but isn't DH rated or available with an 83 mm spindle; the Race Face Atlas (690 g stated weight) is about 60 g heavier, and the Evo cranks are a touch lighter than Shimano XTs (655 g) which also lack DH bike compatibility. Shimano's Saint crank is vastly heavier at over 900 g, and so on.
It might sound like a small detail, but the preload ring on the Evo cranks is also especially nice. Both SRAM and Race Face's current cranks use a similar ring but theirs are made from plastic, with a tiny, easy-to-strip bolt fixing the ring in place. The Hope ring is a beefy machined aluminum piece, with a larger bolt and a 2.5 mm Allen head. The Hope version is easier to use and far more robust than the plastic versions from other brands.
And while it doesn't make any difference when it comes to performance, the Hope Evo cranks also look outstanding. The machining is gorgeous, and Hope has done some very clever work with the laser-etched graphics on the arms as well. A lot of aluminum cranks look great out of the box, but quickly start to look rough as heel rub takes its toll on the finish. Hope designed their graphics to feature bare aluminum on the high-wear portions of the arm to get around this issue. For whatever reason, I don't tend to rub crank arms especially aggressively so I'm not the best tester of this particular aspect, but it seems like a great idea and our test cranks still look excellent.
The matching Hope bottom bracket uses Enduro-branded stainless steel angular contact bearings, in the same 30 x 42 x 7 mm size that a lot of other brands — including Race Face — use in their 30 mm bottom brackets. The Hope bottom bracket, unfortunately, uses a proprietary tool for installation, which is sold separately. There are a variety of 30 mm bottom brackets from various brands that are also compatible if you'd prefer to run something else, but the Hope one has been holding up very well for me so far, including a fair bit of wet-weather use of late.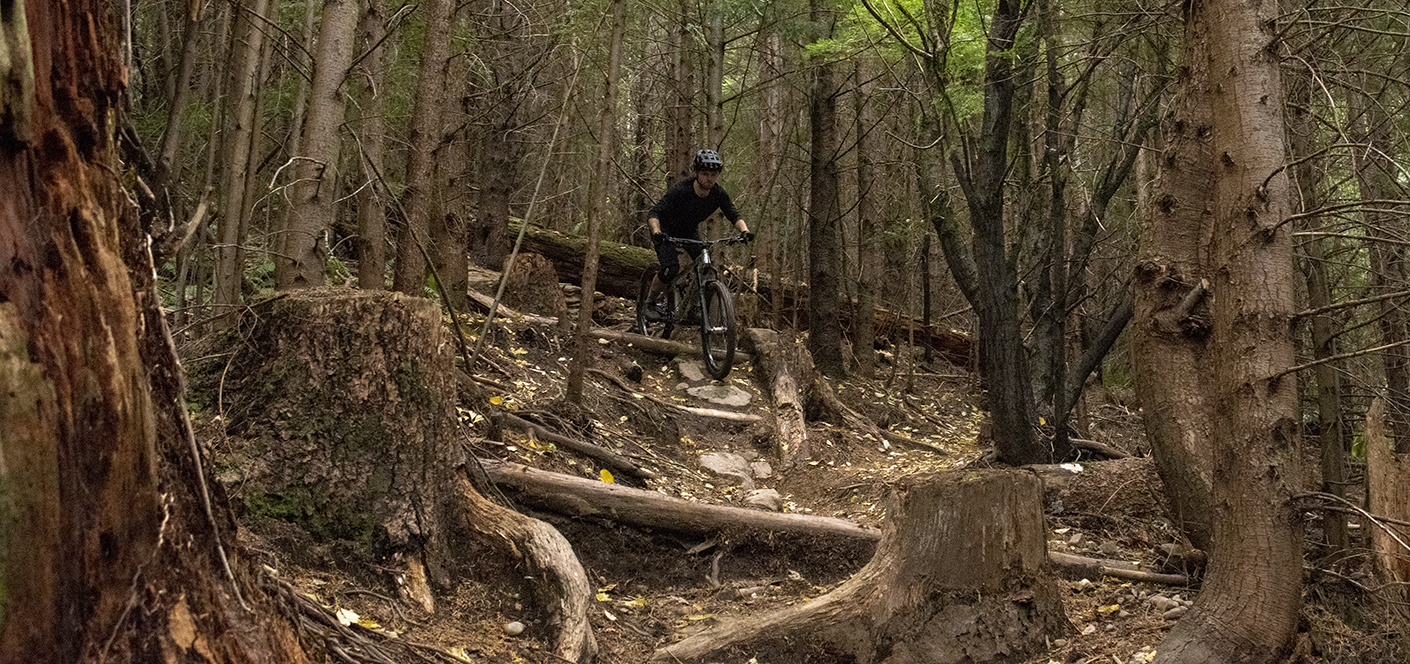 On The Trail
Cranks tend to be one of those parts that only draw your attention on the trail if something is going wrong. I'd be lying if I told you I could tell a difference between good quality cranks of similar weight and the same length on the trail in most circumstances, and to be honest, the Hope Evos are no different. But they're plenty stiff and have stayed tight, quiet, and otherwise given me no trouble whatsoever in my time on them so far.
That said, there is one subtle area where the Hope Evo cranks do offer a noticeable performance advantage — ground clearance. The portion of the crank arm that extends past the pedal threads on the Hopes is substantially shorter than any carbon crank I'm aware of (especially once you put a protective boot on the ends of the arm) and is also a few millimeters shorter than most other aluminum cranks. The Hope Evos are about 8 mm shorter than a Race Face Next R crank with the boots installed (shown here for reference, with the pedal threads aligned) and ~3 mm shorter than Shimano XT and XTR cranks, for example. That's not a total night-and-day difference, but it's not nothing either, and I do think I've noticed slightly fewer crank-arm strikes with the Hopes than I got with the Next Rs that they replaced.
Carbon cranks are a great way to cut some weight from a bike, but they've also got an Achilles heel when it comes to durability — the pedal and spindle inserts. The arms themselves tend to be pretty stout, but carbon cranks require aluminum inserts to handle the pedal and spindle interfaces and it's relatively common for those to come dislodged in the arms. Once that happens, they're junk.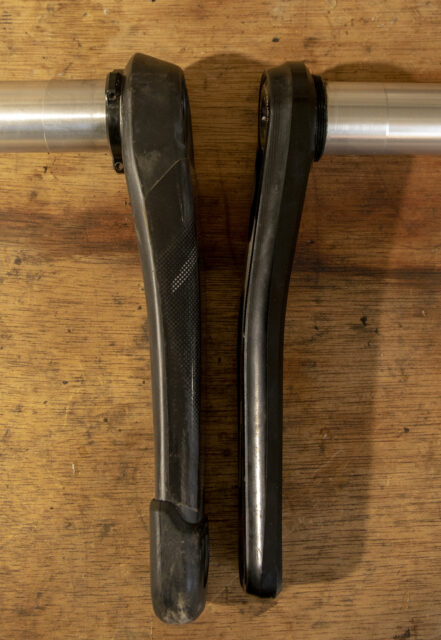 Carbon crank manufacturers have tried a variety of tactics to address this — Noah Bodman's review of the Race Face Next R cranks covers the Race Face approach — and while things have definitely improved some in recent years, there's still a ways to go. I'm still a lot more confident in aluminum cranks' ability to hold up in the long term (and I have broken several carbon cranks from multiple manufacturers in the last couple of years). It'd be surprising and disappointing if the Hope Evos hadn't held up to my testing so far and thus far they've been faultless, and I've got high hopes that'll continue for a long time.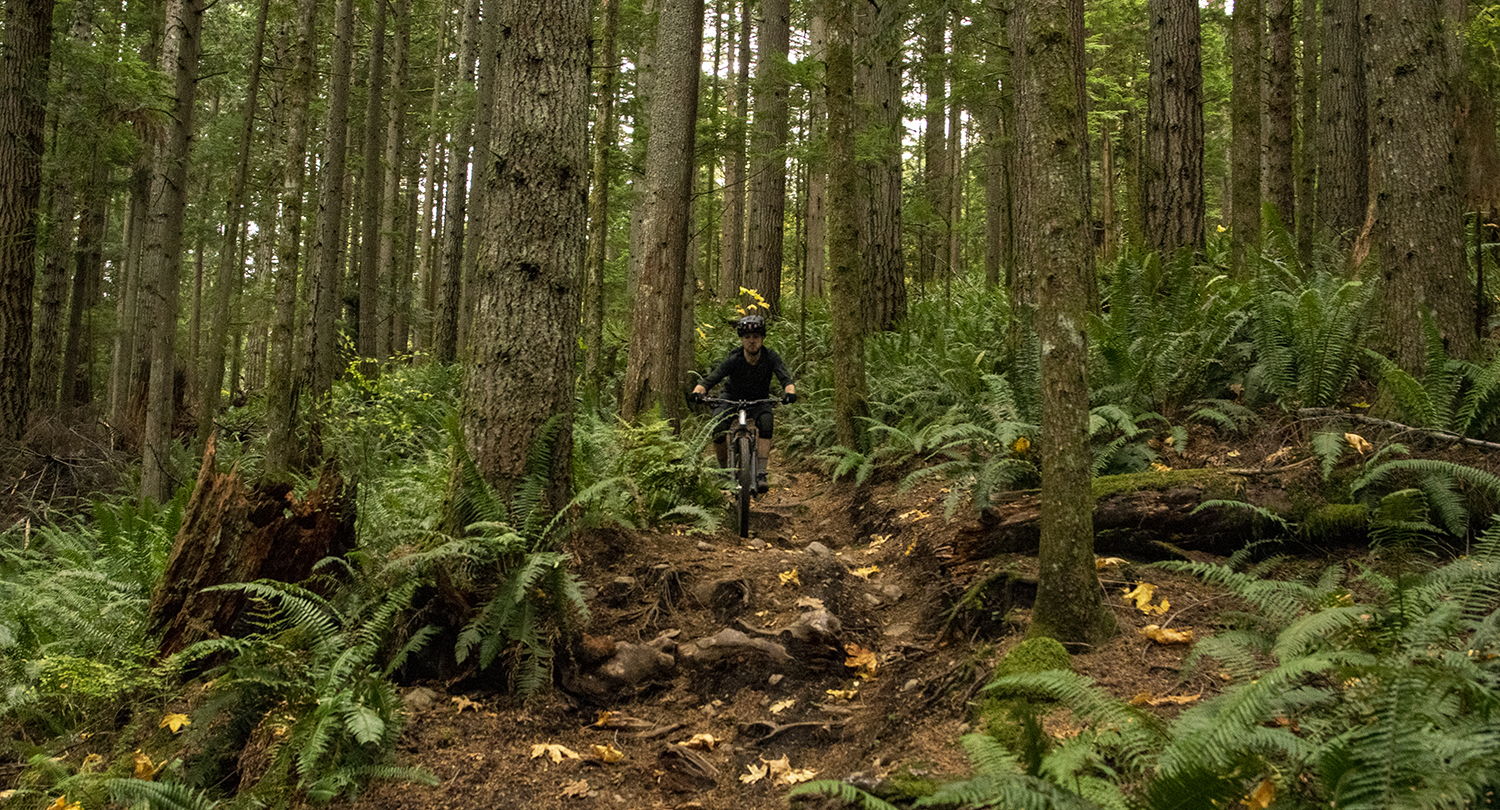 Bottom Line
The Hope Evo crankset is notably light for a DH-rated aluminum option, it offers great flexibility when it comes to swapping spindle lengths and chainring configurations, and looks really good to boot. There are certainly less expensive options that work well, but the overall fit and finish of this Hope crankset are truly a cut above, and if you're willing to spend a bit more upfront for a pair of cranks that should last a really long time and that give you the flexibility to move them onto whatever your next bike might be, they're a great option.