Flylow Vixen Coat 2.1
Reviewer: 5'8", 125 lbs
Size Tested: Medium
Blister's Measured Weight (size Medium): 589 grams
Blister's Measured Front Zipper Length: ~75.6 cm / 29.75 in
Fabric: 3L Stretch Stormshell Intuitive waterproof / breathable fabric w/ jersey backer
Stated Features:
High performance DWR (Durable Water Repellent)
Fully seam taped
Helmet-compatible hood
YKK waterproof zippers
Pockets:
2 hand warmer pockets (zippered)
1 exterior chest pocket (zippered)
1 interior mesh pocket (zippered)
1 interior mesh pocket (drop-in)
MSRP: $375
Test Locations: Telluride, CO; Ski Santa Fe & Taos Ski Valley, NM
Days Tested: 15+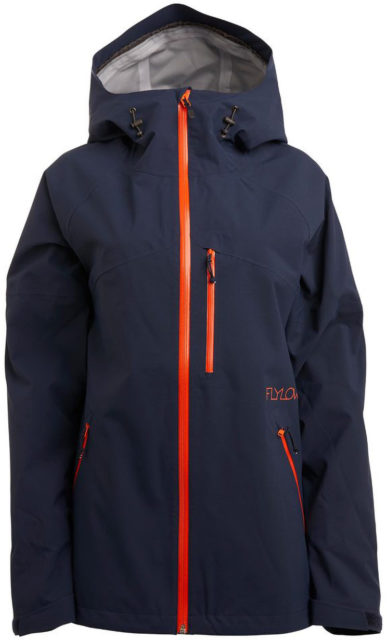 Intro
With backcountry skiing and snowboarding exploding in popularity in the past few years, many companies have been introducing jackets that are designed for both inbounds and backcountry use. While the idea of a 50/50, do-it-all jacket is extremely appealing, many are not without their limitations.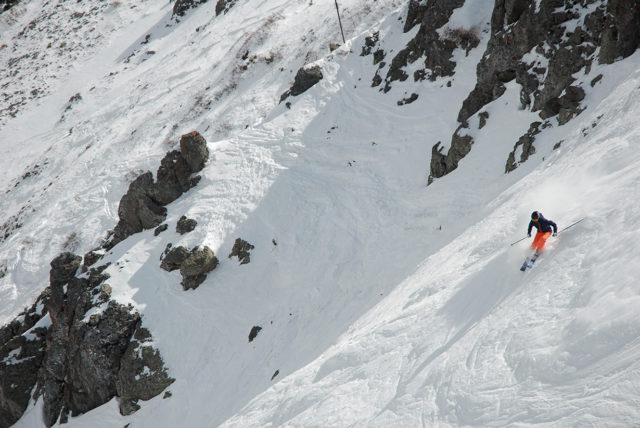 Flylow introduced the Vixen Coat 2.1 for the 18/19 season and with its relaxed, "freeride" fit and minimalist design, this jacket stands out from the rest — at least on paper. But does this 50/50 jacket truly excel in all situations, and how does it compare to other jackets in this category?
What Flylow says about the Vixen Coat 2.1
"A ready-for-anything streamlined waterproof jacket with the perfect amount of stretch. Now even lighter and stretchier with a completely overhauled design, the Vixen Coat is a good looking, no-fuss jacket."
For several years my go-to jacket was the Flylow Billie Coat. I wore it on resort and in the backcountry. It wasn't the best jacket for touring as it was a little bulky and heavy but it fit well, looked good, and the fabric was soft yet waterproof and breathable. Based on my experience with the Billie Coat, I was eager to try the Vixen.
Fit
I tested the Vixen Coat 2.1 in a size Medium, the same size as my original Billie Coat. The Vixen runs a bit larger in overall fit compared to the Billie and I could have easily downsized to a Small. But at 5'8″ and 125 lbs, I preferred the extra length in the sleeves and torso that the Medium offered.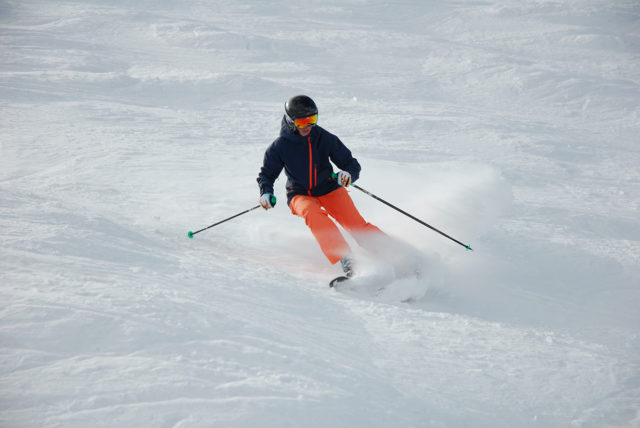 The fit of the Vixen is best described as relaxed. The fabric hangs nicely and moves without noise, unlike many waterproof hardshell jackets. The Vixen's relaxed fit allows for a free range of motion, which is particularly nice when touring or trying to finagle oneself into a backpack. And the torso extends well past my waist and hips, eliminating the need to constantly pull the jacket down when wearing my pack.
The Vixen Coat 2.1's sleeves are a great length for my 5'8" frame as they never rose above my mittens, even when fully extended while buckling my boots. Compared to another jacket in the 50/50 category, the Strafe Meadow Jacket, the Vixen Coat 2.1 has a roomier cut in both the torso and sleeves. Granted, I did test the Meadow Jacket in a size Small.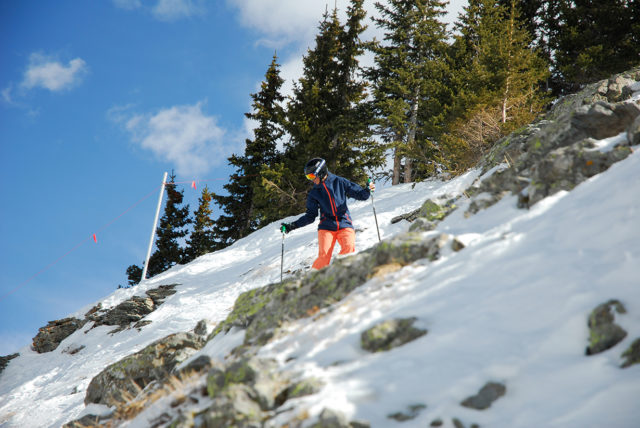 The Vixen Coat 2.1's helmet-compatible hood easily fits over and around my rather large POC Skull X helmet. The cinches on the sides and back of the hood are easy to adjust with gloved or mittened hands and, once adjusted, it creates a tight, consistent fit. The Vixen's collar is more flexible than rigid and tends to push itself up against my neck when I raise my head. Fortunately, the collar is tall and wide enough to easily tuck my chin into for ascents or when it gets windy.
Pockets
While the Vixen Coat 2.1 has a pretty streamlined look, it still has plenty of pockets (five, to be exact). Two of them are hand warmer pockets that are fairly large and that could each fit a smaller climbing skin. The Vixen's left external chest pocket easily accommodates a large cell phone and has a mesh backing to it. When not wearing a backpack or beacon, I always carry my large (iPhone 7 plus) cell phone in the left chest pocket. While all the jackets I've tested can fit my cell in this location, a few of them make it more difficult to access. The chest pocket on the Vixen is plenty large enough to accommodate the phone so I never had to worry about dropping it when needing to access it in a hurry.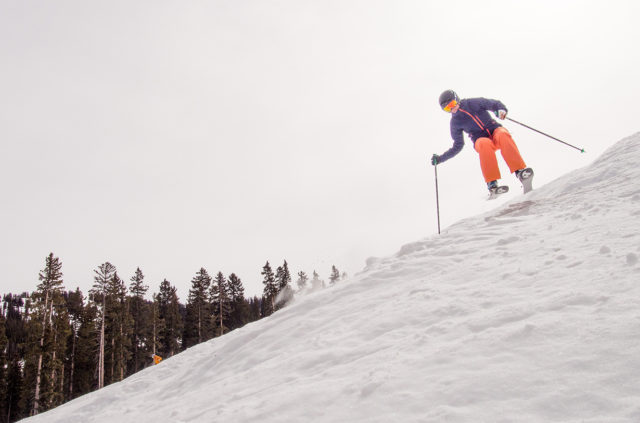 The largest of the five pockets is a mesh, drop-in interior pocket on the right side. This pocket is large enough to accommodate a skin or a pair of gloves. Just above this pocket is a small, zippered internal mesh pocket that is ideal for car keys or credit cards. This is the first time I've seen a small pocket placed here and I really liked the location for those small important items I need to have but don't need to access constantly.
Other Features
The Vixen Coat 2.1's underarm vents are large enough to allow airflow but not so large that they get in the way of a backpack or the fit of the sleeves. They are the same size as those found on the Strafe Meadow Jacket (~29 cm / 11.5") and are similarly designed in that you don't notice them when they are not in use.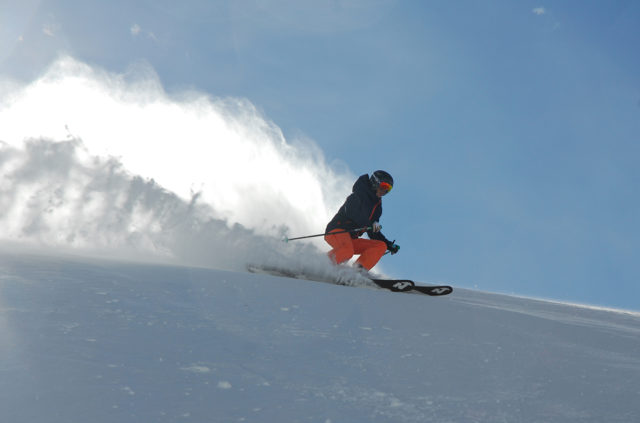 The Vixen includes Lycra internal wrist gaiters with thumbhole loops. I am personally not a fan of thumbhole loops as they never seem to fit me comfortably. And as I always tuck my mittens and gloves under the cuffs of my jacket to eliminate any drafts, the extra material created by the thumb loops tends to get bunched around my wrists. But if you wear over-the-cuff mitts or gloves or you want bare hands on a warm day, you might love the Vixen's internal wrist gaiters. As far as thumbhole loops go, the ones on the Vixen 2.1 Coat seem well designed. The fabric is soft and stretchy and there is enough length to them that they don't pull my hand when in use. Additionally, the material is thinnest where it goes around the thumb, which helps eliminate the bunched-up feeling inside my gloves or mittens.
I'm a big fan of powder skirts for many reasons but mainly because, without one, things get drafty. And by drafty, I mean cold. For me, the lack of a powder skirt is a big drawback and can definitely limit my use of a jacket. While the Vixen Coat 2.1 doesn't have a powder skirt, its torso is on the longer side, which helps to reduce air entering from under the jacket. And the jacket can be cinched at the bottom via locking cords on both sides. It can be cinched down nice and tight, almost tight enough to forget about a powder skirt.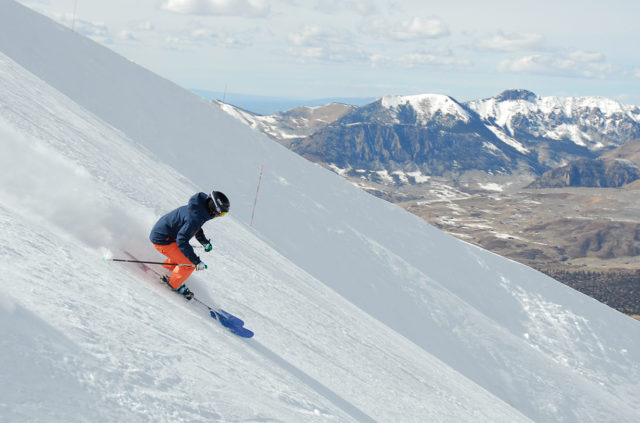 I'm not sure this counts as a feature, but Flylow does recommend hand-washing the Vixen. The same recommendation was given for the Donna Pant 2.1, but I never read the label and subsequently machine washed it multiple times. I have not noticed any problems with the fabric due to machine washing. I do recommend you give this article a read regarding the benefits of keeping your technical apparel clean. And while it wouldn't hurt to hand wash the coat, for some people (like me) it might require too much effort.
Weight
While weight is not always the biggest factor in deciding if a jacket is right for you, it can be helpful to know how it compares to other jackets in the same or similar category. As you will see below, the Vixen Coat is not the lightest, especially when compared to more backcountry-oriented jackets such as the Domino, Descensionist, and Snow Drifter. But the Vixen isn't too far off, and comes in significantly lighter than the old Flylow Billie Coat.
For reference, here are a number of our measured weights for some notable jackets in this category. Note the size differences to keep things apples-to-apples.
519 g Flylow Domino Jacket, size Medium
526 g Patagonia Descensionist Jacket, size Small
538 g Patagonia Snow Drifter Jacket, size Small
571 g Strafe Meadow Jacket, size Small
589 g Flylow Vixen Coat 2.1, size Medium
685 g Flylow Billie Coat, size Medium (older, pre-17/18 version)
Materials & Performance
The Stretch Stormshell Intuitive Fabric on the Vixen Coat 2.1 has a jersey backing that helps trap a bit of body heat on cold days and makes it more comfortable on skin than many hardshell. Without a soft backing, I find that shell jackets tend to feel cooler to me, especially when sitting with my back against a cold chairlift. This scenario always seems to result in all the trapped warm air getting pushed out of the jacket and cold air then creeps in to the jacket and subsequently in to my mid layers. For a lightweight 50/50 jacket, the Vixen's jersey backing really helps to add a bit of warmth. And while it seems to add warmth to the jacket, it does not seem to detract from its breathability.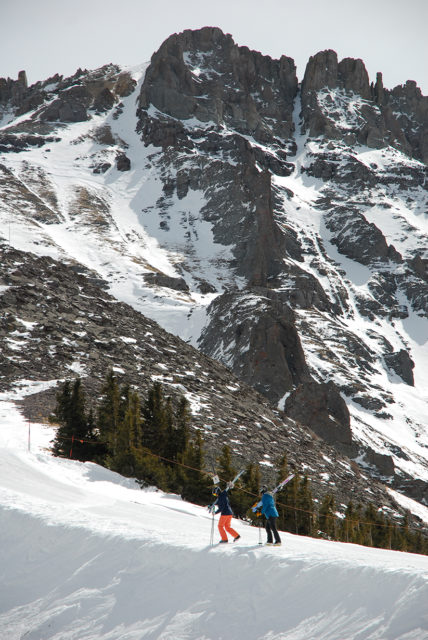 Of course, this is still an uninsulated shell, so for cold winter days, you'll definitely want to add some layers underneath.
The Vixen Coat 2.1's Intuitive 20k/20k waterproof breathable membrane worked well on warm days and on ascents. The jacket's lack of a powder skirt also helped keep the airflow moving on hot days. But between the soft fabric and the lack of a powder skirt, the jacket didn't feel 100% windproof, particularly when bombing down a groomer. For more info on waterproof / breathable membranes, how they work, and how they compare, check out our Outerwear 101 and 201 articles.
Overall, the hand feel of the Vixen is more reminiscent of a softshell than a technical hardshell. And it is not only soft, but also extremely quiet.
Durability
After more than 15 ski days, the Vixen Coat 2.1 still looks brand new. Perhaps it's the dark color (I have it in a navy), but there are zero scuff marks visible. And the DWR finish has not deteriorated as far as I can tell, but I only had the opportunity to test its water repellency on a handful of occasions.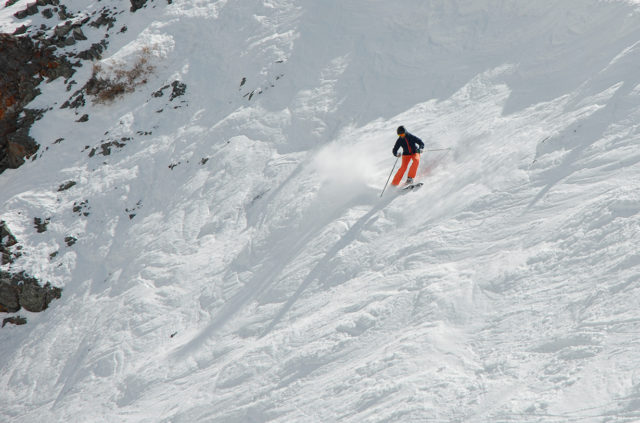 As always, I'll update this review if I notice any durability issues down the line.
Who's It For?
If you're looking for a jacket that does just about everything well and is reasonably affordable, then the Vixen Coat 2.1 could be the jacket for you. While the Vixen can be worn with just a base layer for those warmer ski days, its relaxed fit allows layers to be added comfortably underneath for colder days.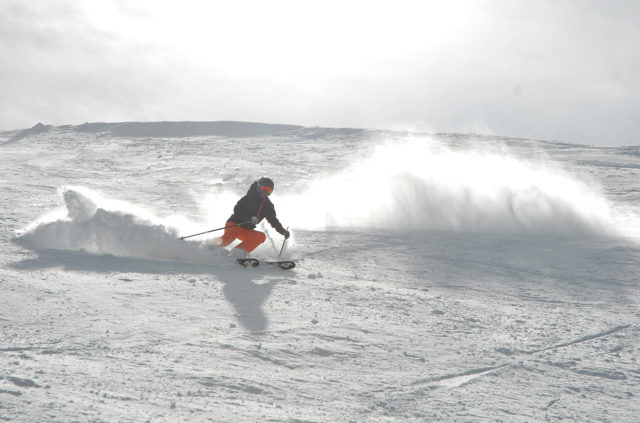 If you are truly looking for a 50/50 jacket and don't mind adding layers on cold days, this jacket would be an excellent option. If you tend to ski more in the backcountry than on resort, you might want to look into a lighter and more breathable jacket such as the Flylow Domino, Patagonia Snow Drifter, or Patagonia Descensionist.
Bottom Line
Flylow has created another great product with the streamlined and comfortable Vixen Coat 2.1. Especially flattering when paired with the Flylow Donna Pant 2.1, this jacket is a great option for ladies looking for a 50/50 jacket with a freeride fit and style, and that is much softer and comfy compared to many other hardshell jackets.