Forbidden Druid V2
Wheel Size: 29'' and MX options
Travel: 130 mm rear / 150 mm front
Geometry highlights:
Sizes offered: S1, S2, S3, S4
Headtube angle: 65° (29'') or 64.5° (MX)
Seat tube angle: 77°
Reach: 480 mm (size S3, 29'')
Chainstay length: 423 to 466 mm (varies by size)
Frame material: Carbon fiber
Price:
Frame w/ RockShox Super Deluxe Ultimate shock: $3,799
Complete bikes: $6,199 to $8,899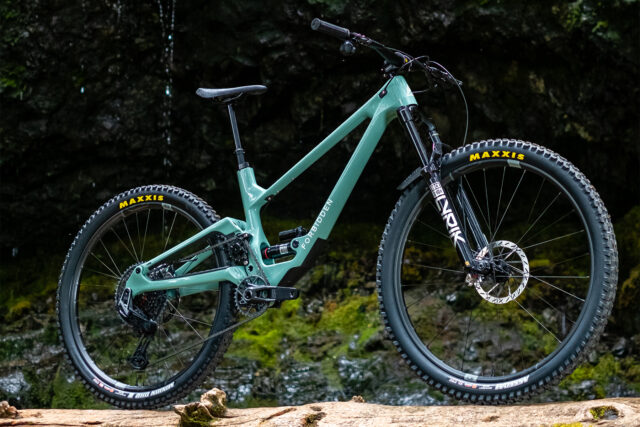 Intro
High-pivot bikes are increasingly common in the gravity arena, but there still aren't too many high-pivot Trail bikes out there. Forbidden was one of the first companies to offer one with the original Druid back in 2019, and today they're launching a new version. It's still got a high-pivot suspension layout (albeit a pretty different one from the original — more on that in a minute) but there's a whole lot that has changed, so let's get into it:
The Frame
As with the original Druid, the Druid V2 is offered in carbon fiber only and gets 130 mm of rear travel (paired with a 150 mm fork) from a high-pivot suspension layout. But Forbidden has given the Druid's suspension layout a big overhaul, moving it from a linkage-driven single pivot on the original version to what is effectively an upside-down Horst link layout, similar in concept to the layout used on the Norco Range and others.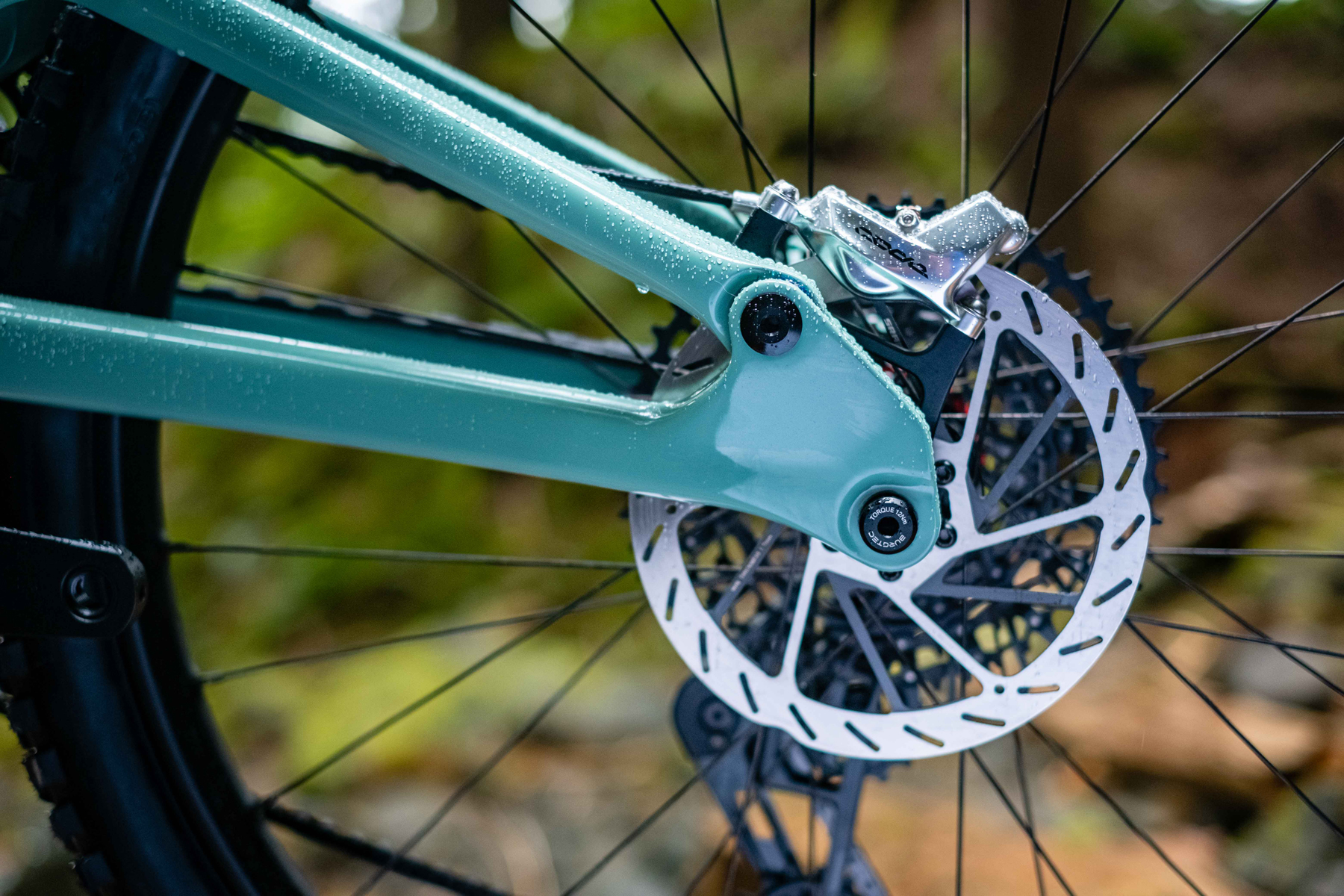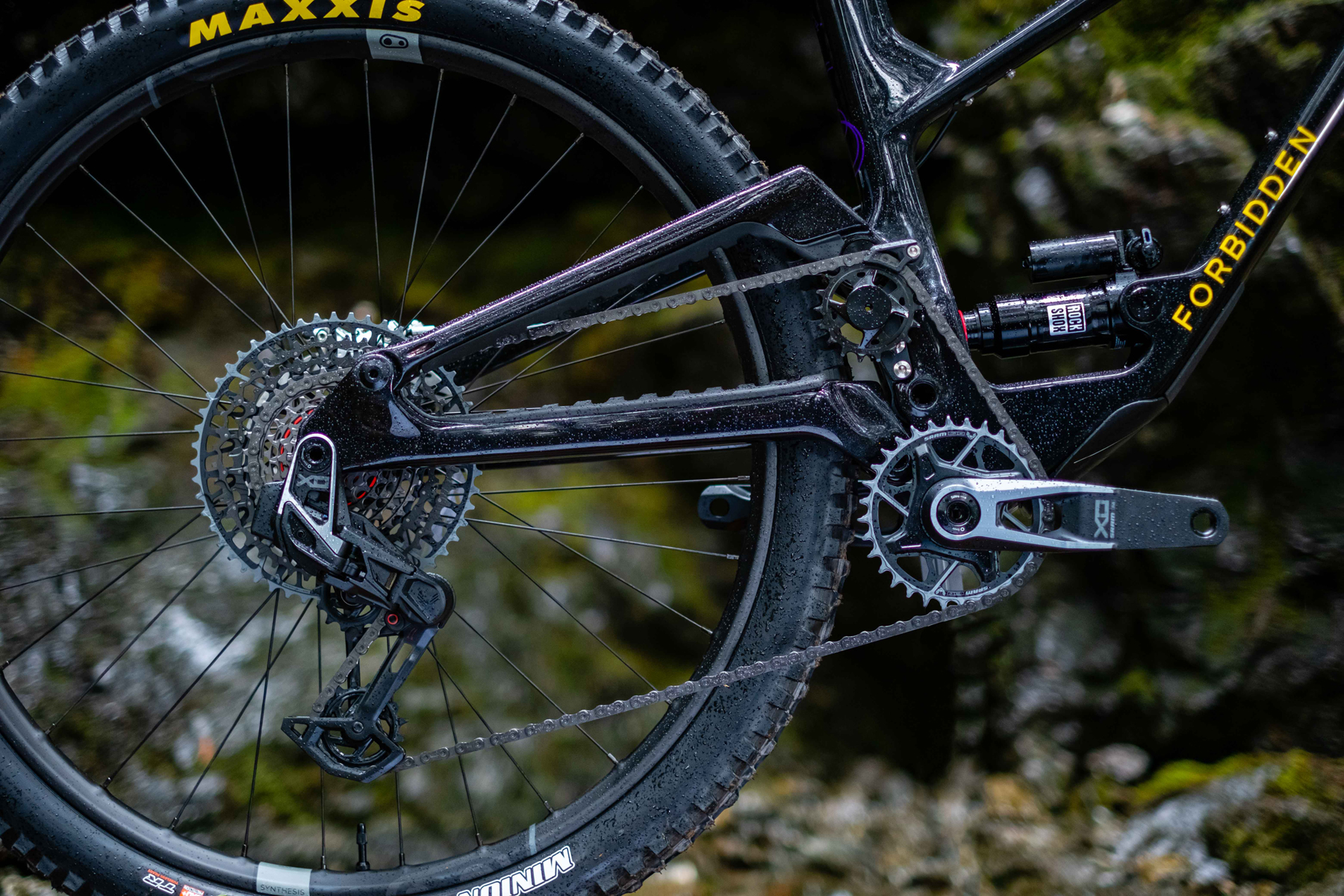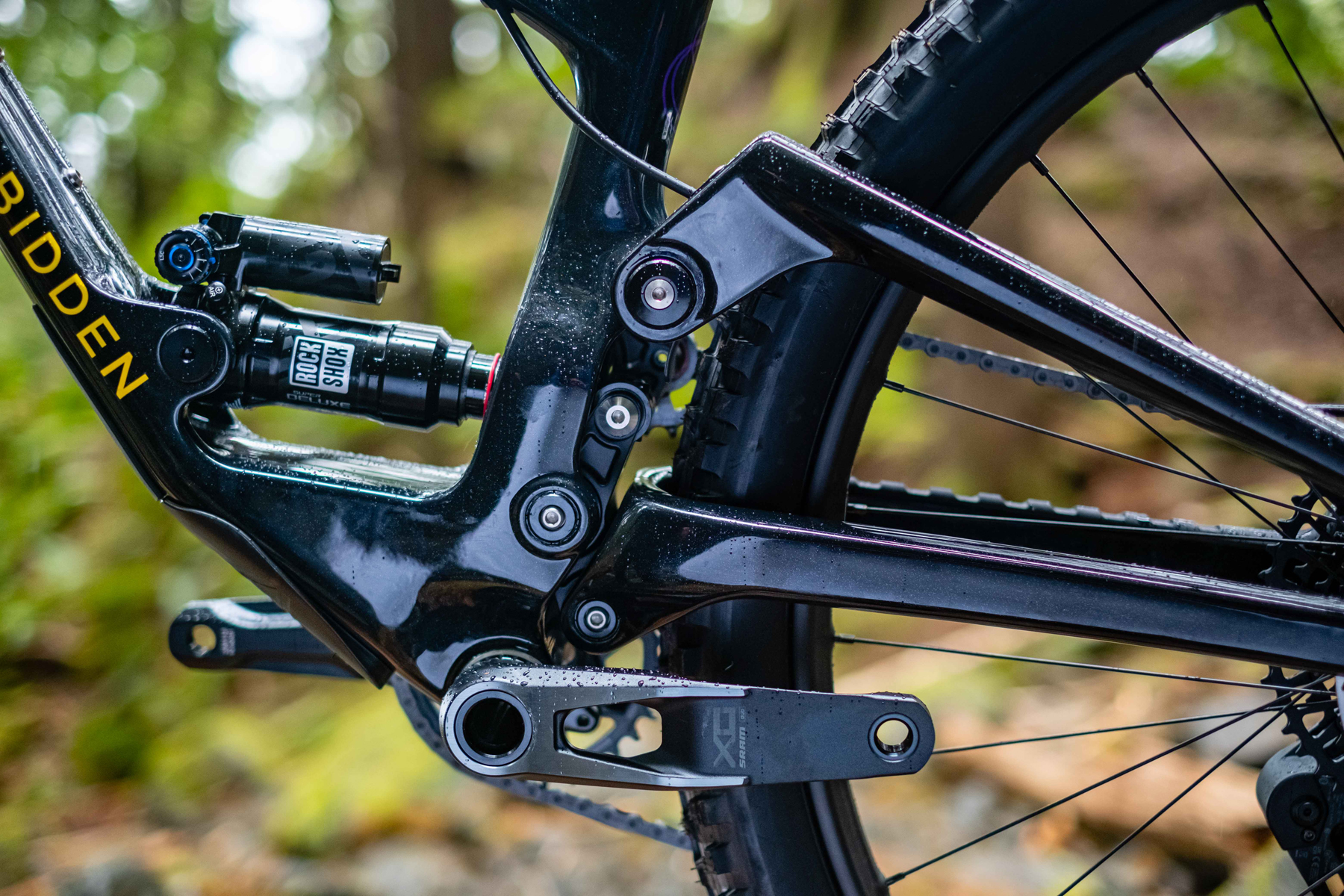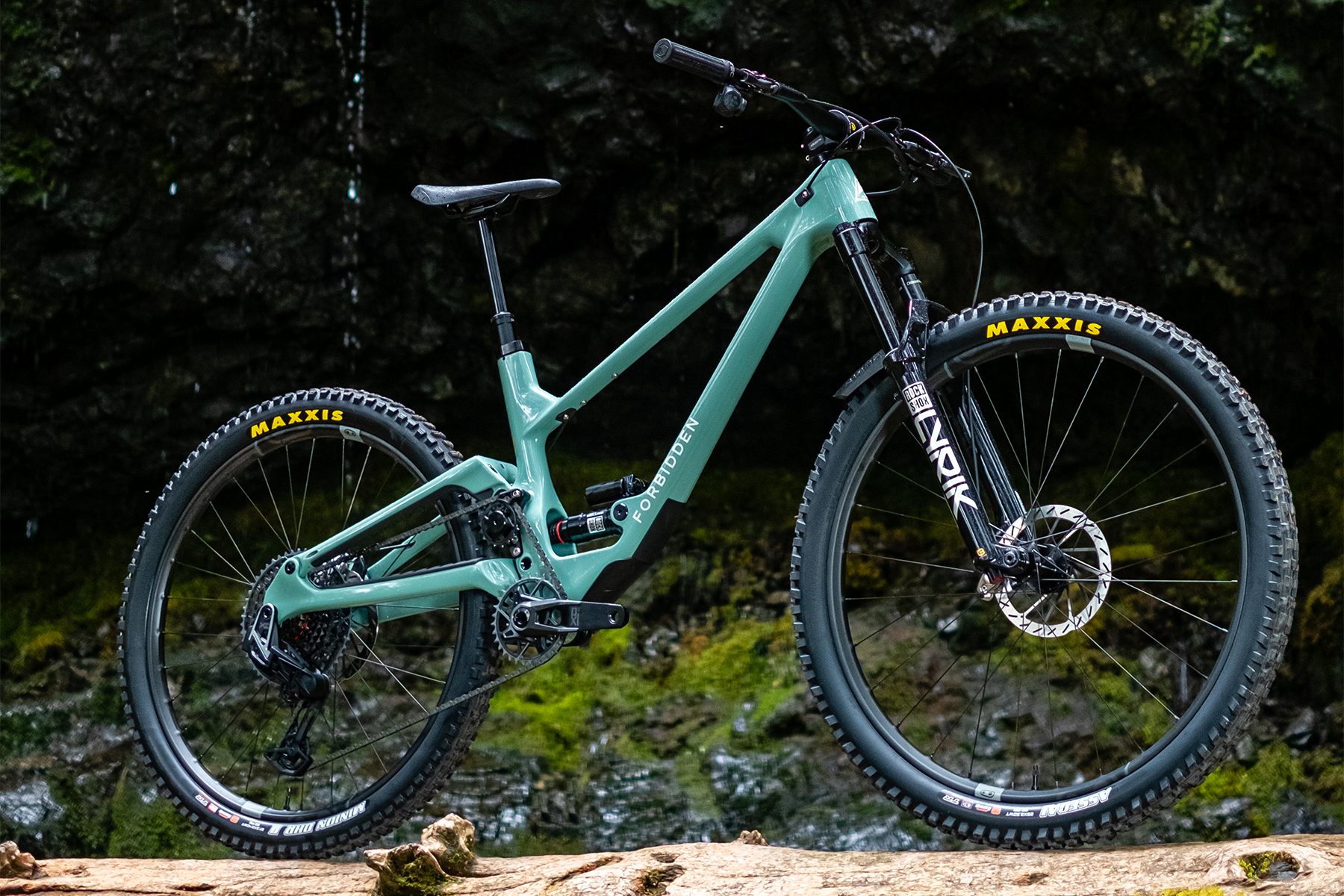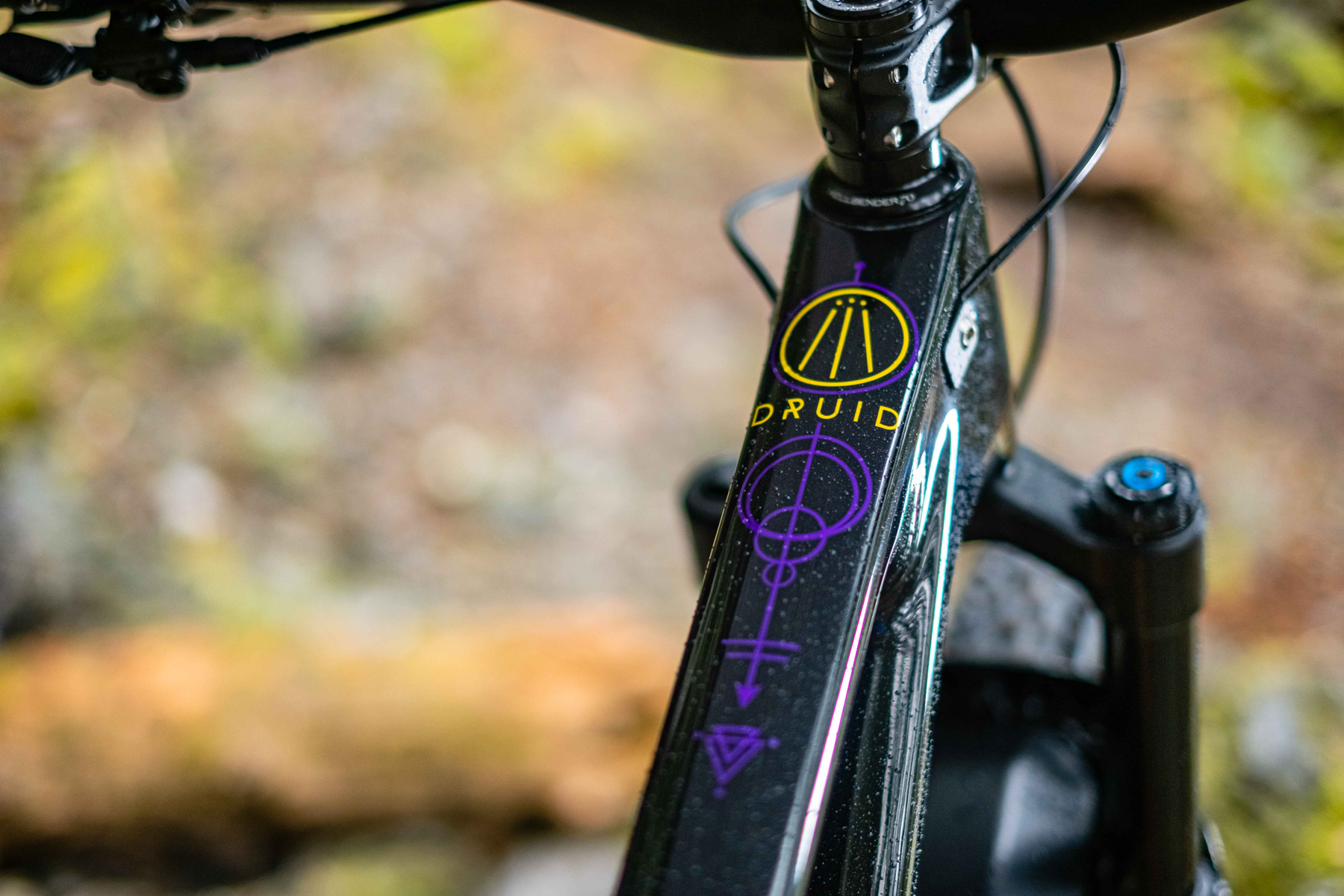 Forbidden actually debuted that configuration — which they're calling "Trifecta V2" — on their still-secretive DH bike prototype that their team has been riding since the middle of last season and, interestingly, they say that doing away with need for a lower chainguide with a roller was a big part of their rationale for making that change on the Druid. The first-generation Druid (and its bigger sibling, the Dreadnought) need one to achieve sufficient chain wrap around the chainring, due to the placement of the idler pulley. The new layout let Forbidden place the idler farther back on the frame to remediate that issue. But the change in design also brings about some substantial changes to the suspension kinematics, most notably the anti-rise curve. High-single-pivot bikes tend to have very high levels of anti-rise, which has the effect of making the bike settle deeper into its rear travel under braking, and while the Druid V2's anti-rise curve starts out pretty high, at just under 130%, it falls off much faster than that of the original Druid. The leverage curve hasn't changed nearly as much (the Druid V2 is a little higher leverage overall, but the shape is pretty similar to that of the original), going from about 2.9:1 to 2.3:1 in a mostly straight-ish line. Anti-squat starts off higher, at about 137% but falls off more quickly, and in doing so produces a little less pedal kickback than the original Druid.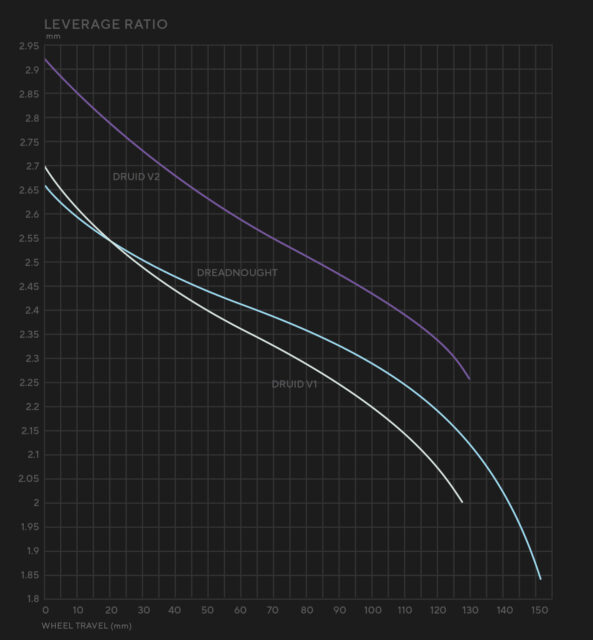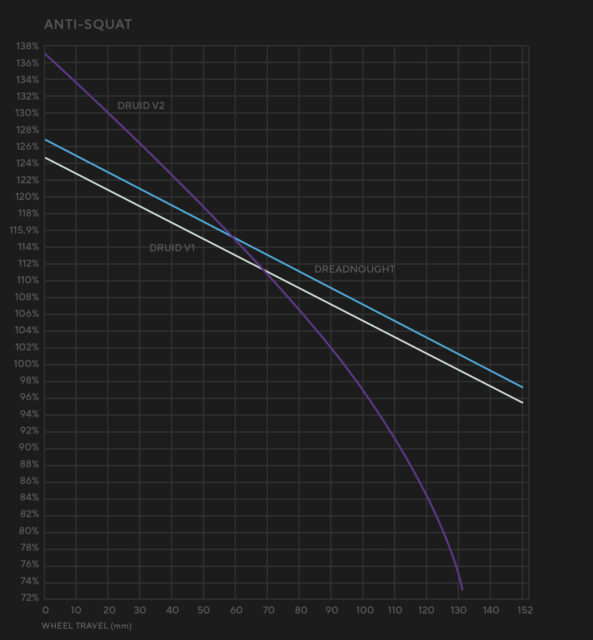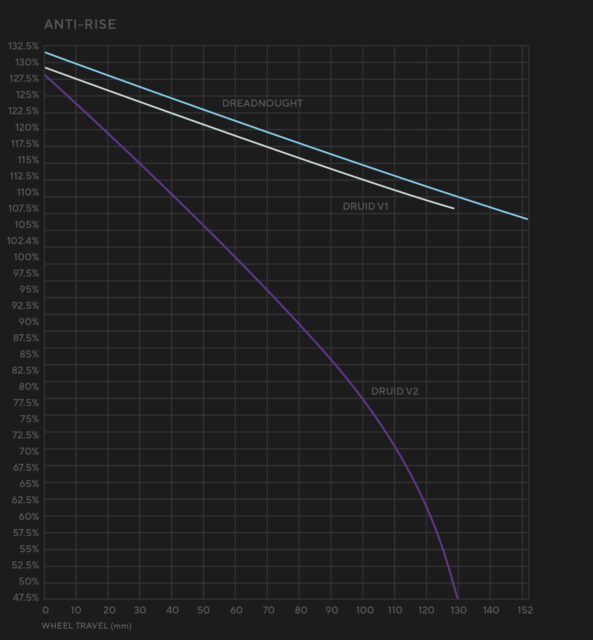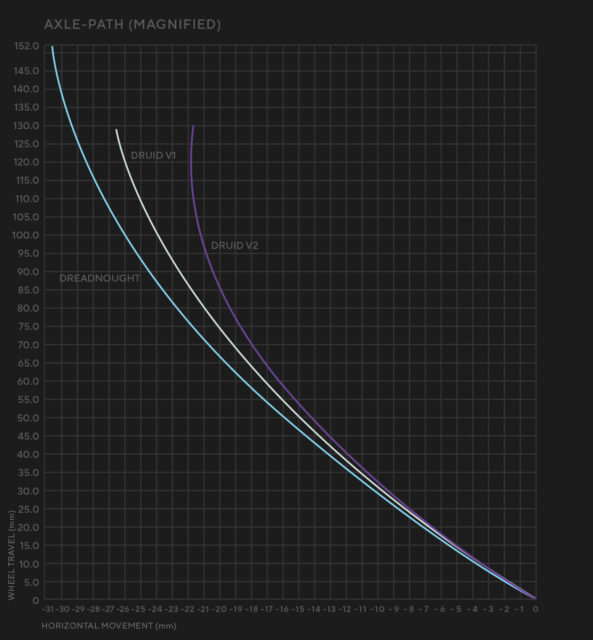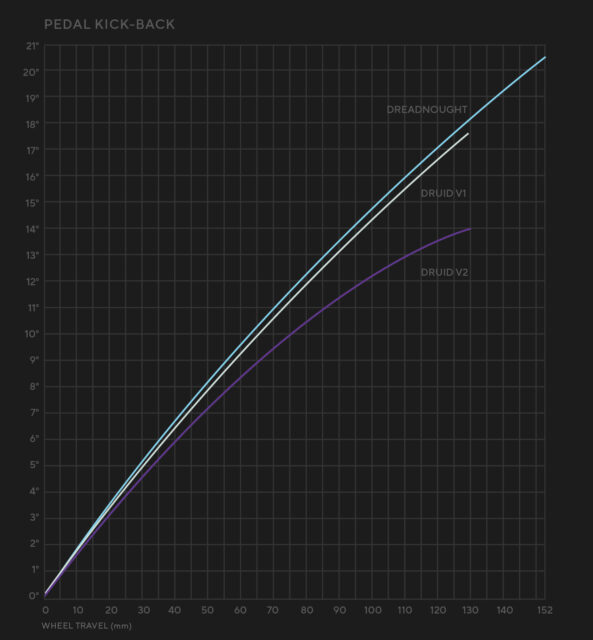 As with the original Druid, the new V2 bike can be run with either dual 29'' wheels or in a mullet configuration with a 27.5'' rear wheel. Toggling back and forth requires a chainstay swap, so it's a little more involved than on some other bikes (and presumably expensive, though we don't yet have pricing on the chainstay kits just yet), but it's an option. Complete bikes and frames are available in your choice of rear-wheel configuration.
The Druid V2 also gets updated to an 18-tooth steel idler pulley that Forbidden said is harder wearing than prior iterations, and has gotten a revised tooth profile for compatibility with various 12-speed chains, including the new SRAM T-Type ones. And in keeping with that, the idler mount is modular to allow for 52 or 55 mm chainlines as well. There's also a SRAM UDH derailleur hanger, of course, fully internal cable routing (with the option to route the brake line on either side of the frame depending on which hand you use for the rear brake), and ample rubber guards on the chainstay, seatstay, and downtube. The lower part of the downtube guard has a removable port, both to help with cable routing and to allow storage inside the downtube, which now features a tool-free closure in place of the bolt-on one from the prior-generation bike. There's room for a water bottle inside the front triangle on the full size range, plus an extra accessory mount underneath the top tube.
I also need to give Forbidden a shoutout for dropping "just say no to headset cable routing" in their press release for the new Druid — I'd specifically called for a bike company to take that stand in our last episode of the Blister Podcast, and then got the Druid launch information in my inbox the day after we recorded that episode.
Fit & Geometry
Forbidden offers the Druid in four sizes, which have been re-labeled to S1, S2, S3, and S4 — roughly correlating to the Small through XL on the original Druid. As compared to the original bike, the reach has grown by 15 mm per size (to 480 mm on the size S3), the headtube slackened by 0.5° to 65°, and the seat tube steepened by 1.5° (to 77°, both effective and actual).
Those numbers are all for the 29'' configuration; the MX one slackens the head- and seat-tube angles by 0.5°, lops 5 mm off the reach, and lowers the bottom bracket by 6 mm (to a stated 29 mm of drop from the line between the two axles, from 35 mm on the 29er).
That's all pretty normal for a 130mm-travel Trail bike, but the one number that really stands out on the Druid's geo chart is the chainstay length. Forbidden is far from alone in varying the chainstay length on their bikes based on frame size, but the degree to which they do so is where things get interesting — the Druid's chainstays start at an extremely-short 423 mm on the S1 frame and then grow by a massive ~14 mm per size, all the way up to a colossal 466 mm on the S4. I can't think of a modern bike in this travel range that has shorter stays than the S1 Druid, or one that's even close to as long as the S4. Forbidden's argument is that those huge jumps make for a consistent ratio of chainstay length to wheelbase across the size range, but it's notable that most companies that do size-specific chainstays make much, much smaller changes from size to size — typically on the order of 3 or 4 millimeters.
Forbidden's math does indeed check out, but is that the right goal to achieve a consistent-feeling ride across frame sizes? Forbidden is blazing its own trail here, but maybe they're on to something.
The Builds
The Druid is available in a single build for the moment, with a SRAM X0 Transmission, Rock Shox Lyrik / Super Deluxe Ultimate suspension, and Crank Brothers Synthesis Enduro carbon wheels. It's a very nice build (and priced accordingly) but Forbidden has some more affordable options in the works.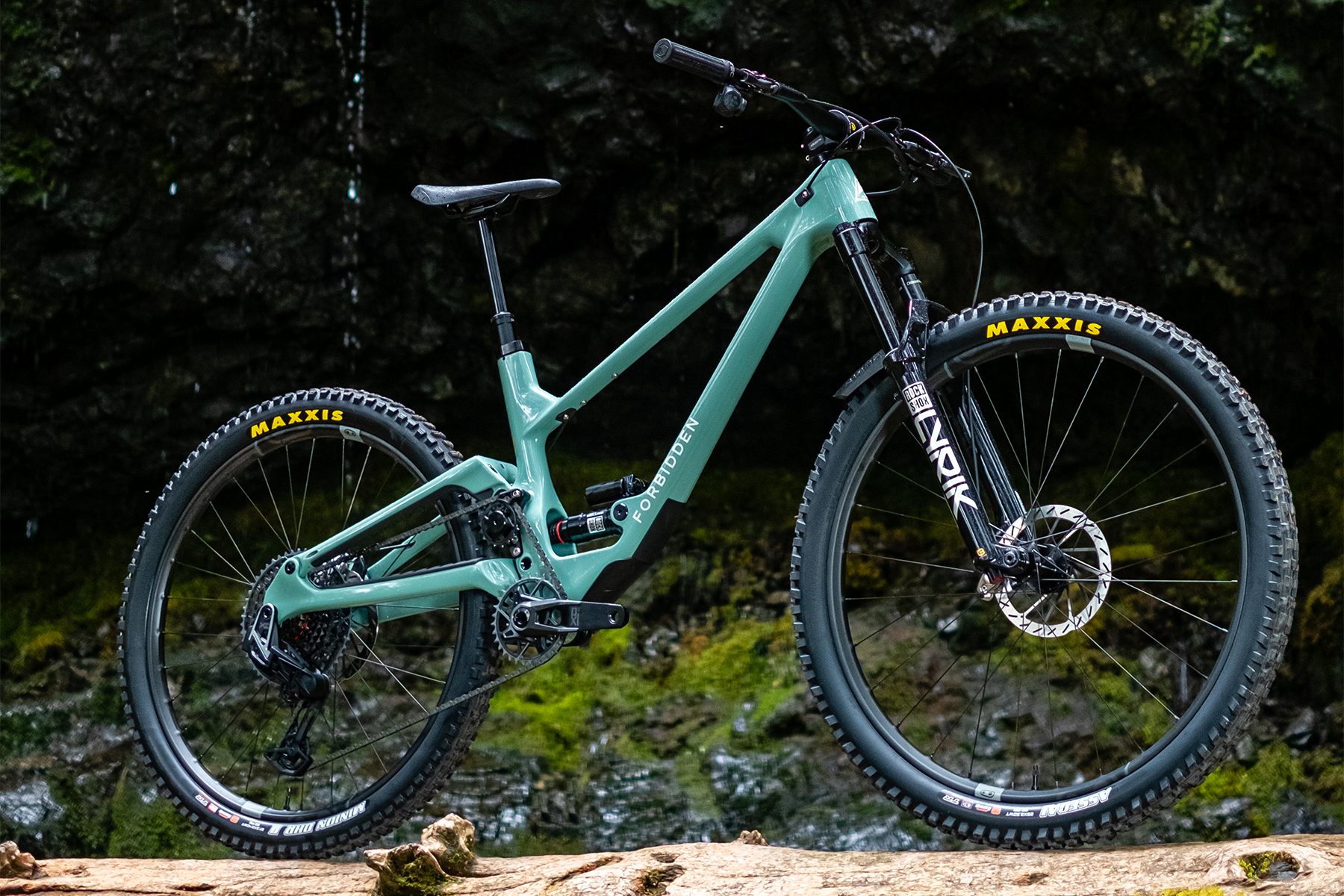 Drivetrain: SRAM X0 T-Type
Brakes: SRAM Code Ultimate Stealth (w/ 180 mm rotors)
Fork: RockShox Lyrik Ultimate
Shock: RockShox Super Deluxe Ultimate
Wheels: Crank Brothers Synthesis Enduro Carbon
Dropper Post: OneUp
Forbidden says that two more builds, named "GX FX" and "GX RS," both with a SRAM GX AXS drivetrain, will be available soon, for $7,199 and $6,199 USD, respectively. Details on those builds aren't yet available. A Druid V2 frame with RockShox Super Deluxe Ultimate shock is also available for $3,799 USD / $4,999 CAD.
Some Questions / Things We're Curious About
(1) How does a short-travel high-pivot bike add up on the trail? We've ridden a whole bunch of Enduro and DH bikes with variants of the layout, but with 130 mm of rear travel, the Druid is shorter travel than any of the other high-pivot bikes we've ridden to date.
(2) And does the Druid display any of the suspension performance quirks that we experienced on the Dreadnought when we reviewed that a while back? On paper, the Druid V2 looks like it tidied things up nicely — mostly the straighter leverage curve and dramatically lower anti-rise — but how does it feel on trail?
Bottom Line (For Now)
The new Forbidden Druid does a lot of things differently from most 130mm-travel Trail bikes, between its high-pivot suspension layout, radically size-specific chainstays, and so on — so we're very curious to get on one to find out how it all adds up. We're working hard to make that happen and will have a lot more to come if and when we're able to.