Forge+Bond 25 XC and 30 AM Wheels
Internal Width:
Sizes Available: 29''
Material: Carbon Fiber (FusionFiber Thermoplastic)
Stated Weight:
25 XC Rim: 380 g
30 AM Rims: 480 g front / 530 g rear
25 XC Wheelset: 1,455 g (w/ DT Swiss 240 hubs)
30 AM Wheelset: 1,702 g (w/ DT Swiss 240 hubs)
MSRP: Wheelsets from $1,899 to $2,199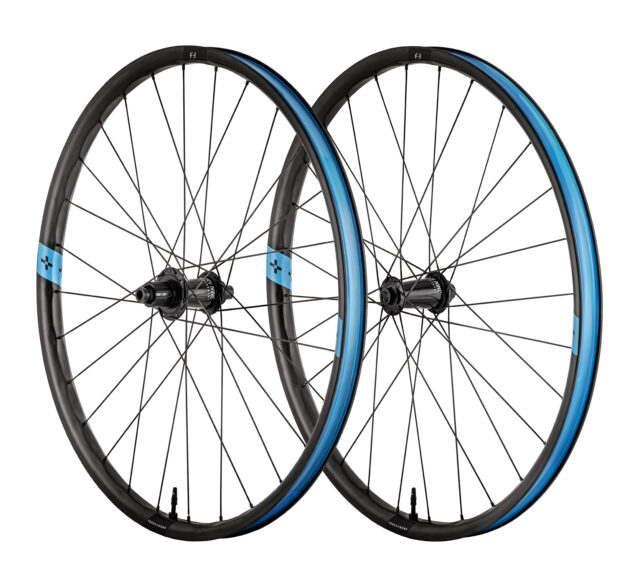 Intro
CSS Composites has been making thermoplastic carbon fiber rims for a few different companies for a while now but only launched their own brand, Forge+Bond, a few months ago. Today, the Forge+Bond lineup is growing with the addition of XC and All Mountain wheels, to go with the Gravel and Enduro models that they offered out of the gate.
All of Forge+Bond's wheels are made from the same "FusionFiber" thermoplastic carbon fiber, in their own facility in Gunnison, UT. The new 30 AM wheels are intended for all-around Trail bike use, while the existing 30 EM wheels (which get lightly reconfigured, as we'll cover more below) are the heavier-duty version for more aggressive Trail and Enduro riding; the 25 XC wheels round out the mountain bike part of their line (and are, predictably, meant for XC race usage).
Design
The design of the 25 XC and 30 AM rims is very similar to that of the 30 EMs that Forge+Bond launched with, just in pared-down, lighter versions. The thermoplastic carbon fiber ("FusionFiber") construction carries over, as does the general design language with a slightly wavy rim profile (i.e., a varying cross-section around the circumference of the rim to place material where it's needed and remove some where it's not). The new rims are also made in Utah, just like the 30 EMs that launched earlier this year, and they share the same recyclability that Forge+Bond has been touting across their lineup — check out our First Look on the 30 EMs (full review coming very soon) for a much more detailed rundown on all that.
To give a quick recap, Forge+Bond has a few main claims about the material. First off, using thermoplastic carbon fiber as opposed to thermoset composites (again, check out our 30 EM First Look for a more detailed explanation) allows Forge+Bond to use a much more automated layup process than most carbon wheels, both making it more viable for them to manufacture wheels in the US and mitigating the amount of waste that results from the process. That scrap material — be it excess trimmings from the manufacturing process, rims that don't pass QC, or ones that have reached the end of life — can also be "recycled" into other parts by grinding it up and re-molding into something else. Doing so cuts the constituent fibers shorter and loses the ability to specifically orient them in the recycled product, so there's some degradation of the material properties, but it's still a big improvement over traditional thermoset composites. And, finally, Forge+Bond claims a big increase in damping properties from the rim, owing to their use of nylon as the matrix material around the carbon fiber cloth, as compared to thermoset epoxy in most other carbon fiber rims.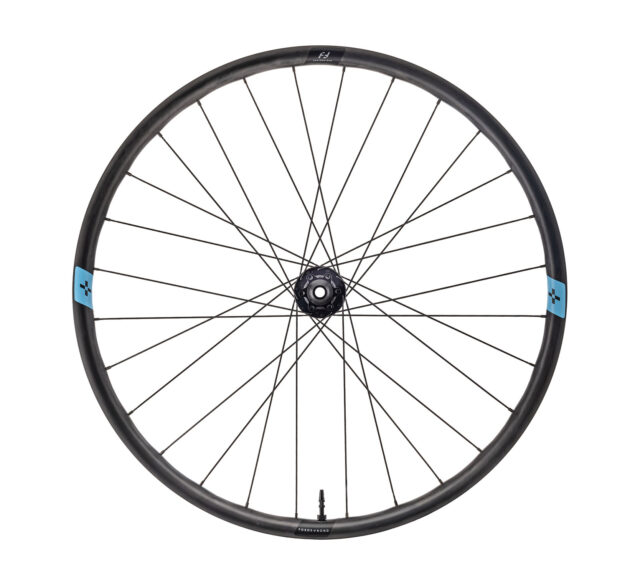 The 30 AM, unsurprisingly, maintains the 30 mm internal width of the 30 EM rim but sheds a claimed 50 grams, resulting in a stated rim weight of 480 g. Or at least that's true for the front rim; the 30 AM rear rim actually is the 28-hole version of the 30 EM rim that Forge+Bond launched with. Forge+Bond says that the separate 28- and 32-hole versions of the 30 EM were a way for them to offer separate stiffer/burlier and lighter/more compliant versions of their wheels at launch while using effectively the same rim for both. With the addition of the 30 AM to the line, it made sense to reconfigure things a little bit, and the 30 EM wheels are now offered in the 32-hole version only for the rear, with your choice of a 28- or 32-hole front wheel. The 30 AM wheels get the 28-hole 30 EM rim in the rear with the new 30 AM rim (also 28-hole) up front. The 30 AM wheels also use Sapim CX-Ray bladed spokes to shave a little more weight, while the 30 EMs stick with Sapim D-Lights. The bead wall is 4 mm thick to help stave off pinch flats (as with the 30 EM rims).
Making a slightly heavier-duty rear wheel paired with a lighter front one is an increasingly-common strategy from a whole lot of different brands (either by varying rim design, spoke counts, or both) so what Forge+Bond is doing here makes good sense on paper. Rear wheels take more abuse than fronts and are more heavily loaded in many circumstances, and a less-stiff front wheel can pay real dividends in terms of comfort and hand fatigue. Offering differing front and rear builds on both the 30 AM and 30 EM should be a nice step in that direction.
The 25 XC rim, unsurprisingly, is both narrower and much lighter, at a 25 mm internal width and stated weight of 380 g. Forge+Bond recommends tires in the 2.1'' to 2.4'' range on the 25 XC wheels, and the 25 XC wheels are offered with 28-hole drilling, only, with the same Sapim CX-Ray bladed spokes used for the 30 AMs.
Both the 30 AM and 25 XC wheels are available with Industry Nine 1/1 hubs for $1,899 or your choice of DT Swiss 240 or Industry Nine Hydra ones for $2,199. The 25 XC wheels are offered in Centerlock only for the 240 and Hydra hub versions, but the 30 AM gets both Centerlock and 6-bolt options for the Hydra build. Forge+Bond is also donating $100 for every pair of 25 XC wheels sold to the NICA program of the buyer's choice to help support the development of up-and-coming XC racers. And all of Forge+Bond's wheels come with a 30-day "performance guarantee" if you're unimpressed with the ride, as well as a lifetime warranty for the original owner. Forge+Bond says that warranty covers both defects and damage that occurs during normal use; other damage will be covered as a discounted crash replacement.
Currently, Forge+Bond is primarily selling wheels consumer-direct in the US, with some dealers around the US, and plans for international distribution coming later this year.
Some Questions / Things We're Curious About
(1) How different do the 30 AM wheels feel on the trail relative to the 30 EMs that we've been testing for several months now?
(2) And how do Forge+Bond's thermoplastic carbon wheels stack up to more traditional options in quantitative testing through Blister Labs? We'll be testing some to find out.
Bottom Line (For Now)
We've been spending a lot of time on the Forge+Bond 30 EM wheels (full review coming soon) and will be testing the 30 AMs head-to-head against them on the trail — plus, we'll be evaluating the 30 EMs against a whole lot of other wheels in a quantitative fashion at Blister Labs, too. Stay tuned for much more to come.