Öhlins RXF34 m.2
Travel Options: 120 & 130 mm
Wheel Sizes: 29''
Available Offset: 44 mm
Stanchions: 34 mm
Reviewer: 6', 170 lb / 183 cm, 77.1 kg
Blister's Measured Weight (130 mm, uncut steerer tube): 1,740 g
MSRP: $1,180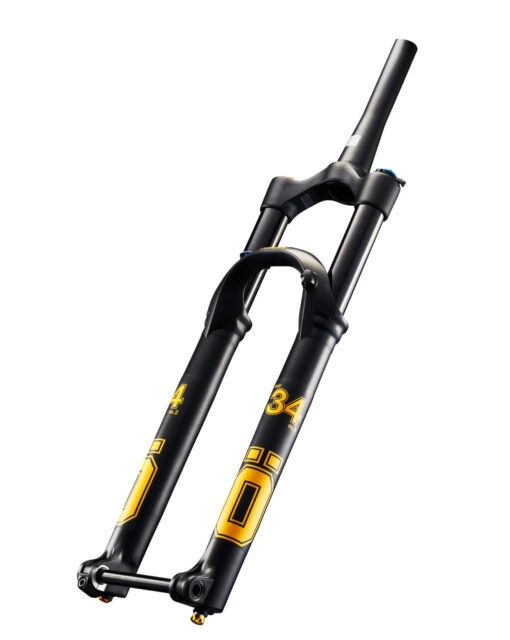 Intro
I've been a huge fan of Öhlins' RXF 36 and (especially) RXF 38 forks in the latest "m.2" generation, so when they announced a new iteration of the RXF 34 Trail bike fork, I was more than a little interested. But unlike its two bigger siblings, the RXF 34 m.2 doesn't use the TTX 18 damper or the dual-positive air spring design that I've gotten on so well with, so I wasn't sure what to expect, either.
We've got an RXF 34 m.2 in for testing and will have a full review to come, but for now, let's dive into the details on the new fork:
The Design
Externally, the RXF 34 m.2 looks a whole lot like the bigger RXF 36 and RXF 38 — Öhlins' classic black and gold color scheme remains, and the overall design language, damper adjustments, axle layout, and so on are all very similar. As you've undoubtedly figured out, there are the obvious differences in stanchion size (starting with the 34 mm ones on the RXF 34, which grow by 2 mm with each step up in the line) and the corresponding differences in overall bulk, but the three forks are clearly in the same family.
Internally, though, things are completely different. Whereas the RXF 36 and RXF 38 use Öhlins' longstanding TTX 18 twin-tube damper, the RXF 34 gets an all-new monotube one, which Öhlins calls "OTX 18." It's got the same adjustments as the bigger forks — rebound, high- and low-speed compression, with the last click on the HSC knob activating a climb mode — but the guts that make all that happen are entirely different. Given the RXF 34's role as a short-travel Trail bike fork, cutting weight was, understandably, a major goal and Öhlins says that the OTX 18 is about 27% lighter than the full-fat TTX 18 found in their bigger forks.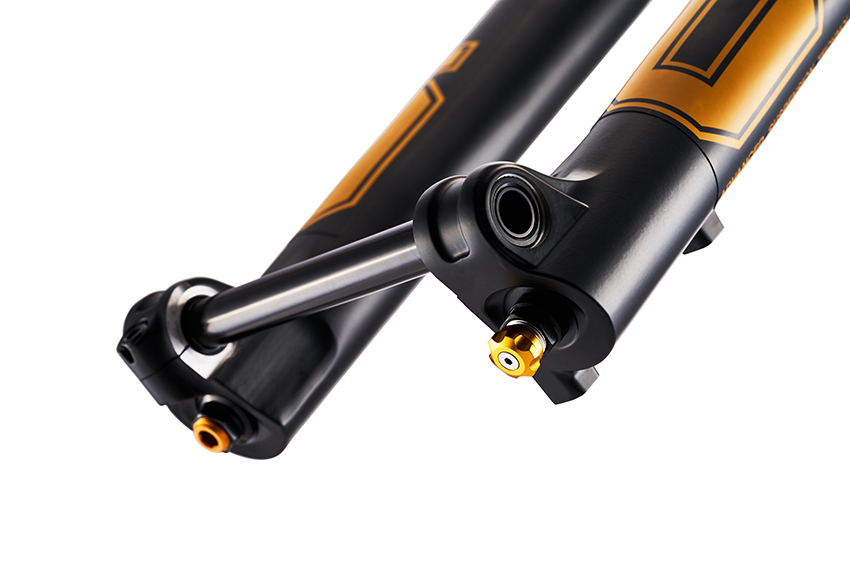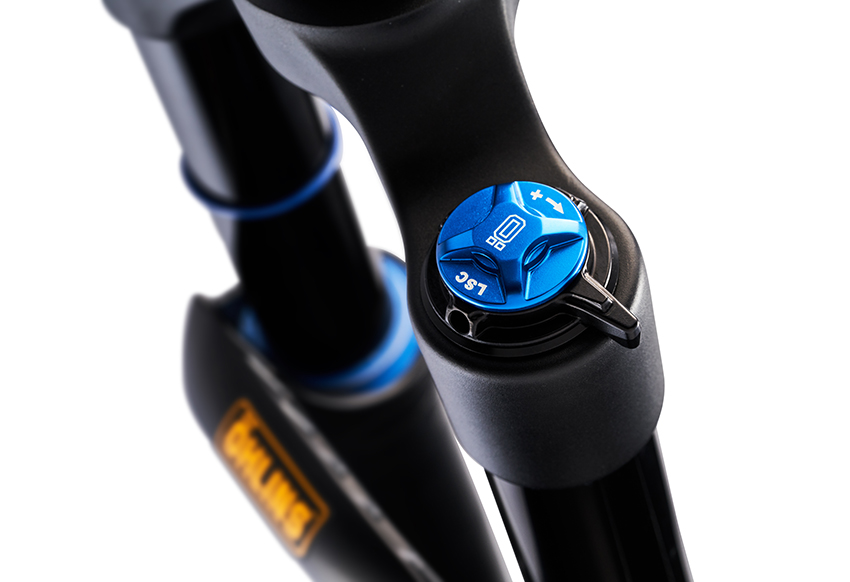 The OTX 18 damper is said to be "optimized for faster and more fluid trail riding," which, in part, means a somewhat lighter compression tune than the RXF 36 and RXF 38 get — which makes good sense for a fork that's meant to be ridden on shorter-travel bikes that are going to see less aggressive descending and super hard hits. And it's also worth noting that the RXF 34's bigger siblings are notably firmly damped, particularly compared to Fox's lightly tuned Grip2 forks. It'll be very interesting to see how the RXF 34 compares, and we've got one in for testing so we'll have a lot more to say on that subject soon.
The air spring in the RXF 34 is also substantially different from that in the RXF 36 and RXF 38. Both of the bigger forks use a dual-positive air spring design that has some very real benefits when it comes to tunability and midstroke support, but the RXF 34 forgoes that design for a more conventional spring design with a single positive air chamber, similar to what Fox and RockShox have been using across their ranges for a while now.
[For a whole lot more on that dual-positive spring design, check out the "Design & Features" section of our review of the RXF 36.]
As with the Fox and RockShox implementations of the design, the RXF 34's air spring is filled through a single valve and equalizes pressure between the positive and negative chambers automatically. In lieu of the second positive air chamber, the RXF 34 adds adjustable volume spacers, which clip into the top cap very much like Fox's version. And like Fox and RockShox's spring designs (and unlike the RXF 36 and RXF 38's versions), the RXF 34 uses the inside of the stanchion as the outer part of the air spring, instead of having a self-contained cartridge design.
The RXF 34 m.2 is only available for 29'' wheels and with 120 or 130 mm of travel. Öhlins says a shorter-travel version might come later, but that the chassis can't handle anything longer than 130 mm. The axle is the same 15 x 110 mm Boost floating bolt-on version used on the RXF 36 and RXF 38, and the brake mount is for a 160 mm rotor; Öhlins condones up to a 203 mm one with an adapter.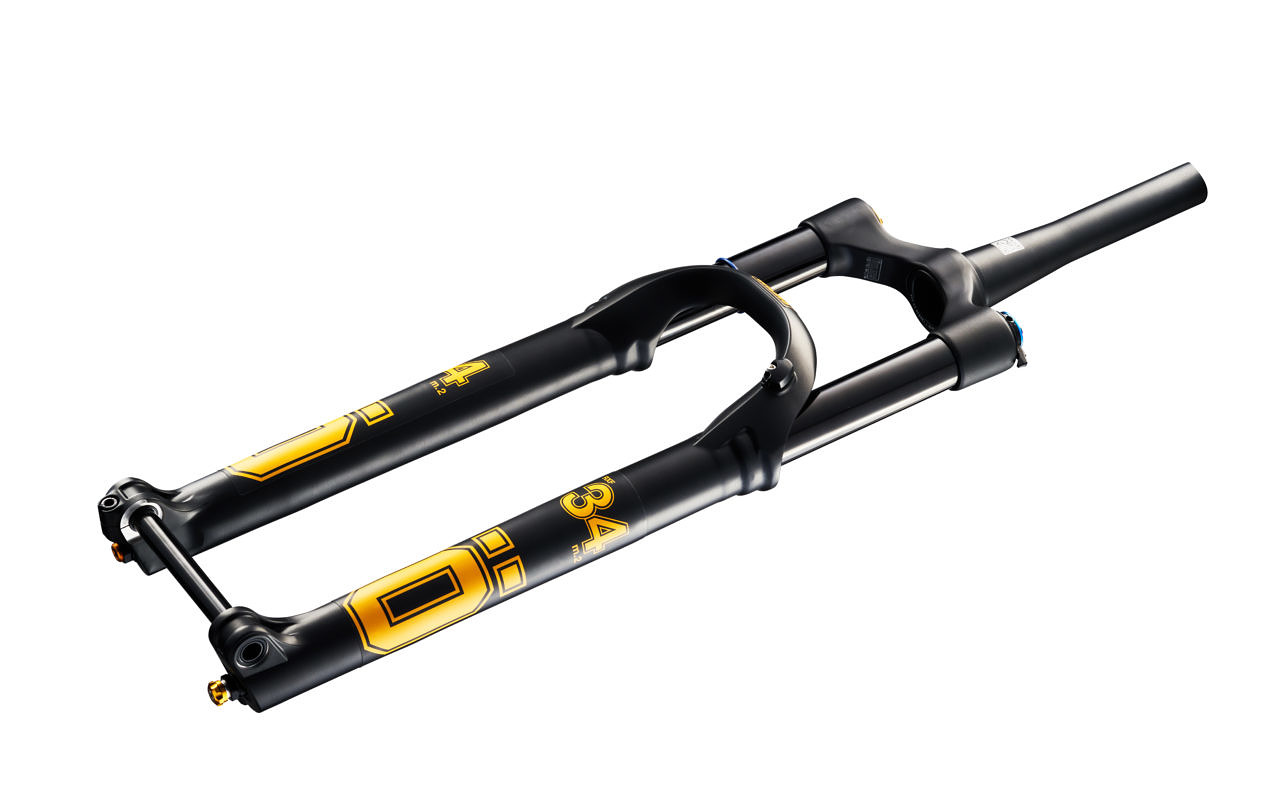 Some Questions / Things We're Curious About
(1) We've been huge fans of Öhlins' RXF 36 and RXF 38, but does the RXF 34 stack up to its bigger siblings, or are the different spring and damper designs a letdown?
(2) And how does the RXF 34 compare to its main rivals from other brands — chiefly, the Fox 34?
Bottom Line (For Now)
Öhlins' initial forays into the mountain bike world were somewhat hit and miss, but they have been on a roll with their recent offerings. Can the RXF 34 m.2 maintain that momentum — especially since it introduces new spring and damper designs? Stay tuned for a full review soon.
Flash Review
Blister Members can read our Flash Review of the RXF34 m.2 for our initial on-trail impressions. Become a Blister Member now to check out this and all of our Flash Reviews, plus get exclusive deals and discounts on skis, and personalized gear recommendations from us.