Fox Proframe RS
MSRP: $359.95
Test Location: Bellingham, Washington
Test Duration: 6 months
Reviewer: 6', 160 lbs / 183 cm, 72.6 kg
Size Tested: Medium
Blister's Measured Weight: 824 g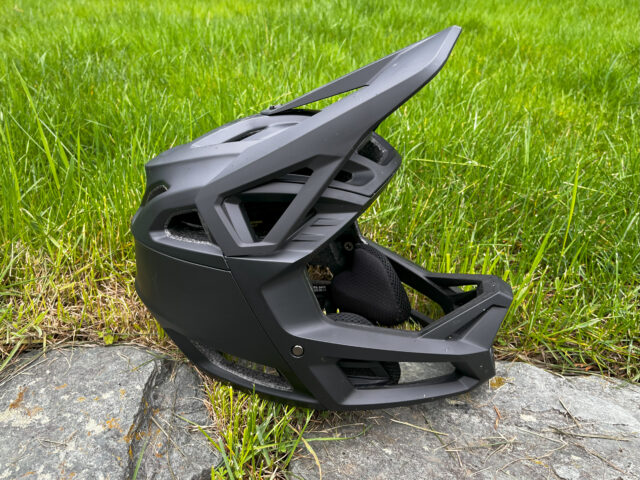 Intro
Fox was among the first to enter the lightweight full-face helmet game with the original Proframe back in 2017. When several other companies were exploring the convertible full-face world, Fox took a different approach with a fixed chinbar, but focusing on breathability and low weight. The result was a smash hit, and the Proframe became a fixture in the gear closets of many riders looking for a bit more protection than what's typically offered by a half shell.
The Proframe had quite a long run in Fox's lineup, but a refresh was inevitable and finally arrived in October 2022 in the form of the Proframe RS. But would Fox's burlier, more feature-laden take on the Proframe still strike that balance of protection and pedal-friendly breathability that made the original such a classic?
After testing the Proframe RS through a wet PNW winter and early spring, we found Fox's latest lid to offer a very compelling set of features — but as with anything else, change comes with tradeoffs.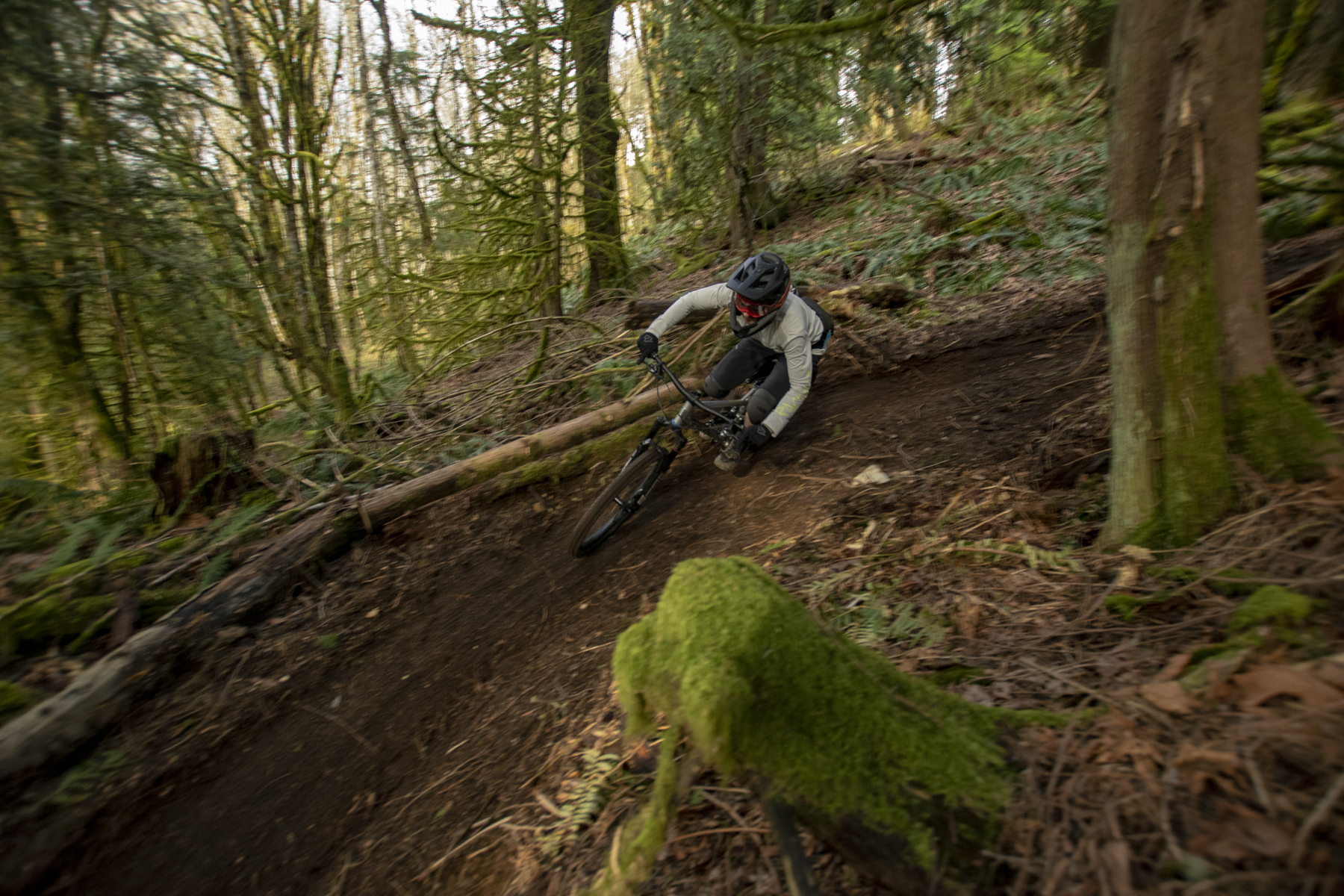 Design
The Proframe RS comes with a swath of new features and generally sits as a burlier, updated take on the original Proframe. The Proframe RS is more generous with venting than the original and strikes an aggressive, angular aesthetic. A Fidlock magnetic buckle accompanies the chinstrap, a more sophisticated BOA retention system replaces the old pad fit approach of the original Proframe, the visor is adjustable between 3 tilt angles, and a GoPro mount is included which fits under the visor. Interestingly, the BOA system is mounted to the outer shell of the helmet rather than part of the retention system where it contacts your head like a typical half shell, instead actuating some inner workings that cinch the helmet down.
Fox has made some big changes to the safety features contained in the Proframe RS, too — principally the change to a MIPS Integra Split system. Like some other high-end helmets, Fox has opted to use a dual-density foam arrangement that relies on layers of EPP and EPS foam to better handle low and high-speed impacts. The inner EPP layer joins the outer EPS layer via elastomers which Fox calls 'woofers' to create the MIPS Integra Split arrangement. Unlike typical MIPS implementations, this allows the two foam layers to pivot spherically around one another rather than relying on a plastic slip-plane against the rider's head. The Proframe RS is certified to a wide range of safety standards, including the ASTM F1952 DH standard.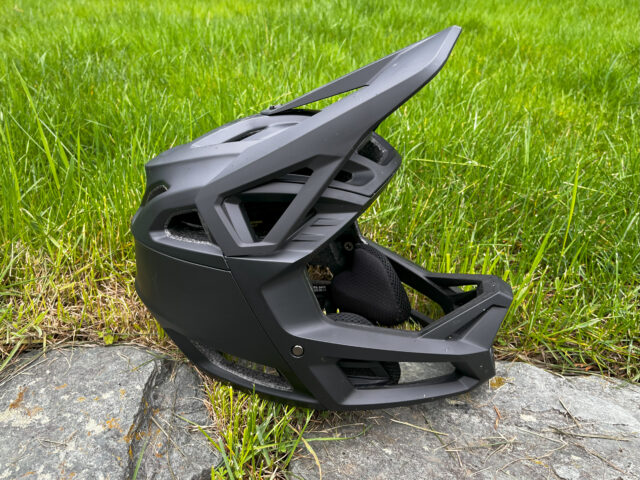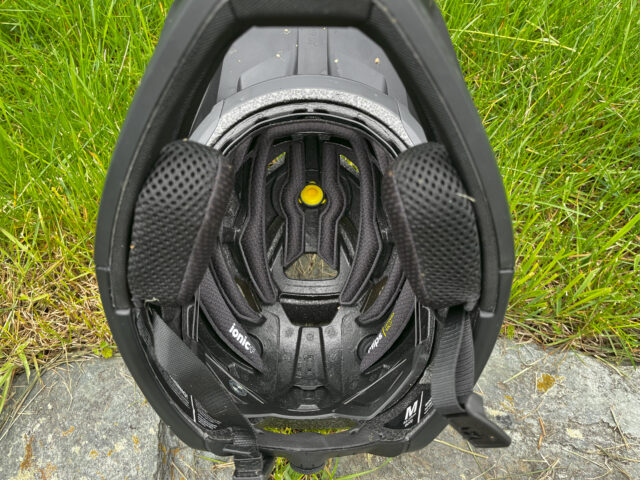 All of these features add up to one of the more fully-featured (and expensive) options in the lighter-weight full-face segment. The Proframe RS sits at $359.95 MSRP, also gaining ~70 grams of weight over the original Proframe at a (still light) measured weight of 824 g for our Medium test helmet.
Fit
Between the two sets of cheek pads, a 4-point adjustable anchor for the occipital cradle, and many, many clicks of the BOA retention system (52, to be exact), the Proframe RS has a huge range of adjustability. For folks like myself with a 59 cm head measurement that falls right between most Medium and Large designations, that's a very good thing.
The Proframe RS fits a bit differently than some other Fox helmets I've had in the past like the older Proframe and Speedframe Pro. While the forehead fit was familiar, the upper rear portion of my head had a couple of small pressure points against the inner helmet shell. This was uncomfortable at first, to the point of causing headaches on longer rides, and while it subsided a bit through testing, it's worth noting the fit being a little bit different than prior Fox lids. For my head, I never quite got the Proframe RS to feel totally invisible given the slight fit mismatch for my head, and it caused some pressure-related headaches on longer rides.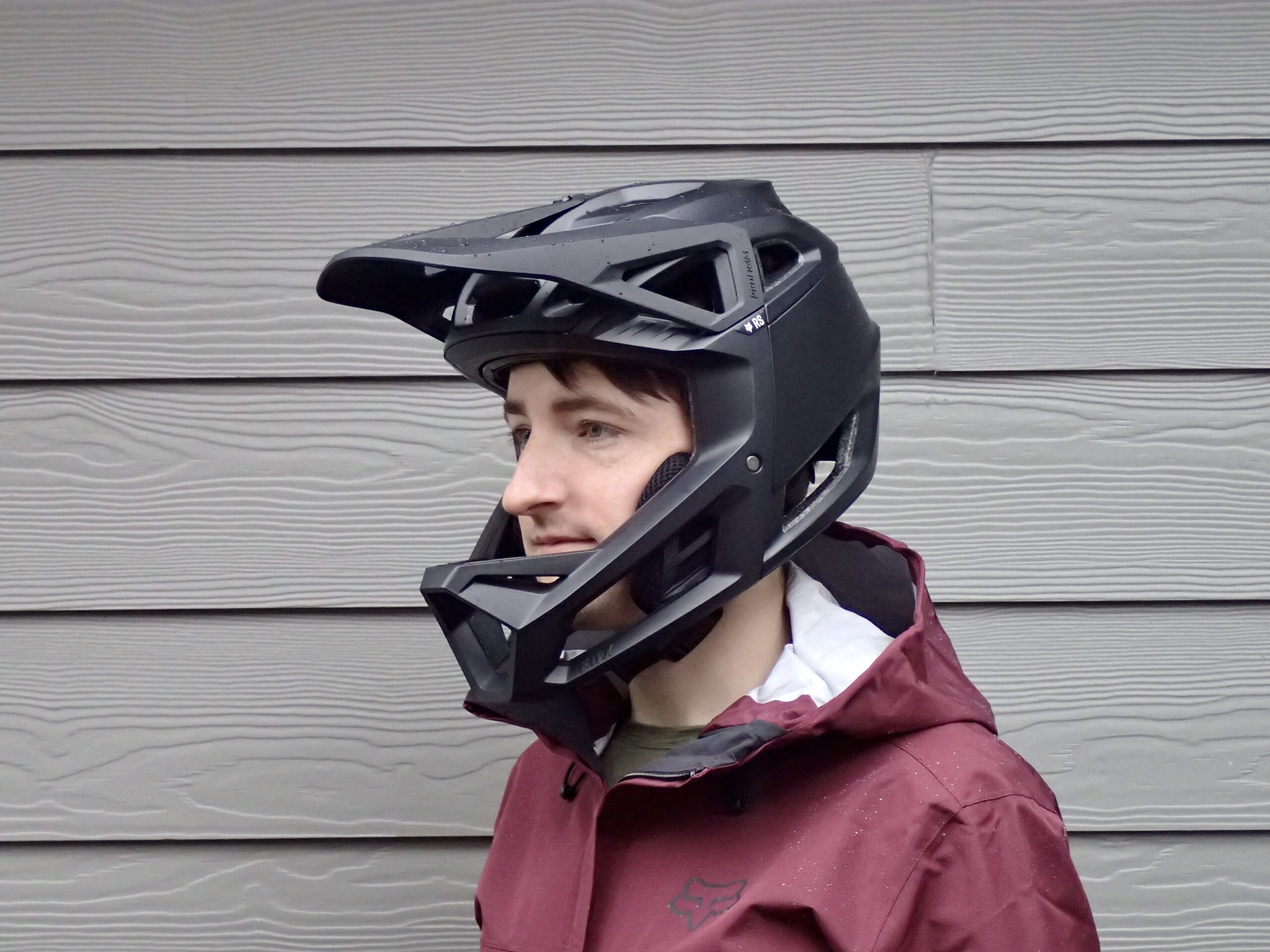 Outside of the shell fit, I found that the thick cheek pads worked best for me and my preferences, but both thick and thin fit well, with the thick pads just offering a bit more of a secure grip on my head to help keep things stable on rougher trails. The 4 step adjustment on the occipital portion of the retention system was effective in getting the BOA system to wrap my head in just the right spot. As always, it's worth the typical helmet disclaimer of "try before you buy". Fox helmets typically fit a more oval head shape like mine, but even if you've had Fox helmets in the past, I'd recommend trying one on before fully committing — especially given the price tag.
Performance
Testing took place over a widely varied winter and spring in the Pacific Northwest. Conditions ranged from snow to sun, dry to humid, and everything in between.
I used goggles, large glasses (Smith Wildcat), and also no eye protection at various points in testing the Proframe RS. Not only did the helmet offer great compatibility with all eyewear tested, but it also provided an exceptionally wide field of view. It didn't feel nearly as claustrophobic as some other full-face helmets can, and the frame of the eye-opening was never noticeable in my peripherals.
Even on lower-speed climbs, the Proframe RS proved to be the most breathable full face I've used. The chinbar never felt terribly restrictive even when breathing hard, and the plethora of vents kept air moving nicely. One of the perks of the MIPS Integra Split system is that it doesn't rely on a more generically shaped MIPS plastic layer against your skull, and it seemed to help create more cohesive ventilation along the molded channels. The more minimalist padding in the Proframe RS also dries quite quickly compared to some other more traditional full-face helmets that have more padding around the liner. While a bit less plush than some true Downhill lids, it made for a helmet that was never too sweat-logged.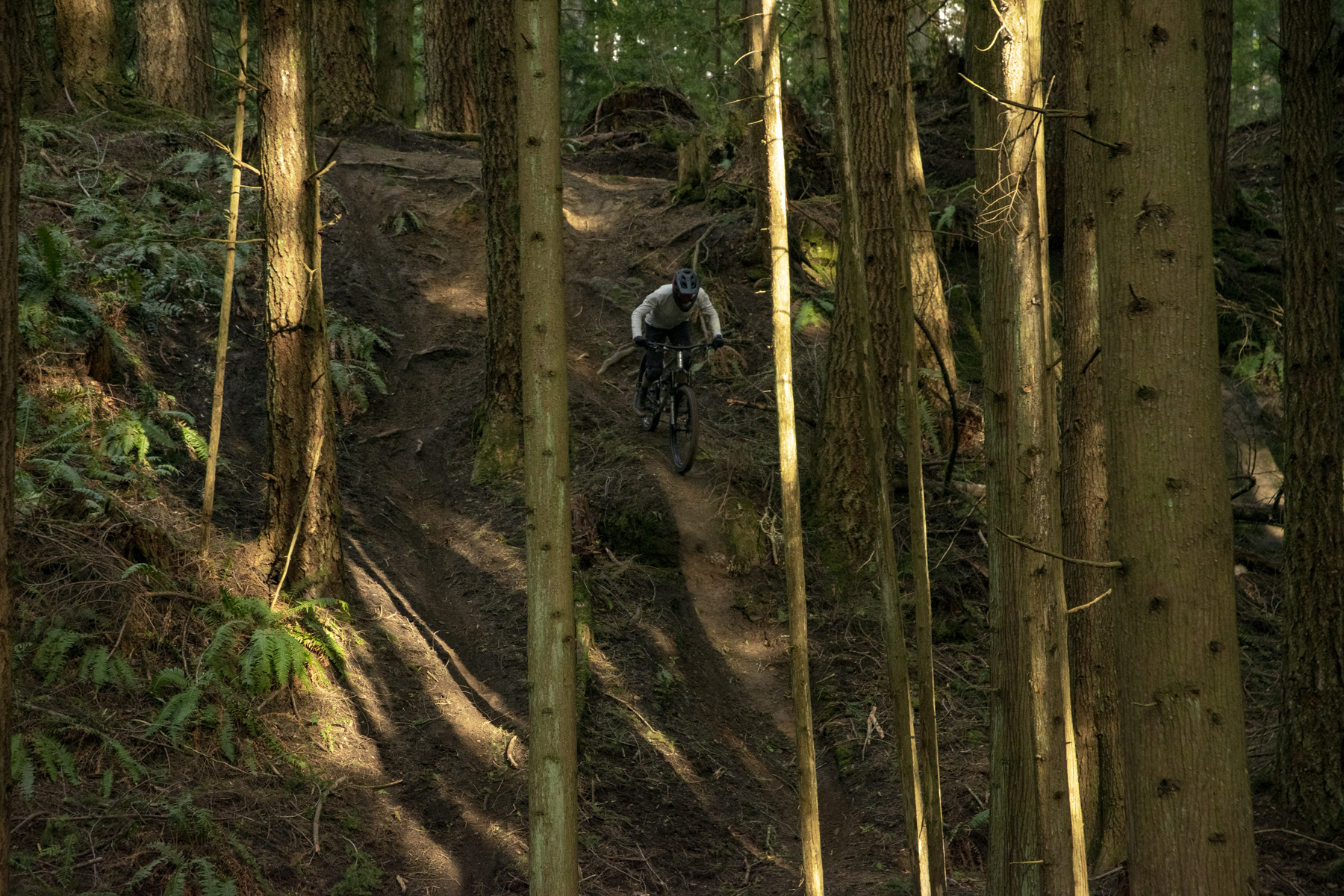 One of my big gripes with some implementations of MIPS is how much the helmet can move around on your head in rougher terrain — especially in steeper sections where each impact can have you feeling like you're headbanging your way down the hill. I was really pleased to find that the Proframe RS felt a whole lot more stable, which I fully chalk up to the MIPS Integra Split interface working in concert with the easy-to-adjust BOA retention system. Compared to some other lightweight full-face helmets, the Proframe RS really is a cut above when it comes to stability. As an added bonus, this MIPS Integra Split system remained dead silent throughout the test – again, a trait somewhat unique to the Proframe RS over other competitors.
I should also add that I am a huge fan of the Fidlock buckle. They can be a little bit divisive for folks that prefer a traditional D-ring closure or regular buckle, but the self-aligning and very secure Fidlock arrangement is easier to both fasten and unfasten than anything else I've used, especially with gloves on – or, in my case, with hands suffering lack of circulation on cold days.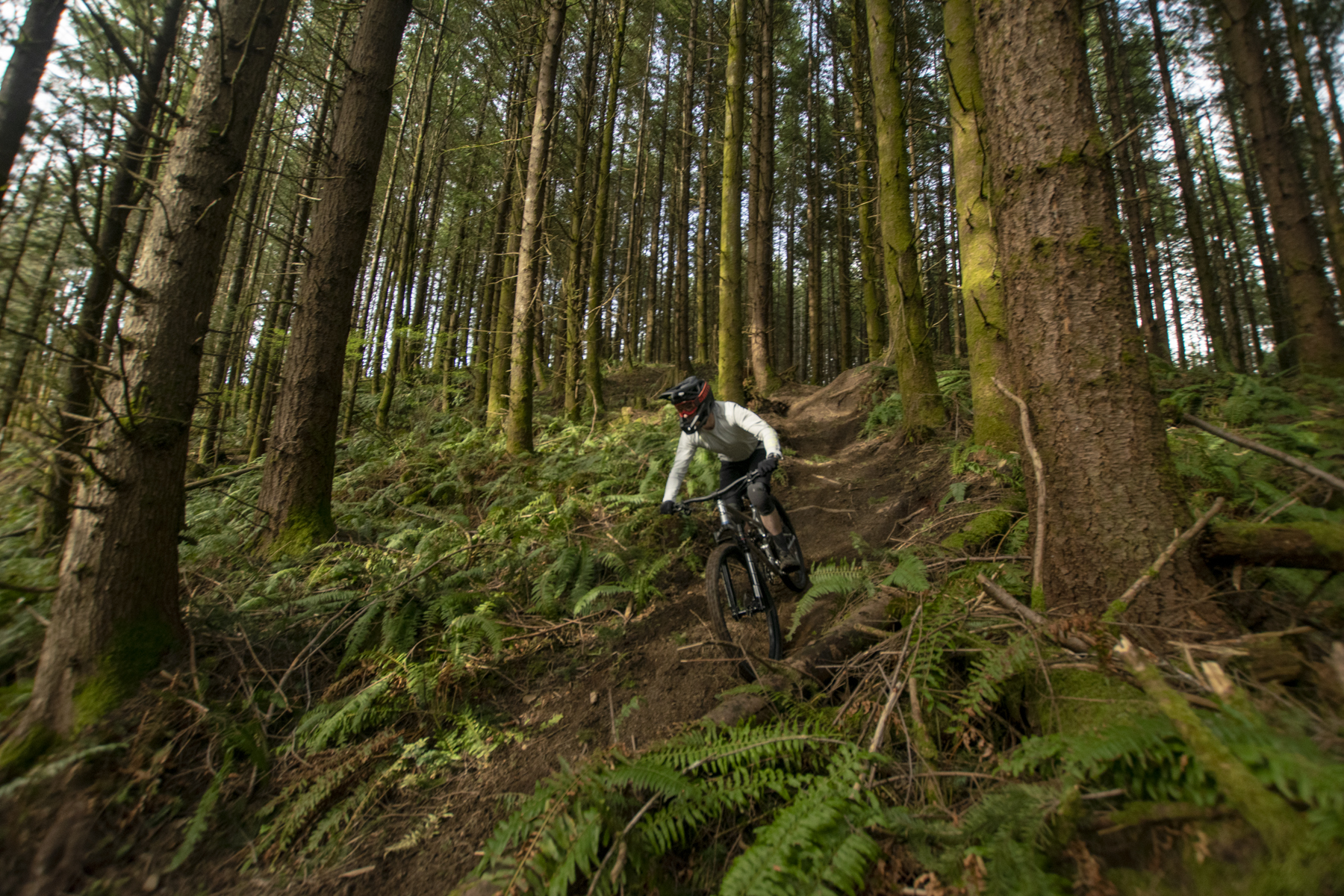 Comparisons
Fox Proframe
While the fit between the two is largely similar, I found the original Proframe to fit my head better. That said, the Proframe RS is a step forward in just about every other way.
While the Proframe RS is heavier, for 70 extra grams of weight you get a much finer range of fit adjustment via the BOA system, better ventilation, an adjustable visor, and a highly sophisticated protection system. It's what you'd expect from an evolution of an already great helmet. The MIPS Integra Split system doesn't make any noise like the original implementation often did. Another feature I appreciate is the addition of ear vents — the original Proframe fully covered your ears, and the opening around the ears improves trail awareness.
I can't comment firsthand on the safety of the Proframe RS, especially given that I didn't have any big spills during testing, but I can say that the lack of noise from the MIPS Integra Split system and the added stability both more than justified the added weight and cost over the 750 gram, $284.95 MSRP original Proframe.
Troy Lee Designs Stage
I haven't spent time riding the Stage, but I can comment on the fit. Where the Proframe RS feels like a lighter and more breathable downhill lid, the Stage almost feels like it started as a half-shell helmet and grew a chin bar. The Stage is quite a bit lighter than the Proframe RS at a claimed 690 grams, but it doesn't feel quite as study and confidence-inspiring and relies on a more traditional interchangeable pad system for fit rather than the Proframe RS' BOA retention system. Troy Lee Designs helmets tend to favor a slightly more round head shape than my more oval melon, and the Stage is no different — it was comfortable, but I had some slight pressure points on the front and back of my head. If you get a good fit with Troy Lee helmets, consider the Stage a great alternative to the Proframe RS if you're looking to prioritize weight over all-out safety features and coverage.
This is an interesting comparison. Smith helmets along with the Mainline tend to fit my head very well, being just ever so slightly more oval in their fit than Fox. The Mainline has a slightly chunkier silhouette than the Proframe RS, making the field of view a little more claustrophobic than the Proframe RS, but nothing I couldn't get used to. With that more substantial build comes a higher weight, but it's comparable to the Proframe RS in that regard, and it does feel more confidence-inspiring than other featherweight full-face options. So while the Mainline is a compelling and less expensive alternative to the Proframe RS, the dealbreaker for me was the noise from the MIPS liner — the Mainline's implementation of MIPS is quite noisy as it shifts around.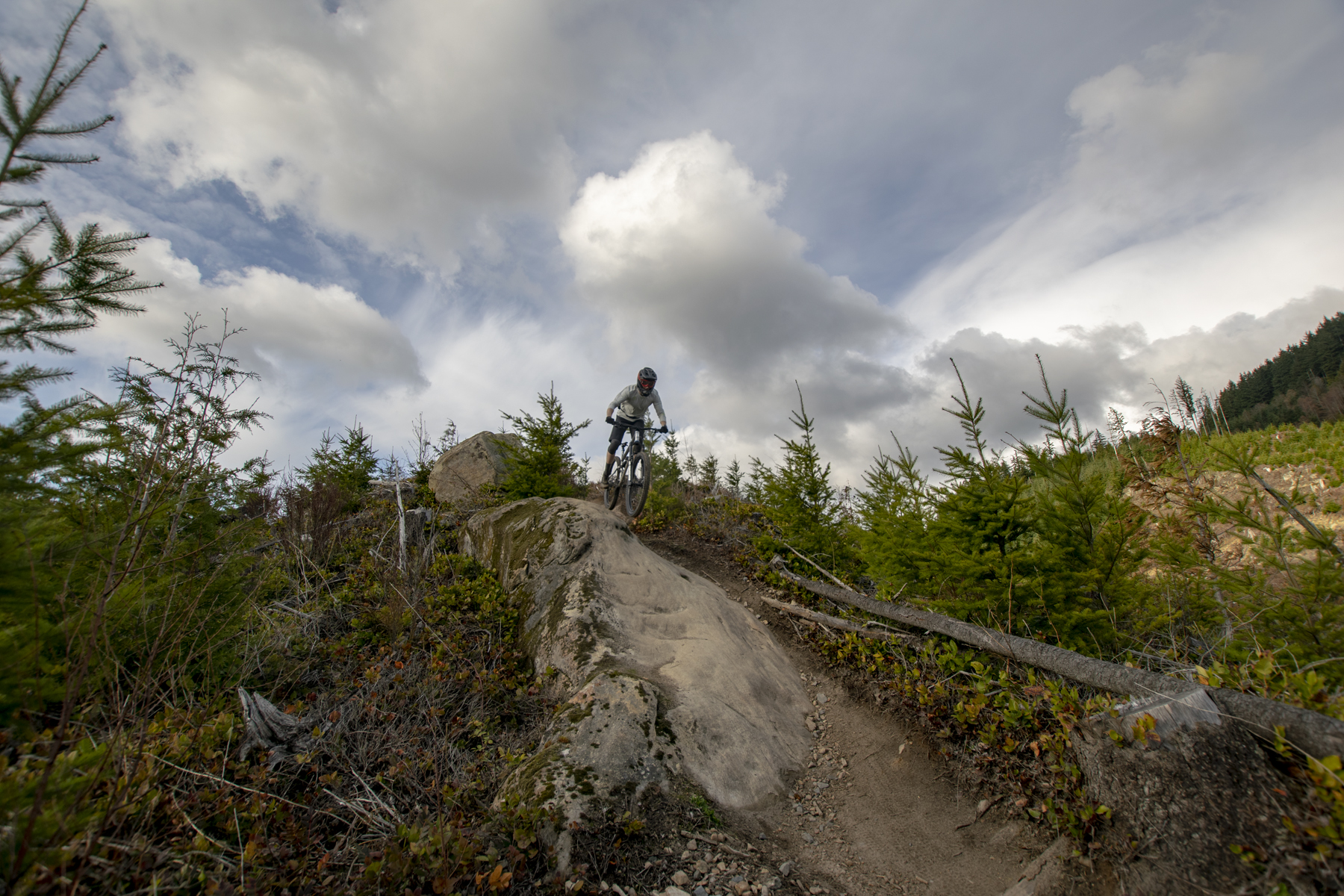 Bottom Line
There are a lot of choices when it comes to lightweight full-face helmets, but after spending some quality time in Fox's latest offering, it's my favorite that I've tried to date.
That performance does come at a hefty price for a non-carbon fiber lid, and it's also not the lightest if that's your priority. However, I'd chance a guess that folks entertaining a helmet like the Proframe RS are hunting for a well-crafted lid that prioritizes safety, and for those riders the Proframe RS is hard to beat. Just make sure you try it on first.