When considering a new running shoe, there are so many similar-looking shoes on the market being made by so many different companies, it is virtually impossible to (1) know where to begin; (2) quickly figure out which one or two products from a given brand might work well for you; and (3) determine what products from other brands might be the most similar and also worth considering.
So in our "Blister Brand Guide" series, we provide an overview of the entire product lineup of a brand; highlight how each product stands out from the rest of that brand's lineup; and help you figure out quickly and easily which shoe might work best for you.
In our individual product reviews, we go very deep into the details of particular products. With these Brand Guides, the goal is not Depth, but Breadth. Our Brand Guides and full reviews are designed to complement each other — provide a broad overview of entire company lineups, and then also very detailed reviews of individual products.
Topo Athletic: Brand Background
Topo Athletic was founded in 2013 with the goal of combining the features of minimal, foot-shaped shoes with some of the elements of more traditional shoes. Nine years later, they have a wide range of road and trail shoes that are still built with this goal in mind.
You can expect Topo shoes to have a wide, rounded toe box similar to that found in Altra's shoes. Unlike Altra, however, Topo makes shoes with a variety of heel-to-toe drops, ranging from 0–5 mm (though that's still on the lower end compared to the market as a whole). Topo's shoes also tend to have a slightly narrower fit through the midfoot and heel than Altra shoes. This makes them a good option for runners who love Altra's wide toe boxes but want a tighter fit throughout the rest of the shoe, and/or don't want a zero-drop platform. Some of Topo's higher-cushion shoes might also be a good alternative for people who enjoy the cushioning of Hoka's shoes but find Hoka's fit too narrow and / or their heel-to-toe drops too high.
Topo offers shoes with a range of stack heights and heel-to-toe drops for both road and trail running. In this brand guide, we'll go through the road and trail models separately, with each category ordered from highest to lowest stack height.
(Most Cushioned to Least Cushioned)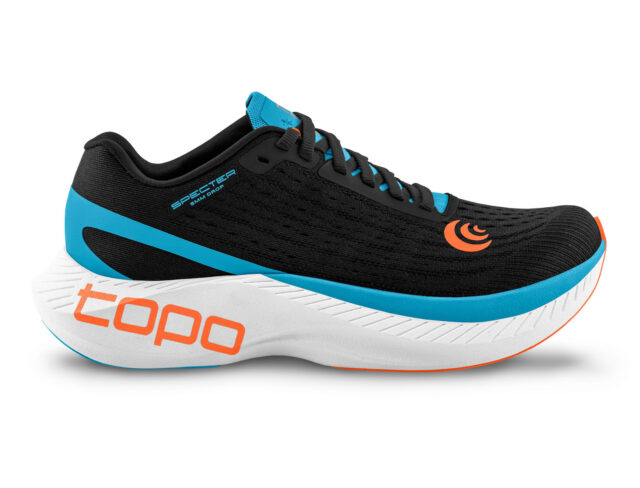 The Specter is Topo's first foray into the "super shoe" category and is intended to serve as a race-day option for fast efforts on the road, including marathons. It has the highest stack height of any shoe in Topo's road line at 35 mm / 30 mm, and is the only one of their models to incorporate a Pebax midsole wrapped in EVA (instead of their customary "Zipfoam"). Unlike the modest geometry of the Ultrafly 4, the Specter has an aggressive heel and forefoot rocker designed to accelerate footstrike for faster-paced running. At 230 g in a US Men's size 9, it's slightly heavier than the Cyclone 2 but has an impressive 7 mm taller stack height, making it ideal for longer distances. The Specter's leanness can be partially attributed to the single-layer engineered mesh used for its upper and its lightweight die-cut rubber outsole. Runners with high-volume feet looking for a more affordable super shoe for their next marathon should consider checking out the Specter.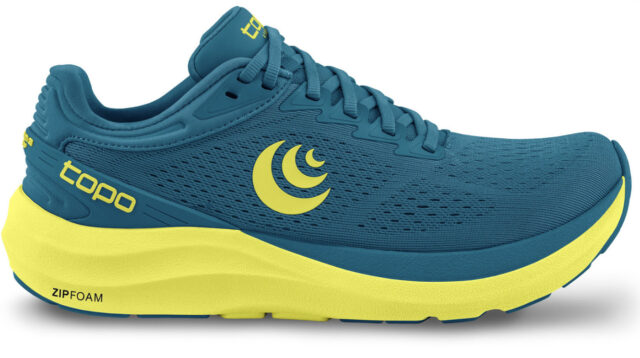 The Phantom 3 is Topo's second most cushioned road shoe, behind the Specter. It has an updated engineered mesh upper made from recycled materials designed to provide structure and to hold the midfoot in place. The updated two-piece midsole uses Topo's reformulated "Zipfoam" material and a softer step-in feel right below the foot to provide cushion for long road miles, while the rubber outsole pods increase durability without adding too much weight. The Phantom 3 has a slightly more cushioned ride than the Ultrafly 4 but shares its weight, which should make it a comfortable option for those looking for a max-cushioned shoe for longer days on the road.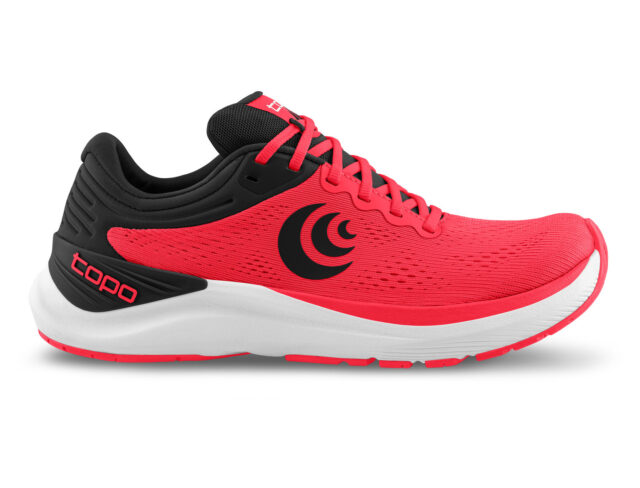 Like the previous version of the shoe, the Ultrafly 4 provides extra stability for runners who need more support. Topo continues to highlight their popular "Zipfoam" midsole material in the Ultrafly 4, which they pair with a recycled engineered mesh upper, a TPU heel counter, and an EVA medial post. All of these features result in improved motion control while running, but make the Ultrafly 4 a bit less flexible than other Topo models. With a stack height of 28 mm / 23 mm, the Ultrafly 4 is slightly less plush than the Phantom 3 — though it still has plenty of cushioning for long runs. If you're in the market for a moderately cushioned shoe that offers some extra support and pronation control, the Ultrafly 4 could be worth checking out.
The Cyclone 2, still Topo's lightest road option, received a complete overhaul between iterations. While the identity of the shoe hasn't strayed — it's still suited for short to medium-distance efforts on pavement — its redesigned upper and midsole give it a sleeker, performance-oriented profile that should translate to a faster feel. Lightweight, perforated mesh is used around the midfoot and forefoot area for support and breathability, and Topo swapped out their longstanding "ZipFoam" for a new "Pebax Powered" midsole that should feel more energetic. The Cyclone 2 also benefits from a rocker design similar to the Specter to aid in a faster transition between foot strike and toe-off, and the shoe's die-cut rubber outsole helps keep weight down. If you're looking for a moderately cushioned options for faster efforts on the roads, consider checking out a pair of the Cyclone 2.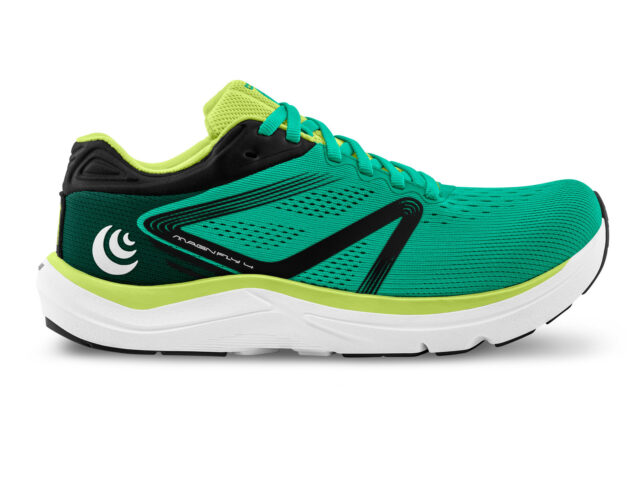 The Magnifly 4 caters to runners who want a shoe that promotes a forefoot-striking stride while still providing fairly high cushioning. It's slightly lighter than the Ultrafly 4 and offers a similar amount of cushioning, but in the form of a neutral, zero-drop platform. The Magnifly 4's dual-density midsole has been upgraded with "Zipfoam" and is designed to provide a cushioned yet efficient ride, which should make the Magnifly 4 feel a little faster than the Phantom 3. The Magnifly 4 has a new engineered mesh upper and new lace stays for a supposedly improved fit as well as minimal rubber outsole pods in high-wear areas for added durability. If you're looking for a wide, medium-cushion, zero-drop road shoe, the Magnifly 4 might be a good fit.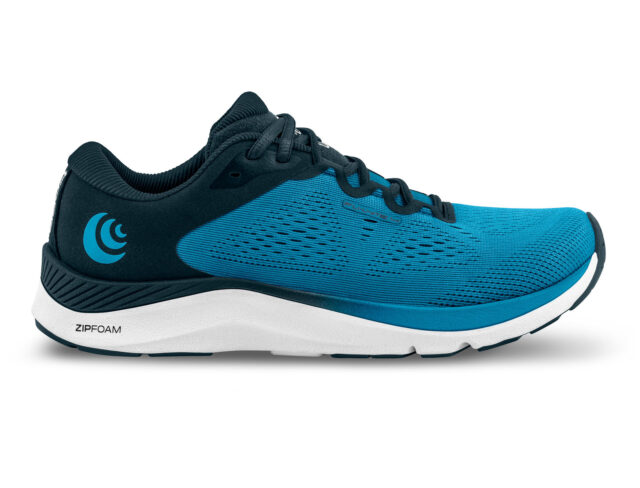 The Fli-Lyte 4 is more minimal and flexible than Topo's higher-cushion shoes. The latest version has a new engineered mesh upper free of overlays that's lighter and more breathable than previous iterations of the shoe. The addition of new lace stays over the tongue help maintain foothold and Topo has swapped out their old midsole material for "Zipfoam." With a lower 23 mm / 20 mm stack height and 3 mm drop, the Fli-Lyte 4 offers more ground feel than the Magnifly 4. The strategically placed outsole rubber pods add durability and traction without too much additional weight. If you want a flexible, lightweight shoe that still offers some cushioning, the Fli-Lyte 4 is worth checking out. It's an especially good option for runners looking for a lower-stack shoe with a roomy toe box that isn't zero drop.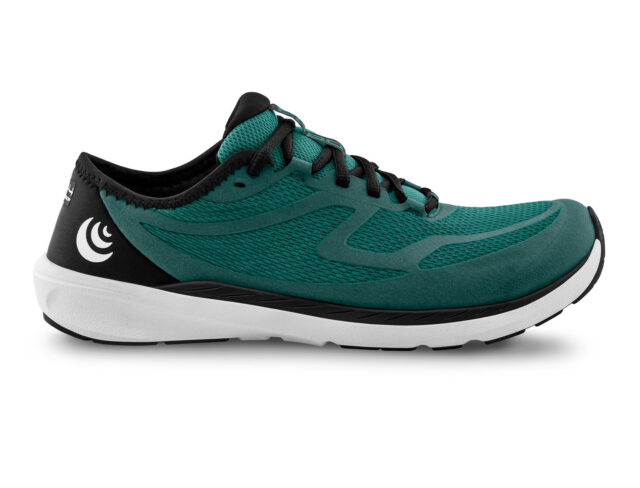 The ST-4 is Topo's most minimal road shoe. It's built on a light, flexible, zero-drop platform for runners who want a shoe that promotes a completely natural, forefoot-striking stride. The knit upper is simple and minimal, with just printed overlays in place for increased security. The ST-4 ditches the hard heel counter found in most shoes, which reduces weight but may make the heel cup slightly less secure. Its low weight and low stack height make the ST-4 well suited to shorter, faster runs, but it won't offer the more plush feel of the higher-cushioned shoes above during long runs. If you're looking for a minimal, lightweight, zero-drop road shoe, the ST-4 may be the shoe for you.
(Most Cushioned to Least Cushioned)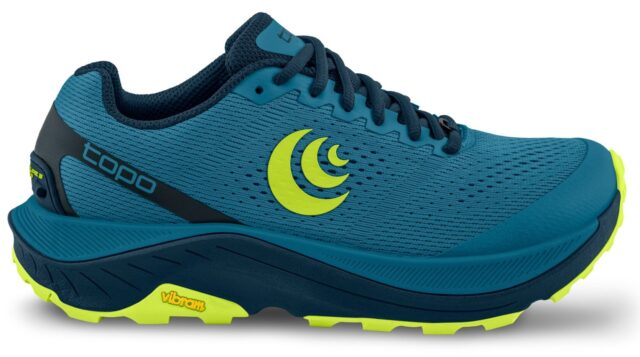 As you might have guessed from the name, this shoe is designed for long trail runs and races. The third iteration in Topo's Ultraventure line simultaneously loses a few grams of weight while adding 5 mm of stack height, making it their plushest (and one of their lightest) options for the trails. With these changes comes an updated ZipFoam midsole compound that's allegedly quite a bit softer than the previous version, a new, more-sustainable engineered mesh upper (that's gaiter compatible), and a reformatted Vibram XS Trek EVO outsole. Because of the Ultraventure 3's tall stack height and lack of a rock plate, it's a shoe that's probably best reserved for non-technical to moderately-technical trails. Like most maximalist models, especially those with stack heights over 33 mm, the Ultraventure 3 really starts to shine on longer runs (>2 hours), so if you're in need of a training / racing shoe for a trail ultra, its cushioning, grip, and relative lack of weight could make it a great choice.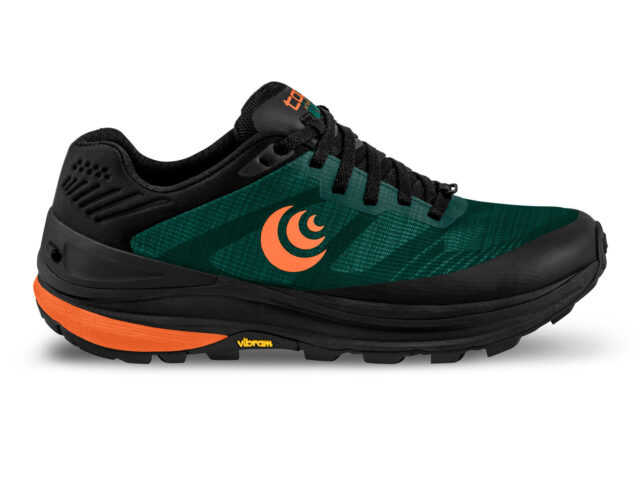 The Ultraventure Pro combines features from the Ultraventure 3 and Topo's new Trailventure hiking boots to provide an even more supportive, protective ride than the Ultraventure. While the Ultraventure Pro has a slightly lower stack height than the Ultraventure 3, it has a three-piece midsole and rigid external heel counter similar to the Trailventure. According to Topo, these features provide more guidance, pronation control, and support through the gait cycle. The Ultraventure Pro also has a stickier Vibram Megagrip outsole, which should provide better traction on wet terrain than the Vibram XS Trek outsole on the Ultraventure. Lastly, unlike the Ultraventure, the Ultraventure Pro has a forefoot rock plate for even more protection on technical trails. The slightly lighter, more neutral, and more flexible Ultraventure will likely still be a better option for less technical and / or longer runs. But if you want a shoe that provides more support, better traction, and more protection (at the cost of a little extra weight), the Ultraventure Pro is worth a look.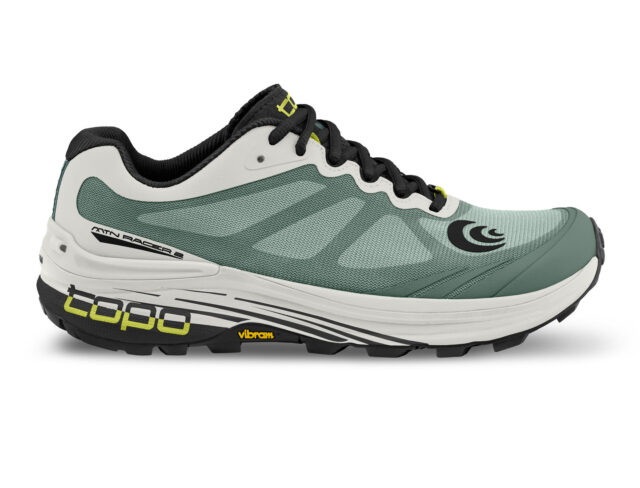 The Mtn Racer 2 is still surprisingly light for how much cushion and protection it offers. In spite of its low weight, the Mtn Racer 2 offers an impressive feature set with an aggressive and sticky Vibram MegaGrip outsole, an external TPU heel counter, and a new mesh upper with increased breathability. The stickier MegaGrip outsole should provide better traction on wet terrain than the Ultraventure 3's harder outsole compound, but it might not be quite as durable. Topo also updated the shoe's midsole, which is now made from reactive ZipFoam. The Mtn Racer 2 could be a good option for runners who want something more cushioned than the Terraventure 3 or MT-4, but slightly lighter than the Ultraventure 3.
Check out our full review of the Mtn Racer 2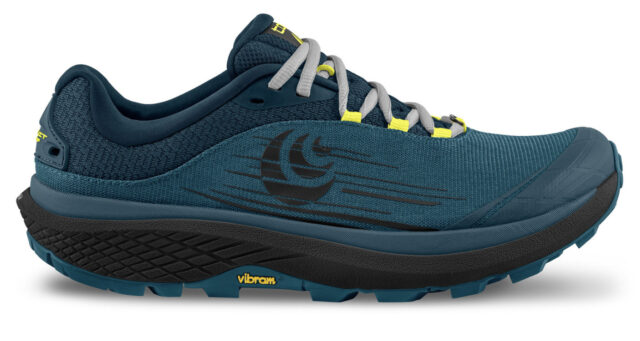 Topo added another zero-drop option to their roster of trail shoes in the Pursuit, a model intended for folks looking for a balanced, well-cushioned ride for runs of just about any distance on all types of terrain. The Pursuit features 28 mm of stack from a ZipFoam midsole aided by an "OrthoLite Performance Insole" that should make for a long-lasting, gentle ride. Its tightly woven mesh upper is lightweight and reinforced with strategically placed overlays in high-abrasion areas, and its outsole is constructed from premium Vibram Megagrip rubber, so the shoe should be both protective and capable on technical surfaces. While not the lightest option in Topo's lineup, the Pursuit's build quality stands out, so if you tend to beat up your shoes quite a bit, favor a zero drop geometry, and venture out on moderately technical to technical trails often, consider trying on a pair.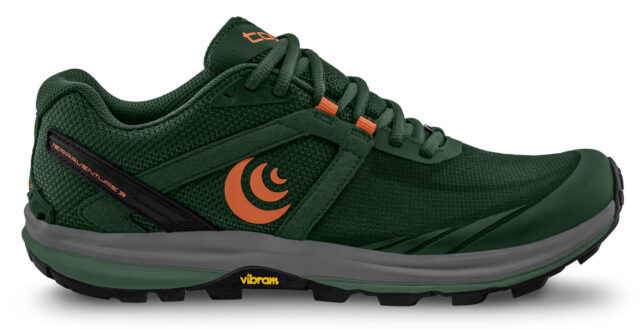 The Terraventure 3 is designed as an all-round trail shoe that provides moderate cushion and protection for all types of terrain. It has a dual-density EVA midsole, an updated Vibram Megagrip outsole, flexible forefoot rock plate, and a new split mesh upper. The Terraventure 3 offers quite a bit more protection and traction than the MT-4, so it should be a better option for more technical terrain. Its slightly lower stack height and forefoot rock plate might also make it feel a bit more stable and protective on technical, rocky trails than the Mtn Racer 2. If you're in the market for a protective shoe for running on a variety of terrain, the Terraventure 3 may be a good fit.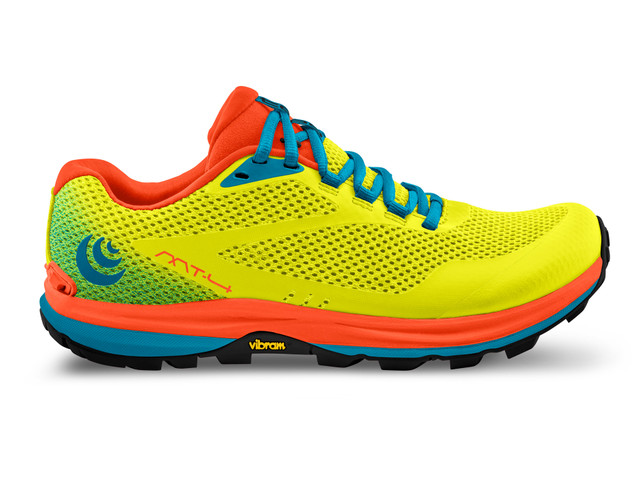 The MT-4 has the same stack height and drop as the Terraventure 3, but it's a bit heavier and less protective. Topo upgraded the outsole with Vibram XS Trek EVO for increased traction and redesigned its upper to improve fit and protection. The shoe's more moderate / less aggressive outsole provides a smooth ride on roads and enough traction for mellower trails, while the minimal rip-stop mesh upper and lack of a rock plate reduce weight. The MT-4 should perform especially well relative to Topo's other models on runs that combine a mix of roads and trails. If you like the cushioning of the Terraventure 3 but think that it's more trail-oriented outsole and protective features are overkill for the type of running you usually do, the MT-4 may be a good option.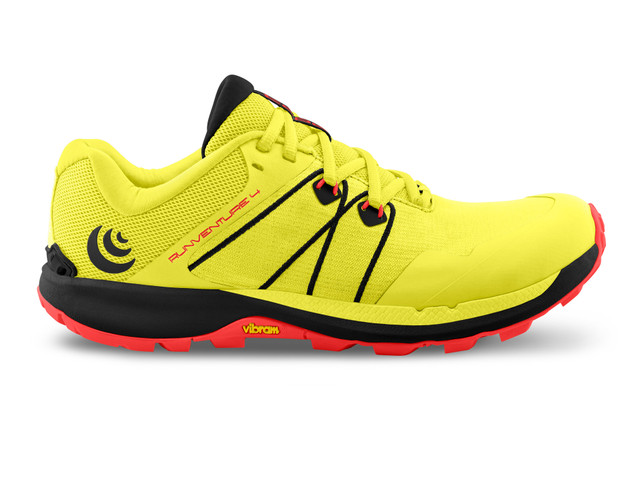 The Runventure 4 is still Topo's most minimal trail shoe and the only zero-drop model in Topo's trail lineup. Compared to its predecessor, the Runventure 4 features a new tightly woven engineered mesh upper that should be quite a bit more breathable. Aside from that update, the Runventure 4 still features a firmer midsole than the MT-4 or Terraventure 3, which will likely make it feel less plush underfoot, but should also make it feel a bit snappier and more efficient on fast runs. The Runventure 4's lower stack height should improve ground feel, but the forefoot rock plate and fairly aggressive Vibram XS Trek EVO outsole should still offer enough protection for moderate to technical terrain. If you're looking for something a little more minimal than the MT-4 or Terraventure 3 that's still got a solid amount of underfoot protection for sharp trail obstacles, the Runventure 4 is worth checking out.