Smith Mainline Helmet
Size Tested: Large
Blister's Measured Weight: 912 g / 32.2 oz
MSRP: $300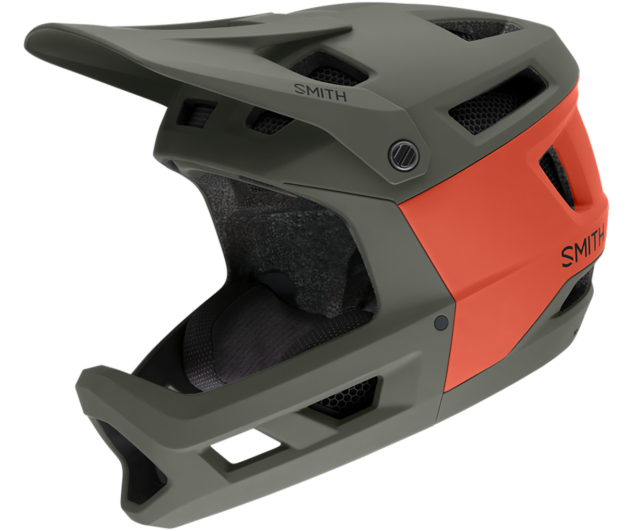 Intro
As Enduro riding and racing have grown in popularity, the demand has exploded for full-face helmets that are light and breathable enough to wear on the uphill. Smith took their time to enter this segment of the market and worked extensively with their athletes — in particular the Rocky Mountain EWS team — to develop the new Mainline. So how does the Mainline fit into the range of helmets on the market, and who does it make sense for?
Design
For the most part, the design of the Mainline is fairly conventional for a full-face MTB helmet. Unlike most half-shell helmets, there's no dial retention system, with the Mainline instead relying on swappable pads of various thicknesses to fine-tune the fit. The Mainline also uses a D-ring closure for the chin strap, opting for a burlier option in lieu of a plastic buckle.
As has been common for Smith's higher-end helmet offerings, the Mainline uses Koroyd, a honeycomb-like material made from bonded plastic tubes (picture short sections of plastic drinking straws stuck together and you've got the right idea) for much of the structure of the helmet, with more conventional EPS foam mixed in. Smith says that Koroyd offers better energy absorption and airflow than EPS foam, at a lighter weight. Though, similar to the Forefront 2 half-shell helmet, Smith opted to open up a number of vents without any Koroyd backing across the Mainline's chin bar, crown of the helmet, and around the back of the head.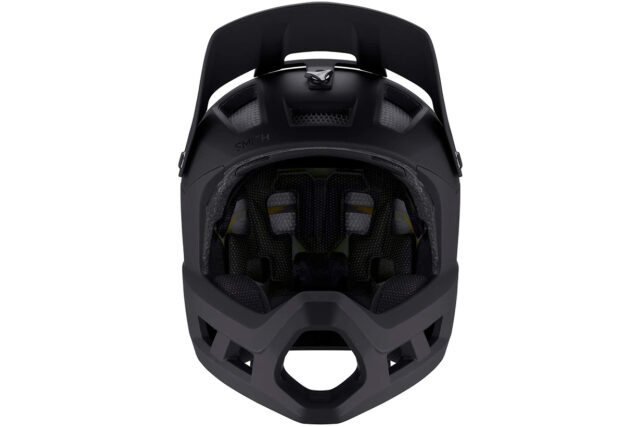 The Mainline also features MIPS (Multi-directional Impact Protection System), a technology that allows the helmet to rotate slightly on the head, with the goal of mitigating brain injuries, particularly those resulting from blows to the helmet at an angle. MIPS has become fairly ubiquitous on higher-end bike helmets in recent years, and it's no surprise to see it in the Mainline. The MIPS implementation is conventional in the Mainline, with a thin plastic liner sitting between the padding and the shell of the helmet.
Fit
Here's where we put our standard disclaimer on helmet fit: how well the Mainline works for my head doesn't necessarily mean anything for how it'll fit yours. We strongly recommend trying on any helmet before buying — fit is too important a factor in terms of both comfort and safety to fly blind on.
That said, the Mainline fits my head quite well, and offers a substantial degree of fine-tuning to adjust the fit, using different thicknesses of padding in select locations. The Mainline ships with three thicknesses of cheek pads, two sets of "crown liners" (the web of padding over the top of the head), as well as two "neck rolls" (the pad that sits at the base of the skull, across the back of the neck). In my case, the out-of-the-box configuration (medium cheek pads, thinner crown liner, thicker neck roll) is the Goldilocks setup but there's a substantial range of adjustability if needed.
Weights and Comparisons
For reference, here are the stated weights for a number of different options in the Enduro full-face helmet market.
Troy Lee Stage: 690 g / 24.3 oz (claimed, size M/L)
Smith Mainline: 770 g / 27.2 oz (claimed, size M); 912g / 32.2 oz (measured, size L)
Bell Super 3R: 784 g / 27.7 oz (claimed, size M)*
Bell Super DH Spherical: 850 g / 30.0 oz (claimed, size M)*
Sweet Protection Arbitrator: 980 g / 34.6 oz (claimed, size M/L)*
* Indicates removable chin bar. Weights include the chin bar.
For reference, my favorite DH helmet, the Troy Lee D3 Carbon, comes in at 1177 g / 41.5 oz in a size XL (which fits similarly to the Large Mainline — the D3 runs a bit small). That puts the D3 on the lighter side of average for a full-on DH helmet. The Mainline is about average for the class of lighter-weight, Enduro-oriented full-face helmets, and substantially lighter than most true DH options. Unsurprisingly, the Enduro helmets with a removable chin bar tend to be a touch heavier than those with a fixed one.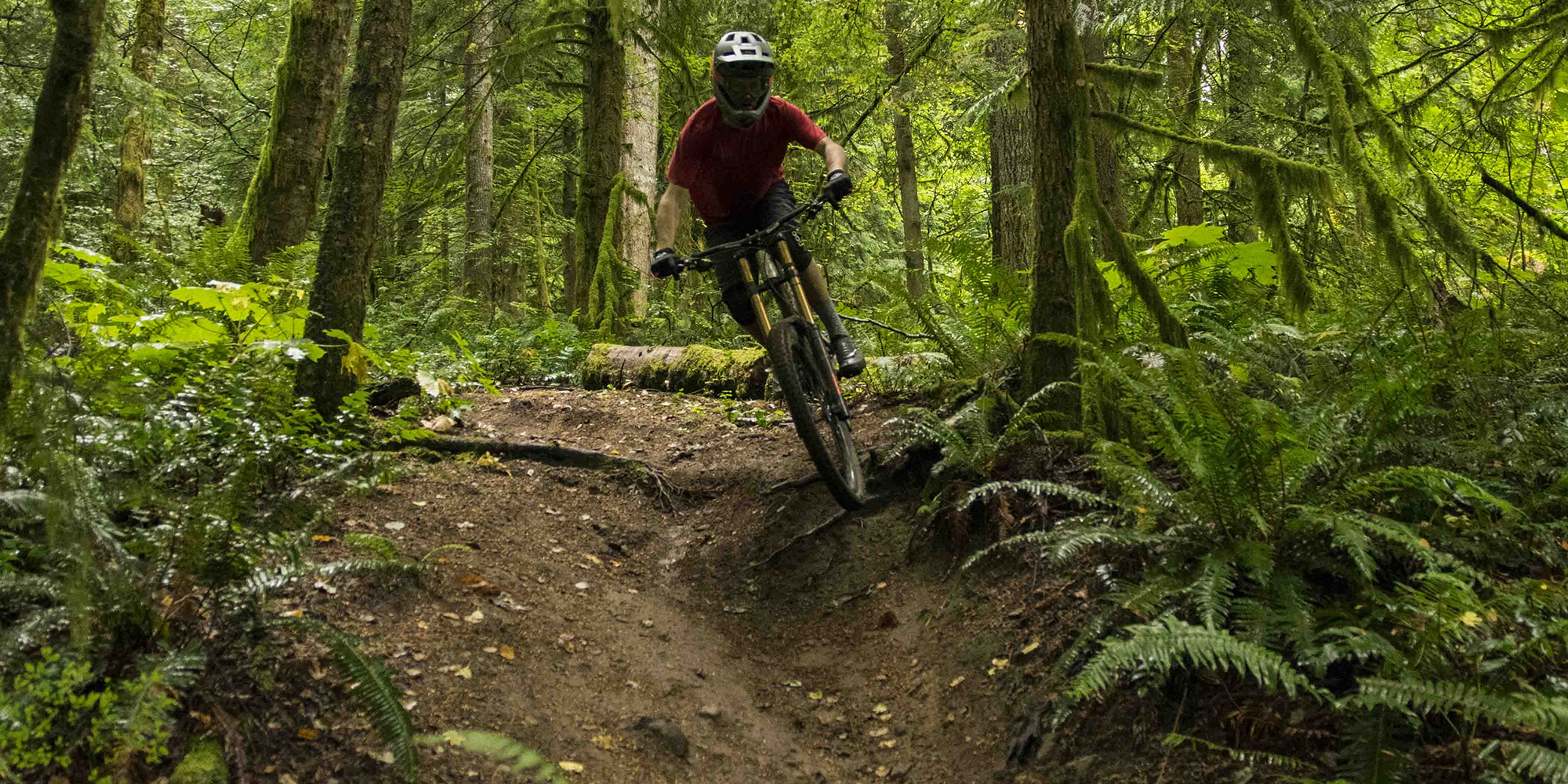 Smith says that the Mainline is certified to CPSC and EN 1078 standards (the default bicycle helmet standards in the US and EU, respectively) as well as ASTM F1952, the typical standard for Downhill mountain bike helmets. Of course, the fact that two helmets both pass a given testing standard doesn't mean that they're created equal — the test standards are, after all, a minimum set of criteria, and one helmet could narrowly squeak by, while one vastly surpasses the allowable limits.
That said, the Mainline feels notably substantial compared to much of its competition. Of course, that's a highly subjective determination on my part, but attempts to make lightweight full-face helmets often end up feeling a bit flimsy compared to more traditional DH options. The Mainline is still clearly pared down a bit compared to (much heavier and hotter) DH offerings, but it feels like a substantial, confidence-inspiring piece.
The chin bar on the Mainline strikes a great balance between being open and breathable, while still feeling sturdy and well located against my face. Compared to a true DH helmet like the D3, the Mainline's cheek pads don't extend as far forward to secure the helmet against the rider's face (as shown below — and remember that these pads need to keep the chin bar from being pushed into your face in the event of a crash), but this tradeoff vastly improves airflow and ability to breathe in the helmet.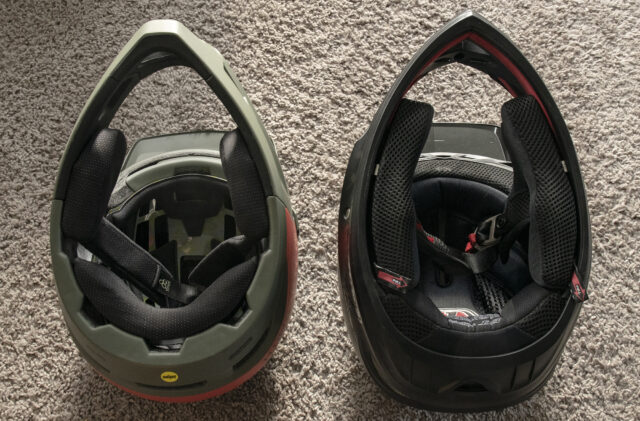 I haven't ridden the Troy Lee Stage much, mostly because it doesn't fit my head particularly well, but the Mainline feels notably burlier, particularly in the chin bar. The Stage's chin bar is thinner, more flexible, and sits much closer to the face than that of the Mainline, and when trying one on, I honestly wondered if it would be possible to push it up into my face in the event of a crash. I have crashed such that I hit the chin bar in the Mainline, and the helmet stayed put and performed admirably.
Despite being quite sturdy, the Mainline's chin bar is also well ventilated, with a very large, open vent front and center, and two more along each side. As per usual for a full-face helmet, the Mainline features a large, adjustable visor and Smith includes a spare set of mounting hardware for the visor, should the originals rattle loose or break in a crash.
This is probably where I should admit that I haven't tried a modern convertible full face. My experience with early efforts in that realm turned me off to the idea; they were hot, heavy, a hassle to convert, and the chin bars never felt solid enough to me to justify all the downsides. While I don't doubt that they've improved in recent years, I'm still much more inclined to stick with a standard half-shell helmet where appropriate, and have a dedicated full-face option for when I want the added protection.
On the Trail
The Mainline is, of course, hotter and less breathable than a half-shell helmet, but for a helmet with a substantial-feeling chin bar, it's impressive in this regard. I've done some 2000-3000 foot climbs in temperatures as high as ~80° F (26.7° C) in the Mainline and been more or less fine with it. Much of the climbing I do, though, is up fire roads, and in that case, I've often found myself taking off the Mainline and looping it over my bars for the way up. The Mainline is a massive improvement over something like the D3 when it comes to comfort and breathability on climbs, but still feels hot and stuffy compared to a half-shell helmet. Whether that's worth it for the extra protection is up to you, but I think the Mainline does a very good job of striking a useful middle ground on that front.
The only real complaint I have with the Mainline is that the MIPS liner is quite noisy and the helmet feels like it twists side to side significantly on the liner when worn without goggles. Filling the front of the helmet with goggles mitigates this substantially, but taking the goggles off to climb (which improves ventilation and cooling by a large margin) brings back the irritation and noise.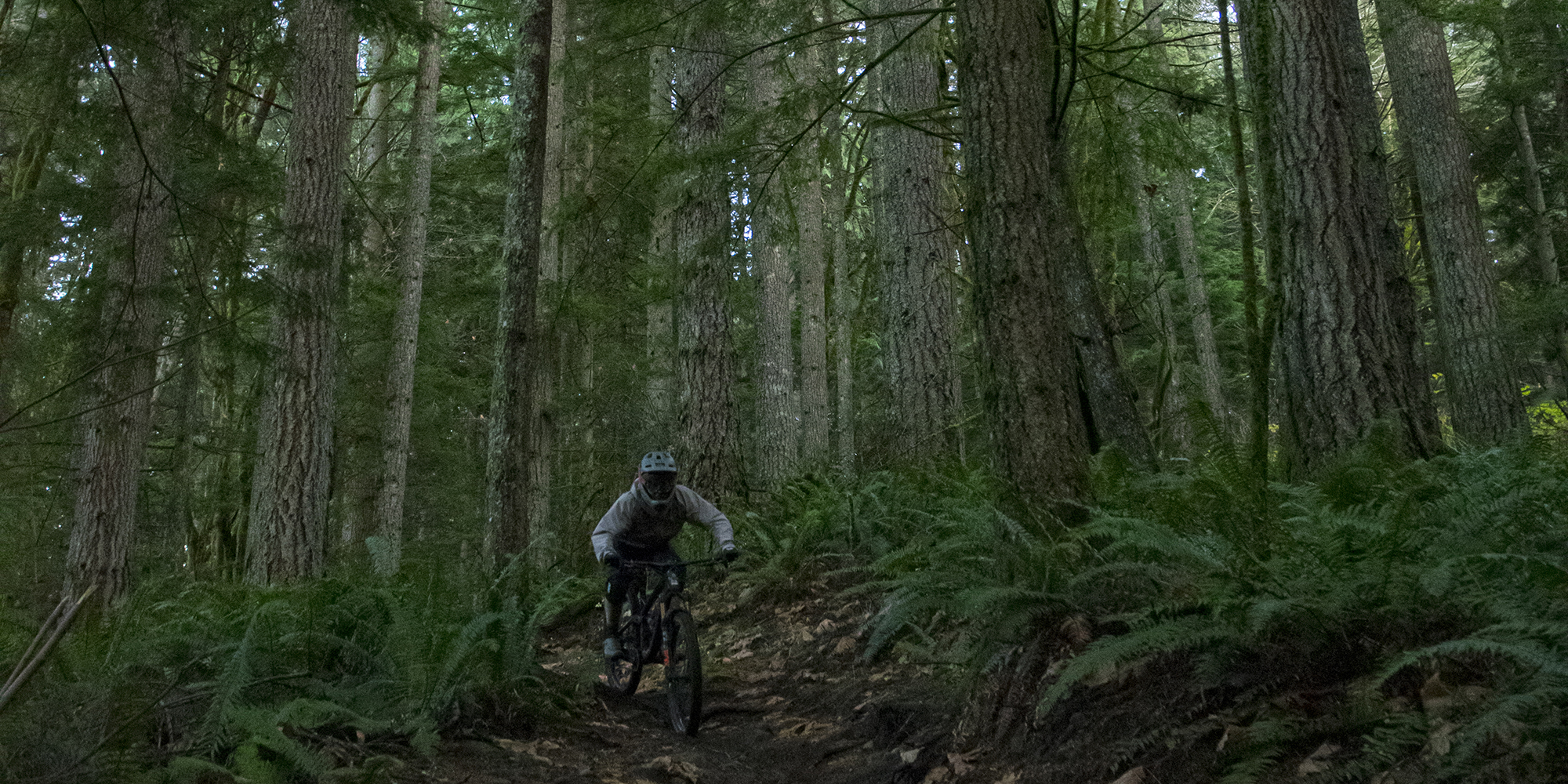 Of course, it's not lost on me that complaining that a potentially life-saving technology is mildly annoying makes me sound like a dumb guy from the '60s complaining about seatbelts being an inconvenience. To make my position clear: if MIPS is even half as effective as it's claimed to be at reducing the likelihood and severity of traumatic brain injuries, then it's easily worth dealing with a little bit of noise and movement. The annoyance is real though, and the Mainline's liner is louder than most I've tried.
Overall though, I like the Mainline a lot. Reviewing helmets is a tricky thing, because it's actually quite hard to evaluate them on their primary function — protecting your head. Citing test standards is all well and good, but those only set a baseline level of performance, and most comparable helmets tend to pass the same standards, without specific data on their performance being openly published. For a helmet that offers the level of coverage that the Mainline provides, and for how solid and substantial it feels, I think the Mainline fits and breathes very well, and does a good job of spanning the gap between an ultra-light and flimsy full-face, and a full-on DH model. Does that come with compromises? Of course. But if you're looking for a very confidence-inspiring full-face helmet that's light and well ventilated enough to make pedaling tolerable, the Mainline is a strong contender.
The Bottom Line
Striking a balance between comfort and protection in an Enduro full-face helmet is tricky. Including a chin bar that's strong and well-enough separated from the face to be protective comes at the expense of a great deal of breathability, and climbing in a traditional DH helmet tends to be pretty miserable.
The Smith Mainline doesn't have any silver bullets to make these tradeoffs disappear, but strikes a very good balance between the two ends of the spectrum, and makes for a compelling option for riders looking for a legit full-face helmet that they can still use while pedaling for their descents. I wish its MIPS liner was quieter, but the Mainline is still a great option for an Enduro full-face helmet, and should definitely be on the radar of riders going big and fast enough to merit the added protection.