Kane Revive Active Recovery Shoe
Test Locations: Mt. Crested Butte, Colorado; Driggs, Idaho
Days Worn: 20+
Available Sizes: Men's 3-16 or Women's 5-18 (sizing is unisex)
Size Reviewed: Men's 10
Blister's Measured Weight per Shoe: 251 & 252 g
Materials: BounceBack™ foam, created from Brazilian sugarcane
Note: This review contains spoilers for Season 3 of Succession on HBO, as well as the 1996 film Space Jam. If you are not caught up, we'd recommend watching before you read. Or not, if you don't care.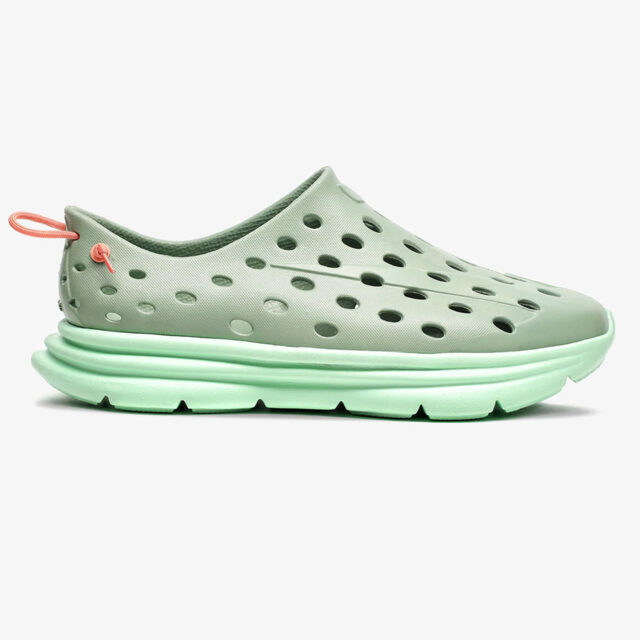 Intro
Let's cut to the chase here: I didn't know I needed an "active recovery" shoe, but now after several weeks of using the Kane Revive, I'm not sure I could live without them. Now, for the backstory and more details….
Back in the good old days when I worked full time for Blister, a remarkable amount of my time was spent sorting through review request emails from brands only tangentially related to the outdoor industry. There are a lot of brands out there that would really like their product to be "featured" on Blister. So I'd spend a portion of every day responding to the better pitches, trying to kindly explain to them that we didn't "feature" anything, we reviewed things, and those reviews were not always positive. I got pretty good at saying "No."
Apparently, since my departure, Jonathan has not been saying "No" as much.
(Who am I kidding? Jonathan is terrible at saying "No.")
So, when I arrived at his house to take my Pro AvSAR class this February (you can hear me talk about it on this Blister Podcast), I was not at all surprised when he handed me a shoe box and explained that a company had sent these shoes, and that they didn't really work for several Blister reviewers; the fit didn't quite work, the color didn't quite work, or the Revive just didn't fit their … footwear sensibilities.
I'd never admit it to Jonathan, but sometimes I miss reviewing for Blister. So, for me, this felt like that moment in Space Jam (the original, not the crappy new one), where the Toon Squad pulls Michael Jordan out of baseball purgatory for one last game. Could this review be my Last Dance?
Luckily for me, and maybe you, I really, really wanted this footwear.
In fact, this pair of Kane Revives has quickly become one of my favorite clothing items. They're really good. I didn't know I needed an "active recovery" shoe, but now after a few weeks of owning these, I'm not sure I could live without them.
Buckle up, this is a review of a shoe that looks like the product of somebody locking one of those trendy knit running shoes and a pair of Crocs in a dimly lit room with a bunch of coconut oil and no birth control and telling them to "get it on."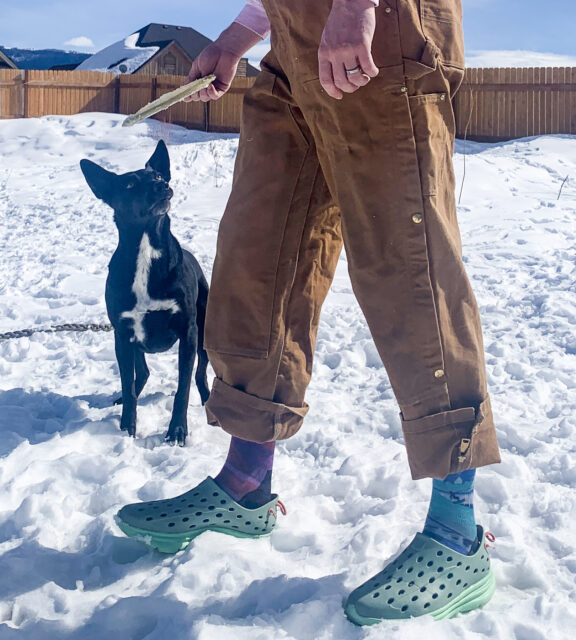 Crocs vs. the Kane Revive
Yes, these look like they're made out of rubber and are just fancy Crocs. I'm sure the folks at Kane are tired of the comparisons by now. They go out of their way to explain that the sugar cane product they use is much more sustainable than the petroleum product Crocs are molded out of, and that a lot of design time and science went into these, not just the unholy orgy of questionable footwear I described above.
But here's the kicker. I love Crocs. Like, a lot. My partner got a used pair at a thrift store a few years ago to use as a camp shoe bikepacking, and I was sold immediately. They're an enormously practical shoe for anyone who spends a lot of time in specialized outdoor footwear. I love slipping out of my bike shoes and into my Crocs after a ride, ditto for ski boots in the spring, and running shoes. They're also really practical for hot springing. I've spent some of the finest hours of my life wearing nothing but my trusty Crocs, reclining in a geothermal pool. So, I was already primed to love these Kanes.
Throughout this review, I'll make some comparisons to Crocs, since they're the most similar product I've used. And yes, you can stick the Crocs Jibbitz on your Kanes, and yes, that includes the Nicole McLaughlin "survival package".
Fit
This pair of the Kane Revive I'm reviewing is a size 10.
I am typically a size 9 (or a 26.5) in ski boots and technical footwear, and a size 10 or 11 in casual shoes. I have a relatively average ankle and heel, combined with a very high arch, high instep, and disgustingly wide forefoot and tailor's bunions.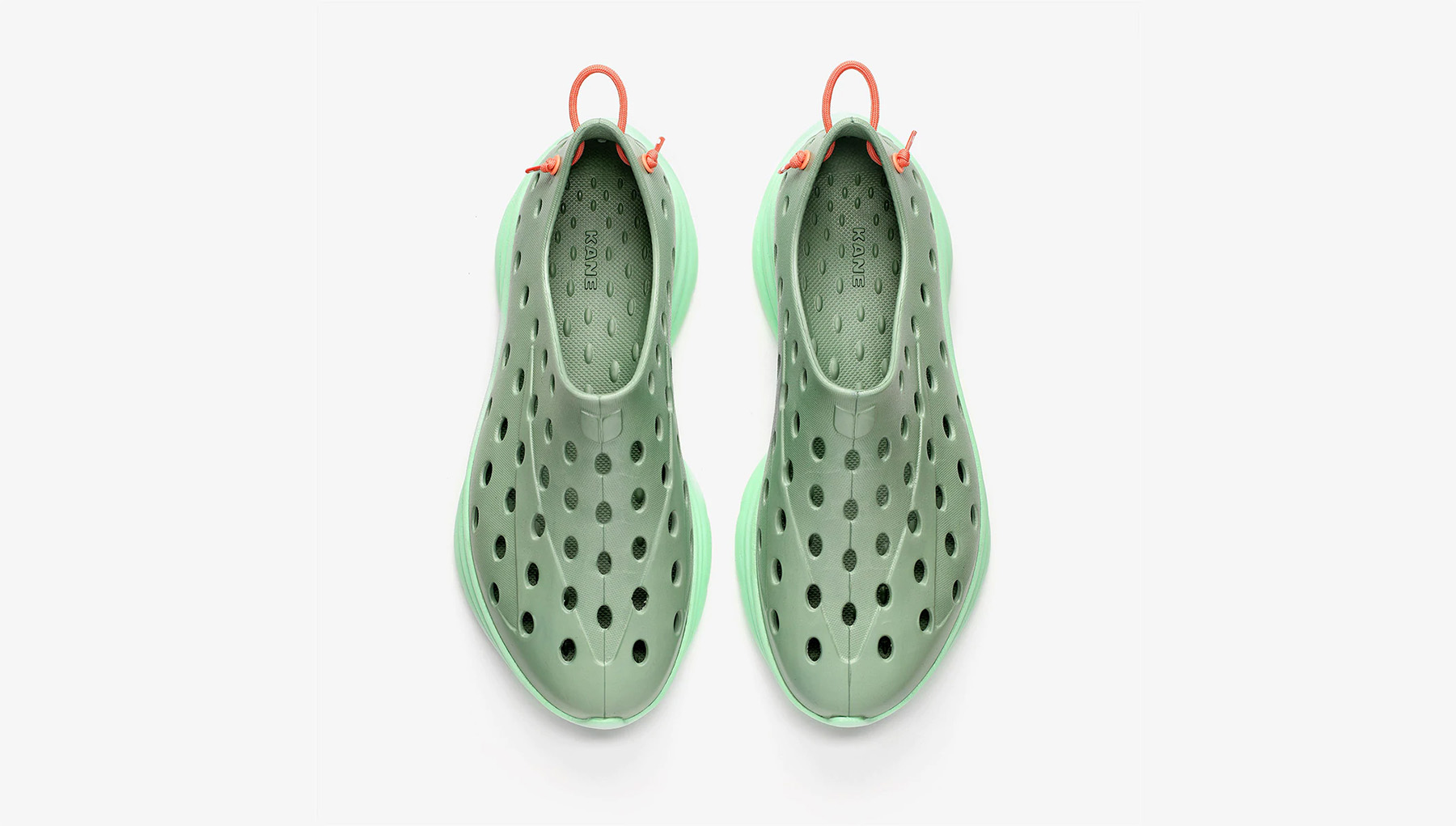 The size 10 Revive are perfect for my feet. I have good heel hold, get no rubbing or hotspots, and there is plenty of arch support and room in the forefoot. The front "tongue" did initially rub a little on my chonky instep, but it's stretched out and is comfortable now.
Kane's shoes are unisex, the sizing is listed in both men's and women's equivalents, and there are no half sizes. They recommend sizing down for a snug fit, and up for a more generous one. I have no idea why anyone would want to size down a shoe like this for a performance fit. That said, they do have a much more anatomical fit than Crocs.
The Material of the Upper
Some Blister reviewers (who didn't have the fortitude and imagination to actually review these shoes) commented that the material that the upper portion of the Revive is made of initially felt stiff and uncomfortable. They worried that it would create hot spots on their feet, or rub. I found that once I was actually wearing the Revives I was totally fine. It didn't rub at all, and while it seems stiff, it actually moves naturally with my feet. It's a very similar feel to the material around the cuff of a pair of Crocs, but I found the Kanes to be more comfortable. No rubbing, no hot spots, even after a very long walk through the Denver airport.
Aesthetics
Another review out there called these "polarizing." I think that's generous. Crocs are ugly and they know it, they don't try to hide it, that's sorta the magic of them. They're unassuming and without pretension. These, not so much. Their aesthetic (and Kane's marketing copy) screams "athleisure wear for tech bros who want to convince you that Bitcoin is the future while actively screwing their communities and the planet."
If you've seen even one episode of Succession, you know that Kendall Roy definitely owns a pair of these. They never appear on screen, but there's just no way he doesn't. He's probably proud of them, but a little defensive: "They're bomb, so futuristic, but timeless!"
All that to say, the first few times I wore the Kane Revives in public, I felt a need to apologize to everyone I saw and explain that I'd been told to review them.
But then I fell in love with them and stopped caring.
Also, they come in a lot of colors, and one of the available colorways might really speak to you. And you can change out the little "accent ropes" from the heel, which also might really speak to you?
In Use
They're just SO comfortable. I don't know if the little "footbed nodes" are actually stimulating blood flow, but I don't care, they feel great. The arch support is great, I rarely get enough from a stock footbed, but these do the trick. And they don't rub, which is a big plus. They're more comfortable than my Crocs, which is a sentence that I never thought I'd type.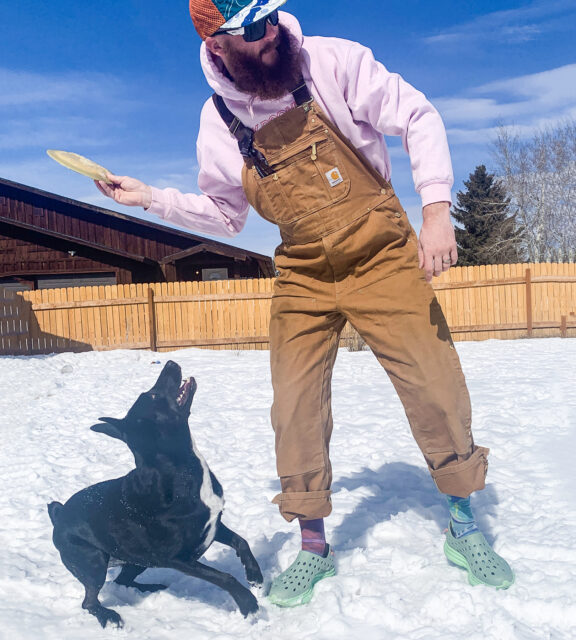 And out in the world, I've been surprised by their versatility. They have great traction (gobs more than Crocs), and the fit means that you can actually move aggressively in them without a shoe falling off. I often find myself hiking in loose and steep terrain up or down to a hot spring in my Crocs, and the Kanes are much more secure in these situations. They also have fewer and smaller holes, so there's less of a problem with rocks and sand filling the shoe. That said, if anything does get in, it's definitely not getting out on its own.
But the big upgrade is the sole height. Crocs have a relatively low thin sole, and there are big vents very low on the shoe. That means that even the smallest puddle gets your feet wet. The Revive has a much chunkier sole, and the vents start higher, so you can actually navigate snowy and wet sidewalks in the winter, without wetting out your socks. This subtle change makes a world of difference.
So, this winter, I've been in these Kanes every time I've headed out to go ski and it hasn't snowed recently. My feet feel better and smell less gnarly when I apres in Kanes. This summer I'm planning on wearing them to and from the trailhead for most bike rides. And, given my proclivity for forgetting my bike shoes, I'll probably ride a few trails in the Revive as well.
I occasionally grocery shop in them. I definitely roadtrip in them, I don't care what I look like in that one gas station in Dillon, Montana.
I do not wear the Revive to the bar, at least not often. I used to call my Birkenstocks my "barfight shoes" because if I got in an altercation while wearing them, there was no way I could run away effectively. With the Kanes, I could run.
I do not wear the Revive on Wednesdays, because in the words of Flight of the Concords, Wednesday is for Business Time, and I am not Kendall Roy.
I plan on wearing only the Revives in a lot of hot springs this spring and summer. I love being naked outdoors with serviceable footwear.
In my opinion, the sky's the limit for where one could wear Kanes, it really just comes down to how confident you are. And maybe how much your partner can get behind these.
Price
The Kane Revive currently costs $70. For comparison, a pair of classic Crocs costs $49. So, what are you getting for that $20? The more technical fit, better arch support, more sustainable construction, and higher waterline all make that upcharge worthwhile in my opinion.
Bottom Line
Before Jonathan handed me the Kane Revive shoebox, I didn't believe that the world needed more foamy rubber shoes. I was perfectly content in my Crocs. Now, though, I've found a new leader in the "footwear I absolutely love, looks be damned." Because this is an extremely comfortable shoe that's surprisingly practical, and it just so happens to be a little better for the planet than its competitors as well. That's a winning combination.