Boot: 2022-2023 Tecnica Cochise Pro W DYN GW
Days Tested: 30
Test Locations: Mt. Crested Butte, Colorado
Stated Flex: 120
Available Sizes: 22.5-27.5
Stated Last Width (size 24.5): 99 mm
Stated Range of Motion: 50°
Stated Forward Lean: 13°
Size Tested: 24.5
Stated Boot Sole Length (size 24.5): 285 mm
Blister's Measured Weight (size 24.5):
Shells, no Liners: 1285 & 1289 g
Liners, no Footbeds: 343 & 330 g
Shells + Liners (no footbeds, no spoilers) = 1619 & 1628 g
Stock Insoles: 36 g
Removable Spoilers: No spoilers
Buckles: 4 micro-adjustable
Power Strap: 45 mm cam-style with Power Lock
Shell Material:
Cuff: polypropylene (PP)
Shoe / Clog: polyurethane (PU)
Soles: Grip Walk (swappable with Alpine)
Tech Fittings: Dynafit Certified
Binding Compatibility: GripWalk, Tech / Pin
MSRP: $699.95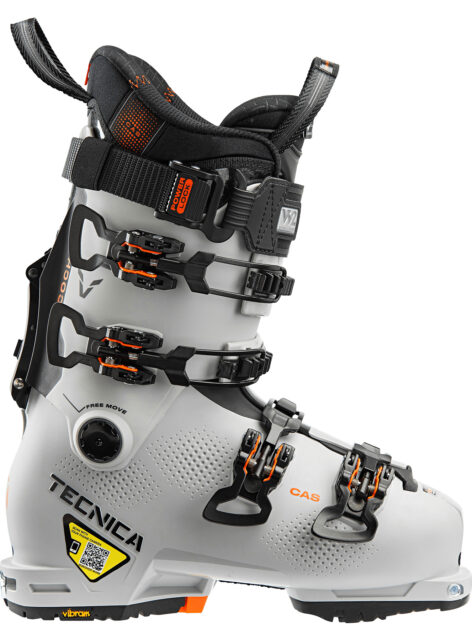 Intro
Tecnica is a decade into their Cochise series of 50/50 "freeride" boots designed to ski similarly to alpine boots, but with walk-mode functionality. For the 21/22 season, the lineup was completely redesigned, and remains unchanged for the 22/23 season. This revamp included a new mold, walk mechanism, liner, and plastic composition — aka, a pretty full overhaul, which included the top-end women's version, the Cochise Pro W DYN GW.
The Cochise Pro W is situated as one of the stiffer offerings in the realm of women-specific 50/50 boots, and features a couple characteristics that are unique to Tecnica, including the C.A.S. shell and liner, and 50° range of motion via a walk mechanism that also has a "locked-out" setting.
The Cochise Pro W has served as one of my main resort boots over the last two seasons, and after more than 30 days in the boot, there is much to be said about its overall fit and performance. That said, I have also spent several days going uphill in the Cochise Pro W, and while I am becoming spoiled by lightweight touring boots like the Tecnica Zero G Tour Scout W, I am impressed by the Cochise's ability to do both, considering how strong it skis. Let's dive in:
Women-Specific Aspects of the Cochise W Series
The women-specific Cochise is built with the same features as the unisex/men's Cochise, aside from a slightly shorter cuff. For someone seeking a stiffer flex, the men's / unisex Cochise 130 and 120 are built down to a size 22.5, which provide stiffer options for smaller feet.
Shell Construction
Derived from Tecnica's Mach series, the C.A.S. (Custom Adaptive Shape) shell construction of the Cochise Pro W features dimpled plastic in key fit zones for easy shell work from your trusted bootitter. According to Tecnica regarding the work that went into this shell design, it's built to have a highly anatomical shape.
I found that the Cochise Pro W provides even snugness throughout the entirety of my foot and I haven't required any shell modification. As a bootfitter who has performed a lot of stretches on various C.A.S. shells, I can note that they tend to hold a stretch really well, and are easily modified through stretching, and in some cases, grinding.
Tecnica builds their Mach1 and Cochise shells with what they call "Asymmetric Power Construction," which features different densities of plastic on the lateral and medial parts of the shell, which Tecnica states helps with power transmission and turn initiation, among other added benefits. I will say that this boot feels quite powerful for a boot in this 50/50 category, and I often forgot I was skiing a boot with a walk mechanism, which I talk more about when it comes to the boot's performance, below.
Liner
As far as stock liners go, and in particular stock liners in 50/50 boots, Tecnica didn't skimp on this one. I have often complained that most brands try to cut the weight of the liners of their 50/50 boots, resulting in a liner that more quickly packs out. While the Cochise Pro W's liner is a heavier liner than some alternative boots, it's also one of the best stock liners I have skied. The C.A.S. material, utilized in several of Tecnica's Mach and Cochise liners, is a dense, moldable, and adjustable foam. This material is situated around the heel, ankle, and directly over the instep, and is easily heat molded to match the foot more closely. However, it is also one of the only liner materials that can be ground down to create additional volume.
The Cochise Pro W liner also comes with an adjustable "floating tongue" which is a great option for adjusting the tongue higher or lower to help match the needs of the instep, and also makes for a really simple modification, on the part of your trusted bootfitter.
The Cochise Pro W's liner features substantial bellows above the achilles, around 75 mm wide, and I did find it to be a natural-feeling liner when walking, without any weird hinge points or pressure points that I could attribute to the liner.
The liner in the Cochise Pro W is built with the option to install laces. It is also insulated with Celliant and lambswool. Since my feet aren't the best for judging the insulative properties of a liner (they tend to run chronically cold), I can't speak to how well these materials functioned for warmth, but the overall density of this liner does seem like it'd offer a bit more insulation than some of the thinner liners I have skied, such as the one in the Tecnica Zero G Tour Scout W.
While I didn't need to mold it to deal with any distinct hot spots, I found the Cochise Pro W's liner to feel evenly snug throughout, with considerable heel hold. The fit around the heel and ankle seemed to stay pretty consistent and rigid, without considerable sensations of packing out over the 15 days I spent in it (I note below that I did spend some time skiing the Cochise shell with my go-to ZipFit Gara liners since I have been dealing with some pretty obnoxious personal foot issues).
Overall, I found this to be a great liner for walking and plenty substantial for skiing, especially when comparing it to other 50/50 stock liners, such as the one in the old Lange XT (which I packed out in a quick 20-30 days).
Walk Mechanism
Redesigned for the 21/22 Cochise series, the new "T-Ride" walk mechanism is built with a full lock-out mode to maximize downhill performance and reliability. This walk mechanism has also been rebuilt with a robust mechanism / lever that is both burly and easy to flip, similar in overall design to the walk mechanism on the Tecnica Zero G and Atomic Hawx XTD boots.
While there isn't a tremendous amount of perceivable difference between the locked-out vs. not-locked-out mode, it is reassuring to turn the little dial and to know that you are truly ready to descend without the concern of compressing and having the boot move into walk mode unexpectedly. In addition, the walk mechanism is super easy to use and open up, and is built from what feels like robust hardware.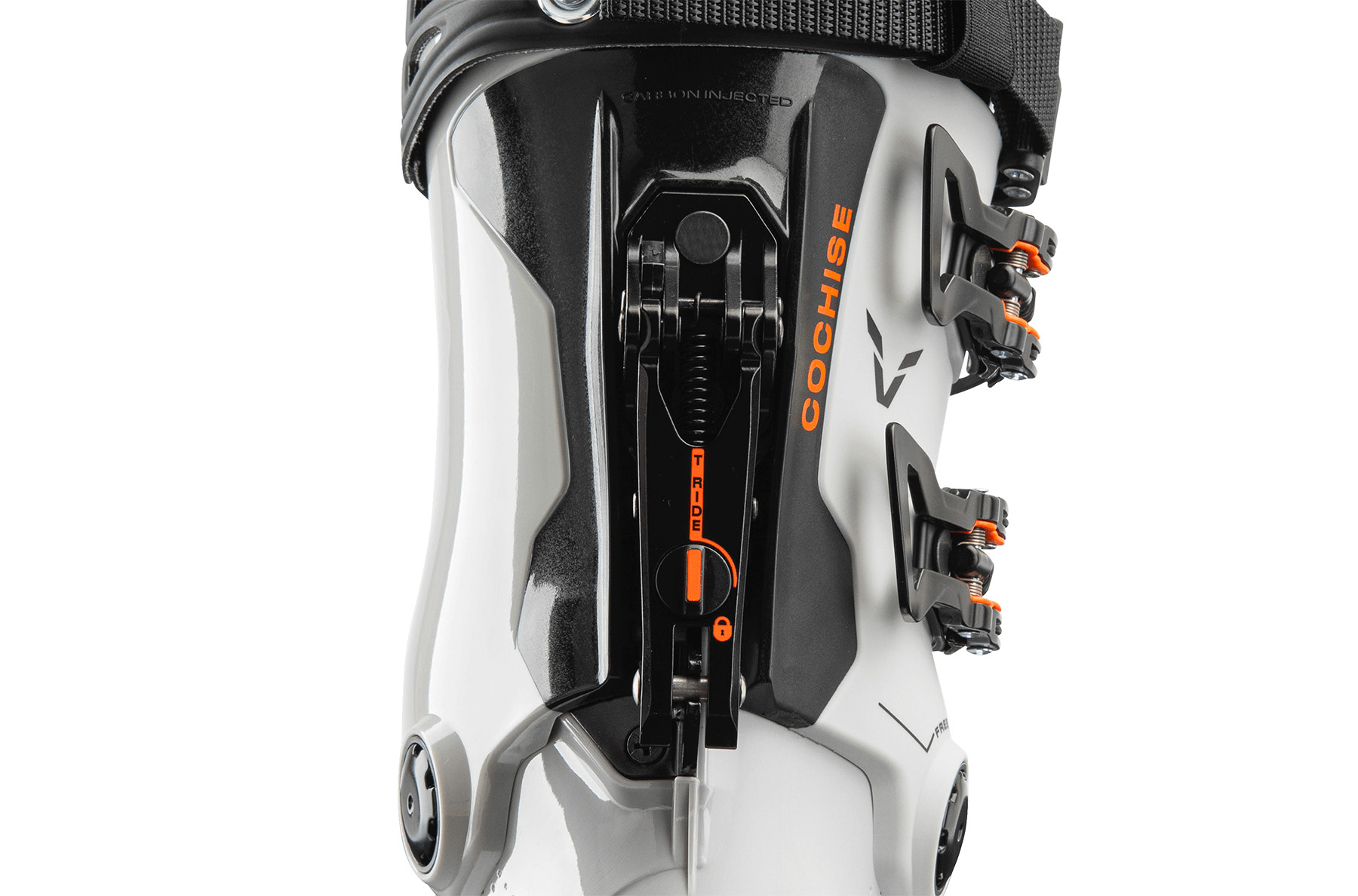 Buckles
Perhaps one of the easier buckle designs to clamp down, Tecnica utilizes an extra spring in the Cochise buckles that makes tightening them a lot easier, through added leverage. For this reason, even when I am buckling with considerable tension in the cuff, the buckles are easy to close and I never find myself struggling to clamp them down, even when going for considerable tension.
All four buckles offer micro-adjustments. While the buckles themselves seem a little on the flexible side and aren't particularly burly, relative to the Tecnica Mach1 or most any alpine boot, for a 50/50 boot, I find them to be plenty substantial. For someone who buckles a little tighter than me or is a bit stronger, I could potentially see these buckles bending. But after 30 days, I have found them to be holding strong and functioning just fine.
Power Strap
One of my favorite designs as far as stock power straps go, the Cochise Pro W's 45mm-wide Power Lock strap is a design unique to Tecnica and it gives you the leverage benefit of a cam strap, slightly more progressive flex than a velcro strap, and the quick and easy ability to release the cam strap by unhooking the strap from the cam mechanism. While this power strap isn't elastic, it is supportive and feels a bit closer to a Booster strap than a velcro-style power strap. I find that it sits nicely between the liner and shell, and I can bring it more directly atop the liner when I am looking to really minimize play in the cuff. This is an approach I take a lot since I have some tendonitis attributed to too much cuff movement from a prior injury, so having a stock power strap that is easy to cinch and take this approach is a huge bonus, for me personally.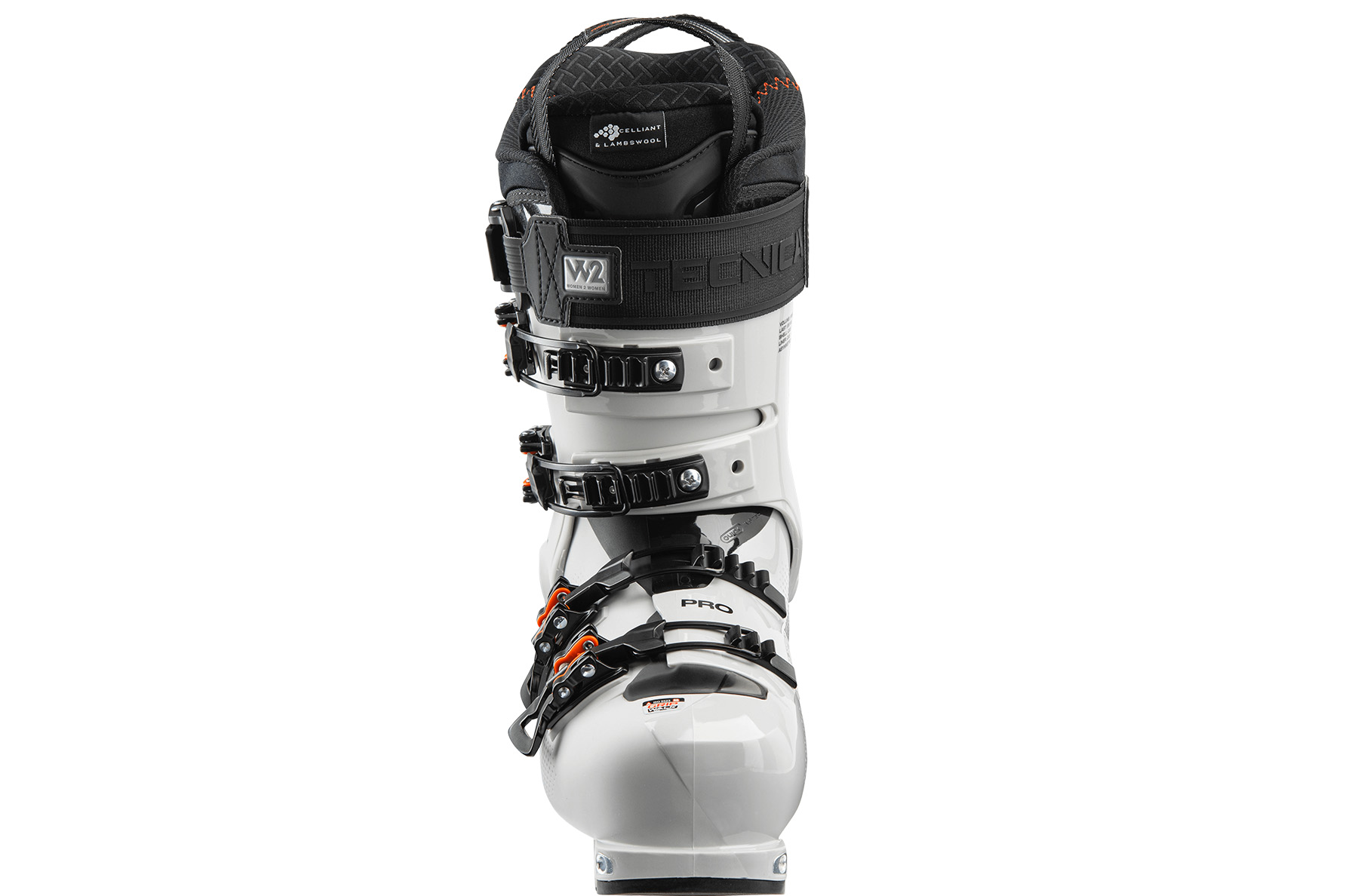 Soles
The Cochise Pro W comes with GripWalk soles, but you can swap these for a standard ISO 5355 Alpine sole. The GripWalk sole's rubber is quite grippy by GripWalk-sole standards; it offers the bare minimum for what I would want on a technical boot pack or traverse, but is enough to get around comfortably. It also doesn't ice up easily, which is a problem I have had with certain WTR and GripWalk soles on 50/50 boots.
Weight
The Cochise Pro W is not a very lightweight boot when compared to dedicated touring options, but it is a boot that tours fairly well for its weight. While I have started to prefer a lighter boot for touring-specific applications, the Cochise's moderate weight makes it a good option for someone looking for a one-boot quiver and who is also willing to compromise a bit on weight for the sake of downhill performance.
For reference, here are a few of our measured weights (shells + liners) for several touring and 50/50 boots, as well as the stated weights for a few other options in this women-specific class.
22/23 Tecnica Zero G Tour Scout W (24.5): 1052 & 1052 + 185 and 188 = 1237 & 1240 g
22/23 K2 Dispatch LT W (24.5): 1120 & 114 + 235 + 232 = 1355 & 1346 g
22/23 Hawx Ultra XTD 115 W CT GW (24.5): 1458 g (stated weight)
21/22 Rossignol Alltrack Elite 110 LT W (24.5): 1530 g (stated weight)
21/22 Salomon Shift Pro AT (24.5): 1570 g (stated weight)
22/23 Lange XT3 110 LV W (24.5): 1614 g (stated weight)
22/23 Tecnica Cochise Pro W (24.5): 1285 & 1289 + 343 & 330 = 1628 & 1619 g
22/23 Head Kore 105 W (24.5): 1372 & 1373 + 407 & 405 = 1779 & 1778 g
Fit
As always, none of this text will ever replace the expertise of a bootfitter, and all of this is speaking specifically to my foot, which fits generally well in low-volume size 24.5 boots, though with a couple of important adjustments to cater to some of the difficult fit issues I have. These adjustments include adding my custom insole and several degrees of ramp angle. Full disclosure, I also have skied this boot in the stock liner (15 days), and my ZipFit Gara liner (around 15 days).
The Cochise Pro W is a boot that sits right in the middle of two realms, low-volume and medium-volume. This isn't an overly flooded zone in terms of options, as most 50/50 boots are situated closer to either the truly low-volume, or truly medium-volume ends of the spectrum. For this reason, the Cochise can potentially accommodate a wider range of feet than some boots that fit closer to one end or the other. It can also offer a fit for someone who is always right on the cusp of low-volume boots, and then finds themselves putting in a lot of work to accommodate some of the more voluminous parts of their foot.
Overall, I found the Cochise to be a slightly more voluminous boot than the low-volume boots I am used to, namely the Lange XT LV and Nordica Promachine 115W. However, I feel that the boot is snug in the right places, such as the heel, ankle pocket, and around my forefoot and midfoot.
It was slightly roomier over my instep and in the toe box than I am used to, but this was not a bad thing for uphill comfort, and didn't hinder my ability to feel snug and confident when skiing, as the zones that really matter felt locked down, especially in the heel and ankle pocket, in the stock liner.
I also have developed some recent / reoccurring issues around my sixth-toe and styloid bone, both small bony prominences on the lateral side of my foot. These bones have required some stretching and punching in the lower-volume shells I have been used to skiing, as mentioned above, the Lange XT LV and Nordica Promachine 115W. However, I didn't find either of these to be a problem in the Tecnica Cochise, which assured me that a slightly roomier last than the low-volume boots can be a good thing, so long as I feel snug and secure in all the key areas, which I do in this boot.
The Cochise Pro W offers a roomier fit over the instep than I'm used to, which is fine with me, so long as my heel and ankle feel locked down. For someone who is accustomed to the fit of the Tecnica Mach1 LV or even the Tecnica Zero G, this area of the Cochise might feel quite a bit roomier. And for anyone with a truly low-volume foot, particularly in the instep, or heel and ankle, I have a feeling the Cochise Pro Will feel on the roomier side; there are some substantially snugger options out there for a low-volume foot, such as the Atomic Hawx Ultra XTD.
Performance
Kara Williard (5'9", 167 lbs / 175 cm, 75.7 kg): The Cochise Pro W provides a progressive flex and pretty good suspension, especially for a 50/50 boot. Overall, I am surprised by how progressive this boot's flex pattern feels, while also feeling supportive. For a 50/50 boot, the shell actually provides substantial damping and suspension, to the point where I often forget I am in a fairly lightweight boot with a walk-mode. There are days on really firm crud that I actually find the Cochise to feel slightly more damp and supportive than my Nordica Promachine 115W (a fairly lightweight alpine boot). From strictly a stiffness perspective, it is difficult for me to differentiate any differences between the Cochise Pro W versus the Nordica Promachine 115W, apart from a few big compression scenarios I mention below, despite the Promachine having a riveted cuff. I find the Cochise Pro W to feel slightly softer than my Lange XT 130 LV, but not that significantly.
I don't have a ton of 50/50 boots to compare to when it comes to uphill performance, namely just the 18/19 Lange XT 130 LV. The Cochise Pro W certainly walks better than this older model of the Lange XT, both in regard to a more noticeable range of motion, and my ability to maintain a smoother, more natural gait with less cuff resistance. I could feel the benefit of better leg extension and stride in the Cochise, which made me feel as though I could be more upright. Of my brief experiences touring in the 18/19 Atomic Hawx Ultra XTD 115W, I find the Hawx Ultra to be noticeably lighter, but comparable in terms of range of motion. When compared to a boot like the Tecnica Zero G Tour Scout W, there is no doubt that with the Cochise you are sacrificing added weight and less walkability on the uphill, for what is substantially more support and suspension on the downhill.
At this point, I have skied the Cochise Pro W with a wide array of skis, probably close to 15-20 different pairs. The most powerful among these skies were the Blizzard Black Pearl 97, Volkl Secret 96, and Salomon Stance 88 W / 94 W. Driving these strong, metal-laminate skis and feeling immediate power transfer has never been an issue, and I also felt like the boot was providing a damp and supportive ride while driving some of these heavier skis through crud and chop.
While I would be curious to eventually test the men's / unisex Cochise 130 in a 24.5 to see if I benefit from the added stiffness and support, I was pleased to feel that I was never excessively over-flexing the Cochise Pro W. In fact, there are far more frequent times when I hit a really rough patch or large bump / compression in the Nordica Promachine 115W and immediately feel as though I am over-flexing the Promachine or feeling a more abrupt fold between the lower boot and upper cuff, whereas the ride of the Cochise Pro W seems to consistently mute out some of these abrupt transitions, while not feeling too soft.
Durability
The plastic of the Cochise Pro W's shell has remained plenty durable through many days of use and it seems resistant to scuffs and scratches. The liner is especially robust for a boot in this category, and while that comes at an added weight, it is a benefit when considering the longevity of performance and fit, particularly for someone who is looking to ski this boot inbounds. Of course, boots with walk mechanisms have one more point of potential failure than alpine boots with riveted cuffs, but so far, the Cochise's walk mechanism is performing just as it did on day one. We'll update this review if we run into any issues down the line.
Bottom Line
For someone who is looking for a boot with walk-mode capabilities but wants very minimal difference in downhill performance, relative to a riveted-cuff alpine boot, the Tecnica Cochise Pro W is a phenomenal choice, particularly if you are somewhere in between a super low-volume foot or medium volume foot. While it's not my top choice for long tours, the Cochise Pro W would be a great option for someone who is looking for a true one-boot resort + backcountry quiver and is unwilling to compromise downhill performance.