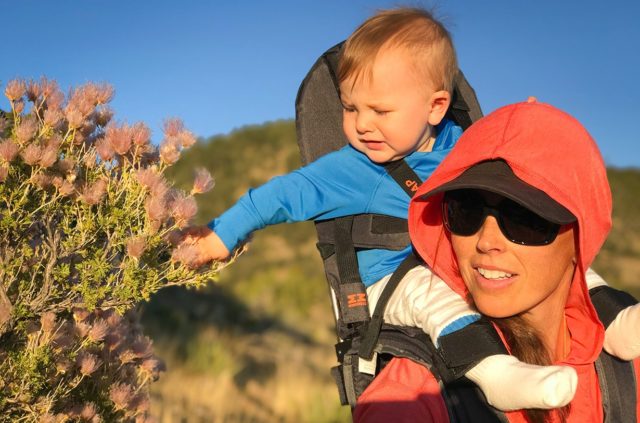 Intro
Lightweight summer hoodies seem to be on the rise — almost every major outdoor apparel company now makes at least one. No longer limited to crusty old fly-fishing guides, lightweight / sun hoodies can be extremely versatile summer layers, whether you spend your summer days fishing, hiking, biking, running, or even skiing. And the hoodies themselves are also becoming more diverse, branching out beyond the slick, often sticky synthetic fabrics of the past.
Here we've rounded up several of our favorite lightweight hoody options for women, men, and one for babies, and outlined what sets each one apart.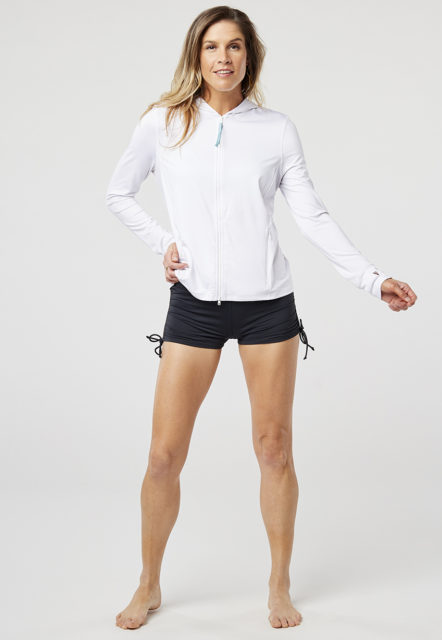 Kristin Sinnott: With its full-zip design, the Breaker Sunshirt can be used as a jacket on any warm-weather adventures and that's exactly when I found myself getting the most use out of it. Whether on a trip to Kauai or Lake Tahoe, the Sunshirt found its way into my luggage thanks to its versatility. I wore it for a July ski day at Squaw and was happy to keep the sunscreen application to a minimum as the shirt has a UPF 50+ rating and the thumbhole cuffs kept the tops of my non-gloved hands from burning.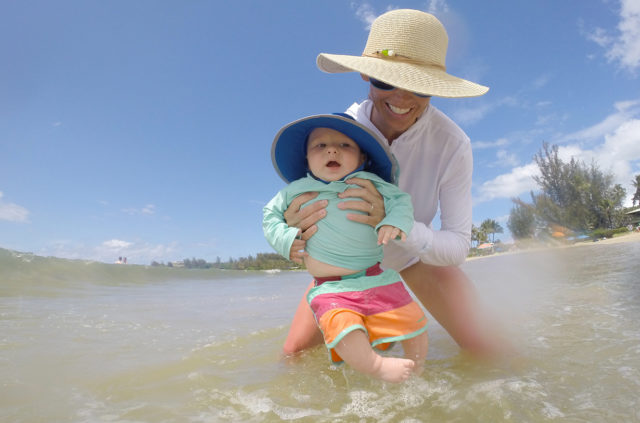 The Sunshirt has a relaxed fit with a wider and slightly shorter torso than the other shirts tested. This fit, combined with the full zip and hand pockets, puts it more in the "jacket" category than the traditional pullover hoody. But the Breaker Sunshirt's nylon / spandex blend is the same fabric used in the Carve Designs rashguards, making the Breaker Sunshirt equally at home in the water. If you're looking for sun protection for water sports to patio lunches, the Breaker Sunshirt is a great option.
Stio Women's Divide Hooded Pullover
Fabric: 85% Polyester, 15% Cotton (145 gsm)
UPF Rating: 15+
Reviewer: 5'8", 125 lbs
Size Tested: Small
MSRP: $85
Best For: quick-drying fabric in a casual silhouette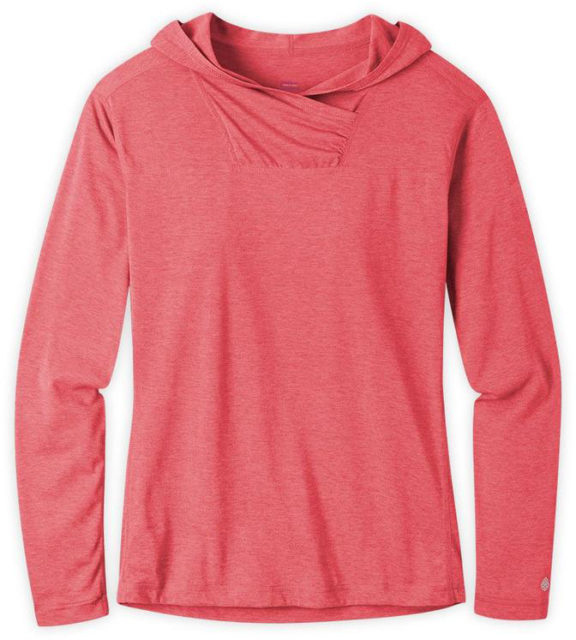 Kristin: The Divide Hooded Pullover has the thinnest fabric of the hoodies I tested and it also has the lowest UPF rating at 15+. The shirt is thin enough that darker layers underneath can be seen, but just barely. And I still never got sunburned while wearing the Divide Hooded Pullover.
While it doesn't have the highest UPF rating, the Divide Hooded Pullover is great when it comes to quick-drying capabilities. Stio claims its Drirelease® poly / cotton blend dries 4x faster than traditional cotton and while I didn't perform any scientific experiments to prove or disprove this claim, I can tell you it dries quickly.
Stio describes the Divide's fit as a "medium cut, roomier than Trim but designed with athletic performance and comfort in mind." The sleeves hit at the top of my hands (just below my wrists) and the torso fell about an inch below my hip bone. At my height and weight, I think a size Small or Medium would have fit nicely.
With its princess seams, back pleat, and shirring detail at the hood opening, the Divide Pullover doesn't look like a technical shirt. And while it might not look that "techy," the fabric is breathable and its proprietary "Freshguard" anti-microbial technology makes it a great shirt for a day that starts with a hike and ends up downtown.
Free Fly Women's Bamboo Shade Hoody
Fabric:
Solid: 68% Viscose from Bamboo, 29% Polyester, 3% Spandex (180 gsm)
Heather: 48% Viscose from Bamboo, 49% Polyester, 3% Spandex (180 gsm)
UPF Rating: 50+
Reviewer: 5'8", 125 lbs
Size Tested: Medium
MSRP: $59.95
Best For: any day and everyday use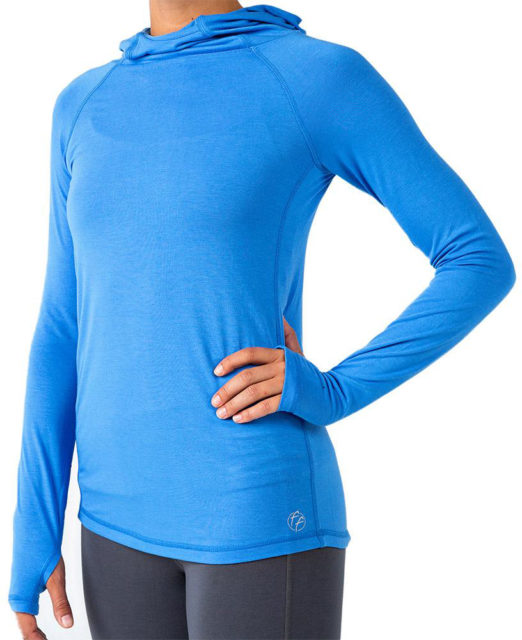 Kristin: As Luke mentions below in his review of the men's Bamboo Lightweight Hoody, Free Fly's bamboo fabric is very soft. And not just softer than the other hoodies in this roundup — it's soft compared to everything in my closet. The bamboo fabric that helps give this Free Fly Hoody a soft hand-feel does mean it absorbs moisture more easily and takes longer to dry compared to the synthetic options. For me, this just means that I wouldn't wear it on a colder day when a wet shirt could be an issue.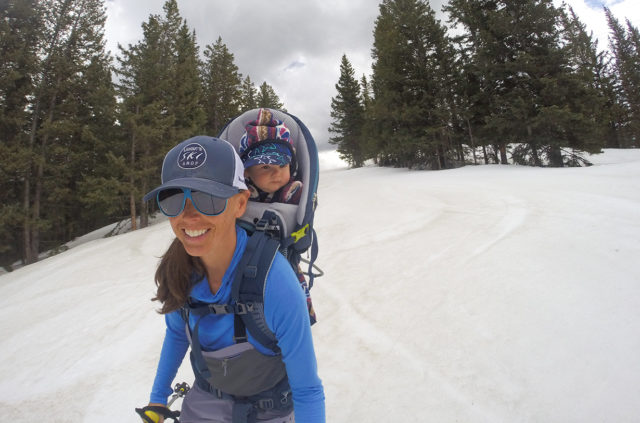 With a UPF rating of 50+, thumbhole-equipped sleeves, and a high neckline, the Bamboo Shade Hoody provides excellent sun protection. The overlapping design of the neckline allows the hood to lay flat and keeps it from bunching up at the neck when not in use. I could have easily worn a size Small but I opted for the looser-fitting Medium and I'm happy I did, as I wear this shirt for outdoor adventures as much as I do for nights spent at the cabin. This is definitely a shirt I am happy to wear all day thanks to its soft feel, odor-resistant fabric, comfortable fit, and nice-looking design.
Flylow Women's Moonlight Shirt
Fabric: 87% Polyester, 13% Spandex
UPF Rating: 50+
Reviewer: 5'8", 125 lbs
Size Tested: Small
MSRP: $75
Best For: hot weather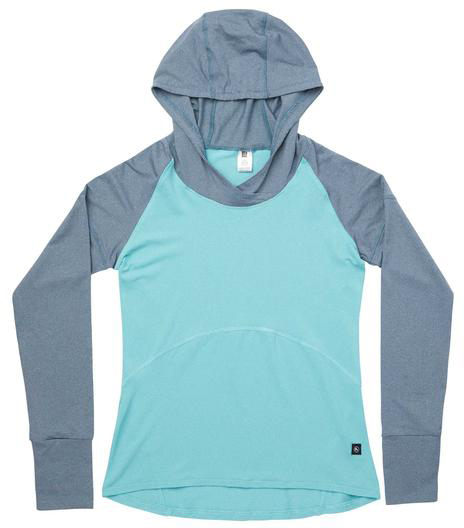 Kristin: Made of the same material as the Men's Bandit Shirt, the waffle / mesh-style fabric of the Moonlight Shirt makes it one of the most breathable and quick-drying hoodies I tested. The stretchy fabric, combined with the raglan sleeve design, allows for great mobility — even when sweaty or damp.
The Moonlight's three-panel hood is fairly wide and can easily accommodate a hat but it is too short to accommodate anything larger. Equally at home on a spring ski tour or a day at the beach, the UPF 50+ fabric and the long sleeves (long enough to extend halfway down my fingers) with cuff thumbholes loops will keep you protected from the sun. But keep in mind that there is a large neck opening so you'll need to bring along a little sunscreen for your neck / face if you don't plan to wear a hat.
Patagonia Capilene Cool Daily Hoody
Fabric:
Solids: 3.7-oz 100% recycled polyester jersey. (~115 gsm)
Heathers and cross-dyes: 4.1-oz 100% polyester (50% recycled) jersey. (~127 gsm)
UPF Rating: 50+
Reviewer: 5'8", 155 lbs
Size Tested: Medium
MSRP: $55
Best For: getting the most bang for your buck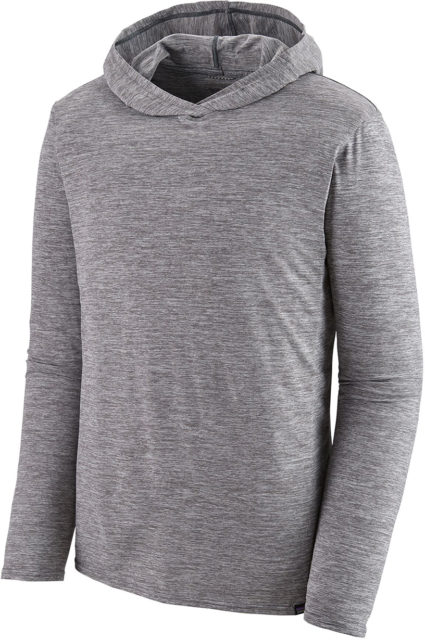 Luke Koppa: This has become one of my favorite summer hoodies, and I was honestly pretty shocked when I saw the price — as one of the cheapest hoodies here, I don't think the Capilene Cool Daily Hoody falls short in any regard compared to the more expensive options.
The Capilene Cool Daily Hoody uses a recycled polyester fabric that's very smooth and slippery. The fabric dries very fast, though probably not quite as fast as the Stio Hylas. But the Capilene Cool Daily Hoody wicks moisture really well, is pretty breathable, is very comfortable on skin, resists odor well for a synthetic, and I think it looks fantastic.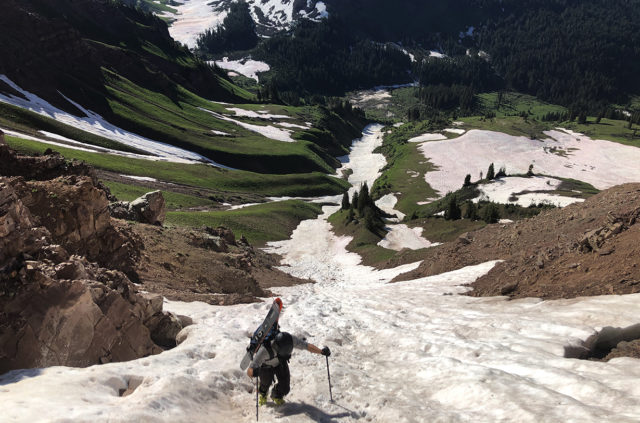 I'd call the fit of the Capilene Cool Daily Hoody "regular" bordering on "slim." It's very far from skin-tight which makes it more comfortable in really hot weather, but it also looks a bit trimmer than the options from Stio and Free Fly. This has made me more prone to wearing this hoody out after the day's outdoor activities, whereas some of the other options look more appropriate on the trail or river.
Smartwool Lightweight Merino 150 Micro Stripe Hoodie
Fabric: 87% merino wool / 13% nylon (150 gsm)
UPF Rating: 20+
Reviewer: 5'8", 155 lbs
Size Tested: Medium
MSRP: $100
Best For: year-round versatility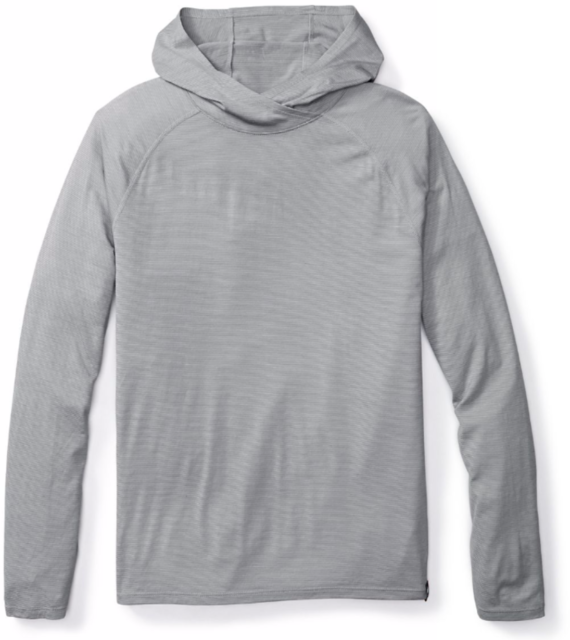 Luke: This hoody stands out due to the fact that it's primarily made of merino wool. The upside to this is that you can wear the Lightweight Merino 150 Hoodie for days on end without it stinking (yes that's kinda gross, but it's also pretty dang useful). The downside is that the material absorbs a lot more water than the synthetic options here, which is part of why I will opt for another option if I'm gonna be spending a long day on the water or working up a lot of sweat.
This hoody's fabric is very comfortable and super breathable — while it doesn't dry as fast or wick as well as synthetic, the knit wool fabric does let a lot of air through, so I've still been comfortable using it on hot days. And I'm more inclined to use this hoody as a baselayer or midlayer outside of summer thanks to merino's great breathability, warmth, and odor resistance.
The Lightweight Merino 150 Hoodie's fit is very similar to the Patagonia Capilene Cool Daily Hoody — plenty of room for a t-shirt underneath, but with a slightly slimmer silhouette than the Stio Hylas and Free Fly Bamboo Lightweight Hoody.
Stio Hylas Hooded Pullover
Fabric: "Helion" 90% nylon / 10% elastane (155 gsm)
UPF Rating: 50+
Reviewer: 5'8", 155 lbs
Size Tested: Medium
MSRP: $85
Best For: hot days on the water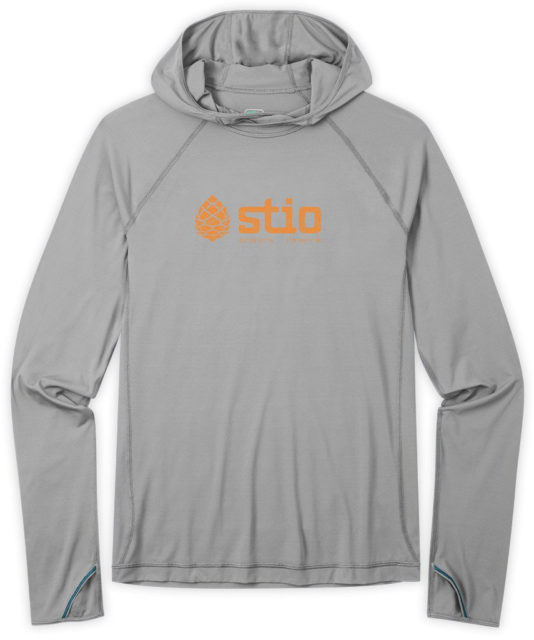 Luke: The Hylas feels like a pretty traditional sun hoody — it uses an extremely stretchy, lightweight synthetic fabric that wicks moisture really well but isn't quite as comfy as the softer fabrics on the Smartwool and Free Fly hoodies.
But because it wicks so well, dries so fast, and feels cooler on my skin than the other options here, the Hylas is my top choice for when I'm spending a lot of time on the water and in the sun. While the Smartwool and Free Fly hoodies are a bit more breathable and soft on skin, the difference isn't massive and I've still happily spent long days in the Hylas Hooded Pullover.
The Hylas's fit is a bit baggier than the Patagonia and Smartwool hoodies, which I think is accentuated by the Hylas's super stretchy fabric. The Hylas also has the highest neckline, which means it gives you just a bit more coverage from the sun when you've got the hood up.
Free Fly Bamboo Lightweight Hoody
Fabric: 70% Viscose from Bamboo / 30% Polyester (140 gsm)
UPF Rating: 20+
Reviewer: 5'8", 155 lbs
Size Tested: Medium
MSRP: $54.95
Best For: comfort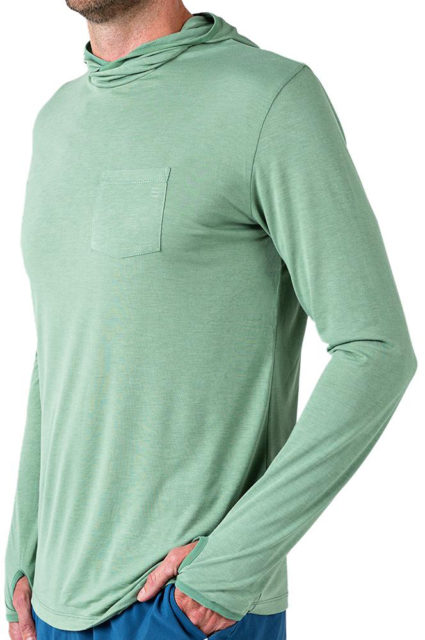 Luke: Free Fly's Bamboo Lightweight Hoody stands out for two reasons:
First, it's one of the cheapest options here at $55
Second, it's by far the most comfortable hoody I tested, and one of the most comfortable pieces I've ever worn. Its bamboo / polyester fabric feels much more like super soft cotton than the hoodies above, and I find myself reaching for the Bamboo Lightweight Hoody whenever I'm lounging at home. Plus, it's got a chest pocket, which is always a bonus in my book.
Outside, the bamboo fabric breathes super well (similarly vs. the Smartwool 150), but it does absorb more water and wick moisture slower than the synthetic options. This is just a tradeoff for the incredibly soft feel, and is why I'll grab the Free Fly hoody for things like lake fishing, casual hikes, and chilling on the couch (rather than fishing on the river, running, skiing, etc.).
The Free Fly hoody definitely has the loosest and longest fit of the hoodies I tested. But because the fabric drapes so loosely, it looks a bit slimmer when it's on than it does just holding it in your hand. If you like hoodies on the slimmer / shorter side but like the sound of the Bamboo Lightweight Hoody's cozy fabric, I'd recommend sizing down.
Flylow Bandit Shirt
Fabric: 87% polyester, 13% spandex
UPF Rating: 50+
Reviewer: 5'10", 140 lbs
Size Tested: Medium
MSRP: $75
Best For: oversized fit with a textured style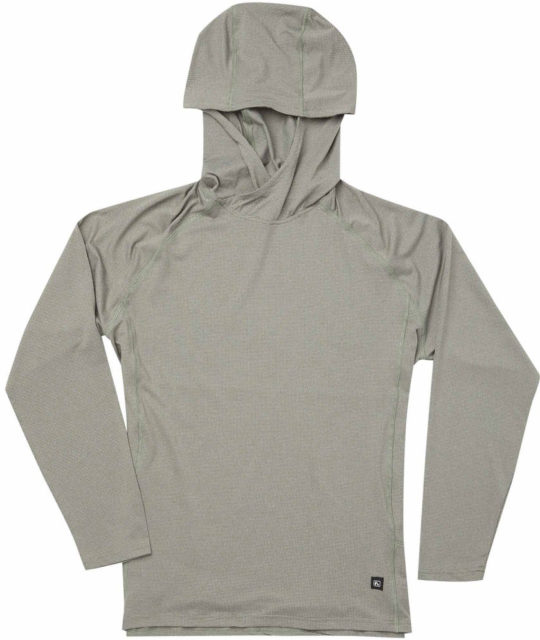 Sam Shaheen: The Flylow Bandit is a classic sun hoodie — baggy, comfortable cut, UPF 50+ sun protection, a lightweight and stretchy fabric, and an antimicrobial coating to help with odor.
The thing that really sets this hoodie apart though is the textured, almost waffle-knit fabric. Not only does it look nice, but it keeps the fabric from sticking to my skin as badly when I sweat — plus it comes in a lot of cool colorways. Though not the lightest or quickest drying option here, the Bandit Shirt is a great all-around performer.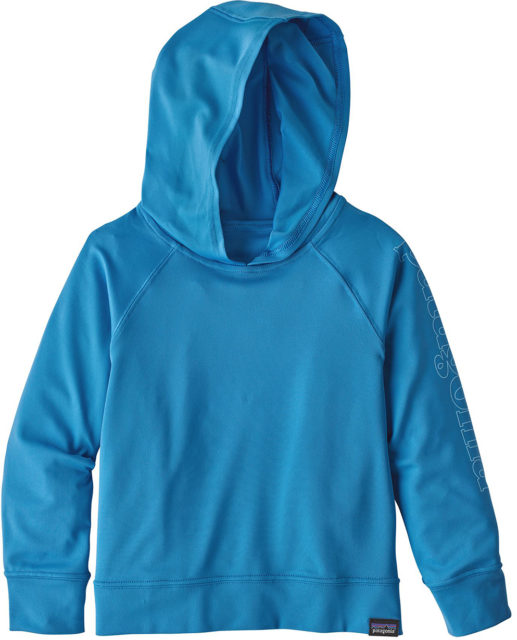 Kristin: Since day one it has been a struggle to put clothes on over my son's head. Trying to put him in a onesie was a bit traumatizing for both of us so I came to avoid and dread anything without a full-zip closure or snaps. The Patagonia Sun Hoody is the first shirt my son willingly put over his head and, most of the time, he seems to actually enjoy putting it on. This is a good thing as he wears it almost daily.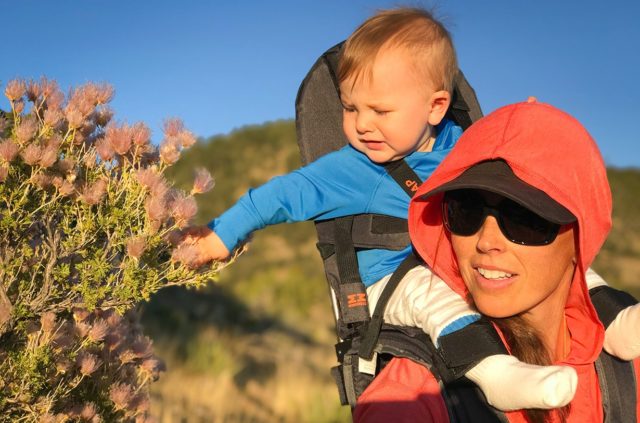 Thanks to the large head opening and stretchy fabric, getting the Capilene Silkweight Sun Hoody over his head is a breeze and it has been my go-to shirt for my son for the last 3 months thanks to its 50+ UPF sun protection rating. The hoody is lightweight, somewhat loose fitting, and has a hood that fits with or without a hat underneath. And by fits, I mean it covers the top and sides of his head and a bit of his forehead. The three-panel hood is loose enough that my son won't pull it off and it stays in place without any effort from either of us.
Twice a week I have hour-long workouts in the park where I take along my son. I'm typically running late to get there and over the last two months, it's been hot and sunny. The easiest thing for me to do is throw this hoody on him with a ball cap. It's light, breathable, and loose enough in the torso and arms that he doesn't overheat and I only have to apply sunscreen to his hands. Win-win.