Kuat Highline Trunk Rack
Blister's Measured Weight (2-bike version): 14.2 lbs (6.4 kg)
Stated Features
2 and 3 bike options
Intuitive arm pivots
Aluminum construction
Anti-Sway bike cradles with integrated ratchet straps
Easy set up with 6 nylon straps
Clear, adhesive vinyl strips protect vehicle's finish
Bike Capacity
2-Bike: 35 lbs per bike
3-Bike: 30 lbs per bike
MSRP:
2-bike (tested): $219
3-bike: $249
Test Duration: 6 months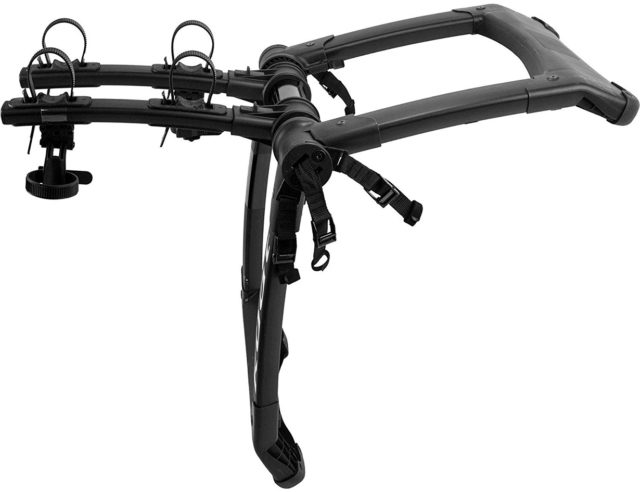 Intro
There are a ton of different ways to carry your bike on a vehicle (see here our article on the subject and our bike rack reviews) some of which work a lot better than others. There are assorted roof racks, hitch racks, tailgate pads, and, what we're talking about here, trunk racks (also known as strap-on racks because they strap to your trunk or hatch).
Let's just get this out of the way at the outset — trunk racks are not my preferred manner of carrying a bike. Generally speaking, I'd much rather use a quality hitch, roof, or tailgate rack. But not every vehicle plays well with those sorts of options, and not everyone wants or needs a bike rack attached to their vehicle all the time. Which is when trunk racks start to make sense.
The particular example for this review is my Ford Focus ST. It's my commuter car, and for the most part it's not a vehicle that I use to carry bikes. But when I do want to carry bikes with it, things get a little complicated.
First of all, it has a center-mounted exhaust, which means hitch racks are either really difficult or impossible to mount. Second, it doesn't have any rails to mount a roof rack. Yes, there are ways around that, but they're less elegant and more expensive. Third, this car isn't one that I usually use for carrying bikes, so I'd rather not clutter it up with a semi-permanent bike rack installation. So, something that I can remove fairly quickly and easily is preferred.
Enter the Kuat Highline.
Features
The Highline is structured more or less similarly to many other trunk-mounted racks. There are six straps that attach it to the car — two at the top, two at the bottom, and two to the sides. The main frame of the rack can be set at different angles to fit on different-shaped cars, and the rack includes some protective clear-vinyl patches that you can put on the car at the contact points to protect the paint.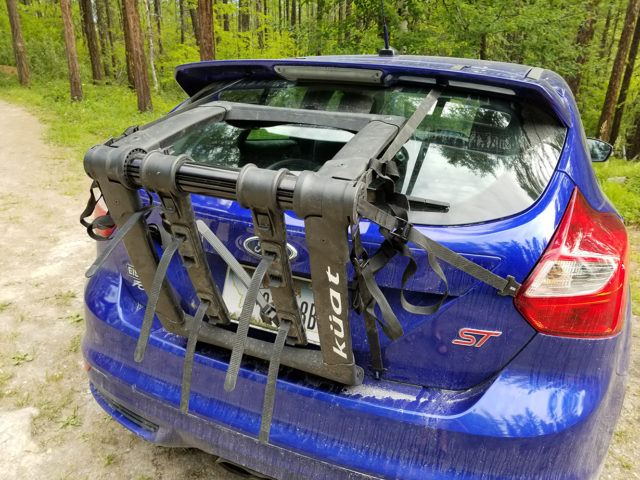 The Highline comes in 2- and 3-bike versions, the only real difference being the length of the arms that hold the bikes. Those arms can be adjusted independently, which means you can accommodate sloping top tubes a bit more effectively. It also means you can situate the bike to be high on one side if you need to keep wheels up and out of the way of an exhaust pipe.
The arms have small cradles for the bike to nestle in with ratchet straps to secure everything. There's also a pivoting piece that drops down and attaches to the bike's seat tube to keep the bikes from rocking on the rack and banging into each other and / or the car.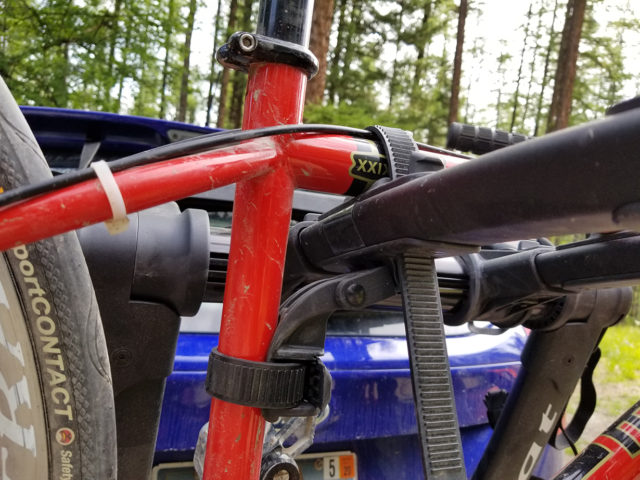 Kuat lists a weight limit of 30 lbs (13.6 kg) per bike for the 3-bike version, and 35 lbs (15.87 kg) per bike for the 2-bike version. The bikes are fairly closely spaced on the rack, with 8 inches (20.3 cm) between bikes on the 2-bike version I tested. The rack itself is also quite light — my 2-bike version weighs 14.2 lbs (6.44 kg) on my scale.
Attaching it to the Car
Attaching the Highline to my Focus was fairly idiot proof. Hook the straps around the edge of the hatch, pull the straps tight, load bikes. It takes maybe 2 minutes to get the rack attached and secure.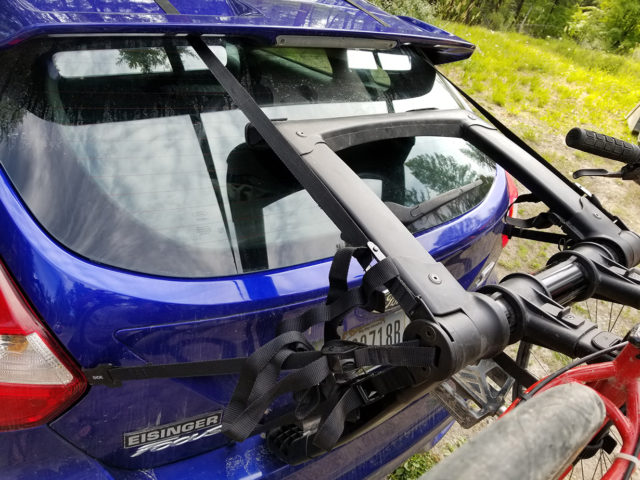 I'm sure there are some vehicles that would be more complicated, but I've attached a lot of trunk racks to a lot of different cars, and generally speaking, they're pretty dang quick and easy. Exceptions: cars with large spoilers, expensive cars where the edges of the trunk / hatch are glass and / or especially tight.
Removing the rack is a similarly quick process — loosen the straps, pop off the clips, fold up the rack. If I lived in a city and didn't want to leave a rack on my car, the ease of install and removal — plus the light weight of the rack — would make this a strong contender. Plus, once the rack is off the car, it folds down to a fairly compact apparatus.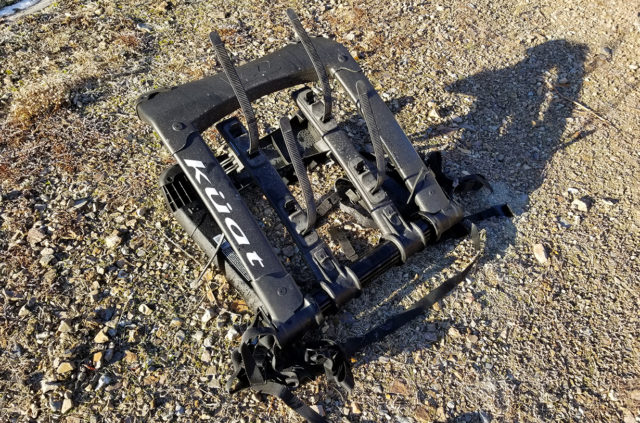 Functional Considerations and Notes on Use
The upside here is that I haven't found many downsides to the Highline that aren't intrinsic to the trunk-mounted bike-rack arrangement. The Highline is quick and easy to adjust, the ratchets that hold the bikes are easy to operate, and for a basic bike (meaning something without shocks or weird frame shapes), it's quick and easy to load and unload.
The downsides that are specific to the Highline are relatively minor. As I mentioned, the bikes are spaced fairly close together, at least compared to some hitch racks on the market. But for a trunk rack, the Highline's spacing is pretty average. The rack also doesn't seem well suited to heavier bikes; there are the stated weight limits, and I can get some noticeable flex in the arms, so I'd say that those weight limits shouldn't be disregarded.
Finally, the mechanism that straps the bike at the seat tube can make fitting full-suspension bikes or bikes with waterbottle cages a bit trickier. That seat tube clamping mechanism works well and does a good job of keeping the bike from swinging around on the rack, but that comes at the cost of fitting trickier bikes.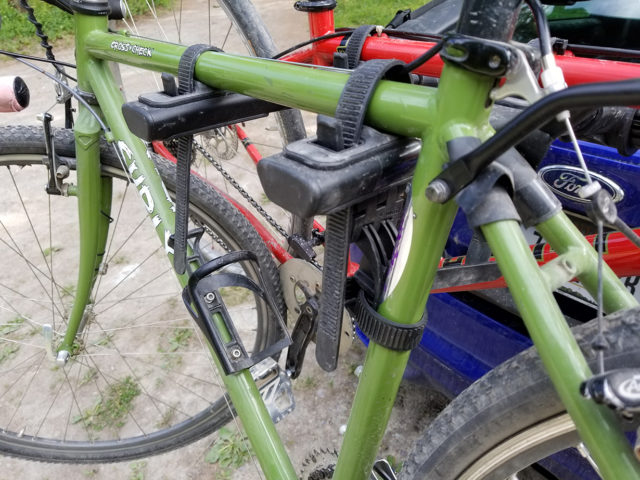 The main downsides of the Highline are, as I said, somewhat inherent to trunk racks, and really most bike racks that rely on dangling the bikes from their top tubes. First and foremost, full-suspension bikes, bikes with dramatically sloping top tubes, small kid's bikes, and really any other bike that doesn't have a nice flat-ish top tube to put on the rack can be a bit tricky to load. Something like Kuat's $35 UBar will generally solve that problem, but it's another expense and another thing to deal with when loading the bikes. And it'll make your bike hang lower, which raises another potential issue — wheels in front of your exhaust pipe. If your car has a rear-facing exhaust pipe (like most cars do), you'll want to keep your wheels aways from it, lest you end up with a melted tire.
Beyond that, the main downside is really just that the bikes are fairly close together, and they're going to touch each other. The seat-tube strap on the Highline helps this situation, but there's still nothing to keep the front wheels from swinging around, and the bikes are close enough that even a little bit of swaying could produce some rubbing. For anything beyond a quick jaunt to a nearby trailhead, you'll likely want to use some bungies and padding to keep the bikes situated. The upside here is that, at least on my car, the bikes were held far enough away from the bumper that I didn't have to worry about bike-to-car contact.
Comparisons
I haven't tried all of the trunk rack options out there, but I can offer a couple of comparisons here.
Allen / Hollywood / assorted other cheap trunk racks
There are a bunch of super basic trunk racks that are functionally pretty similar to each other. They're very cheap, they don't look particularly good, but they more or less hold bikes. The Highline is a lot cleaner looking and a lot more adjustable. It'll fit nicely on a wider variety of cars, and it'll do a good job of holding a wider variety of bikes. In pretty much every respect, it's manufactured to a higher standard. Of course, it also costs quite a bit more.
Saris Bones
The Bones is somewhat similar to the Highline in that it's situated as a higher-quality trunk rack. It has similar adjustability, although the Highline is a bit quicker and easier to adjust. The main problems that I've had with the Bones are that the thicker arms don't work well with bikes that are tight in the front triangle (e.g., full-suspension bikes, bikes with waterbottles, kid's bikes), and the plastic cradles for the bike tend to break, especially if you put a bike with large tubing in it. The Highline solves the second problem (it works fine with larger tubes), and it's better than the Saris on the first issues (it works ok with tight front triangles, although it can still be snug).
Bottom Line
If you put your bike on your vehicle frequently, there are better ways to do that than a trunk rack. A hitch rack, roof rack, or tailgate pad are all preferable to a trunk rack, but there are certain situations where one of those options just isn't in the cards. If you have a vehicle that doesn't play nicely with other rack formats, or if you live somewhere where you don't want to leave a rack on your car, or if you just don't use the rack very often and you don't want to pay for a more expensive hitch or roof rack, the Highline might be your ticket.
Given the inherent downsides of a trunk rack, the Highline works well. It's easy to attach and remove from the car, it's light and folds down to a fairly small size when not in use, and by trunk-rack standards, it's easy to load the bikes and it holds them securely. So, if a trunk rack makes sense for your situation, the Highline is a great choice in that category.