Ski: 2021-2022 G3 ROAMr 108, 185 cm
Available Lengths: 171, 178, 185, 192 cm
Blister's Measured Tip-to-Tail Length: 183.9 cm
Stated Weight per Ski: 2000 grams
Blister's Measured Weight per Ski: 1917 & 1930 grams
Stated Dimensions: 139-108-124 mm
Blister's Measured Dimensions: 137.9-107.3-123.0 mm
Stated Sidecut Radius (185 cm): 25.4 meters
Measured Tip & Tail Splay (ski decambered): 53 mm / 14 mm
Measured Traditional Camber Underfoot: 3-4 mm
Core: Poplar/Paulownia + Titanal (2 layers) + Fiberglass Laminate
Base: Sintered P-Tex 2000 Electra
Factory Recommended Mount Point: -8.15 cm from center; 82.8 cm from tail
Boots / Bindings: Scarpa Maestrale RS / G3 ION 12
Reviewer: 5'10", 145 lbs
Test Locations: Telluride, Rocky Mountain National Park, & Summit County, CO
Days Skied: ~5
[Note: Our review was conducted on the 18/19 ROAMr 108, which returns unchanged for 19/20, 20/21, and 21/22, apart from graphics.]

Intro
The ROAMr series is a relatively new line of skis from G3 that's intended for skiers who split their time between the resort and the backcountry.
Consisting of the ROAMr 100 Elle, ROAMr 100, and ROAMr 108, the ROAMr skis all feature two layers of titanal, and come in at pretty low weights.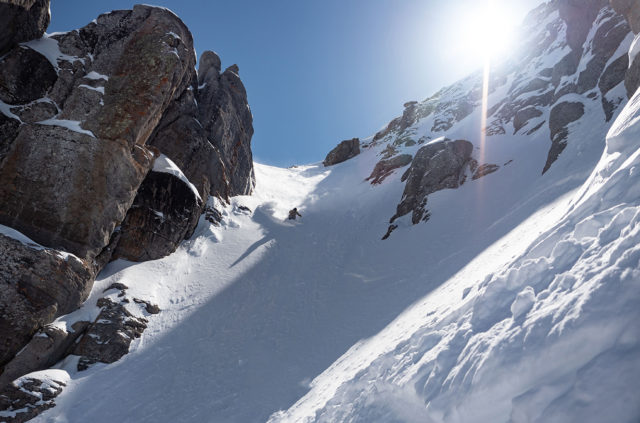 Now that so many companies are making skis designed for both backcountry touring and inbounds use, we're going to be looking here at how the ROAMr 108 compares — and also how it compares to G3's other "50/50" ski, the SENDr 112.
What G3 says about the ROAMr 108
"This freeride focused ski has a longer early rise and a longer turn radius than the ROAMr 100 and is perfect for that skier spending 70% of their time in the backcountry and 30% at the resort."
This is a pretty smart, concise description. The ROAMr 108 does have a deep tip rocker line, a long sidecut radius (25.4 m for the 185 cm length), and its ~1925-g weight per ski for the 185 cm length seems like a very sensible one for a ski designed to spend 70% of its time touring and 30% in the resort.
Shape / Rocker Profile
The ROAMr 108's shape is pretty moderate for a 108mm-wide ski these days. It has some early taper at the tips and tails, but it's not nearly as tapered as some other skis in this class like the Dynastar Legend X106, Rossignol Soul 7 HD, or even the G3 SENDr.
The ROAMr 108 has a very deep tip rocker line, while its tail rocker line is much shallower and it has pretty low tip splay.
Flex Pattern
Here's how we'd characterize the flex pattern of the ROAMr 108:
Tips: 8.5
Shovels: 8-7.5
In Front of Toe Piece: 7.5-9.5
Underfoot: 10
Behind the Heel Piece: 9.5-8
Tails: 7.5
The ROAMr 108 has a nice, round flex pattern. The very start of its tips are pretty stiff, but its shovels are a bit softer, without feeling noodly. Its midsection is quite strong, and it finishes with a tail that feels very similar to its tip — supportive, but not crazy stiff.
Compared to the G3 SENDr, the ROAMr 108 is significantly softer at the tips and tails.
Compared to the Line Sick Day 104, the ROAMr 108 is stiffer in the shovels and a touch stiffer in the tail.
And compared to the 18/19 Salomon QST 106, the ROAMr 108 is stiffer in the shovels and, again, a tiny bit stiffer at the tail.
Weight
At a little over 1900 grams per ski for the 185 cm version, the ROAMr 108 definitely sits on the lighter end of the spectrum compared to most dedicated inbounds skis, but it's not nearly as light as most dedicated touring skis.
In other words, the ROAMr 108's weight seems to make sense, given its intended use as a 70/30 backcountry / resort ski. The ROAMr 108 comes in at a similar weight as many of the skis we recommend for use both in the resort and in the backcountry, like the Line Sick Day 104, Elan Ripstick 106, and Rossignol Soul 7 HD. Take a look:
For reference, here are a number of our measured weights (per ski in grams) for some notable skis. Keep in mind the length differences to try to keep things apples-to-apples.
1605 & 1630 Line Vision 108, 183 cm (19/20)
1642 & 1651 Renoun Citadel 106, 185 cm, (18/19)
1806 & 1862 Armada Tracer 108, 180 cm (19/20)
1828 & 1842 Elan Ripstick 106 Black Edition, 188 cm (19/20)
1848 & 1903 Line Sick Day 104, 186 cm (17/18–19/20)
1849 & 1922 Elan Ripstick 106, 188 cm (17/18–19/20)
1913 & 1943 Sego Condor Ti, 187 cm (18/19)
1917 & 1930 G3 ROAMr 108, 185 cm (18/19–19/20)
1950 & 1977 Blizzard Rustler 10, 188 cm (17/18–18/19)
1996 & 2012 Dynastar Legend X106, 188 cm (17/18–19/20)
2005 & 2035 Liberty Origin 106, 187 cm (19/20)
2013 & 2013 Moment Commander 108, 188 cm (18/19)
2018 & 2045 RMU North Shore 108, 185 cm (18/19–19/20)
2022 & 2047 Faction Dictator 3.0, 186 cm (17/18–18/19)
2026 & 2056 Black Diamond Boundary Pro 107, 184 cm (17/18–18/19)
2030 & 2039 Rossignol Soul 7 HD, 188 cm (17/18–19/20)
2036 & 2064 Salomon QST 106, 188 cm (18/19)
2046 & 2120 Black Crows Corvus, 188 cm (18/19–19/20)
2096 & 2100 Salomon QST 106, 181 cm (19/20)
2097 & 2113 DPS Alchemist Wailer 106 C2, 189 cm (19/20)
2112 & 2125 4FRNT MSP 107, 187 cm (18/19–19/20)
2113 & 2121 Moment Meridian 107, 187 cm (16/17–19/20)
2133 & 2134 Faction Prodigy 3.0, 183 cm (18/19–19/20)
2143 & 2194 ON3P Wrenegade 108, 184 cm (18/19–19/20)
2165 & 2211 K2 Mindbender 108Ti, 186 cm (19/20)
2165 & 2219 Icelantic Nomad 105, 191 cm (19/20)
2182 & 2218 Nordica Enforcer 110, 185 cm (17/18–19/20)
2188 & 2190 Prior Northwest 110, 190 cm (19/20)
2190 & 2268 Armada ARV 106Ti LTD, 188 cm (18/19–19/20)
2232 & 2244 ON3P Woodsman 108, 187 cm (19/20)
2233 & 2255 Nordica Enforcer 104 Free, 186 cm (19/20)
2250 & 2307 Argent Badger, 184 cm (19/20)
2283 & 2290 ON3P Wrenegade 108, 189 cm (18/19–19/20)
2312 & 2386 Prior Husume, 188 cm (17/18–19/20)
2318 & 2341 J Skis The Metal, 186 cm (16/17–18/19)
2371 & 2374 Folsom Primary — Hammer Edition, 188 cm (18/19–19/20)
2376 & 2393 Blizzard Cochise, 185 cm (15/16–19/20)
FULL REVIEW
Powder
At 108 underfoot, the ROAMr 108 should — and does — float pretty well in powder. I was able to ski it in some very deep snow at Telluride this spring, and was pleasantly surprised by how well it floated.
And one of the ways in which the ROAMr 108 is different from the SENDr 112 (a ski that I really like, BTW) is that the sweet spot on the ROAMr is much larger. In powder, this is a huge help because I can comfortably ski the ROAMr from my heels to keep the tips up when needed, whereas on the SENDr, I would often have to accept some tip dive to accommodate the aggressive forward stance that the ski demands.
In powder, the ROAMr 108 feels predictable and intuitive. It is still a fairly lightweight ski, so it can get knocked around a bit. But drier, lighter powder is very forgiving snow condition and I think the shape on this ski is just excellent — its directional shape encourages a forward, driving stance, but the ski strikes a great balance between being able to rail turns at high edge angles, break free easily into slarves, and has a supportive tail for energy and power. Similar to the SENDr 112 and the Moment Wildcat, the ROAMr 108's shape just feels pretty dialed.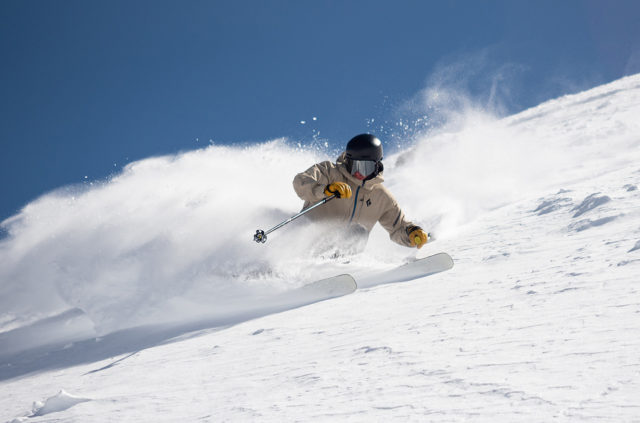 In pure pow, the larger sweet spot, deeper tip rocker line, and slightly softer flex pattern of the ROAMr 108 compared to the SENDr 112 make it easy to opt for the ROAMr 108 in most situations, even given its slightly skinnier waist.
Soft Chop
This isn't a heavy ski, so in chopped-up snow, it certainly requires a bit of user input to keep it composed. That said, the shape of the ROAMr 108 helps it to track pretty well and inspire a good amount of confidence despite the ski's lower weight.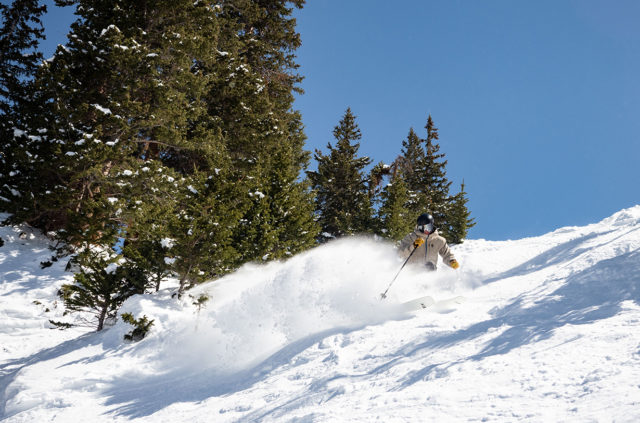 In soft chop, I didn't tend to want to just straightline at high speeds on this ski, but it did encourage an active / dynamic style — a style that I personally like — and it was fun to push hard in nice snow, throwing it sideways in soft patches, and popping off bumps.
As with any ski this light, the ROAMr 108 is not the best option if your priority is skiing hard and fast in the resort regardless of the conditions. But for a lighter ski that you'd use inside and outside of the resort, the relative stability of the ROAMr 108 is quite good.
Crud
We have yet to see a ski this light be a true crud destroyer, and the ROAMr 108 is no exception. To add to the issue, I tested the ROAMr 108 mounted with G3 ION tech bindings and skied it with Scarpa Maestrale RS boots, all of which made the setup very light and contributed to the ski's instability at speed — i.e., with a heavier alpine boot and burlier binding, I'm sure the ROAMr 108 would feel more composed in crud.
But my particular ski / boot / binding setup wasn't all that confidence-inspiring in these snow conditions. And even with alpine bindings and alpine boots, I wouldn't expect the ROAMr 108 to offer the stability or damping of a heavier ski (say, 2100+ g).
Groomers
This ski wasn't designed to excel on groomers and, it isn't a carving machine. Turn initiation is a bit vague in the tips, and the front half of the ski felt just a touch too soft to push really hard.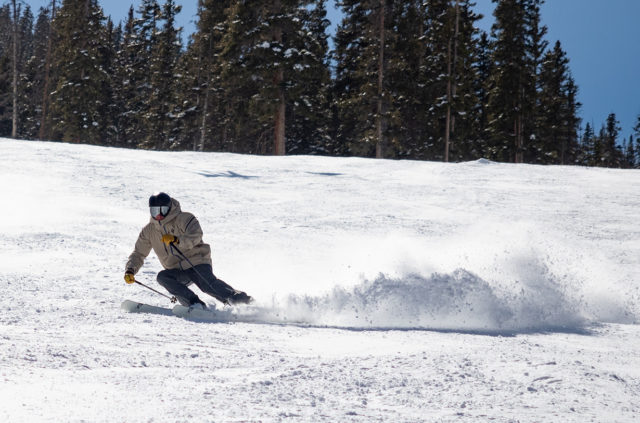 That said, I had a great time carving on this ski. It has a good amount of energy in the tail and it is easy to bend into various turn shapes. Combine that with its versatile shape that can be thrown sideways or driven hard and the ROAMr 108 can be a blast on groomers, just don't expect to be laying over super tight turns at really high edge angles.
Moguls, Trees, and Tight Terrain
I think this ski really shines in tight terrain. It is easy to flick around and make quick turns, while being supportive enough to keep you upright and skiing hard. Plus it's soft enough to be pretty forgiving and easy to ski (the sweet spot is pretty big), while being stiff enough to inspire confidence when going fast in tight spots.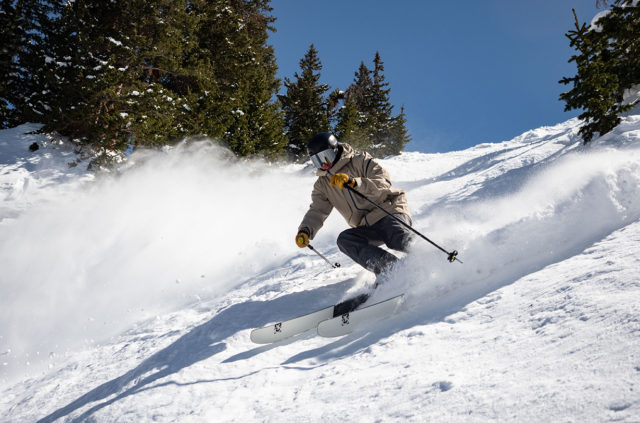 In the world of more directional skis, the ROAMr 108 probably falls on the more forgiving side of the spectrum. I wouldn't put a beginner on it, but I think mid- to high-intermediate skiers all the way up to experts will be able to enjoy this ski. For how flat and stiff the tail is, it is surprisingly easy to break free, and isn't that punishing.
I could easily put my weight back on the tail to scrub speed or quickly get over the tips to slam a few quick turns between trees. The tail has enough energy to pop over troughs or debris at moderate speeds while still being supportive at high speeds. If you ski a lot of tight terrain, trees, and bumps — especially if you have a more active / dynamic style — then I think you'll really get along with the ROAMr 108.
Playfulness
I would call the ROAMr 108 a fairly playful ski. It feels very directional and isn't playful in the sense that it wants to flip, spin, and ski switch around the mountain. But it is playful in the sense that it is easy to break free, throw slashes, and pop off the tails to air small to medium hits.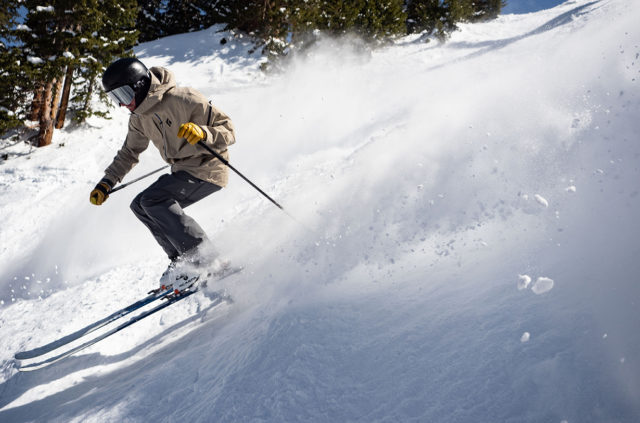 And compared to other directional skis, it is certainly on the more surfy / loose / playful side of the spectrum. It has a pretty flat and square tail — it is not as surfy as freestyle-oriented skis with much more tapered and rockered tails, but it is surfier than I expected based on the shape.
The ROAMr 108 has very little tail splay, and I wouldn't feel comfortable skiing switch on it, but for a directional ski, it has a great balance of playfulness and directional prowess.
Uphill
Keep in mind that this is a true "50/50" ski, designed for both inbounds and backcountry use. So when going uphill, the ROAMr 108's heavier weight is definitely noticeable compared to dedicated touring skis — an extra ~ 500 g per foot is definitely something to consider if you tour a lot.
But if you prioritize downhill performance over uphill speed and ease, then the ROAMr 108 could well be worth the weight penalty. One thing to note is that the tip rocker line of this ski is very deep, so the surface area for skin contact is a bit less than on skis with more traditional rocker profiles. I didn't have any traction issues while skinning on the ROAMr 108, but I also didn't skin on it in any tricky snow conditions.
Who's It For?
Intermediate to expert skiers who lean more toward the directional side of the spectrum and are looking for a 50/50 ski should give this ski strong consideration. It has a very intuitive shape, can be pushed hard but is still forgiving of most mistakes, has a good suspension and flex pattern for its weight, and has a strong, energetic tail.
I really like this ski, and I think a lot of skiers will get along well with. But if what you really want is either (1) a dedicated inbounds ski, or (2) a dedicated touring ski, or (3) a ski for very hard charging in the backcountry, then there are better options out there.
Bottom Line
The G3 ROAMr 108 takes a lot of what we like about the G3 SENDr 112, and puts it into a more accessible package. This is a directional 50/50 ski that is intuitive, energetic, and provides pretty good suspension for its weight. Intermediate to expert skiers who tend to keep their tips pointed down the fall line should take note.
Deep Dive Comparisons
Become a Blister Member or Deep Dive subscriber to check out our Deep Dive of the ROAMr 108 to see how it stacks up against the G3 SENDr 112, Blizzard Zero G 105, Line Sick Day 104, Salomon QST 106, Renoun Citadel 106, K2 Wayback 106, Elan Ripstick 106, Liberty Origin 106, Rossignol Soul 7 HD, Moment Commander 108, Faction Dictator 3.0, Scott Scrapper 115, and Blizzard Rustler 11.