If you go out on just about any trail, you'll probably see people wearing a very wide range of "jerseys." From slim-and-sleek, ultra-breathable tops, to super baggy ones reminiscent of DH racing a decade ago, to ones that fit in between, to regular 'ole cotton T-shirts.
Here we've rounded up 10 men's jerseys that our reviewers have been using over the past 1-2 seasons and highlighted what makes each one stand out. All of the jerseys here are generally ideal for warm to very hot temperatures, with a couple exceptions. We'll be doing some colder-weather-specific apparel roundups later this year, and for women's options, you can check out our Women's MTB Jersey Roundup from earlier this year.
As we noted in our MTB short roundup, bike-specific apparel can get expensive, and there's absolutely nothing wrong with using the clothes you already have. A basic synthetic shirt with enough room or stretch in its fabric can work very well on a bike, and even a cotton shirt can be fine if you're not too worried about getting sweaty and / or chilled. For things like shuttle laps, short rides, and generally moderate weather, I'll personally often just throw on one of my longer-cut T-shirts.
The jerseys here all offer fabrics, features, and / or fits that make them work better on a bike than most non-bike-specific tops, and the right jersey for the places you ride can definitely make your days on the trail more enjoyable. But as always, it just comes down to your personal priorities, so we'll do our best to outline which ones might make sense for you.
Fabric: Polyester 82% / Wool 15% / Elastane 3%
Reviewer: 6′, 165 lbs / 183 cm, 74.8 kg
Size Tested: Medium
MSRP: $60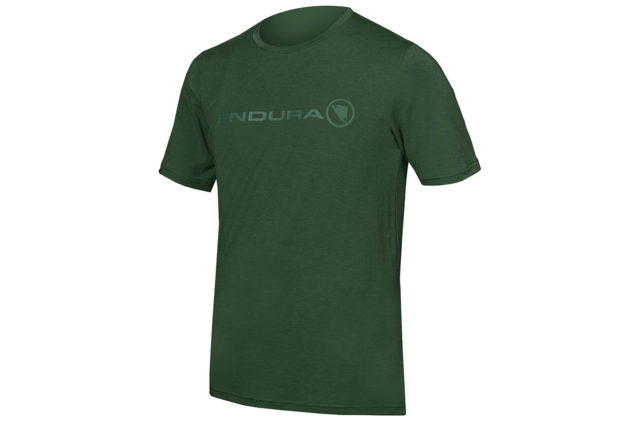 David Golay: As its name suggests, the Endura SingleTrack Merino T uses a wool-blend fabric, albeit with much higher synthetic content (82% Polyester / 3% Elastane) than wool (15%), and I've come to be a big fan.
It's exceptionally soft and comfortable on the skin, and comes in a simple T-shirt cut in a variety of plain, solid colors. The body is longer than average, with a slightly dropped tail for better coverage on a bike, but it's a piece that doesn't look out of place being worn casually apres-ride.
As with a lot of synthetic / wool blends, the SingleTrack Merino T's fabric does a nice job of being softer and more resistant to cuts and abrasions than pure (or mostly) wool fabrics, while maintaining some, but definitely not all, of their odor-resistance and excellent temperature-regulating properties.
The SingleTrack Merino T's material is also a touch on the thicker and warmer side of average; it's definitely still a warm-weather piece overall, but maybe not ideally suited to the most blisteringly hot days. As long as temperatures aren't outrageous though, it's a very comfortable shirt with nice, casual styling and a fairly average, medium fit.
Fabric: Polyester 92% / Elastane 8%
Reviewer: 6′, 165 lbs / 183 cm, 74.8 kg
Size Tested: Medium
MSRP: $75
David Golay: In general, I quite like ¾-sleeve bike jerseys since they offer a little bit of elbow protection from passing brush and sun, while generally not being dramatically warmer than short-sleeve shirts, and the Gore C5 Trail is a solid one. The fabric is a fairly standard, synthetic jersey material, with very good breathability and durability, and reasonably soft on-skin feel.
The fit is by no means super tight, but is a little on the trim side, especially through the chest and upper arms; the lower parts of the sleeves open up somewhat (Gore makes a point of noting elbow-pad compatibility), as does the lower part of the body. There's also a slightly dropped tail that offers solid coverage (though it's overall shorter than the Endura SingleTrack Merino T above), and a V-neck collar.
Unlike the Endura SingleTrack Merino T, this is clearly a mountain biking piece; it'd look a bit out of place in casual wear. On the bike though, it fits somewhat snug without being restricting, wicks moisture quickly, and is overall a well-ventilated ¾-sleeve jersey that's well suited for hot weather use.
Fabric: Endura MTR and MT500 fabrics (100% polyester)
Reviewer: 5'10"; 165 lbs / 178 cm, 75 kg
Size Tested: Medium
MSRP: $75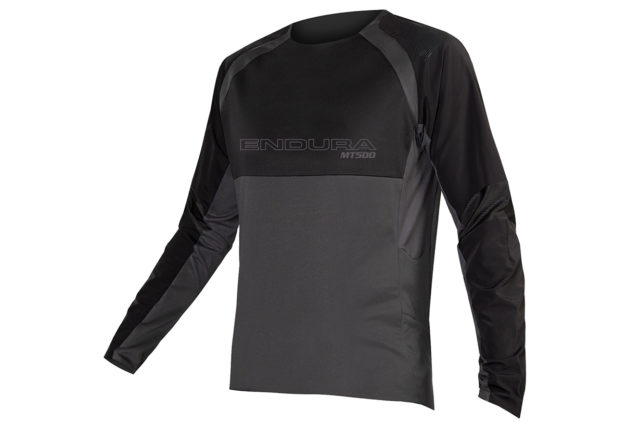 Eric Freson: In all but the hottest weather, I typically find myself reaching for a long-sleeve jersey for the added sun and abrasion protection while riding. The Endura MT500 fits the bill nicely, and its mix of fabrics and relaxed, but not totally baggy fit made it comfortable and enjoyable to ride in.
The majority of the MT500 is made of Endura's lighter and more breathable polyester MTR fabric, which helps to keep the jersey feeling relatively cool, even in midsummer temps (about 70–80°F / 21–27°C) or during heavy output. If you run hot, or ride in extremely hot or humid environments, this isn't the thinnest / most breathable fabric I have found in a mtb jersey, and you may find yourself getting warmer than you'd like. But in general, it breathes well and definitely didn't have the feeling that I was wearing a plastic bag.
The silicone-printed shoulder zone and the burlier MT500 fabric in the shoulder and sleeves were appreciated when I eventually did hit the deck in the jersey, helping to keep my body from getting to mangles as best as possible and holding up well to a high-speed crash. Over the jerseys here, I'm confident this one is the most durable.
I found the stated "relaxed" fit to not be over-the-top loose — easily accommodating my low-profile elbow pads, but never feeling like I was wearing a poncho. I appreciate any jersey that tapers the forearms, and the MT500 checks that box. If you wear bulkier armor, I suspect you might find the fit in the chest and shoulders bordering on "snug." The MT500's longer sleeves and tail help to keep good coverage when stretched out on the bike as well. Overall, the MT500 held up well, has a good cut for a mtb jersey, and looks the part. Check it out, especially as a jersey than can work for warm days as well as cooler, shoulder-season ones.
Fabric: 95% Polyester / 5% Spandex; Bluesign® approved
Reviewer: 5'11", 155 lbs / 180 cm, 70 kg
Size Tested: Large
MSRP: $50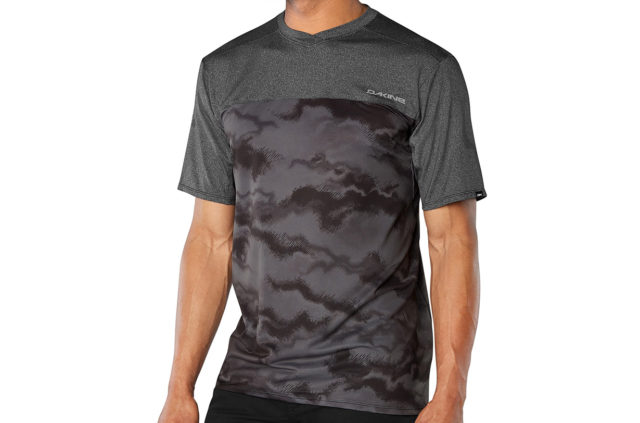 Dylan Wood: Dakine calls their Vectra Short Sleeve Bike Jersey "a casual, quick drying all-mountain jersey." I'd say that's pretty accurate. The cut closely resembles a T-shirt, but with a 2" (5 cm) drop rear hem for extra coverage on the bike. Combined with its stretchy, lightweight, polyester / spandex fabric, that makes for a relaxed, comfortable, and nonrestrictive fit.
I've enjoyed both the casual style and on-the-trail function of the Vectra S/S. The material is pretty thin, comfortable, and feels very light on the skin. I've been using the Vectra S/S jersey on many long, hot rides, and even in the Black / Dark Ashcroft colorway, the jersey has been comfortable and cool enough for me in temperatures pushing just past 80°F / 27°C. Another bonus is that the fabric's Polygiene odor-resistant treatment means this jersey will last much longer without stinking compared to most synthetic options with any sort of treatment.
The Vectra S/S is a great option for riders looking for a light, breathable jersey that looks and feels good on and off the bike. I have enjoyed mine and it will continue to stay in my jersey rotation. The only weaknesses of this jersey that I've noticed have been pretty predictable, given its light and breathable fabric: it's not ideal for riding in cool or cold conditions and it is not as durable as some less breathable options, such as Dakine's Thrillium short-sleeve bike jersey (which is also worth a look if you want something burlier).
Fabric:
Body: 92% polyester / 8% spandex
Mesh: 88% polyester / 12% spandex
Reviewer: 5'8", 155 lbs / 173 cm, 70 kg
Size Tested: Medium
MSRP: $65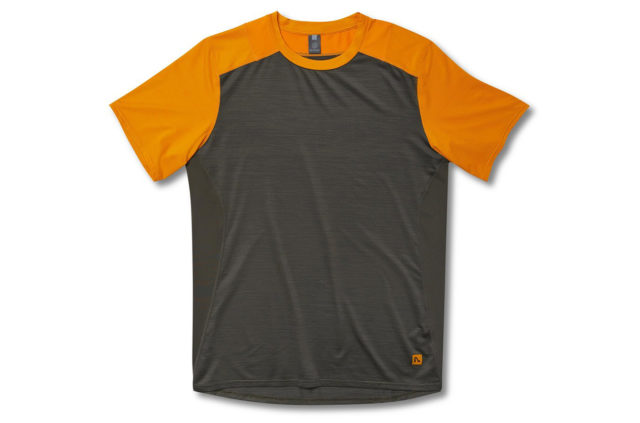 Luke Koppa: The Flylow Garrett Shirt combines a very thin, airy fabric with a roomy fit — a combo that can sometimes be hard to find.
Of all the jerseys I reviewed (see the 5 below), the Garrett is the one I most often choose for the absolute hottest days. I can feel air moving through it with just the slightest breeze, it wicks moisture and dries faster than all of the jerseys below, and I rarely feel like the fabric is sticking to me once I've really worked up a sweat. Without going to some see-through mesh thing, the Garrett is just about as breathable as I could want for the hottest days around Crested Butte & Gunnison.
As you'd expect, that also makes the Garrett less ideal for chilly weather. I'm happy riding in it in temps around 65°F / 18°C and above, but lower than that and I'd want something a bit thicker and less airy.
The Garrett has what I'd call a pretty boxy fit — it's pretty wide through the torso and shoulders, not super long in the front, has long sleeves for a short-sleeve jersey, and a significant drop-tail hem. So this isn't the best choice for those who prefer a slim and sleek look (it's one of the roomiest jerseys here), but would be really appealing if you want a very breathable jersey for hot days, but you're not a fan of the slim fits that often come with the most breathable fabrics.
Other highlights include a Polygiene treatment that has typically let me wear the Garrett for 2-3 rides before it starts getting really stinky, and the fact that you can get it for 50% as of publishing this article, which equates to a really good deal.
Fabric: 82% Micromodal / 18% elastane
Reviewer: 5'8", 155 lbs / 173 cm, 70 kg
Size Tested: Medium
MSRP: $89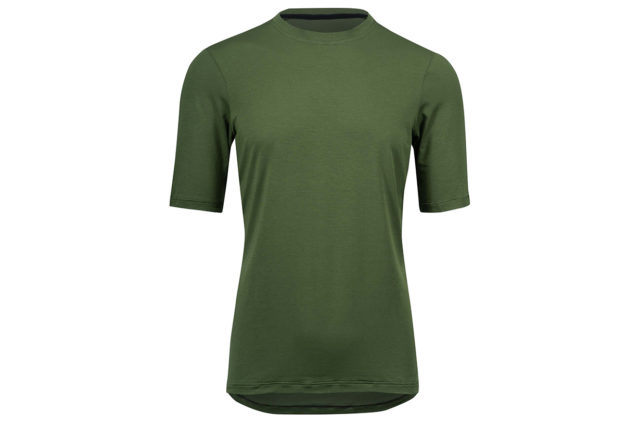 Luke Koppa: I've become accustomed to seeing Micromodal fabric primarily on casual pieces like regular T-shirts and underwear, so I was a bit surprised to see it used on a Velocio mtb jersey.
Turns out, Micromodal can also make for a pretty sweet jersey. The standout characteristic of the Micromodal Trail Tee is how incredibly soft and comfortable the fabric is (one of the softest "technical" fabrics I've ever used). But it's also very thin, light, and breathable, coming close to the Flylow Garrett in terms of breathability. The one downside with the Micromodal fabric in hot (and particularly humid) weather is that, like most cellulose-based fibers, it absorbs more water than most synthetics and doesn't dry as quickly. And due to how the fabric gets darker once wet, people will know how hard you've been working (which I guess could be a good thing, or a bad thing?).
With that said, in very hot + dry weather, the Micromodal Trail Tee is still one of my favorites thanks to how breathable, light, and soft it is. It's not as good as predominantly wool pieces in terms of odor resistance, but I can usually get 2-3 rides in before the Micromodal Trail Tee really starts to smell.
The fit of the Micromodal Trail Tee is definitely on the slimmer side — it fits me fairly snug through the chest, shoulders, and sleeves, though the stretch of the fabric and the on-bike-oriented fit equate to no limit in range of motion. But if you prefer a roomier, more casual-looking T-shirt fit, I'd look to the Garrett, Dakine Vectra, or Patagonia Capilene Cool Daily Shirt.
For those who prefer a slightly slimmer fit, want a mtb jersey that's exceptionally soft, and who ride in a lot of hot, dry weather, the Micromodal Trail Tee offers a lot to like. Velocio's jerseys also stand out from many other brands thanks to their typically mono-tone colorways and notable lack of logos.
Fabric: Polartec Delta (51% polyester / 45% Tencel / 4% elastane)
Reviewer: 5'8", 155 lbs / 173 cm, 70 kg
Size Tested: Medium
MSRP: $69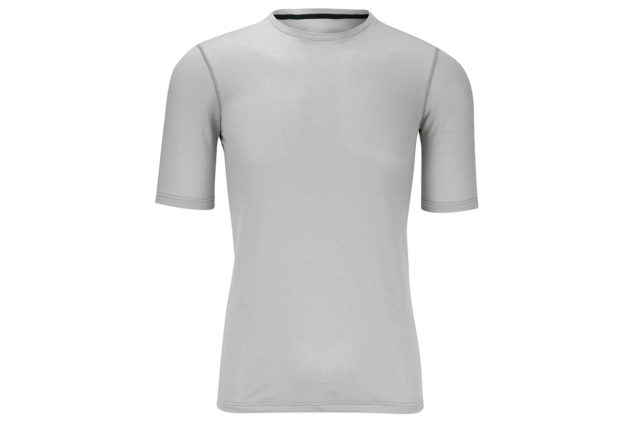 Luke Koppa: While Polartec has mostly become known for making fabrics that keep you warm, their Delta fabric is designed to actively cool you down. Basically, the goal of Delta is to regulate and even "hold onto" some moisture in order to take advantage of the cooling effect of evaporation, rather than simply trying to wick moisture away from your skin as quickly as possible. It does this by using a blend of hydrophilic fibers (Tencel lyocell) and hydrophobic fibers (polyester), and features a much more textured knit structure than a regular jersey knit.
Velocio uses Polartec Delta on their Radiator Trail Tee, and it pretty much lives up to Polartec's claims. The fabric is thicker than the two jerseys above (though not much heavier, due to its lower-density knit) and doesn't feel quite as breathable, but I've very rarely ever found myself feeling too hot in the Radiator. I think it is best suited to drier environments, since if it's super humid (e.g., summers in central Wisconsin), I'm personally more concerned with feeling dry than I am feeling cool, so I'd opt for something that wicks and dries faster. YMMV
But even if it's not super hot and the Radiator Tee does start getting a bit wet from sweat, the textured knit feels notably less clingy and sticky than all the other jerseys I reviewed. It's not an ultra-soft fabric like Micromodal or the Patagonia Merino 3/4-Sleeved Bike Jersey, but I've never found myself complaining about that on the bike and have had no chafing problems. As for odor resistance, the Radiator starts to stink pretty fast, but it's in line with most synthetic fabrics I've used; I'll typically need to wash it after 1-2 rides.
In terms of fit, the Radiator is very similar to the Velocio Micromodal Tee — definitely on the slimmer side overall, but with enough coverage at the back and a very comfortable, non-restrictive fit while leaned over on the bike.
Fabric: 83% merino wool / 13% nylon / 4% elastane (140 gsm)
Reviewer: 5'8", 155 lbs / 173 cm, 70 kg
Size Tested: Medium
MSRP: $90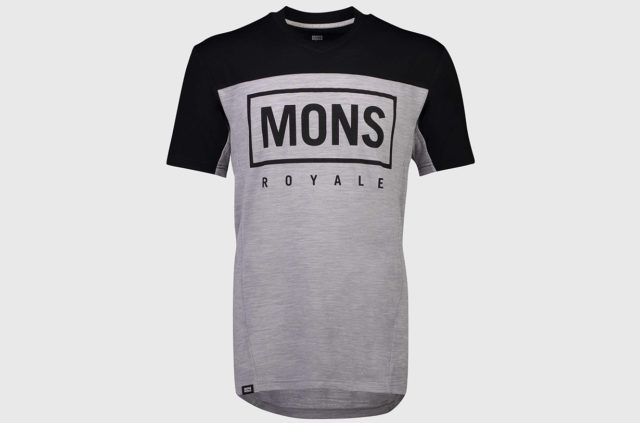 Luke Koppa: I've long been a fan of Mons Royale's merino apparel for everything from cold ski days to hot bike rides. The Enduro VT is their slim-fitting, short-sleeve jersey option, and as with most merino pieces, I've enjoyed riding in it across a very wide range of temperatures.
The Enduro VT's 140 gsm fabric is not the softest merino blend I've worn, though I only notice this while driving or hanging out in it, not while on the bike. Just keep that in mind if you have sensitive skin and often avoid wool fabrics because of that.
In terms of performance, the fabric is very breathable (more so than the next two pieces), wicks moisture well for being predominantly wool, and has held up surprisingly well to nearly two full seasons of use and a few crashes. It's not the fastest drying, but it seems to absorb less sweat compared to the Patagonia Merino ¾-Sleeved Jersey, to the point that I've very rarely had an issue with the Enduro VT feeling too wet. Mons also added a pinhole-knit mesh on the sides, which offers even more airflow where you need it. And as with most predominantly wool pieces I've used, the Enduro VT is excellent in terms of how many times I can use it before feeling the need to wash it — I usually end up washing it because it's become dirty from dirt or sweat-salt stains, rather than because it actually smells very bad.
The Enduro VT's fit is quite slim through the torso, but it's also cut with pretty broad shoulders, longer sleeves, and a longer overall length than most of the short-sleeve jerseys I reviewed. The result is a comfortable fit on and off the bike, looking a bit more relaxed than the Velocio Tees but not nearly as baggy as the two below or the Flylow Garrett. Plus, I really dig the simple color blocking and V-neck silhouette.
Unique to the jerseys I reviewed, the Enduro VT features both a zippered pocket on the back-left of the jersey and a microfiber lens cloth sewn into the front of the hem. I don't end up using the pocket very much just because I pretty much always have storage options elsewhere, but it'd be good for small, light items like a credit card, ID, or key. I do use the lens wipe all the time (which I admittedly did not expect). Whether for wiping sweat smudges off my sunglasses before descending or occasionally cleaning my camera lens, it's proven to be a really nice feature that I never knew I needed.
The Enduro VT is far from cheap, but I've come away impressed by how well it has held up (especially for a wool piece); it's well-ventilated enough for all but my absolute hottest days; and it's one of my favorites here to use as a baselayer under something else when things get colder, since it seems to offer more insulation than most of the other jerseys while still breathing really well.
Fabric: 65% RWS-certified merino wool / 35% recycled polyester
Reviewer: 5'8", 155 lbs / 173 cm, 70 kg
Size Tested: Medium
MSRP: $99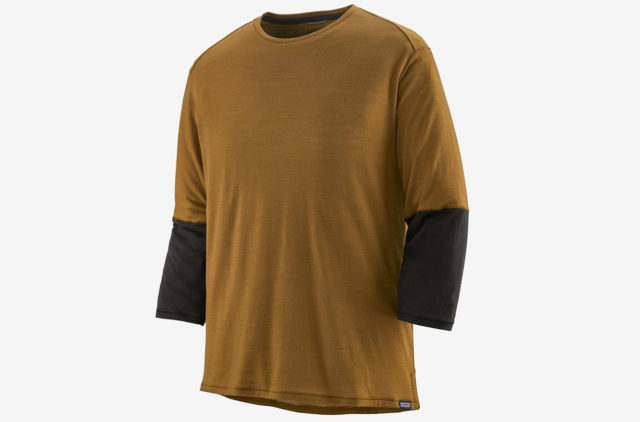 Luke Koppa: Patagonia's ¾-sleeved merino jersey is one of the softest predominantly wool layers I've worn — and actually, it's just one of the softest jerseys I've worn, period. Combined with its fairly relaxed, yet not super baggy fit, that's lead to me wearing it very often both on and off the bike.
Overall, I think this jersey works best as a shoulder-season piece that you'd use on its own in moderate temps (for me, that'd be around 50–70°F / 10–21°C) or under another layer when it gets cold. While the fabric breathes quite well, it also doesn't wick moisture nearly as quickly as the next shirt or the Flylow Garrett. I've still felt fairly comfortable using it in temps up to around 80°F / 27°C, but I usually end up pretty damp with sweat at the end of the ride, and that leads to a fairly clingy feeling at the forearms and chest due to the supple nature of the fabric.
But in less brutal temperatures, I've loved this jersey. Its fit strikes a nearly perfect balance for my personal preferences — baggy enough that I don't feel self-conscious about what my waistline is looking like on a given day (whether on or off the bike), but without a really boxy-looking cut through the torso. And I think some of that also comes down to the fabric — it's very supple and just drapes really nicely.
The ¾-sleeve openings are wide enough for lower-profile elbow pads I've used, though I think it'd be a tight fit with bulkier, DH-oriented pads. And those sleeves are great for just a bit of extra coverage from the intense sun in Crested Butte.
I don't have enough time in this jersey to comment on long-term durability, but it wouldn't be my top pick if you fall a lot or ride on trails where you're very frequently brushing up against trees and bushes. The soft and stretchy fabric doesn't seem like it'd hold up to abrasion as well as most of the synthetic options here, though there's a chance that the 35% recycled polyester content might help it fare better than 100% merino fabrics.
Despite its significant polyester fiber content, the Merino ¾-Sleeved Bike Jersey seems to have maintained most of wool's anti-odor properties. I can often get in 3-4 rides before it starts to really smell.
This is another pretty expensive jersey, but as someone who doesn't like to really look like a biker when not on my bike, it's one that I truly end up wearing just as often around town as I do on a trail. If a soft, odor-resistant, and breathable fabric, middle-of-the-road fit, and slightly higher-coverage silhouette are what you're after, this one warrants consideration.
Fabric:
Solids: 100% recycled polyester
Heathers and cross-dyes: 100% polyester (50% recycled)
Reviewer: 5'8", 155 lbs / 173 cm, 70 kg
Size Tested: Medium
MSRP: $35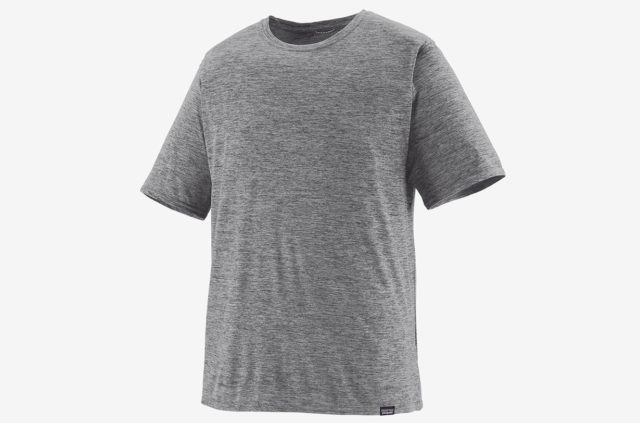 Luke Koppa: The Capilene Cool Daily Shirt isn't designed specifically for mountain biking, but I really like using it for that and lots of other activities.
First off, at $35, the Cap Cool Daily Shirt is the least expensive option here (there are plenty of high-end, cotton T-shirts that cost the same). But it still uses a fast-wicking, silky smooth recycled polyester fabric that feels slightly cool on skin, making it notably more comfortable than any cotton shirt when things get hot and sweaty.
The Capilene Cool Daily fabric isn't quite as airy or lightweight as the other synthetic jerseys I reviewed, but thanks to its quick-drying and cool-to-the-touch feel, I rarely feel like I need something more breathable on really hot days. And with its HeiQ Fresh odor-control treatment, I find I can get away with riding / hiking in it for at least a few days before it gets smelly, which is impressive for a fully synthetic piece.
Another reason why I like this shirt is that it has a pretty standard, if not slightly roomy T-shirt cut. It looks just like a regular T-Shirt off the bike, would work well if you prefer slightly looser jerseys, and despite not having a bike-specific fit, I've never felt like it was bunching or grabbing me in any particular spot. While it lacks a significant drop-hem, the size Medium is long enough on me that I never felt it rising above my butt, though that might not always be the case for taller folks.
There are slimmer and more breathable jerseys out there, and there are plenty that look more like, well, bike jerseys. But if you prefer a simpler aesthetic, don't want to spend a ton of dough, and want a shirt that you can wear for riding, hiking, and just out in the regular world, the Capilene Cool Daily Shirt is a great choice.
Fabric: 92% polyester / 8% spandex
Reviewer: 5'10", 175 lbs / 178 cm, 79 kg
Size Tested: Medium
MSRP: $75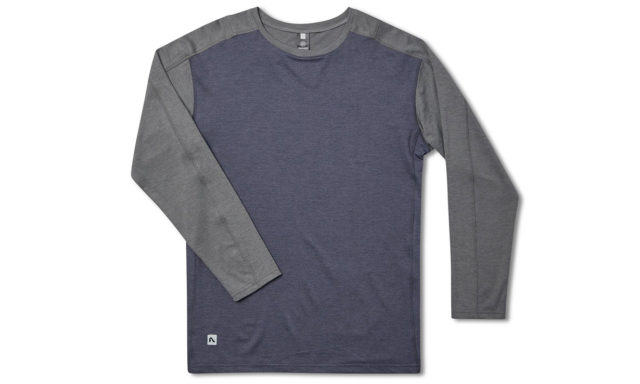 Jonathan Ellsworth: Thanks to its durability, versatility, and fit, the Shaw has been the shirt I've worn most over the past two seasons of mountain biking.
First, as Flylow points out in their own product copy, they say the Shaw is "inspired by downhill bikers but perfectly suited for everyone else" — and I agree. And mostly what that means is that I have found it to be very durable for how light the jersey feels. While Crested Butte doesn't experience some of the scorching temperatures of other bike spots, I don't mind longer climbs (2+ hours) in the Shaw in 75 – 80° Fahrenheit temps (24 – 27°C). Just push up those longer sleeves (that easily stay up) and I'm good.
And while I'm not saying this shirt beats out any others in this roundup for truly hot temps, I would want to make the case for the Shaw for those days where you'll experience a range of temperatures — on colder, early morning starts, or those evening rides where you are riding back in the dark with plunging temps, the Shaw is pretty ideal.
Finally, the fit: I'd call it loose / baggy. Not slim. A size Medium is quite roomy and breezy on my 5'10", `175 lb frame. And while I personally tend to prefer a slimmer fit for my casual and dress shirts, if I'm pedaling around and crashing on a mountain bike, I've come to really like the roomier fit of the Shaw in a size medium.
So, in sum: excellent durability, very good versatility (across a range of temperatures), and a looser fit that never ever feels annoyingly restrictive on the bike. I'm a big fan, and will probably be picking up another one (or two).