Intro
For many folks, we're now in ski season in the Northern Hemisphere, but a lot of (fool)hardy souls like me are still getting out there on mountain bikes. I've been testing a range of jackets that can make the experience of riding in the cold and wet a whole lot more comfortable, and am ready to report on what I've found. There are options here ranging from light windbreakers to burly 3-layer waterproof shells with tons of features, so there's something for everyone, even if you're not trying to mountain bike through a wet PNW winter.
[At the time of writing this intro, I am recovering from a night ride in the rain, with the help of some bourbon.]
Finally, before we dive in, if you're feeling rusty on some of the finer points of outerwear tech, you might want to take a pass through our Outerwear 101 article, or refer to it as you're working your way through this one. We also talked about some of the highlights from the jacket roundup, and more, on Episode 43 of our Bikes and Big Ideas podcast.
Flylow Davis
Size Tested: Medium
Blister's Measured Weight: 144 g
Fabric: Intuitive S/G Lite (100% nylon)
Stated Features:
Helmet compatible hood with elastic cinch
Stows into chest pocket
Neck snaps "for aerodynamic descents"
Pockets:
1 Exterior chest pocket, zippered
MSRP: $125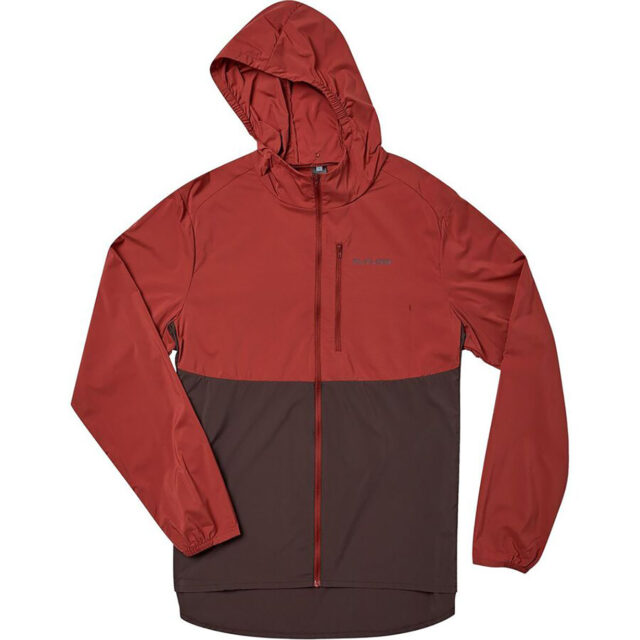 David Golay (6′, 165 lbs / 183 cm, 74.8 kg): The Flylow Davis is easily the lightest and most packable jacket in this roundup, but it's also the least weather resistant. It's essentially a highly breathable windbreaker, which works well as an emergency layer for a little extra warmth and some very mild water resistance in the case of a light shower. It does breathe extremely well, and the fabric is soft and comfortable against the skin.
The fit is fairly roomy in the body, with a lot of room to layer underneath the jacket, but the fabric is light and supple enough to hang cleanly and not feel too bulky, despite the somewhat loose fit. I do wish the sleeves were a little longer — at 6' tall and in a size Medium, they're not wildly short, but do pull up just enough to expose a little gap between the sleeve cuff and most gloves.
The Davis is bare-bones, with a single chest pocket, non-adjustable cuffs, and relatively few other features, but for a very light, very packable option for days where you don't expect a ton of precipitation at a reasonable price, the Davis fits the bill.
Patagonia Dirt Roamer
Size Tested: Medium
Blister's Measured Weight: 233 g
Fabric: 100% Recycled nylon with knit polyester backer
Stated Features:
Stowable, helmet-compatible hood
Built in stow pocket for jacket
Pockets:
1 Interior chest pocket, zippered
1 "Stow" pocket at back of hem, zippered
MSRP: $229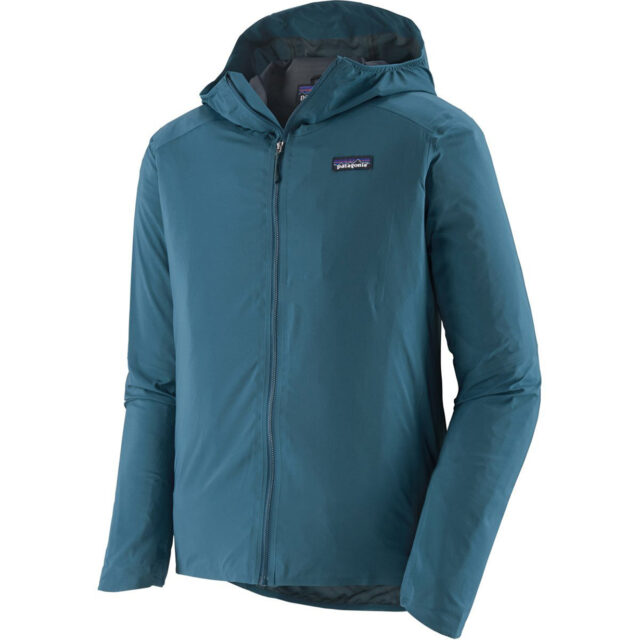 David Golay (6′, 165 lbs / 183 cm, 74.8 kg): The Patagonia Dirt Roamer is another relatively lightweight, packable jacket, but it is a substantial step up in terms of warmth and weather resistance over the Flylow Davis (at the expense of quite a bit of breathability). The Dirt Roamer's fabric is a two-layer laminate, but it doesn't contain a waterproof membrane. Rather, this construction allows Patagonia to pair a more weather-resistant nylon face fabric with a softer, more comfortable backer.
The fabric is very slightly stretchy, and breathes better than the truly "waterproof" options below that do feature a membrane, while offering a bit of water resistance. The balance it strikes, though, feels like its performance window is a bit narrowly constrained, especially for use in a wetter, not-super-cold climate like the PNW. If it's actively raining out, I'd rather be in something truly waterproof; if it's not, it needs to be relatively cool (maybe mid-40s Fahrenheit, ~7° Celcius) before I'm comfortable leaving the Dirt Roamer on for an entire ride.
As a very packable jacket for drier climates and cooler weather, the Dirt Roamer probably makes more sense, but for my personal use cases, I often wished it was either more waterproof or more breathable (both would obviously be great, but unfortunately unrealistic).
Where the Dirt Roamer has worked well for me is rides where it's not raining out, but the ground is wet and I'm looking to protect myself from spray off the tires on the way back down. In that case, the low weight and good packability of the Dirt Roamer mean that it works well to put in or on my pack for the climbs, and put the jacket back on for the descents. Of course, a more waterproof jacket works for that use case too, but if you aren't finding yourself riding in wetter conditions than that often, the material used in the Dirt Roamer does breathe better and feel better against the skin than most fabrics with a membrane.
As far as fit goes, the Dirt Roamer is fairly middle of the road — neither ultra-trim, nor particularly loose and baggy. The hood works well over a helmet, and has an elastic loop on the back that can be used to roll up and stow it against the collar of the jacket. Overall, it's a solid option for a bit of warmth and moderate weather resistance, that would go from "good" to "great" if it was just a bit more breathable.
Luke Koppa (5'8", 155 lbs / 173 cm, 70 kg): I also got a chance to use the Dirt Roamer in the much drier climate of Crested Butte, Colorado, and I agree with David.
Unless it's pretty cold (just above freezing or below freezing), this isn't a "leave it on all day" piece for me. As David noted, it breathes better than pretty much any jacket I've used that has a waterproof membrane, but the Dirt Roamer also doesn't breathe as well as most single-layer softshells I've used.
As a result, I'll typically lash the Dirt Roamer to my hip pack on the climbs and throw it on for the descents when it's windy, chilly, and / or raining or snowing. The good news is that, for a place like Colorado (where we don't get a ton of rain and have pretty dry snow), the Dirt Roamer has provided enough weather resistance for most snow storms and brief afternoon rain storms. Given that it breathes better than a waterproof shell, it's a bit more versatile for shoulder-season weather here than a waterproof shell, though if I knew I'd be riding for most of the ride in substantial rain, I'd probably go with something more water-resistant / less breathable.
So overall, I think of this more as a shoulder-season piece and I agree in that its "ideal conditions" range is a bit narrower than some other pieces here.
Endura MT500 II
Size Tested: Medium
Blister's Measured Weight: 513g
Fabric: 3 Layer ExoShell40DR
Stated Features:
PFC-free DWR
Adjustable, helmet-compatible hood
Silicone shoulder grips
Lycra inner cuff
Two way underarm zippers
Hand pockets double as vents
Pockets:
1 Interior chest pocket, zippered
2 Hand pockets, zippered
1 Wrist pass pocket, zippered
MSRP: $330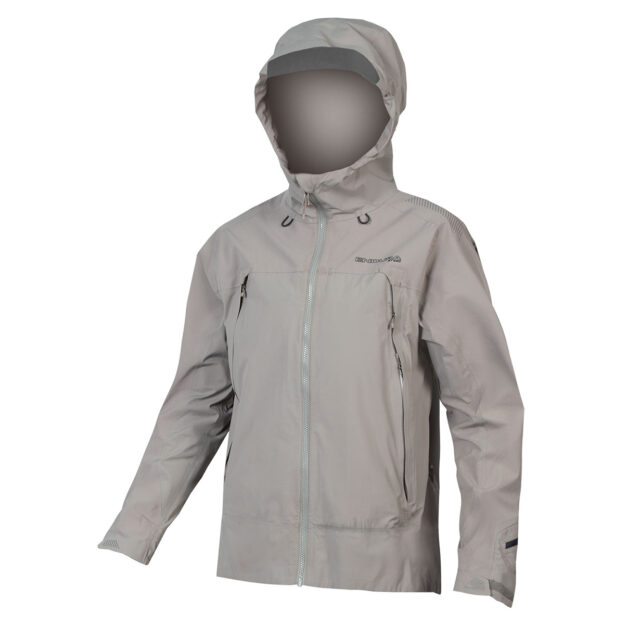 David Golay (6′, 165 lbs / 183 cm, 74.8 kg): The Endura MT500 II is the most fully-featured jacket here, and is an excellent choice for riders looking for a burly jacket for riding in truly horrible weather. Endura's proprietary ExoShell40DR fabric isn't quite as soft and supple as the very thin GoreTex Active 30D material used in the 7Mesh Skypilot or (especially) the Polartec Neoshell in the Fox Flexair, but it feels fine against bare skin, and hangs nicely. Endura rates the material at 20k waterproof and 40k breathable. While the fabric doesn't feel quite as outstandingly breathable as that rating might suggest, it's very good, and Endura supplements it with some very well designed and effective ventilation.
In addition to especially long pit zips, with double zippers so that they can be opened from either end, the MT500 II has massive hand pockets that also double as vents. The pockets extend most of the way up the chest of the jacket, again with double zips, and feature a very open mesh liner so that they work effectively as vents when opened. They're also deep enough that it's possible to crack the top of the pocket open while still having certain objects stored fairly securely at the bottom. It's an excellent arrangement, and makes the MT500 II one of the easiest jackets to keep on for an entire ride if conditions warrant.
The MT500 II has a slightly roomier fit than most of the jackets here, but I'd say it drapes well and doesn't feel excessively baggy. For my build (6', 165 lb) I wouldn't mind a slightly trimmer fit through the torso, but I'm also rarely, if ever, looking to wear more than a light jersey under a jacket on the bike. The MT500 II would be one of the better options here for riders needing to layer more heavily underneath a shell, or just looking for a slightly roomier fit in general.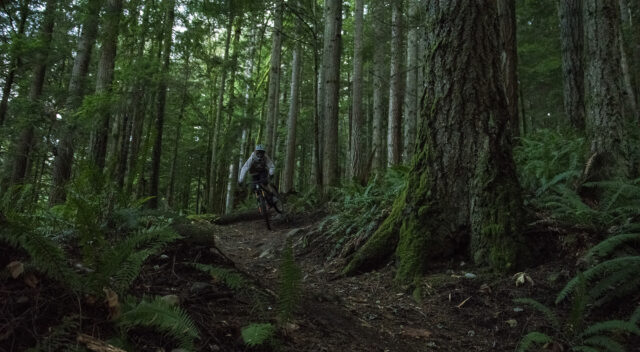 The MT500 II also features an exceptionally good helmet-compatible hood, that fits well over even larger, bulkier helmets and adjusts to fit snugly without impeding head movement or blocking field of vision. The MT500 II's feature set is rounded out with neoprene gaskets at the cuffs, a zippered lift-pass pocket on the left sleeve, and silicone grippers on the shoulders for pack straps.
All of this adds up to a jacket that's not especially light or packable, but is an outstanding option for riders looking for a very weather resistant, burly jacket with great ventilation. The MT500 II is likely to be overkill for a lot of riders, but for those venturing out in truly awful weather, it's a top option.
Gore C5 Trail Hooded Jacket
Size Tested: Medium
Blister's Measured Weight: 249 g
Fabric: Gore-Tex Active and Gore-Tex Paclite Plus
Stated Features:
Adjustable hood
Reflective details
Pockets:
1 Chest pocket, zippered
2 Hand pockets, zippered
MSRP: $280 (on sale for $196 at time of writing)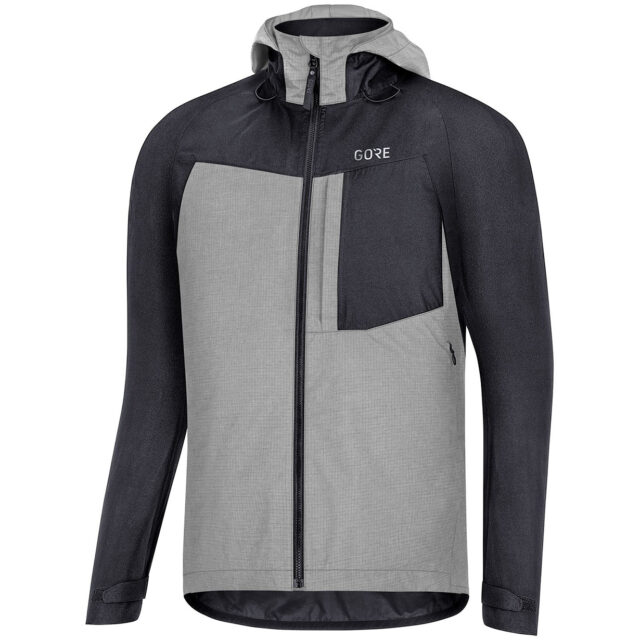 David Golay (6′, 165 lbs / 183 cm, 74.8 kg): Gore's C5 Trail Hooded Jacket is a very light, highly packable option with a notably trim fit, especially through the lower part of the torso. It uses a combination of Gore-Tex Active and Paclite Plus fabrics, with the Active fabric comprising much of the torso and hood. While the Paclite Plus fabric isn't quite as breathable or soft and comfortable against the skin as the higher-end Gore-Tex Active, the C5 Trail does a good job of blending the two to take advantage of the Active fabric where it's needed most, at a more affordable price than most jackets made of GoreTex Active throughout.
The C5 Trail is patterned very well for being worn on a bike, with a relatively short hem in the front that helps prevent the chest from bulging out, paired with a dropped tail that provides good coverage. The sleeves are comfortably long, and feature adjustable cuffs with an extended flap that hangs about an inch over the back of the hand and does a good job of blocking wind and rain from entering between the cuffs and a glove.
The hood, on the other hand, is less well thought out. It isn't helmet compatible, which I find to be a baffling choice for a mountain-bike-specific jacket. If you need to, it does fit under a helmet okay, but that's both less comfortable and less practical than putting the hood up and down as needed over a helmet, and I'd much prefer a larger, helmet-compatible hood on the jacket.
Breathability is good, but the C5 Trail jacket doesn't have much by way of ventilation, with no pit zips or the like. The 2.5 layer Paclite Plus material used in the sleeves and shoulders is also a bit clammy against bare skin, making the C5 Trail more comfortable when worn with a long-sleeve jersey underneath. Especially at its current sale price, though, the C5 Trail is a good option for riders looking for a light, packable jacket with a fairly trim fit, that's really only let down by the hood.
7Mesh Skypilot
Size Tested: Medium
Blister's Measured Weight: 251 g
Fabric: Three-layer GoreTex Active, 30 denier, C-Knit backer
Stated Features:
Adjustable, helmet-compatible hood
Reflective logos
Waterproof zippered hand pockets
Pockets:
MSRP: $350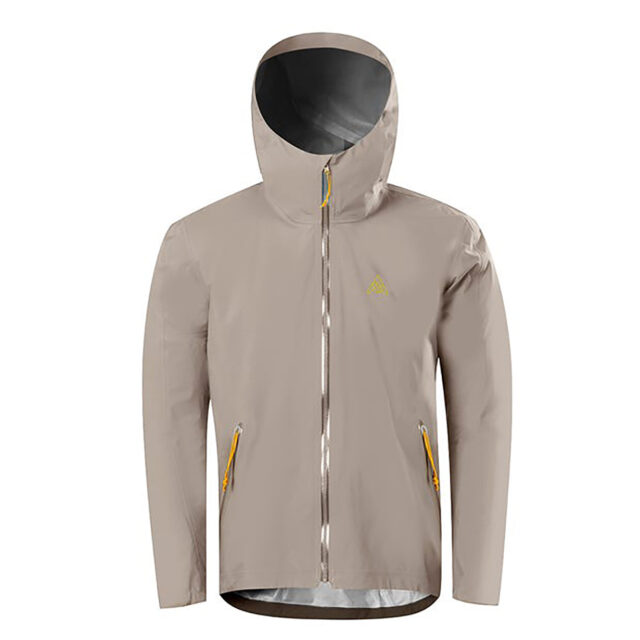 David Golay (6′, 165 lbs / 183 cm, 74.8 kg): Like the Gore C5 Trail, the 7Mesh Skypilot is an extremely light, packable shell, but the Skypilot uses GoreTex Active throughout the entire jacket. The result is a jacket that breathes just a little better than the C5 Trail, and feels slightly less clammy against the skin through the sleeves — the C-Knit backer on the GoreTex Active fabric is a real improvement over GoreTex Paclite Plus here — but at a considerably higher price.
The Skypilot also features a helmet-compatible hood, which is a welcome change from the C5 Trail. The Skypilot's fit through the torso is slightly roomier, though by no means baggy, and the Skypilot is similarly well patterned for use on a bike, with a short front hem, dropped tail, and ample sleeve length.
The Skypilot is relatively light on features, in the service of cutting weight and increasing packability. It doesn't have pit zips and the cuffs are non-adjustable, though they feature an effective elastic cinch that runs roughly half their circumference, on the inside of the wrist. Its two hand pockets are moderately sized, and feature waterproof zippers.
As a very light, very packable option to bring along in case of rain, or to throw on for descents to protect from spray, the Skypilot is outstanding. While it does breathe very well, the lack of additional ventilation makes it a bit harder to keep on for an entire ride in warmer temperatures than the (much heavier and bulkier) Fox Flexair Neoshell or Endura MT500 II in particular. That's a tradeoff that I think will work well for a lot of people, though, and if you're looking for a very packable waterproof / breathable shell, the Skypilot is outstanding.
Fox Flexair Neoshell
Size Tested: Medium
Blister's Measured Weight: 461g
Fabric: Polartec Neoshell
Stated Features:
Underarm vents with waterproof zippers
Adjustable cuffs
Adjustable, helmet compatible hood
Waterproof zippers on hand and chest pockets
Pockets:
1 Chest pocket, zippered
2 Hand pockets, zippered
MSRP: $400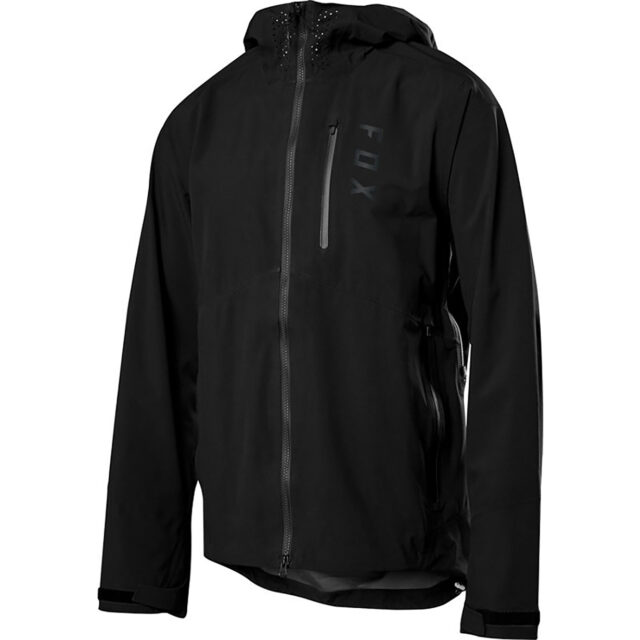 David Golay (6′, 165 lbs / 183 cm, 74.8 kg): The Fox Flexair Neoshell is a new offering using Polartec's air-permeable, waterproof Neoshell fabric, and it's outstanding. If you want to get a (whole lot) more on Polartec's Neoshell fabric, you should definitely check out Episode 122 of our GEAR:30 podcast, where we sit down with Polartec's Product Design Director, Michael Cattanach, and go deep on the company, their product offerings, and more. In short, though, what sets Neoshell apart from the other 3-layer fabrics used in the jackets featured here is that it's slightly air permeable, making it not quite 100% windproof. Despite that, Neoshell is waterproof, with a stated 10K waterproof rating. It's also exceptionally soft and comfortable against bare skin, and offers subtle four-way stretch.
Of the waterproof options in this roundup, the Flexair Neoshell is easily the most breathable, and Fox supplements the outstanding breathability of the Neoshell fabric with some cleverly designed venting. The Flexair Neoshell features pit zips with a waterproof zipper (and a single pull, which opens from the bottom), and perforated panels on the upper back and front of the collar. The upper back panel is covered with a baffle that does a good job of keeping water from entering through the perforations (which are about ⅛" / 3 mm in diameter), but the panel is still effective in improving ventilation — I experimented with taping the baffle shut, and it does make a slight, but appreciable difference. I'm more skeptical that the perforations in the collar make much difference, but they're certainly not hurting anything.
All of this adds up to the Flexair Neoshell being the most comfortable, and easiest jacket to wear through an entire ride of any of the waterproof options here. Of course, that last part is an important caveat — waterproofness and breathability are in direct conflict with each other, and if you're not riding in conditions that require a waterproof shell, we'd strongly encourage you to look at one of the softshell options here. As the other side of that same coin, the Flexair Neoshell also isn't the first jacket I'd reach for if I was planning something truly deranged, like an all-day ride in a downpour. For the vast majority of wet-weather mountain biking, though, the Flexair Neoshell is every bit as waterproof as I need it to be.
The fit of the Flexair Neoshell is slightly on the trimmer side of average through the body, but not super slim. The sleeves, though, are long and generously cut, and feature effective velcro cuff adjustments. The hood is helmet compatible and adjustable, and does a notably good job of cinching down small enough to be used without a helmet apres-ride.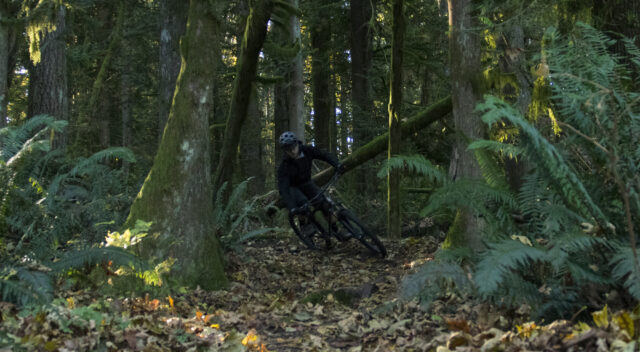 My only real complaint with the Flexair Neoshell is that the main zipper is a bit stiffer than I'd like, both in terms of how easy it is to operate, and in that when closed, it doesn't bend with the jacket as smoothly as it could. It's a minor gripe on an otherwise great jacket, but given the premium price the Flexair Neoshell commands, it seems fair to expect a nicer zipper.
At $400, the Flexair Neoshell is the most expensive jacket here, but it's also one of the best in my opinion. Polartec's Neoshell fabric is truly outstanding when it comes to breathability and comfort in a waterproof fabric, and it's packaged into a smartly designed jacket with great fit and ventilation. For riders putting in a lot of miles in damp, cool weather, it's a worthwhile investment to make those rides a lot more pleasant — and hopefully encourage them to brave the elements a bit more often.
RaceFace Conspiracy
Size Tested: Medium
Blister's Measured Weight: 237g
Fabric: Waterproof, 3 layer, 10k breathable
Stated Features:
Helmet-compatible hood
Underarm gills
Bonded rubber elbow patches
Pockets:
1 Interior chest pocket, zippered
MSRP: $200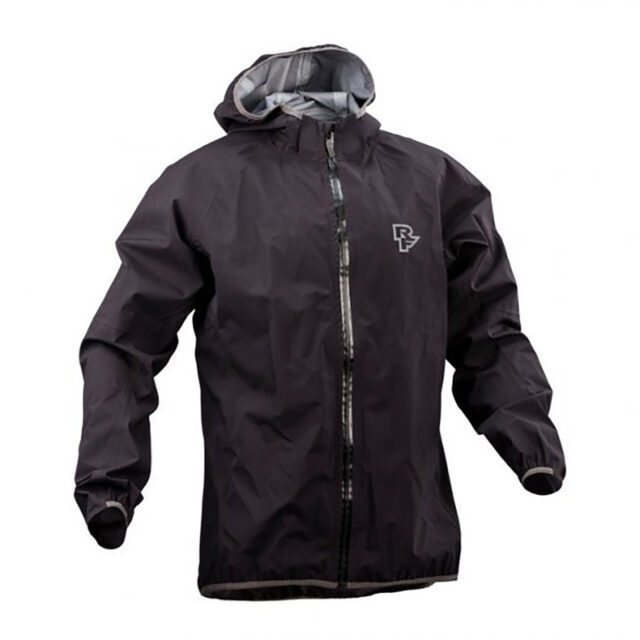 David Golay (6′, 165 lbs / 183 cm, 74.8 kg): The RaceFace Conspiracy is both the least expensive (at retail price) and the lightest of the waterproof options here. The tradeoff here is in comfort and breathability — the face fabric used in the Conspiracy is the least supple of any of the jackets in this roundup, and the backer is quite minimal and a bit clammy feeling. The fabric is also not especially breathable, though RaceFace does include some fairly effective pit "gills" — essentially two slits per side that run at an angle across the underarm, and offer some ventilation. They're not adjustable or closeable, but do a good job of adding some ventilation without taking all the structure out of the jacket, as wide open pit zips can, or providing a big enough opening for an appreciable amount of water to enter.
The Conspiracy features printed on reinforcements of the elbow areas — a sensible-seeming feature to bolster a particularly vulnerable part of a mountain bike jacket, but is otherwise light on features. The hood fits over a helmet, but is non-adjustable and doesn't always stay up very well, and the cuffs are non-adjustable as well. Both the hem and the sleeves are a little on the short side, making this the only jacket of the bunch where I'd consider sizing up to a Large (at 6', 165 lb / 183 cm, 74.8 kg). I would worry about the chest being too baggy in the Large, though. Given the relatively stiff fabric, the Conspiracy is somewhat prone to bulging out and not hanging neatly in the chest.
The Conspiracy isn't quite as comfortable or refined as some of the more expensive options in this guide, but is a potentially compelling option for riders looking for a lightweight, packable shell to stash in a pack or more occasional emergency use, at a comparatively modest price.
Outdoor Research Ferrosi Hooded Jacket
Size Tested: Medium
Blister's Measured Weight: 389 g
Fabric:
Body & Hood: 86% nylon, 14% spandex 90D stretch woven ripstop
Shoulders & Lower Sleeves: Cordura 91% nylon, 9% spandex 120D stretch woven
Stated Features:
Adjustable hood
Left hand pocket doubles as stuff sack
Key clip
Thumb loops
Pockets:
1 Chest pocket, zippered
2 Hand pockets, zippered
MSRP: $129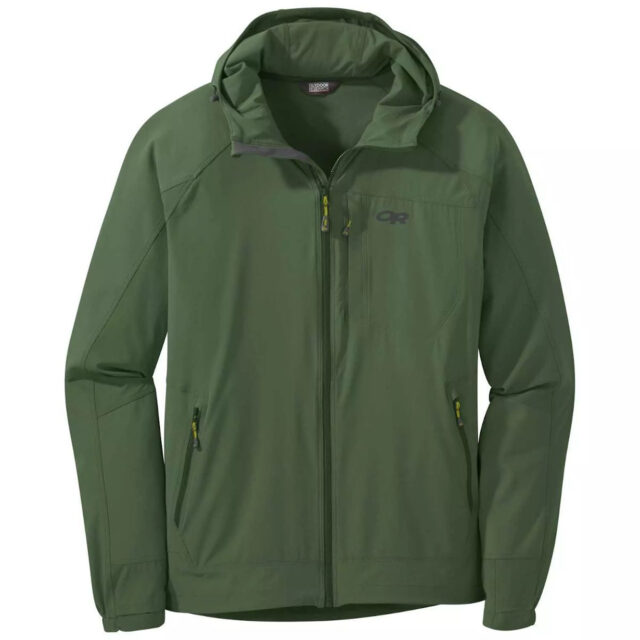 David Golay (6′, 165 lbs / 183 cm, 74.8 kg): The Ferrosi isn't actually a mountain-bike-specific jacket, but it's still one of my favorites for slightly damp days where I'm looking for a highly breathable extra layer with a touch of water resistance. The Ferrosi is made from an exceptionally stretchy, comfortable softshell material, and while it's only moderately water resistant, it's extremely breathable, making it a great option for days when there's not a ton of rain in the forecast.
Compared to the Patagonia Dirt Roamer, the Ferrosi is a bit heavier and slightly less packable, and isn't quite as water resistant, but breathes much better. It's a tradeoff that's easy to make if conditions aren't terribly wet, and temperatures are cool enough that I'm likely to keep a jacket on for an entire ride, but makes less sense as an emergency layer in the event of rain.
The hood on the Ferrosi Hooded Jacket is only marginally helmet compatible — it's a bit smaller than ideal, but stretches enough to work in a pinch — though there's also a non-hooded version available. Fit is fairly average, with some room to layer underneath. A bigger hood and slightly trimmer fit through the body might make the Ferrosi a slightly better mountain biking jacket, but of course, it's not specifically meant to be one. In addition to being a good mountain biking jacket, the Ferrosi is extremely versatile. I've put at least one hundred days in mine, between mountain biking, on ski tours, hiking, and just wearing it around town, and it has served me well in all those roles.
Durability has been good too — I've done my fair share of crashing in the Ferrosi, and it's no worse for the wear. The Ferrosi is an excellent piece, and one that I still use on a mountain bike often, despite having a ton of bike-specific jackets to choose from.