Chromag Minor Threat
Wheel Size:
24'' for size S1
26'' for size S2
Travel:
Rear: 140 mm
Front:

140 mm (size S1)
150 mm (size S2)
Material: Aluminum
Stated Weight:
13.6 kg / 30.0 lb (S1)
14.0 kg / 30.9 lb (S2)
Price: $3,378 (complete bike)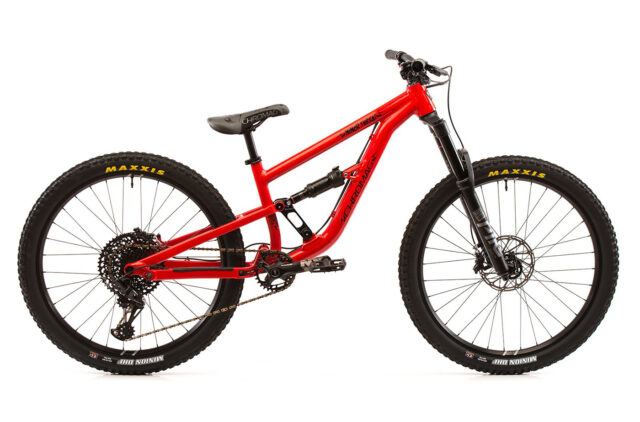 Intro
Today Chromag released their first-ever full-suspension bike, and their description of the new Minor Threat is simple: "why not put everything the grown-ups want, into a pint sized equivalent?"
The result is an unapologetically high-end kids' bike, with parts and geometry that would be perfectly at home on a nice adult bike — just made smaller. The Minor Threat is available in two sizes, which Chomag says covers riders from 4'2'' to 5'2'' (127 to 157 cm) and looks like a really impressive offering for the discerning young ripper. While we don't (yet?) have any reviewers in that size range, we still wanted to get a First Look up for the new bike for all the groms out there, so let's dive in.
The Frame
Folks familiar with Chromag might be expecting a hardtail that's made of steel, but the Minor Threat is neither of those things. Instead, it's an aluminum full-suspension bike with 140 mm of rear-wheel travel from a Horst-Link layout, and sized around 24'' and 26'' wheels (sizes S1 and S2, respectively). The Minor Threat gets a 148 mm Boost rear axle, a tapered headtube, ISCG-05 tabs for a chainguide, and a full-size 31.6 mm diameter seat tube. There's even a geometry-adjusting flip chip and size-specific chainstay lengths — all high-end, adult bike stuff you usually see us including in this section.
There's also room for a dropper post and tidy-looking internal routing for the derailleur cable through the chainstay, but all the other cable routing is external, for simplicity and ease of maintenance. Due to the diminutive size of the frame, there's no space for a water bottle cage.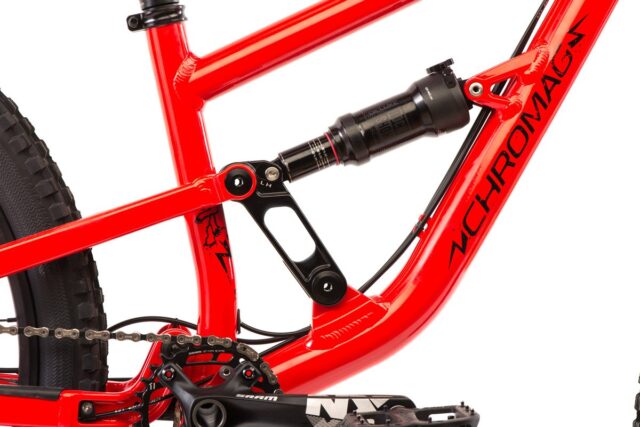 Chromag also publishes suspension kinematic data for the Minor Threat, and once again, it's well in line with what you'd expect from a modern adult bike. The leverage curve is significantly progressive and fairly straight, and there's about 108% anti-squat at topout, falling off to just over 50% by the end of the travel (the gear ratio used for the anti-squat graph isn't stated). It's also worth noting that the overall leverage ratio of the rear suspension is fairly high — starting at nearly 3.5:1 — in an effort to improve the suspension performance for lighter riders.
All of this is in keeping with Chromag's description of the Minor Threat as being essentially an adult bike, just downsized and tweaked for smaller riders, rather than some dumbed-down kids' bike. It looks infinitely nicer and more capable than anything I had as a kid, and it's super cool to see Chromag putting such a high-end kids' bike out there.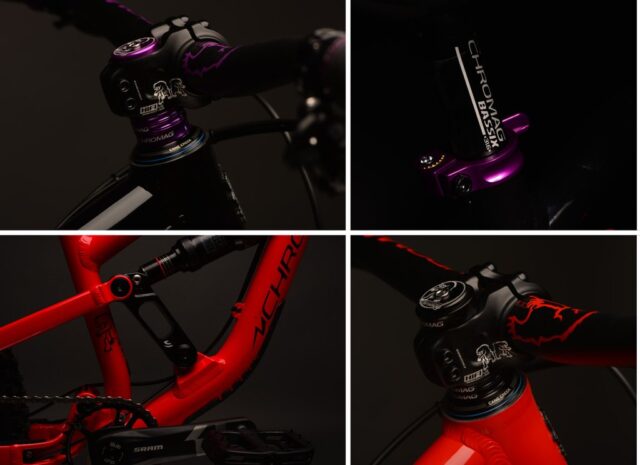 Fit & Geometry
As we mentioned up top, the Minor Threat comes in two sizes, with the smaller S1 getting 24'' wheels and the larger S2 bumping up to 26''. Both get a 64° headtube angle and 76° effective seat tube angle (low position; the high setting steepens both by a degree). The reach on the S1 measures 360 mm and its chainstays come in at 420 mm, all of which adds up to a 1090 mm wheelbase. The S2 adds 40 mm of reach and 10 mm of chainstay length, bringing the wheelbase up to 1144 mm. You can see the full geometry chart below:
As you've probably caught onto by now, all of that sounds pretty much like a modern adult Trail bike, just smaller. And while Chromag isn't totally alone in making such a progressive kids' bike, the Minor Threat is among the most modern, aggressive options out there.
Options, Pricing, & Build
The Minor Threat is only available as a complete bike and comes in a single build, which retails for $3950 CAD (about $3400 USD, at the time of publishing). The two sizes get the same build, apart from the change in wheel size and a tweak to the fork — the S1 gets a 140mm-travel RockShox Revelation RC, whereas the S2 gets a 150mm -ravel RockShox Pike Select. Both get a SRAM NX/GX mix for the drivetrain, including a 10-50t 12-speed cassette, and SRAM G2 R brakes with 180 mm rotors at both ends. The finishing kit is all Chromag's own, including the bars, stem, seat, grips, and seatpost, and Chromag provides the Ally rims and R4 hubs as well. Here's a breakdown of the main parts of the build:
Chromag Minor Threat: ($3,400)
Fork: RockShox Revelation RC (S1); RockShox Pike Select (S2)
Shock: RockShox Deluxe Select
Brakes: SRAM G2 R
Shifter: SRAM NX Eagle
Derailleur: SRAM GX Eagle
Cassette: SRAM NX Eagle
Crank: SRAM X1
Wheels: Chromag Ally Rims, Chromag R4 Hubs
At $3,400 the Minor Threat obviously isn't cheap, but it's an entirely reasonable value for what you get — both the price and the spec are well in keeping with what you might expect on an adult bike. It's a lot of money for a kids' bike, but it's also a lot more bike than most kids' offerings. The Norco Fluid FS 1 24 is one of the closest competitors we can think of — and also retails for $3,400 — and while the Norco adds a dropper post, it also comes with a lower-end SRAM SX drivetrain. All told, the Minor Threat actually looks like a very reasonable value for what you get, even if the price tag might induce some sticker shock from parents used to looking at more basic kids bikes.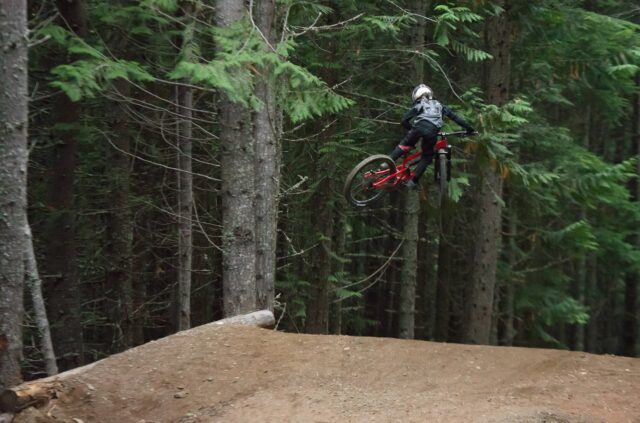 Bottom Line (For Now)
The Chromag Minor Threat is a surprising new direction for the brand, but also a super promising-looking, high-end kids' bike. While the price tag might put it out of reach for some people, it's great to see another option for a capable-looking, well spec'd kids bike to compete against the likes of the Norco Fluid FS 24, Commencal Clash Jr., and Propain Yuma, and we can't wait to see them out on the trail.