When considering a new mountain bike, there are so many similar-looking bikes on the market being made by so many different companies, it is virtually impossible to (1) know where to begin; (2) quickly figure out which one or two products from a given brand might work well for you; and (3) determine what products from other brands might be the most similar and also worth considering.
So in our new "Blister Brand Guide" series, we provide an overview of the entire product lineup of a brand; highlight how each product stands out from the rest of that brand's lineup; and help you figure out quickly and easily which bike might work best for you.
In our individual product reviews, we go very deep into the details of particular products. With these Brand Guides, the goal is not Depth, but Breadth. Our Brand Guides and full reviews are designed to complement each other — provide a broad overview of entire company lineups, and then also very detailed reviews of individual products.
Our mountain bike Brand Guides are presented by CBGTrails. Learn more and start planning your trip today at cbgtrails.com, then download the CBG Trails app for info on the 750+ miles of singletrack and 150+ trails in Crested Butte and the Gunnison Valley, Colorado.
Evil was founded around 2008, making it one of the younger sizable brands in the industry. After working with Iron Horse bikes, which went bankrupt around 2009, Kevin Walsh, Dave Weagle (namesake of DW-link), and Todd Seplavy started Evil bikes with a downhill bike, the Revolt. They have since expanded their line to include a range of full-suspension mountain bikes, though they no longer make a DH bike. Evil is rider-owned, designed, and operated.
Today, their lineup consists of mountain bikes only available in carbon frames (excluding the Faction 2 dirt jumper, which is steel) and a carbon gravel bike. Starting at just over $5,000 for a complete build, budget options are basically nonexistent; however, riders looking for the latest technology can find much of it on certain Evil bikes.
Whereas most brands are either split between direct-to-consumer and traditional retail models, Evil's goal is to balance both. Online direct sales can cut cost, but local bike shops ultimately provide the mechanical technical support riders need to keep rolling. As a result, you can buy Evil bikes directly from the brand, or through any of their authorized local dealers.
Evil offers a few "preset" builds for each bike and they also allow you to customize your bike by deciding which parts you want. You can also add upgrades, such as bash guards and chain guides. The build kits listed below are simply the preset builds without the additions or changes in options.
Evil's bikes have a couple of unique features. Each of the bikes listed below features an integrated chainguide that is also removable for those who don't want one. Each bike (except for The Following) listed below also features a sag indicator that's integrated into the rear suspension linkage.
Evil does not operate on a model-year basis, instead updating their bikes as they see fit. While most of our other brand guides are separated by model year, expect this particular guide to have the most up-to-date bikes from Evil.
Evil's headquarters is in Bellingham, Washington, USA.
Current Warranty (for the original owner)
Three years for frames

Replacement frames or frame parts available at a minimal charge for non-warranty situations.

For more information, visit Evil.
Evil's Suspension Design: The Delta System
(For more on different suspension designs, see our Suspension 101 article)
Before we get into their specific models and build options, here are some things to keep in mind when deciding on which build level to go with, and why.
First, when looking at complete bikes, suspension and wheels are going to make the biggest difference in how a bike really rides. Spend money on those before other things like higher-end drivetrain parts, cockpit parts (e.g., stem, handlebars, etc.), cranks, etc.
Tires make an enormous difference in performance, but are cheaper and easier to upgrade, especially since they tend to wear down quicker than other components. Upgrading a lower-end front tire to something better — and saving the original for rear-tire use — can be a good way to improve a bike while still making use of the originals, since front tires are generally a lot more important than rear tires when it comes to traction.
Drivetrain parts can be upgraded piecemeal as they wear out, or if you just want to upgrade down the line. Higher-end cassettes are mostly just lighter, while higher-end shifters and derailleurs get lighter, smoother, and sometimes last a bit longer as you go up in price.
We'll outline here the different models in Evil's MTB lineup, organized from most cross-country-oriented (XC) to downhill-oriented (DH). In other words, the bikes at the top of the list are optimized to pedal and climb uphill very well, while the bikes at the bottom are optimized to handle very rough, steep, and challenging descents very well.
We've included some notable information for each model:
Available build kits & their MSRP
Best Budget Build

: These are the build kits that we think make the most sense for people trying to spend the least amount without ending up with a build that's going to immediately break or need to be upgraded.

Most Performance for the Price

: These are the build kits that we think make the most sense for people seeking the best balance of performance and cost. I.e., if you don't need to get the cheapest bike, but you also don't need the absolute lightest bike

or all the newest bling,

this is the build we think makes sense for you.
Suspension travel (e.g., 100 mm of travel, 130 mm of travel, etc.)

Wheel size (e.g., 27.5", 27.5+, 29")

Frame material options (e.g., alloy vs. carbon)

A brief description of what the bike was designed for and any notable design details.

Some of the bike's most direct competitors from other brands

Which Evil bike it's most similar to

Reasons why you should buy it

Reasons why you should

not

buy it
(Most Cross-Country-Oriented to Most Downhill-Oriented)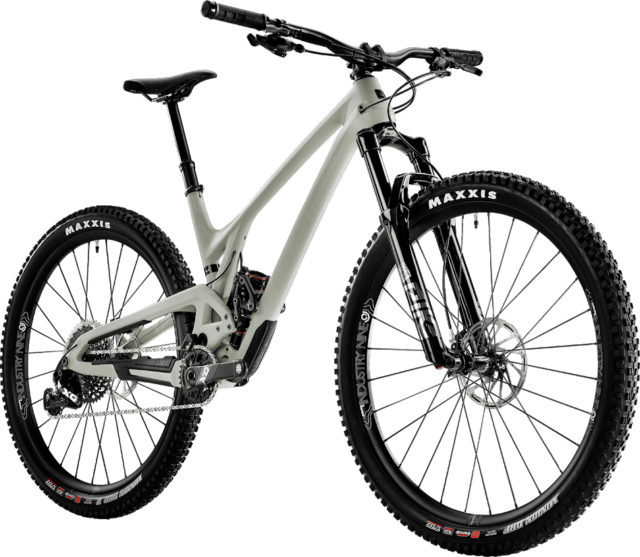 The Following is Evil's 29" mid-travel trail bike, and is actually their shortest-travel full-suspension bike. Updated in March 2020, the newest Following has a longer reach and steeper seat tube angle as well as internal cable routing and 12 x 157 mm SuperBoost rear hub spacing. Can fit a "piggyback" shock.
GX 19 Hydra: $5,799 – Best Budget Build

XT 19 Hydra: $6,299 – Most Performance for the Price

Frame only: $3,099
Specialized Stumpjumper ST 29"

Santa Cruz Tallboy / Juliana Joplin

Pivot Trail 429 29"

Giant Trance 29

Intense Sniper Trail

YT Izzo

Ibis Ripley

Norco Optic

Devinci Django 29

Cannondale Habit

Canyon Neuron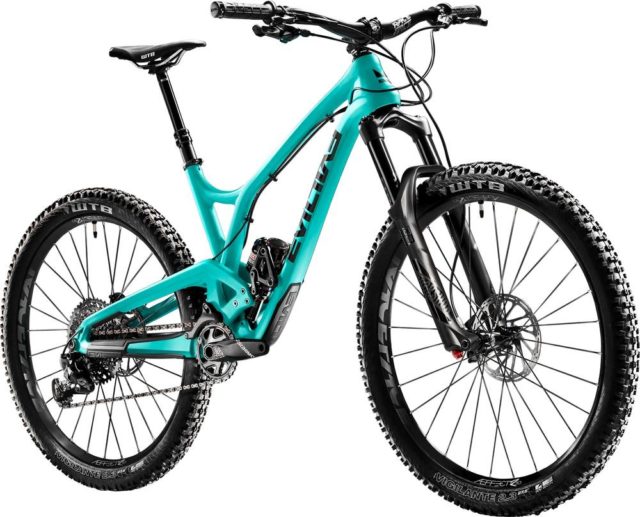 The Calling is Evil's shortest-travel 27.5" bike, optimized for all-round riding and playfulness. More like The Offering than The Following.
GX: $5,074 – Best Budget Build

XT: $5,574 – Most Performance for the Price

XO1: $6,674

XTR: $7,174

Frame only: $2,574
Specialized Stumpjumper 27.5"

Santa Cruz 5010 / Juliana Furtado

Giant Trance

Kona Process 134 27.5"

Rocky Mountain Thunderbolt

Nukeproof Reactor 275

Ibis Mojo 3

Devinci Troy 27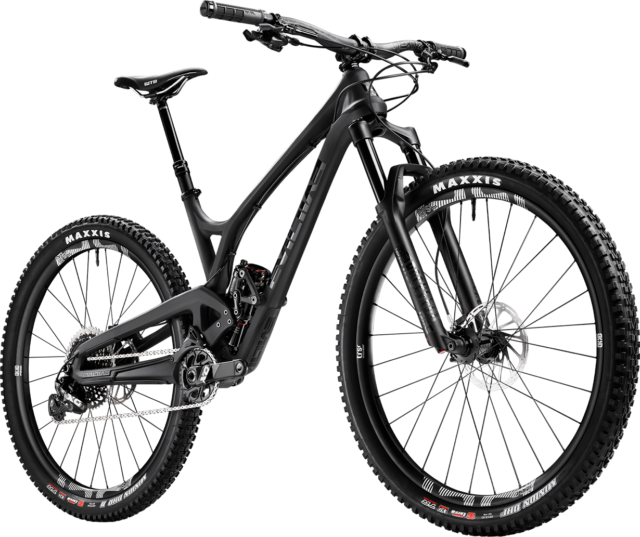 Evil's best Quiver Killer, the Offering is a do-it-all 29er designed with maximum versatility in mind. More like The Calling than The Insurgent LB.
GX: $5,799 – Best Budget Build

XT: $6,299 – Most Performance for the Price

XO1: $7,399

XTR: $7,899

AXS: $8,099

Frame only: $3,299
Specialized Stumpjumper 29"

Santa Cruz Hightower / Juliana Maverick

Pivot Switchblade

Yeti SB130

Trek Fuel EX

Commencal Meta TR 29

Scott Genius

Rocky Mountain Instinct

Intense Primer 29

Nukeproof Reactor 290

YT Jeffsy 29

Devinci Troy 29

Cannondale Jekyll 29
Evil's longest-travel 27.5" bike. The Insurgent is designed to have a good balance of stability and playfulness. More like The Wreckoning than The Offering.
GX: $5,799 – Best Budget Build & Most Performance for the Price

XO1 DH: $6,499

XO1: $7,399

Frame only: $2,499
Santa Cruz Bronson / Juliana Roubion

Pivot Mach 6

Trek Remedy

Giant Reign

Kona Process 153 27.5"

Rocky Mountain Altitude

Intense Tracer

YT Jeffsy 27

Ibis Mojo HD5

Norco Sight 27.5"

Canyon Spectral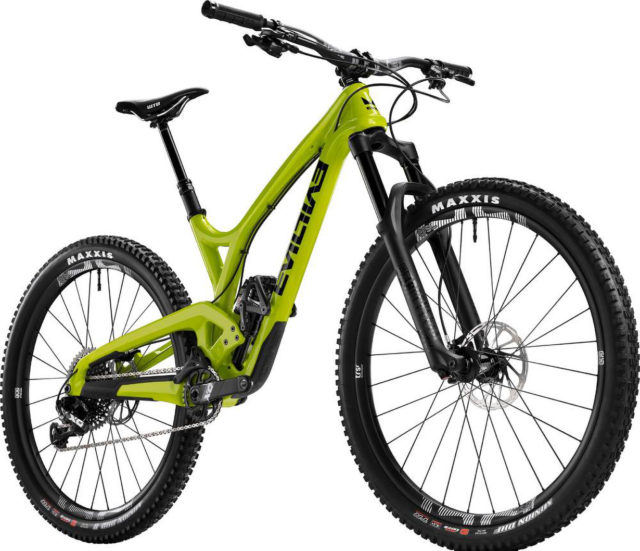 Evil's longest-travel and most downhill-oriented bike. The Wreckoning is designed to handle the roughest descents and keep its speed.
GX: $5,799 – Best Budget Build

XT: $6,299 – Most Performance for the Price

XO1 DH: $7,299

XTR: $7,899

Frame only: $3,299
Specialized Enduro

Santa Cruz Megatower

Pivot Firebird 29

Yeti SB150

Trek Slash

Giant Reign 29

Commencal Meta AM 29

Kona Process 153 29"

Scott Ransom

Rocky Mountain Slayer 29"

Intense Carbine

Nukeproof Mega 290

YT Capra 29

Ibis Ripmo

Norco Range 29"

Devinci Spartan 29

Canyon Strive

Mondraker Foxy & Foxy Carbon