Intro
Whether your jerseys are looking pretty worn after a long summer, you're looking to take advantage of current deals, or your bike season is just starting, this roundup is for you. There are options from tank tops to long sleeve jerseys, and a bunch that look at home off the bike, too. And if you're also in the market for shorts, check out part 2 of our Women's Mountain Bike Shorts Roundup.
Fabric: 86% polyester / 14% lyocell
Reviewer: 5'9", 153 lbs / 175 cm, 69.4 kg
Size Tested: Medium
MSRP: $40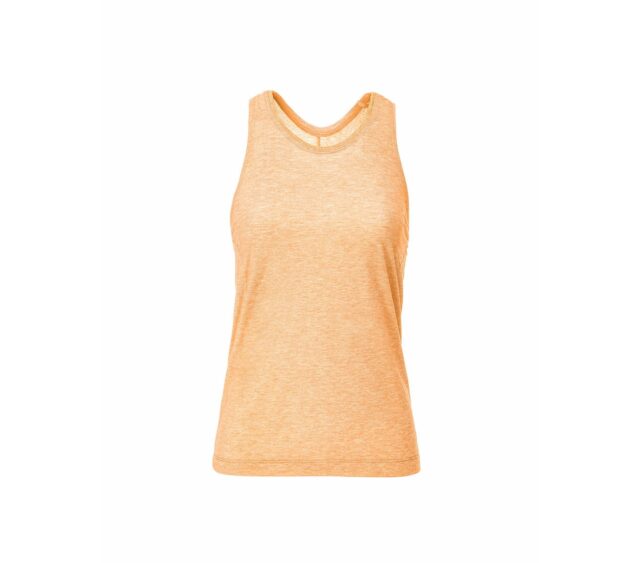 Kara Williard: The 7mesh Elevate Tank quickly became a favorite for the hottest days of summer. It is a really lightweight, breathable, and comfortable tank, making it an easy choice, and one of the most bearable options to wear on warm days. The material does a great job of wicking and staying cool and breathable in the heat of the day, while also not feeling sticky or clammy when I am sweating and just want to feel the relief of some airflow on my skin.
The Elevate Tank is also a versatile shirt — I find it great for yoga, gym workouts, running, and working outside. The size Medium fits pretty generously, but snug enough on the shoulder straps and around my bust to stay put and not to sag or shift around. Overall, I love the lightweight and cooling fabric and I find it to be the shirt I grab when I know it's going to be a hot one. For a simple technical tank, I find it to be a great value and extremely versatile. It is also impressively packable, making it a top choice for throwing in a bag when I need one technical shirt to suit a variety of adventures. I took it on a recent beach getaway and it was a great option for really humid and hot runs and hikes, casual rides, beach yoga, activewear. So really, the Elevate Bike Tank Top is more than just a bike shirt, though it works great for that, too.
Fabric: 86% polyester / 14% lyocell
Reviewer: 5'9", 153 lbs / 175 cm, 69.4 kg
Size Tested: Medium
MSRP: $60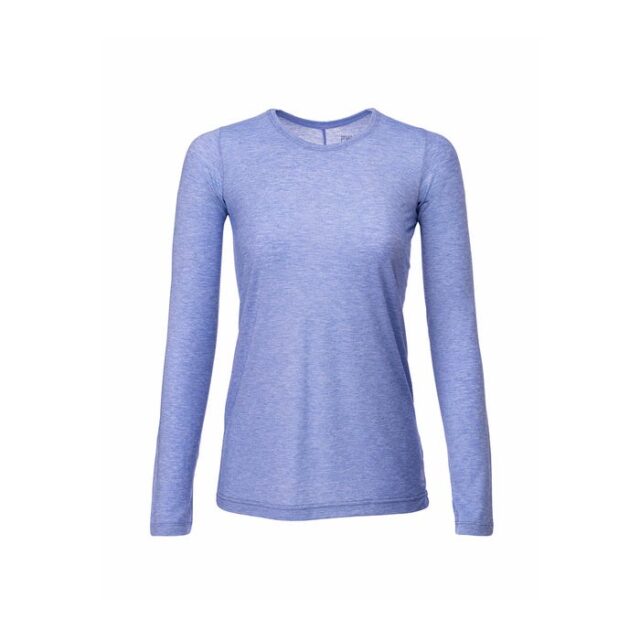 Kara: Sharing a lot in common with the Elevate Tank, the 7mesh Elevate Long Sleeve Shirt offers more sun protection and the versatility of being comfortable in anything from warmer to cooler temperatures. I have found it to be a sound option for chilly morning rides when I know it is going to be warming up throughout the pedal. Conversely, I have also worn it a lot in the evening to gain warmth as the sun goes down. As with the tank, the long-sleeve's material wicks really well, is highly breathable, and very comfortable. I have found it to be one of my quickest drying and most breathable options as far as long sleeves options, making it one of my favorite running, hiking, biking, and climbing shirts. The Elevate Long Sleeve shirt isn't really bike-specific in any way (e.g., no back pockets), which I think keeps it really versatile and ready to be used for almost anything, including just a comfy and cozy shirt for tent camping, bikepacking, etc.
Fabric: 92% Polyester / 8% Spandex (Body); 90% Polyester / 10% Spandex (Sleeves)
Reviewer: 5'9", 153 lbs / 175 cm, 69.4 kg
Size Tested: Medium
MSRP: $70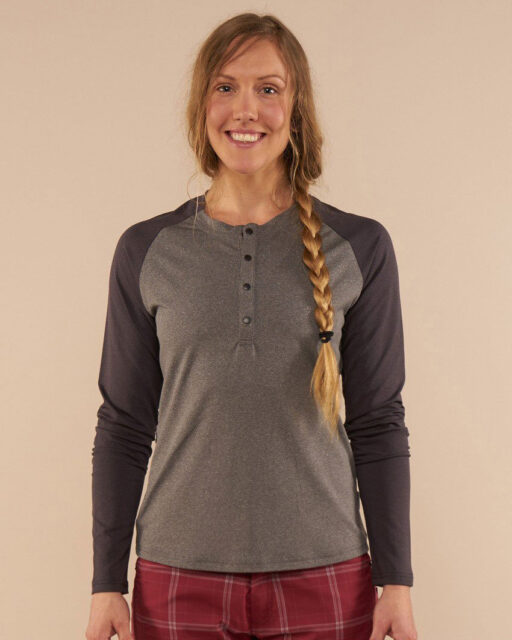 Kara: I have spent a lot of time in the Club Ride Ida Shirt over the last year. It was one of my first long-sleeve bike jerseys, and what I found most impressive was the breathability and comfort it offers on fairly warm days, while also offering good sun protection and warmth when you need it. It has been a go-to jersey for rides in the spring, on moderately hot summer days, and throughout the fall. After 25+ rides in it, I am happy to report that it has proven to be quite durable — it still looks pretty much brand new.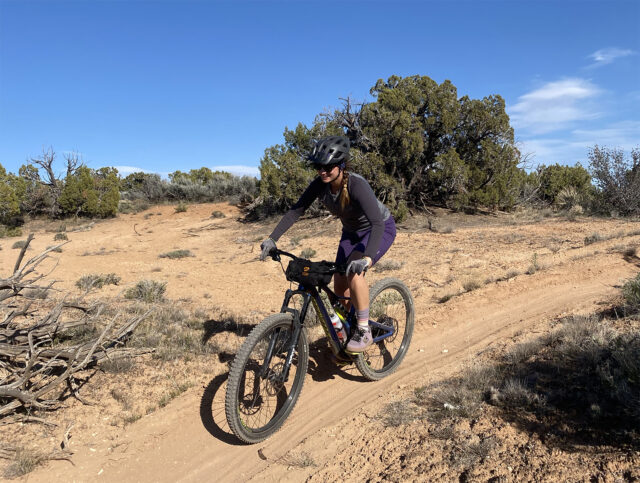 I find myself gravitating towards the Ida Shirt for a lot of rides, especially when looking for more protection in technical and consequential terrain, or seeking out a slight upgrade in warmth on cooler rides. I am always quite happy with a Club Ride size Medium, and that remains true with the Ida Shirt. It's long enough for my torso and in the sleeves, feels tailored enough to be flattering, yet it's not too tight in any particular area. The Club Ride Sola Sun Shirt has proven a bit better for warmer days when sun protection is the main goal, since the Sola is lighter, more breathable, and quicker to dry. The Ida Shirt has a small zippered pocket in the back that is great for snacks or keys, and I have also liked the detail in the snaps from the neck down to the chest, which are great for letting in airflow and cooling off.
Fabric: 85% Polyester / 15% Spandex (Body); 97% Polyester / 3% Spandex (Sleeves & Side Panels)
Reviewer: 5'9", 153 lbs / 175 cm, 69.4 kg
Size Tested: Medium
MSRP: $100
Kara: The Club Ride Sola Sun Shirt — the women's version of the Helios Sun Shirt that we tested earlier this year — has proven to be one of the most versatile bike tops I've ever had, and as a result, I have worn it a ton this season. From days in the high alpine to really warm days in the desert when I am trying to give my arms a break from the sun, I have found the Sola Sun Shirt to be comfortable and versatile in a range of conditions. It became the only shirt I brought on a three-day bikepacking trip, and I was glad I had it as a protective layer from the hail, low temperatures, and then long sun exposure as temps got in the high 80s (°F).
I feel as though I have put this shirt through a lot, and even though the material is lightweight and super soft, it has proven durable and snag-free when riding past trail-side brush. Because the material on the body is more of a softshell fabric (plus it's got lots of breathable micro holes), it dries quickly and breathes well, though it can also feel slightly sticky in the humidity.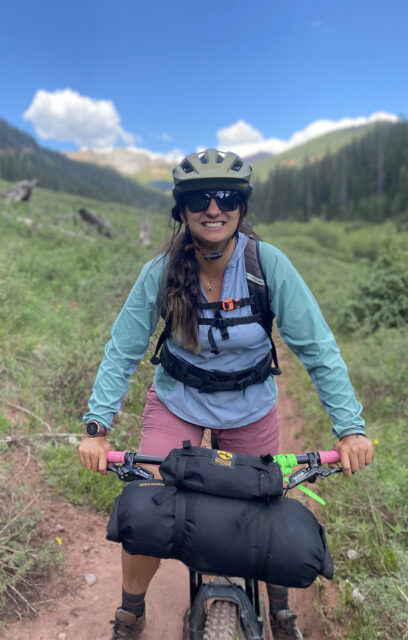 Overall, this is one of my favorite biking and active tops. The hood is great for alpine days to throw over the ears, while the chest zipper offers extra ventilation during the heat of the day, allowing this piece to work well at both ends of the weather spectrum. The size Medium fits really generously, so I can layer it with a lightweight shirt underneath. It's also a relatively long fit through the torso, which I find is preferable for my body type.
Fabric: 66% Polyester / 34% Merino wool
Reviewer: 5'9", 153 lbs / 175 cm, 69.4 kg
Size Tested: Medium
MSRP: $125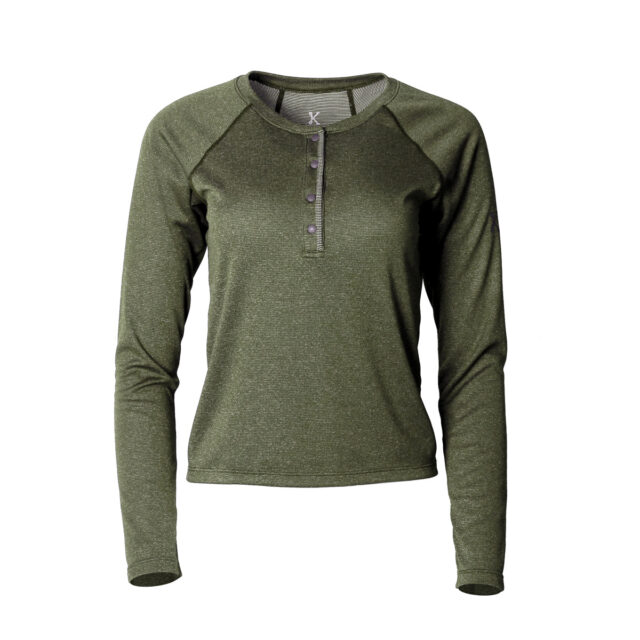 Kara: This is my first experience wearing Kitsbow apparel and I was excited to try it out, having always been intrigued by their quality and mission of hand sewing each garment in the USA. The Lory Merino Henley top looked like a cozy and cute option that I could use during the fall while temps begin to drop in the Gunnison Valley.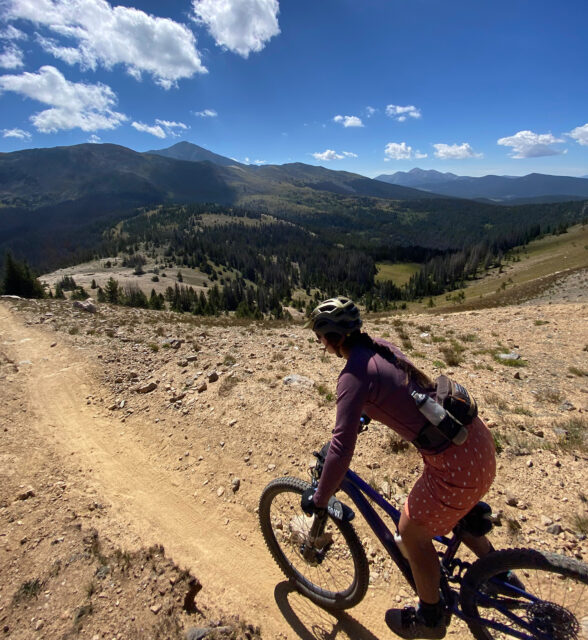 After my first couple rides in the Lory Henley, it has lived up to my expectations. It is a pretty thick merino layer, so I prefer it on cooler days. On high-alpine rides like the Monarch Crest, or where I am feeling pretty exposed on windy ridges, it has been perfect. For the overall weight and warmth provided by the Merino, it is impressively breathable and does a fairly good job of regulating temperature. The long-sleeve pieces above are better for hot weather, but if you want a warmer layer for early morning rides or in shoulder-season temps, the Lory is a great option.
I really like the Lory's fit overall, though it does have a shorter cut, meaning that I'm often pulling down the hem a bit (particularly when under a hip pack). I think the sleeves are a great length and it feels comfy and spacious around the bust and stomach, but an inch or so more in the length would be preferable for me since I do have a longer than average torso. Overall, I look forward to spending more time in the Lory Merino Henley this fall and winter. And because it is so cute, cozy, and doesn't really look like a bike jersey, I imagine I will spend a lot of time in it off the bike, too.
Fabric: 90% Micro Modal / 10% Elastane
Reviewer: 5'8", 130 lbs
Size Tested: Medium
MSRP: $78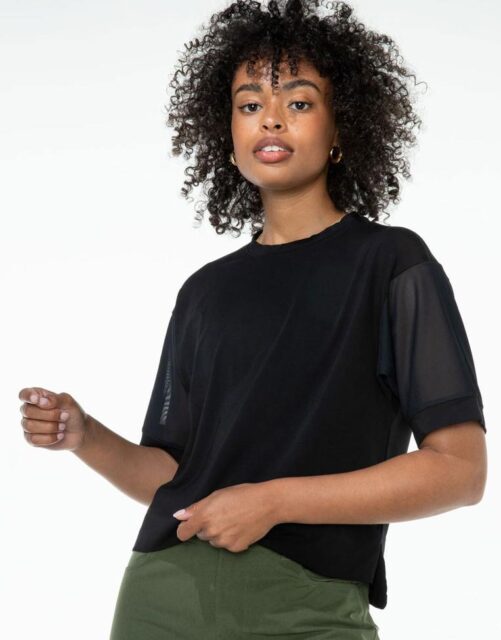 Kristin Sinnott: The most untraditional bike jersey in this roundup, the Machines For Freedom Short Sleeve Technical Tee is boxy, runs on the shorter side, and works just as well off the bike as it does on it. I wrote about this tee in the June edition of "Stuff We Like" but I'll also provide a summary here.
The Short Sleeve Technical Tee's Modal fabric has an incredibly soft handfeel. In fact, it's one of the softest shirts I own, and even after several washings, it feels and looks like new. And by new, I mean that no matter how many hours (or days) I leave the shirt wadded up in my dryer or in a bag, it never looks wrinkled. This hasn't always been my experience with other Modal fabrics I've worn.
Most colors of this shirt are made entirely of the micro Modal / elastane fabric, but the black version features mesh sleeves. The very fine mesh allows air to flow across the upper arms and shoulders and feels very similar to a tank top when riding. But unlike a tank top, the sleeves provide more sun protection and coverage for those who aren't big fans of exposing their upper arms.
The Short Sleeve Technical Tee is available in a wide range of sizes. Machines For Freedom prides itself on being inclusive in terms of fit, and with sizes ranging from XX-Small to XXX-Large, they do a great job in making sure this Tee will fit just about anyone. That said, the fit is boxy and shorter cut than most tees, particularly bike-oriented ones. However, the back is cut longer than the front and because of that, I never had any issues with the shirt being too short when riding because I could easily tuck it into my waist belt. When off the bike, the shirt has a tendency to expose my midriff if I'm not wearing higher-waisted pants or shorts. So if you're looking for a high-performance bike shirt that doesn't look or feel like other bike jerseys, this one should be on your list.
Machines for Freedom Trail Jersey
Fabric: 90% Modal / 10% Elastane
Reviewer: 5'9", 153 lbs / 175 cm, 69.4 kg
Size tested: Medium
MSRP: $138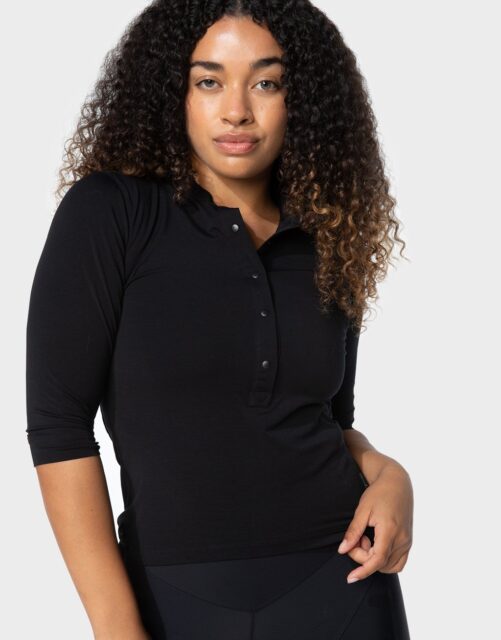 Kara: Similar to The Machines for Freedom Tee that Kristin reviewers, their Trail Jersey certainly has the most fashionable look of any of the jerseys I've tried, while also featuring a surprisingly soft, stretchy, and smooth fabric. Their plant-based micro Modal fabric feels great against the skin and breathes really well. Though it isn't as warm as the next 3/4-sleeve jersey, the Trail Jersey does offer that bit of added sun protection while still being very breathable. While this jersey does have what I'd call a pretty tailored fit, the material is so stretchy that it doesn't feel clingy or too tight. Similar to Kristin's experience with their Short Sleeve Technical Tee, the Trail Jersey does fit slightly shorter in the torso, while feeling good / about average everywhere else. Thankfully, because it is so stretchy, I can pull it down and it stays in place without shifting around while riding.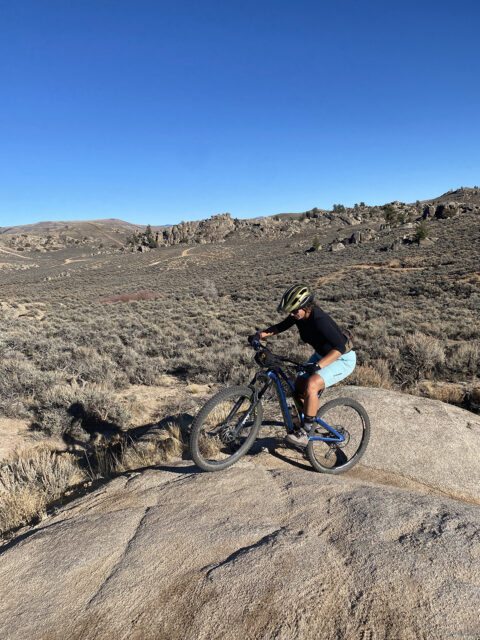 After a fair bit of wear and several washes, the Trail Jersey has held up well and only gotten softer and more comfortable. The sleeves reach just past my elbow and don't ride up, which is something I look for in ¾-sleeve jerseys. The Trail Jersey also has a ¾ henley snap down the front and a cute, flattering cut around the neckline. The snaps work great for adjusting temperature and allowing some airflow. In the spirit of a traditional bike jersey, the Trail Jersey is built with three rear pockets, which have a supportive design so that they do not sag a bunch when loaded with some snacks, and are big enough to hold a few bars, while not quite deep enough to hold a phone.
The Trail Jersey can work for hotter days, thanks to its light and breathable fabric, but it also offers a bit more warmth than many ultralight short-sleeve jerseys. I am impressed with what Machines For Freedom is offering in terms of their broader size spectrum, and I think the material and style of the Trail Jersey will make it comfortable for a lot of different body types.
Fabric: 48% Nylon / 46% Merino Wool, and 6% Spandex
Reviewer: 5'7", 125 lbs
Size Tested: Small
MSRP: $149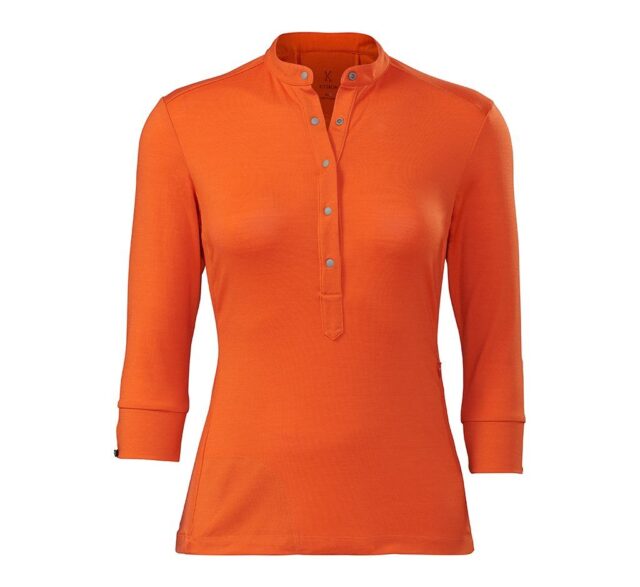 Rebecca Chow: Full disclosure, I've never actually used a bike-specific jersey. Being fairly new to the sport, I've been skeptical, given the cost of most jerseys and the fact that I have plenty of athletic shirts from running. However, jerseys like the Kitsbow All Mountain Jersey, which combine bike-specific features with a soft, comfortable fabric and a stylish cut, definitely up my athletic wear game.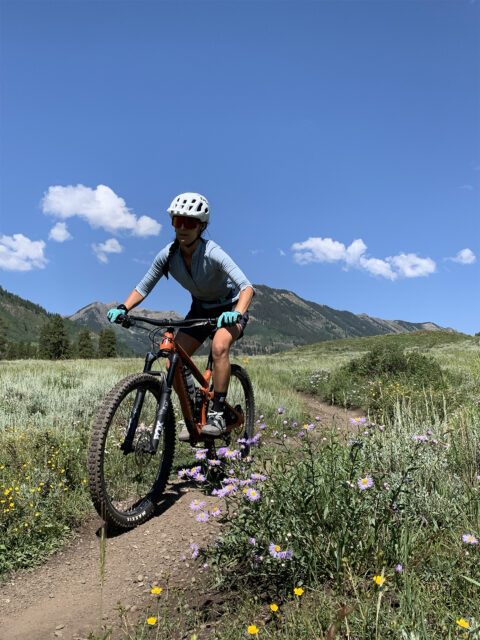 I've comfortably worn the All Mountain Jersey on 50-70°F rides, with the merino wool blend keeping warm and comfortable during a mid-ride downpour in the San Juans. On the flip side, the All Mountain Jersey also kept me cool on a not-so-cool morning in Crested Butte in July, when temperatures were around 70°F. And while it functions really well for athletic pursuits, the fabric does not look or feel expressly "technical," which just adds to this jersey's versatility. Oh, the beauty of merino wool.
The size Small fits me well, apart from it being a little short, similar to Kara's comments about the Kitsbow Lory Merino Henley Top. For that reason and my general preference for non-fitted tops, I would size up. On the bike, I haven't had any issues with the hem riding up, but I do when running and walking.
If I bike commuted to work I could see the Kitsbow All Mountain Jersey being a staple in my wardrobe. While it functions well as a bike jersey, it doesn't look or necessarily feel like one and can easily transition from the bike to everyday wear.