Pivot Mach 4 SL V3
Wheel Size: 29''
Travel:
95 or 103 mm rear / 100 mm front (World Cup builds)
106 or 115 mm rear / 120 mm front (Team, Pro, and Ride builds)
Geometry highlights:
Sizes offered: XS, S, M, L, XL
Headtube angle: 68° (100 mm fork) / 66.7° (120 mm fork)
Seat tube angle: 76° (100 mm fork) / 74.7° (120 mm fork)
Reach: 450 mm (size Medium)
Chainstay length: 432 mm
Frame material: Carbon fiber
Stated weight:
Frame only: 1,660 g (size Small, w/o shock)
Frame & shock: 1,930 g (size Small, with Fox DPS)
Complete bike: 23.0 lb / 10.4 kg (Mach 4 SL XX World Cup, size Small)
Price: Complete bikes: $6,199 to $11,599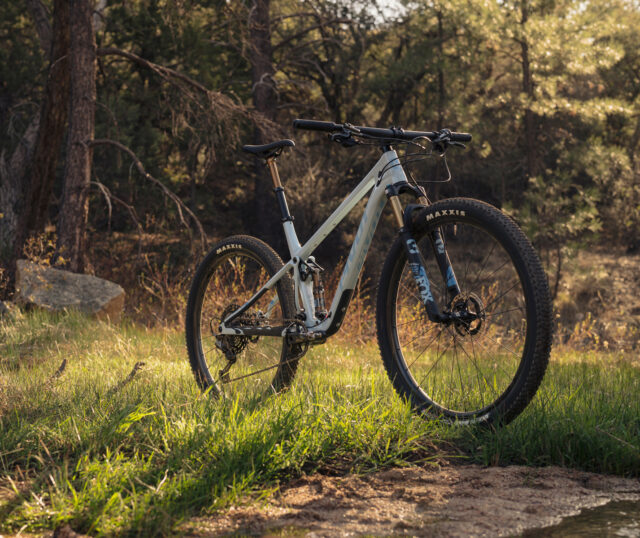 Intro
Pivot's shortest-travel, most XC-focused full-suspension bike, the Mach 4 SL, has been in their lineup for a while now, and Pivot has long offered a range of builds with decidedly different fork sizes and a range of other tweaks, meant to cover both true XC race duty and to cater to folks who want more of a super light short-travel Trail bike. While the new iteration of the Mach 4 SL doesn't look all that different from its predecessor, the new bike gets a lot of interesting refinements, including a substantial drop in frame weight, some geometry updates, and more adjustability to better cover the range of use cases that Pivot has set out for it.
And while Pivot is clearly positioning the Mach 4 SL to be a World-Cup-ready XC race bike, they're also talking about things like "fun" in their copy for the new bike. So, what exactly is it?
The Frame
The new third-generation Mach 4 SL doesn't stray too far from its predecessor in terms of the high-level details. It's still a DW-link bike with a vertically oriented shock, 29'' wheels, and a carbon fiber frame only. Somewhat unusually, the Mach 4 SL is offered in builds with both 100 and 120mm-travel forks (more on those below), a feature that carries over from the prior iteration. But while that bike came with 100 mm of rear-wheel travel regardless, the new Mach 4 SL uses different shock strokes to bump up the travel on the versions spec'd with a 120mm-travel fork, and also adds a travel-adjusting flip chip to the upper shock mount. On the shorter-travel World Cup builds, that produces either 95 or 103 mm of rear wheel travel by way of a 190 x 40 mm shock; the rest of the range stretches the shock stroke to 45 mm, which results in 106 or 115 mm of travel, depending on the flip chip orientation.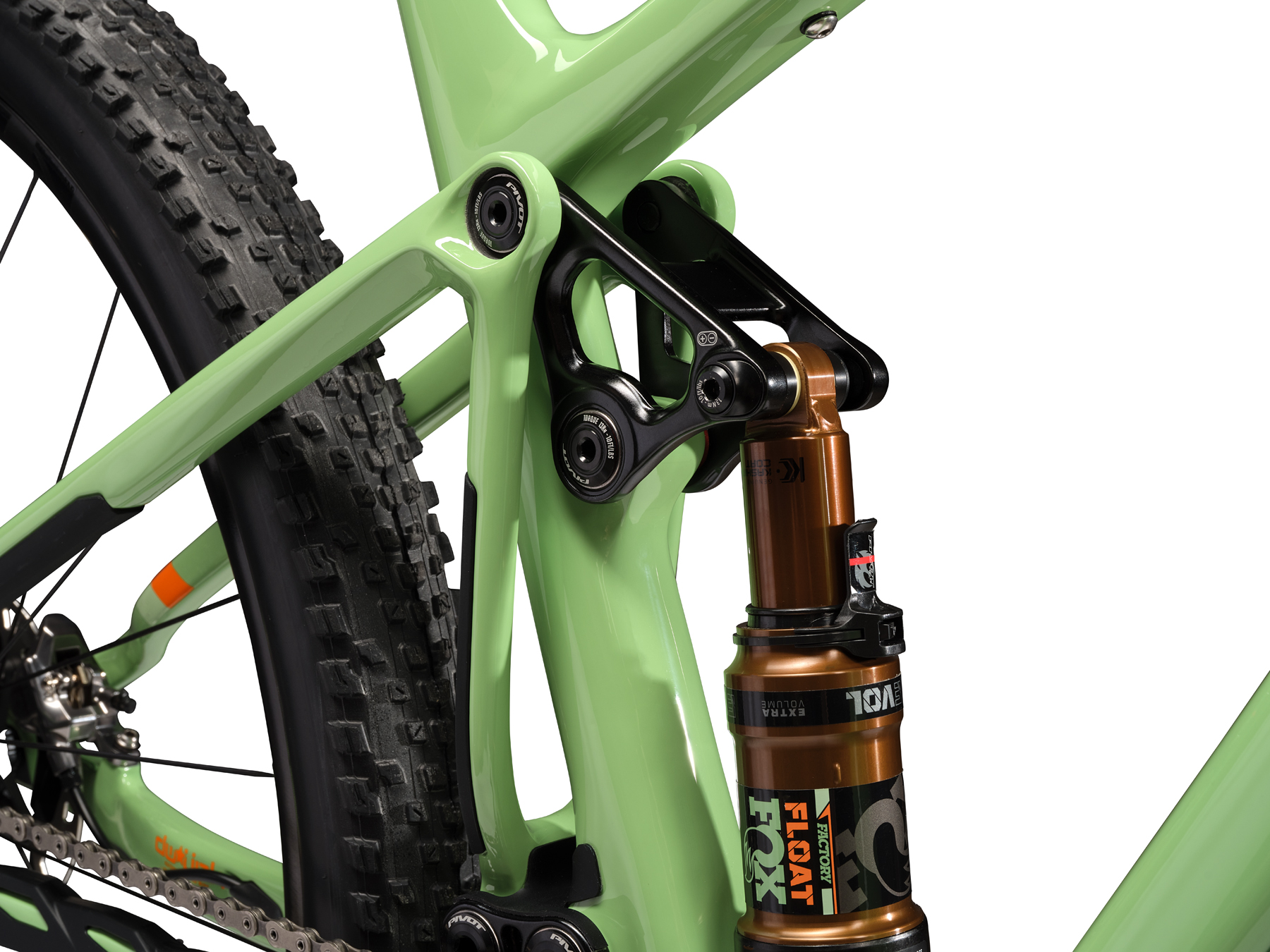 Despite the bump up in travel and addition of the flip chip, Pivot says that the Mach 4 SL frame is now 300–400 grams lighter than its predecessor (depending on frame size) and that the Small frame comes in at just 1,660 grams, without the shock. Despite that very low weight, the Mach 4 SL still gets ample rubber guards on the chainstay, seatstay, and downtube, the forward two tabs of an ISCG-05 chainguide mount (should you wish to run an upper guide), and a bunch of water bottle / accessory mounts. All sizes can fit a large water bottle inside the front triangle, plus a second on the underside of the downtube; there are also three mounting bolts on the underside of the top tube to allow two positions of accessory or bottle cage mounting (with the middle bolt being used for both positions) which can accommodate another water bottle on sizes Medium on up.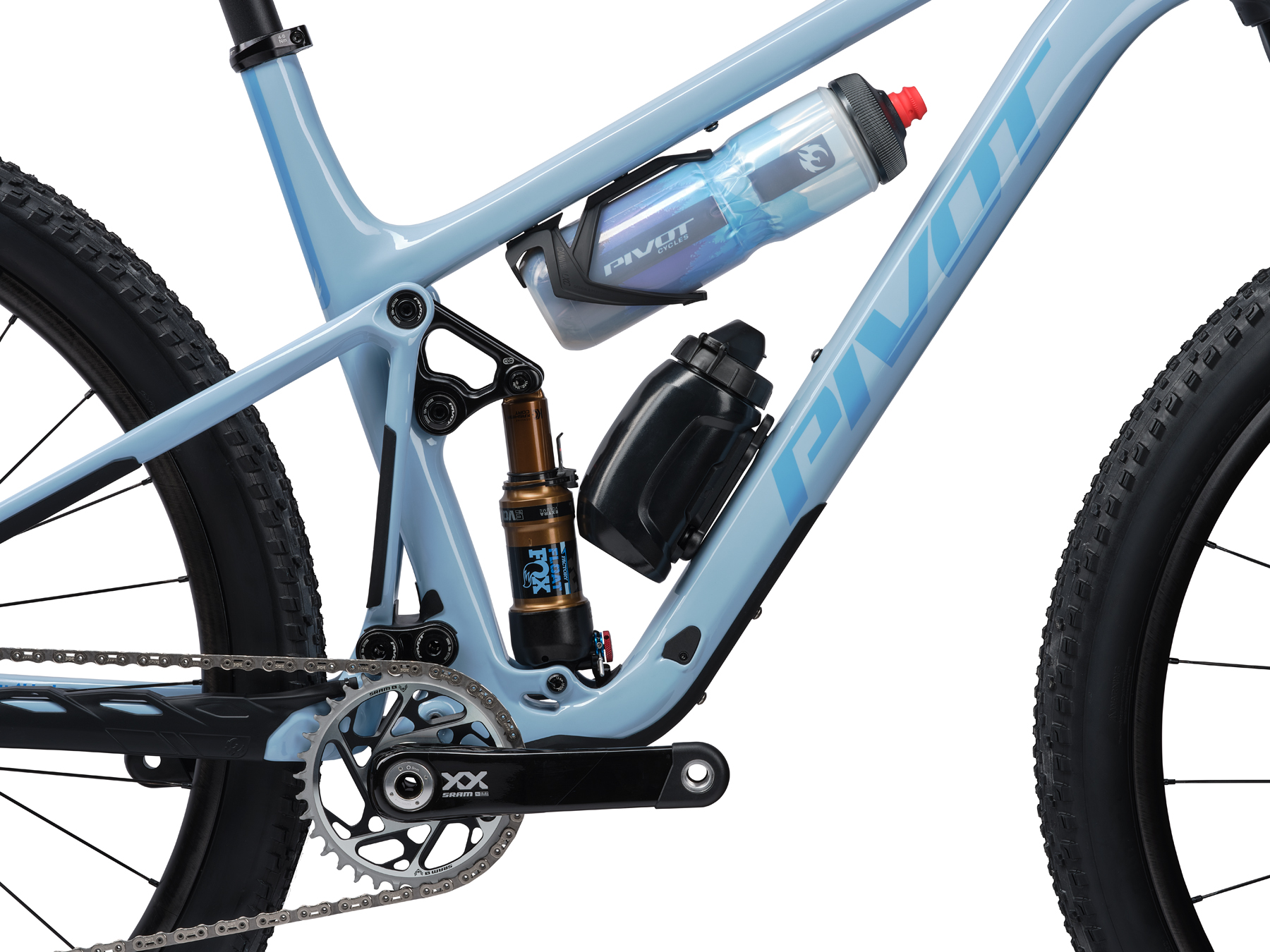 The new Mach 4 SL also adds a UDH hanger for SRAM Transmission compatibility, which Pivot takes considerable advantage of in their build specs — again, more on those below. And while Pivot has been one of the bigger proponents of SuperBoost rear wheel spacing on their bigger bikes, the Mach 4 SL sticks with a 148 mm Boost rear wheel, presumably for some combination of tighter Q-factor and lighter weight, which makes good sense on a true XC race bike. Pivot's Tool Dock system can also be used on the underside of the downtube.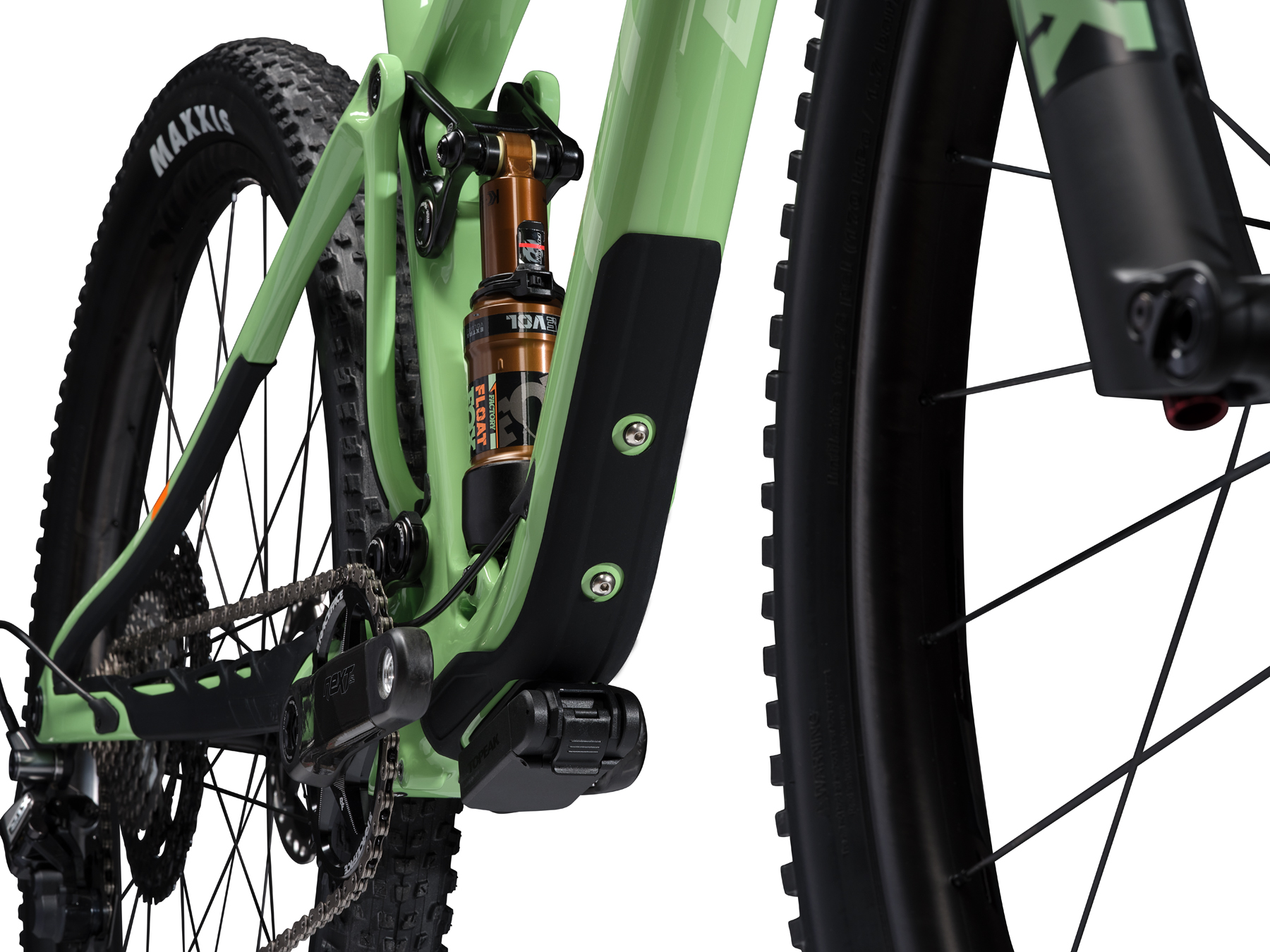 Fit & Geometry
Pivot offers the Mach 4 SL in five sizes, XS through XL, and while they've given the new bike a little bit of the classic longer / slacker treatment, the changes are, at least on paper, much more minor tweaks than a dramatic overhaul. The headtube angle has been relaxed by 0.5° to 68°, the seat tube angle steepened to 76°, and the reach lengthened by between 5 and 15 mm depending on the size in question; the Medium Mach 4 SL now clocks in at 450 mm, and the Large measures 475 mm. The full reach range runs from 410 mm on the XS through 495 mm on the XL, with the Small rounding things off at 425 mm. While Pivot has been adopting size-specific chainstay lengths on some of their longer-travel bikes, the Mach 4 SL gets 432 mm ones across the board.
The geometry of course also changes quite a bit depending on the spec'd fork length — a 20 mm swing in fork travel is a substantial one. The numbers stated above are with the shorter 100 mm fork that comes on the World Cup builds; swapping to a 120mm-travel fork slackens the headtube to 66.7° and seat tube angle to 74.7°, raises the bottom bracket by about 9 mm (to 36 mm of drop) and lops 13 mm off the reach in a given size.
Designing a bike to be run with a 20 mm range of fork lengths inevitably involves some compromise, but Pivot appears to have done a nice job of straddling that line. In particular, the World Cup specs (with the 100mm-travel fork) look right on modern norms for an XC race bike; the other builds with the taller 120mm-travel fork look perfectly reasonable for a quick-handling XC/Trail bike, too, though the seat tube is getting a touch slack by modern standards on those. It is worth noting, however, that Pivot says that their effective seat tube angle measurements are taken at an "average saddle height for each size frame," though exactly what those heights are isn't stated.
The Builds
As per usual for Pivot, the Mach 4 SL is offered in a wide range of mid-to-high-end builds, with options for SRAM and Shimano drivetrains (including SRAM's new T-Type groupsets) but with Fox suspension across the board.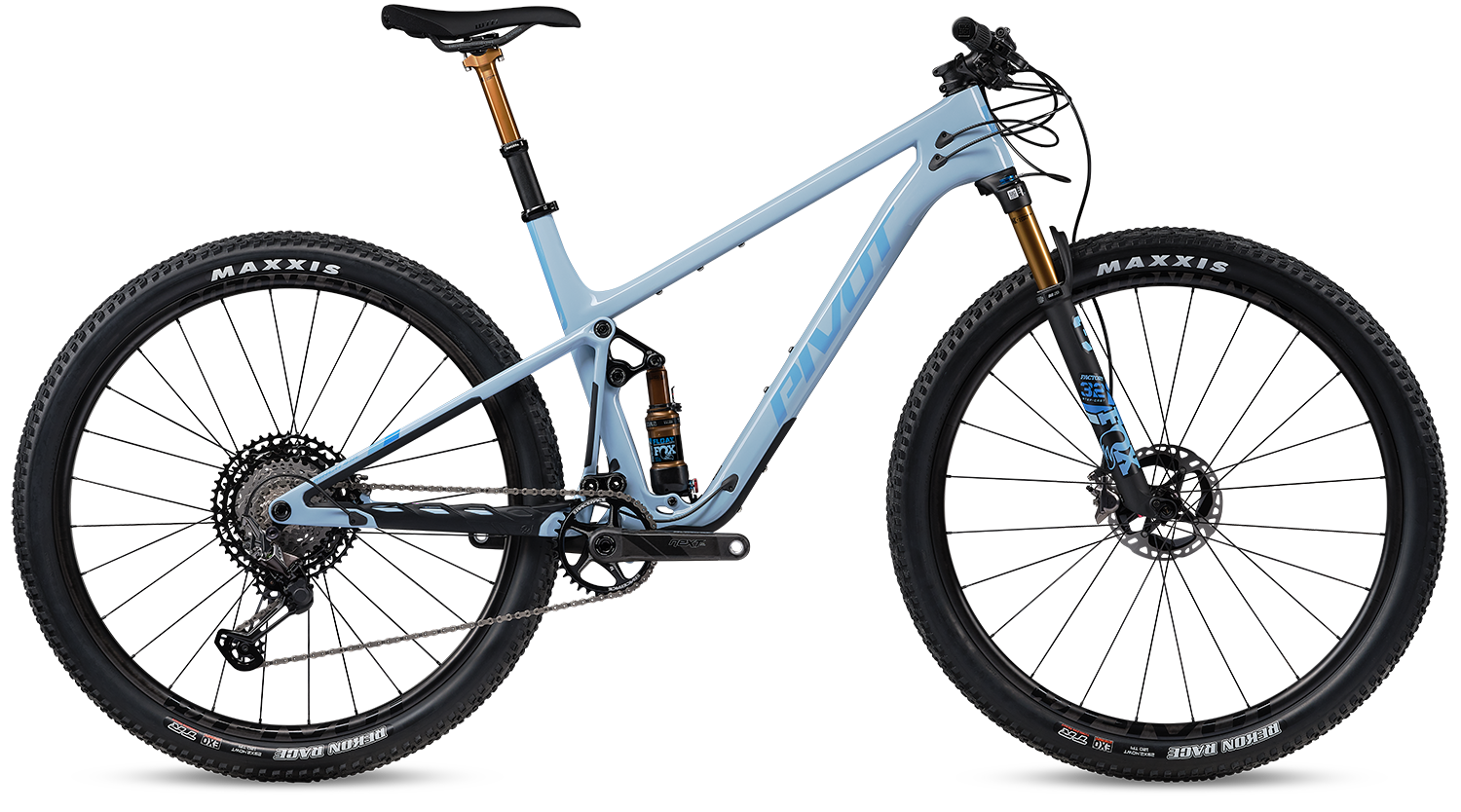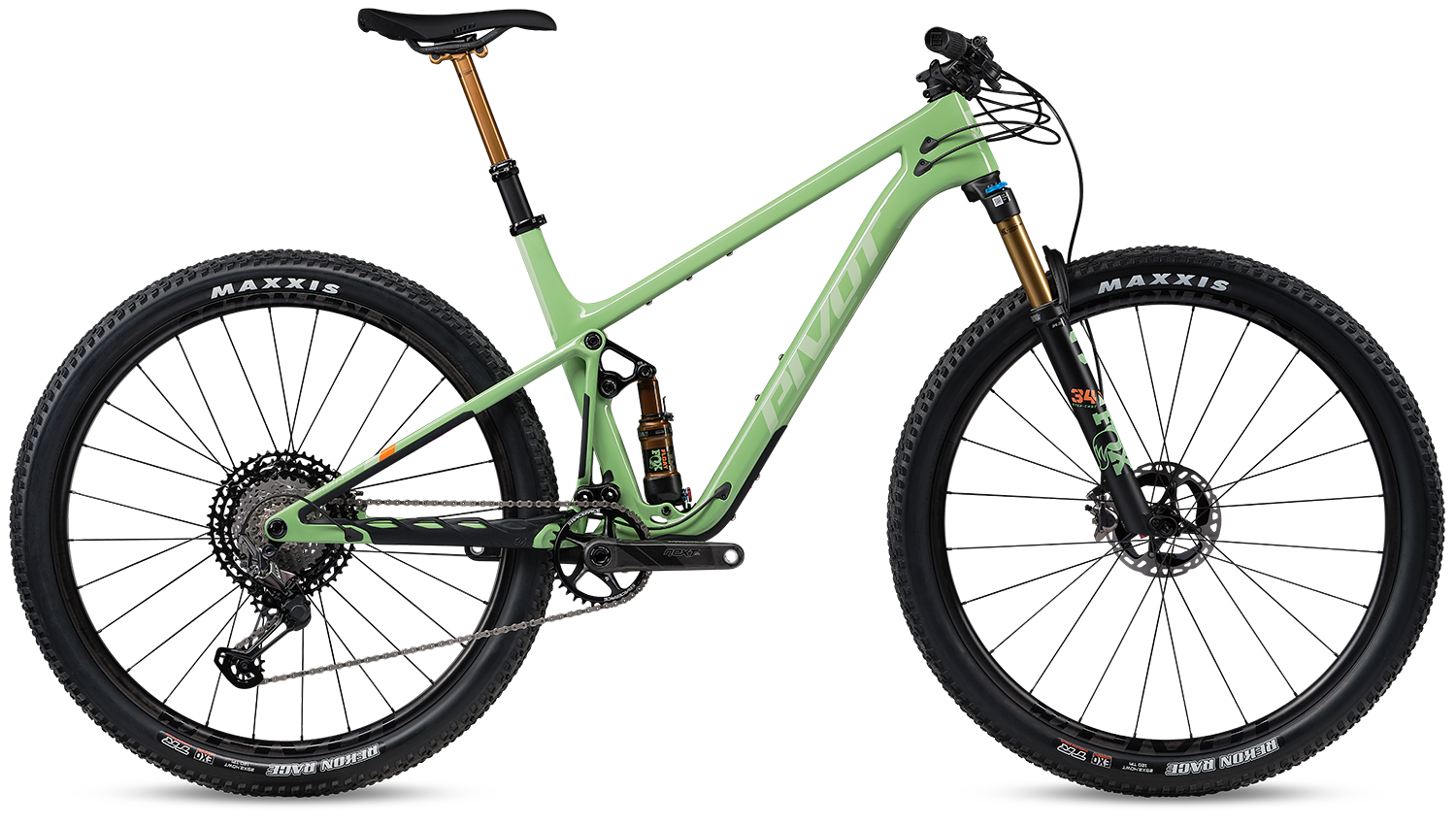 Interestingly, versions of the Mach 4 SL that come with Reynolds carbon wheels (whether as the standard option or an upgrade) feature Maxxis Rekon Race 2.4'' tires at both ends, while the DT Swiss wheels come shod in Maxxis Ardent Race rubber in a 2.2'' width. The World Cup builds also get a SRAM TwistLoc remote lockout for both the fork and shock; the Team and Pro builds use it for the rear shock, only, and the Ride builds forgo the remote altogether.
Some Questions / Things We're Curious About
(1) The Mach 4 SL World Cup builds seem to be straightforwardly aimed at true XC race duty, but what sorts of riders are going to be best suited for the Ride, Pro, and Team options, with more suspension travel, slightly burlier parts, and substantially different geometry?
(2) Does offering the Mach 4 SL with such a wide range of fork lengths feel like it introduces any particular quirks, or do both configurations feel fairly dialed?
Bottom Line (For Now)
Pivot appears to have given the Mach 4 SL a sensible set of updates — pared-down frame weight, SRAM Transmission compatibility, tweaked geometry, and so on — without reshaping it into a radically different bike than the prior iteration. And offering their XC race bike with a range of build options that span more than just hardcore race duty is a neat idea that Pivot seems to have had some success with on the prior-generation bike.