Propain Ekano 2 AL
Wheel Size: 27.5" rear / 29" front
Travel: 170 mm rear / 180 mm or 190 mm front
Geometry Highlights:
Sizes offered: S, M, L, XL
Headtube angle: 64°
Seat tube angle: 78º
Reach: 475 mm (size Large)
Chainstay length: 445 mm (all sizes)
Drive System Highlights
Motor: Shimano EP600 (not available in the U.S) / EP801
Torque: 85 Nm
Assist percentage: 400%
Battery: 626 Wh
Display: Shimano SC-EN600
Material: Aluminum
Price: Complete bikes: $5,889 to $8,999 (default builds; customized options start at $5,294)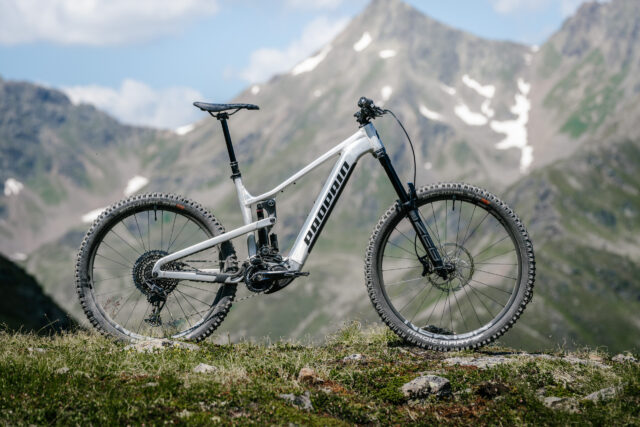 Intro
Propain isn't new to the eMTB market but their original Ekano hadn't seen a refresh in quite some time, and was something of the black sheep in their lineup, with a different suspension platform from their other (adult) full-suspension bikes, Shimano's prior-generation EP8 motor, and geometry that wasn't quite up to par with the rest of the market.
The new Ekano 2 not only gets the PRO10 suspension seen on their other bikes but also gets an increase in travel, revised geometry, and a mixed-wheel-only frame on what Propain is describing as the electrified version of their Spindrift Freeride bike. There's lots to go over here so let's dig in.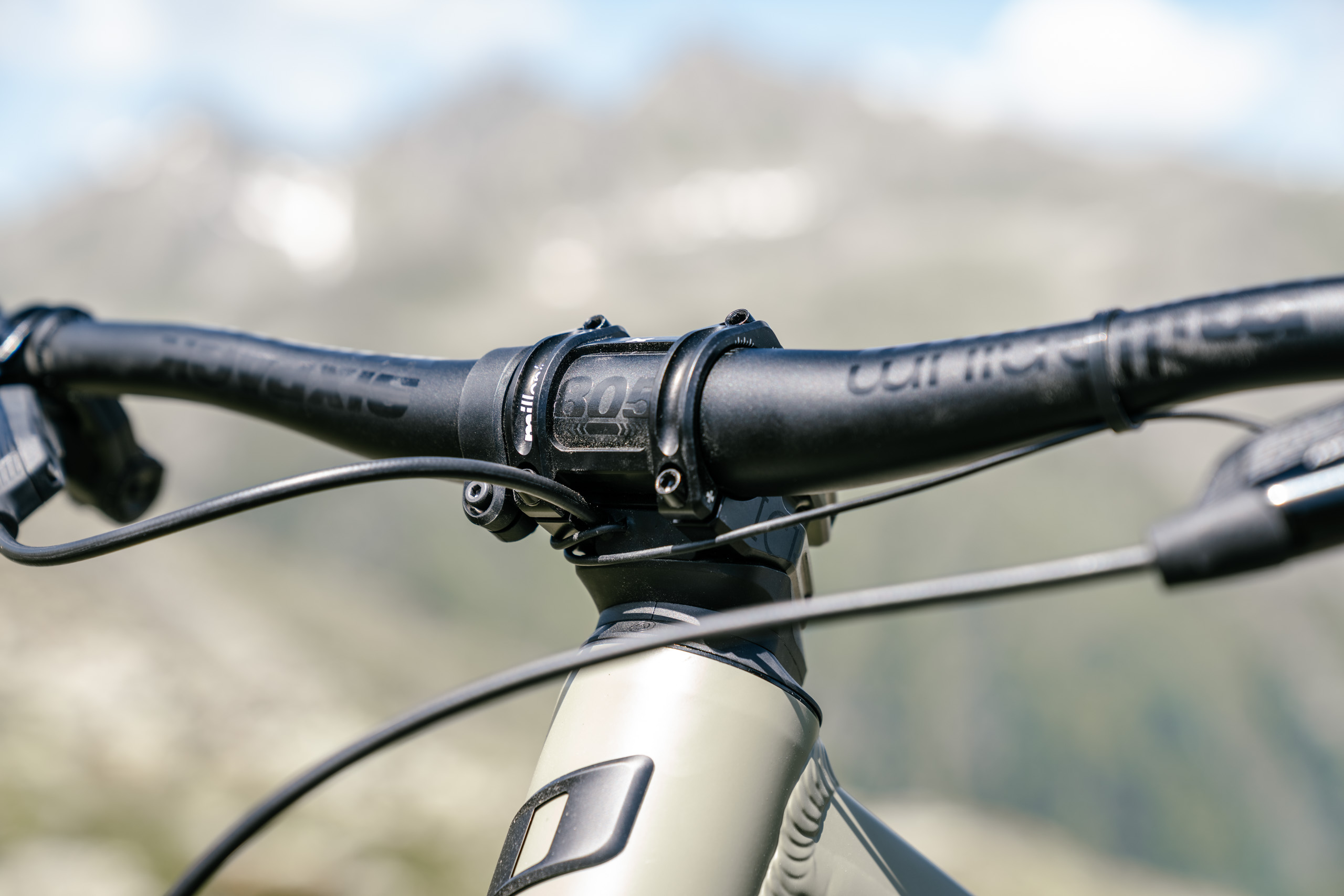 The Frame
Propain is only offering the Ekano 2 with an aluminum frame for the time being, and along with updating it to use their PRO10 suspension layout (a dual mini-link design with counter-rotating links that actuate the shock from both ends), they've bumped up the suspension travel to 170 mm in back, paired with a 180mm- or 190mm-travel fork (from 165 mm rear / 170 mm front). They've also added battery capacity, moved to the latest-generation Shimano EP801 motor, and more.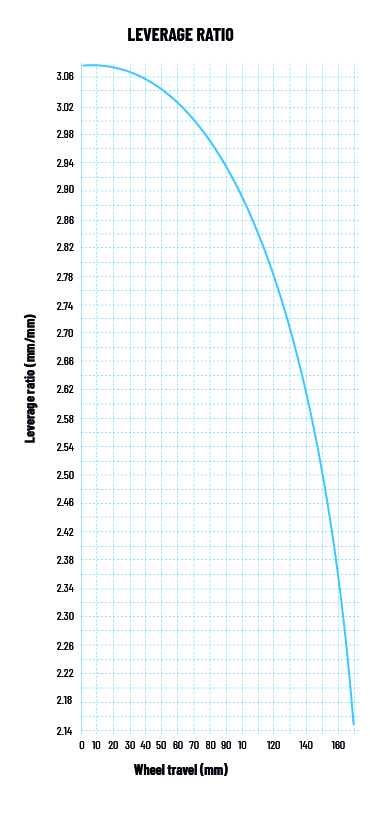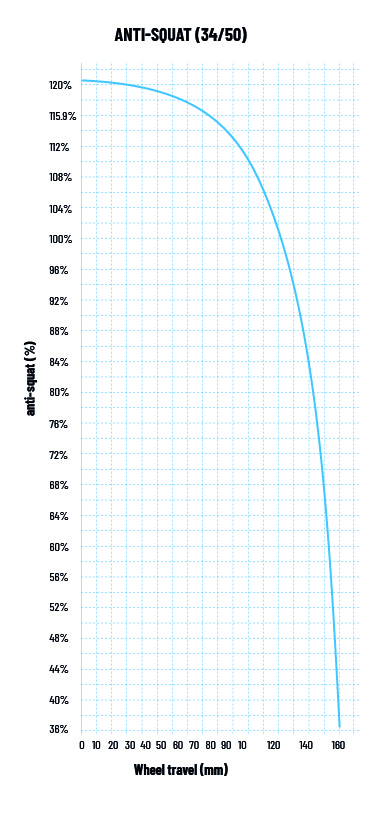 Propain claims the PRO10 suspension system has been optimized to manage the weight and power of an eMTB, and the anti-squat curve starts at just over 120% and stays relatively flat for about the first ~40% of the travel, before falling off very rapidly (to under 40% by bottom out). The leverage curve has a similar flat-ish portion early in the travel but falls off sooner and more steadily, with a less-sharp inflection point, going from just over 3.0:1 to under 2.2:1 at the end of travel. Propain states that the suspension's progression offers plenty of mid-stroke support and is compatible with both air and coil shocks. In a departure from the previous generation Ekano, which had flip chips for geometry adjustability and mixed-wheel-size compatibility, the updated Ekano 2 will be mixed-wheel-size only. Travel has been increased from 170 mm in the front to 180 or 190 mm; rear travel goes up from 165 mm to 170 mm.
The Ekano 2 has a water bottle mount inside the front triangle, 12×148 mm rear axle spacing, plentiful frame protection, and a SRAM UDH. And like the Tyee that Propain updated earlier this year, the Elkano 2 also gets integrated headset cable routing. The cables enter underneath the stem through a pinch seal, the headset spacers are clip-on, and since the cables don't go through the stem, the stem can be removed or adjusted up and down somewhat normally without removing the cables. The bearings in the headset are stainless steel, and combined with robust seals, Propain claims wear to the bearings is a non-issue — it will be interesting to see how this plays out with riders from places notoriously hard on bearings like the PNW, or Wales, to name a few. We mentioned in the Propain Tyee First Look that we would withhold judgment on their headset cable routing until we've spent some time on it, and the same applies to the Ekano 2.
Drive System
Propain continues to use Shimano drive systems for the updated Ekano 2. All U.S models will receive the EP801, with the heavier and less-expensive EP600 being an available option outside the U.S. The EP801 supplies the same 85 Nm of max torque as the previous EP8 motor but, importantly, it is claimed to deliver that torque throughout a wider cadence range. Other upgrades over the previous EP8 motor include a reported improvement in heat management, compatibility with Shimano's FREE SHIFT and AUTO SHIFT technologies, as well as CAN and ACC ports for increased connectivity to external devices.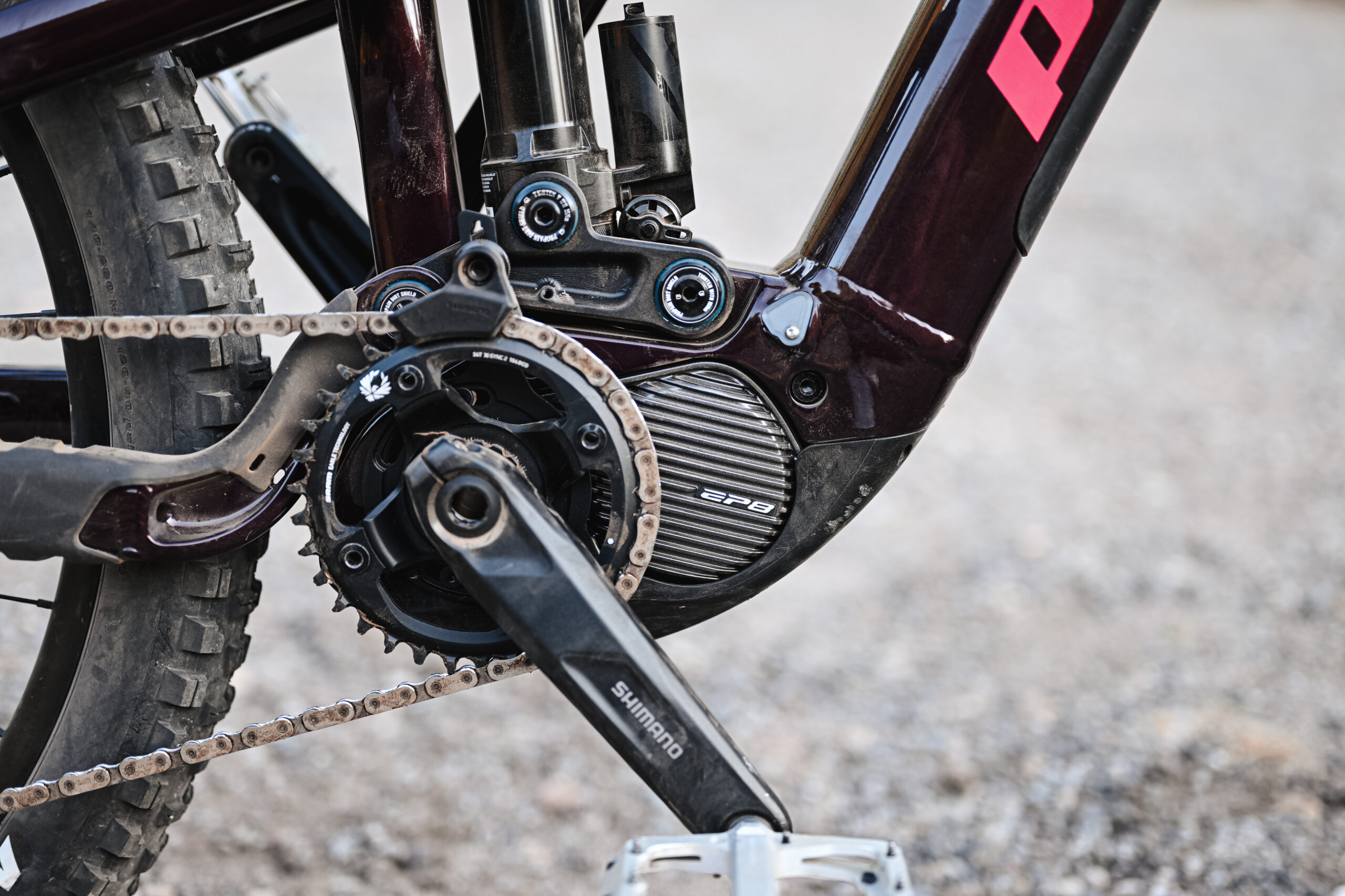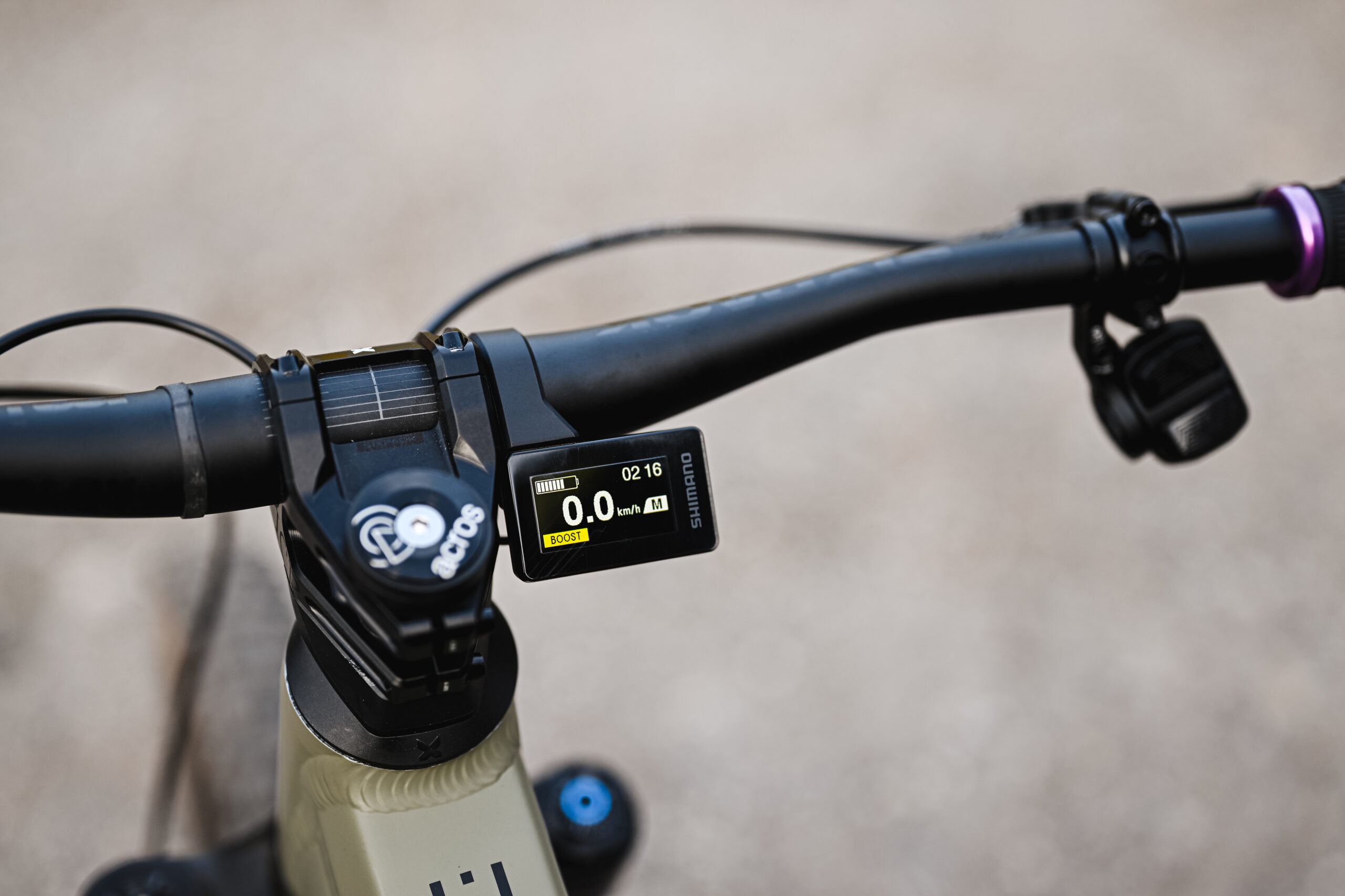 Both the Shred² and Goldrush builds will be spec'd with Shimano's handlebar-mounted SC-EN600 display, and the Price2ride build will not have a display (more on the build options below). With all the integrated top tube displays now being offered from brands like Bosch, Specialized, and Rocky Mountain, Shimano's handlebar-mounted display is starting to look a wee bit dated. Despite the less integrated appearance, the display does provide a comprehensive assortment of information — we just prefer the integrated top tube displays for a cleaner aesthetic and less cluttered handlebar.
All builds, either preconfigured or custom, will come equipped with a 626 Wh battery. 626 Wh is definitely not class-leading, with many competing eMTBs touting 750-plus watt-hours. Propain states that they are not interested in "who has the biggest battery" competition, and as a result, put an emphasis on lowering the weight and optimizing the weight distribution for improved handling. The 626 Wh battery will most likely have a decent range, but the challenge will be when riding with others on eMTBs with larger batteries — this will necessitate paying close attention to battery consumption and assist levels on longer rides.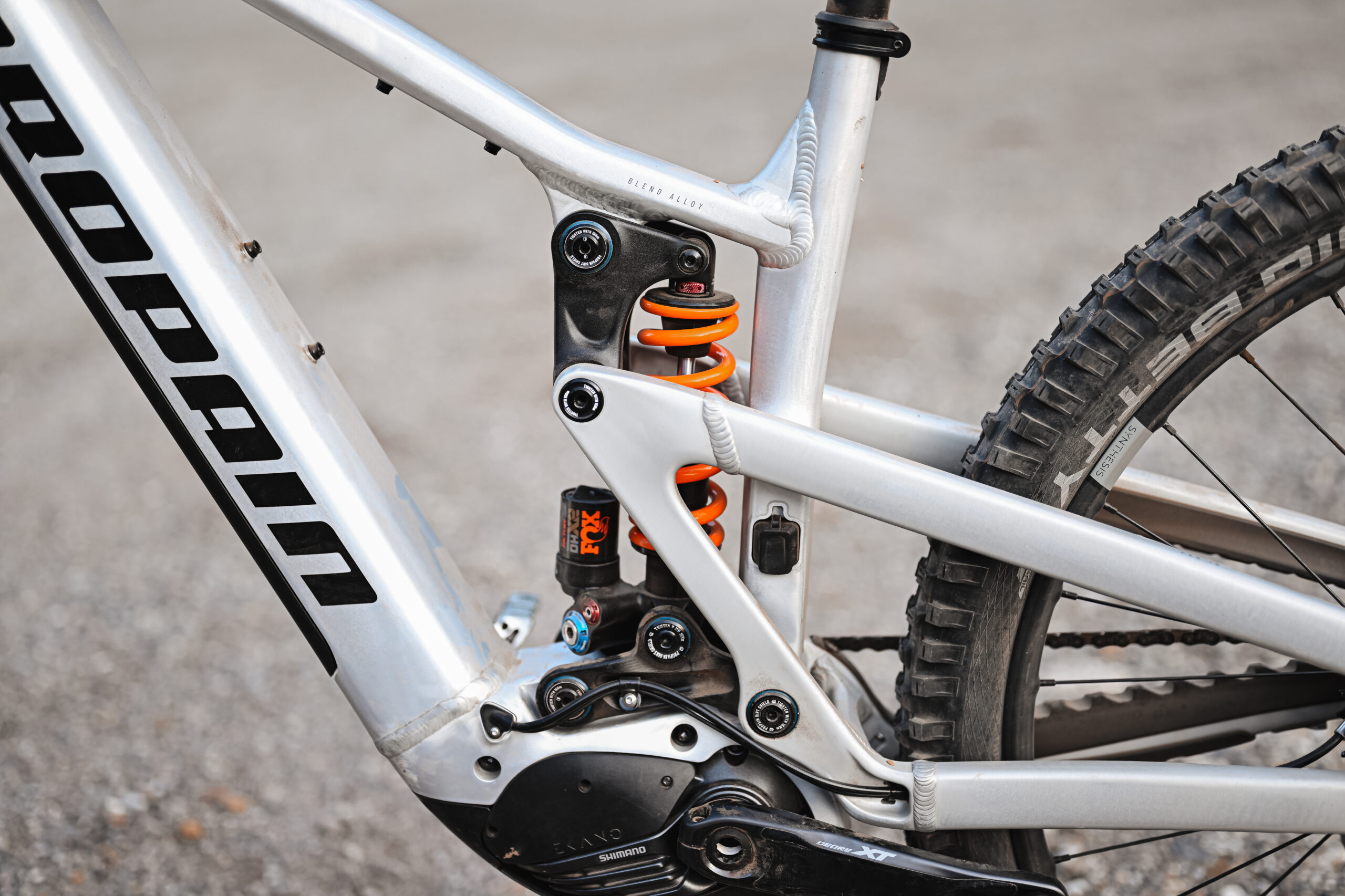 Fit & Geometry
Propain offers the Ekano 2 in four sizes: Small, Medium, Large, and XL. Reach for a Small is 435 mm, and then goes up 20 mm for each size, ending up at 495 mm for an XL. For a bike with 170 mm of rear travel and 180 or 190 mm in the front, these reach numbers are on the shorter side, but not wildly so (and are a whole lot longer than the outgoing Ekano). There's also a 78º seat tube angle, which makes for a relatively short effective top tube as well. We think it's possible that riders shopping for an eMTB in this travel category may find themselves in between sizes, but we'll have to wait to get one in for testing to make that judgment. A 64º head angle is plenty slack, but at the Ekano's travel, is not as slack as some other long travel e-bikes, like the Canyon Torque:ON for example. The stack height is high across the size range (653 mm for a size Large), which we are a fan of, but besides that, the overall geometry numbers are more on the conservative side.
The Builds
Propain offers three preconfigured builds in addition to custom builds selected through their online configurator. The preconfigured builds represent what Propain says is how they would build their own bikes, and they are also customizable — you can choose to upgrade parts, as well as specify things like dropper post travel, handlebar rise, and stem length. Although the Price2ride build is priced at $5,899, it apparently will not be their lowest-cost build, and if restraint is exercised in the configurator, it will be possible to build an Ekano 2 AL for $5,294.
All builds represent slightly above average value, and the Goldrush build with SRAM's XO Transmission and Crankbrothers Synthesis carbon wheels at $8,999 is a notably good value; eMTBs (granted, most at this build level are carbon and have bigger batteries) with this level of kit are routinely well north of $10k. We're fans of SRAM's Transmission and find the shifting performance under load to be a good match for eMTBs.
Drivetrain: SRAM GX Eagle
Motor: Shimano EP801
Battery: 626 Wh
Fork: RockShox Zeb Select + (180 mm)
Shock: RockShox Super Deluxe Coil-R
Brakes: Formula Cura 4 with 220 mm front and 203 mm rear rotors
Wheels: NEWMEN Evo EG30
Dropper Post: Bikeyoke Devine
Drivetrain: SRAM GX Eagle AXS
Motor: Shimano EP801
Battery: 626 Wh
Fork: RockShox Zeb Ultimate (190 mm)
Shock: RockShox Super Deluxe Ultimate RCT Air TR
Brakes: SRAM Code RSC with 220 mm front and 200 rear rotors
Wheels: NEWMEN Evo EG30
Dropper Post: RockShox Reverb AXS
Drivetrain: SRAM XO Eagle Transmission
Motor: Shimano EP801
Battery: 626 Wh
Fork: Fox 38 Factory Grip2 (180 mm)
Shock: Fox DHX2 2-Pos
Brakes: Magura MT7 with 220 mm front and 200 mm rotors
Wheels: Crankbrothers Synthesis Carbon i9 Ebike
Dropper Post: Fox Transfer Factory
Some Questions / Things We're Curious About
(1) The Ekano 2 AL's travel has increased notably, plus it is now mixed-wheel-size only. But the geometry numbers are on the conservative side for eMTBs at this travel, so how will all that add up on the trail?
(2) Is a 626 Wh battery enough for most folks? Who will be left wanting more?
(3) How will Propain's PRO10 suspension perform with the added weight and power of an eMTB?
Bottom Line (For Now)
The Ekano 2 has gotten a pretty significant makeover. At a glance, it looks like a shift to a more capable longer-travel brawler, but once we dug in, the geometry numbers suggest it could be a bit more well-rounded and playful. We got a first ride on the Ekano 2 at Crankworx last week (Blister Members can check out our Flash Review, linked below) and we're very curious to get more time on one to learn more.
Flash Review
Blister Members can read our Flash Review of the Ekano 2 for our initial on-trail impressions. Become a Blister Member now to check out this and all of our Flash Reviews, plus get exclusive deals and discounts on gear, and personalized gear recommendations from us.