Propain Ekano 2 CF
Wheel Size: 29'' front / compatible with 27.5'' or 29'' rear
Travel: 170 mm rear / 180 mm front
Geometry Highlights:
Sizes offered: S, M, L, XL
Headtube angle: 64°
Seat tube angle: 78º
Reach: 475 mm (size Large)
Chainstay length: 453 mm (all sizes)
Drive System Highlights
Motor: SRAM Eagle Powertrain
Torque: 90 Nm
Power: 680 Watts
Battery: 630 Wh
Display: Eagle Powertrain AXS Bridge Display
Frame Material: Carbon Fiber
Price for Complete Bikes: $7,794 to $11,299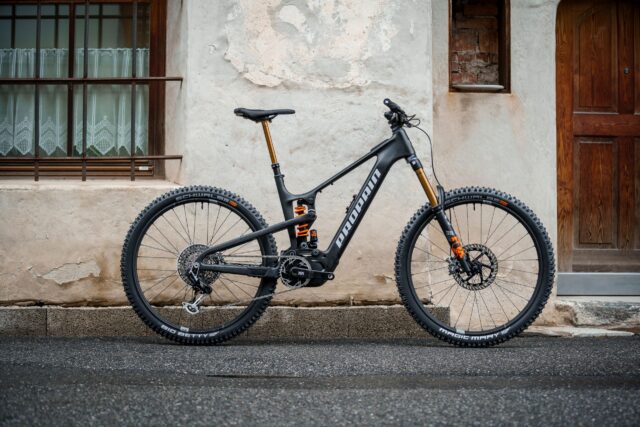 Intro
When SRAM launched their Eagle Powertrain eMTB drive system a few weeks ago, an unnamed model from Propain featured rather prominently in the photos of the Powertrain. It turns out that bike was the new Ekano 2 CF, and while it's got a lot of similarities to the Ekano 2 AL that Propain launched a few months back, there are some notable differences beyond just the change in drive system — including how Propain talks about their respective intended uses.
The Ekano 2 AL is described as a more playful, freeride-oriented take on a long-travel eMTB (and our early ride impressions bear that out). But Propain is talking up the CF version as a more game-on, race-focused twist on the platform, and they've made some tweaks to push the bike in that direction. So how has it all added up? Let's take a look.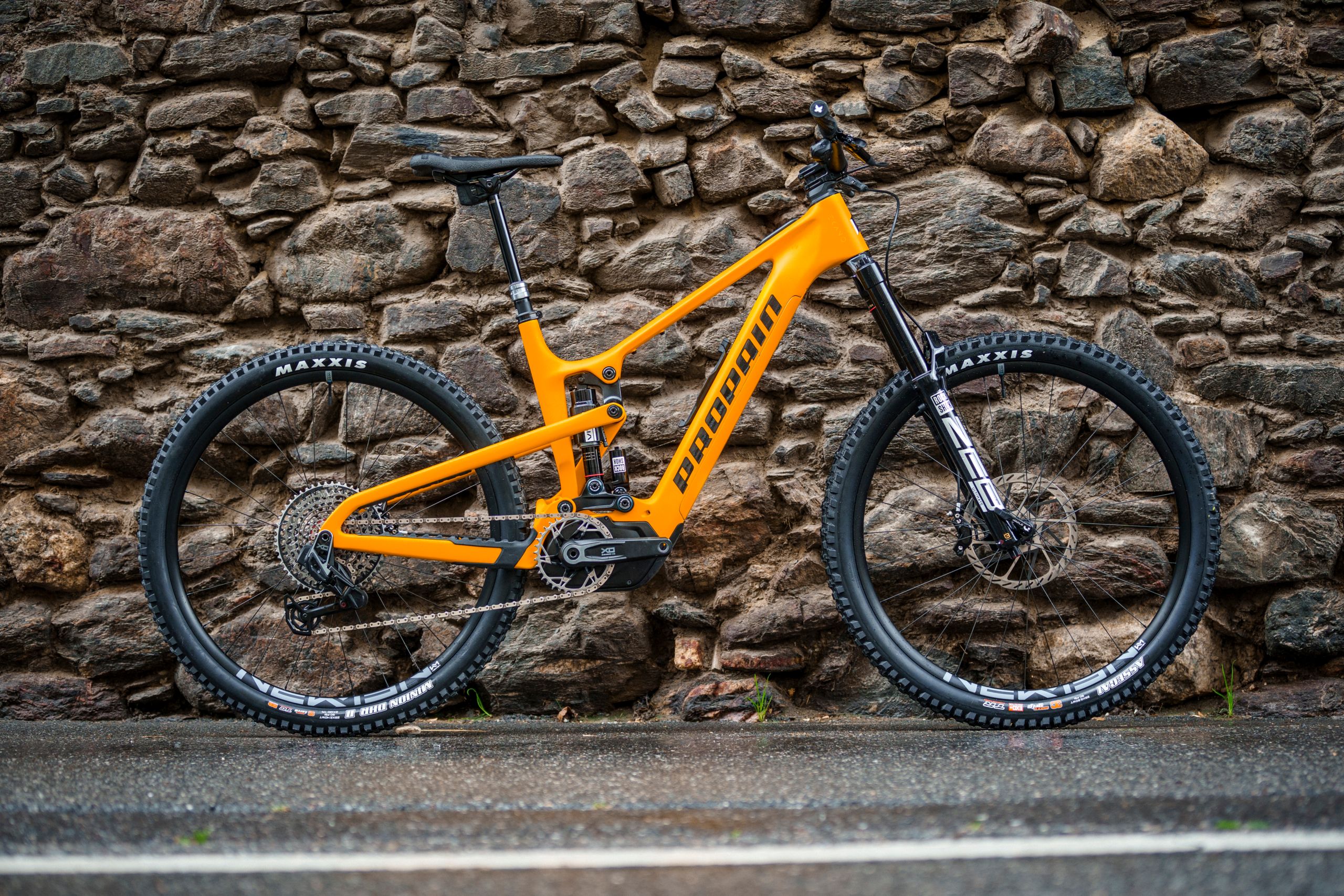 The Frame
The Ekano 2 CF looks quite similar to the AL version, with Propain's "PRO10" suspension layout (a dual mini-link arrangement that actuates the shock from both ends) carrying over here. There's room for a water bottle (or the SRAM Eagle Powertrain range extender — more on that below) inside the front triangle, as well as an accessory mount underneath the top tube.
The cable routing is fully internal and goes through the headset, but Propain says they've used stainless steel bearings and rubber grommets to keep the bearings spinning nicely for as long as possible and mitigate the need to reroute the cables when replacing the upper one. Propain has also used stainless steel bearings with additional sealing built into the pivot hardware to extend the life of those bearings as well.
Unlike the Ekano 2 AL, which is a dedicated mixed-wheel-size bike, the CF version can be run with either a 27.5'' or 29'' rear wheel, with a flip chip at the upper link toggling between the two settings. Propain's default builds (more on those below) appear to all opt for the full 29'' configuration, but we'd expect there to be options for 27.5'' rear wheels in Propain's custom build configurator once that goes live.
The Ekano 2 CF's other features are generally pretty standard — there's a UDH derailleur hanger, molded rubber guards on the chainstay and seatstay, and so on. The rear brake mount has two mounting positions, allowing for either a 200 or 220 mm rear rotor directly, without the need for an additional adapter.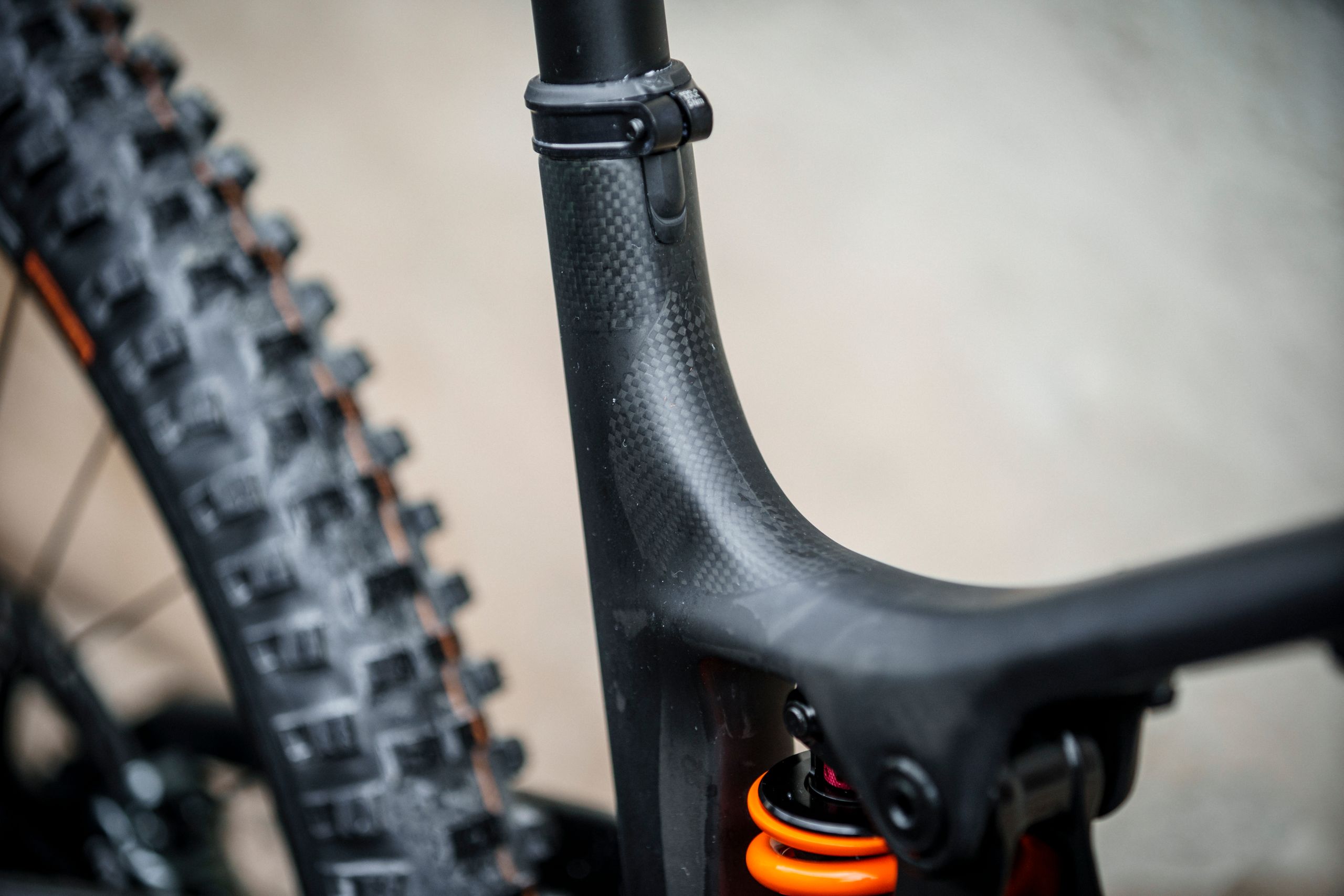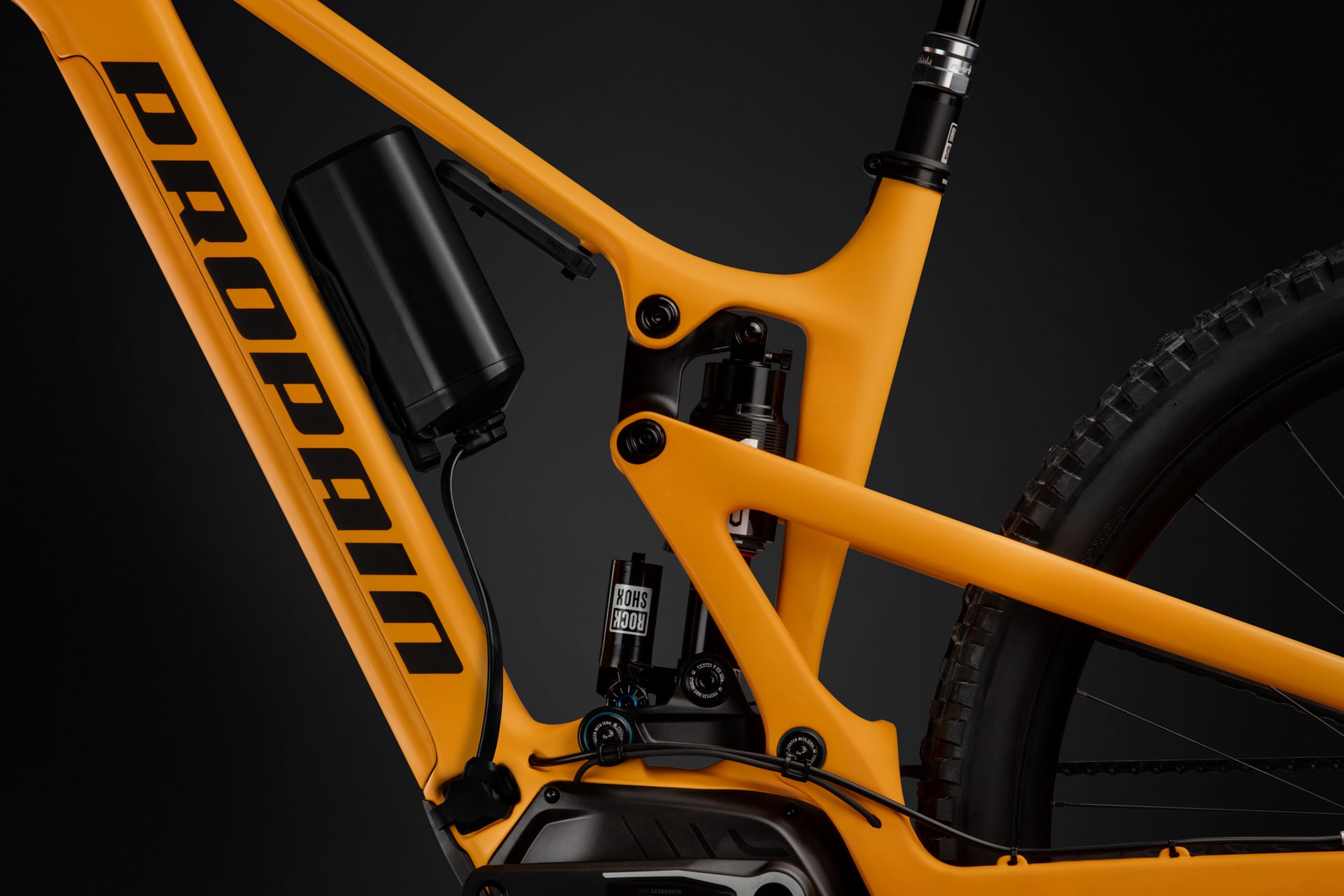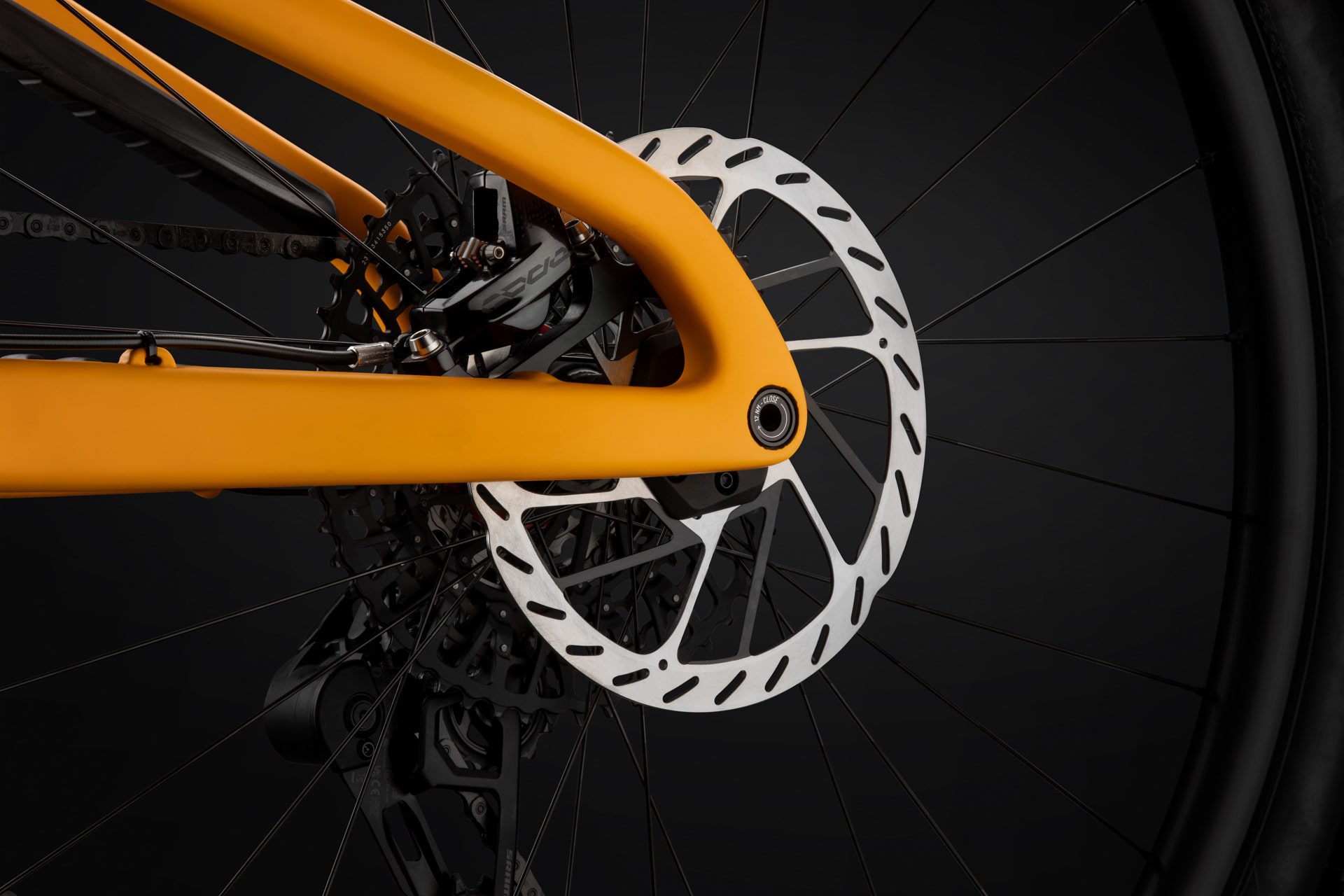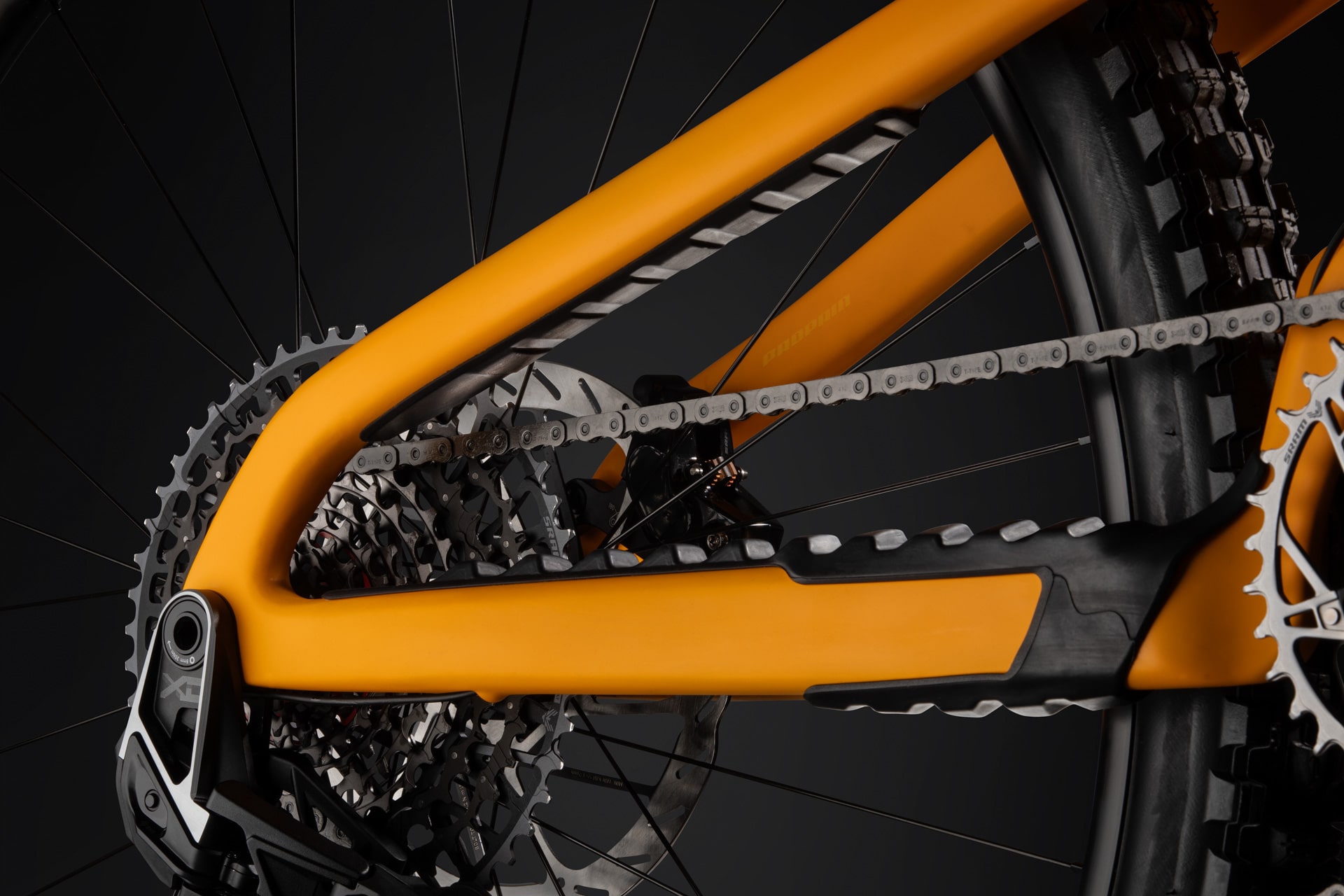 The Ekano 2 CF's suspension kinematics are similar, but not identical to those of the AL version. The leverage curve is very progressive — a little more so than the AL version — starting at about 3.05:1 and falling off to just over 1.8:1 (~40% total progression). Initially, it falls somewhat gradually and then becomes more progressive in the second half of the travel. Anti-squat has also been increased a touch, starting at about 135% and staying quite flat in the first third or so of the travel, before falling off dramatically (to under 10% by bottom-out).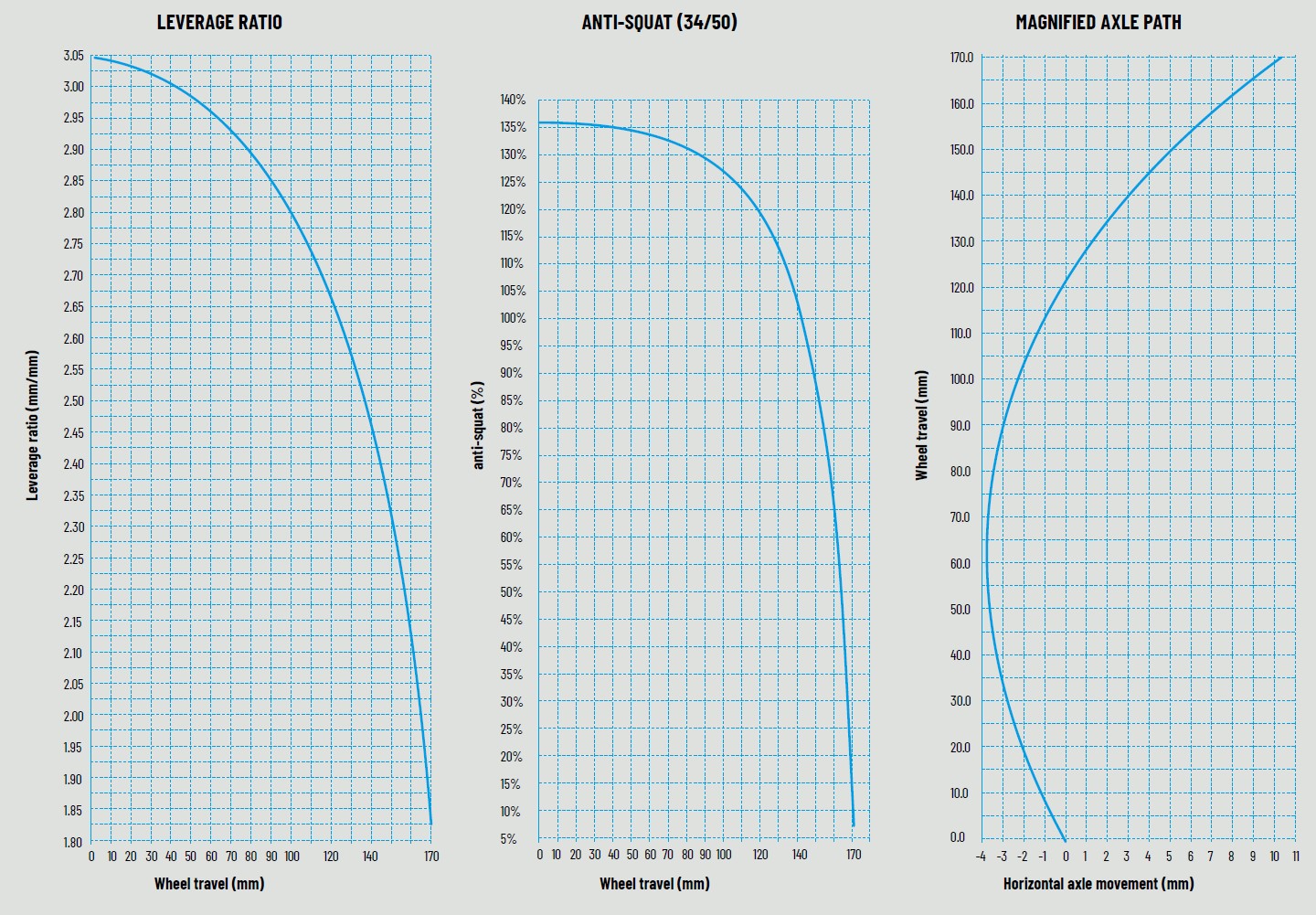 Drive System
The Ekano 2 AL uses Shimano drive systems, but the new CF version is built around the freshly revealed SRAM Eagle Powertrain. Propain has opted for the smaller 630 Wh battery option (which is removable through a hatch on the downtube), and the 250 Wh range extender is compatible.
Check out our First Look on the Powertrain for a lot more on the system; in the case of the Ekano 2 CF, it uses the standard top-tube-mounted Eagle Powertrain AXS Bridge Display and SRAM's AXS Pod controllers (though a number of the Ekano 2 CF builds forgo the left Pod and RockShox Reverb AXS dropper post in favor of a mechanical option, which does limit the system functionality a little — more on that below).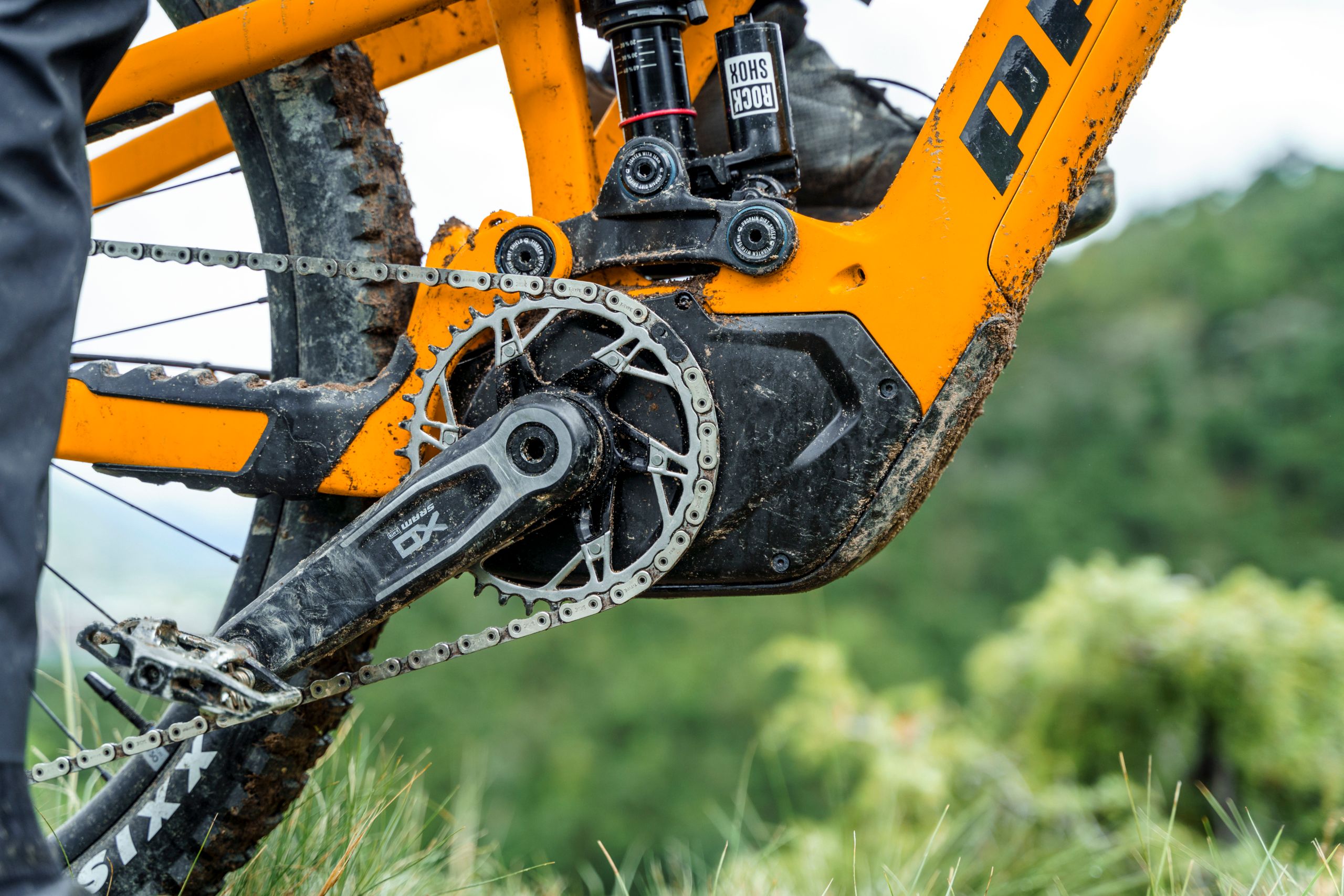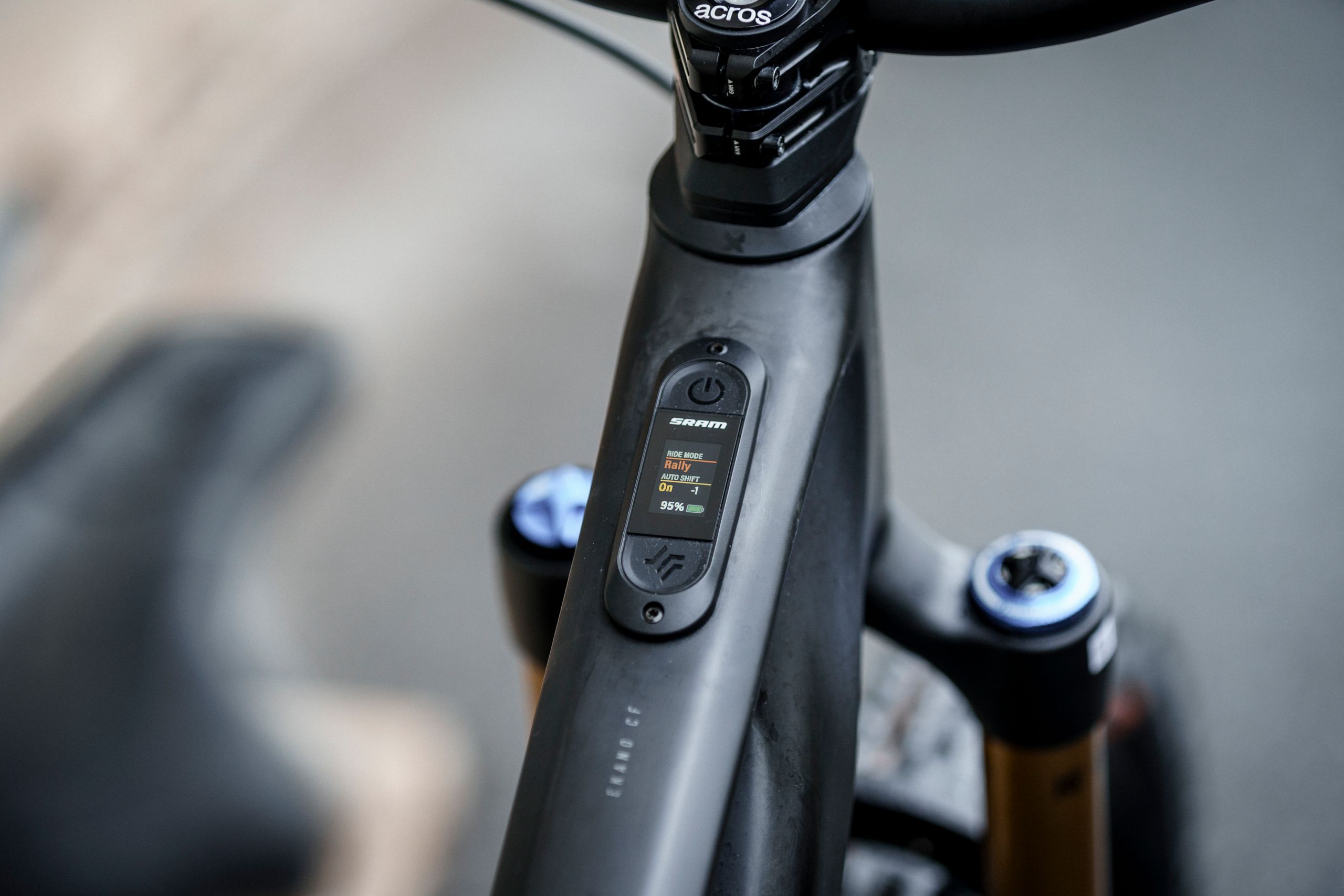 Propain says they've opted for the smaller 630 WH battery (as opposed to the heavier 720 Wh option) because they feel like it strikes a better balance between range and system weight / maneuverability. It'll be interesting to see how the Eagle Powertrain's range compares to that of other full-power systems with a similar battery capacity, but especially when you factor in the option of adding the 250 Wh range extender, the Ekano's battery capacity should be plenty for most people most of the time.
Fit & Geometry
Propain offers the Ekano 2 CF in the same four sizes as the aluminum version, Small through XL, and their geometry numbers are mostly similar, with a few notable differences.
Both versions get the same 64° headtube angle, 78° effective seat tube angle, and reach ranging from 435 to 495 mm in 20 mm increments. The effective top tube lengths are also within a millimeter of each other for a given size, but the Ekano 2 AL has a notably steeper actual seat tube angle (77.2°, as compared to 75.6° on the carbon version) so we'd expect the seated cockpit on the AL to feel a little more compact, especially for taller folks with a greater seat height.
The Ekano 2 CF also gets longer chainstays than its aluminum counterpart, at 453 mm (vs. 445 mm). Propain's listed geometry numbers are in the 29'' configuration, but they say switching to the mixed-wheel setup leaves things effectively unchanged.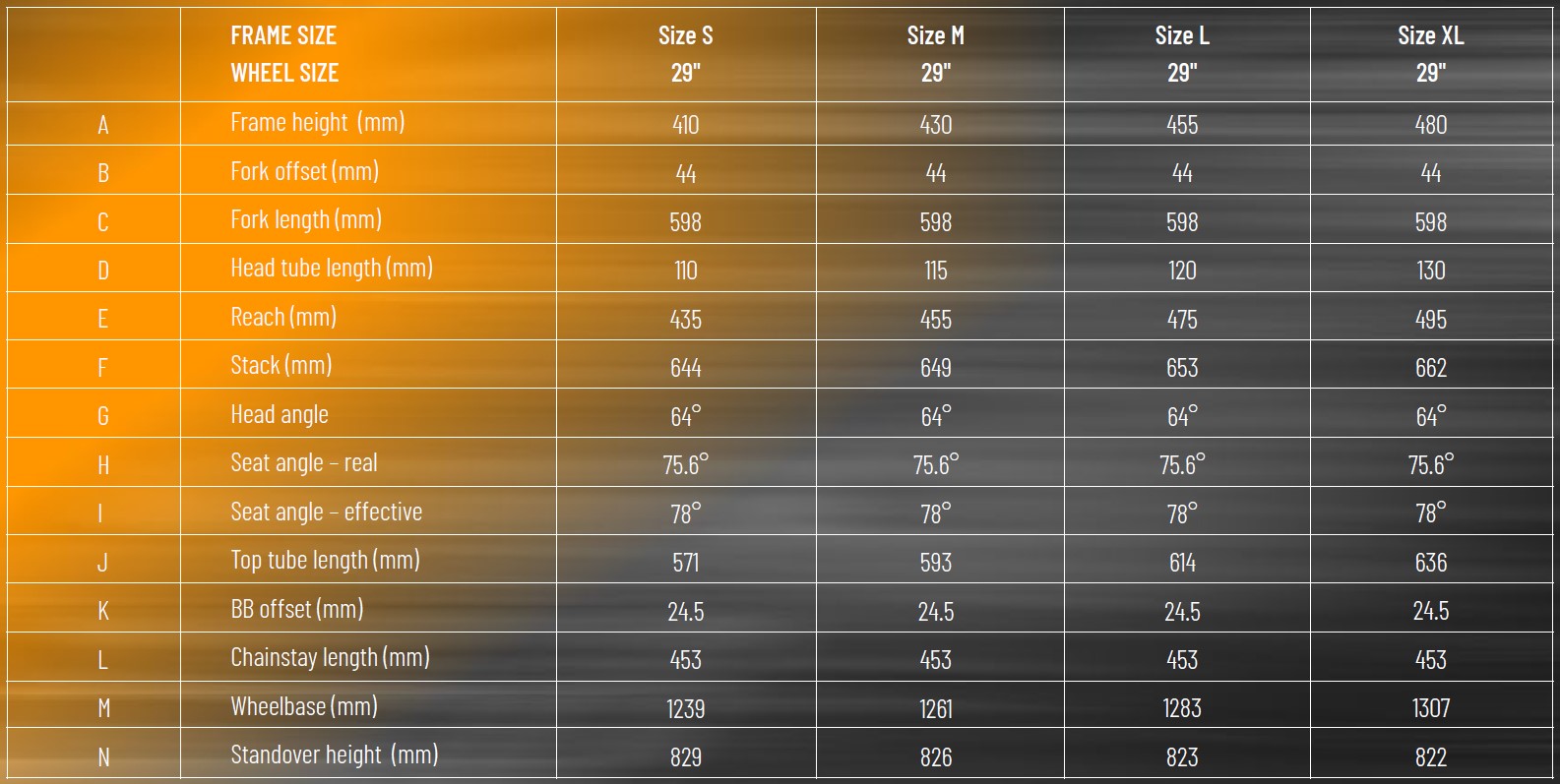 The Ekano 2 CF's geometry looks plenty modern but is a touch on the more compact end of the spectrum for a long-travel Enduro-oriented bike, especially in terms of sizing. It'll be interesting to see how that all adds up on the trail, especially since Propain is describing the Ekano 2 CF as a race-oriented go-fast sort of bike, but we'll just have to get on one to find out more.
The Builds
Propain offers three standard builds on the Ekano 2 CF, but as per usual for them, those build kits are just recommended combinations. You're able to either tweak them or start from scratch and put together a custom build from their menu of options if you're so inclined. Check out the configurator on their site for all the options.
Interestingly, Propain has decided to forgo the RockShox Reverb AXS as the standard dropper post offering on a couple of the stock builds, and in doing so, have slightly reduced the features of the SRAM Eagle Powertrain — with just a single AXS Pod controller, you'd lose the push mode and ability to toggle ride modes via the remote (instead needing to do it on the top-tube mounted display).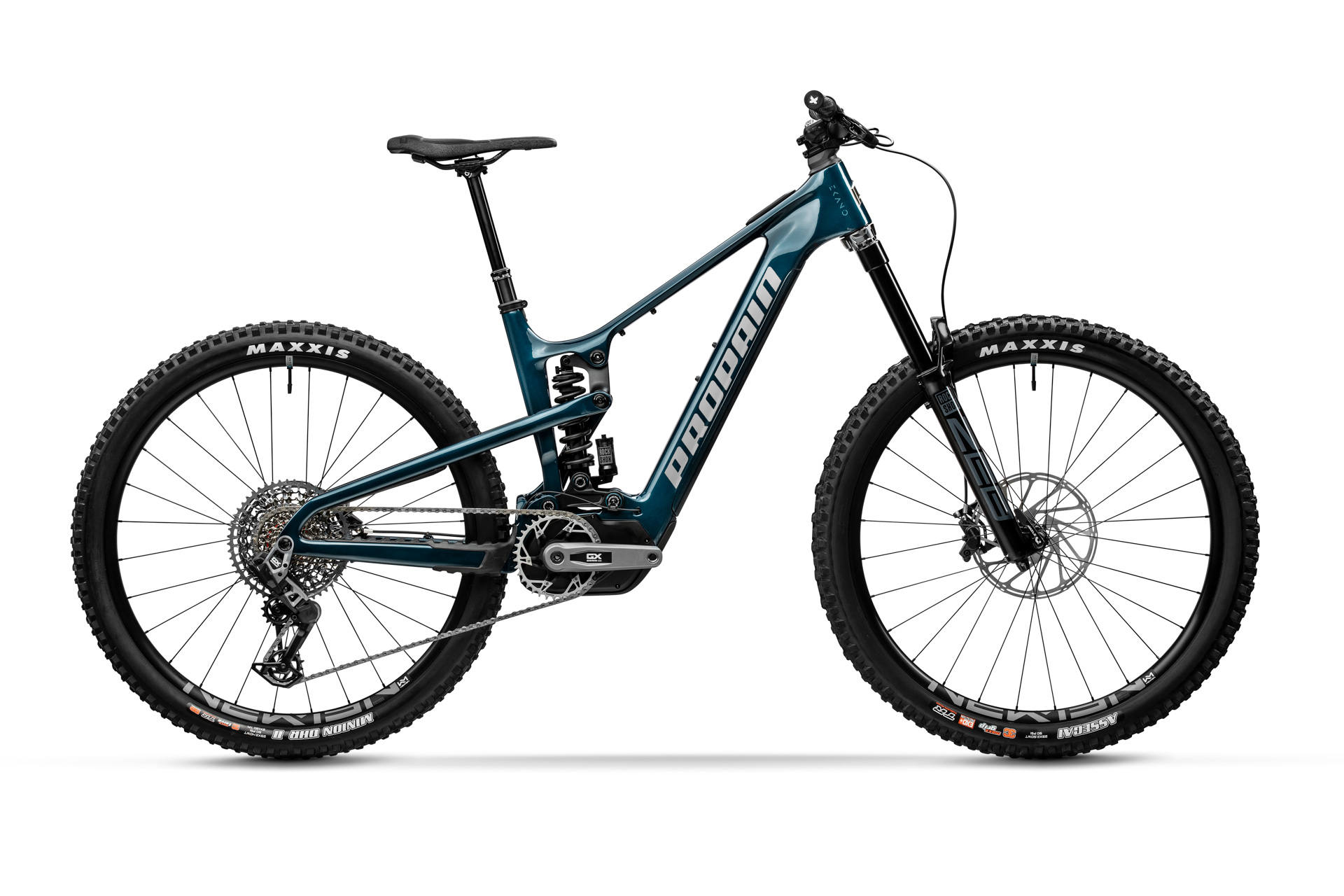 Propain has also opted to spec standard AXS batteries on the T-Type derailleurs, rather than SRAM's extension cords, which power the derailleurs via the drive system battery.
Here are the highlights for the standard Ekano 2 CF builds:
Drivetrain: SRAM GX T-Type
Motor: SRAM Eagle Powertrain
Battery: 630 Wh
Fork: RockShox ZEB
Shock: RockShox Super Deluxe Select Coil
Brakes: SRAM DB8
Wheels: Newmen Performance 30
Dropper Post: Bikeyoke Divine
Drivetrain: SRAM X0 T-Type
Motor: SRAM Eagle Powertrain
Battery: 630 Wh
Fork: RockShox ZEB Ultimate
Shock: RockShox Vivid Ultimate
Brakes: SRAM Code RSC
Wheels: Newmen Evo EG 30
Dropper Post: Bikeyoke Divine
Drivetrain: SRAM XX T-Type
Motor: SRAM Eagle Powertrain
Battery: 630 Wh
Fork: Fox 38 Factory Grip2
Shock: Fox DHX2
Brakes: Magura MT7
Wheels: Crankbrothers Synthesis Carbon
Dropper Post: Fox Transfer Factory
Some Questions / Things We're Curious About
(1) Propain says that the Ekano 2 CF is meant to be the more focused, race-oriented counterpart to the freeride-oriented Ekano 2 AL, but their geometry and suspension kinematics are actually quite similar, though not entirely identical. Do the little tweaks Propain has made (including the option for a 29'' rear wheel on the CF version) really make them feel substantially different?
(2) How does the Ekano 2 CF's SRAM Eagle Powertrain compare to the Shimano EP801 used on the Ekano 2 AL?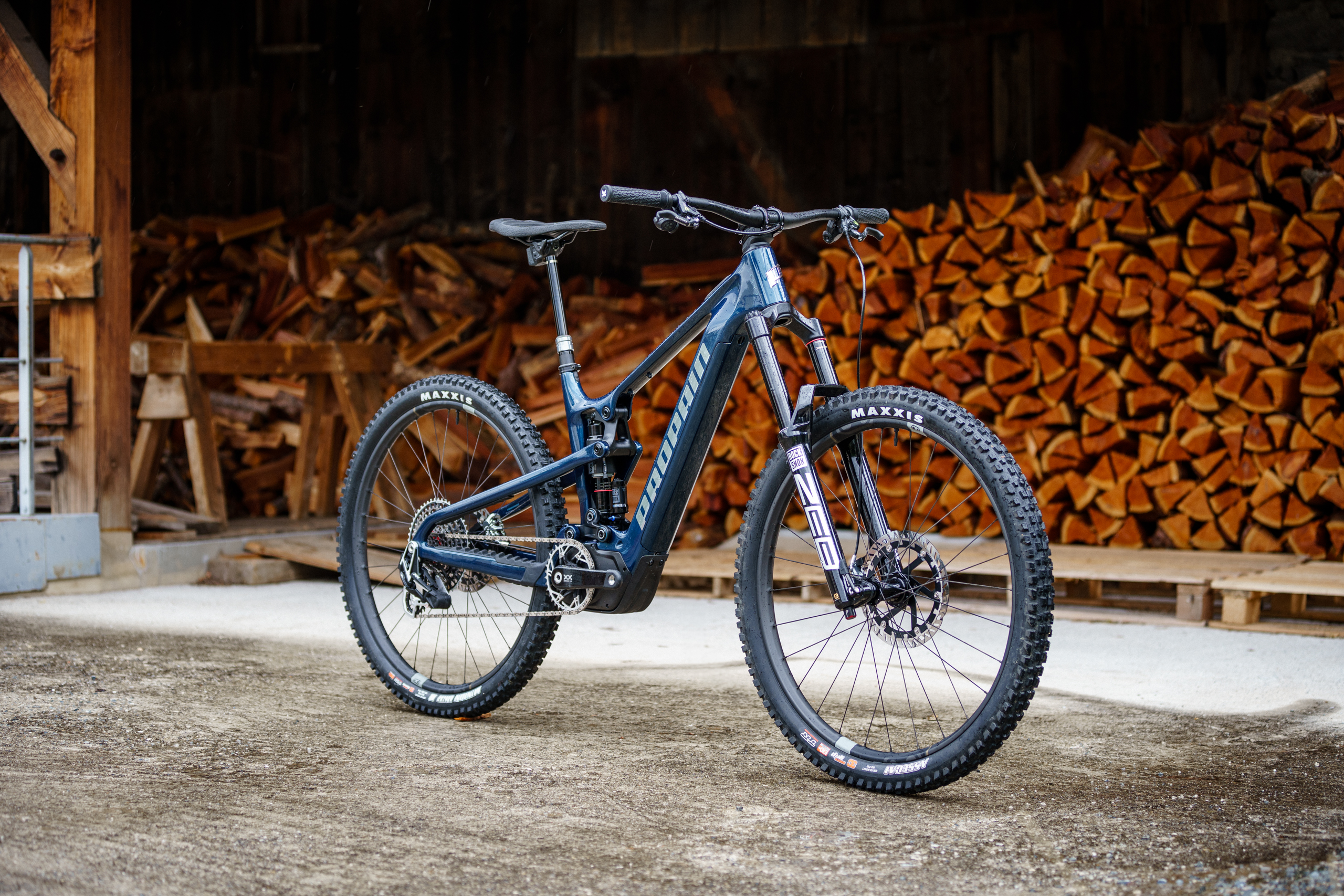 Bottom Line (For Now)
When photos of a new Propain model appeared with the launch of SRAM's new Eagle Powertrain, we wondered if it would be a carbon fiber version of the Ekano 2 AL they'd just launched, or something else entirely. The answer seems to be somewhere in between because the Ekano 2 CF bears a strong resemblance to the aluminum version, but has some extra tweaks beyond just the frame material and drive system. We're curious to get on an Ekano 2 CF to see how it compares to the aluminum version and the long-travel full-power eMTB market as a whole, and will report back if and when we're able to make it happen.