Intro
When considering a new running shoe, there are so many similar-looking shoes on the market being made by so many different companies, it is virtually impossible to (1) know where to begin; (2) quickly figure out which one or two products from a given brand might work well for you; and (3) determine what products from other brands might be the most similar and also worth considering.
So in our new "Blister Brand Guide" series, we provide an overview of the entire product lineup of a brand; highlight how each product stands out from the rest of that brand's lineup; and help you figure out quickly and easily which shoe might work best for you.
In our individual product reviews, we go very deep into the details of particular products. With these Brand Guides, the goal is not Depth, but Breadth. Our Brand Guides and full reviews are designed to complement each other — provide a broad overview of entire company lineups, and then also very detailed reviews of individual products.
Brand Background: Dynafit
Similar to several other brands we've featured in this series, Dynafit's emergence into the trail shoe space happened a bit later than some of the biggest brands. Up until the last decade or so, Dynafit's main focus had been on producing highly capable equipment for backcountry skiing and ski mountaineering, which helped establish their reputation as industry leaders in the world of snow sports. Hailing from Austria, Dynafit was officially incorporated in 1969 and quickly found success making boots and bindings for downhill ski racing and touring. After a change in ownership in the early 2000s, the brand rededicated themselves to lightness, efficiency, and speed, three design principles they planned to use as their north star heading into the 21st century. These tenets yielded results; Dynafit is now widely credited with pioneering "Speed Mountaineering," a style of climbing defined by its quick, minimalist approach.
In the summer of 2011, Dynafit launched their first trail running collection, a close collaboration between designers and skimo athletes in need of true mountain running shoes to train in during their off-seasons. Now over a decade old, and with over a dozen models to their name, it's finally starting to feel like Dynafit's trail running line is getting its due, especially in the US market. Their shoes are uniquely styled to perform on truly treacherous terrain, and as European-style events such as vertical kilometers and sky races continue to spread, more and more of Dynafit's models are finding their way to starting lines everywhere.
There are a couple proprietary technologies Dynafit uses throughout their lineup that are worth commenting on in this prologue. A good starting point is their "Heel Preloader," which amounts to a TPU band that wraps around the rear of the shoe above the calcaneus. Its primary function is to enhance heel hold when under tension before then transferring force through the rest of the stride. This feature works in conjunction with their "Alpine Rocker" (a rocker-shape midsole geometry) to improve energy return. Other notable components unique to Dynafit include their "Invisible Lacing System," which is simply their take on quick laces, with the addition of a stretch covering to keep out debris; and the use of grippy Pomoca outsoles, a clear influence from their ski side. Fit-wise, expect Dynafit shoes to adopt a slimmer fit, though they're pretty good about adapting each model's volume to its intended purpose (e.g. wider lasts for their long-distance models).
This breakdown will give a quick overview of each model's features and intended purpose. It's organized from most- to least-cushioned.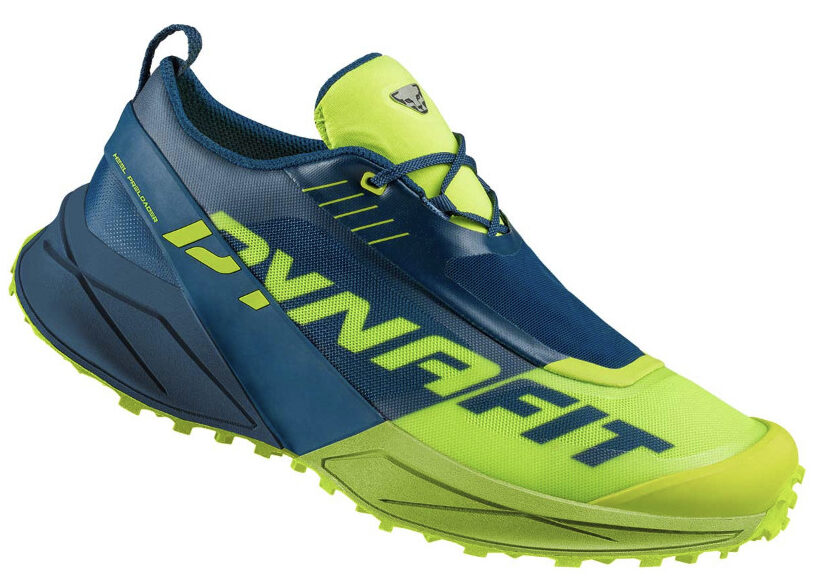 As Dynafit's only maximal trail shoe, the Ultra 100 is outfitted with everything necessary to take runners deep into ultra-length runs on mountainous terrain. Models within this category normally place a huge premium on comfort, and much of the Ultra 100's design takes this to heart. With 32 mm of stack height, the shoe should provide plenty of cushioning for long days on trail, and as the highest volume model within Dynafit's line, there should also be plenty of room in the midfoot / forefoot to accommodate wider feet / swelling. To ensure the Ultra 100's high volume doesn't compromise foot security and stability, Dynafit gave the Ultra 100 their proprietary "Heel Preloader," a diagonal reinforcement along the rear of the shoe to improve fit; quick laces protected by a stretch covering they call their "Invisible Lacing System"; a runner-friendly 6 mm heel-to-toe drop; and a grippy Pomoca "Gliding Path" outsole configuration that supposedly helps promote better foot mechanics. Feature-laden as it may be, the Ultra 100 isn't significantly heavier than other shoes in Dynafit's lineup, an attention toward weight that gives its versatility a boost. Still, it's clearly optimized as a model for long runs (with a bias towards ones involving a lot of climbing / descending), so if that's your jam, the Ultra 100 could be worth a look.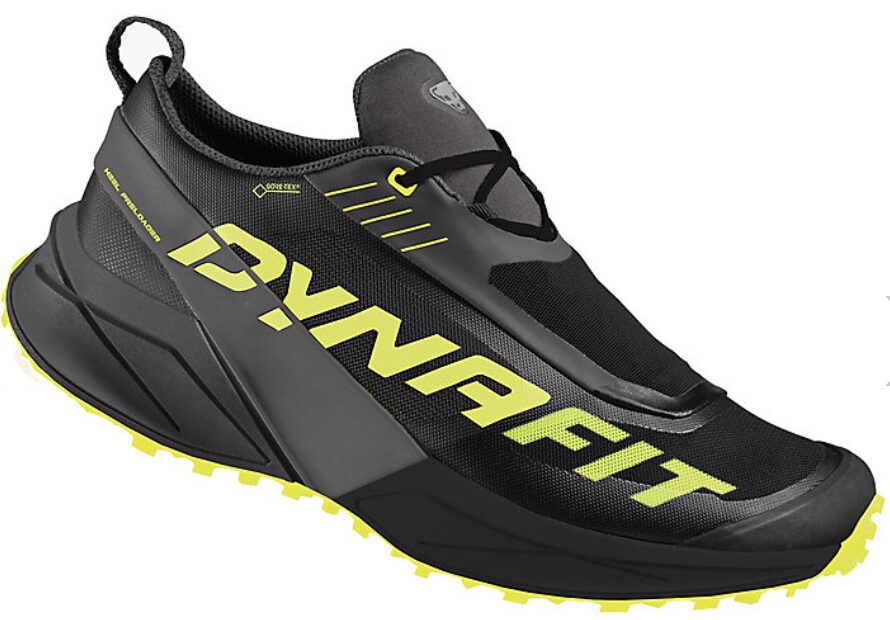 The Ultra 100 GTX is the waterproof version of the standard Ultra 100. It has all the same features as the original model, with the addition of a Gore-Tex "Invisible Fit" membrane. While weatherizing the shoe will add some weight and make the shoe less breathable, it should help keep feet warmer and dryer in wet conditions. If you like the sound of the Ultra 100 but do a lot of running in harsh environments, consider the Gore-Tex version.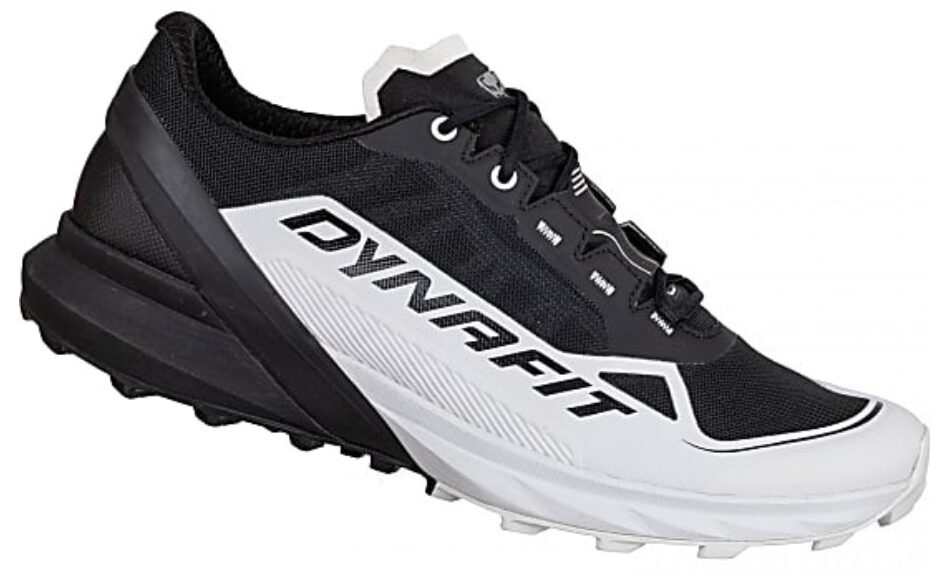 Putting "ultra" in the name of a trail shoe readily tips the hand of its intended use, at least most of the time. While definitely suited for longer distances, the Ultra 50 is not Dynafit's most cushioned ultra-distance option (the Ultra 100 fills that role). Instead, it settles into more of a dynamic all-mountain role; just as comfortable on technical trails as it is on soft ground, and up for plenty of miles, though we think there are better options in Dynafit's lineup for anything more than a marathon. The Ultra 50's aggressive Pomoca outsole should help keep the shoe stable on sloppy trails, and the midsole's "Alpine Rocker" design, paired with Dynafit's Heel Preloader, will likely lend it a snappy feel at speed. Because this model anticipates lengthy efforts, it has a higher volume than shoes like the Sky DNA and Feline SL, something to keep in mind for runners with wide feet. A more accommodating fit is reflected in the Ultra 50's 3D mesh upper as well, which features a seamless tongue to reduce pressure points, toe box reinforcements and TPU overlays for added protection, and traditional laces that can be fine-tuned for comfort / security. If you're looking for a thoughtfully designed mountain shoe that can be used for all sorts of runs on anything from pedestrian trails to alpine singeltrack, check out the Ultra 50.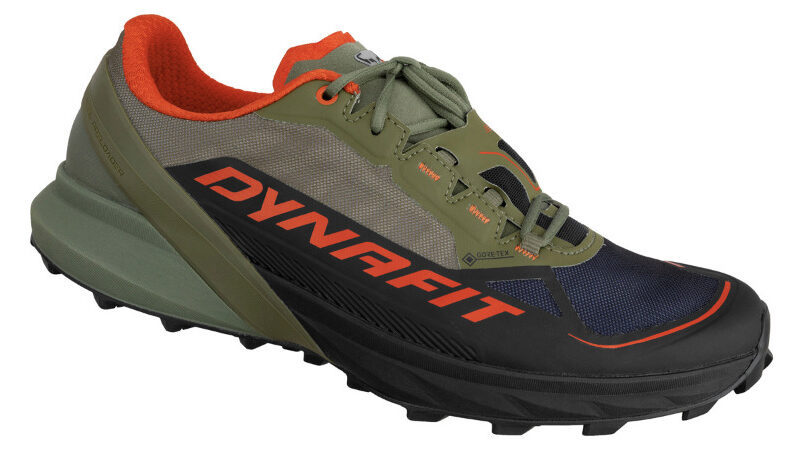 The Ultra 50 GTX is the waterproof version of the standard Ultra 50. It has all the same features as the original model, with the addition of a Gore-Tex Invisible Fit membrane. While weatherizing the shoe will add some weight and make the shoe less breathable, it should help keep feet warmer and dryer in wet conditions. If you like the sound of the Ultra 50 but do a lot of running in harsh environments, consider the Gore-Tex version.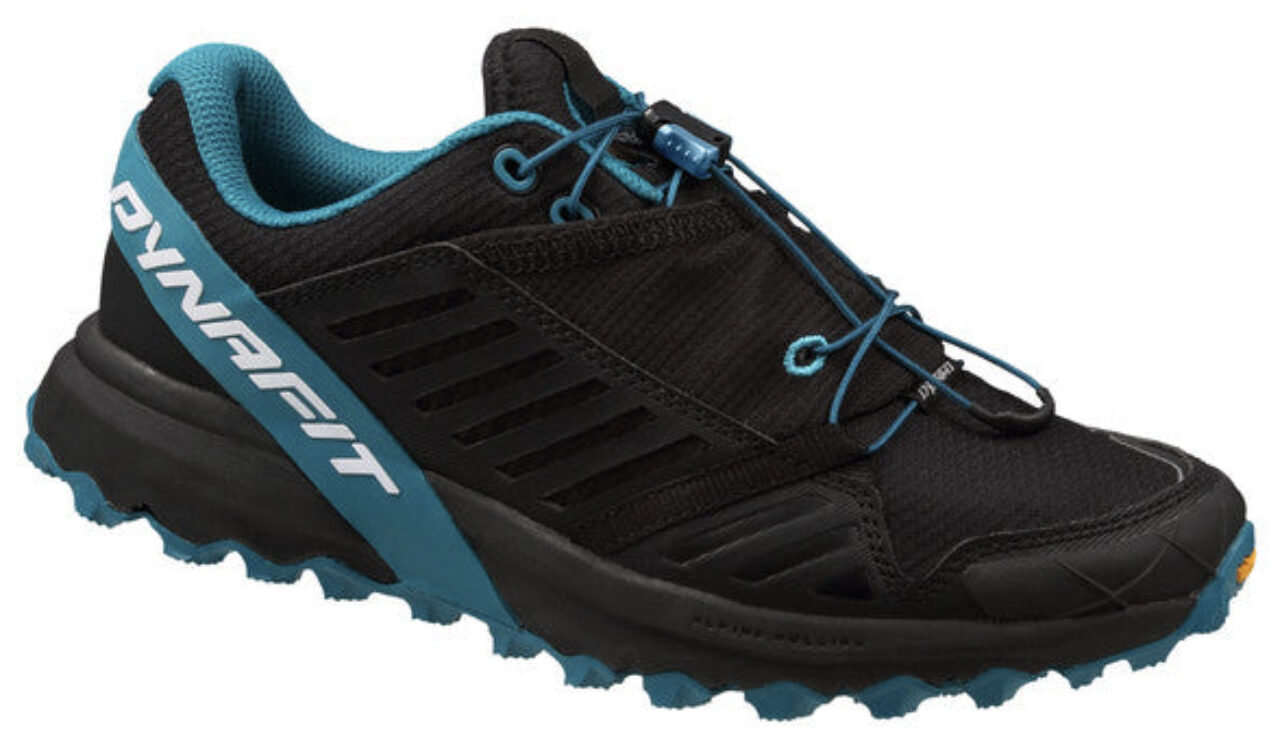 Despite sharing a name similar to the Alpine, the Alpine Pro is a very different shoe. It's another one of Dynafit's models praised for its versatility on technical terrain. Featuring a dual-density compression-molded EVA midsole with Dynafit's Alpine Rocker geometry; a medium volume fit; an 8 mm drop; a Vibram MegaGrip outsole; and a "Carbon Shield" carbon plate designed to improve energy return and function as a protective rock plate; the Alpine Pro's structure should promote efficient running mechanics, making it a more suitable option for legitimate trail runs rather than off-trail scrambling missions. Dynafit also includes their proprietary "Rubber Tension" feature — similar to the Heel Preloader used throughout their lineup — to provide better rear foot lockdown, as well as their Invincible Lacing System as an added defense against debris. If you like the standard Alpine but want a bit more range and protection for medium to long distance mountain runs, check out the Alpine Pro.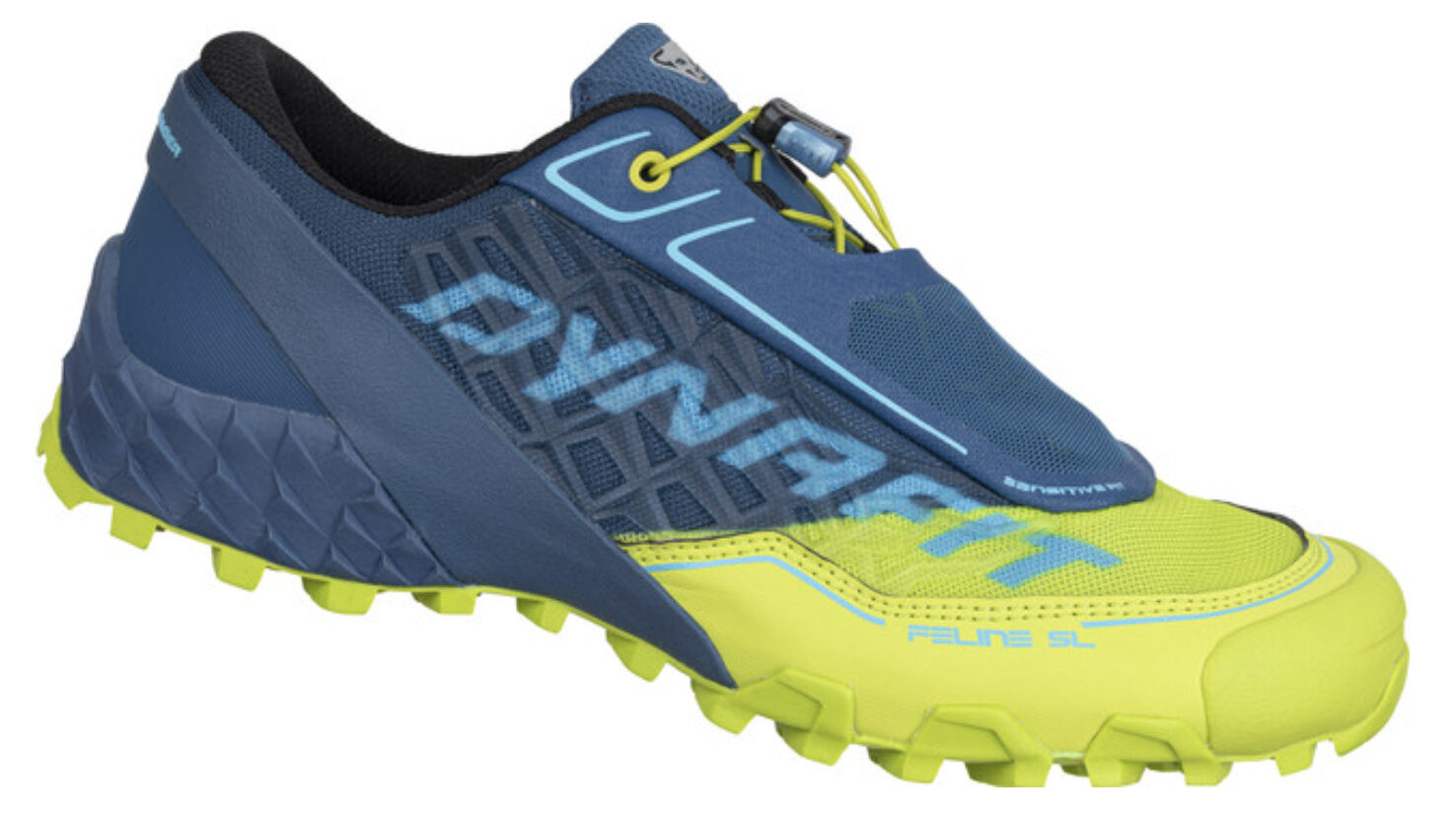 This is Dynafit's designated mud shoe, and solely based off of the Feline SL's looks, we'd say that checks out. It's burly Pomoca outsole, injection molded TPU toe cap, and Invisible Lacing Technology, which consists of a protective stretch cover over the shoe's quick lace system, optimize the shoe for medium-distance runs on soft surfaces, like washed out trails or snow. Similar to the Sky DNA, the Feline SL has a narrower, precise fit for stability purposes on rough terrain; however, it has a much thicker midsole and a higher drop, so it should perform better over longer distances (think 15ish miles and below). Dynafit also includes their Heel Preloader, a proprietary system designed to both secure the foot and launch it through its gait cycle. All of this attention paid to traction, protection, and speed make the Feline SL a great option for fast-paced trail runs on sloppy terrain, but probably limit its performance on firmer surfaces for ultra-length distances. That said, it's still a pretty versatile shoe, especially if you like to play around in the mud.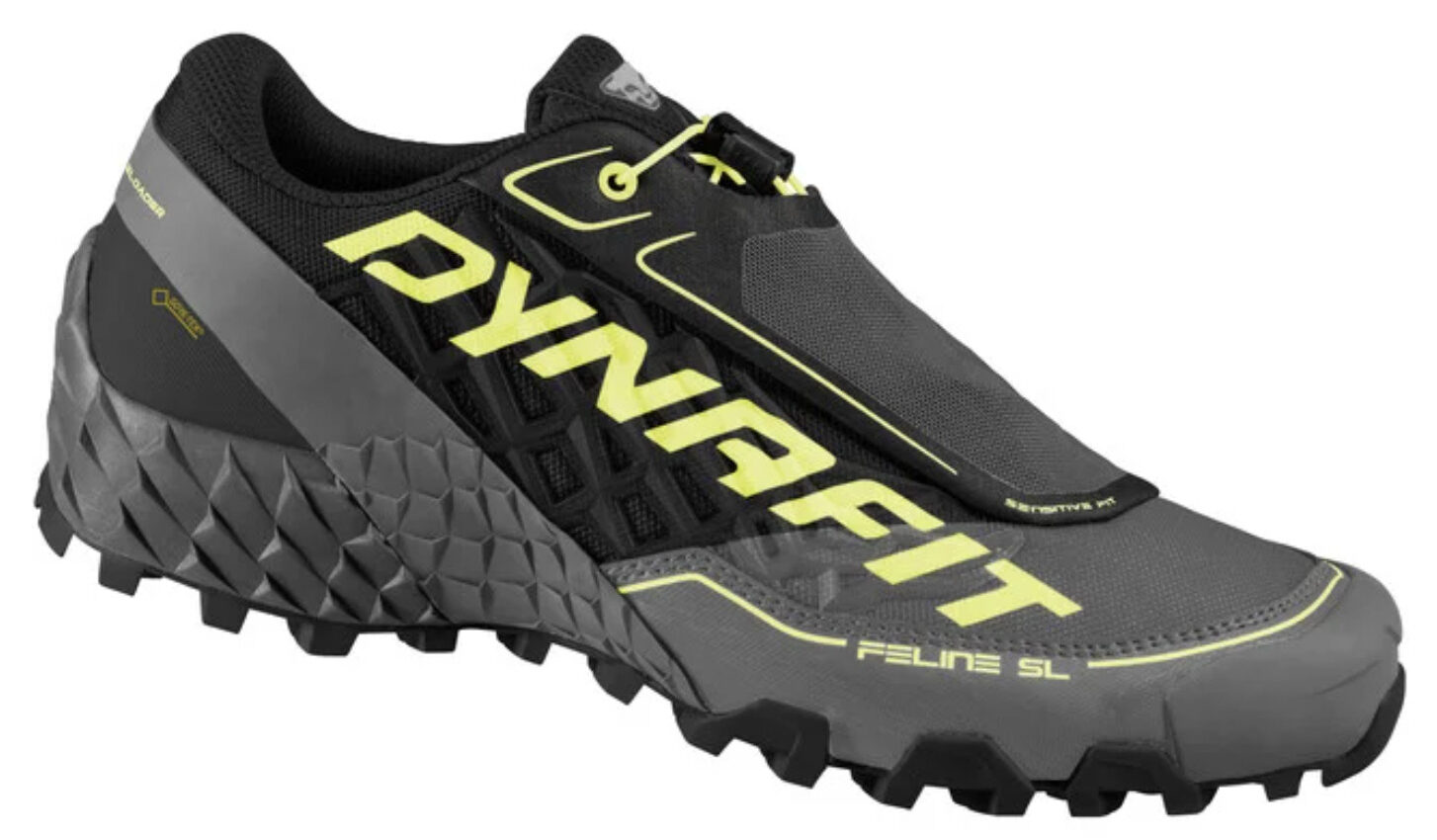 The Feline SL GTX is the waterproof version of the standard Feline SL. It has all the same features as the original model, with the addition of a Gore-Tex Invisible Fit membrane. While weatherizing the shoe will add some weight and make the shoe less breathable, it should help keep feet warmer and dryer in wet conditions. If you like the sound of the Feline SL but do a lot of running in harsh environments, consider the Gore-Tex version.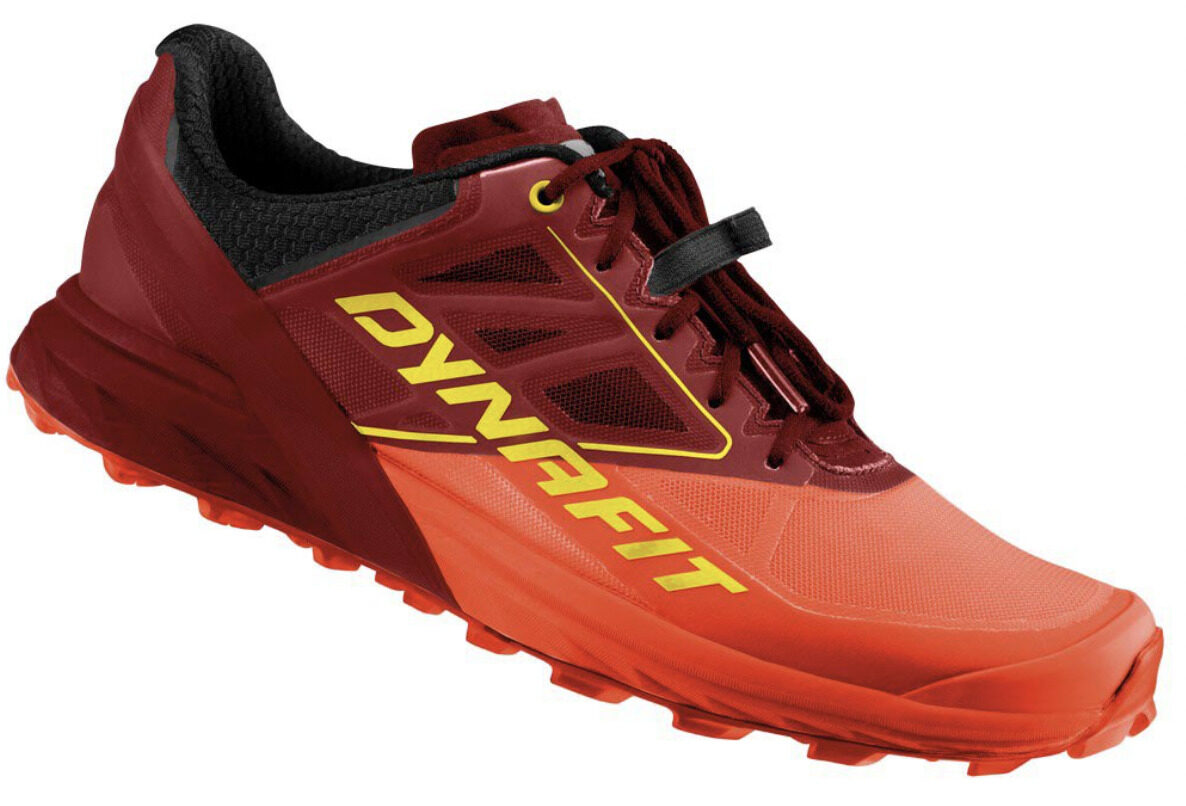 If you're frequently fraught with indecision about which shoe to lace up for a trail run, the Alpine could go a long way in making your choice a simple one. As one of the more versatile options within Dynafit's lineup, it's a model intended to be an all-rounder, one that likely won't flinch on loose scree, rutted out singletrack, or hard packed trails. From a design standpoint, the Alpine samples extensively from the Ultra 50; both shoes use Dynafit's Alpine Rocker midsole geometry, Heel Preloader, and traditional lacing system. However, as more of a generalist with slightly shorter distances in mind, the Alpine has more of a mid-volume fit and a lower stack height, which puts it at a minor disadvantage on ultra-length efforts. That said, it is a trimmer shoe because of it, and will likely be the better option for workouts and races. Dynafit also elects to use a Vibram Megagrip outsole instead of one from Pomoca, though this shouldn't affect the Alpine's traction; both rubber compounds are considered to provide class-leading grip on just about every surface. If you've entertained the idea of culling some shoes in your rotation and replacing them with a versatile quiver-killer, the Alpine could be a good candidate. Check our our full review for more info.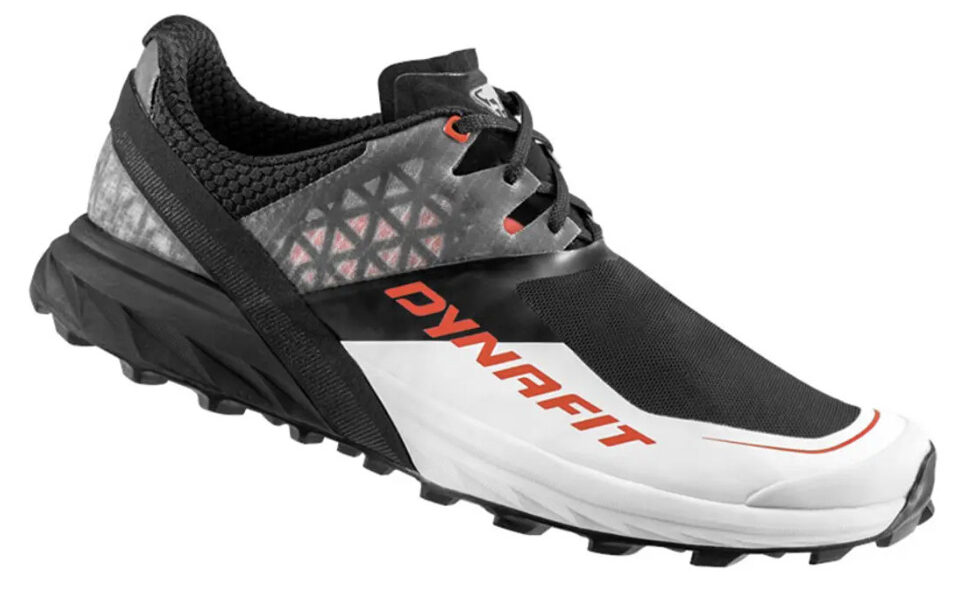 As the lighter weight racing version of the standard Alpine, the Alpine DNA is updated to meet the demands required to move fast up and down technical trails. It shares a similar outsole design with the Alpine, including Dynafit's Alpine Rocker and Vibram MegaGrip outsole, but the shoe also utilizes their "Adaptive Fit System," which is a 3-layer construction that helps stabilize the midfoot, and comes with their "DNA Volume Reducer" insoles, extra footbeds that can be inserted into the shoe for a snugger fit on race day. As more of a performance-oriented model, the Alpine DNA does take measures to conserve weight, namely in the form of a minimal upper construction. So, if you're looking for a likely slightly less durable but faster feeling companion to your pair of Alpine, consider looking into trying on a set of the Alpine DNA.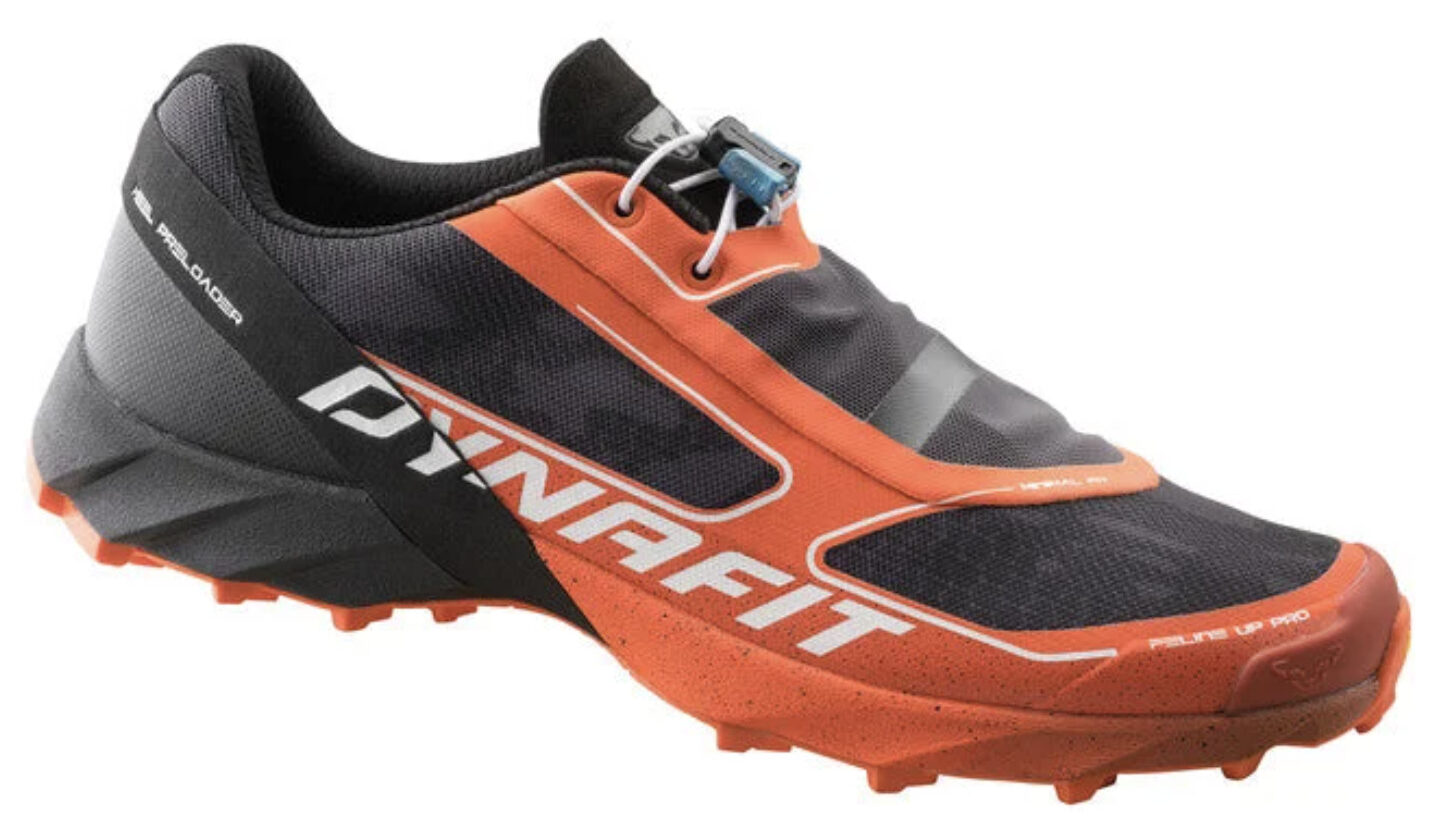 Racing vertical kilometers is a popular pastime in Europe, enough so to warrant an entire niche category of trail shoe, it seems. The Feline Up Pro is likely the least versatile shoe in Dynafit's entire lineup, but if you're looking to beeline directly up the side of a mountain, it's probably your best choice. A combination of a 4 mm drop, Dynafit's Heel Preloader, aggressive lugs made from Vibram MegaGrip rubber, a protective toe bumper, and a snug "Minimal Fit" system should optimize the Feline Up Pro for great ground feel and precision when climbing. While definitely not the shoe for long runs or races, there's probably not a better model in Dynafit's stable for short and steep races, muddy environments, and/or uphill interval workouts.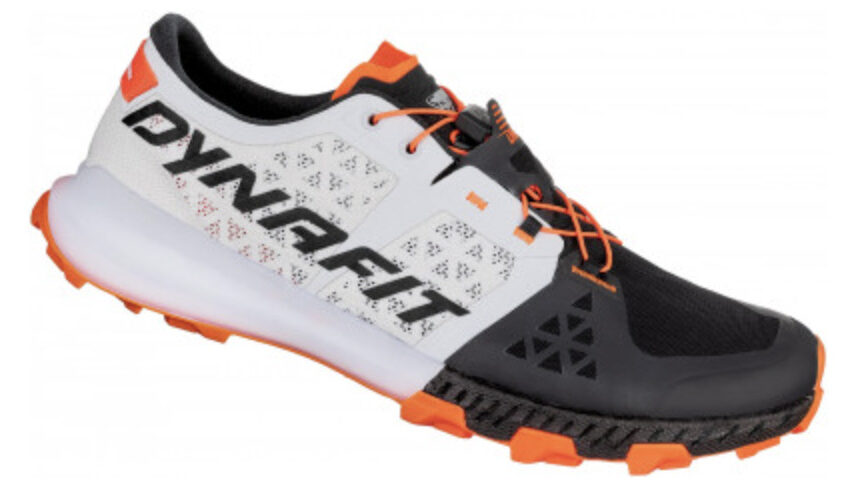 Based on the language Dynafit uses to describe the Sky DNA, you can tell that they're pretty excited about it. As a model meant for technical sky running, i.e. moving fast over demanding terrain, it's a niche model that allows Dynafit to flex some of their ingenuity. Everything about the Sky DNA points in the direction of speed and stability; its minimal Pebax foam midsole (allegedly 30% lighter than EVA), 4 mm drop, and lack of a footbed should provide excellent ground feel and decent energy return, while its premium Vibram Litebase Megagrip outsole cuts down on weight without surrendering first-rate traction. As a race-oriented model, the Sky DNA will likely have a more precise fit than models like the Ultra 50. Its open mesh upper and "Double Speed Lacing System," Dynafit's own proprietary take on quick laces, conspire to provide above average foot security. Though there are much more cushioned and protective all-mountain options within Dynafit's lineup, if you're looking for a tactical trail shoe specifically for short, fast sky races, the Sky DNA should factor in as a top contender.