Intro
When considering a new running shoe, there are so many similar-looking shoes on the market being made by so many different companies, it is virtually impossible to (1) know where to begin; (2) quickly figure out which one or two products from a given brand might work well for you; and (3) determine what products from other brands might be the most similar and also worth considering.
So in our new "Blister Brand Guide" series, we provide an overview of the entire product lineup of a brand; highlight how each product stands out from the rest of that brand's lineup; and help you figure out quickly and easily which shoe might work best for you.
In our individual product reviews, we go very deep into the details of particular products. With these Brand Guides, the goal is not Depth, but Breadth. Our Brand Guides and full reviews are designed to complement each other — provide a broad overview of entire company lineups, and then also very detailed reviews of individual products.
Brand Background: Scott
Scott has been at the forefront of innovation in the world of outdoor sports equipment since 1958, when founder Ed Scott invented an aluminum ski pole that, unbeknownst to him at the time, would eventually give rise to a multinational company with product lines in industries as disparate as motorsports and freeskiing. Though incorporated in the US, Scott expanded to Europe in 1978 and has called Fribourg, Switzerland their home ever since. The years following that transition saw the company direct much of their attention toward competitive cycling, a large part of the zeitgeist in Europe during the 1980s and 90s. In 1989, they debuted one of the first aerodynamic handlebars, a product that would help Greg Lemond win that year's Tour de France. Now with over 60 years of innovation behind them, Scott has more than solidified themselves as a legacy brand in the outdoor industry, approaching every piece of gear they make with the same rigor, creativity, and design principles that have brought them success across many different sports for decades.
Scott has been making high-performance running shoes since 2006, when they contracted a research and development lab in Portland, Oregon — a hotbed for footwear design — to help them create a full lineup of models for both men and women. Within the last several years, their options for trail running have dwarfed the limited number of road running models they make, though Scott still takes both categories seriously (evidenced by the recently released Speed Carbon RC, their first carbon "super shoe").
On the whole, Scott trail shoes tend to be pretty neutral, with stack heights kept modestly between 18 mm and 29 mm, and heel-to-toe drops between 3 mm and 8 mm — you'll find no maximalist interlopers here. Most models also employ a rocker geometry. Aside from the handful of race-specific shoes built on narrow lasts, Scott shoes should be fairly accommodating for most foot shapes. A few of their higher-end trail models feature unique upper components from Schoeller, a Swiss textile manufacturer known for their performance fabrics. Build-quality is something Scott pays plenty of attention to, across their entire lineup, and we've found their shoes to be generally quite durable across surface types. While Scott's trail running lineup is diverse in the sense of the varied demands each of their shoes is best suited to meet, none stray too far from one another stylistically, so hopping back and forth between different models within Scott's lineup should be trouble-free.
In this breakdown we'll go over each Scott model, describing its features and intended purpose as we go. As always, shoes are organized in descending order from most cushioned to least cushioned.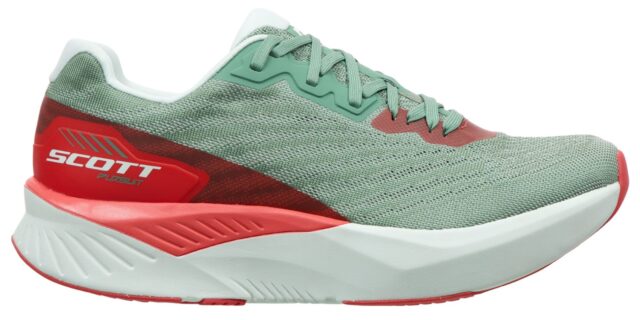 The Pursuit is Scott's take on a highly-cushioned, lightweight road shoe that can be used for anything from long runs to fast workouts / races. Unlike the Cruise, which shares features with many models in Scott's trail running line, the Pursuit receives several components specific to performance on the roads. Instead of an "eRIDE" rocker midsole, Scott uses their proprietary "Evolved Rocker2" platform, which is designed to move runners into a more dynamic position to promote better running efficiency. To save weight without compromising the Pursuit's 30 mm of cushion, Scott also swaps the "Kinetic Foam" used in the Cruise for "Kinetic Light Foam," which the brand claims has more rebound in an even lighter package. The Pursuit's outsole is another area Scott elects to trim a few grams, reducing the full-length rubber outsole used in the Cruise to rubber zones under the Pursuit's forefoot and heel. These weight saving measures make for an incredibly lightweight model that should feel both agile and supple; however, the Pursuit's added stack height likely won't make it as stable as the Cruise, and it probably won't be as durable, either.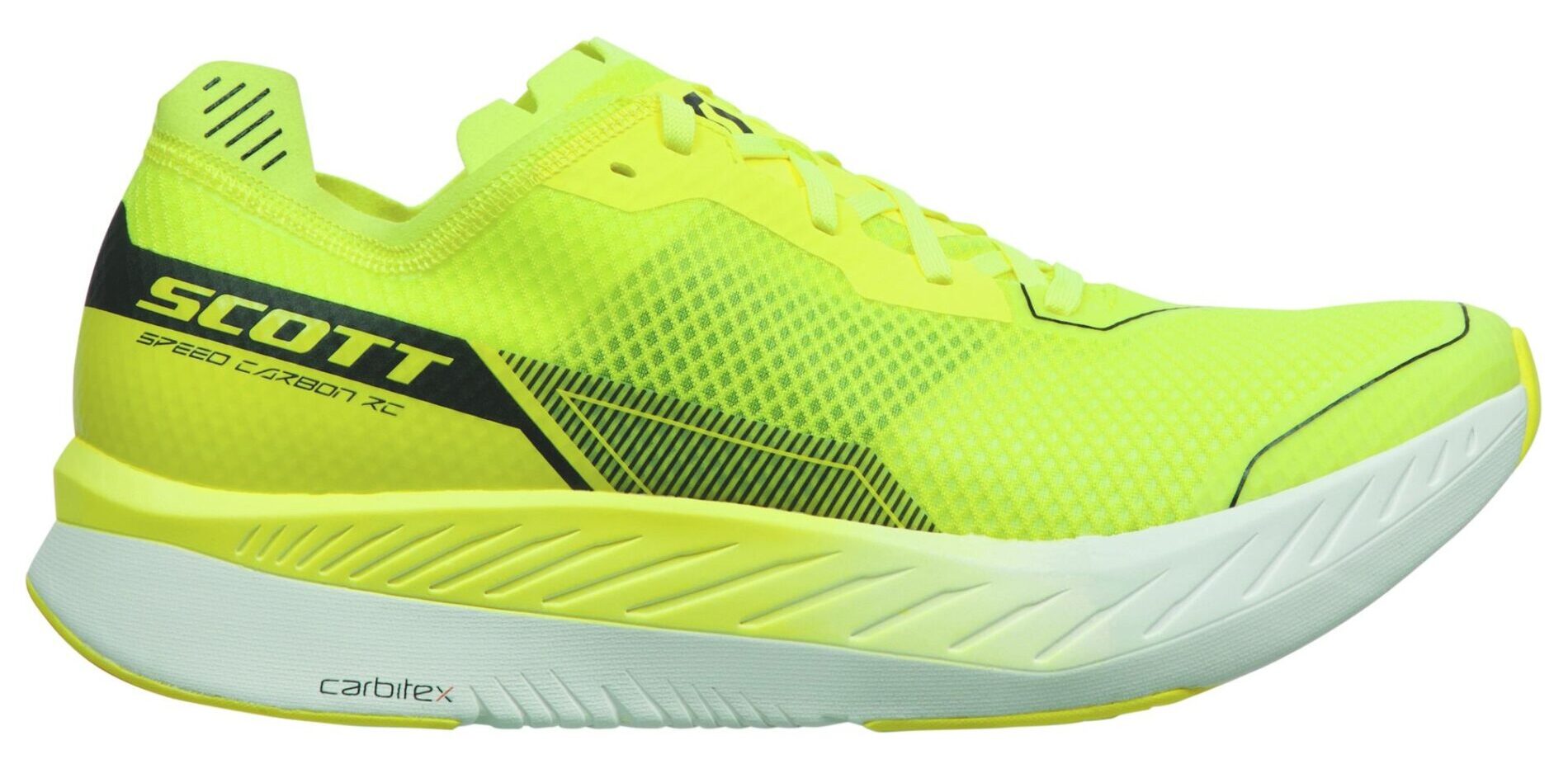 The highlight of the Speed Carbon RC, Scott's lightest weight road racing shoe, is the Carbitex DFX carbon fiber plate it has wedged in its midsole. Carbitex plates are known for their dynamic flexibility, responding to faster paces by becoming more rigid but remaining pliable when just walking around. As a result, the Speed Carbon RC should allow for better ground feel than many other plated "super shoes," which tend to be incredibly stiff and often unstable. Scott surrounds the Speed Carbon RC's Carbitex plate with the same premium EVA Kinetic Light Foam and Evolved Rocker2 platform used in the Pursuit, but adds supportive TPU overlays to its upper along with an "Internal Fit System" for more security at higher speeds. Because it is one of Scott's performance models, the Speed Carbon RC is built on a racing-style last, so it will likely run slightly narrower than both the Pursuit and the Cruise. While not the best option for general training, the Speed Carbon RC is definitely worth considering for your next half-marathon or marathon.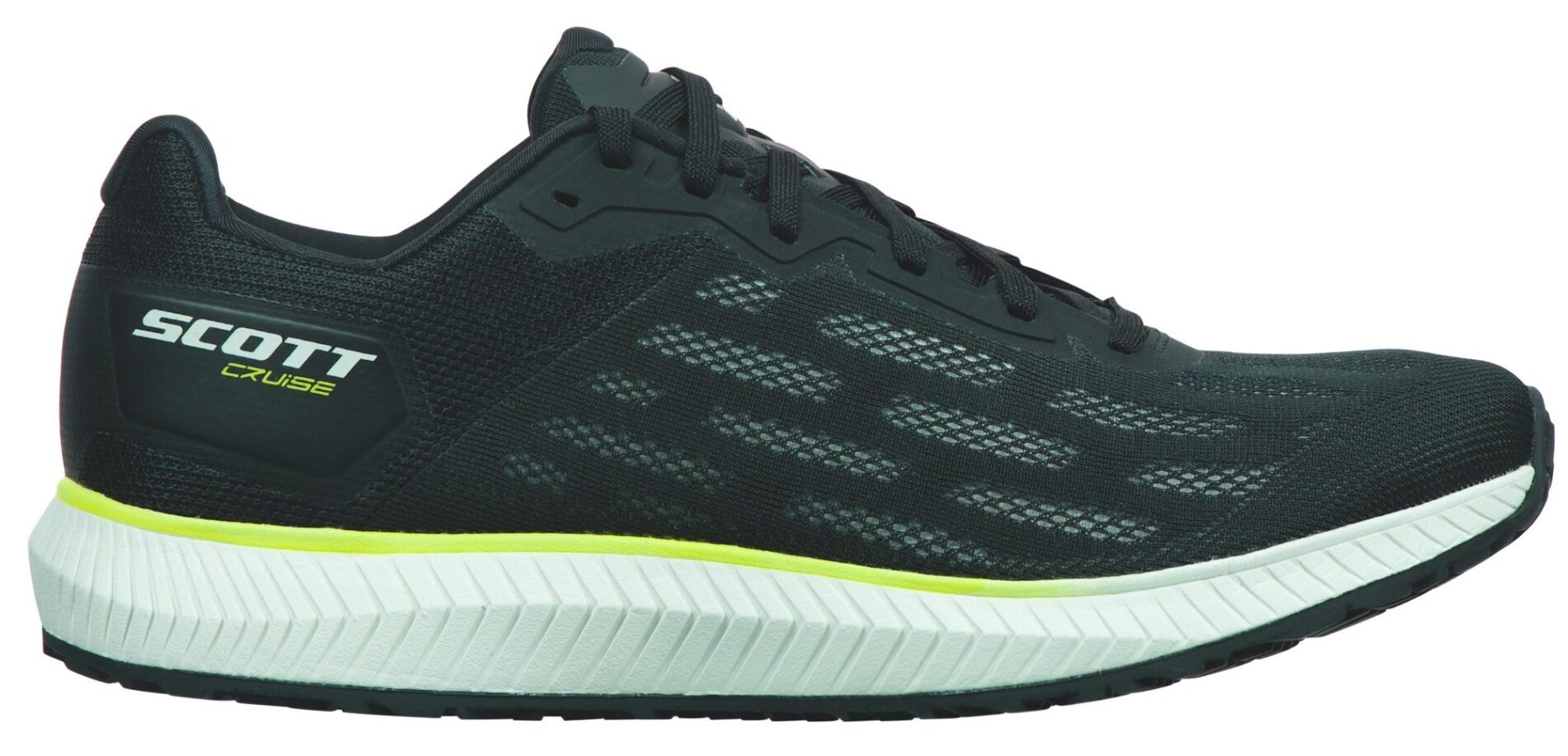 Designed with "cruisy training miles" in mind, the eponymous Cruise is Scott's most versatile road shoe. Its midsole borrows the same eRIDE rocker geometry used in many of the brand's trail shoes, as well as energetic / lightweight Kinetic Foam for a reactive ride. As a road shoe, the Cruise is able to get away without aggressive tread or heavy TPU overlays; instead, it features a full rubber outsole that should feel fast on hard surfaces and a minimal air mesh upper that helps keep weight down. While the Cruise doesn't approach the stack heights of the Pursuit or the Speed Carbon RC, it should still provide enough cushion to support short to medium-distance road runs, and feel pretty stable while doing so. If you're looking for a neutral daily trainer that's pretty light for its class, check out the Cruise.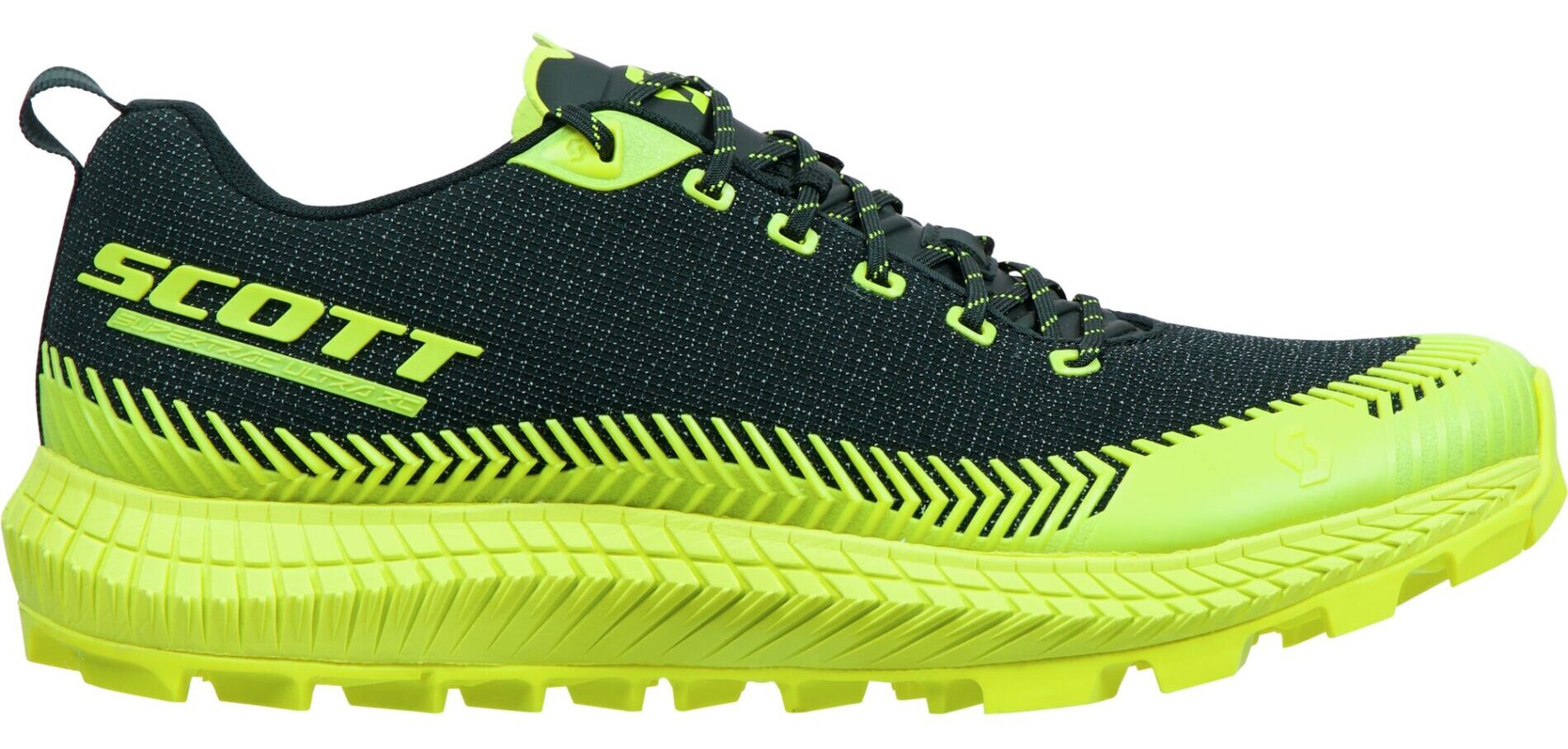 Laden with premium materials and optimized for performance, the Supertrac Ultra RC is Scott's most advanced shoe for technical ultrarunning. It shares a similar silhouette to the standard Supertrac 3 and features the same eRIDE rocker midsole made from soft "AeroFoam+" paired with the same "All Terrain Traction" outsole. However, instead of a ripstop mesh upper, the Supertrac Ultra RC has one made from Schoeller's "Dynamic" fabric, which should be more functional and protective. As a performance-oriented shoe, it's built on Scott's racing last, making it a slightly narrower option than the brand's less performance-oriented models. However, if you're looking for a form-fitting, race-day option for ultra-distance events on mountainous terrain, the Supertrac Ultra RC (and all of its premium materials) could be the shoe for you.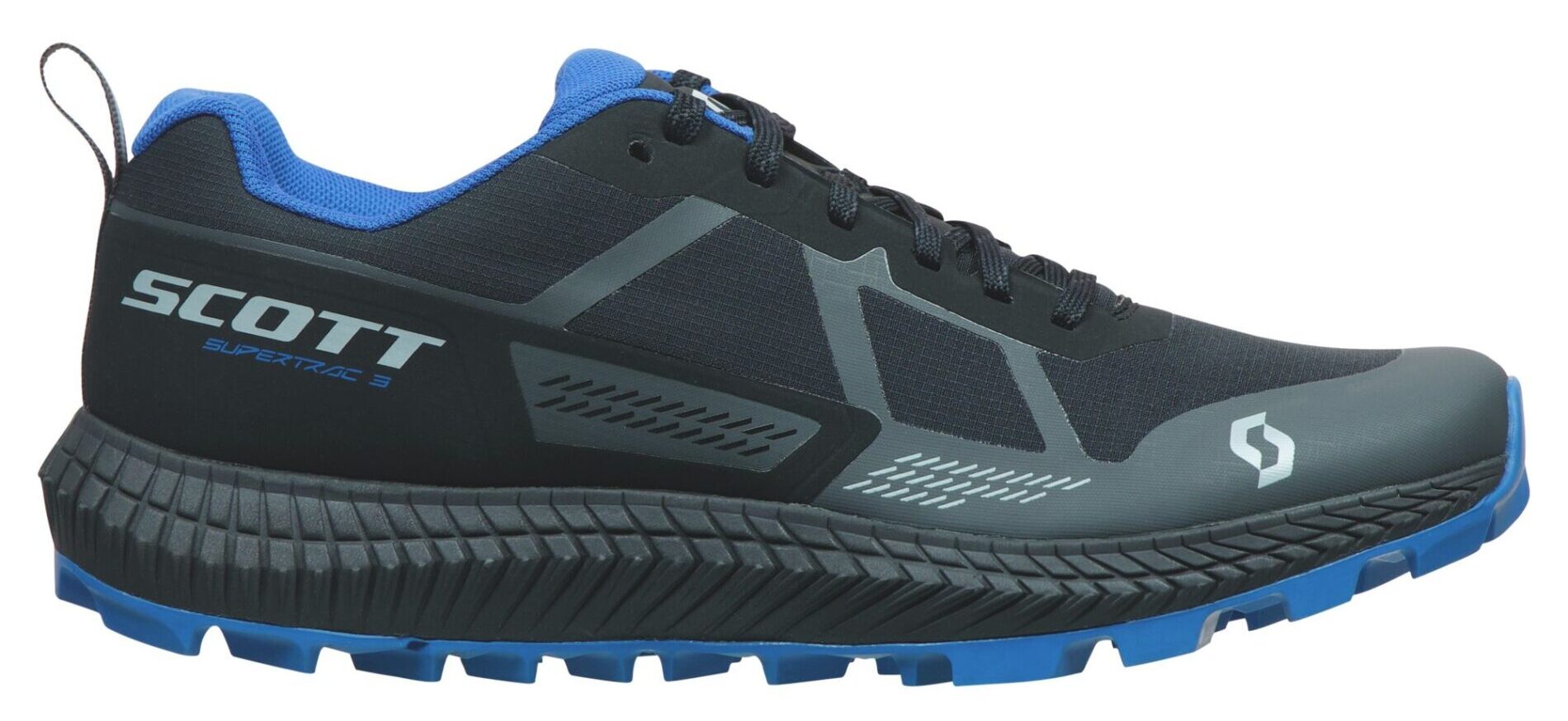 Despite sharing similar names, the Supertrac 3 and the Supertrac RC 2 are very different shoes. The former is Scott's most popular mountain performance shoe, and features a higher heel-to-toe drop, higher stack height, a simple ripstop nylon mesh upper, and more of an all-terrain style outsole, together making it a more capable option for longer, less technical efforts. The Supertrac 3 shares same eRIDE rocker shape midsole as the Supertrac RC 2, but it uses quite a bit more of Scott's AeroFoam+, so it should feel considerably softer. Additionally, unlike the Supertrac RC 2, the Supertrac 3 is not built on Scott's racing last, which will likely make it a more accommodating option for runners with wider feet. Despite being a bit roomier, this shoe should still offer similar amounts of protection and stability in the form of the same TPU support cage and form-fitting tongue seen in many of Scott's other trail models. If you're in the market for an all-around mountain shoe with ample amounts of cushion, the Supertrac 3 might be worth a closer look.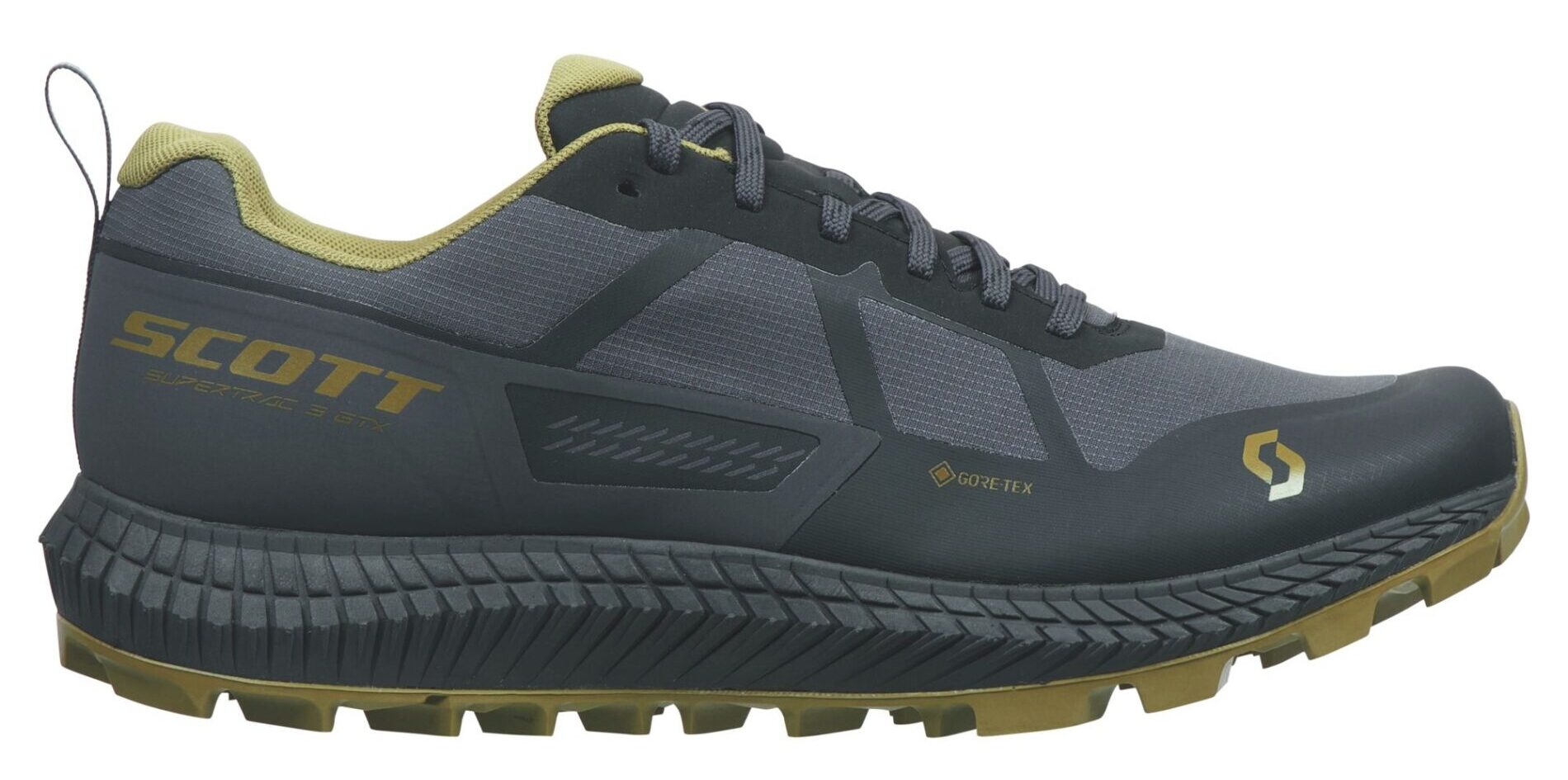 The Supertrac 3 Gore-Tex is the waterproof version of the standard Supertrac 3. It has all the same features as the original model, with the addition of Gore-Tex in the mesh and TPU upper. While weatherizing the shoe will add some weight and make the shoe less breathable, it should help keep feet warmer and dryer in wet conditions. If you like the sound of the Supertrac 3 but do a lot of running in harsh environments, consider the Gore-Tex version.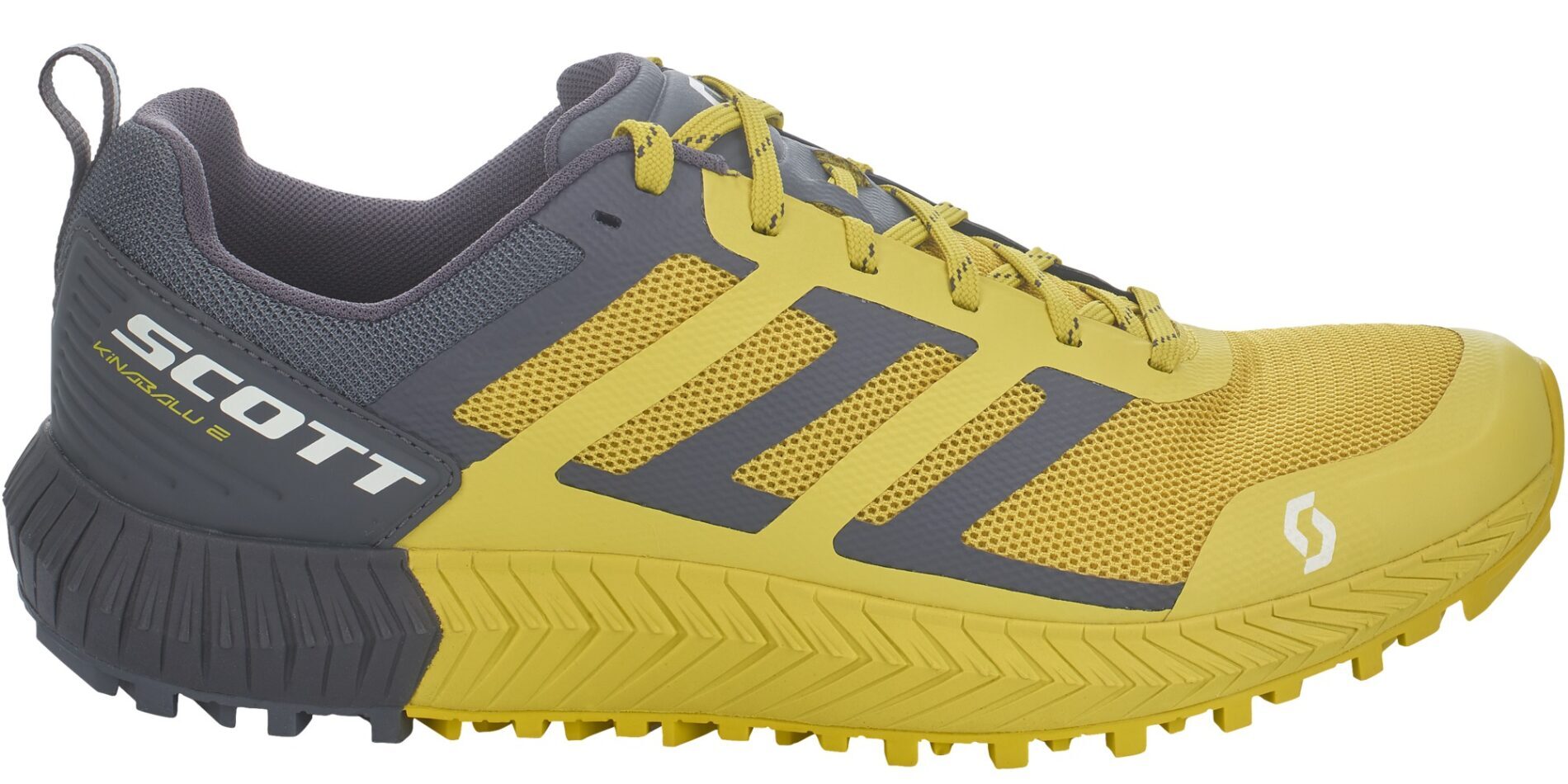 In addition to being plainly fun to say, the Kinabalu 2 is also Scott's most versatile trail shoe. A lot of its adaptability comes from its full rubber "Versatile Traction" outsole, which, while aggressive, should also perform well on less technical trails. The Kinabalu 2 is built on the same eRIDE rocker shape midsole found throughout Scott's lineup but uses a different composition of dual-density EVA called Kinetic Foam, which the brand claims has 14% more energy return. The shoe shares the same midsole measurements, last, and TPU support cage as the SuperTrac 3, but is significantly lighter, saving weight in areas like its air mesh upper. While likely more agile, these efforts to save weight could make the Kinabalu 2 not as durable as Scott's more protective models. However, if you're looking for a spry and snappy shoe that's well-cushioned and comfortable on a wide range of non-technical to semi-technical trails, the Kinabalu 2 could be a good fit.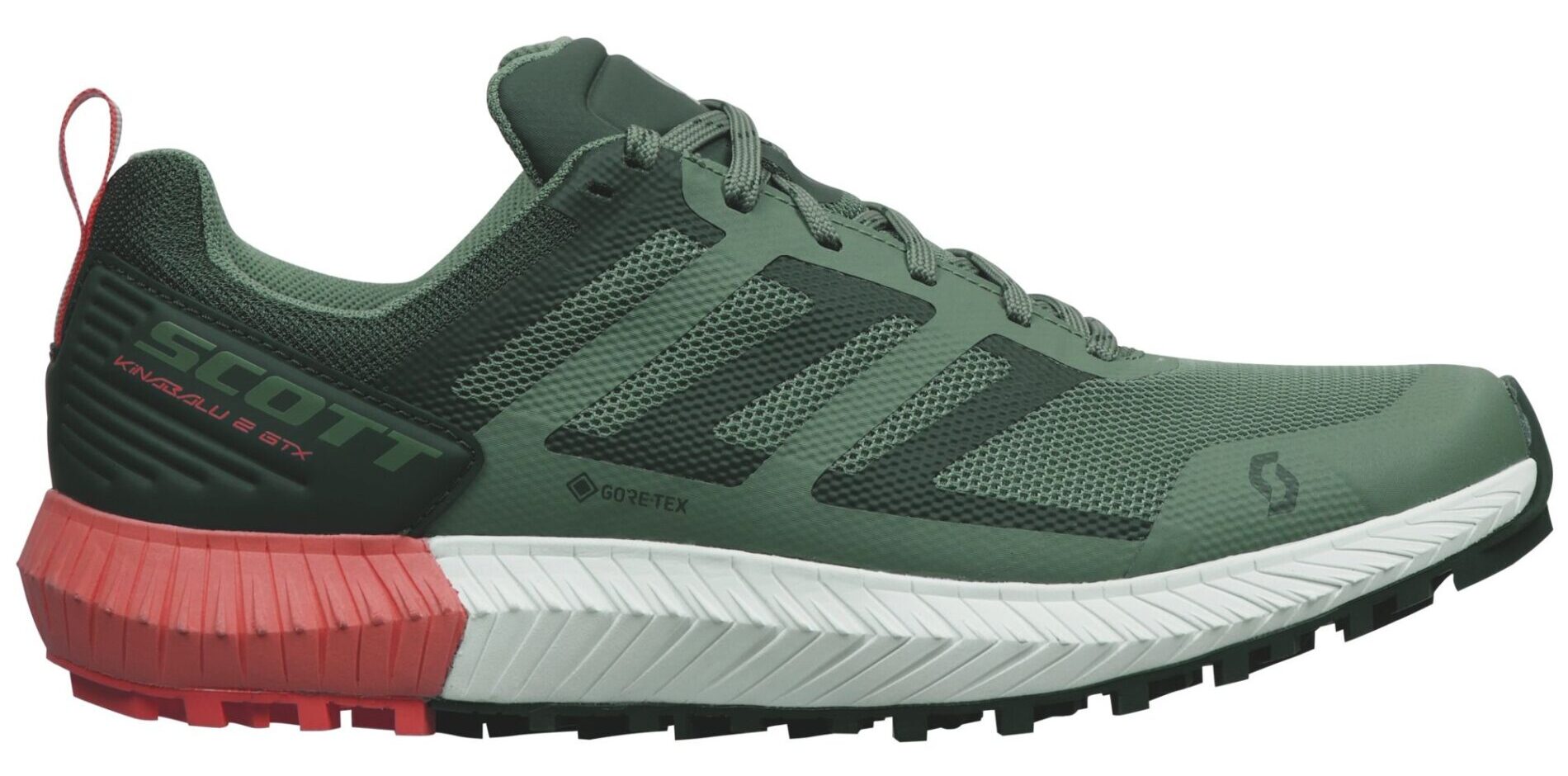 The Kinabalu 2 Gore-Tex is the waterproof version of the standard Kinabalu 2. It has all the same features as the original model, with the addition of Gore-Tex in the mesh and TPU upper. While weatherizing the shoe will add some weight and make the shoe less breathable, it should help keep feet warmer and dryer in wet conditions. If you like the sound of the Kinabalu 2 but do a lot of running in harsh environments, consider the Gore-Tex version.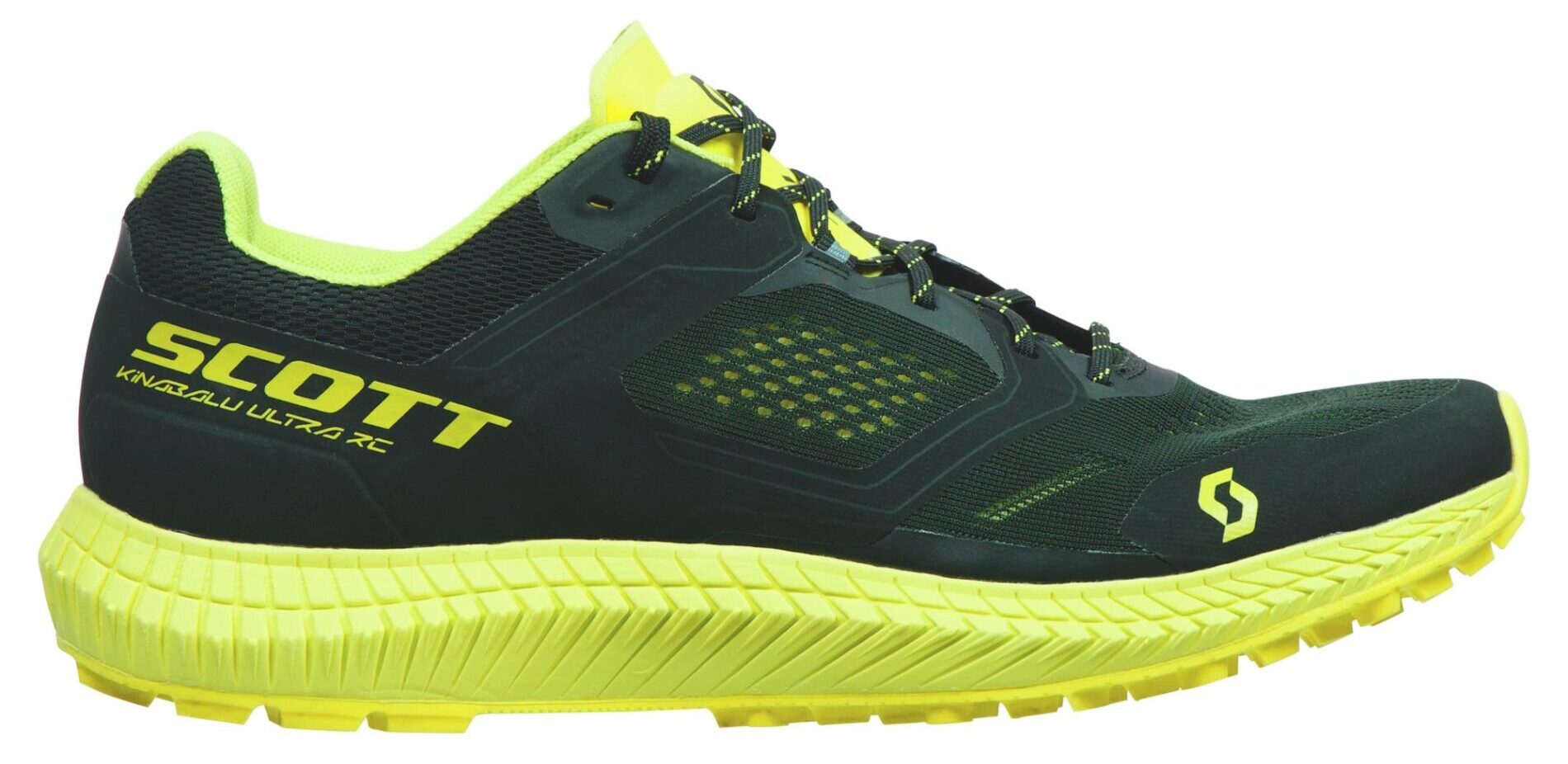 The Kinabalu Ultra RC takes many elements from the Kinabalu 2 and supplements them with features specific to ultra-distance trail racing. The two shoes share the same supportive TPU cage and midsole materials / metrics, including Kinetic Foam and an eRIDE rocker shape, but the Kinabalu Ultra RC gets some added protection and rigidity from a rock plate. And instead of the more aggressive Versatile Traction used on the Kinabalu 2, the Kinabalu Ultra RC benefits from more race-specific "Hybrid Traction," which won't offer the same quality of grip but will make the shoe feel lighter. As with every model in Scott's "RC" line, it is also built using the brand's racing last, so expect a narrower fit. While by no means a maximalist trail shoe, the Kinabalu Ultra RC should still have enough cushion to feel comfortable edging into ultra-distances. However, considering its emphasis on speed, we think it's probably best suited for quicker 50ks and trail marathons as opposed to 100 milers (at least for most runners).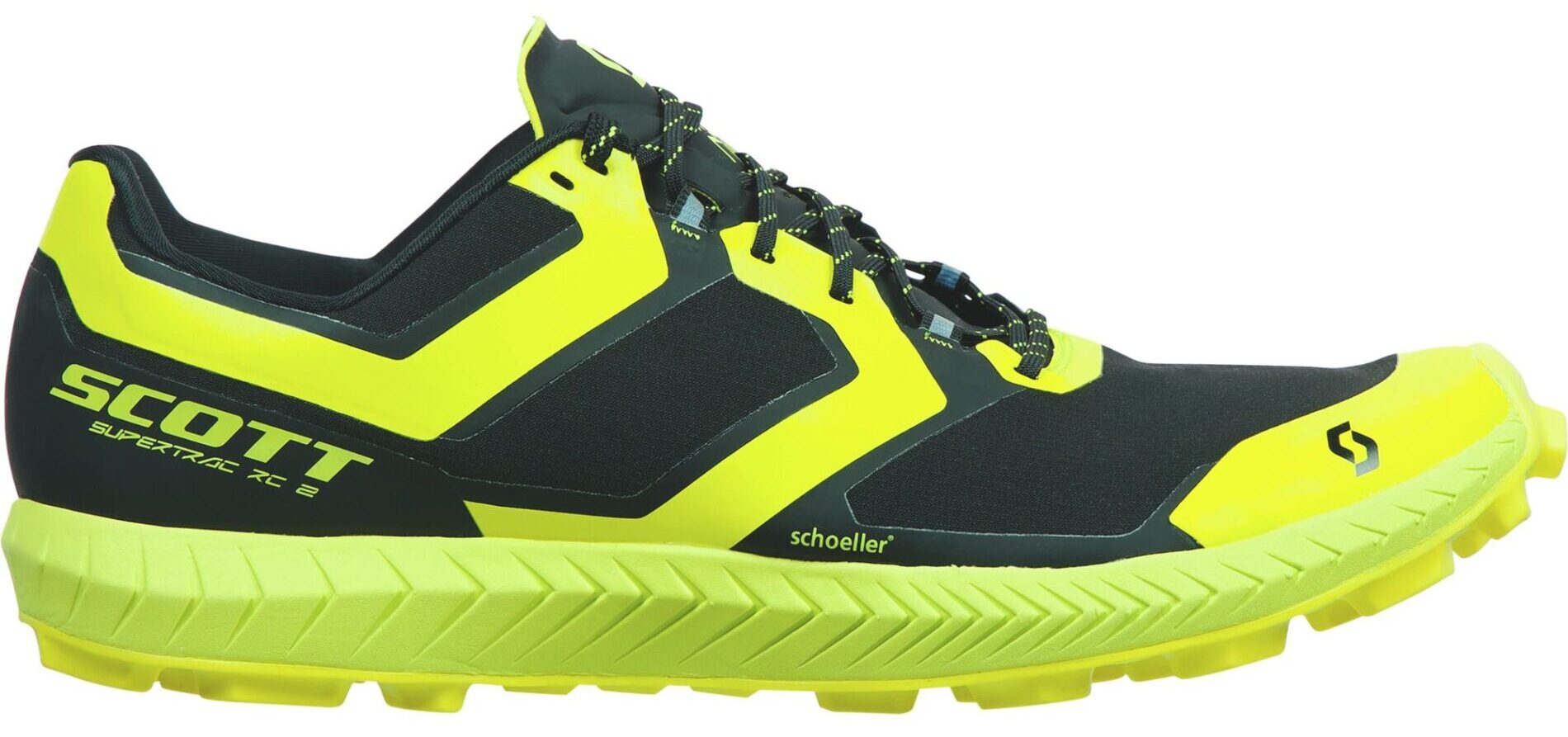 Now in its second iteration, the Supertrac RC 2 is Scott's shoe for sky running / technical alpine races. Updates to the newest model include a more aggressive "Radial Traction" outsole and a refined upper made from Schoeller "coldblack" and "3XDRY" material. Schoeller, a Swiss textile manufacturer, developed coldblack as a finishing technology to prevent fabric from heating up when exposed to sunlight for extended periods; 3XDRY is their proprietary waterproofing technology. Taken together, the combination should make for a pretty resilient upper that will likely regulate temperature well. The Supertrac RC 2 is built on Scott's eRIDE rocker shape midsole made from AeroFoam+, an EVA compound that is supposed to balance efficiency with support. Because the shoe is intended for shorter-distance efforts on technical terrain, it has a relatively low stack height and neutral heel-to-toe drop, so it should feel pretty stable on even surfaces. And if its low-to-the-ground geometry doesn't do enough to balance the Supertrac RC 2, its internal TPU support cage should. If you're looking for a precise-fitting, performance-oriented option for short to medium-distance races on rough trails, this should be a model to consider.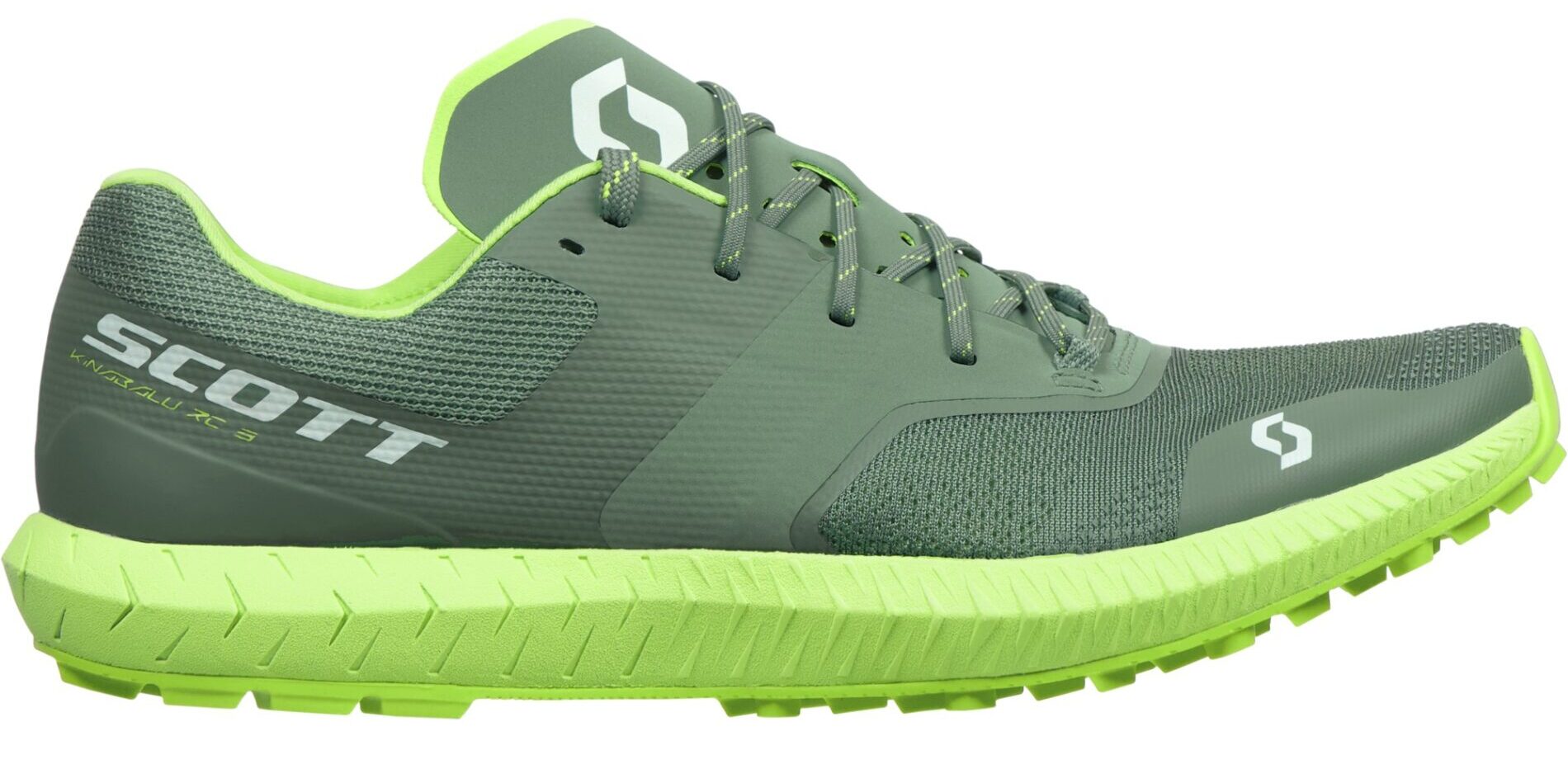 As Scott's lightest trail shoe, the Kinabalu RC 3 is built for speed and not much else. Like the Kinabalu 2, it pairs the brand's eRIDE rocker shape with Kinetic Foam for a lighter-weight, bouncier feel than the AeroFoam+ used in models like the Supertrac 3. However, the Kinabalu RC 3 is much lower to the ground and has a shallower heel-to-toe drop than the Kinabalu 2, which saves weight and should allow the shoe to feel more precise. The Kinabalu RC 3 also manages to trim some excess grams by using engineered mesh / laces for its upper and a Hybrid Traction outsole with lugs reserved only for high-use areas, like the forefoot and heel. Because it is one of Scott's racing models, expect the shoe to have a fit that's on the narrow side. There are plenty of better options within Scott's lineup for longer-distance events, but if you're toeing the line at a trail half-marathon or 30k, the Kinabalu RC 3 could be a good shoe to do it in.