New Balance Fresh Foam X Hierro v7 GTX
Stated Stack Height (Men's): 29 mm (heel) / 21 mm (forefoot)
Stated Heel-to-Toe Drop: 8 mm
Stated Features:
"Toe Protect" technology helps protect feet from rocks and roots
"Vibram MegaGrip®" lugged outsole for traction and control
Allegedly waterproof "GORE-TEX®" lining
ultra-soft "Fresh Foam X" midsole
4.5 mm lugs
Stated Weight per Shoe (US Men's Size 9): 319 g / 11.2 oz
MSRP: $159.99
Intro
As with many established footwear brands that have branched off into the trail space after already enjoying decades of success on the roads, several of the models that make up New Balance's trail line are the beneficiaries of design insights sourced from a rolodex of decorated shoes. This trickle-down effect of new materials and technology is an ongoing process that sometimes needs stemming; not every feature valued in a road shoe can be adapted for dirt, despite how inviting it may be. New Balance has acted as an efficient filter in this respect, allowing new foam composites that debuted on their road models to complement many of their trail models while still keeping their identities from being conflated.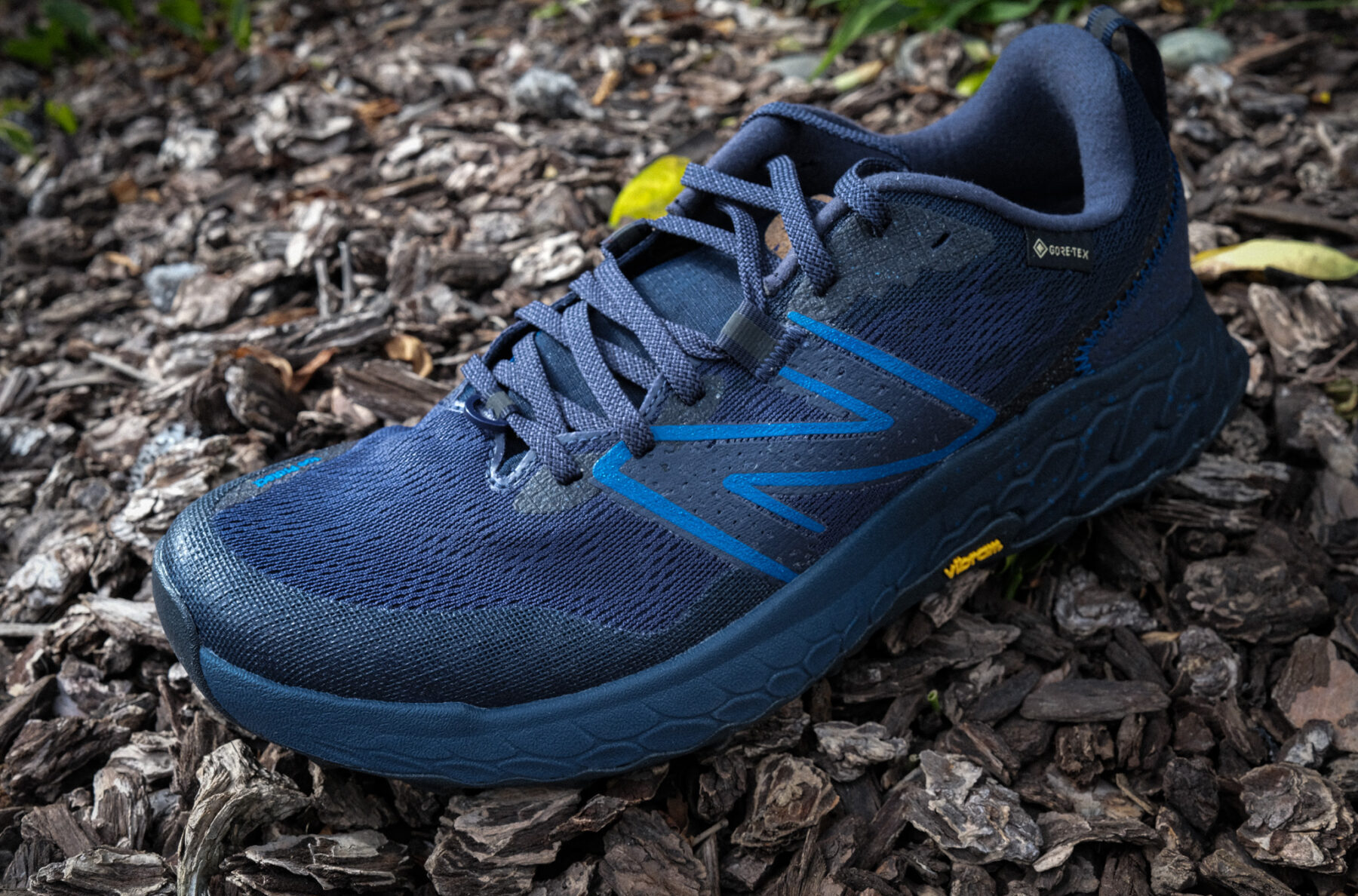 The Fresh Foam X Hierro v7 need not worry about being mistaken for a road shoe. The seventh iteration of New Balance's longstanding principle trail model retains many of the premium features that have been key to its longevity, while also profiting from the all-new "Fresh Foam X" material that New Balance has started to use across their lineups. In light of how wet our winter was in the Bay Area this past year, and the likelihood that I'll be running on plenty of snow when I make my annual pilgrimage up to the alpine this summer, I picked up the Gore-Tex version of the Hierro v7 a few days ago. After a couple brief outings in the shoe, I think the commonalities it shares with the Hoka Speedgoat 5, a shoe we reviewed quite favorably, make for an auspicious start. In this first look, I'll cover the Hierro v7 GTX's design, and then follow up with a full-length review down the line.
Fit & Features
My first on-foot experience in the Hierro v7 GTX signaled a surprising start to my testing period. The shoe's profile is strikingly boxy, with a squared-off heel crash pad and what looks like a rounded forefoot. More and more trail shoes are adopting this wider, foot-shaped design that was pioneered by (most notably) Altra, and outwardly, it appeared like New Balance was following suit. However, the Hierro v7 GTX proved deceptively narrow on my first few runs. Its toe box comes across as neutral, not as accommodating as what I've come to expect from long-distance trail shoes.
As you move toward the Hierro v7 GTX's midfoot, its footbed rises slightly at the medial arch and on the opposite-facing lateral side, creating a cradle-like shape that, for my foot, felt a little too supportive. Given how soft New Balance's Fresh Foam X is supposed to be, I'm wondering if the way the shoe fits initially will actually have any bearing on how it fits once fully broken in. Speaking anecdotally, I need to run between 20 and 30 miles in most Hoka models before their EVA foam softens and the shoes open up to receive my foot. I get the sense that Fresh Foam X might break down in a similar way, making the shoe roomier over time. As far as sizing is concerned, my usual US Men's size 8.5 is spot on.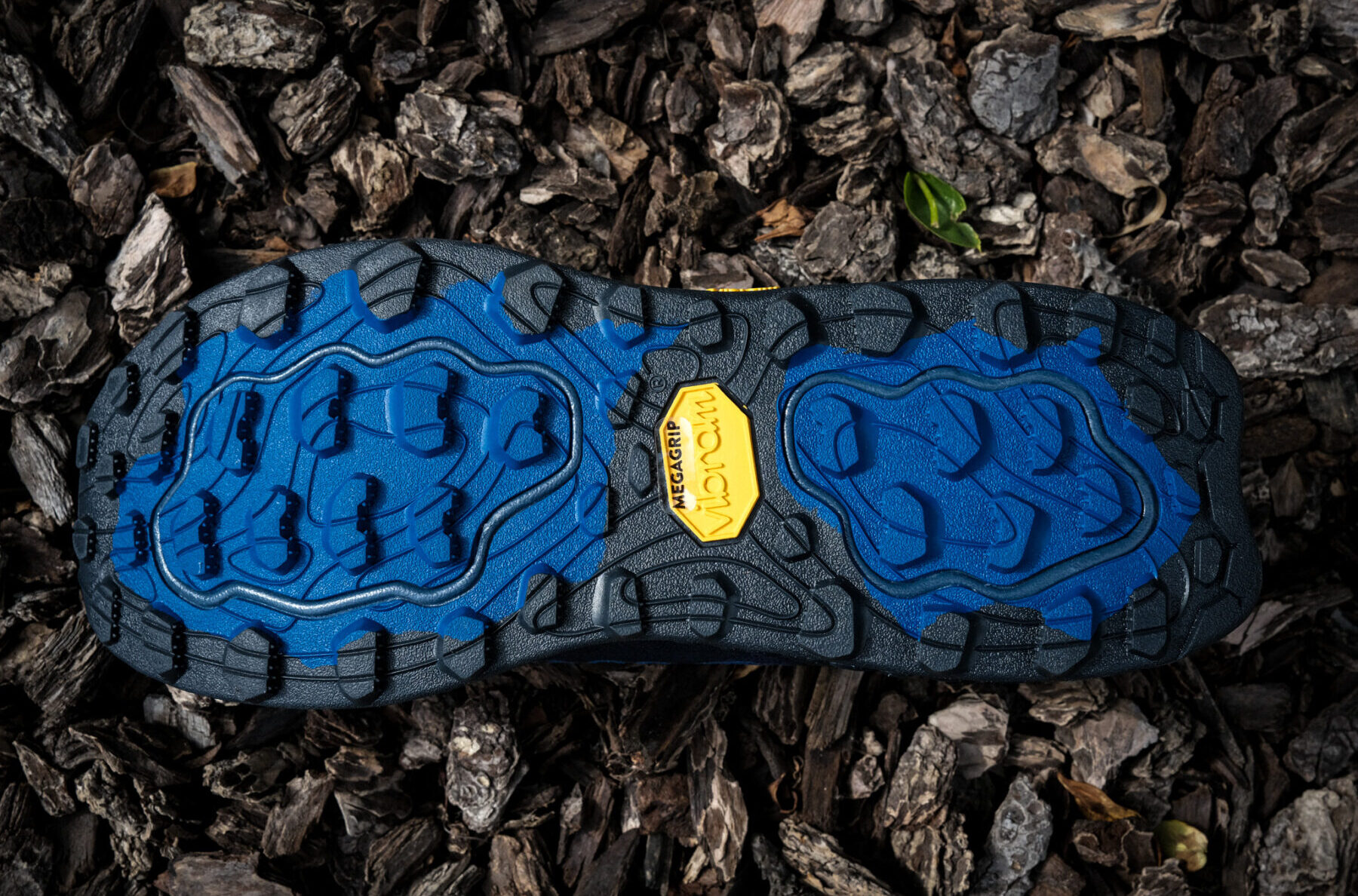 Since we're already on the topic of Fresh Foam X, I'll toss out a few early observations about the Hierro v7 GTX's midsole, which has a reasonable 29 mm / 21 mm of stack and a fairly significant 8 mm drop. As I alluded to earlier, while New Balance's Fresh Foam X surprised me with its rigidity out of the box, I do think it'll likely give up some firmness after a few more miles. I've heard the Hierro v7 often compared to the Speedgoat 5, and I think that's apt, based on how much its midsole composition and drop (a sort of substitute for the Speedgoat 5's rockered sole) remind me of that shoe. Comparisons can sometimes leech the novelty out of things, but in this case, drawing similarities between the Speedgoat 5 and the Hierro v7 GTX is done with praise — and the parallels don't end there. Like the Speedgoat 5, the Hierro v7 GTX also has a full-length Vibram MegaGrip outsole, usually a winning formula, in my opinion. The 7th version has been updated with chunkier 4.5 mm lugs that should provide better grip on slippery surfaces than the modest tread that was on the previous iteration.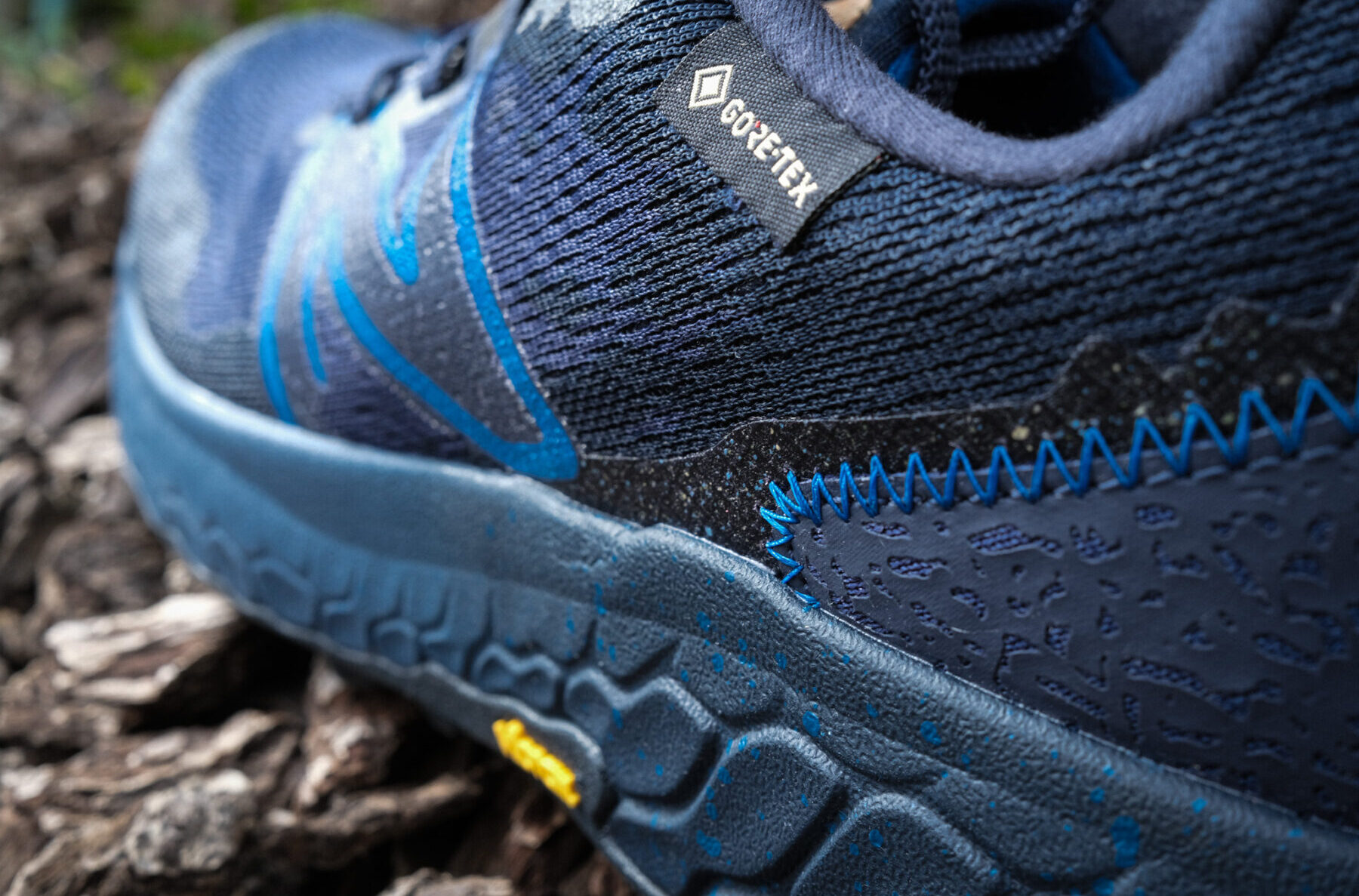 I typically steer clear of weatherized versions of shoes; it's never cold enough in the Bay Area to need the warmth they provide, nor do I find myself running in snow all that much, which is where I think waterproof shoes earn their worth. This year has been an outlier though, and with the Sierra snowpack deeper than it's been in nearly a century, I foresee a lot of post-holing and sliding around in my future. All that is to explain why I'm glad that I'm testing the Gore-Tex version of the Hierro v7. The shoe has a similar upper to the standard one, highlighted by engineered mesh, a gusseted tongue, traditional laces, and a sturdy toe rand that New Balance calls their "Toe Protect" technology. However, as the name suggests, the GTX version includes an allegedly waterproof Gore-Tex lining. Its addition surely adds a few grams, but all things considered, I don't think it weighs the Hierro v7 GTX down too significantly (we'll see about breathability when things warm up). For context, here's how the shoe's stated weight compares to the stated weights for some other similar models, including the standard version of the Hierro v7. All weights are based on a US Men's Size 9.
290 g / 10.2 oz — New Balance Fresh Foam X Hierro v7
298 g / 10.5 oz — La Sportiva Bushido II GTX
308 g / 10.9 oz — Salomon Sense Ride 5 GORE-TEX
310 g / 10.9 oz — Nike Pegasus Trail 4 GORE-TEX
319 g / 11.2 oz — New Balance Fresh Foam X Hierro v7 GTX
326 g / 11.5 oz — Hoka Speedboat 5 GTX
340 g / 12.0 oz — Adidas Terrex Agravic Flow 2.0 GORE-TEX
374 g / 13.2 oz — Altra Lone Peak ALL-WTHR Low 2
The Hierro v7 GTX will likely be the first shoe I test in some proper mountains this year and I'm excited to see how it holds up. Admittedly, I still hold some deep-rooted biases against weatherized models, having been lured into spending hefty sums of money on them in the past only to see them underperform as clunky foot saunas. Based on some positive early signs, the Hierro v7 GTX could be the shoe to change my mind.
Some Questions / Things We're Curious About
How well will the Fresh Foam X Hierro v7 GTX perform on snow, particularly the slushy conditions you're most likely to find on spring and summer alpine trails?
Fresh Foam X is reportedly softer and lighter than the standard Fresh Foam New Balance has used for years. How will this affect the Hierro v7 GTX's durability / performance?
Will the shoe's fit become more accommodating to wider feet once properly broken in?
Bottom Line (For Now)
The Gore-Tex version of New Balance's updated Hierro v7 could be a popular model in North America this spring and summer, considering the Mountain West's unprecedented snowpack. Constructed with premium materials, like Vibram MegaGrip, Fresh Foam X foam, and a Gore-Tex lining, the shoe has so far felt capable on a wide range of terrain without seriously suffering from the excess weight and loss in breathability that weatherizing it requires (at least so far). While I've got some concerns regarding the Hierro v7 GTX's fit, which feels slightly restrictive out of the box, I'm optimistic that some more miles on trail will make it a better match for my foot. Stay tuned for our full review soon.