Petzl Iko Core
Test Location: San Francisco, CA
Test Duration: 200 miles
Size: OSFA
Lumens: 500 lm
Stated Features:
"AIRFIT" headband
Multiple LEDs provide homogeneous light distribution
Two beam types (flood or mixed)
Three lighting levels
Accepts a rechargeable battery and standard AAA batteries
Two lock functions to avoid accidentally turning it on
Can be mounted in various ways depending on use
IPX 4 Water Resistance rating
Stated Weight: 79 g
Blister Measured Weight: 83 g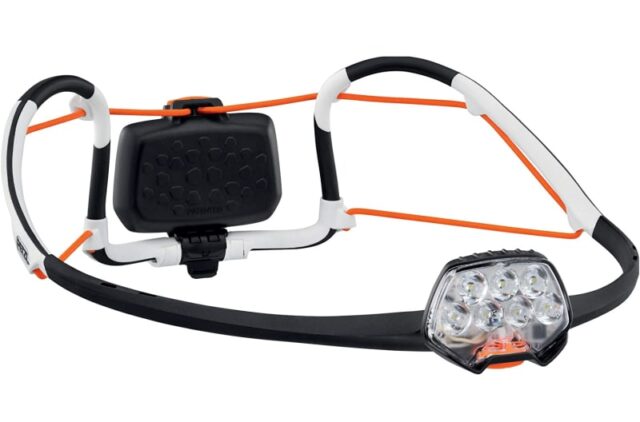 MSRP: $99.95
Reviewer: 5'9", 150 lbs / 175 cm, 68 kg
Intro
Fall always arrives too soon (at least for me). The days start to shorten, retiring earlier and earlier in September's ale-colored light, like the entire calendar is entering a period of convalescence. Colder temperatures and thin wisps of graupel set on the alpine, foreshadowing a veil of snow that will safeguard its trails until the following year. Amidst all this withering, fall running season can be tinted by melancholy if looked at straight on. As fatigue from summer miles starts to surface on tanned legs, the drive to slip out to run through dark mornings can begin to wane. However, that same darkness can allow for a sense of presence by shrinking the world to the column of what's illuminated by your headlamp. Running on trails in the predawn hours, still cloistered away from sunlight, can be satisfyingly contemplative, not despite how little there is to see, but because of it.
Headlamp design hasn't changed much in the past decade or so. Sure, new technologies have cropped up — better battery life, adaptive lighting, reduced weight, etc. — but they've all been packed into roughly the same silhouette. I.e., an adjustable elastic headband with a protrusive front-mounted lamp body. Issues with this format abound. For one, most headlamps are by default unbalanced. If not secured properly they can be prone to jostling around, turning brightened sections of trail into strobing light shows. Even the slightest slack in their elastic headband can leave painful and unsightly forehead bruises after extensive use. As an accessory item, they are also already at a disadvantage. Most runners are reluctant to carry anything they deem as non-essential, much less another sensitive electronic, so investing in / using a proper, well-fitting headlamp is often done begrudgingly, chalked up to a necessary evil to help get through the darkest parts of the year.
Petzl, the French brand equally recognized for their climbing equipment and lighting, knows how to operate in the dark. Founded by cave explorer Fernand Petzl in the mid-1970s, they've been making performance headlamps for hands-free lighting since 1981. Petzl's industrious R&D department has consistently turned out innovative products over the years, including the first headlamp to feature LED bulbs. With the Iko Core, one of their latest models, they've rewritten the script for headlamps entirely. As a multifaceted light that can be deployed in a number of different ways, the Iko Core pushes against its narrow 'accessory' moniker. In this review, I'll dive into how it differs from most of the other headlamps out there, and whether or not I think it does enough to be considered a necessity for runners logging a ton of miles in the dark.
Lighting
Rated at 500 lumens, the Iko Core's brightness falls somewhere in the middle of Petzl's lineup; it's just 100 lumens behind the heavier Actik Core, probably its most comparable model, but can't hold a candle to the 900 lumen Swift RL, which is like strapping a solar flare to your forehead. Whenever a new headlamp is released, folks are sometimes quick to assume improvements in lighting, an impulse that's generally gratified by different settings and/or increased power. For the Iko Core though, doing so would be a slight misdirection; its virtues extend far beyond the lamp it wears up front, which is still quite capable.
Not straying too far from the setup of popular models in Petzl's line, the Iko Core uses a honeycombed cluster of seven LED bulbs to make up its front light and offers several different beam settings, including mixed and flood, though a red light mode is conspicuously missing. The lamp also features three different light settings which can be modulated by the click of a button. At "Max Burn," the lamp's lowest-output setting, Petzl claims you'll be able to get 100 hours of 6 lm (lumen) light; "Standard Burn" offers 9 hours of 100 lm light; and at "Max Power," 2.5 hours of burn time at a full 500 lm. As a failsafe against stranding you in the dark, the Iko Core also includes between 2.5-4.5 hours of reserve light (6 lm) based on setting, a mode it will automatically switch over to once the battery is close to drained.

LED lights have several advantages over standard bulbs and the quantity found on the Iko Core draws out every single one of them. Its lamp emits a clean, evenly dispersed stream of white light, penetrating from 10 m to 100 m depending on the setting. The high end of that amount of projection is seldom needed for trail running purposes, where the limits of one's vision typically extend just a few yards ahead at night. That said, the Iko Core's LEDs did a much better job of reducing the amount of shadows underfoot compared to halogen bulbs I've used, and they did so much more efficiently, too.
Fit
The limitations of many headlamps generally have nothing to do with their lighting; standardized light emission rates help keep most models within the margins of acceptable performance. The pitfall of many headlamps starts and ends with the system their front lamp is attached to, more often than not a flimsy elastic band. The human head is one of our heaviest appendages, and probably our least stable, which makes attaching anything to it a fraught process. Headlamps grapple with being both light / balanced enough to go unnoticed, but also sturdy enough to stay in place during activity. An elastic strap helps reduce weight, sure, but its lack of intrinsic structure doesn't do much for stability, not to mention its tendency to stretch over time.
Perhaps recognizing this stagnation in design, Petzl's Iko Core overhauls the headlamp archetype by doing away with flimsy stretch materials altogether. Their proprietary "AIRFIT" system uses rubberized plastic to form a semi-rigid tiara intended to rest imperceptibly on the crown of the head, instead of coarsely strapped to it. Flanked by a mint-tin-sized battery pack with tensioning stays on the back of the head that's about evenly balanced with the lamp unit up front, the Iko Core's AIRFIT system eliminates the threat of bounce by virtue of its fixed structure, and at only 79 grams, it doesn't take on additional weight by doing so. The headlamp's largest feature, its battery unit and cinch anchor, nestle securely just under the occipital knob at the back of the head, where they're conveniently out of the way of most hats. However, I've found that even when wearing a low-cut, thick beanie under the Iko Core, my outsized head still fell within its fit spectrum, leading me to guess that, despite coming in only a single size, the headlamp should still comfortably suit most runners.
Battery Life
While specialization has its place, there's been a healthy upswell of multi-use pieces of gear coming to market across the running industry, whether that's in the form of road-to-trail shoes, modular apparel, or any number of other products designed to perform several roles. Hybrid concepts are tricky to execute effectively, but when done well, usually make for attractive, streamlined products that can take on a lot of work. The Iko Core runs away with this design approach, forcing its relevance by offering seemingly inexhaustible ways it can be used, a theme that even finds its way into the headlamp's battery.
Petzl's "Core" models, of which there are several outside of the Iko, are designated as such to indicate that they come with the brand's own Core Lithium Ion battery, which is rechargeable via micro USB. However, the Iko Core's battery pack will also accept standard AAA batteries, a clever substitute that can extend the lamp's life (at a max of 350 lm, mind you) if you don't happen to have an extra Core battery with you (Petzl's regular Iko model comes with AAA batteries but also accepts a Core battery, sold separately). Under the power of standard batteries, the Iko Core's burn time plummets, so it's probably best to consider it as an option only if you find yourself in a pinch. Still, the foresight needed to include such a flexible power system that can take energy from two different sources speaks to Petzl's shrewdness as designers.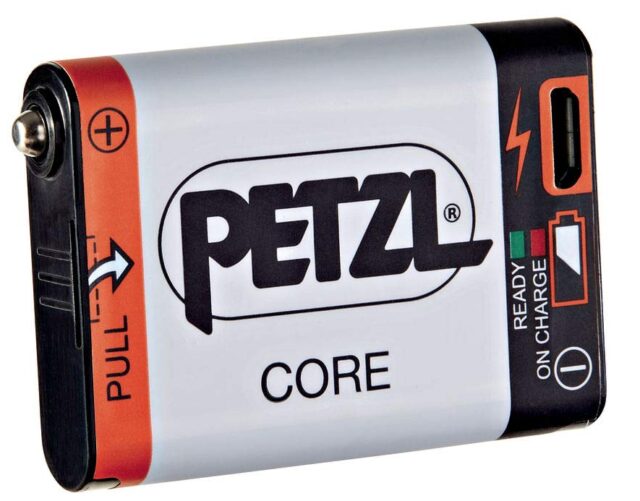 Practically, I was able to put a lot of trust in Petzl's claims about the Iko Core's battery life. Its Standard Burn intensity was much more than I needed most of the time, so I often found myself using its Max Burn setting. With 6 lumens of light I was able to make out technical trails in the dark fairly easily, and not once was I worried about running out of juice. Taking a conservative approach to lighting also meant that I could use the Iko Core on multiple outings from just a single charge, confirmed by the battery charge indicator that flashes each time the headlamp is turned on or off. While I've yet to confirm the burn time Petzl ascribes to each setting, my experience with the Iko Core and Petzl's reputation make me confident in them. If anything changes as my Iko Core gets more use heading into fall / winter, I'll chime back in with updates.
Storage & Durability
One of my main concerns with the Iko Core was stash-ability; given the rigidity of the AIRFIT system's stanchions, how easy would it be to crumple up the headlamp and store it in a pocket / belt when not in use? The Petzl Bindi, one of the brand's puniest headlamps at only 200 lm and half the weight of the Iko Core (35 g), had been my favorite choice for weekday runs beginning or ending in the dark precisely because of how easy it was to hide on my person, though that model had clear limitations when it came to power and battery life for longer efforts. While not nearly as compact, Petzl designed the Iko Core to fold in on itself for storage, flattening out into a bundle that approximates the size of a large human hand. Getting the headlamp to cooperate takes a little corralling, but I never felt like it was a problem, more of an inconvenience, maybe.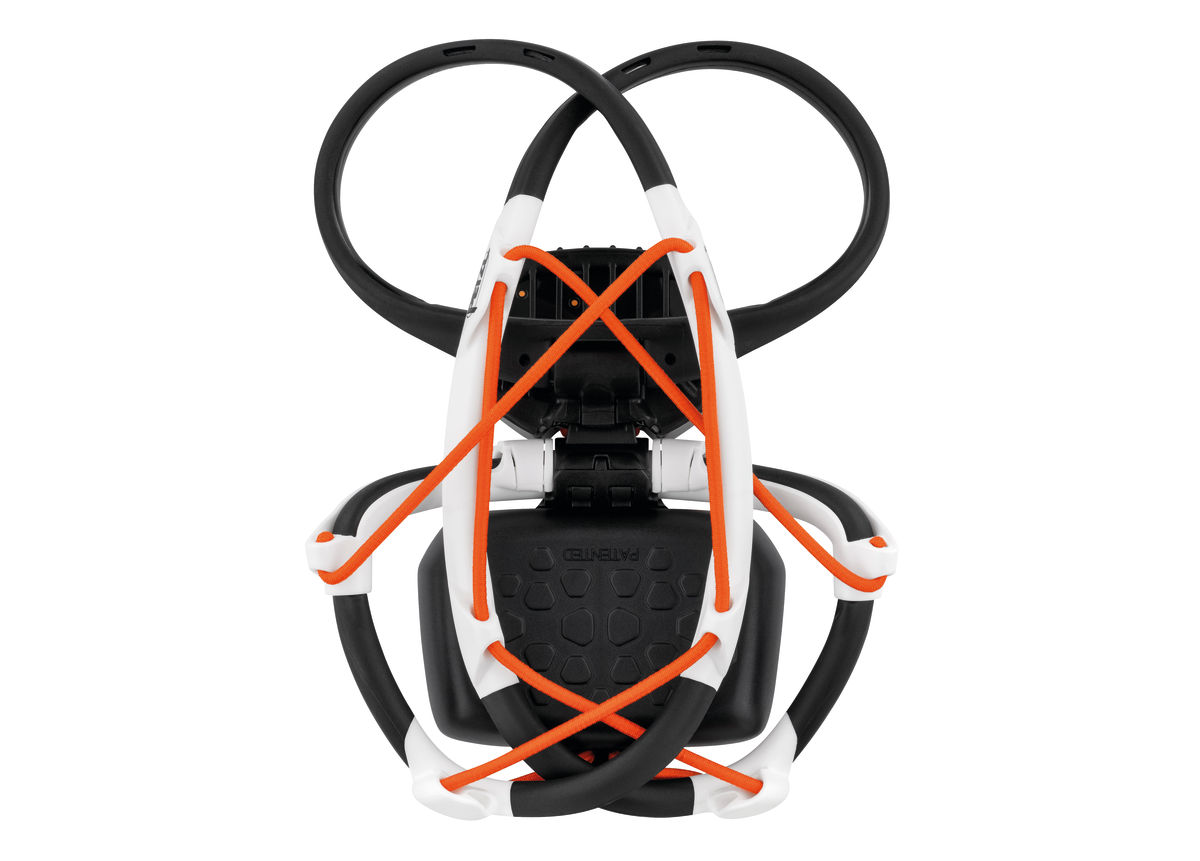 From time to time, when feeling slothful, I've been guilty of balling up the Iko Core and roughly shoving it into my pack, much like I would with a traditional headlamp. So far, I haven't noticed any ill effects from doing so, though I do have my reservations about just how durable the Iko Core will prove to be. To generalize, its thin construction and lack of reinforcements in key areas around the lamp and battery pack probably leave it pretty vulnerable to falls / impacts, and while it does have an IPX 4 Water Resistance rating (i.e., resistant to water splashes from any direction, but not submersion), I'm not inclined to use it during longer spells of heavy rain. In my opinion, these uncertainties shouldn't be enough to dissuade most runners (even those hard on their gear) from picking one up. If you're going to own a single headlamp, the Iko Core is a fantastic option, but there are considerations that need to be made, given its unique design.
On Trail
I had the privilege of pacing a friend for 15 miles (80-95) at this year's Western States 100, intercepting her right as the sun began its slow tumble from the sky. As darkness overtook us, calming the air and leaching the color from what had been an electric summer day, we flicked on our headlamps and flung ourselves into the night at a torrid pace. Mounted to my forehead was the Iko Core, which reliably provided a measured stream of light that kept me sure-footed despite how hollowed out I felt from trying to stay on the heels of my runner, now on her 9th wind, stuck in a gear set to breakneck speed, out for blood.
As a lightweight lighting solution for trail running in the dark, whether that's from dusk till dawn or just a few hours on the margins of nightfall, the ergonomic Iko Core sparred its way through my drawer of headlamps, coming out on top as my go-to option. Petzl's AIRFIT system removed the stress-inducing bounce customary with models relying on elastic bands, and the efficient 500 lm LED lamp exceeded even my most demanding needs. But what really set the Iko Core apart is something I've been hinting at throughout this review but have yet to really flesh out: its imaginative versatility.
To call the Iko Core a "headlamp" is a slight misnomer; to do so would be selling it short. Most runners will spend the majority of their time using the Iko Core with it crowning their heads, yes, but it's purposefully designed to be worn in any number of ways, from draped around the neck, wrapped around a free hand, or fashioned to a trekking pole (it's also compatible with all Petzl helmets). The lamp unit tilts a reportedly full 180 degrees, which allows for precise directional lightning no matter how it's mounted. I've worn the Iko Core as a necklace on rainy runs when my head is buried under multiple hoods and a hat, strapped it to a tree branch to provide stationary overhead lighting while taking a break on trail, and even tethered it to my bike's seatpost to use as a stand-in for a rear light.
Petzl also includes a translucent storage pouch that, when attached to the Iko Core, functions as a surrogate lantern. In all transparency, I initially scoffed at this proposition, but after taking the headlamp on a fastpacking trip with friends and using it to project a glow on our haggard faces as we recapped the day, it turned into a charming touch. I'm all for limiting the amount of stuff I have to carry while recreating, and as a comprehensive lighting solution no matter the context, the Iko Core will find its way into my pack moving forward.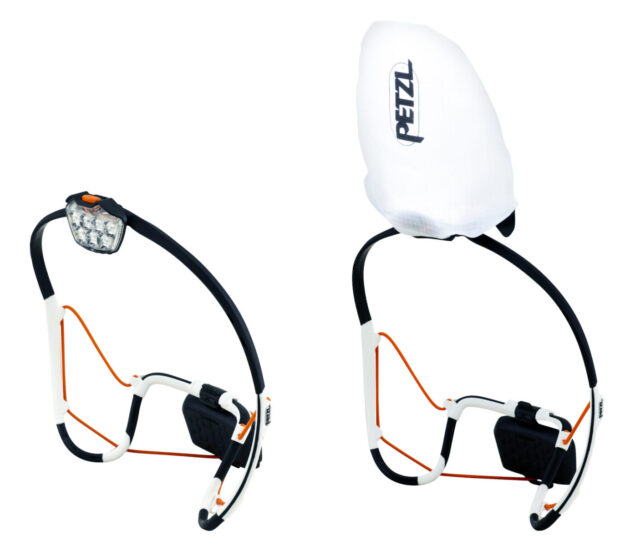 Who's It For?
Candidly, I think the Iko Core has a tactical appearance that might come across as kind of intimidating; it could look too self-serious to be worn by non-elite runners out for a pre-dawn jog. But don't let its sharp aesthetics box you out too much, the Iko Core is not a high-end (by most standards) headlamp for special use-cases, it just fits differently. Reasonably priced relative to its performance, ergonomic, and with lighting performance that will cover the majority of needs — from pre- or post-work miles in the dark to all-night efforts — the Iko Core makes sense for runners tired of wearing clunky headlamps that bounce around a lot on trail. Its ability to be used in a variety of different ways also makes it a great option as a piece of gear for general outdoor enthusiasts who spend a lot of time outside.
Bottom Line
As with any new product that transgresses convention, there will undoubtedly be people who find fault with the Iko Core's inventive design, pointing to Petzl's AIRFIT system as cumbersome and unorthodox, the lamp as too fragile-looking and exposed. While these charges may be flecked with some legitimacy, I think the vast majority of runners who give the Iko Core a try won't revert back to elastic-banded headlamps in the future; its ergonomic, semi-rigid frame eliminates headlamp bounce, and the LED cluster up front should provide more than enough light to meet the needs of most runners. But more than anything, the Iko Core is a winning example of a piece of equipment that anticipates the different ways it can be used.