Scott Patrol E1 30 Avalanche Airbag Backpack
Test Locations: Chugach, Kenai, & Talkeetna Mountains, AK; Never Summer Range, Colorado
Days Tested: 35+
Stated Volume: 30 liters
Available Sizes: One Size
Avalanche Airbag System: Alpride E1
Stated Weight (we'll have a measured weight very soon):
Alpride E1 Airbag System: 1280 grams
Patrol E1 30 Backpack: 1390 grams
Total Weight (airbag system + backpack): 2670 grams
Pack Materials:
Main Body: 210-denier nylon double-ripstop
Reinforcements: 420-denier nylon plain weave
Stated Features:
Diagonal ski carry system
Side compression straps with A-frame ski carry system and front snowboard fixation function
Separate sleeves for safety equipment (shovel, probe) inside the main compartment
Top pocket with fleece lining
Stow away ice axe/pole fixation
Versatile daisy chain loops
Light hip belt with safety leg loop
SOS label with emergency instructions
Sternum strap with emergency whistle
Inside map pocket with key holder
Helmet fixation
MSRP: $1100
Reviewers:
Paul Forward: 6', 190 lbs
Luke Koppa: 5'8", 155 lbs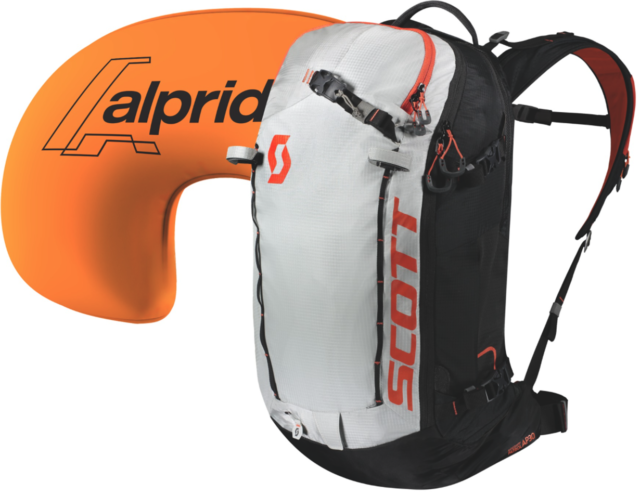 Intro
The category of avalanche airbags has continued to diversify over the years, and the electronic-powered Scott Alpride E1 system is one of the latest additions to the category.
While the Alpride E1 system was preceded by other electric fan-powered packs (Black Diamond and Arcteryx), Scott and Alpride state that the E1 is a step forward for a variety of reasons.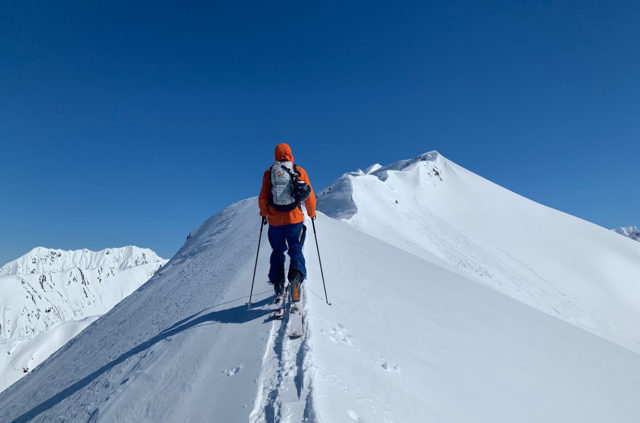 First, it utilizes "supercapacitor technology" that it claims has no temperature-related performance limitations and it can be easily recharged on the go with two AA batteries. The lack of lithium-ion batteries also means that Alpride E1 has no restrictions for traveling (i.e., you can put it in your checked baggage unlike a Li-ion battery). In addition, the airbag system reportedly weighs only 1280 grams, which is quite a bit lighter than any electric airbag system we've used.
I've been able to use a lot of different airbags, from traditional canister options to Black Diamond's electric JetForce. So here I'll go over how the E1 system compares, how the Patrol 30 bag functions as a general ski-touring backpack, and who I think will most appreciate this avalanche airbag. Luke Koppa also spent a bit of time using the Patrol E1 30, so he'll be adding some of his thoughts, too.
Fit
Paul Forward (6', 190 lbs): The most surprising thing about the Patrol E1 30 might be how well it fits a wide variety of people. There aren't really a lot of manual adjustments on it, but the pack size and shoulder strap system seem to just work. I'm 6', 190 lbs and usually purchase size Large packs and rarely have issues with that.
The Patrol E1 30 (which only comes in a single size) feels like a perfect fit for me and I never really thought about it until I loaned it to a friend who is 6'4" and he also got on great with it. The biggest surprise came when my wife, who is 5'4", needed to borrow a pack for a quick ski tour and grabbed the Patrol E1 30. She found it comfortable and well fitting for both ascent and descent. It's worth noting that when she last updated her airbag pack she tried quite a few packs before settling on a small, women's-specific model from Dakine because most of the packs she tried didn't fit her well.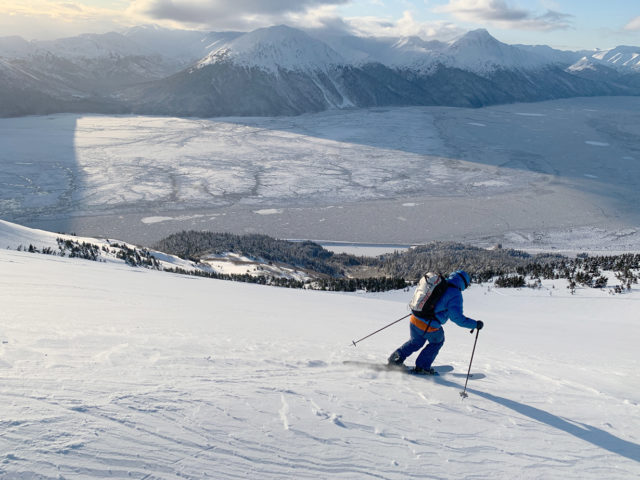 Luke Koppa (5'8", 155 lbs): Yep, totally agree. I'm much smaller than Paul and still felt that the Patrol E1 30 fit me really well. For not having a big wraparound-style hip belt (like the Patagonia SnowDrifter 20L or Mystery Ranch Saddle Peak 25L), I was surprised by how stable the Patrol E1 30 felt while skiing. It doesn't have an adjustable-height back panel and just has the typical adjustable shoulder straps and hip belt, but the fit felt great.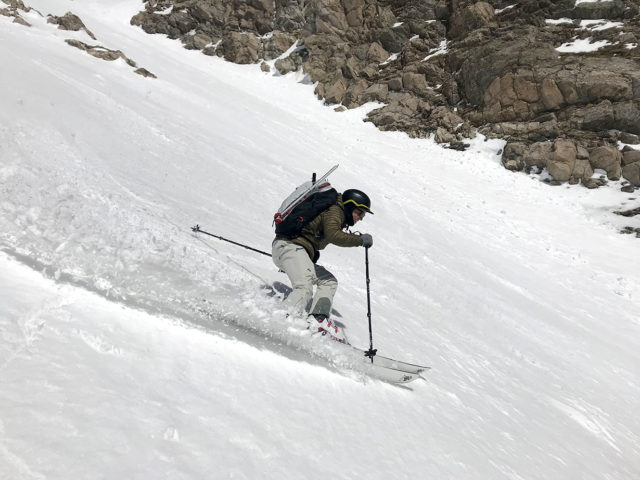 Volume
Paul: 30-liter ski packs have long been a popular size for an all-round, day-touring pack and I've owned quite a few that fall within that range. Overall, the Patrol E1 30 did fine by me for carrying my daily basics during moderate temperatures, but as soon as I needed to carry more specialized gear or additional layers, it started to feel pretty small. I'm not sure if Scott calculates advertised the volume of the pack minus the volume of airbag system but it definitely feels on the small end of the spectrum based on my experience with other "30L" packs.
For reference, on a "normal" ski tour I typically carry a 2L Hydra Pack water bottle, Patagonia Micro Puff Hoody, multi-tool, avalanche tools, tiny first aid and emergency kit (smaller than an apple in total), goggles, extra hat, a light pair of extra gloves, and an assortment of food depending on how long I'm heading out. If it's really windy or stormy I'll also bring a light shell like the Black Diamond Helio Active Shell. On the descent, I sometimes put my skins in the pack but usually stuff them into my jacket to keep them warm until my last lap. If I end up leaving the puffy and shell in my pack for the descent (sometimes I'll just ski down in my light windbreaker for quick laps) the above gear plus a pair of fat skins start to max out the volume of the Patrol E1 30. Add in a big thick puffy like my old Patagonia Fitzroy (which stuffs down surprisingly small for how big it is when worn) and it starts to get hard to close the zipper. If I'm bringing a mid-sized camera like my Sony A7 and zoom lens, I need to start getting creative or start strapping stuff on the outside. I've never been able to get a helmet inside the main pack body when carrying my usual gear.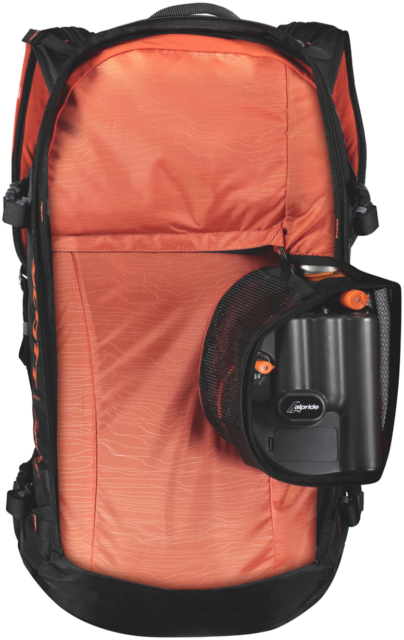 Personally, I think I'd get along better with the volume of the Patrol E1 30 if it was a classic top-loader style like my old Mammut Light RAS 2.0. I think top-loaders are quicker and easier to pack and less likely to explode open than full-zipper-style packs like the Patrol E1 30.
Overall, I'd be happy to have a slightly bigger pack even for non-guiding days, but I like everything else about this pack so much I've learned to get by with the volume I have. You could even argue that the smaller pack has forced me to streamline my overall gear a bit and start traveling lighter overall. That's not a bad thing!
Luke: Agreed again. My usual touring loadout is pretty similar to Paul's, and I have a hard time adding more to it with the Patrol E1 30. I can definitely make it work, but I have to carefully consider adding extra stuff like a bulkier puffy jacket for frigid days or an extra camera lens.
One thing I want to note is the positioning of the airbag unit in the Patrol E1 30. The fan & supercapacitor take up a large block of space that sits, in my opinion, a bit awkwardly on the side of the main compartment. This makes packing stuff a bit more complicated, particularly the gear you end up having to put below the fan. I ended up usually stuffing my rarely-used gear down there like my emergency puffy because getting to it requires fully unzipping the backpack's main compartment.
Switching between the Patrol E1 30 and the Scott Backcountry Guide AP 30, I preferred the easier access of the Backcountry Guide since its canister-style airbag unit and the airbag itself are routed in a U-shape around the exterior of the pack, which gives you a big, open compartment in the middle. This is a pretty minor complaint, you'll probably just need to tweak how you pack your daily essentials with the Patrol E1 30 (something I end up needing to do most times when I try a new pack).
Pockets
Paul: The pocket layout is pretty simple on the Patrol E1 30. There's one main body compartment that is accessible by a robust-feeling main zipper as discussed above. Within that main pocket are a small zippered pouch and an internal sleeve with a tab of velcro designed to hold avalanche tools. I generally like this simplified approach, though the main zipper extends all the way around the pack body to the bottom of the pack on both sides on the Patrol E1 30, which adds some complexity. The benefit of this is that it's easy to quickly get the whole pack wide open to find stuff in a hurry. The downside is that, sometimes, the pack opens a lot wider than I want it to and it's caused me a few moments of digging around in the snow to find stuff that has popped out when the zipper opened more than I wanted it to. I have not had issues with it opening while skiing or crashing despite being really stuffed sometimes.
I constantly struggle with avalanche-tool pockets and the Patrol E1 30 is no different. If I'm using a small, compact shovel (like the BCA B1), I can get everything in there, but a small snow saw and my probe still end up dangling outside the tool sleeve and often end up needing to be adjusted a little each time I close the pack. It's not ideal but it's workable. I'd prefer a large sleeve and a slightly more secure closure to keep shovel and probe better contained.
The small zipper pocket is a great place to stash seldom-used but small gear like multi-tool, headlamp, and first aid kit.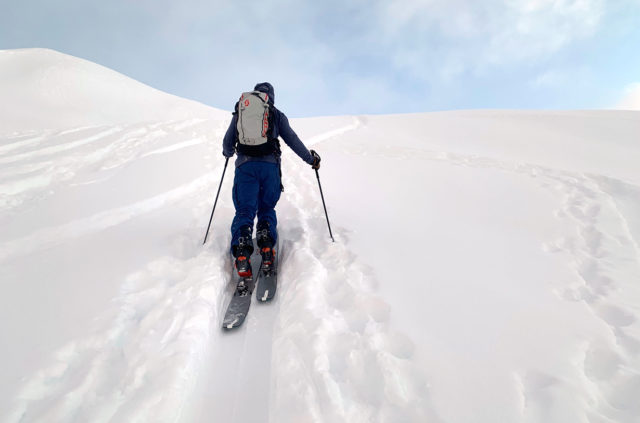 On the outside back of the pack is a fleece-lined pocket that is generous in size for a goggle pocket. I use it constantly for goggles, extra hat, food, sunscreen, and other stuff I access multiple times per day.
I really wish there was some kind of hip belt pocket for storing snacks, sunscreen, inclinometer, and other small stuff that I frequently need while on the move.
The Patrol E1 30 that any customers bought this year and any bought going forward will include a helmet carry that you can attach to the outside of the pack. The helmet carry looks pretty regular — a piece of mesh that goes over the helmet and then two hook for attaching it up top and two velcro loops to attach the bottom. Looking at Scott's website, you can either attach the helmet squarely on the face of the pack using the daisy chains, or a bit lower on the pack by attaching the lower velcro loops under the pack. Our pack did not come with it, so we can't really comment on how well it works.
Luke: Paul noted most of the things I would have discussed. I would also appreciate a hip-belt pocket, I've also had my probe stick out of the velcro-closure avy-tool pocket, and I really like the exterior goggle pocket.
Ski Carry
Paul: For me, the best diagonal ski carry systems are those that allow the tops of the skis to get cinched down via a connection to the top of the shoulder strap. This keeps the skis tight to the body and pulls the tails out away from my legs and feet for climbing and other ski-less shenanigans. Unfortunately, the design of airbag packs like the Patrol E1 30 with an airbag compartment right behind the head of the user precludes this possibility because the skis being attached to the shoulder strap would interfere with airbag deployment. The Patrol E1 30 employs a simple diagonal system on the back of the pack and it works reasonably well. With bigger, heavier skis it can feel a little wobbly and I do occasionally hit my legs on the tails of my skis but overall it works pretty well. I often beef up the attachment with a Voile ski strap to keep things a little more secure.

Luke: Yeah, I'd say the ski carry on the Patrol E1 30 is fine but not amazing. Like Paul, I also found myself strapping a ski strap across the skis using the daisy chains on the face of the pack to keep the skis a bit more stable. It's also worth noting that the "diagonal" ski carry of the Patrol E1 30 is a bit less "diagonal" than some other ski packs — the skis stay a bit more vertical with the Patrol E1 30. Not a big issue for me, but this is not my favorite pack for booting up couloirs.
One nice thing is that, while the Patrol E1 30 is pretty minimal and you can't carry skis diagonally if you want to be able to deploy the airbag, Scott still included side compressions straps. I always compress my packs as much as possible to limit movement while skiing, and those compressions straps can also be useful when you end up needing to carry some extra gear on the outside. The compression-strap buckles are also reversed so you can run them all the way across the face of the pack for snowboard carry.
Ice Tool Carry
Luke: Just a quick note: I used the Patrol E1 30 for a few spring missions that involved using pointy things to get up the lines and strapping them to the pack on the descent.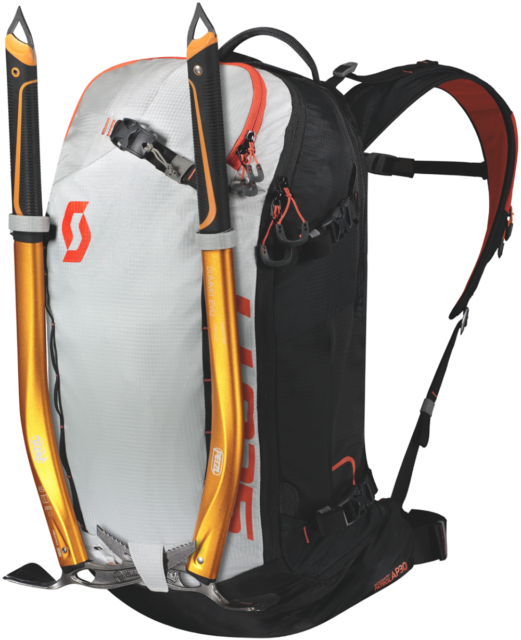 The pack's velcro loops and small sleeve on the face of the pack did a very good job of securely holding ice tools (both curved, vertical-ice tools and straighter mountaineering ice axes).
Alpride E1 System: Activation, Trigger, Batteries, etc.
Paul: Unlike most of the Black Diamond Jetforce electronic airbag systems, which use an electronic trigger with buttons and LED lights, the Patrol E1 30 utilized a simple mechanical trigger that's similar to canister-based airbag packs. It's simple, light, easy to grab, and the zippered pocket access is easy to operate with gloves on.
I did accidentally deploy it once while on top of a ridge but I think it was user error. I was grabbing stuff out of my pack and I must have somehow snagged the trigger on something. Having detonated a lot of airbags (all just for practice and fun!) I was a little surprised by how easily I tripped the trigger but I've also taken a couple of crashes with the pack without setting it off so I think it's totally fine in this regard.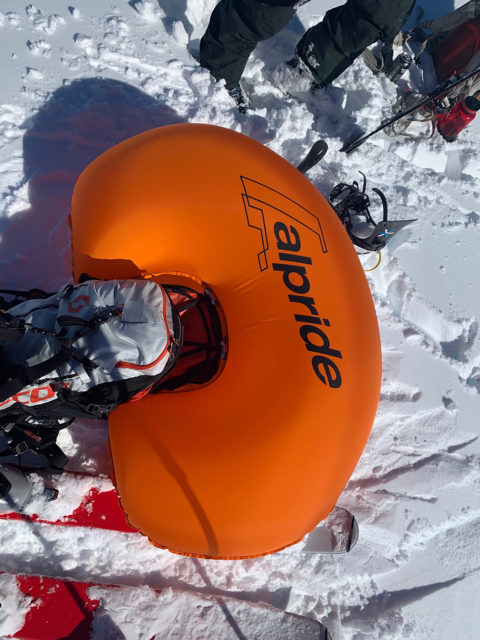 One of the great advantages of electronic packs is that an accidental (or intentional) deployment in the field doesn't usually mean that the pack is useless until you get home to refill a canister.
In the case of the E1 system, it can be charged via USB-to-micro-USB cable or two AA batteries. Charging the supercapacitor with the USB cable will take roughly 20-40 minutes, while charging with the two AA batteries takes around 40-80 minutes, depending on the specific batteries. The supercapacitor has an LED light that can be viewed from outside the pack that lets you see if the battery is low. A green light shows when the unit has 6+ hours of "autonomy" (i.e., it would be able to inflate the airbag). A yellow light shows when it has less than 6 hours of autonomy, and a red light blinks if the unit is not able to deploy the airbag. The unit also auto-tests the system as soon as you turn it on, rotating the motor once and leaving a green light on if it is functional, or rotating the motor four times and switching to a red light if the system is not functioning properly.
Between the E1 system's original charge and the 2 AA batteries I can bring with to recharge it, I've consistently been able to get two complete airbag deployments in a single outing. I've found this to be true whether I just charged the pack or whether I've left the same batteries in the pack with no additional charge for months on end. It's also worth noting that I often forgot to turn it off at the end of the day and have left the pack on for a few weeks before noticing. Even after that, I had no issues with subsequent airbag deployments. FWIW, Alpride says leaving two AA batteries in the pack will keep the unit charged for 3-5 months (depending on the batteries) when the unit is turned off, and 1.5-3 months if the unit is left on. They say lithium AA batteries tend to keep the unit charged for longer periods of time, and can also allow for more recharge cycles of the supercapacitor. For all of the tech specs, see Alpride's user manual for the E1 system.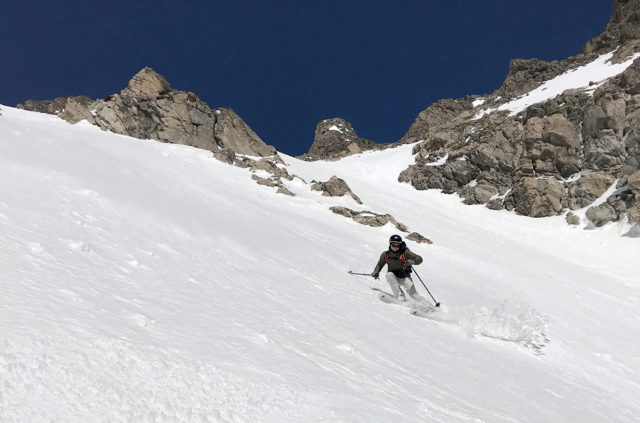 One inconvenience of the E1 design is that turning the system on and off requires opening the pack and then unzipping the internal compartment that contains the motor. It's not a big deal but if the pack is full of gear you do have to at least partially unpack it to access the on / off switch. More than once I've forgotten to turn it on before I started skinning and then had to unload my pack in the snow to turn it on. So just try to remember to double-check the LED light before heading out.
In terms of weight, the Alpride E1 system's stated weight is 1280 grams, which is a bit heavier than some canister-style airbag systems, but much lighter than the Black Diamond JetForce system. For reference, here are the stated weights for several airbag systems (not including an actual backpack):
1000 grams Ortovox Avabag (with carbon cartridge)
1010 grams Mammut Removable Airbag 3.0 (with carbon cartridge)
1130 grams Alpride 2.0
1240 grams Alpride 1.0
1280 grams Alpride E1
2000 grams Black Diamond Jetforce V1
Air Travel
Paul: I haven't traveled with this pack yet but it seems like the best solution currently on the market for those who do travel a lot for their skiing, and who want to bring an airbag pack with them. As mentioned above, Scott claims that the power source for the E1 system can be legally packed into checked baggage. To my knowledge, this is different than other electronic packs that utilize Lithium-ion batteries and therefore must be carried on.
Skiing
Paul: The best gear is the gear that you forget about most of the time you're using it and, except for the tool pocket and zipper issues mentioned above, the Alpride falls into that category. Most of the day the pack just rides comfortably with no issues. The hardware on the straps and waist belt all work well and the fit is great for me (and lots of others as mentioned above). Most importantly it hugs my body well on the descent with no discernible movement while skiing. It's also low enough in profile that I never bump the back of my head on it, even while looking back uphill with a helmet on.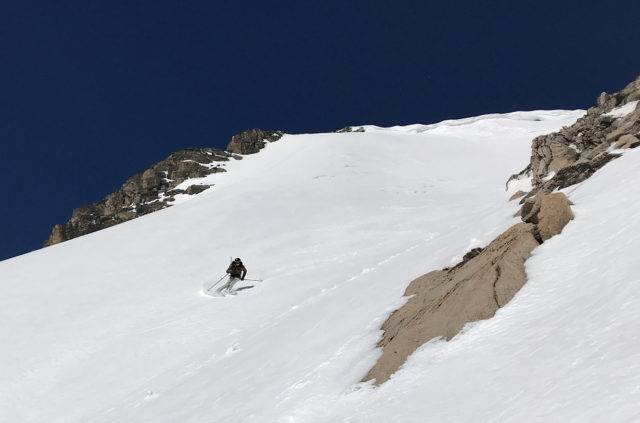 Luke: Yep, this thing feels great on the descent.
Durability
Paul: I've used the Patrol E1 30 as my primary ski-touring pack for 2 months last year and another 3+ months so far this year with no issues. The white fabric seems a bit thin but I've had no issues even after skiing through brush on repeated occasions during early season ski tours. In my world, the harshest use for a backpack is heli-ski guiding and I haven't yet used the Patrol E1 30 in that capacity. I have had multiple heli-ski guests bring their Patrol E1 30's for repeated days of heli-skiing and they seem to hold up fine to repeatedly being loaded and unloaded from the metal grate ski basket.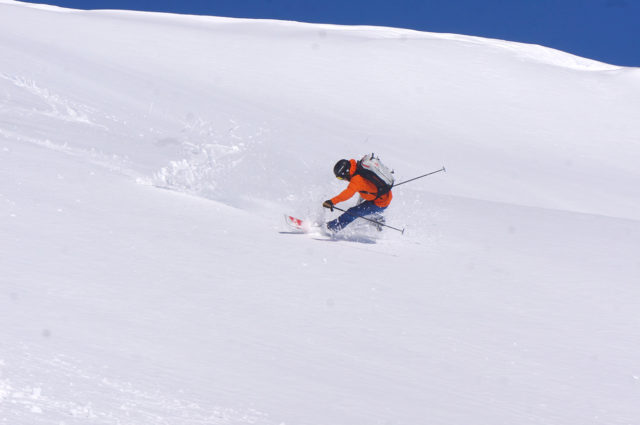 Luke: I used the Patrol E1 30 before sending it to Paul and had no issues. I was pretty easy on it and I doubt the thin fabric is going to be as durable as the less-minimal airbag packs out there, but I'm glad to hear Paul hasn't managed to tear it during his extended use.
Who's It For?
Paul: I think this pack will be most appreciated by avid backcountry skiers who often go places where airbag packs are advantageous and may need to utilize commercial airlines to get there. Based on almost 20 years of using airbag packs of just about every variation, I feel that the E1 system is currently the best on the market. The Scott Patrol E1 30 is a great initial offering utilizing this system and the capacity and features are well suited to all-round ski touring use.
For those who often find themselves carrying specialized gear like ropes and climbing gear, camera equipment, or professional guiding kits — or just those who prefer a roomy bag — you'll likely want to look at Scott Patrol E1 40 or a different brand of pack.
In addition, professional patrollers or guides who need to access their avalanche tools repeated throughout the day for snow assessment may find the avalanche tool storage of the Patrol E1 30 a bit cumbersome, given that you have to open the main compartment to access the tools.
Luke: Agreed on all fronts. As a much less experienced airbag user compared to Paul, I'd just add that I love that the E1 system lets me repeatedly test deployment without having to refill canisters, it creates much less complications while traveling, it's light for an electric system, and the LED light makes it easy to tell when the system is charged.
As for the pack itself, it's worth noting that it's pretty minimal on features and isn't super burly, so those who love to precisely organize their gear in separate pockets or those who are super hard on their gear may be better off with a different pack.
Bottom Line
Paul: In my opinion, the Alpride E1 airbag system is the best all-round airbag system on the market and the Scott Patrol E1 30 provides excellent fit, thoughtful design, and overall complements the E1 system very well, making for an excellent airbag backpack.