Shimano ME7
Size Tested: 44
Blister's Measured Weight: 423 grams (per shoe)
Pedals Used: Time Speciale 8
MSRP: $200
Reviewer: 5'9", 155 lbs / 175 cm, 70.3 kg
Test Duration: About 2 months
Test Location: Whitefish, Montana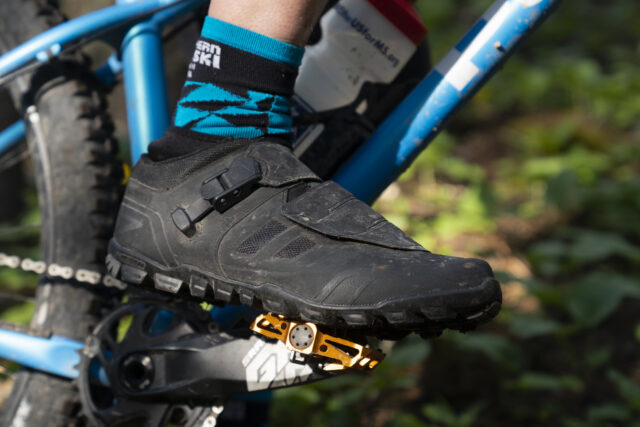 Intro
Shimano introduced the ME7 in the summer of 2020 as part of their "enduro / trail" category of shoes, with the ME7 occupying a territory that tries to tread that fine line between pedalling efficiency, walkability, comfort, and foot protection. Basically, an everyday shoe for everyday riders that is competent at everything. That's a tall order.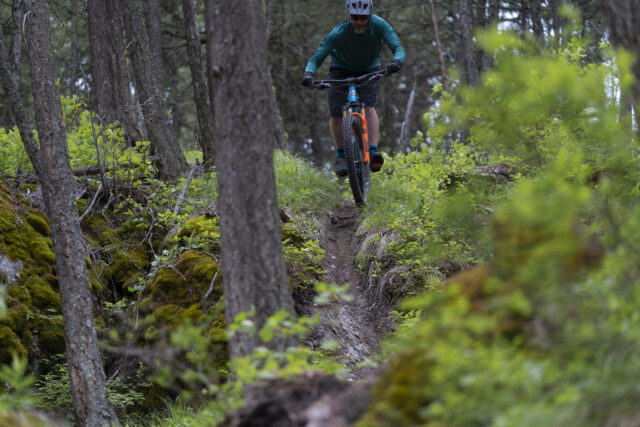 I've been riding the ME7 this spring in every condition I can throw at it. It's seen a fair amount of pedalling, some lift-served laps, some dust, some mud, some stream crossings, and some hike-a-biking. I've worn them for some all-day pedals, and also for some quick evening jaunts that end at the brewery. And so far, my feet have been happy most of the time.
Features and Construction
The ME7 uses a combination of quick-draw laces in the forefoot with a ratcheting buckle across the top. In typical Shimano fashion, there's a cover that keeps the laces nice and tidy, and also keeps them out of your chain and mostly dust-free (which helps keep the quick draw running smoothly, and also makes the laces last a lot longer). The ratcheting buckle works smoothly and is nicely low profile — I've yet to snag it on any trailside bushes.
The sole of the shoe has moderately large lugs and uses a Michelin "OCX3" dual-compound rubber. There aren't any holes for adding toe spikes, but the lugs are large enough that I'm not sure spikes would be particularly necessary. The cleat area has longer mounting slots, which vary depending on the size of shoe you have (larger shoes get longer slots; my size 44 ME7 has 30 mm slots). The opening around the cleat was large enough that I didn't have to do any trimming of lugs to get my Time Speciale 8 pedals to interface cleanly with my cleat.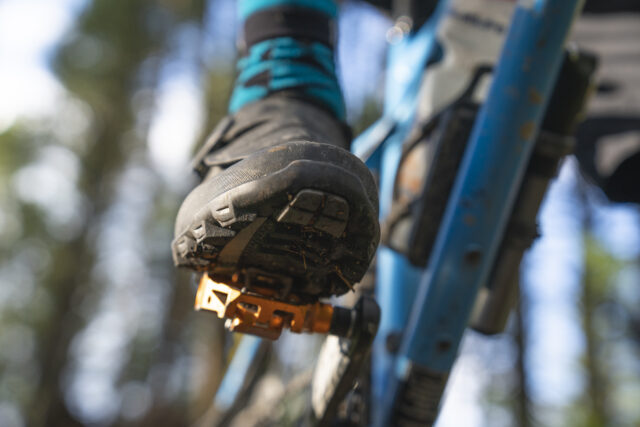 The ME7 is built around a carbon-composite backbone that makes for a moderately stiff shoe. It's certainly not as stiff as something that's more oriented towards XC racing, but it's not a floppy recreational shoe either. And as with most bike shoes, it's stiffer under the ball of the foot. The sole is also built to be less torsionally stiff around the heel, which is intended to allow the shoe to flex with your foot a bit more as you lean into corners.
The upper shoe is made out of a synthetic leather that has some perforations for ventilation, and around the ankle there's a neoprene gasket to help keep out trail debris. The toe box is reinforced a bit to give a little more protection when you run your foot into a rock, but it's not quite as protective as some of the more downhill-oriented shoes on the market.
The Fit
The ME7 is available in a regular width (called Volume+) and a wide fit (called Volume+ Wide). I rode the regular Volume+ model, which was definitely the right call for my C-width, fairly low-volume foot.
Lengthwise, I would say the ME7 runs short. I rode a size 44, which felt about right. In some other brands, I can get away with a 43.5 or even a 43. Historically, Shimano shoes have usually been on the short side, so the ME7 is consistent in that regard.
Width wise, I would call the Volume+ version of the ME7 a "narrow medium width" shoe. By that, I mean that my foot is comfortable in it and I don't feel like I'm swimming in it by any means, but it's certainly not a tight, narrow shoe. The Volume+ moniker indicates a larger toe box, and this is evident — I can wiggle my toes side to side. But the heel pocket is also not overly tight — I have a little wiggle room there, too.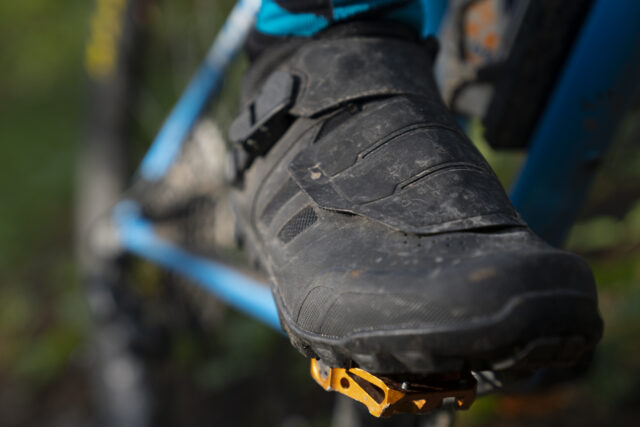 In terms of overall volume, I prefer a tighter shoe for my low-volume foot. Initially, I ran out of ratchets on the ME7's buckles — I was fully buckled but the shoe was still a little loose. I added a spacer under the insole and that helped, but the shoe still feels just a smidge too big for me to really get my foot locked down. But to reiterate, my foot is relatively narrow and definitely not very tall, so I think the ME7 will likely work well for most people with "normal" feet. And I don't want to make it sound like the fit was horrendous for me either — I rode these shoes for hundreds of miles without any blisters or discomfort. My foot just wasn't quite as secure as I'd really like.
[David Golay: I haven't ridden the ME7, but did try on Noah's pair, and they're pretty snug on my (apparently much wider) feet. While I'd agree with Noah that they're not a super snug, XC-oriented fit, they're much more narrow than Shimano's AM9, and slightly more so than the Specialized 2FO DH.]
On the Trail
In terms of basic functionality, the ME7 has been great. I've had lots of shoes with soles that interfered with the pedals in some manner or another, or ratchets that were wonky when they got dirty, or some other lapse in a core piece of the shoe. The ME7's don't suffer from any such issue — everything works nicely and plays nicely with my pedals.
As an all-round trail shoe, the ME7 does a nice job of being pretty much ok at everything. It's stiff and efficient enough that it feels like the effort I'm putting in is going into the pedals. Heel hold is going to be a bit different for everyone's foot, but for me, I find it to be fine (but not perfect). I get a bit of heel lift, but cranking down the ratchet keeps me mostly secure.
At the same time, the ME7 isn't so stiff or race-y that it's uncomfortable off the bike. While it's certainly not a hiking shoe, I find the ME7 to be entirely comfortable for a bit of walking around. And when it comes to hike-a-bike efforts, that comfort mostly holds true. As the trail gets steeper (as most hike-a-bikes tend to be) and I'm flexing into the shoe more, the heel hold does leave a bit to be desired. Again, your foot may vary.
The little neoprene gasket around the ankle seems to more or less work as advertised — it helps keep some debris out of the shoe. I don't consider it a necessary feature, but it certainly doesn't hurt anything.
In terms of breathability, I'd call the ME7 average. They don't feel noticeably cool, but they're not overly hot either. I've also had a few rainy rides where I got to test out the ME7's performance in the wet. This is definitely not a shoe that's waterproof or even particularly water resistant. That said, it's not any worse than most other shoes in this category, it doesn't sponge up an excessive amount of water and become an anchor, and drying time is pretty average.
Bottom Line
The Shimano ME7 does a good job of being a "jack of all trades, master of none" sort of shoe. If you're looking for something super race-y and efficient, there are stiffer shoes out there with a more foot-hugging fit. And if you're more concerned with rugged descents than all-day pedals, there are shoes out there that offer a bit more protection. But if you just want an all-round shoe for all-round riding (with maybe a beer-league race thrown in for good measure), the ME7 fits that bill nicely, and it does so as a well-put-together piece of footwear. Fit is always going to vary for every person, but I think Shimano has done a good job of making a shoe that'll work well for most people with non-wide feet. And for the wide foot gang, there's the Volume+ Wide model.