Specialized 2FO DH Clip Shoe
Test Locations: Gunnison-Crested Butte Valley, Colorado; Washington; & too many others to list
Test Duration: 3 months
Reviewer: 6′, 165 lb (183 cm, 74.8 kg)
Size Tested: 44
Blister's Measured Weight per Shoe (size 44): 428 and 434 g
Upper: Synthetic leather
Closure: Lace
Stated Features:
Reinforced upper protects and holds the foot to take on the gnarliest terrain with confidence.
XPEL™ hydrophobic mesh construction reduces water absorption and dramatically improves drying time.
Stiff Lollipop™ nylon composite plate for high performance pedaling and off-the-bike comfort.
SlipNot™ FG rubber sole for confident traction.
Extended length cleat slot (4mm) for rearward cleat set up option.
Cushioned EVA foam midsole for comfort.
Relaxed Fit last for a balance of pedal feel and off-the-bike comfort.
Pedals used: HT T1, HT T1 SX, HT X2, Shimano Saint
MSRP: $170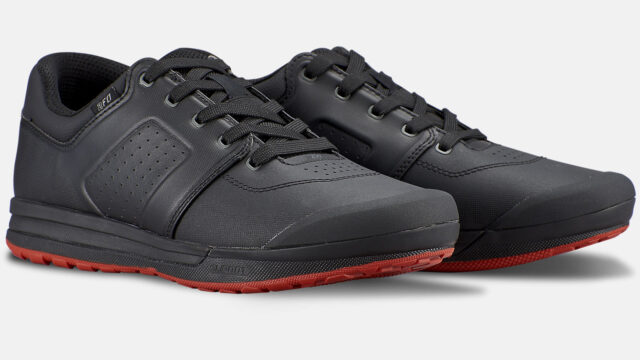 Intro
Specialized's new 2FO DH Clip (a flat-pedal version is also available) is a new offering meant for aggressive riding, and after three months of riding in it, I'm a big fan.
Features and Construction
The 2FO DH Clip is a well-constructed shoe with a relatively standard feature set for a gravity-oriented model. The closure is a standard lace affair and the cuff is asymmetric, with a bit of added protection on the inside of the ankle. There's a rubber toe cap covering the synthetic leather upper, and a hydrophobic mesh liner that's claimed to greatly reduce drying time.
I really like the level of protection that the 2FO DH offers. The upper is lightly padded throughout; it's not as heavily padded as the Ride Concepts Transition but a bit more so than the Shimano AM9, and manages to breathe passably well despite featuring some significant protection and a synthetic leather upper. The 2FO DH is also relatively low profile, for offering as good protection as it does, particularly on the inside of the ankle. Specialized also makes the 2FO Roost Clip, which is a lighter-duty shoe made for more general trail use.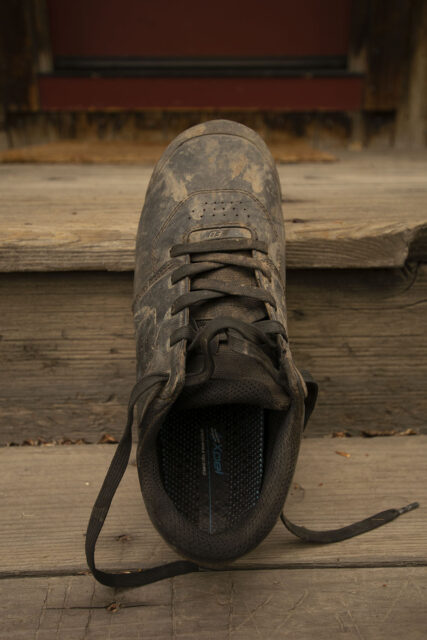 The 2FO DH Clips' synthetic leather upper has a few perforations around the sides of the shoe and on top of the toe box. The tongue is mesh and more breathable than the main material, but the 2FO DH still isn't some ultra-breathable, all-mesh affair by any stretch. It's a tradeoff that I'm happy with for the protection, water resistance, and durability that the 2FO DH has displayed, but riders looking for an ultra-cool shoe would be better off elsewhere.
Finally, I also really appreciate how low-key and minimally branded the 2FO DH is. It's a good-looking shoe, and one that doesn't scream "THIS IS A BIKE SHOE." Nice job, Specialized.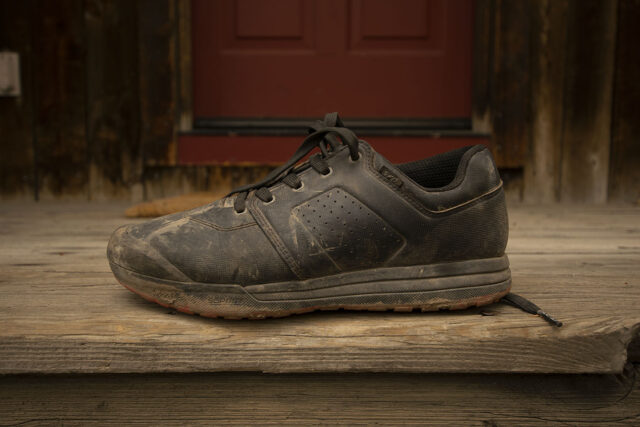 Weight
At ~430 g per shoe for our size 44, the 2FO DH isn't super light, but it's on the lighter side of average for a relatively gravity-oriented shoe. Below are the weights (per shoe) of a number of competitors to the 2FO DH, for reference.
Fit
I've been testing the 2FO DH Clip in a size 44, which Specialized says translates to a US Men's 10.5. I normally wear a size 10 street shoe, and the fit is a touch on the big side for me. A 43.5 would probably be more ideal, but unfortunately wasn't available at the time of testing (it is, after all, 2021…). I put a 1/16'' shim under the footbeds to take up a little volume, which helped considerably. There's a touch more length than I really need, but not so much as to be a nuisance. Fit through the forefoot is quite good (on my fairly wide feet) but my heels are much narrower, and a slightly more snug fit in the heel pocket wouldn't hurt in my opinion — again, I think the 43.5 would probably be ideal for me.
Overall, I'd call the 2FO DH a pretty average, medium fit for this sort of shoe. It's a bit roomier than the most snug-fitting Cross Country-oriented shoes, a little wider than the Ride Concepts Transition, but narrower than the Shimano AM9 — especially in the forefoot — for example.
On the Bike
The sole of the 2FO DH Clip is relatively stiff for a DH-oriented shoe, and it transfers power well and offers good support. That said, it's nowhere close to as stiff as more XC-oriented models, and doesn't feel as harsh or punishing in rough terrain as a result. It's a really good middle ground, for my preferences, especially for a shoe that you're going to do some pedalling in. The Shimano AM9 is notably softer; the Ride Concepts Transition is similar, or a touch stiffer.
I'm also a big fan of the balance that the 2FO DH strikes when it comes to protection. For a shoe that I'm mostly using on Enduro bikes, it's a really good middle ground between being protective without being super bulky, hot, or heavy. I've ridden in the 2FO DH in temperatures up to the low 90s Fahrenheit (~34° C), and while I'd prefer a more breathable shoe when things are that hot, it was entirely passable. It's definitely less warm than the Ride Concepts Transition and similar to, or slightly warmer than the AM9.
The 2FO DH also does a remarkable job of not absorbing huge amounts of water, and drying quickly when it does get wet. I've ridden it on some very rainy days and even had one unfortunate mishap with a creek crossing where I fully submerged the shoes (along with every other article of clothing I was wearing) but managed to finish the ride without being too miserable.
Specialized notes that they extended the cleat slot on the 2FO DH, to allow for a more rearward cleat placement. I do have a little bit of wiggle room to go farther back on these, unlike many shoes where I find myself slamming the cleat fully rearward.
[Sidebar: Why is the cleat slot so far forward on so many gravity-oriented shoes? For XC models, I get it — they're prioritizing pedaling efficiency over downhill performance. But it makes no sense to me to emulate that for DH shoes. It's a totally different use case, and there's no good reason for them to be the same.]
I've used the 2FO DH with several models of HT pedals, as well as Shimano Saints, and the 2FO DH has interfaced nicely with all of them. Major issues with shoe-pedal compatibility seem to be rare these days, but I certainly had none with the 2FO DH.
Off the Bike
The 2FO DH walks reasonably well, and I've done some substantial hike-a-bikes in it without any notable heel sleep or other issues. A slightly less stiff sole would probably make for an even better walking experience, but given how much I like how the 2FO DH feels on the bike, I wouldn't change a thing. I did find myself wishing for a slightly stickier rubber on the sole when doing one particularly sketchy, off-camber section of hiking on a big rock slab, but as long as you're not trying to use the 2FO DH as an approach shoe, it probably won't be an issue for most people, most of the time. And of course, a softer rubber sole would likely wear more quickly
Durability
After three months of very regular use, I don't have much to report — the 2FO DH is holding up really well so far, despite being subjected to a lot of miles and some rocky hike-a-bikes. The plastic portion of the sole around the cleat slot shows some cosmetic scuffs, but nothing that in any way impacts performance, and apart from some dirt, the upper and rubber portion of the sole barely look used at all. I've got high hopes for how well the 2FO DH will continue to hold up, but I'll update if anything comes up.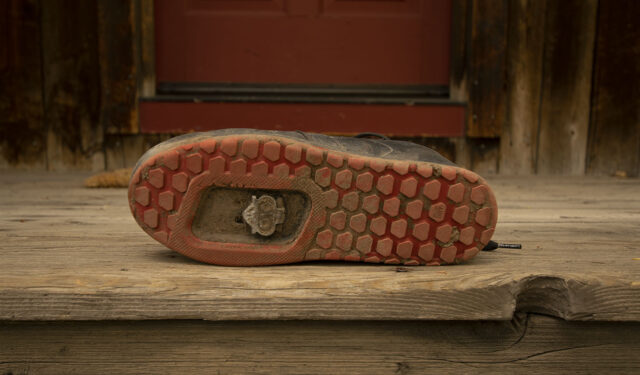 Bottom Line
The 2FO DH is an excellent new shoe offering from Specialized, and one that is at home doing a lot more than just riding DH. It strikes a great balance between weight, stiffness, and protection for a lot of relatively gravity-oriented riding, whether or not you're earning your turns by pedaling to the top, and looks really good to boot. I've happily used them for everything from average Trail rides through shuttle laps, and will happily keep doing so, even now that I'm done with this review — they're really outstanding.