2020-2021 Venture Storm Carbon Split, 161-25 cm
Test Locations: Little Cottonwood Canyon, UT; Grand Teton National Park, WY
Days Tested: ~10
Available Sizes (Length-width): 157-25, 161-25, 162-26, 166-26, 171-27 cm
Stated Dimensions (161-25 cm): 298-250-289 mm
Stated Nose Length: 225 mm
Stated Tail Length: 155 mm
Stated Sidecut Radius: 8.73 m
Stance Setback: -3 cm
Stance: 500–620 mm / 19.7–24.4 in
Camber Profile: Straight-line Rocker (Flat underfoot, early rise tip and tail)
Stated Flex Rating: 6/10
Core Construction: poplar/ash + carbon fiber laminate
Boots / Bindings: K2 Ender / Spark R&D Arc Pro
Stance: 22", 15°, -9°
Reviewer: 6'2", 165 lbs
[Note: Our review was conducted on the 19/20 Carbon Storm, which was not changed for 20/21, apart from graphics.]

Intro
Venture is one of a rare breed, a true American snowboard company. They're based in Silverton and produce all their boards by hand in the tiny Colorado town. They pay their employees a living wage, are diehard snowboarders themselves, and have adopted a no-bullshit approach to snowboard production. I highly recommend checking out episode 68 of the Blister Podcast with Venture's Klem and Lisa Branner for more.
Their Storm Carbon is a careful foray into the world of carbon splitboards. Venture has long been known for its bomber construction, and Klem and Lisa are open about their disdain for sacrificing durability for weight reduction. In essence, they took their flagship, freeride-oriented Storm shape and integrated carbon into the core to shave weight with the goal of minimizing the impacts on the board's downhill performance.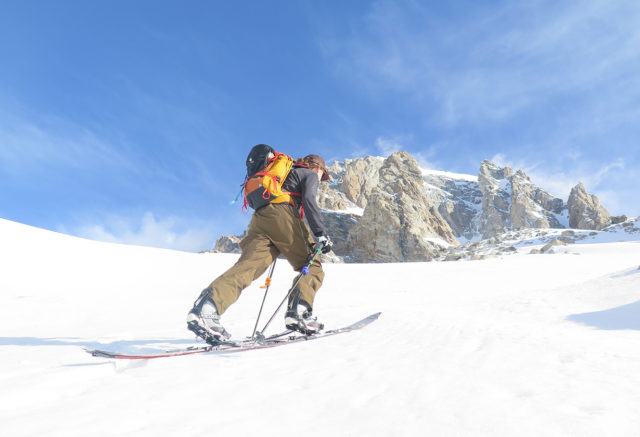 Venture's reputation is for bomber construction, not low weight, so I was very interested in their latest effort.
Construction, Shape, Rocker Profile
The Storm uses a poplar/ash wood core that's wrapped in a full carbon-fiber laminate, features a sintered Durasurf base, and tops it off with a carbonium top sheet.
The Storm is built with Venture's Straight-Line Rocker, which is flat between the feet with a rockered tip and tail. Klem and Lisa are vocal opponents of traditional camber (check out the podcast for their thoughts), and use Straight-Line in all their boards. The Storm features a very subtle 8 mm of taper and a directional sidecut.
One notable thing is that the Storm's size offerings are friendly for those with large feet. The 161 has a waist width of 250 mm, while the 162 has a waist width of 260 mm (and there is also the 260mm-wide 166 cm length and 270mm-wide 171 cm length).
Flex Pattern
The Carbon Storm is a fairly soft board overall — Venture's stated rating of 6/10 seems accurate to me. The nose is soft, but offers more support than some other early-rise directional freeride options like the Rossignol Krypto. As is common, the Carbon Storm stiffens towards the tail. The tail is stiff and supportive, maintaining a decent amount of stability and snap, despite the lack of camber and tail rocker. Tail rocker can sometimes cut stability in a significant way, but I haven't noticed that with the Carbon Storm, even on hardpack. Torsionally, the Storm feels solid yet smooth and maneuverable, likely due in part to the build quality (I used Spark R&D Crossbar Clips on it, which help to tighten the split)l. Overall, the Storm's moderately soft flex is ideal for surfy, quicker turns.
Downhill Performance
The Carbon Storm's lower weight is apparent in its ride. Playful, snappy, and agile, it's easy to ride in a variety of snow conditions. It's freeride-focused without a doubt, but with more focus on playfulness and maneuverability than damping and high-speed stability.
Powder
The Storm is at home in deep snow. My test model, a narrower 161 cm with a waist width of 250 mm, was not as floaty as the K2 Panoramic or Rossignol XV, but I've yet to go over the nose, even on deep Utah blower days. The taper is barely noticeable in deeper snow, and I was totally comfortable riding switch and buttering in fresh snow.
Unlike fish-style tapered boards like the Rossignol Sashimi or Burton Modified Fish, the Carbon Storm does require some back-foot steering in powder, but I never found myself lamenting that. Many tours in the Wasatch end up in tight trees one way or another, and the Storm's quick-turning, surfy feel made for fast and fun laps.
Chop / Variable Snow
The early rise and directional, tapered shape do a good job of plowing through chop and packed powder — I found myself trusting the shovel on the Storm Carbon more than I expected, given its flex pattern.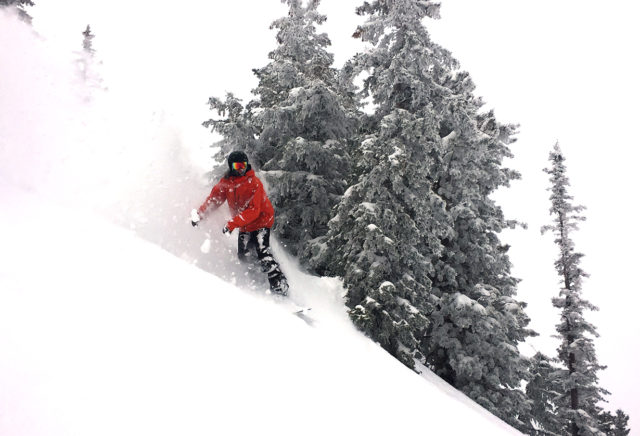 The soft-but-not-too-soft nose finds a nice balance of dampness and stability without the catch-and-buck tendencies of some stiffer boards like the Rossignol XV. And the Carbon Storm is considerably more stable than powder-specific shapes like the Rossignol Sushi or K2 Split Bean, making for a pretty versatile split.
Groomers / Hardpack
I ride most of my splits inbounds to better assess chop and firm-snow performance. The Storm Carbon doesn't have the most damp or smooth ride on hardpack, which isn't surprising given the lighter carbon construction, but its rocker profile and taper do a pretty good job of mitigating chatter on hardpack and ice. It's not nearly as squirrelly as most other carbon boards I've used, which I think is a testament to Venture's design intentions and their disinterest in making super light, super unstable splitboards.
I alternated the Storm Split (paired with Spark R&D Arc Pro bindings and Spark's new Crossbar Clips) and a Rossignol Krypto on a typical day at Snowbird and could barely tell that I was riding a splitboard when on the Storm.
Riding other splits inbounds and on harder snow in the backcountry often results in an uncomfortable catchy feeling when flat-based and at low edge angles. The two parts of the board flex independently, and even a millimeter of play will cause the center edge to catch. I have yet to experience this phenomenon with the Carbon Storm + Arc Pro combo with Spark's Crossbar Clips — a first for me.
The Carbon Storm's edge hold was fine on steeper pitches, but I certainly missed the Magne-traction and camber of my Rossignol XV Split while making turns down tight, icy couloirs. All in all, the Carbon Storm is quite versatile; it's not stand-out on hardpack or in terms of surfing through deep snow, but it handles both sides of the spectrum very predictably.
Uphill
I had initial concerns about the Storm's skintrack performance, given its lack of camber, but I haven't had any issues so far (I paired it with relatively grippy nylon Black Diamond Ascension STS Splitboard skins). The Carbon Storm is easy to kick turn, glides well, and breaks trail more smoothly than my XV split, likely because of the more prominent tip and tail rocker. I took it on a June dawn-patrol mission in the Tetons and it managed well on early-morning frozen crust, though I did use my Spark Ibex Pro Crampons on particularly icy sections (As I likely would have with any other splitboard).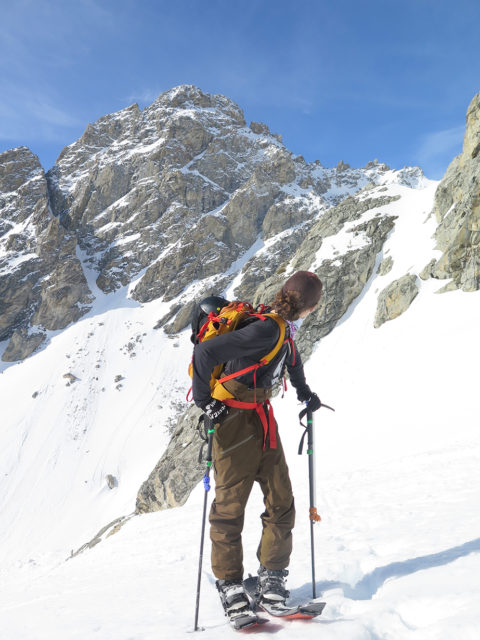 The Carbon Storm is slightly more unpredictable and squirrely when split-skiing than more cambered boards because of decreased running length (in ski mode, the flat section underfoot only extends about 18 inches in front and 6 inches behind the binding), but was still completely serviceable during a few spring runs at Alta (don't worry, I didn't ride the lift). I used Spark's T1 Step Lockers when split-skiing, and would definitely recommend them for the Storm or other boards with limited camber underfoot in ski mode.
Comparisons
Amplid Millisurf & Amplid Milligram
The Carbon Storm isn't the lightest splitboard on the planet, but is decidedly more well-rounded in its purpose than the ultralight Millisurf. Those who emphasize low weight and powder performance above all else would be better served by the Millisurf (or its slightly-less-directional and more versatile cousin, the Milligram), but if you're looking for a balance of durability and weight savings, I'd lean towards the Storm Carbon. Both boards have two-year warranties.
Venture Euphoria
The Euphoria is a decidedly powder-oriented splitboard with more taper, shorter lengths, and Venture's Straight-Line rocker. On a deep day, the Euphoria's float will be much appreciated, but on the many non-blower tours, the Storm's shape and versatility make it a better choice for a do-everything split. Additionally, the Euphoria's asymmetry (huge nose, narrower tail) can make for awkward kick-turns on the skin track.
The XV is the split of choice for many high-speed couloir bombers. It's much stiffer than the Storm and features camber in the middle. I'd prefer the XV at high speeds on bigger lines, but the Storm is much more versatile for the average backcountry lap, and significantly easier to maneuver in tight trees. The XV's Magne-traction-like edges and camber make it slightly more dependable on the uphill on firm conditions, while the Carbon Storm has an easily discernible per-step weight difference between the two on the skin track. Overall, the XV is a better choice for open, high-speed lines, while the Storm Carbon is easier to ride and a better everyday choice for most riders, in my mind.
K2 Panoramic
The now-discontinued Panoramic is also mostly flat with early rise in the tip and tail, but has less-pronounced early rise and feels much… flatter. It lacks the Storm's lively feel from edge to edge. The Panoramic has an overall smoother / more damp feel, but feels unresponsive and loose compared to the Storm. This may be due in part to the build of our test model, which had a ~3mm gap between the skis with the board together. It's hard to envision a scenario that I'd reach for the Panoramic over the Storm Carbon.
Durability
Tagging a rock with a splitboard is a nerve-wracking experience, even more so with a carbon split. I had a few scary, full-force rock impacts with the Storm Carbon Split on a January day, and thought I may have broken the board on impact. After riding down, I was surprised to find only superficial base damage with no noticeable change in the flex or any top sheet dents. Color me very impressed. As always, I'll update this review if any durability issues arise, but based on our experiences so far with Venture boards (see our Winter Buyer's Guide), I have high hopes for the long-term durability of the Storm Carbon Split.
Who's It For?
The Storm Carbon is a great fit for those who want an easy-to-ride splitboard that shaves per-step weight without sacrificing playfulness, flex, or build quality. It's easy to ride, and will please a wide range of riding styles and abilities, from an intermediate rider looking for a lightweight do-anything splitboard to a hard-charging splitter looking to add a playful, yet versatile surfer to the quiver.
The unique size options in the 160 cm range (161 cm, 250 mm waist width and 162 cm, 260 mm waist width) also allow a degree of customization; those looking for more float or with bigger feet can opt for the wider model, while those looking for more maneuverability in tight trees can choose the narrower version. The Storm Carbon could function as a 1-board quiver for most splitboarders, as it floats, handles chop well, and is maneuverable and surfy in trees. It might not satisfy the stability needs of the hardest high-speed chargers, but is dependable at speed for most riders.
Bottom Line
The Venture Carbon Storm is a do-anything freeride split that is designed well and built even better. Combining lightweight materials with durability and dependability, it's easy to ride and performs well in a variety of snow conditions. I'd recommend it for anyone looking to invest in a lightweight, freeride-focused splitboard that will likely last much longer than other lightweight boards.