Intro
The term "sustainable" gets thrown around a lot these days and it can mean a lot of different things. Pesticide-free crops? Sustainable. Contains recycled content? Sustainable. Uses less water? Sustainable. PFC free? Sustainable. Vegan? Sustainable.
The point we're trying to make here is that there isn't a single definition of what makes something sustainable, eco-friendly or "green," but there are more brands than ever before that are making an effort to decrease the environmental impact of their products.
So here we've compiled a broad list covering everything from food storage to footwear to technical outerwear, but the one thing that everything on this list has in common is that the products are produced in a way or with materials that are less environmentally harmful than the norm. Of course, the most "sustainable" thing you can do is to keep using the things you already have for as long as you can (break out that sewing machine!). But if you're looking for some (very) last-minute gift ideas, need some new gear, or just want to stay in the loop when it comes to some of the new, less harmful products out there, keep reading. And if you have any other products that fall into this category, please feel free to share in the Comments section at the bottom.
Outerknown Water-Less Sweater
Fabric: 100% organic cotton
Reviewer: 5'10", 145 lbs
Size Tested: Small
MSRP: $128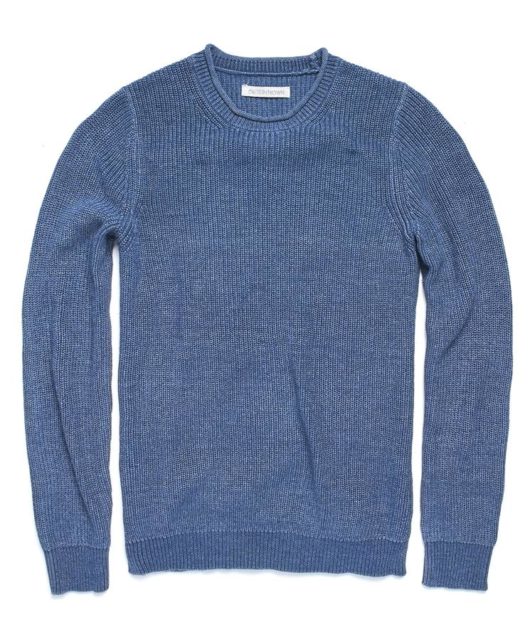 Sam Shaheen: The Outerknown Water-Less Sweater is a mid-weight knit cotton sweater that is made from 100% organic cotton and uses a dying process that uses 98% less water and much less energy than traditional cotton dyes.
The result is a sweater that is very soft to the touch that looks as good when you're wearing it as your conscience feels when you buy it. This is a clean-looking sweater with a modern roll neckline. The size Small fits me pretty snug, but exactly how I would want a piece like this to fit. It is slim cut and very stretchy and soft so it feels flattering (if I do say so myself) and comfortable. Easily nice enough to wear out on a date or to look like you tried hard to look nice without actually trying at all, the Water-Less Sweater is my favorite sweater in my closet right now.
MSRP: $21.00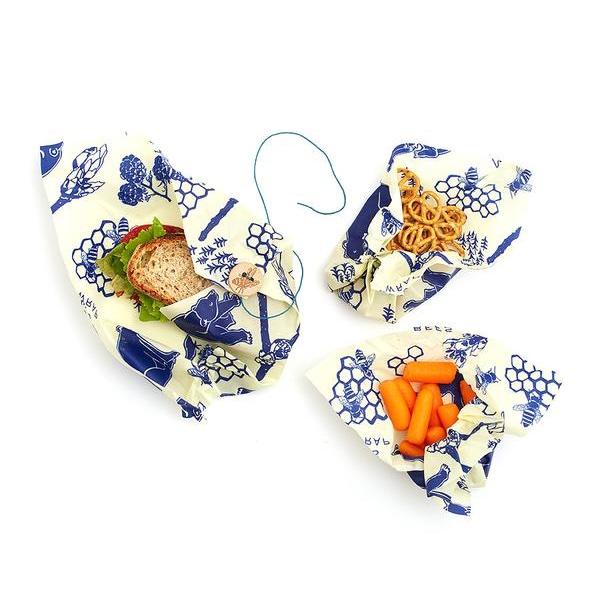 Sam: If you're like me, then you hate having to use single-use plastic or foil. Nowhere is this worse than in food storage. Typically, I'm packing a lunch for a hike or ski tour where space is at a premium (no room for Tupperware) and it just feels wrong to be taking soon-to-be trash out into the mountains. So I was super excited to test out this reusable food storage from Bees Wrap.
These are organic cotton squares of fabric that are impregnated with beeswax, organic jojoba oil, and tree resin. They have a good amount of structure so they hold their shape pretty well and the heat from your hands can pretty easily get the sheets to stick to themselves. The largest sheet in this package has an old-school string + button closure for additional security.
When I first got them, I was pretty skeptical. When new, they have an almost tacky hand feel — I was worried that I would be getting beeswax all over all of my food. But after several months of using the Bees Wraps, they have lost almost all of the "sticky" hand feel and I haven't noticed any taste or wax residue on my food. I find myself using these pretty much everyday. Whether for wrapping up leftover pizza or making pack lunches, I've become a huge fan of Bees Wraps.
Fabric: 60% Recycled Cotton, 40% Recycled Polyester
Reviewer: 5'10", 145 lbs
Size Tested: Small
MSRP: $95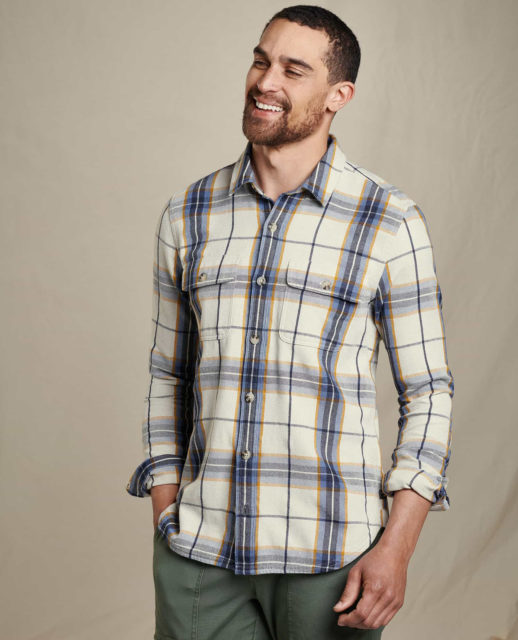 Sam: Just about every piece that Toad & Co makes features some sort of less-harmful material, whether that's recycled content, organic fibers, or something else. They use recycled and reusable packaging for all of their shipping and they support several conservation partners. They are also a 1% For The Planet member.
The Ranchero Shirt is part of a new trend of recycled cotton apparel. It uses a cotton-poly blend that is fully recycled and both quite soft and hardwearing. The fabric comes in several colorways — both heathered solids and plaid prints — and it is quite cozy and thick. Perfect for fall and winter days.
The sizing seems to run a bit big. The size Small is a bit big for my 5'10" frame. I often find myself using the Ranchero as an overshirt or light jacket due to its generous sizing. However, as a layering piece, I really like the Ranchero. It's easy to recommend especially considering the fact that it is made of 100% recycled fabric.
Jungmaven Weathered Olympic Jacket
Fabric: Heavy weight twill (55% hemp / 45% organic cotton)
Reviewer: 5'10", 145 lbs
Size Tested: Medium
MSRP: $264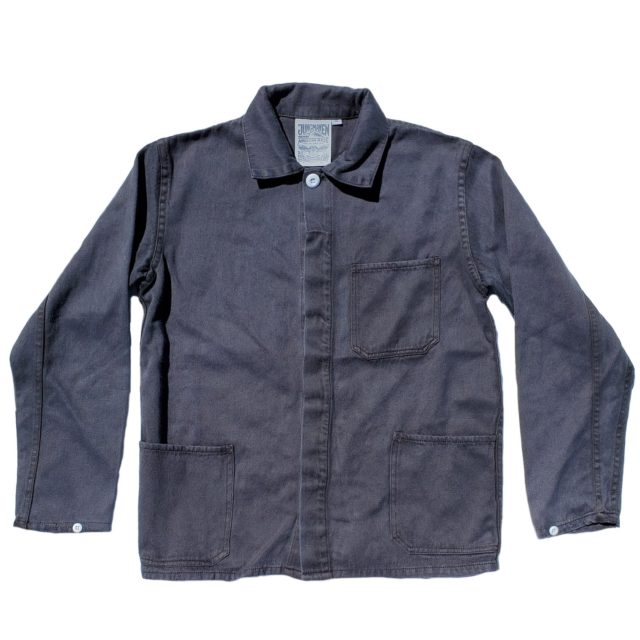 Sam: A few months ago, I talked with Jungmaven's founder, Rob Jungman, on our GEAR:30 podcast. We talked a lot about hemp and its decreased environmental impact compared to crops like cotton. Hemp uses less water than cotton, requires fewer pesticides than cotton, and has phytoremediative properties that make it very useful in crop rotations.
The Olympic Jacket uses a heavy-duty hemp / organic cotton blend that has a similar hand feel to a well-worn, mid-weight canvas duck cloth — and it's made in the USA. It's a unique fabric that is soft on the skin but also feels very durable and substantial. I've worn the Olympic climbing in desert squeeze chimneys and it looks brand new (or brand-old, as the version I've been wearing has a vintage / weathered look). The jacket has a very casual, almost retro aesthetic. It is cut fairly short and wide in the torso and looks like it could easily have been a thrift-store score. Jungmaven also makes a non-weathered version in a huge variety of colors as well as one that's artfully paint-splattered.
This jacket has quickly become a heavy rotation piece for me. It is a good weight for brisk fall days and the more I wear it, the better it looks. And, if you didn't know already, no one would ever guess you're wearing a jacket that's mostly hemp.
Zoetica Nomad Kit
MSRP: $69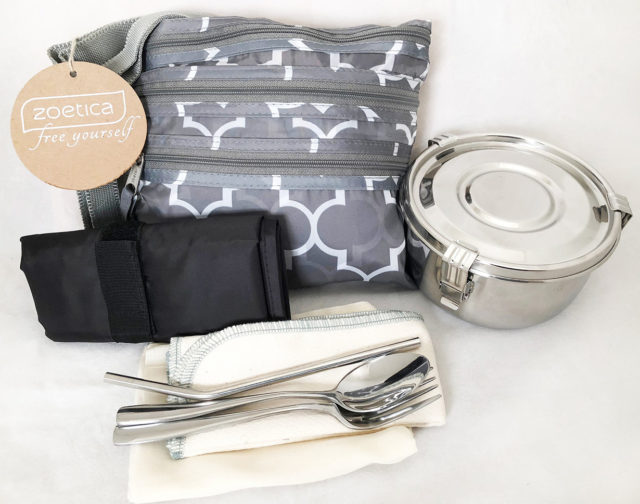 Sascha Anastas: Zeotica's mission is to change dependency on single-use trash and what they call "convenience trash" by providing systems and kits containing a collection of sustainable and reusable cutlery, grocery bags, straws, and everyday items. You can hear more about the brand in our Blister Podcast episode with them. They make a very wide assortment of "waste-free" kits that can help you ditch single-use trash.
The Nomad is their most compact kit that consists of nesting, stainless-steel, leakproof tiffin containers; stainless steel fork, spoon, & straw; organic cotton napkin / towel; shopping tote; and produce bag.
As a mother of a two-year-old, it seems like I am always running around looking for any one of these items when we are out and about so I was pretty excited to have all these essential items in a contained kit. I found that the kit comfortably fit in my kiddo's backpack, my ski pack, and was even small enough to fit in my shoulder bag. The stainless tiffin containers have three clasps that clamp on the lid, which create a seal and definitely proved to be leakproof. The grocery bag saved me many times from having to use plastic / paper bags. Additionally, I found that I was using fewer wet-wipes daily and instead using the cotton towel.
While getting all the items contained in the outer nylon bag was challenging, having the convenience of these products made me rethink how much trash I produce on a daily basis and how carrying this small kit minimized my trash footprint.
Saola Semnoz
Size Tested: 9
Materials:
Upper: Recycled Canvas and 90% recycled PET knit
Midsole: Natural Cork and algae bloom foam
Laces: Organic cotton
Outsole: Partially recycled EVA
MSRP: $99.95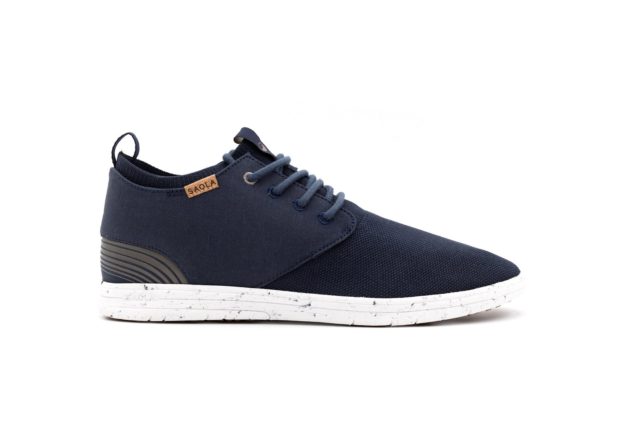 Sam: The Saola Semnoz is a surprisingly lightweight and comfortable mid-height shoe that is made with an impressively comprehensive list of sustainable materials.
The upper is almost entirely recycled; the midsole and outsole use a combination of partially recycled EVA along with algae-based foam and natural cork; and the laces are made from organic cotton. Shoes are a tricky thing to make, let alone to make sustainably. They have complicated supply chains and a lot of different materials. We're really excited to see companies that are dedicated to making shoes that break the mold and are more environmentally friendly. Saola is taking a great step in the right direction with their entire lineup.
I've been wearing the Semnoz for several months and I really like the shoe. The silhouette is a hybrid between a chukka and a sock-like upper and it has proven to be very comfortable — but most importantly, lightweight. These shoes are some of the lightest I've ever worn. If you like sock-fit uppers, want a mid-height shoe, and prioritize lightweight & sustainable construction, then definitely check out the Semnoz.
MSRP: $18.00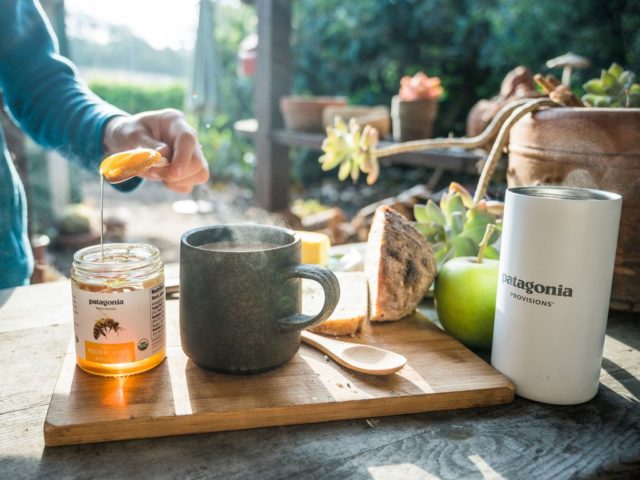 Sam: The bees that make this Organic Moloka'i Honey might just be the happiest bees in the world. They have an enormous 14,000-acre certified-organic ranch to roam free (though they mostly stick to about 300 acres of acacia plants, apparently) and, as a result, produce some of the purest honey in the world.
Not only are the bees that make this honey super happy (as far as we can tell), the company that sells it, Patagonia Provisions, is a certified B-Corp and a 1% For The Planet member. If you're a honey head (I just made up that phrase) or just want to support organic and sustainable food production around the world, check out this honey and Patagonia Provisions. Oh yeah, it also tastes really, really good.
Marine Layer Re-Spun Longsleeve Crew
Fabric: 52% upcycled cotton, 48% recycled polyester
Reviewer: 5'10", 145 lbs
Size Tested: Small
MSRP: $65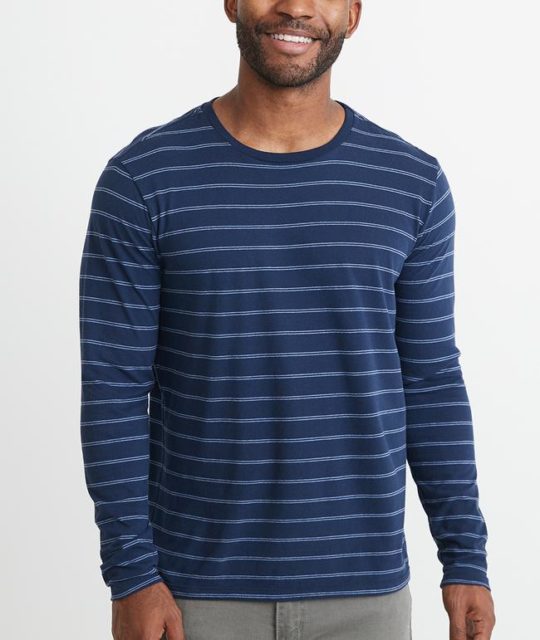 Sam: Though we could have easily put it in our upcoming Loungewear Roundup because it is so ridiculously soft, the Marine Layer Re-Spun Longsleeve Crew gets a spot here because of the unique and, in my opinion, super cool recycling program that Marine Layer uses to make it.
Marine Layer takes donations of old t-shirts for a completely closed-loop recycling process that makes new t-shirts (and sweatshirts and pants, too) out of all those old t-shirts at the bottom of your dresser. This process not only salvages raw materials, but it uses zero dye — all of the color comes from the originally dyed yarns. We think that is pretty damn cool.
The Re-Spun Longsleeve Crew is insanely soft, the small fits me perfectly, and it looks really good.
Dropps
MSRP: 14-19 cents per load of laundry & 17 cents per dishwasher load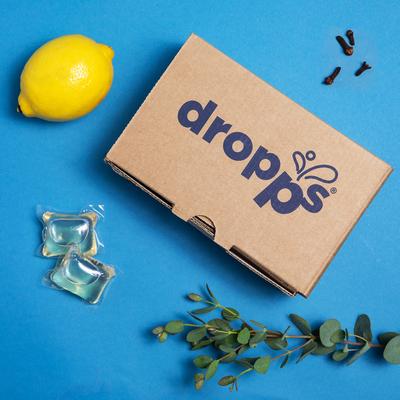 Kristin Sinnott: Some of the biggest single-use plastic containers I own are thanks to laundry and dish detergents. Even after switching from liquid to pods a few years ago, there were still large plastic bins we had to contend with. Thankfully, there is an alternative and one that doesn't compromise the cleanliness of one's clothes or dishes.
Dropps has been around for years and claims to have invented detergent pods. While I can't prove or disprove their claim, they were included in the O list (Oprah's favorite things) back in May 2008 and they have been making detergent for several decades. Manufactured in the US with plant-based ingredients, Dropps was Awarded the EPA 2017 Safer Choice Partner of the Year for outstanding achievement in formulation and product manufacturing of both consumer and institutional / industrial products. Dropps ships direct to consumers with packaging that is 100% recyclable, compostable, and repulpable. Zero plastic is used and the free shipping is carbon neutral.
While all of this is excellent, what it all comes down to is how well it cleans. My husband and I have been using the Sensitive Skin laundry detergent pods (unscented) and the dishwasher detergent pods (unscented) for over three months and have found them to clean as well if not better than our previous detergents for just about every application. The only issue I've noticed is our cloth diapers now have a slight odor, but I am eager to try the Stain & Odor Detergent Pods. With a toddler in the house, I have more than doubled the number of loads I wash and have more stains to fight than ever before. Dropps has proven to be a great option for us and we're happy to have a smaller carbon and plastic footprint.
Size Tested: O/S (toddlers 1-3)
Materials:
Upper: 100% Natural Sheep Wool
Outsole: upcycled salmon leather
MSRP: $56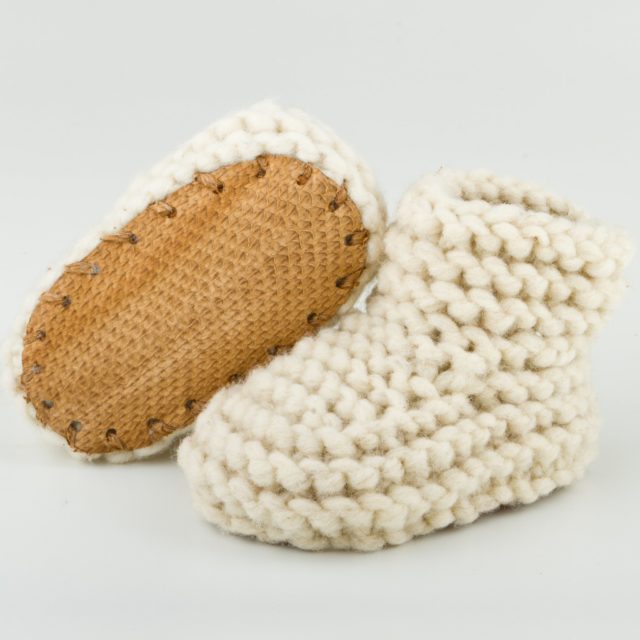 Kristin: Chilote Slippers aren't new to Blister as we featured the adult version in the 2018 Holiday Gift Guide. Having owned a pair for multiple years, I can say they are durable and warm. The Baby slippers use the same materials and have the same design as the adult version, just in a miniature size. Slow-crafted by artisan women in Patagonia, each pair of slippers includes a QR code that can be used to track the specific artisan group and their geo-location in Patagonia. Made from locally sourced natural wool and upcycled salmon skins, the slippers conform to one's feet with use. Yes, salmon skin and no, there's nothing remotely fishy about them.
As a handcrafted slipper, sizing can vary a little but I found the Baby Slippers to be a bit big for my 15-month-old son. The narrower cuff does keep them on his feet and he's able to wear them in his stroller, car seat, and when he's walking around. The salmon skin has enough grip to keep him from slipping but not so much that it's hard to walk around the house. The natural wool isn't as soft as synthetic fabrics so I always pair the slippers with socks and combination keeps his feet nice and warm.
MSRP: $100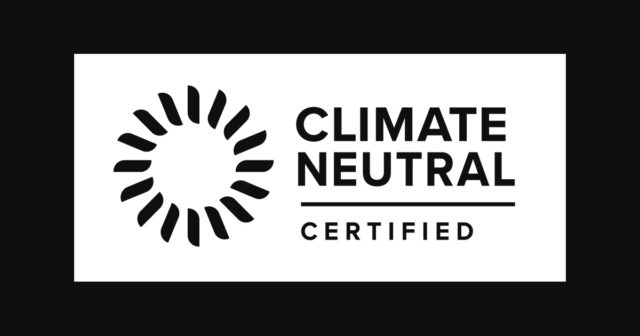 Luke Koppa: I included this in our Gift Guide this year, but I think it should also be here. Climate Neutral is a new brand that enlists brands to reduce and pay for their emissions, and helps consumers identify which companies are taking real action. We talked with their CEO, Austin Whitman, on our Bikes & Big Ideas podcast, and this "product" is essentially a two-for-one. By donating $100 to their Kickstarter campaign, you'll not only help fund the Climate Neutral project (which has a lot of potential for making brands' environmental impacts much more obvious), but $72 of that $100 donation will go to offsetting you or anyone else's carbon footprint. According to Climate Neutral, the average American's individual annual footprint is 24 tonnes of CO2e, and it costs $72 on average to offset that. Pretty cool.
Materials: Bergshell fabric- 400D 100% polyamide with 31% recycled nylon
Volume: 23 liters
MSRP: $135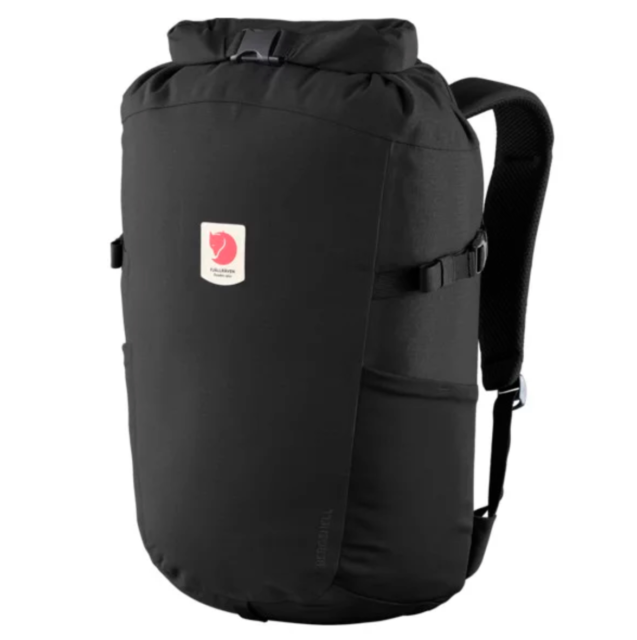 Kristin: Fjallraven has a reputation for creating durable products with classic designs and the Ulvo Rolltop is no exception. Made from one of the newest materials in the Fjallraven line, Bergshell is a waterproof, durable fabric made from 31% recycled nylon (from post-production). The roll-top design keeps the contents dry and the padded laptop sleeve means your tech gear will be protected. With two exterior water bottle pockets, an interior zippered mesh pocket for small items, and side straps to cinch the pack down, the Ulvo Rolltop has a simple but effective design.
Fjallraven's commitment to sustainability is primarily based on creating items that will look good and function as intended for a very long time. They emphasize repairing and reusing with tutorials demonstrating how to repair and properly care for your gear. Their sustainable design philosophy considers material impact (raw vs recycled), recyclability, and longevity, among other things. Plus, they've been PFC-free since 2015.
Fabric: 100% polyester 3L H2No laminate (70% recycled face fabric)
Reviewer: 5'8", 155 lbs
Size Tested: Medium
MSRP: $399 (jacket); $349 (bibs)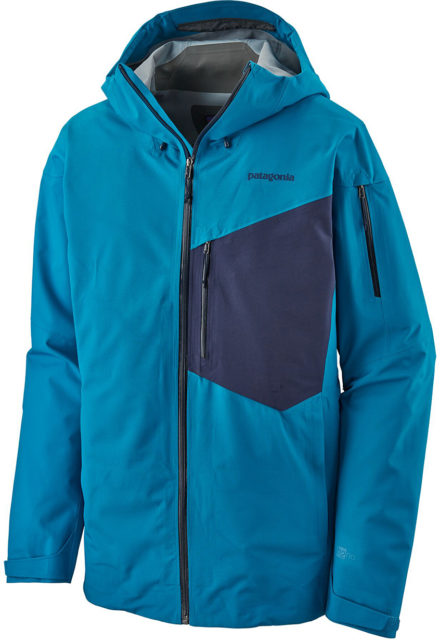 Luke: Some of you may have read our review of Patagonia's new SnowDrifter kit, but the short story is that we think it's a very versatile, comfortable option for those who split their time between the backcountry and the resort. Waterproof, pretty breathable, enough features for most people, and a super soft and supple fabric.
But like all of Patagonia's waterproof shells, the SnowDrifter also uses a recycled face fabric, and the very exciting thing for apparel nerds like Sam & me is that the SnowDrifter's entire 3-layer laminate is made from polyester, which makes recycling it much easier. While recycling complex waterproof / breathable fabrics is still somewhat new, the SnowDrifter is a sign that you can make a very high-performing fabric that is also much easier to process once it's no longer usable. On top of that, the SnowDrifter is Fair Trade Certified sewn, and on the product page, you can see which factories supplied the fabric and which factories sewed the garment together.
Patagonia continues to lead the way not only in terms of making their products less harmful, but helping others do the same and funding tons of grassroots environmental campaigns. They're currently still matching donations through their Action Works program until the new year, and they've already raised 20 MILLION dollars. That's insane.