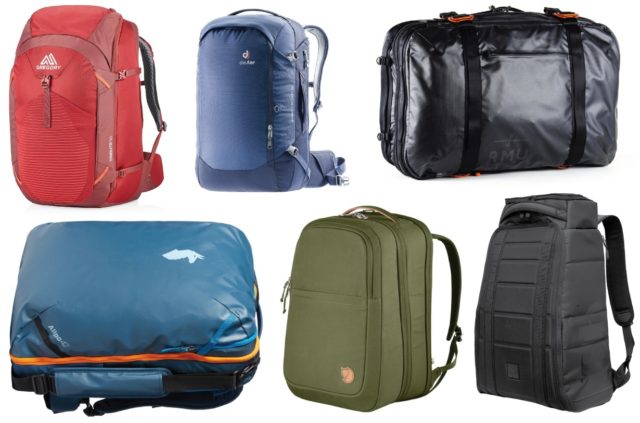 Intro
The perfect travel bag can be tricky to find — it needs to hold your stuff, ideally keep it organized, and do all of that while remaining streamlined and easy to access on the go. If you also want that bag to perform well outside of the airport, car, bus, on the back of a donkey, etc., that adds another level of complication. And finally, there there are a zillion options out there that all look pretty similar, so finding the one that will work best for you is even trickier.
But we've been using several this past year and will highlight here what sets each one apart. Take a look and let us know in the comments what your go-to travel bags are.
Cotopaxi Allpa 28
Stated Volume: 28 liters
Measured Weight: 1425 grams
MSRP: $170
Best For: all-round travel & shorter trips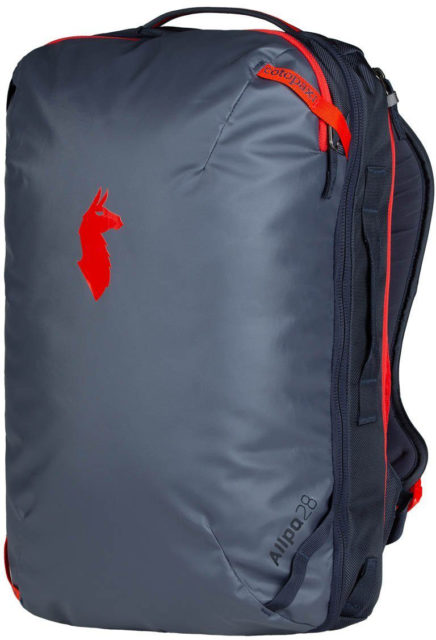 Sam Shaheen: The Allpa 28 is the smallest pack in Cotopaxi's Allpa line, and I've found it to be an excellent pack for one- to four-day excursions. This bag is designed with air travel in mind and has many airport-friendly features such as an easily accessed laptop compartment, handles on four sides, and simple to operate, effective zipper locks.
The Allpa is also made extremely well. The fabrics are all quite burly and have held up to many months of use without showing any signs of wear. The outer fabric is TPU coated to shed light precip (if it starts to rain / snow hard, there is also an included rain cover) and the other materials are all surprisingly heavy duty.
Of all of the travel packs I've used, the Allpa 28 is one of the only ones without some sort of feature or characteristic that annoys me. This pack is just really easy to use and is my overall favorite pack to take on any sort of short trip (where I'm not sleeping outside, at least). One thing to note: the Allpa 28 seems to have a bit less room than other similarly sized packs — if you're on the fence between sizes, consider bumping up to the Allpa 35.
Cotopaxi Allpa 42
Stated Volume: 42 liters
Stated Weight: 1905 grams
MSRP: $220
Best For: longer trips, globetrotting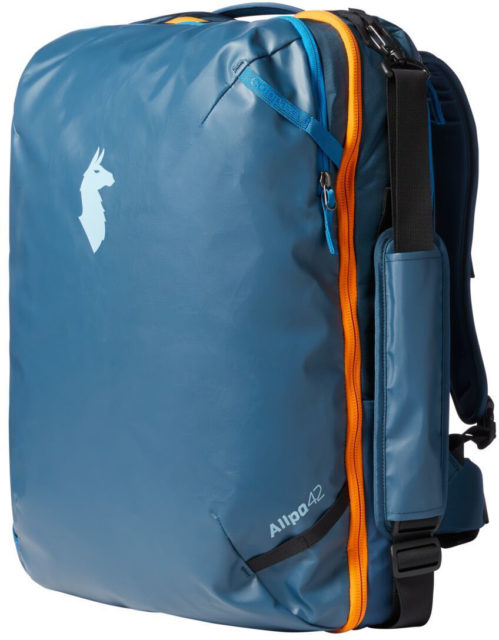 Jed Doane: Contrasting the smaller 28L, The Allpa 42 is Cotopaxi's largest-volume Allpa pack. Like its smaller sibling, its well designed, tough, and capable. A suitcase-like construction with mesh compartments make it easy to organize, and it's easy to access the bag's contents without pulling out everything else, which is a common problem I've had with one-compartment travel bags.
Packing for longer trips has always been stressful for me. It's always a bit of a hassle to have a smaller "personal item" as well as a large-volume carryon, but for quick-access needs like laptop storage, sunglasses, and snacks, the larger packs I've used were cumbersome and difficult to organize. I'd often end up stuffing my charger, wallet, and smaller items in the brain of the pack for quicker access, resulting in a constant mess whenever I needed to find something. This lack of organization proved particularly problematic in airports, on buses, and in other unfamiliar places.
The Allpa 42 uses effective design to solve many of these problems — a large, compartmentalized top pocket is great for cameras, passports, and other small items, and the side laptop pocket is roomy and easy to access. It was easy to stow the Allpa 42 in the overhead bin on a plane, grab my laptop during the flight, and not have to worry about two bags during transit. Its shoulder straps and hip straps are also stowable for a suitcase-style option, which helps keep the bag's exterior clean and snag-free when dragging it around.
I'd be very comfortable bringing the Allpa as my only bag for a two-week warm-weather trip through somewhere like Europe or South America (while maybe stuffing in a compressible pack like the Cotopaxi Luzon or REI Flash for day trips).
Douchebags Hugger 30L EVA
Stated Volume: 30 liters
Stated Weight: 1400 grams
MSRP: $169
Best For: everyday use + weekend trips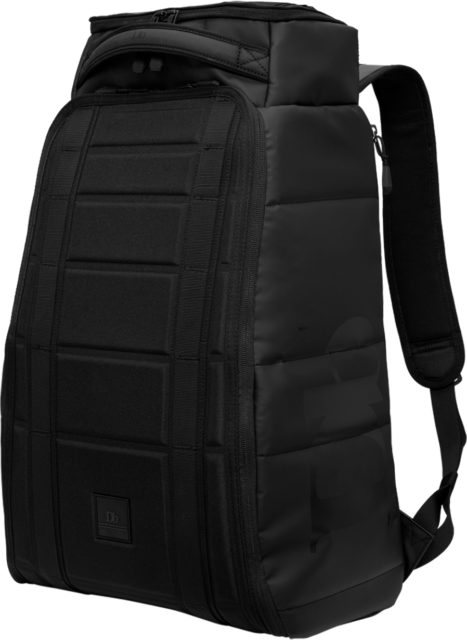 Jonathan Ellsworth: Don't let the name throw you off — Db's products are extremely functional, and I've been using their Hugger 30L EVA pack almost every single day for several years now. It's on the slightly larger side for a daypack, and might be a bit small for some people as a travel bag — but if you need one bag for both purposes, the Hugger 30L EVA is excellent.
Its exterior fabric is burly, water resistant, and has held up well to daily abuse for years. This pack doesn't have tons of little pockets for organization, but the pockets it does have are very functional. A large lid pocket (with an interior mesh pocket), a very spacious main compartment with full U-zip access, and a separate padded laptop pocket round out the organization options, and the Hugger 30L EVA features foam padding on the exterior to add a bit of protection from overzealous baggage handlers.
And just to highlight it again — the padded laptop pocket is my favorite feature of the bag. I have (very stupidly) forgotten to zipper shut the sleeve easily over 100 times, and never once have I had my 15″ laptop slide out of the bag and smash on the ground. And yet, the sleeve has enough volume to very easily slide in and out my Macbook Pro, plus a book or two — or 3 or 4 copies of the Blister Winter Buyer's Guide! — and the books and buyer's guides never come out with bent pages, torn covers, etc.
The Hugger 30L EVA also attaches to DB's roller bags, including their ski roller (the best ski bag we've ever used), which makes it even better suited for airline travel. If you want a daypack that can easily accommodate enough gear for a weekend trip, we highly recommend the Hugger 30L EVA. And if you want a lighter version and don't need the protective EVA padding, check out the standard Hugger 30L.
Deuter Aviant Access 38
Stated Volume: 38 liters
Measured Weight: 1,563 grams
MSRP: $150
Best For: carrying heavy loads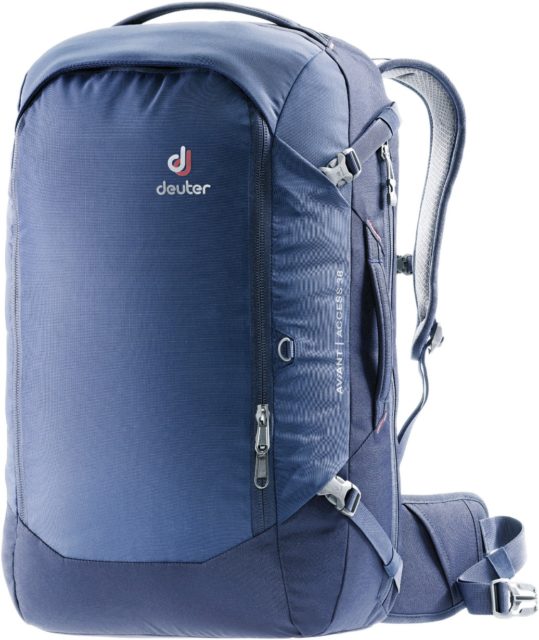 Sam: The Aviant Access 38 is similar in many ways to the Cotopaxi Allpa 28 — with a few key differences. First, the Aviant 38 is a bit more minimal than the Allpa 28. The Aviant 38 has a single interior compartment, one zippered pocket for small items, a laptop sleeve, and really not much else in terms of features.
What it has that most of the other packs in this roundup do not is a metal frame. That makes the Aviant a bit more comfortable when it comes to carrying heavy loads, which is particularly useful when you need to use your travel bag on the trail or for day trips. That said, I've found the organization and feature set of the Allpa 28 and RMU BRFCS 35.50 to be more useful for most of the traveling I do. But if you prefer a minimal pack that's big enough for 3-5 day trips and that is pretty supportive when you're carrying it as a backpack, check out the Aviant Access 38.
RMU BRFCS 35.50
Stated Volume: 35-50 liters
Measured Weight: 2,242 grams
MSRP: $249
Best For: expandable storage + many carry options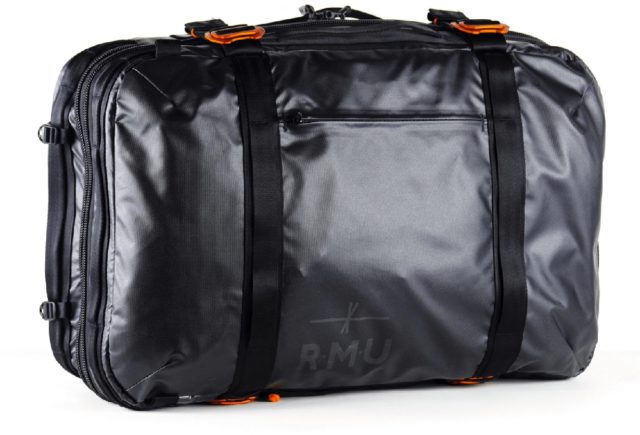 Sam: The RMU BRFCS 35.50 is … a lot. There are straps, clips, zippers, handles, and pockets all over this pack. However, most of this accouterment serves a useful purpose, and makes the BRFCS one of the most adaptable travel packs I've used.
It has a very similar internal organization system to the Allpa 28, though the BRFCS lacks some of the small-item organization of the Allpa. But the BRFCS adds a few very useful features: a helmet carry; an expansion gusset that expands the volume from 35 liters to 50 liters; and heavy-duty straps covering all sides of the pack to prevent baggage-claim blowouts and add exterior attachment options.
Though I haven't found the BRFCS 35.50 to be quite as user-friendly or streamlined as the Allpa 28 (which should be interpreted as praise for the Allpa, rather than a slight against the BRFCS), I think the BRFCS is worth a look for those looking for a pack that can serve as both a carryon or a checked bag, and for someone who appreciates straps, tie points, and generally attaching extra gear to the outside of their pack.
Fjallraven Travel Pack
Stated Volume: 35 liters
Measured Weight: 1619 grams
MSRP: $225
Best For: air travel & extended weekend trip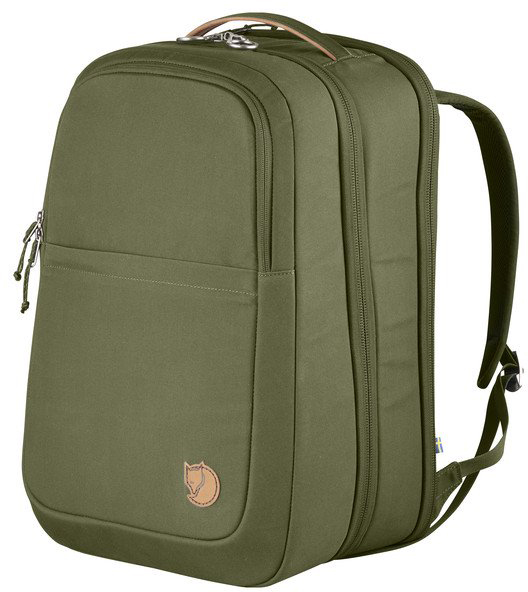 Kristin Sinnott: The Fjallraven Travel Pack has a lot of pockets — nine, to be exact. And while too many pockets can be a bad thing, I found the Travel Pack's pockets to be just about perfect for traveling. With lots of places to stow and organize your belongings, the pockets' mesh fabric allows you to see where your items are for fast and efficient organization. What's truly impressive is that, even with so many pockets, the Travel Pack still looks streamlined and uncomplicated.
The Travel Pack is padded on all sides and has two padded handles — one on the top and one on the side. Its backpack straps are easy to separate and can be tucked away to convert the backpack into a suitcase. And with a separate zippered compartment on the back for the shoulder harness, the pack has no strange bulges when the backpack straps are stowed.
The Travel Pack's main compartment unzips to lay flat for easy access and there are four main mesh zippered pockets — three smaller pockets on one side and one large pocket on the other. The mesh allows you to see the contents while also corralling everything into an orderly fashion. With a separate exterior compartment for a laptop and a small soft pocket at the top that fits a wallet and cell phone, the Travel Pack is security-line friendly, even if you aren't enrolled in TSA precheck. If you're someone who tends to organize your items into travel cubes or small bags, you should take a look at this pack — especially if your trips typically last 2-3 days and you don't need bulky items like winter boots or heavy coats (since the Travel Pack's main compartment isn't huge).
Gregory Tribute 40 – Women's
Stated Volume: 40 liters
Measured Weight: 1352 grams
MSRP: $179.95
Best For: trips that involve hiking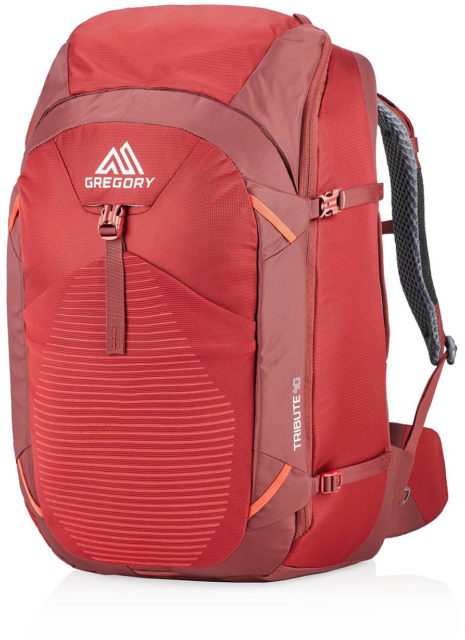 Kristin: The Tribute 40 is a nice combination of a hiking pack and a travel bag, and its harness is designed specifically for women (the Tetrad is the men's version). The Tribute 40's padded hip belt & shoulder harness, sternum clip, breathable back panel, lightweight internal metal frame, and adjustable suspension all equate to very comfortable and supportive carrying, whether on the trail or sprinting terminal-to-terminal. Its "ActiveShield" pocket (for dirty, wet, and / or stinky gear), separate laptop compartment, padded sides, stowable backpack & hip straps, and internal quick-access pocket make it a great carry-on for logging air miles.
The Tribute 40 includes a "travel cover" that can also be used as a rain cover when hiking or it can be used to enclose the entire bag for safer and more secure handling (it works with a lock). The cover is fairly easy to place over the pack when the bag is full, but if the pack is overstuffed it might be challenging to use (it's fairly tight when the pack is pretty full). There is a separate compartment for the travel cover which does take up a bit of space, but it certainly does come in handy. If you're planning to travel off the beaten path or you plan on hiking on your trip, this bag deserves consideration.