TRP has been in the drivetrain game for a while now, but their prior efforts have focused on the shifter and derailleur only and relied on other manufacturers for the cassette and cranks. Their new Evo 12 and Evo 7 drivetrains change that with the addition of new cassettes and cranks to go with re-designed shifters and derailleurs. The only non-TRP-made part of the system is the chain, with TRP recommending that their drivetrain be paired with one from fellow Taiwanese brand KMC.
The Evo12 drivetrain is TRP's wide-range 12-speed system for XC through Enduro bikes, while the Evo7 is a narrow-range DH bike groupset. Both feature largely similar designs, just reconfigured for their respective use cases, and there's a lot of interesting stuff going on here. TRP is positioning the Evo groupsets as a high-end offering, expressly stating that they see the Evo12 going toe-to-toe with Shimano XTR and SRAM X01 groupsets — a high mark to shoot for as a relative newcomer to the space.
We reviewed the original TRP TR12 shifter and derailleur a few years ago and found it to show promise but lack the refinement of the higher-end offerings from the big S-brands. So we're quite curious to get on the new Evo12 group to see how it stacks up — and should be making that happen soon — but in the meantime, let's take a look at the design of the new Evo groups: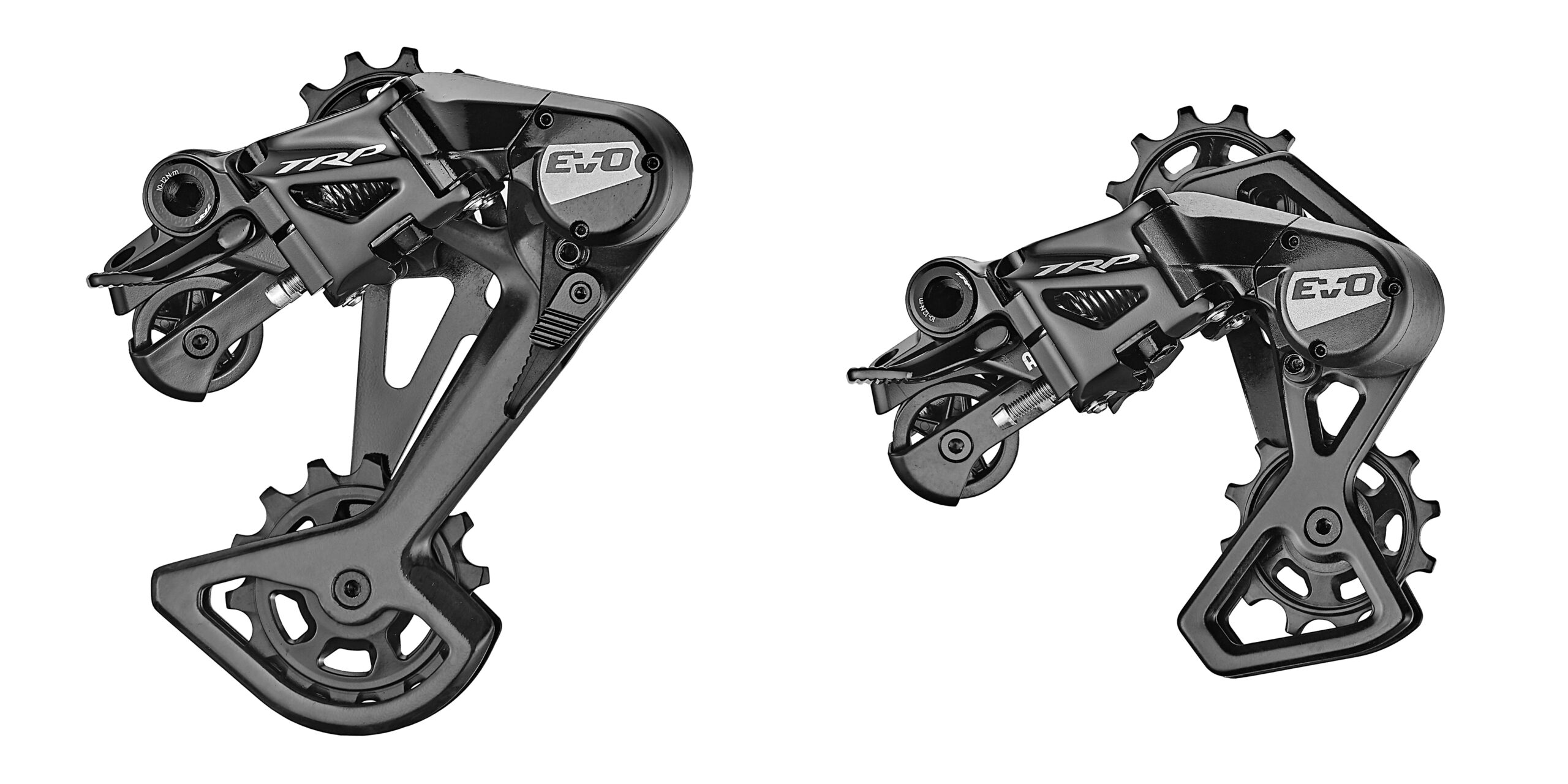 Apart from cage length, the Evo12 and Evo7 derailleurs are visually nearly identical, with the Evo 12 version of course using a longer cage to accommodate the bigger cassette. They're both cable-actuated and have a slightly unconventional profile, with the parallelogram sitting higher than on most derailleurs, essentially right in front of the B-knuckle. TRP says that their parallelogram moves horizontally (instead of diagonally, as on most derailleurs) to help stabilize the derailleur when riding through rough terrain. In short, the idea is that by not having a vertical component to the parallelogram movement, it's less susceptible to bouncing around as the bike gets tossed up and down on a rough trail, and as the rear suspension actuates.
Both versions of the Evo derailleur use an updated version of TRP's "Hall Lock", a lever that immobilizes the B-pivot on the derailleur to stop it from bouncing around — so named for Aaron Gwin's mechanic, John Hall, who came up with the idea. The Hall Lock is releasable to facilitate rear-wheel removal and installation and has a breakaway feature with adjustable tension so that the derailleur can still move rearward in the event of an impact to help prevent damage. Both the Evo12 and Evo7 derailleurs feature what TRP describes as an "instant, silent" clutch to mitigate cage movement and chain slap.
The Evo12 derailleur adds an additional "cage release" lever, which disengages both the clutch and the cage spring to further streamline rear-wheel removal and installation. It also features a carbon fiber outer cage plate, in lieu of the aluminum one on the Evo7. Both are available in black or gold, with the latter commanding a $10 premium.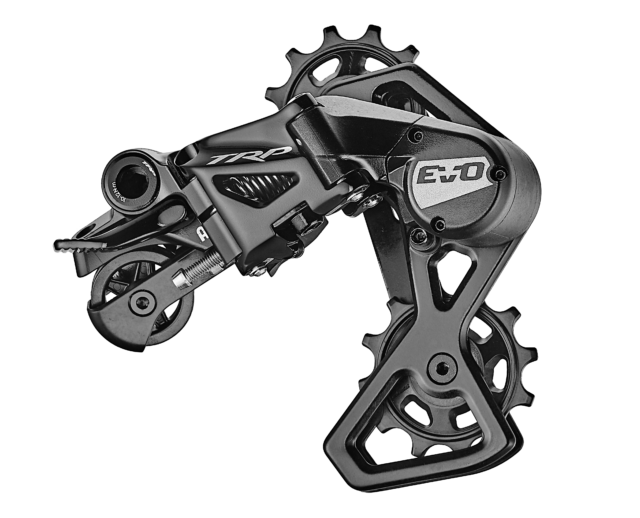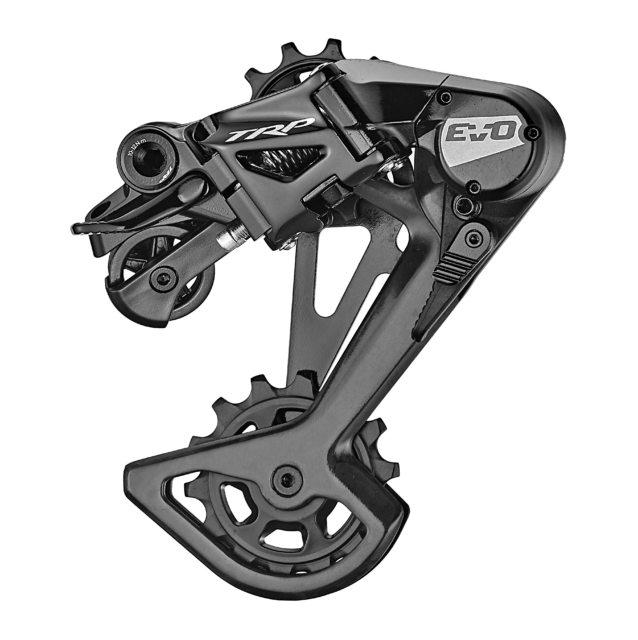 The Evo12 and Evo7 shifters are pretty much the same thing, apart from the number of gears they support. They're more compact than the prior-generation versions, and use the same dual-paddle arrangement as Shimano and SRAM's offerings, both of which are actuated by a thumb push.
The position of the downshift paddle is adjustable, and both shifters use a SRAM Matchmaker-style clamp for integrated controls if you want to tie the shifter into your brake mount; a standalone clamp is included with both.
The most interesting feature of both shifters is that they feature a "Shift Mode" switch, which toggles the downshift paddle between being able to shift up to five gears with one push or limiting it to a single click. There are other single-click shifters out there — SRAM offers them as an option, primarily meant for e-bikes to prevent downshifting too quickly under load — but TRP says the request actually came from their gravity racers, who wanted the limit to help control their shifting and avoid accidentally shifting too many gears at once. Having a switch that controls the feature rather than requiring a dedicated shifter is a neat touch and one we haven't seen from other brands.
[TRP's press release describes the switch as applying to the upshift paddle, but they mean shifting "up" the cassette, i.e. to a lower gear, in contravention of the generally accepted definition of "upshift".]
As with the derailleurs, the Evo shifters are available in both silver and gold finishes, with the latter costing an extra $10.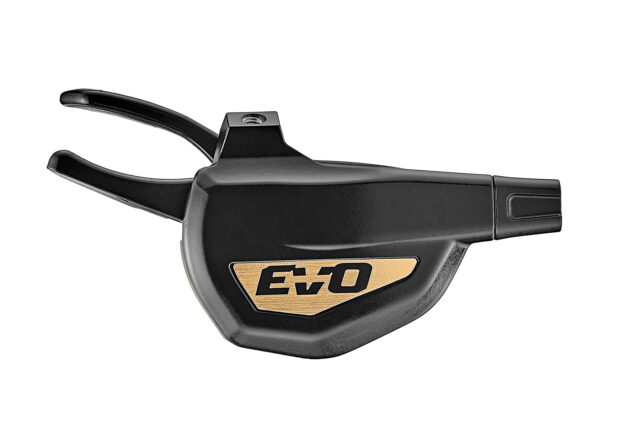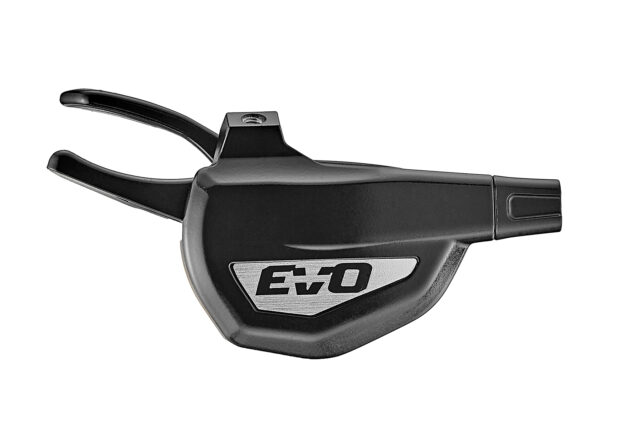 The new Evo cassettes are the first ones that TRP has offered — their earlier TR12 and DH7 drivetrains were designed to be run with cassettes from other brands. And it's here that the two groups start to look really different.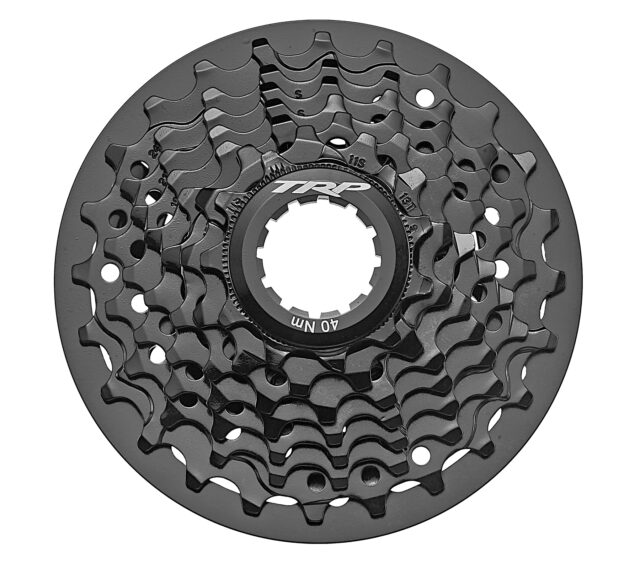 The Evo7 cassette is a narrow-range 11–24 tooth 7-speed cassette, meant for DH use. It's compatible with a standard Hyperglide freehub body and features steel cogs with an aluminum spoke protector taking up the extra space behind the pared-down cassette. It's a similar design to SRAM's 7-speed DH cassettes, though the Evo7 is very much between their GX and X01 variants in terms of price. TRP hasn't published a weight, though, so we'll have to wait and see to see how they stack up there. As with SRAM's 7-speed DH cassettes, the TRP Evo7 is meant to use an 11-speed chain.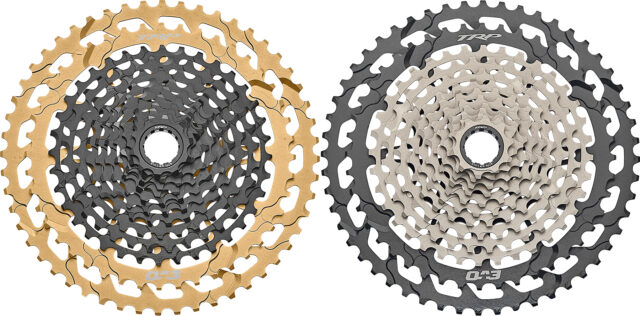 Things get fancier (and more expensive) when we get to the Evo12 cassette. It's a 10–52 tooth 12-speed affair, with the ten smallest cogs machined from a single block of steel, and the two largest being separate aluminum pieces. It uses a Microspline hub driver, the same as Shimano's 12-speed offerings. TRP says that patent issues made using a SRAM XD driver prohibitively difficult.
The stated weight of 374 grams is notably light — a few grams lighter than SRAM's new X0 and XX T-Type cassettes, and essentially the same as a Shimano XTR 51-tooth one. The gear steps that TRP has chosen are a little different from either of SRAM's 10-52 cassette offerings (the original Eagle version or the new T-Type one) with TRP's sitting at 10–11–13–15–18–21–24–28–32–36–44–52. That puts a notably big jump between gears three and two on the Evo12 cassette (though not quite as big as the second to first jump on the original SRAM 52-tooth cassette, at 22.2% vs 23.8%).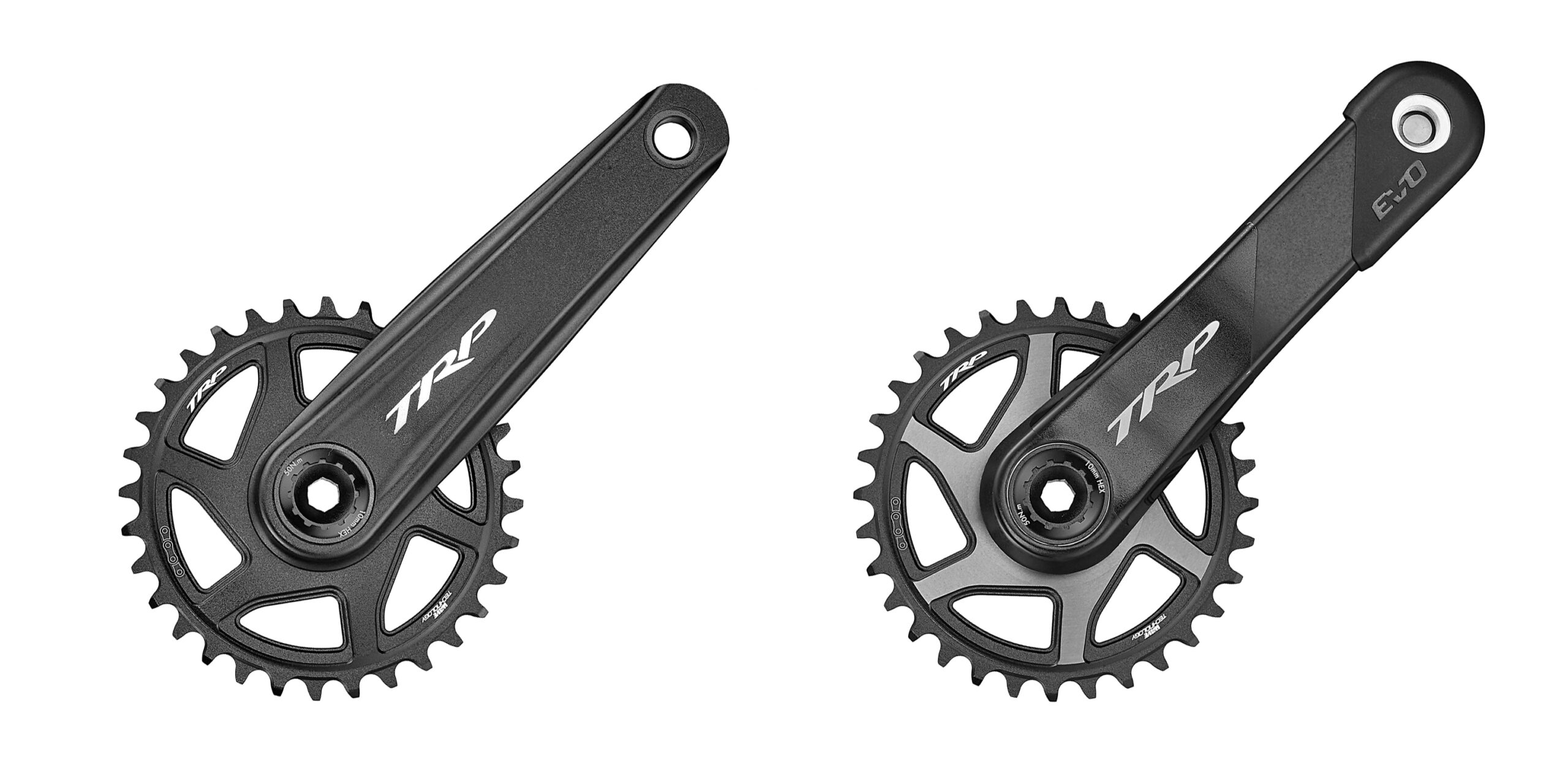 In a first for TRP, they're also launching a pair of cranks, straightforwardly named "Alloy" and "Carbon". They both use a 30 mm spindle with a similar arrangement to Race Face's Cinch system, with a bolt-on spindle with a splined interface at the arm and a self-extracting bolt at both ends (Race Face only uses a self-extracting bolt on the drive side, but it's the same idea otherwise). Spindles are available for both 73 mm and 83 mm bottom brackets (and their press-fit equivalents) for the Alloy crank; the Carbon one is sized for Trail bike use only.
TRP offers BSA threaded, PF92, and PF30 bottom brackets for the Evo cranksets. TRP's chainrings are direct mount with a spline pattern that looks visually similar to the Race Face Cinch standard, though TRP hasn't stated whether or not they're cross-compatible. In any case, TRP has its own chainrings available, which use MRP's Wave tooth profile under license, and are available in 3 or 6 mm offset versions to suit Trail and DH bike offsets, respectively. The Trail version is available in a variety of finishes, with the price ranging from $75 to $80 depending on the finish option, and is available in 30, 32, and 34-tooth versions; the DH chainring retails for $75 and comes in 32 and 34-tooth sizes.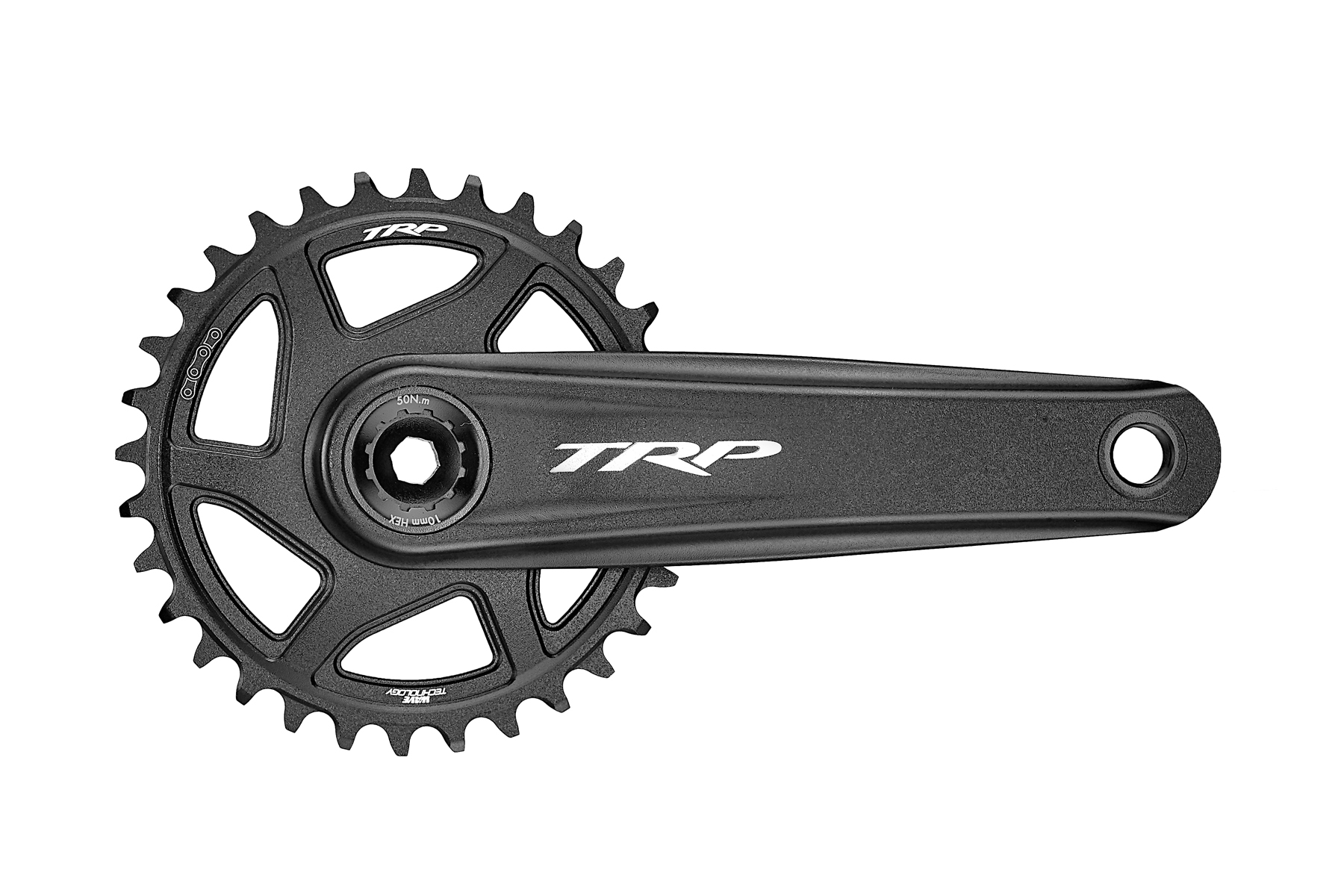 The Evo Alloy crank is available in 165, 170, and 175 mm lengths for Trail bikes, or in a 165 mm size for DH bikes. TRP doesn't state a weight for the Evo Alloy crank.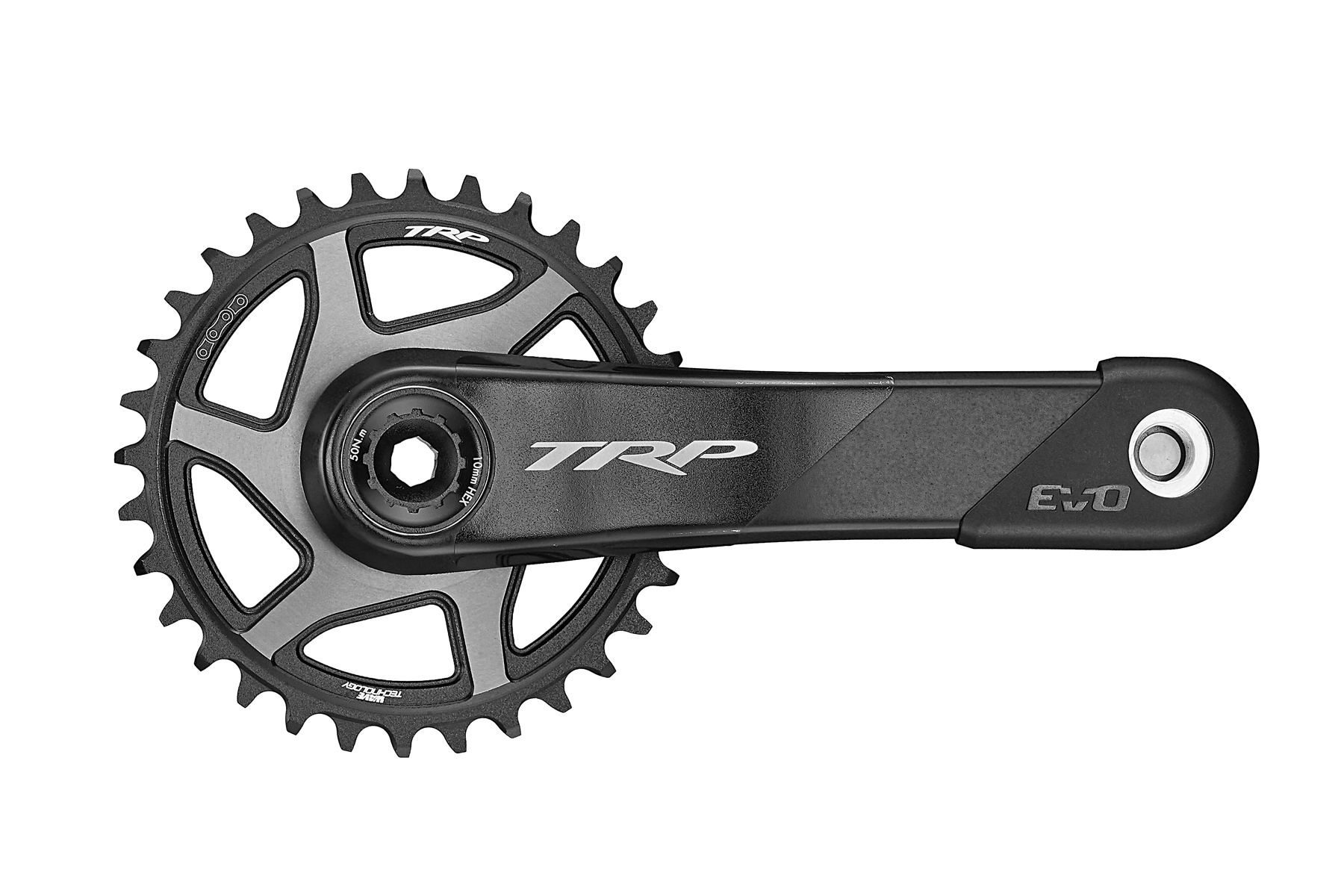 The Evo Carbon crank is available in 165 and 170 mm lengths, and comes with rubber boots to protect the crank arm ends from pedal strikes. It's available with a spindle for 73 mm bottom brackets (and its press-fit equivalents) only.
Some Questions / Things We're Curious About
(1) First and foremost, how does the new Evo12 groupset stack up against Shimano and SRAM's competitors?
(2) And has TRP succeeded in refining the few rough edges that the original TR12 shifter and derailleur displayed?
We're all for more options in the bike drivetrain market, but taking on SRAM and Shimano's decades of experience and development is an undeniably tall order, so we're quite curious to see how TRP has fared with their second attempt at a high-end drivetrain — and their most complete one to date. We should be getting an Evo12 groupset in for testing soon, so stay tuned for more on how it stacks up.