Intro
Somebody once told me "don't freeze your baby," and while I don't think anyone ever intends to do so, deciphering cold weather baby gear can be tricky — especially when your little one is too young to tell you when he or she is cold. From skiing to snowshoeing to playing in the yard, your little one deserves fresh air and comfort. Whether your little one is too young to sit on their own or they're running around in the snow, it's important to dress them for the weather and quality gear will help everyone enjoy the winter.
I've rounded up some of my favorite cold-weather pieces from jackets and bibs to a number of one-pieces. There are lots of options available and as I couldn't test them all I am curious to know what your go-to items are, so please let me know in the Comments section below.
Fabric:
Outer: 100% RPE Recycled Polyester 30D ultralight
Insulation: Primaloft Eco 100 GRS Full Insulation
Lining: Sherpa fleece
Size Range: 0-6 months to 18-24 months
Size Tested: 12-18 months
MSRP: $119.99
Best For: cool weather adventures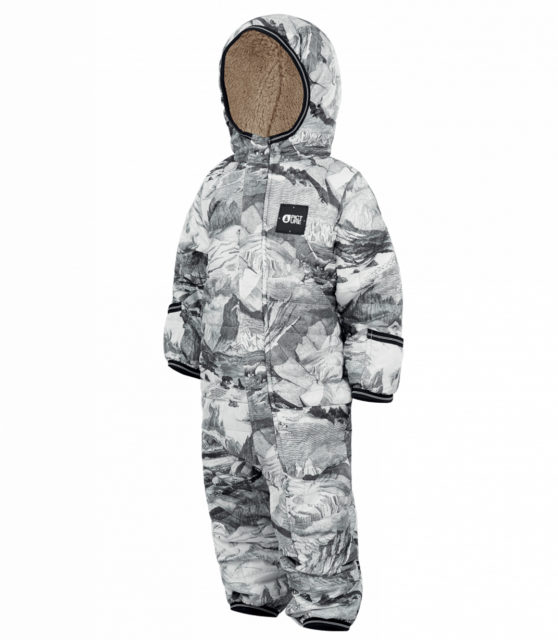 With non-traditional pattern options (think teeny-tiny bikini-clad ladies, bears, and mountains) and a soft, fleece-lined torso and hood, the My First BBSuit is a great piece for winter adventures for those looking for unique and fun apparel for their child. The only snowsuit on this list with a fleece lining, the BBSuit also has the thinnest insulation. This keeps the suit from being bulky but also means it's not the warmest. In terms of warmth, I find it comparable to the Patagonia Reversible Snow Bunting. The Sherpa fleece adds extra warmth and coziness to the BBSuit and the Primaloft synthetic insulation is water resistant so your little one will stay warm and dry on most excursions.
If your child likes to play in snowmelt puddles or spends extended periods of time in extremely cold weather (<15° / -9°C), I would recommend one of the warmer suits described below or planning on always using a midlayer. The BBSuit is water resistant and works well for colder, drier snow, but it's not fully waterproof. In Santa Fe, where temperatures rarely drop below 20°F / -7°C, this suit is an ideal weight. When we head into the mountains, I usually reach for something a little warmer or plan to add extra layers under the BBSuit. Fortunately, the torso is wide enough to accommodate just about any layers.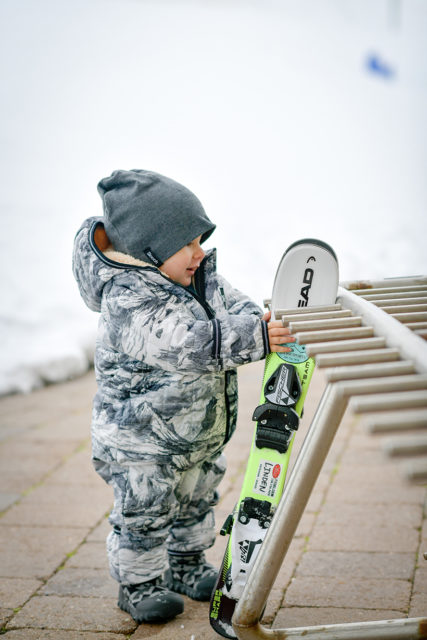 The BBSuit is easy to get on / off thanks to its diagonal zipper that extends (22 in / 56 cm long) down the left leg. The zipper is covered by a fabric flap that serves two purposes — it gives the suit a polished look and it prevents air and moisture from seeping in. The Primaloft insulation is warm but not overly bulky and as a whole, the suit is fairly lightweight and easy to pack. The face fabric is smooth and soft— not stiff or restrictive in any way and it's easy for my son to move around in. But the lack of a stiffer or more durable style face fabric means your child will be slick when holding him / her, especially if you're wearing an equally soft and smooth jacket.
The fold-over hands and feet are great when the suit is a little big or when you need a bit of extra warmth on cold days. The leg cuffs are narrow but it's still fairly easy to fit them over winter boots. If you plan to have your child wear the suit for skiing, the cuffs aren't wide enough to fit over ski boots — which really is the case for all the outerwear on this list with the exception of the LLBean Cold Buster Snowsuit.
If you're looking for a soft, warm snowsuit that is good for all but the coldest days, won't restrict your child's movement, and that comes in some fun, non-traditional fabric pattern options (the same fabric as the men's and women's lines), the BBSuit is a great choice.
Fabric:
Outer: 100% Recycled polyester with PU coating
Lining: 100% recycled polyester fleece
Size Range: 12-18 months to 5-6 yrs
Size Tested: 12-18 months
MSRP: $69 (on sale for $39)
Best For: winter versatility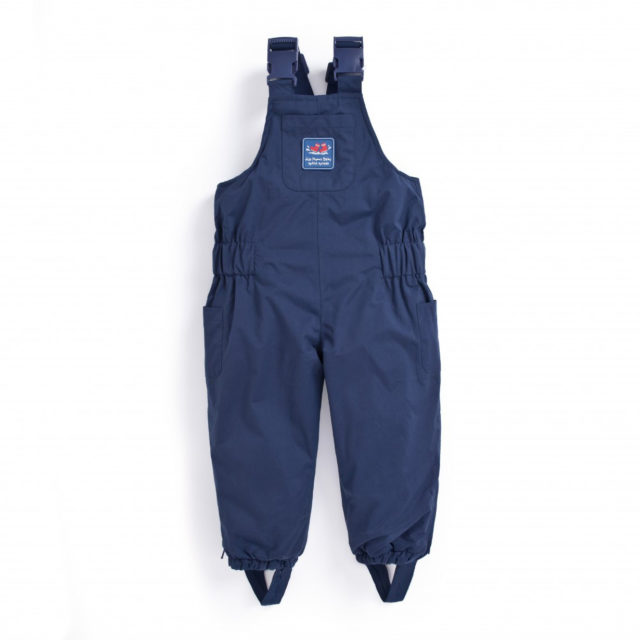 The Waterproof Fleece Lined Overalls are a classic and extremely versatile as they can be paired with any jacket thanks to the bib style that keeps drafts at bay. The PU-coated recycled polyester face fabric and thick, recycled fleece lining will keep your little one warm and dry in most conditions. While most companies that I found do not make bibs for children smaller than a 2T, the size 12-18-months Jojo Overalls fit my petite son (30 inches, 20 lbs / 76 cm, 9 kg) and he has room to grow. He wears them with the bibs fully cinched down and they aren't so long that he's tripping over the pant legs. There are buckles on the suspender part of the bibs and they are easy to adjust and to lock / unlock, but they are somewhat large. My son fusses a little when he's wearing a top that is loose around the neck and I put these on him as the buckles are somewhat large and can rub against his neck if there's no fabric between them and his skin. is against his neck. As long as his baselayer isn't too loose around his neck, he doesn't notice. The elastic waist keeps the Overalls from ballooning out and elastic cuffs keep the pant legs in place. When fully zipped, the cuffs are narrow, but the 5 in / 13 cm long zipper widens them by 3 in / 8 cm — almost wide enough to stretch over a ski boot.
The fleece lining is warm and extremely soft but not as compressible as other suits that feature down or synthetic insulation. The fabric is somewhat stiff and with the fleece lining, it's not the lightest or easiest to compress but it might be the most durable. The stiff fabric has a more of a matte finish than some of the other suits so there's less fear of your little one slipping out of your arms. But the fabric is also a little stiff and combined with the thick fleece interior, rolling up the cuffs can be challenging.
On a late fall hike, my son wore the Overalls over thick leggings (JoJo Extra Thick Baby Leggings) up to 11,000 feet and we had zero concerns about his legs being cold. My son also wore it on a sunny day paired just with the JoJo Fair Isle Baby Sweater and was warm and comfortable on the skin up the mountain. Once at the top we threw a windproof jacket on him to keep him warm for the descent. My son also wore the Overalls in heavy, wet snow and at the time his favorite thing to do when it snowed in Santa Fe, was to play in the street melt — the dirty water that runs to the gutter. Yuck. Fortunately, the JoJo bibs can take this kind of abuse and kept him dry.
With it's durable and water-resistant fabric, these Overalls can handle cold weather and any abuse your child throws at it — from sledding to playing in the gutters. If you're looking for something that is a bit more versatile than a one-piece, the Overalls are a good bet.
Fabric:
Outer: 100% Recycled polyester with PU coating
Lining: 100% recycled polyester fleece
Size Range: 12-18 months to 5-6 yrs
Size Tested: 12-18 months
MSRP: $115
Best For: versatility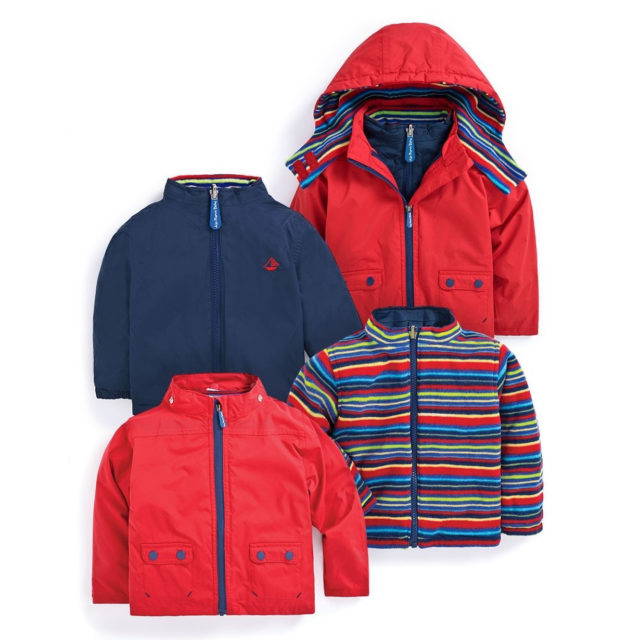 Within 48 hours of the 4-in-1 Jacket arriving, my son had already used it 3 different ways. Having so many options from windbreaker / raincoat to an insulated winter coat, it's easy to reach for this jacket, no matter the weather. The different components of the jacket integrate easily thanks to an internal zipper and snaps on the collar and sleeves. The hood is removable via a series of snaps on the collar. The insulated portion of the jacket is a reversible Polarfleece coat with thick recycled polyester fleece on one side and recycled polyester with PU coating fabric on the other. With a reversible zipper, it's easy to switch up the look based on the weather or your style preference. The windbreaker shell is thin, provides extra water resistance and can be used solo without a lining. The materials used are not breathable but they will keep your child warm and dry in all but the most severe weather.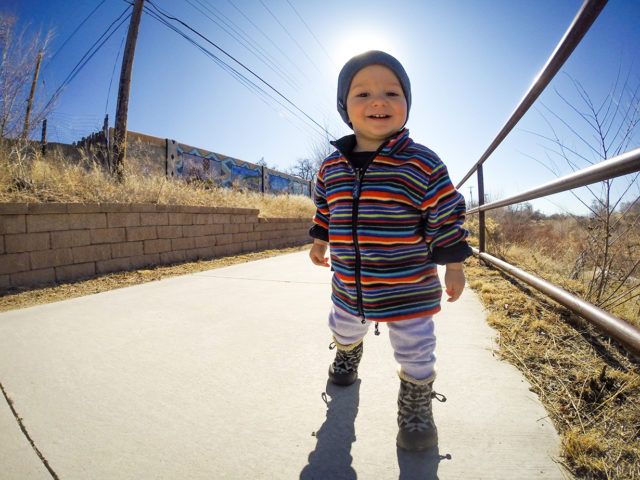 Like the Overalls, the 4-in-1 Jacket is still a bit big for my son but I like that he can grow into it over the course of the winter while still using it comfortably now. The fleece-lined jacket is a little stiff and therefore it's somewhat difficult to roll up the sleeves but it's not impossible. Once rolled, it can be tricky to get mittens over the top but I usually just put them underneath in this situation. I've used this jacket more as separate pieces because it still is large on my son, but when separated it works great. The 4-in-1 jacket is extremely versatile and it's easy and convenient to switch between the different styles which makes it great for travel or as a four-season coat.
Fabric:
Shell: 2-layer, 2.7-oz (prints: 2.9-oz) 50-denier 100% recycled nylon ripstop with a waterproof/breathable barrier & DWR finish
Lining: 2.2-oz 100% recycled polyester plain weave w/ DWR finish
Insulation: 150-g Thermogreen® 100% polyester (92% recycled)
Size Range: 3-6 months to 5T
Size Tested: 6-12 months
MSRP: $159
Best For: snow play and cold days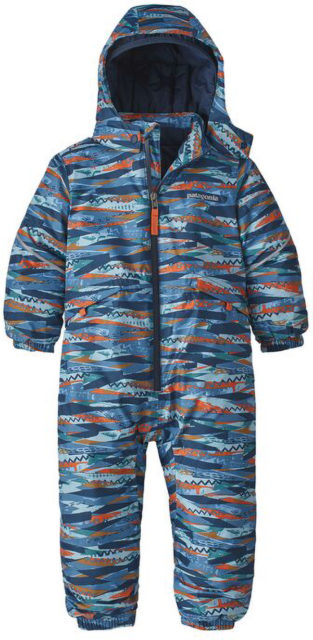 Last winter, before my son was crawling or walking, we dressed him in an older version of the Patagonia Infant Reversible Puff-Ball Bunting. Adorable, yes, but the version we had was fairly thin and no longer very water resistant; great for a young baby that was strapped to your chest, but not so for a full-fledged toddler tromping through the snow. When searching for snowsuits this winter, I wanted something a bit warmer that was also waterproof so he could spend as much time as he wanted playing in wet snow while staying warm and dry.
The Baby Snow Pile One Piece has a 2-layer lining that includes a waterproof / breathable barrier and a DWR finish. The face fabric isn't as soft as the Patagonia Hi-Loft series, which to me, means my son won't be as slippery to hold onto and it seems a bit more durable / abrasion resistant. Heavy on features, the Snow Pile One Piece is the only one-piece that features a removable (snap-off) hood, zippered handwarmer pockets, and a pass pocket on the lower left sleeve. At 16 months, my son does not use any of the pockets but as this suit is offered up to a 5T, the older kids will definitely like the pocket options. The gusseted elbows and knees allow for easy movement which is key since this suit is a little stiffer than the BBSuit and the Baby Winter Bundler. Similar to the LLBean Cold Buster Suit, the Snow Pile One Piece has "grow cuffs" that extend the sleeves and legs by 2 in / 5 cm.
The elastic cuffs on the arms and legs and adjustable elastic boot straps to keep the pant legs down are great for keeping air out, as is the internal zipper flap. The boot straps are very handy for tromping around in the snow or when picking your child up, since with most of the suits (especially those that aren't too long), the cuffs have a tendency to creep up. My son has mostly mastered walking on smooth surfaces but it's a completely different story on snow and constantly adjusting his cuff over his boot quickly gets old. The cuffs are narrow and they will not fit over ski boots but they fit just fine over snow boots like the Bogs B Mocs that my son usually wears in the snow. My son is currently 16 months, 30 inches tall, and 20 pounds and the 6-12 month size fits him perfectly. If you're looking for a suit that will keep your child warm and dry and will last all season, the Baby Snow Pile One Piece is a great option.
Hatley Baby Winter Bundler
Materials: 100% Polyester Coated with Teflon EcoElite™ (renewably sourced, plant-based, non-fluorinated water repellency fabric treatment) w/ synthetic insulation
Size Range: 6-9 months to 2T-3T
Size Tested: 9-12 months
MSRP: $75 (on sale for $37.50)
Best For: affordable, cute warmth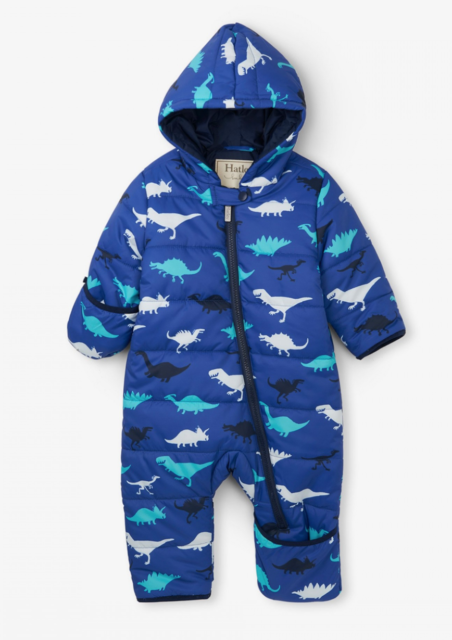 Over the holidays we spent some time back east, and not to throw the East under the bus, but we had a few days of rain. Rain on snow. After two days of rain, it got to the point where we needed to get out of the house regardless of how dreary it was outside. Thankfully, the Teflon EcoElite fabric treatment on the Hatley Baby Winter Bundler kept my son dry while playing in the wet snow in the rain. With its contrasting zipper, seams, snap, and lining, Hatley has created a nice-looking one-piece that has proven to be great in cold weather. Similar in design to the Picture BBSuit with its fold-over cuffs at the hands and feet and zipper that extends diagonally down the left leg, the Bundler is easy to get your child in and out of and has the added warmth of the cuffs. Instead of an exterior zipper flap like the BBSuit, the Bundler has an internal flap that keeps moisture and air from seeping in. The biggest difference between the two is that the Bundler has thicker insulation but lacks a fleece lining. While not as heavy as the Patagonia Baby Hi-Loft series, the Bundler is heavier than the Patagonia Infant Reversible Puff-Ball Bunting.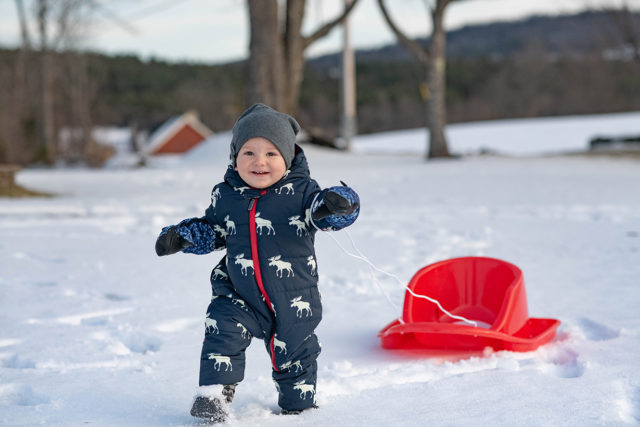 A quality bunting for under $80 isn't always easy to find but the Baby Winter Bundler not only has a fairly reasonable price point, it's also warm and comes in a number of adorable prints. If you're looking for unique yet adorable kid's patterns in a warm and water-resistant snowsuit, check out the Baby Winter Bundler. But like other items I've purchased from Hatley, if you like what you see, buy it quick as they sell out fairly quickly.
Fabric:
Shell: 1.6-oz 30-denier 100% recycled polyester mini-ripstop w/ DWR finish
Lining: 2.2-oz 100% recycled polyester plain weave w/ DWR finish
Insulation: 600-fill-power 100% Recycled Down (duck and goose down reclaimed from down products)
Size Range: 3-6 months to 5T
Size Tested: 6-12 months
MSRP: $129
Best For: everyday wear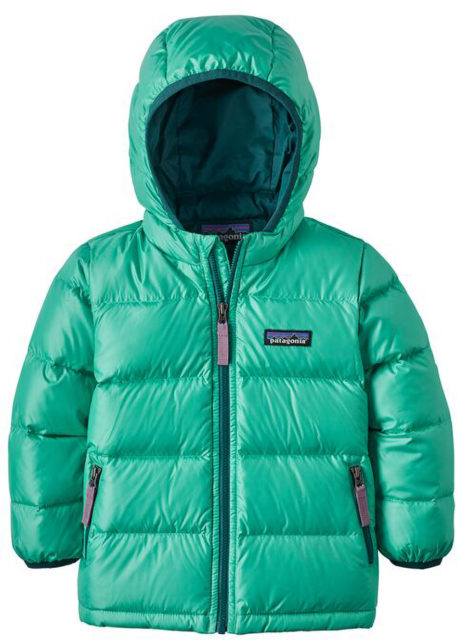 Everybody needs a winter jacket — well, maybe not everyone but if you live somewhere that has wintery conditions, it's a good idea to have one. Whether paired with jeans or snow bibs, sometimes it's nice to just throw your child in a warm jacket instead of a one-piece. With almost the exact same fabric and lining as the Men's Hi-Loft Down hoody (the difference is a few tenths of an ounce), the Down Sweater Hoody is every bit as warm as it's grown-up counterpart thanks to the generous amount of 600 fill-power, 100% recycled down.
At 30 inches tall and 20 lbs, the jacket is still a little long in the sleeves and torso for my son but the seamed cuffs and waist keep it from looking overly large. The fabric zipper pulls, in contrasting colors, make for an attractive design but are also large enough that my son can easily grasp them and start learning to zip his own jacket. With it's DWR (durable water repellent) finish and three-panel hood, the Hi-Loft Down Sweater Hoody is a go-to for cold days, though the options here with waterproof fabrics and / or synthetic insulation are better for super wet conditions.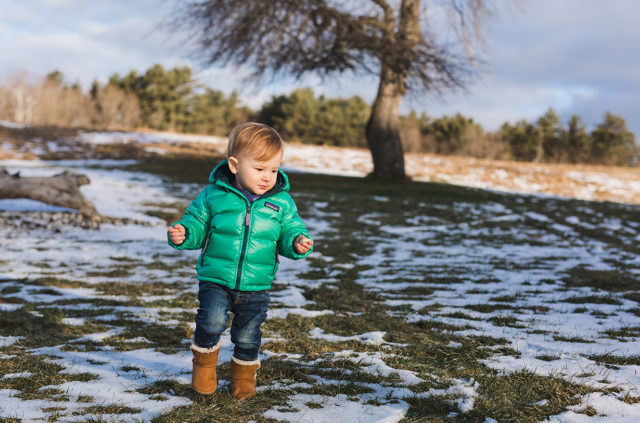 If you're looking for a jacket that will keep your child warm all winter long and that easily packs down for travel or to fit in a pack, the Hi-Loft Down Sweater Hoody should be on your radar.
Fabric:
Shell: 2.2-oz 100% recycled polyester plain weave with a DWR finish
Lining: 8.7-oz 100% polyester (70% recycled) ¼" -pile fleece
Size Range: 3-6 months to 5T
Size Tested: 6-12 months
MSRP: $59
Best For: shoulder-season warmth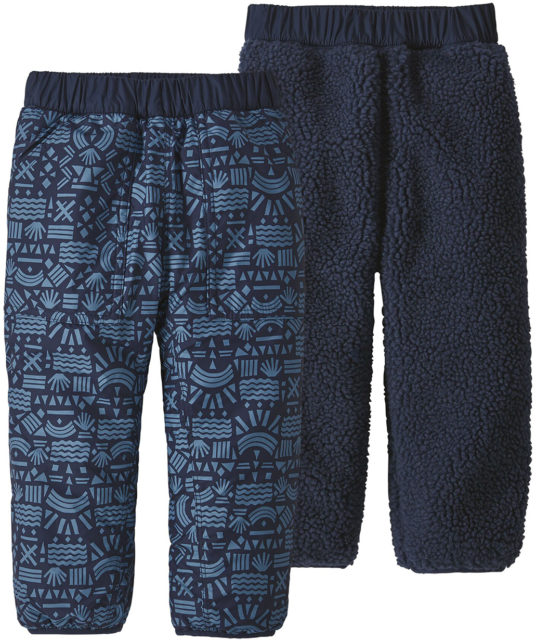 When you don't want to deal with a one-piece or bibs, the Tribble Pants and Down Sweater Hoody combo are a warm and versatile alternative. A perfect layer for cool weather play, especially when it's not in deep snow (that's when I prefer a bib or one-piece). I've packed these pants on cool-weather hikes in case an extra layer is needed and have used them multiple times in those kinds of situations.
I typically dress my son with these reversible pants' slick side out as it easily repels dirt and moisture and the soft, thick fleece pile is cozy next to his skin. The elastic cuffs are narrow enough to prevent drafts but they still easily fit over snow boots. The 1.25 in / 3 cm waistband sits at my son's waist without being too tight or falling off his petite frame. He has been wearing the Tribbles Pants for the last 4 months and while he hasn't grown a whole lot, he has added some weight and height and they still fit him great.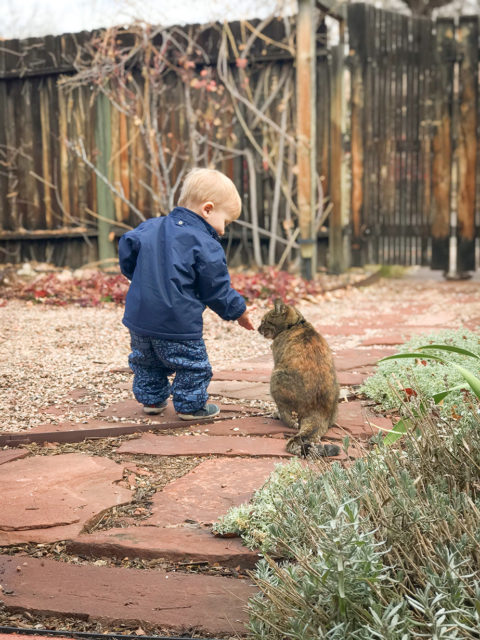 The pants have a series of pockets including a rear snap pocket and two hand pockets when the pants are fleece lined, and a rear open pocket when using the pants with the fleece as the outer layer. The Tribbles Pants are cute, warm, practical, and easy to throw on. A great staple to have in your closet for your infant or toddler.
Fabric:
Outer: 100% polyester dobby
Lining: 100% nylon taffeta
Insulation: Thinsulate
Size Range: 6-12 months to 4T
Size Tested: 12-18 months
MSRP: $79
Best For: snowsports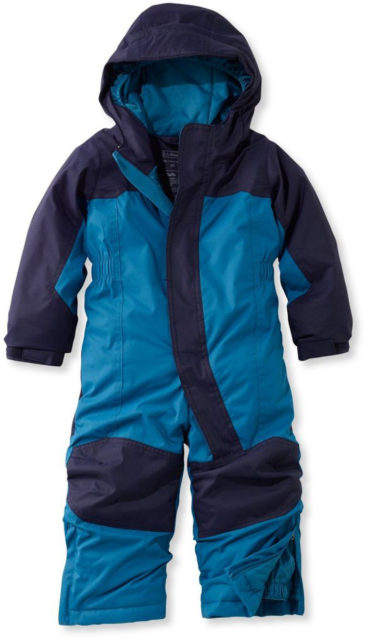 LLBean recently revamped their sizing for babies and I'm happy to report that the sizing has been greatly improved. Last winter I ordered a 3-6 month size baby bunting and my son didn't fit into it until he was 15 months old. With that in mind, I was hesitant to order a 12-18 month size snowsuit, but fortunately, it fits my son with room to grow. And by room to grow, I mean I can cinch the cuffs and roll up the pant legs and he's comfortable, mobile, and warm. On top of that, the Snowsuit has "grow cuffs" that allow the arms and legs to be let out an extra 1.5 in / 4 cm. The grow cuff instructions are conveniently printed on the inside of the snowsuit and all you need to do is snip the red thread and pull the white one on each cuff. Super easy.
I like the longer fit since, when my son is in a sled or baby carrier, his arm and legs are fully covered with everything unrolled but when he's walking I can easily roll up his cuffs. We used the snowsuit in a recent snowstorm when the temp was right around freezing so the snow was quite wet. The waterproof exterior kept my son dry and the snow was easy to shake off the suit.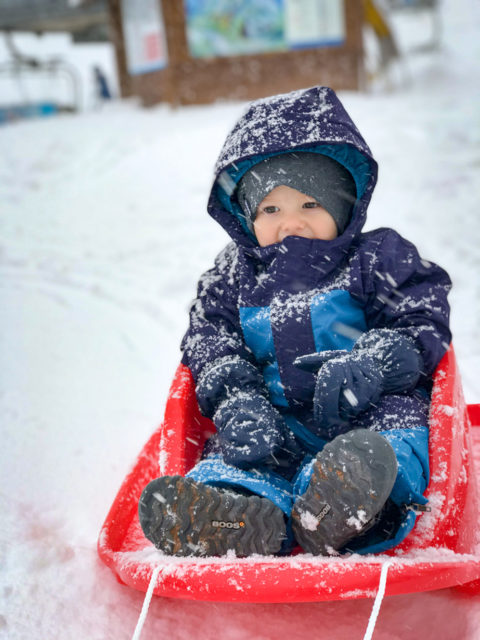 The diagonal zipper (with zipper cuff and velcro closure) extends down to the top of the left knee — just long enough to make it fairly easy to get a little one in the suit. The elastic and velcro arm cuffs are easy to tighten under or over mittens and the elastic waist, which extends from the sides all the way around the back, keeps the suit from puffing out too much around the torso.
The Cold Buster is the only snowsuit I've used that has cuffs that easily fit over ski boots and the wide, non-elastic cuffs have a 4 in / 10 cm zipper that widens the cuff even more. It's also the only snowsuit I tested with built-in gaiters and reinforced knees. The hood has an elastic lining that helps keep it in place and a small visor that is thick enough to maintain its shape.
If you're eager to get your child on skis and are looking for a durable, warm, and water resistant snowsuit that has cuffs large enough to go over ski boots, the Cold Buster is your best bet.