Armada just announced a complete overhaul of their directional freeride skis, ditching the previous Invictus line for the all-new Declivity series. The new Declivity skis will be available around September, 2020.
Armada says about the new Declivity skis: "built to fit the needs of the modern resort-based charger, the all-new Declivity Series was designed from the ground up with no limitations and features one of the most technical builds we have ever achieved."
The Declivity skis were built with inspiration from Tof Henry's big-mountain ski that premiered last year, the Declivity X. The Declivity X returns unchanged for 20/21 (apart from a cool white top sheet), and the new Declivity skis feature a pretty different build, shape, and rocker profile than the 115mm-wide Declivity X.
The keystone technology used in the Declivity 102 Ti, 92 Ti, & 82 Ti is what Armada is calling "Articulated Titanal Banding" (aka, ATB). Essentially, this is an edge-to-edge titanal layer, but at the tip of the ski, there are slots milled out of the titanal and filled with "an elastic compound layer." This is supposed to give you much of the damping and smooth feel of a full titanal layer, but allow for easier and smoother turn initiation. Armada says that elastic compound also releases more energy back to you when you compress it, which they say increases power and rebound / energy.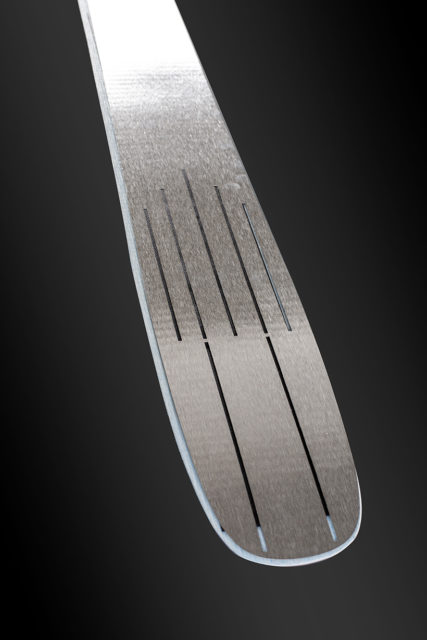 In addition to ATB, the new Declivity skis feature a full sidewall construction (Armada calls it "AR100" sidewall), lightweight Caruba wood cores, and minimally tapered shapes that they say have contact points past the rocker lines for increased power and edge hold the more you lay over the skis.
Overall, the shapes and rocker profiles of the new Declivity skis don't look super far off from the Invictus skis they replace, and are not too out of the ordinary for directional all-mountain skis. But the completely new construction does make us think that these skis will feel pretty different from the skis they replace. The Declivity skis are still reportedly pretty lighweight for metal-laminate skis, but Armada's talk about ATB has us very intrigued. We're working on getting several of the new Declivity skis ASAP, so stay tuned for updates.
For reference, here are the shapes, rocker profiles, & stated specs we for all of the 20/21 Declivity skis. You can read more about the Declivity's construction and see the specs for all lengths here.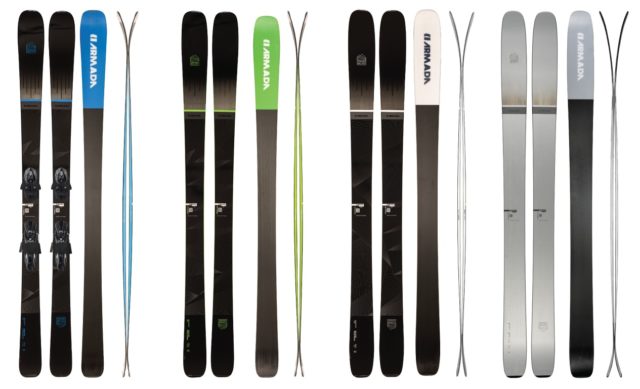 2020-2021 Armada Declivity 82 Ti
Available Lengths: 166, 174, 182 cm
Stated Dimensions (182 cm): 130-82-111 mm
Stated Sidecut Radius (182 cm): 16.4 meters
Stated Weight per Ski (182 cm): 1775 grams
2020-2021 Armada Declivity 92 Ti
Available Lengths: 164, 172, 180, 188 cm
Stated Dimensions (180 cm): 132-92-118 mm
Stated Sidecut Radius (180 cm): 17.5 meters
Stated Weight per Ski (180 cm): 1825 grams
2020-2021 Armada Declivity 102 Ti
Available Lengths: 172, 180, 188 cm
Stated Dimensions (188 cm): 136-102-126 mm
Stated Sidecut Radius (188 cm): 18.5 meters
Stated Weight per Ski (188 cm): 2050 grams
2020-2021 Armada Declivity X
Available Lengths: 185, 192 cm
Stated Dimensions (185 cm): 137-115-130 mm
Stated Sidecut Radius (185 cm): 22.5 meters
Stated Weight per Ski (185 cm): 2250 grams