Intro
An essential component of dressing your little one is keeping his or her feet warm and dry. I definitely worried about cold feet during my son's first winter and while it was easy to check the warmth of his hands, removing his shoes while out in the cold wasn't an option. And then in the shoulder seasons, he loves to play around in any puddle he can find, which makes keeping his feet dry even more complicated.
Below are some shoes that have worked great for us. From burly snow boots to warm house slippers and stroller shoes, I hope this roundup helps keep you worry-free this winter and spring.
Fabric: neoprene w/ shearling lining
Size Range: 4 baby to 8 toddler
Size Tested: 5 baby
MSRP: $65
Best For: cold weather adventures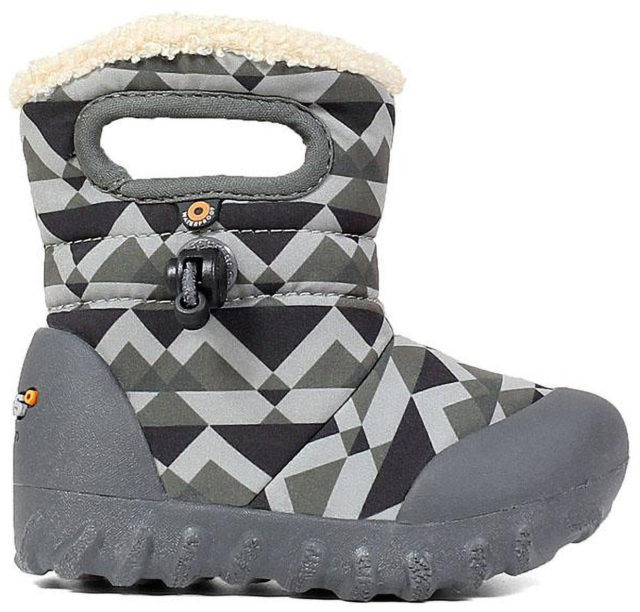 These baby Bogs have all the durability, warmth, and comfort you'd expect out of a pair of fleece-lined Bogs but in miniature form. 100% waterproof, "Comfort rated to -4°F/-20°C," and machine washable, these boots don't just look good, they're extremely functional. The burly soles keep my little walker's confidence high even over snowy and somewhat slick surfaces.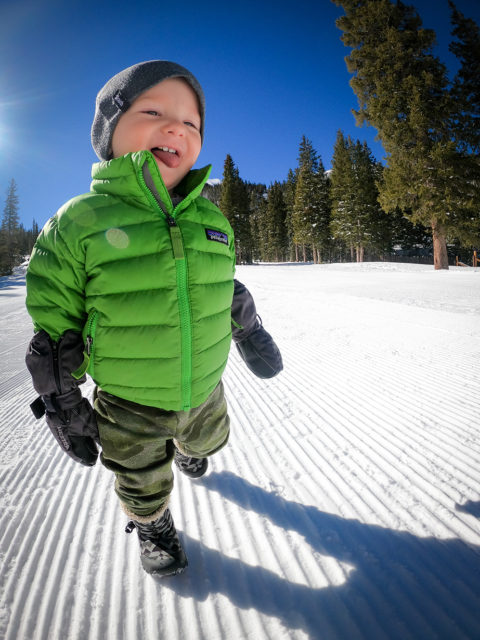 The only downside to the boots is trying to get them on little one's feet. Even with the signature Bogs handles at the top, it's a bit of a struggle especially since my son doesn't yet understand basic commands such as "push," "stand," "don't bend your leg," and "please don't kick me while I'm putting on your boots." The lack of a side zipper makes for a lot of pushing and pulling but once in place they can be secured with the adjustable cord located just above the ankles. The good news is that they do open up / stretch a little bit over time — the on / off struggle gets easier after just a couple weeks. Plus the lack of a side zipper also means the boots are waterproof up to the handles. With a 6" height, these boots will keep your little one's feet warm and dry all winter long, and their waterproof construction makes them perfect for spring. For older kids, the handle-style design means they can pull them on themselves — that's something I look forward to in the future. From puddle jumping to playing in the snow to his first day strapped into skis, these boots have kept my son's feet warm and dry.
Fabric:
Outer: waterproof Nylon
Lining: Fixed Foam Insulation Faux Fur Moisture wicking
Bottom: 100% Recycled Synthetic Proprietary Helium Rubber
Size Range: Toddler 5-10
Size Tested: 8
MSRP: $47
Best For: Everyday Winter Use / Heavy Snow / Cold Days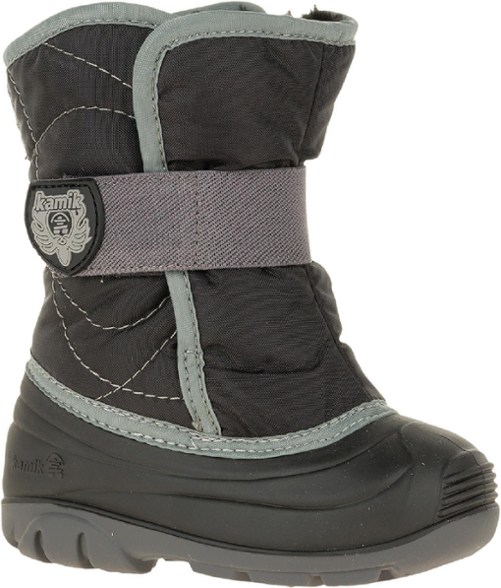 Finding a boot that provides adequate warmth without lots of bulk is a tricky thing with early toddler winter boots. For my son, most of the insulated and really warm boots were too bulky to run around freely and often resulted in clumsy falls. The Snowbug boot is a really lightweight boot that allows for ultimate freedom to play and offers plenty of warmth for the coldest days. The insulation consists of a firm foam that is fixed in the boot and makes the boot really stable but not too stiff for movement while the material lining the insulation is a moisture-wicking faux fur. The outer material is a quilted waterproof Nylon that comes in a wide array of colors and prints and kept my son's feet completely dry. The bottom of the boot is made of a synthetic lightweight and waterproof rubber with a robust and heavily treaded sole which is quite sturdy but also flexible enough not to limit foot motion. With a wide gusset entry, tongue that folds all the way to the top of the foot, and a single elastic strap that velcros across the top of the boot, my son has no problem getting this boot on and securing the strap himself. My son usually wears a 7.5 so I would say the size fits pretty true to size but I sized up slightly so he had some room to grow.
Fabric:
Outer: 100% Recycled polyester with PU coating
Lining: 100% Recycled polyester fleece
Size Range: 0 months to 18 months
Size Tested: 12-18 months
MSRP: $29
Best For: cold days where baby won't be doing much if any walking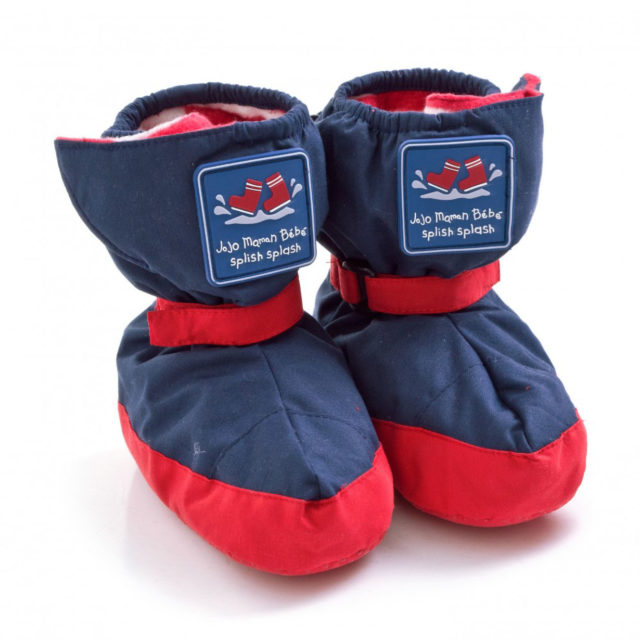 I really wish I had these for my son's first winter as these are excellent booties for babies that haven't started to walk. Last winter I struggled to find anything as warm as these that would also stay in place. JoJo Maman Bebe describes the booties as stroller shoes and yes, it's a good description as they don't have sturdy soles. However, they do have extra padding on the soles so my son was able to wear them in his ski trailer, backpack, stroller, and everywhere in between when he wanted to stand or toddle. Because there is no lateral rigidity in this insulated bootie, his foot tended to slide within the bootie when he attempted to walk. He didn't seem to mind but it definitely limits the application.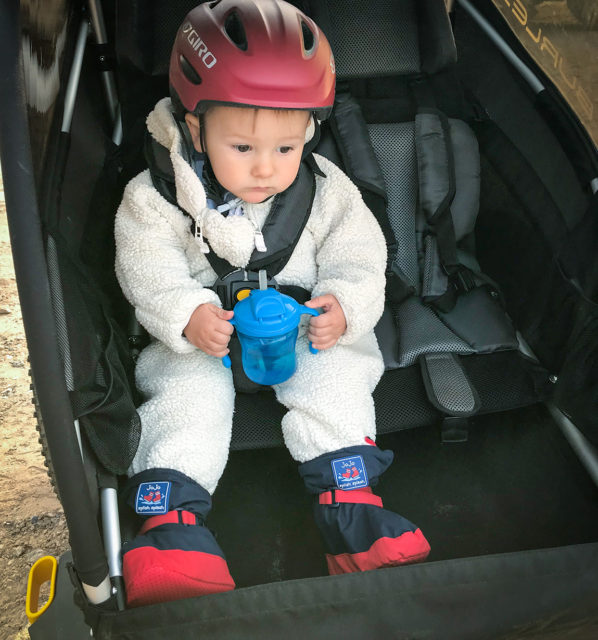 The fleece lining is soft and warm but not overly thick. On a recent walk with my son, I threw the boots on over his bare feet as it wasn't super cold (45°F / 7°C). His feet stayed warm for the hour we were out but they weren't so warm as to be sweaty. We've also used them on colder outings and layered them with thick wool socks. Unlike some of his shoes, I'm fairly confident that these won't fall off while he's in the backpack as there are two Velcro cuffs to secure each boot. The booties can be worn over or under snowsuits making them more versatile than most of his other winter footwear.
Fabric:
Body: 100% pure natural wool
Sole: Calfskin
Size Range: 4.5
Size Tested: kids 4.5-7
MSRP: $60
Best For: indoors or non-muddy areas
I've had a pair of Glerups slippers for a few years now and I love how they are warm, cozy, and durable. The 100% wool slipper feels more like felted wool than a stereotypical scratchy wool and I happily wear mine barefoot. The Kids Shoe will keep your little one's feet warm as they toddle around the house or around town. With an elastic cord to keep the uppers tight, it's fairly easy to slide them on and the absence of velcro means my son has little interest in fidgeting with them (i.e., removing them). My son has worn these on cool and cold weather hikes as the wool is naturally wind and water resistant so they keep him warm and dry when being carried. When playing outside on wet days, I reach for the Baby Bogs as the calfskin sole and wool upper on the Glerups are not waterproof. They are not machine washable but they can be wiped down fairly easily and the dark color of the version we have hides most dirt and grime.
For cool weather outings, cold car rides, or on cold floors, the Kids Shoe will keep your little one's feet warm and toasty.
Fabric:
Upper: 100% Natural Sheep Wool
Outsole: upcycled salmon leather
Size Tested: O/S (toddlers 1-3)
MSRP: $56
Best For: indoors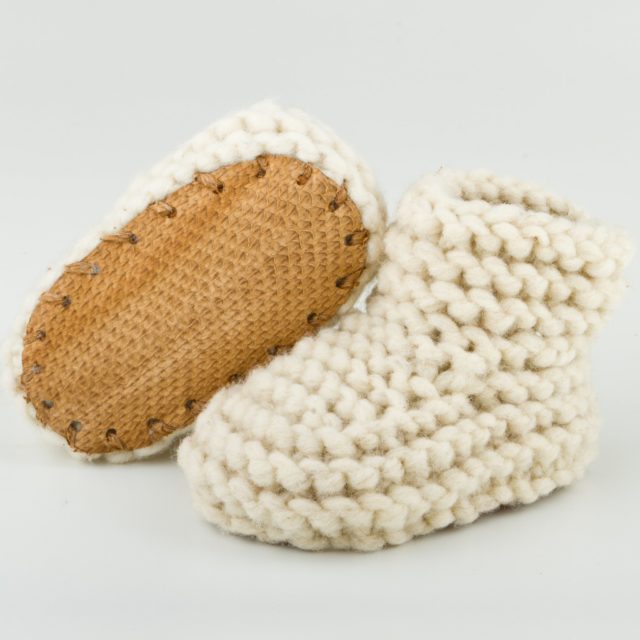 Chilote Slippers aren't new to Blister as we featured the adult version in the 2017 Holiday Gift Guide and the baby / toddler version in the Sustainable Products Roundup. Having owned a pair for multiple years, I can say they are durable and warm. The Baby slippers use the same materials and have the same design as the adult version, just in a miniature size. Slow crafted by artisan women in Patagonia, each pair of slippers includes a QR code that can be used to track the specific artisan group and their geo-location in Patagonia. Made from locally sourced natural wool and upcycled salmon skins, the slippers conform to one's feet with use. Yes, salmon skin and no, there's nothing remotely fishy about them.
As a handcrafted slipper, sizing can vary a little but I found the Baby Slippers to be a bit big for my 17-month-old son who currently wears a size 4 shoe. Even though they are big for him, the cuff is narrow enough that he is able to wear them. He's worn them in his stroller, car seat, and when he's walking around and we have yet to lose one. The salmon skin has enough grip to keep him from slipping but not so much that it's hard to walk around the house. The natural wool isn't as soft as synthetic fabrics so I always pair the slippers with socks and the combination keeps his feet nice and warm.
Fabric:
Body: 70% Cotton / 30% Polyester
Lining: 100% Cotton
Size Range: 12 months to 24 months
Size Tested: 18 months
MSRP: $25
Best For: everyday wear & stroller shoes for cool temps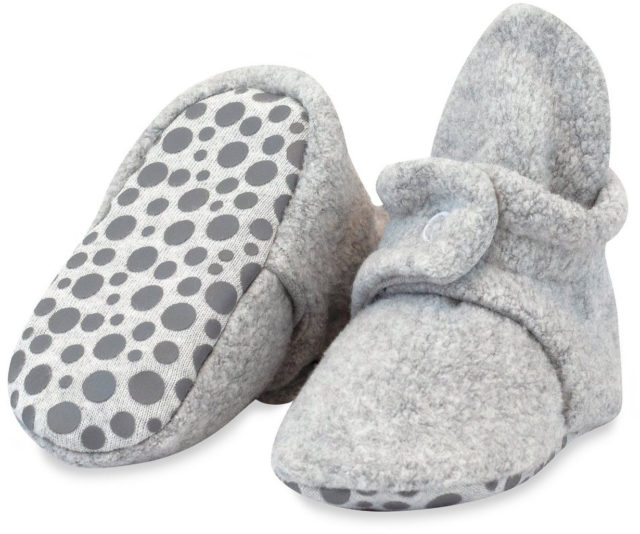 I received a pair of these baby booties as a hand-me-down with the advice that they were the only shoes that stayed on my friend's son's feet. Last winter, at age 6-10 months, these were the only booties my son willingly wore. The fact that the booties feel more like a sock than a shoe probably helped. With two snap settings around the ankle, the booties are easy to get on but not too easy for the baby to get off on his / her own.
Like the other Zutano products, there are many color and fabric options. Once my son started to stand, we switched to the gripper-style bootie. The large and small polka-dotted traction is enough to keep him from sliding but not so grippy that he sticks to the floor. These booties are great for hiking in cool weather (50–60°F / 10–15.5°C — with warm socks on the lower end) when you plan to carry the baby or for wearing around the house on cool days. The booties are easy to wash so if your little one does find himself in a pile of dirt, no need to stress.
Fabric:
100% cotton outers
organic flannel inner toe lining
inner soles are faux sherpa suede
outer soles are faux suede fabric for babies or slippers styles
Size Range: Newborn-Adult XXXL
Size Tested: 6-12 months
MSRP: $10-25 (depending on style and size)
Best For: everyday use, primarily indoors or off the ground
When it starts to get cool, keeping my son's feet warm is challenging especially when he was just starting to walk and wanted to spend part of the hike walking and crawling around in the woods … or the nearest dirt pile. When he was 10-13 months old, I found that more often than not his shoes spent more time on the floor than on his feet. In fact, my son loved to kick his legs when we tried to put shoes on him and if we did manage to succeed, his goal was to remove them immediately. Thankfully some baby shoes, like the Yeti Feet Co moccasins, are designed with this in mind.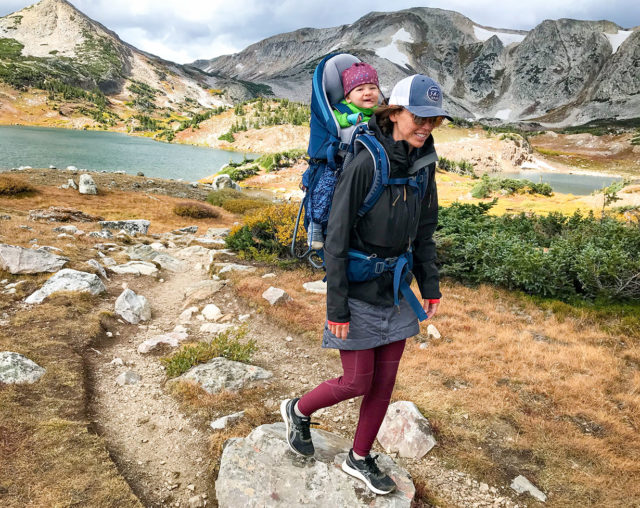 Yeti Feet Co makes moccasins in newborn to adult sizes in a variety of fabric options all of which are handmade in Colorado. The moccasins feature non-slip, soft soles (ages 6 months+ sizes) and faux-shearling insoles. The elastic cuffs make them easy to slip on baby's feet and the wide toe box means little feet aren't squished. The faux shearling insoles are extremely soft and plush and when the weather is warm, my son wears them without socks.
My son spent most of his first 11 months shoeless so when I first put these on he shuffled around the furniture like a dog in a pair of booties. Luckily he eventually forgot he was wearing them and off he went to explore surfaces that were previously too rough for his soft feet. We've found the Yetis to be ideal for exploring — whether at a park, stadium, or on the mountain in cool but not cold weather. Unlike the Zutano Bootie, these shoes don't pick up detritus as easily. The non-slip soles and slight padding of the faux shearling liner give little feet a bit of cushioning and confidence while learning to walk. The best feature — they're machine washable so the little one is free to explore all the dirt piles. Now that my son is 17 months old and no longer crawling, these shoes have transitioned more to house slippers especially on cold days.