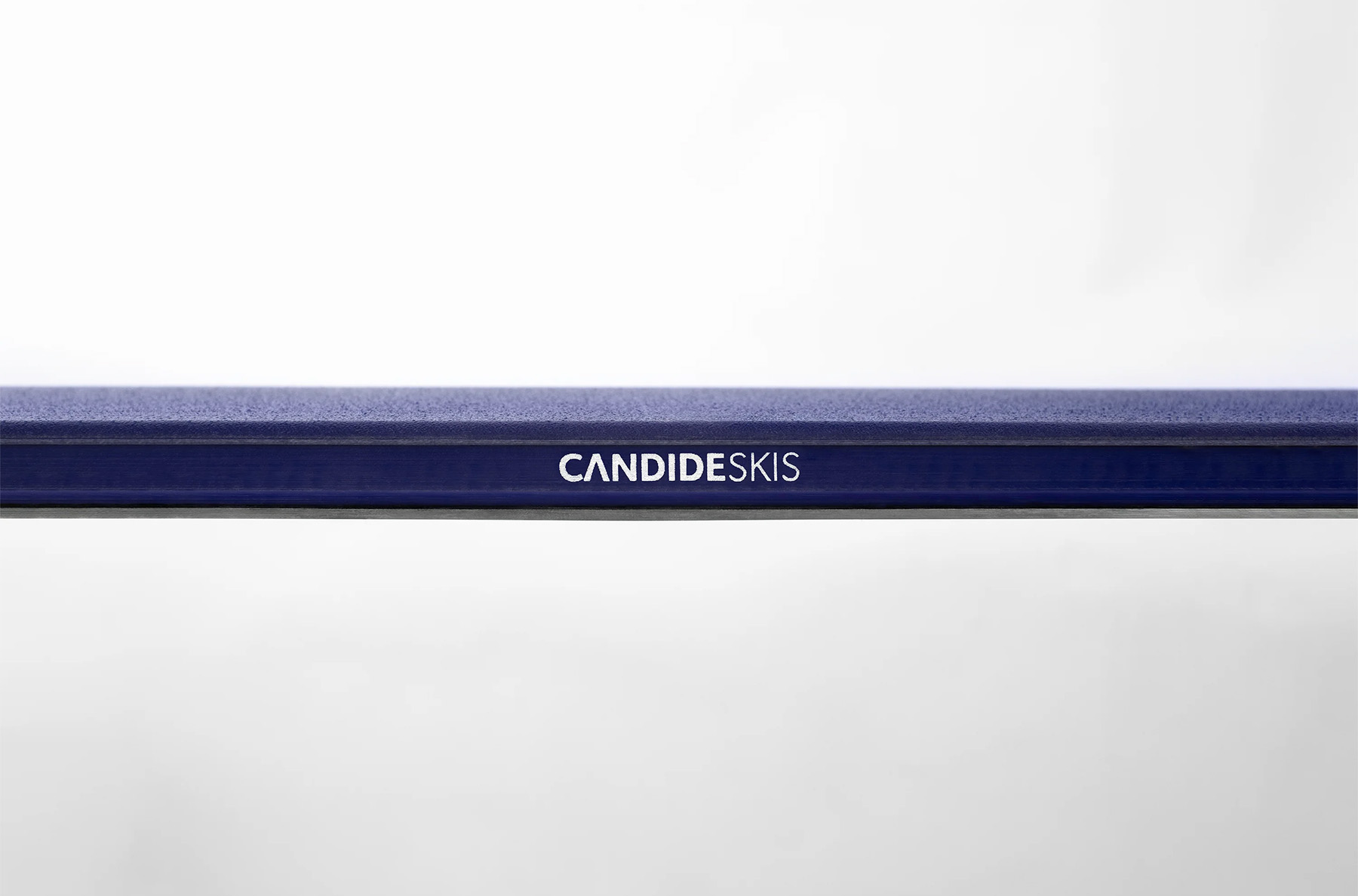 Almost two years ago, one of the greatest skiers of all time, Candide Thovex, announced that he was leaving Faction Skis after a decade-long partnership with the company. And ever since, we've been wondering what sort of skis he would be using as he continued to blow everyone's minds in terms of what's possible on snow.
Today, we have an answer: Candide Skis.
For anyone who's kept tabs on Candide's deliberately mysterious social accounts, you know he's been testing unlabeled skis following his departure from Faction. And given that he also launched his own clothing brand, Candide Co, it's not that big of a surprise that he'd do the same for hardgoods. But now, we finally have some details.
The 23/24 Candide Skis collection consists of three models: the Resort 101, BC 111, and AK 121. Each model's name indicates its waist width underfoot and (I'm assuming) its intended use.
Looking at the Candide Skis' specs, shapes, and rocker profiles, they (unsurprisingly) look quite similar to the Faction Candide (and now Mana) skis that Mr. Thovex had a hand in creating and fine-tuning. The Candide Skis models don't feature a ton of early tapering at the tips or tails, they're pretty light for their respective sizes, they're fairly symmetrical, and they have pretty deep but low-slung rocker lines. While Candide's signature skis at Faction saw various changes over the years, these same general design principles tended to stay pretty consistent over the years, and (at least on paper) that trend seems to be holding true with the new Candide Skis collection.
All three Candide Skis models feature similar core constructions in terms of materials. Some highlights include FSC-certified poplar / paulownia wood, bio-based epoxy, a fiberglass / carbon laminate blend, "chip-resistant Corund top sheets," and sintered P-tex 4000 bases. They're all made in the European Union.
Similar to past skis with his name on them, the new Candide Skis feature two recommended mount points: the "Candide" line and the "Regular" one. The Candide Skis website doesn't specify the difference, but based on past examples, I'd wager that the Candide line is pretty close to the center of the ski.
One notable design element is the reported use of a 3-radius sidecut for "quick turn initiation, stability at speed, and mounting versatility." Based on the graphic on their site, it seems that this translates to a longer radius underfoot and tighter radii at the extremities, but we'll try to fully confirm the details in the future. If my suspicions are correct, this would be similar to Faction's "Elliptical Sidecut," and in contrast to Volkl's "3D Radius" implementation, the latter of which features longer radii at the extremities and a shorter radius underfoot.
We're hoping to get on the new Candide Skis models this winter, but in the meantime, here are the main specs for the three skis. You can find more info at candideskis.co.

Available sizes (cm): 167, 173, 179, 184
Stated Dimensions (mm): 129-101-125
Stated Rocker Profile (tip rocker depth / camber height / tail rocker depth): 440 mm / 2 mm / 440 mm
Stated Weight: 1800 g @ 184 cm

Available sizes (cm): 175, 181, 186
Stated Dimensions (mm): 138-111-134
Stated Rocker Profile (tip rocker depth / camber height / tail rocker depth): 505 mm / 1 mm / 485 mm
Stated Weight: 1900 g @ 186 cm