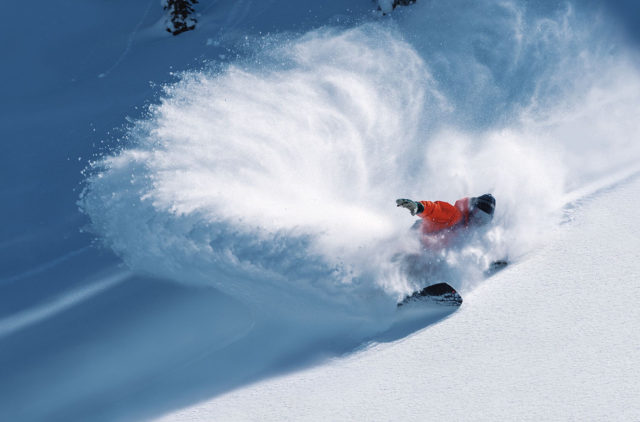 Patagonia has always been one of the leaders in the apparel industry when it comes to sustainability and environmental activism. In their latest move to reach their goal to be completely carbon neutral by 2025, every single waterproof shell in their line is now made with recycled materials and sewn in Fair Trade Certified Factories. That includes everything from technical alpine & snowsports shells to even their kids' rain jackets.
We've had the chance to test a few of Patagonia's 19/20 shells, and have been very impressed so far — check out our reviews of the SnowDrifter Jacket, SnowDrifter Bibs, and the Ascensionist Jacket.
You can read Patagonia's press release below and watch this short film they produced to learn more. (Avid GEAR:30 listeners might also notice that a previous podcast guest makes an appearance in the video…)
Here's Patagonia's Announcement:
Today, Patagonia is proud to announce that 100 percent of its waterproof shells (61 styles!) are made with recycled materials and sewn in Fair Trade Certified factories. This covers all product categories from Alpine and Snow to Lifestyle and Kids. This is a first for the industry and we couldn't be more excited.
The journey to this point really started in 1993, when Patagonia made its first fleece jacket from recycled soda bottles. Yet converting the entire collection of shells over to be made with recycled materials wasn't easy. The excuses were endless – it's too hard, too expensive, nobody makes the fabric, it doesn't perform, etc. But today we are here to tell you, none of those excuses hold up.
Each shell is a multistage, multinational endeavor. A jacket begins its life as a recycled plastic chip in Italy and Slovenia. Yarn spun from these chips is woven and finished in Japan with the final garment cut and sewn in Vietnam. The conversion to using recycled materials in each and every shell was slow and gradual, then sudden. We've now reached a point where we can draw a line in the sand that every shell uses recycled fabrics – and is Fair Trade Certified sewn – or we simply don't make it.
Here's an interesting fact: You might think that shipping our products all over the world is the leading source of greenhouse gas pollution, but it's not. In fact, most of our carbon emissions – 97 percent – come from our supply chain. And creating virgin synthetic fibers accounts for 86 percent of those emissions. The more recycled fabrics we make, the closer we'll get to carbon neutrality across our entire business by 2025. This collection of recycled shells is a step in that direction.
Our planet is drowning in plastic – 8.3 billion tons to be exact, a statistic that is nearly impossible to comprehend. It's a devastating quantity, made worse if you consider that 91 percent of all plastic waste has never been recycled. We're watching another victory for the environmental movement, once that's been in place since the early 1970s, erode before our eyes. That's why we've dedicated an entire Patagonia gear issue to recycling, which can be found HERE. I encourage you to check it out, and within this issue you will learn more about the recycled shell collection which we are calling Shell Yeah! And in case you really want to get educated on the current issues and hot topics around recycling, check out this video and blog post.