We're back with our "What We're Watching" series, this time with a mix of videos ranging from important and insightful (particularly the first two), to the others simply showcasing incredible riding, goofy antics, and / or excellent cinematography.
All of them are worth a watch, and we'll be updating this with more suggestions from other reviewers in the near future. And if you need more stuff to watch, check out our previous video roundups.
[Update 7.26.20: We've just added 9 new bike and ski videos at the bottom.]
Brooklyn Bell — Becoming Ruby | Inclusion, Bikes and Hand-Drawn Heroes
Luke: This film, produced by Patagonia, follows Brooklyn Bell and tells her story, which is one very much worth learning about. In the film, Brooklyn not only shows off her riding and racing skills, but also delves into what it's been like as a Black, female mountain biker not only just in her home of Bellingham, Washington, but also her general experiences in the industry as a whole.
Faith E. Briggs — This Land
Luke: A few weeks ago Jonathan and Brendan Leonard talked with Faith E. Briggs on our Off The Couch podcast, and that conversation alone is definitely worth a listen. Among other topics, Faith also went into the film she made, This Land, which follows her as she runs through three U.S. National Monuments, accompanied by several other individuals from diverse backgrounds who all offer their take on the many different reasons why public lands matter.
Rémy Métailler & Raphaël Boudreault-Simard — FPV of Squamish Slabs
Luke: The new trend of people shooting action sports videos using high-speed, racing drones has led to some really creative edits, but Rémy Métailler & Raphaël Boudreault-Simard's edit from BC might be one of the cleanest use of them yet. While some drone pilots get a bit overzealous when it comes to showing off their flying skills, Rémy's riding and the scenery around him are clearly the main subjects of this edit, it's just that it's shown from some very different perspectives that wouldn't be possible with more traditional filming techniques. All in all, it's pretty amazing.
Cam McCaul — Desert Campout with the Boys
Luke: Cam's YouTube channel is one of my favorite things on the internet, and he just dropped another episode from Utah where he and a great crew including Dusty Wygle and Kyle Jameson, among others, session a 50-foot gap, spray a whole bunch of dirt around the desert spines, and get up to the usual goofy stuff that's become a staple of Cam's videos.
For more on Cam, his background, film career, and what he thinks about the current state of the mountain biking industry, you should listen to episode 28 of our Bikes & Big Ideas podcast.
Yoann Barelli — Into The Gnar "The Thing"
Luke: Speaking of goofy, Yoann Barelli's latest Into The Gnar episode is definitely that. I don't know what goes through his head, but whatever it is, it comes out in a hilarious mix of noises, all while he shows how he prefers to get down some crazy lines. This episode is from a very steep and almost entirely rocky line called "The Thing" in BC, and it's equal parts funny and scary.
Markus Eder — SuperSpringSesh 2020
Luke: Like all Italian skiers, FWT champ, Markus Eder's ski season got cut very short due to the COVID-related lockdown. That lockdown was recently lifted, and he set out to make up for that by building a simple, yet awesome park. He and a crew of local (and extremely talented) skiers sessioned the park for days and the final edit is pretty incredible in terms of the skiing, filming, editing, and just generally how well it sums up the great feeling of spring laps with your friends.
Kimbo Sessions 2019 — Official Recap
Luke: Speaking of spring skiing, Kimbo Sessions is basically the epitome of it. It obviously didn't happen this year, but they did release a recap from last year. I'm always blown away by what happens at Kimbo Sessions, but I think it hit extra hard this year since spring skiing basically got canceled for most people. Per usual with Kimbo Sessions, the creativity shown from the skiers is unreal across the board.
Hugo Frixtalon and Thomas Estaque – Hurricane
David Golay: This is a fun one, featuring some very creative trail building and riding with Commencal DH racers Hugo Frixtalon and Thomas Estaque — plus some bonus glamour shots of the two. The interwoven jump line at the beginning is especially cool, and brings to mind the Parallel video that Brandon Semenuk and Ryan Howard did last year…
Brandon Semenuk and Ryan Howard – Parallel
David: Let's just rewatch this one. It's still amazing. The riding from Semenuk and Howard is as smooth and stylish as ever, and the coordination between the two — and the camera work from the folks at Revel Co. to capture all of it — is mindblowing.
Luke Strobel – Luke Strobel in the PNW
David: This one's short but sweet — just shy of two minutes of Luke Strobel doing his best to peal his rear tire off the rim, with a great soundtrack by the Murder City Devils.
Amaury Pierron – Sound of Supreme Speed
David: Commencal just released a mullet version of their Supreme DH and put out this video with Amaury Pierron showing it off, at absolute warp speed. We'll have to wait a bit longer for World Cup DH racing to return, but in the meantime, this might be the next best thing.
Luke: Yeah, this is one of my favorite videos I've seen in the past month. Amaury's blend of speed, style, and precise recklessness (is that a thing?) is incredibly fun to watch.
Commencal — The Calm before the Storm
Luke: I feel like Commencal deserves a shout-out for putting out some of the best video content in the bike industry. Their principal cinematographer / director, Léon Perrin — who's only 23 years old (!!) — does a consistently great job and they somehow put out a great video for just about every new bike they release, and then some. I think this is another reason why I see them as the bike equivalent to Faction Skis (see below), which I'm not sure came up in our recent Bikes vs. Skis conversations.
While The Calm before the Storm isn't new (it came out last year with the release of the 2020 Commencal Furious), if you haven't seen it, you should watch it now. Featuring DJ Brandt, Hugo Frixtalon, & William Robert riding the Furious all over the world, each with their own particular style, it's one of my all-time favorite bike videos. And if you're really bored, I'd highly recommend just working your way through Commencal's whole YouTube page.
Santa Cruz — Get Creative With Your Surroundings
Luke: On the topic of brands that help make great videos, Santa Cruz is another that deserves to be on that list. Their videos tend to lean more toward the "fun" side of the spectrum rather than the super gnarly, and the recent video for their new 5010 bike is a prime example of this. Who knew that mini "finger-biking" could be so cool? And where can I get my own finger bike?
Luke: Speaking of Santa Cruz, the new 5010, and "fun," the 50to1 crew also put out their own video showcasing the new bike. The 50to1 crew always seems to be having more fun on their bikes than anyone else, and I love the mellow, "just riding with our friends" feel of this video (even if my version of "just riding with my friends" looks nothing like theirs…).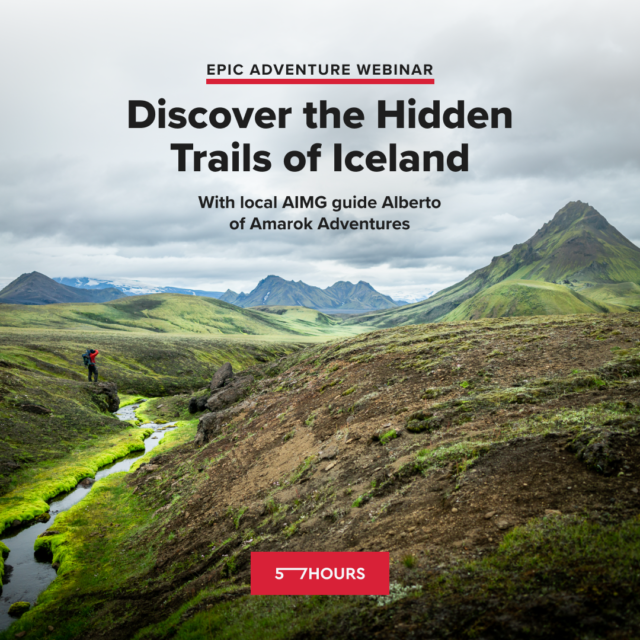 Luke: 57hours, the company behind the app that connects you with guides around the world, has been putting out a weekly live webinar series where they're having some of their guides take us through some of their most epic adventures. This week they're doing one with guide, Alberto Ojembarrena, on the remote Icelandic highlands at 11 am MST on Thursday, July 9th. But if you can't catch the live webinar, you can also watch all of the previous webinars here. Given that most of us aren't currently able to get out to any travel destinations, these webinars have been a fun consolation prize in terms of living vicariously through others.
Faction Skis — The Collective: Alex Hall Athlete Edit
Luke: I'll round out this update with some ski videos, since I know skiing is still very much on many of our minds.
Faction recently dropped an athlete edit for Alex Hall, filmed while making their full film, The Collective. I think one of the most impressive things about A-Hall is that, despite blowing minds every year for the past few years, he continues to do so going forward. He's one of the most exciting freestyle skiers currently out there, and somehow keeps pushing the envelope. The Collective finally got Alex into the backcountry, and while I admittedly enjoyed watching him crash in pow to verify that he is, in fact, a human and not a skiing robot, he still managed to pull off some truly impressive lines and tricks during his first backcountry session.
I'm also extremely excited about the upcoming Magma 2 film, which Alex, Hunter Hess, and Owen Dahlberg have apparently finished filming. Having seen the first Magma film, I have very high expectations for the next one.
Finn Bilous — Growing Pains
In case you're not familiar, Finn Bilous is an up and coming skier out of New Zealand, and he also happens to be the brother of Hank Bilous (you may have seen some of Hank's crazy runs from the Freeride World Tour this year).
While Hank was on the FWT this past season, Finn was on the slopestyle circuit. And while Finn's season edit, Growing Pains, features plenty of his clean, stylish park laps, it also proves he's no slouch in a big-mountain environment, either. I'm jealous that Finn and Hank are actually able to ski right now, but mostly I'm looking forward to seeing more and more from them in the future.
To be honest, I'd never heard of Luke Cryer before watching this video, but man, he can ride a damn bike. Tom Caldwell met up with Luke for some uncharacteristically hot and dusty riding in the UK and the result is excellent.
Cam McCaul vs. Carson Storch — Barspin Challenge
In Cam McCaul's latest video log, he and Carson Storch kick things off with a barspin challenge on one of the coolest-looking, non-lift-accessed trails I've seen, and then finish things off with a whole bunch of jump trains (and a few tumbles).
Yoann Barelli Into the Gnar — Dead Fall
Speaking of cool trails, Yoann's latest Into the Gnar episode has him showing us around Dead Fall trail, which reportedly hadn't been ridden in potentially 10+ years before Yoann filmed the episode. The combo of a trail with massive (and somewhat rotten) wooden features, rock slabs, and Yoann's signature, quirky commentary makes for a very entertaining video.
Last time I made a not about Commencal's high-quality videos, and soon after they released yet another one for the new Clash. This one is much more "fun" than super serious, but of course, when you get Hugo Frixtalon, Thomas Estaque, Amaury Pierron, Paul Couderc, and Pierrick Lannes together, the riding is also amazing.
Claudio Caluori & Martin Söderström BlaBla Run
We recently chatted with Claudio about chasing XC champ, Nino Schurter, around, but he also filmed a sweet "BlaBla Run" with another excellent biker with a very different style, Martin Söderström, on some beautiful trails in Sweden.
Los Amigos — 2019 Winning Intersection Video
We'll wrap up this update with the winning Intersection video from last year, courtesy of the Los Amigos crew. While they may be unknown to some, you can always count on Los Amigos to offer some goofy antics as well as some seriously impressive skiing from around the Whistler area.
Analise Cleopatra & REI — Pedal Through
Luke: Pedal Through is a short film that follows and is directed by Analise Cleopatra. Before this film and the week-long mountain bike trip it focuses on, Analise had never camped or biked on dirt before, but along with friend and fellow newcomer DeJuanae Toliver and pro mountain biker Brooklyn Bell (see above), they manage to have a great time. All of us started somewhere, and this film definitely brings me back to my first days on a mountain bike.
Joe Breeden — Traction Control Off
Luke & David: This one is pretty simple — for just over 2 minutes, Joe Breeden rides really fast and slides sideways, like, a lot. It's pretty awesome, and you should definitely watch all the way till the end.
Blastr x Dylan Siggers — Flyride
Luke: I think I've alluded to this one before but if you haven't seen it, you should. Blastr, a very talented drone pilot whose videos we've shared in the past, follows Dylan Siggers with his racing drone and the result is a unique, fast-paced take on a mtb edit.
Luke: With COVID limiting many people and production companies' ability to shoot, I've been going back and watching a ton of older edits and films. All of Anthill's full movies are well worth a watch, and they've also uploaded several segments and behind-the-scenes videos to their YouTube channel. Here are a few of my recent favorites:
Luke: As with Anthill, TGR has a bunch of great videos that I go back and re-watch all the time. Casey Brown and Cam McCaul's bike descent of Corbet's couloir (with Tim Durtschi on skis) still blows my mind every time I watch it, and their "brown pow" segment from unReal is pretty neat, too.
Candide Thovex — Few Words
Luke: I'll wrap up this update with a classic from one of the best skiers of all time. If you haven't seen it, Candide's film, Few Words, is available in full on YouTube and it's very aptly named — he very much lets his skiing speak for itself.