The winner of our Gear Giveaway this week will get to pick any WNDR Alpine ski!
Their current lineup consists of three models, each available in two rocker profiles: the Vital 100, Intention 110, and Reason 120.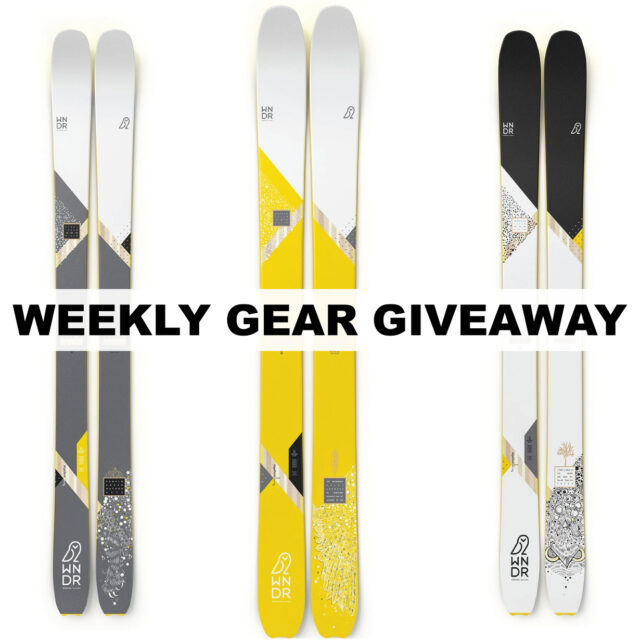 We've talked a whole lot about WNDR Alpine and these skis on our site, from our GEAR:30 podcasts with them to our Blister Summit video with their founder, Matt Sterbenz, to our Winter Buyer's Guide and individual reviews.
To try to sum up all of that into a tidy paragraph: WNDR Alpine makes skis that are oriented toward backcountry touring, and they make them in a way that significantly reduces the amount of petroleum-based products used in the process. Notably, they use PU that's made from algae in their cores and sidewalls, as well as a biobased resin.
As for the skis themselves, across the board, we've been pretty impressed. In particular, they offer very nice suspension and stability for their respective weights (to the point that many of us are happy skiing them in the resort), and their designs have worked for our reviewers with very different skiing styles.
For your chance to try them for yourself, enter before Friday, December 17th.
(Winners will be chosen at random and announced next Friday in our Blister Newsletter. Must be 18 or older.)
By entering, you'll receive our bi-weekly Blister newsletter, where we'll (a) announce each week the winner of our previous Gear Giveaway, (b) provide a roundup of the news and our highest-profile reviews of the past few days, and (c) offer sneak peeks of the products we're currently reviewing. It's good times for sure, so don't miss out. You'll also be kept up to date on what's new at WNDR Alpine.